"Since its inception in 2003 this part of my web site has offered a mix of consumer news, excerpts of reports about manufactured homes, miscellaneous ideas and suggestions, Q&A snippets, updates, consumer alerts, and commentary from yours truly," said John Grissim, author of the Grissim Guides in a Summer-Fall 2018 announcement.
Grissim notes he's published 90,000 words in his various blog postings over the years, calling that book-length.  He's perhaps best known for the research-volume aimed at consumer by that name, the Grissim Guide.
Grissim wasn't necessarily praised by many professionals, as he was both pro-manufactured homes, but also tough on of HUD Code manufactured housing.
A quote from him dated February 2009, helps make the point why not all industry pros loved him.
After outlining a concern out of Utah, he said as follows: "Comment: With this story gaining momentum and national attention, once again HUD-ville takes a big hit to its image. It's hard not to believe that its homes are nothing more than cheaply constructed, poorly designed housing for the working poor."  Note to our growing numbers of new or first-time readers, MHProNews often turns quoted text bold and brown to make it pop, but otherwise the text is as in the original.
Grissim went on to say, "Last summer the buzz was all about formaldehyde out gassing from travel trailers and single-section HUD-code homes used for temporary housing by hurricane victims. This is absolutely the last thing this industry needs to experience."
It should be noted that Grissim's audience was a blend of potential consumers and manufactured housing industry professionals. Part of his business model was selling his Ratings Guide, a book that purported to rate the quality of the various builders of HUD Code manufactured homes.
Industry purists, such as our publisher, frankly thought the very premise of the Ratings Guide to be problematic for manufactured housing. Why?
Because if a HUD Code manufactured home builder meets the construction, energy, safety standards, and all the relevant inspections, certifications, etc., that was Number One.  HUD Code homes have significant consumer protections, most notably since the Manufactured Housing Improvement Act (MHIA) of 2000.  That was the period Grissim was publishing such columns in.
So, of course there would be differences in fit and finish between entry level, mid-range and upscale or residential style manufactured homes. But Grissim, who could claim being an experienced journalist, was lawfully able to publish what he wished. That's America and the right to free speech and freedom of the press.
The above tee's up a sense of the author, because thousands of manufactured housing professionals today would otherwise be unfamiliar with Grissim. Having set the table, it's the following quotes at length from that report of his that are the focus of this fact-check and analysis.
Let's begin by noting that by Grissim covering this as he did, albeit incompletely, he did so well before others, most of whom to this day have ignored the topic all together.
What follows is word-for-word from his post – linked here. We've screen captured this page too, as a documentary reference should the site go down or be otherwise changed, which Grissim himself suggests he plans to modify his content. Following the content between the — lines, there will be an MHProNews analysis. Typos are in the original.
— start of extended quote —
…
As recession deepens, MH plant closings mount. Industry production capability could shrink 30% by summer. What this could mean for home buyers.
Figures released early this month by the Institute for Building Technology & Safety (IBTS), the Washington, DC-based organization that tracks numbers for HUD, show a total of 169 production facilities around the U.S. are currently engaged in building HUD-code homes. That figure is down from 180 in October of last year.
But the worst may be yet to come. Some plants shut down over the holidays due to lack of orders, which are typically low during the winter months. With many retail dealerships struggling to make ends meet, and with sources drying up for so-called inventory flooring loans (loans to pay for lot models until they're sold), orders from retailers for model homes may drop dramatically. This in turn could trigger a corresponding increase in plant closings.
One industry professional familiar with these trends told me he would not be surprised if by summer the total number of still-operating plants was in the 125 range, amounting to a roughly 30% contraction since last fall in the MH industry's total production capacity.
Put another way, by this summer another 43 plants could be idle. For many companies, this will be catastrophic, forcing them into bankruptcy or sale. This is particularly true of builders that produce only HUD code homes, versus a mix of HUD and modular code dwellings. Unfortunately, the MH industry is generally weak, with very few players strong enough to buy their competitors, or even assume their debt.
Companies that are able to produce, in addition to HUD code homes, modular-code homes and RVs (especially park models), should fare better during the crunch, but the outlook is still grim. Adding to the challenge, some parts and materials suppliers to the RV and factory-built home industry are themselves in survival mode, and may go under.
In late January, Liberty Homes, the Goshen, IN-based builder, announced it was closing its Statesville, NC plant, laying off 90 workers. Patriot Homes, also HQ'ed in Indiana, has closed its Texas plant, and another facility in Indiana, and reportedly laid off its entire engineering staff before last Christmas. And Fleetwood, as reported last month, is closing seven of its plants.
For its part, industry stalwart Palm Harbor Homes reported company sales for the fourth quarter of last year were $89.6 million, down from $140.6 million during the same quarter a year previously. PH's shipments to its most important markets–Texas, Florida, Arizona and California–were down nearly 38%. Larry Keener, Palm Harbor's CEO said they expect this downward trend to continue through calendar 2009. The company is looking to free up some working capital by leveraging some of the more than $100 million in unleveraged assets on its books.
Also hanging in there is Cavalier Homes, a publicly held builder HQ'ed in Addison, AL. On January 27, 2009, Cavalier agreed to sell its in-house finance company, CIS Financial Services, Inc., to Jacksonville, FL-based Triad Financial Services, one of the industry's oldest (and consistently successful) manufactured home lenders, for $750,000 cash plus CIS's loan portfolio. According to the company's CEO, "Bobby" Tesney, the transaction was in no way an indication of any change in Cavalier's fortunes. "We think we will be here for the long run," he explained in a subsequent phone call. In fact, Cavalier has excellent cash reserves and no long term debt, so the builder looks to be in good shape to weather a long downturn.
For home shoppers, the good news is this remains a buyer's market with retailers bending over backwards to sell you a home, and at a very competitive price. But be certain the manufacturer from whom you're contemplating buying is still in business and will be there to take care of your warranty needs. And don't completely rely on your retailer for assurances. Verify all dealer claims. Visit this site for the latest news, and don't hesitate to email me if you have any questions.
With some big banks moving to block mortgage brokers from offering their loans to consumers, home buyers may have fewer choices.
In its February 1, 2009 edition, the New York Times reported that some large national banks, such as JPMorgan Chase, are no longer accepting home loan applications processed by mortgage brokers. [See also the story that follows this item.] Ostensibly the reason is, during the go-go subprime home loan years, many independent mortgage brokers played fast and loose with the documentation criteria they used to qualify borrowers, allowing many to obtain loans way beyond their ability to pay. The banks in turn suffered the losses, not the mortgage brokers who pocketed their origination fees and incurred no further liability.
There is much truth in that argument, but regrettably a decrease in the number of reputable independent mortgage brokers (who typically offer a wider variety of loan products than the local bank) means home buyers will have less choices and may be obliged to borrow from local institutions who often charge higher interest rates.
For their part, the mortgage brokers counter that it was the lenders, not the brokers, who determined the submitted loan documentation was satisfactory and thus it was the banks' sloppy standards that ultimately were the source of so many subprime loans going south.
The brokers certainly have a point. In my view both parties are to blame. For several years there, the banks were busy selling their brokered loans to Wall Street's masters of the universe for big money and they, like the brokers, could have cared less how bad the loans were because they, too, were off the hook if the loans went south. But that's another story.
This said, I recommend my clients talk to a reputable mortgage broker as part of the process of shopping for the money before shopping for a home. For more on working with mortgage brokers, please see the discussion on mortgage brokers in chapter 4 of The Grissim Buyer's Guide to Manufactured Homes & Land.
Speaking of mortgage brokers, Clayton Homes's subsidiary finance company, 21st Mortgage Corporation will cut them off as of March 1, 2009. But wait, there's more….
Pity the nation's independent MH dealers. As I reported in the Grissim 2009 Report, last month the Clayton-owned subsidiary finance company, 21st. Mortgage Corp., announced that due to lack of funds to lend, it was largely pulling out of the inventory flooring business for dealers who sold homes other than those built by Clayton and Clayton-owned subsidiary manufacturers. Then, on January 30, the other shoe dropped.
Tim Williams, 21st's president, sent an email "to all MH retailers and mortgage brokers" announcing that due to the bank's inability to find money to lend indie dealers to finance retail home sales, effective March 1, 2009 the bank will limit its financing programs to the following (I'm quoting here):
We will no longer offer any of our programs to Mortgage Brokers.
We will offer FHA Title I financing for any brand home subject to retailer meeting FHA requirements.
All other finance plans will only be offered for sales of the following homes:
21st Mortgage repossessions
New homes built by Clayton Homes, Karsten Homes, Southern Energy or any other Clayton Homes subsidiary. The dealership must be a 21st Mortgage approved retailer.
For any brand of home floor planned with 21st Mortgage prior to March 1 2009
For any brand of home sold from a retailer's inventory provided the retailer replaces the inventory with a home built by a Clayton Homes subsidiary.
Williams's letter went on to say:
"We will continue to seek adequate funding so we can once again become an active lender meeting all your needs. You need to take appropriate action to apply for financing with alternative lenders, including CU Factory Built Lending, Triad Financial, and US Bank. Many retailers have found the FHA a viable alternative and I urge you to talk with your credit manager and become familiar with the terms available."
This announcement was directed to independently owned MH dealerships that have long used 21st Mortgage's lending programs for homebuyers. But Clayton Homes' also owns a second finance company, Vanderbilt Mortgage, which offers similar loan programs exclusively through Clayton Homes-owned dealerships. If 21st. is having difficulty raising capital to lend, it would make sense that Vanderbilt is also dealing with the same problem.
At this writing, there has been no change in Vanderbilt's program. However, I have learned from a reliable source that an executive at one of the alternative lenders mentioned above recently received over a two week period calls from the credit managers of 18 Clayton-owned dealerships asking about the availability and terms of both his company's chattel and home mortgage programs. Do they know something we don't?
The above developments will not impact homebuyers who intend to pay cash or otherwise obtain financing from their local bank or credit union. The rule here is: dealer arranged financing for your home purchase should be absolutely your last resort. The interest rates are almost always higher than you will find elsewhere in the private sector. Shop carefully for the money before you begin shopping in earnest for the home of your dreams.
— end of extended quote from Grissim website —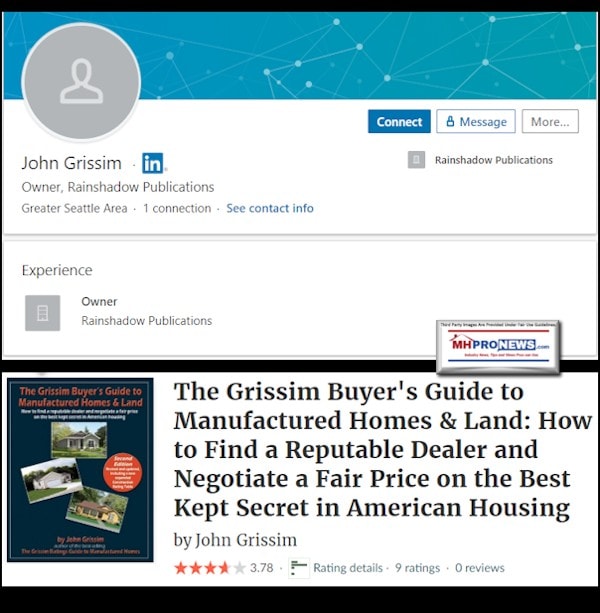 That statements and views by Grissim are interesting on several levels.
First, not that it was every doubted, it nevertheless reaffirms that the 21st Mortgage Corp document signed by Tim Williams and previously published by MHLivingNews and MHProNews reads as the copy of an original that we've published, which is hereby reposted again, below.
If there is any record of Clayton's 'captive' lender Vanderbilt Mortgage and Finance (VMF) having any such issues funding issues, we are unaware of it at this time. Clayton, VMF, and 21st have all been repeatedly invited to respond to our published articles, and at each turn, they have declined.  The same invitation has been given to the Manufactured Housing Institute (MHI), which is widely seen as dominated by Omaha and Knoxville.  The Arlington, VA based MHI has declined to respond or comment as well to the concerns surrounding the 21st letter and related
Grissim says those messages were sent out by email, and we have sources that say it was sent by U.S. mail too. That's significant for reasons that attornies at Berkshire, Clayton, 21st, MHI and possibly others should understand the ramification of legally.
Grissim published this prior to the video interview published by MHLivingNews at the link below, wherein Kevin Clayton says in a past-present-and-future sense, that "Warren" assured them they have 'plenty of money.
Grissim published that prior to the Warren Buffett annual letter, which seems to directly contradict they key claim made by Williams, namely, that they were cash strapped, and that is what allegedly forced their cutback.
The most complete report on this topic is found at the link below, which includes the quotes from Warren Buffett, and the complete video interview with Kevin Clayton, where he lays out the Buffett vision for the strategic "moat" and being a 'tough competitor.'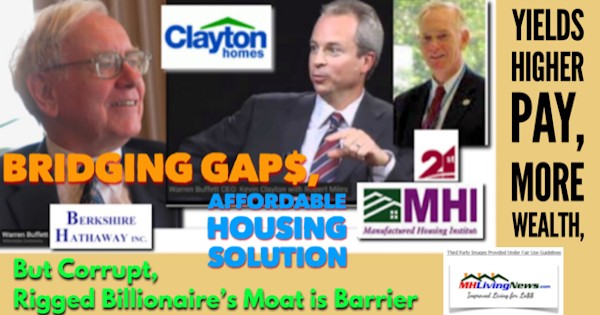 Restated, while there is more analysis that could be done on what Grissim wrote, the above is sufficient to reaffirm concerns that Berkshire Hathaway owned brands purportedly colluded in a fashion to rig the marketplace, tipping manufactured home retailers and more producers out of business.
Newer industry readers, investors, public officials, and other researchers should keep in mind that some who received that 21st letter from Tim Williams – and survived – recall the document, and have confirmed having received it.  Several of those have thanked MHProNews for not letting this topic slide, as they knew some put under by that document, and they recognize that if it happened before, something like that can occur again.
In the light of more recent revelations published in MHProNews and MHLivingNews, there are numerous reasons for Congress to investigate in a public setting what occurred, why, and how that impacted thousands of independent businesses that may have been marginal, but had survived up until that point in time.
The role of MHI, if any, in the matter also bears scrutiny.
If their paid staff grasped the reality, and hid it, what liability or legal exposure do they have?  One might wonder, why former MHI President and CEO Chris Stinebert left as and when he did, – well prior to the events related to these 21st financing cut-off letters – and why he waited until leaving to publish a letter that politely chided his own MHI trade association on issues, including financing.  See that at the link from his name, above.
To learn more about or review the related macro issues – all of which must be grasped to understand why manufactured housing is underperforming – see the related reports, further below the byline and notices.
That's this predawn hump-day edition of "News through the lens of manufactured homes, and factory-built housing" © where "We Provide, You Decide." © ## (News, analysis, and commentary.)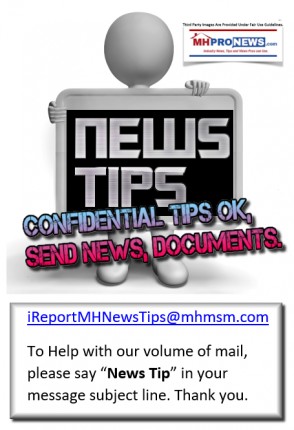 Your link to industry praise for our coverage, is found here.
For the examples of our kudos linked above…plus well over 1,000 positive, public comments, we say – "Thank You for your vote of confidence."
"We Provide, You Decide." © ## (News, analysis and commentary.)
(Image credits and information are as shown above, and when provided by third parties, are shared under fair use guidelines.)
Submitted by Soheyla Kovach to the Daily Business News for MHProNews.com.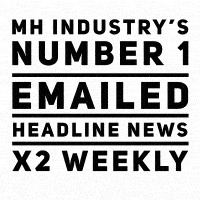 2) To pro-vide a News Tips and/or Commentary, click the link to the left. Please note if comments are on-or-off the record, thank you.
3) Marketing, Web, Video, Consulting, Recruiting and Training Re-sources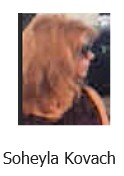 Submitted by Soheyla Kovach to the Daily Business News for MHProNews.com. Soheyla is a managing member of LifeStyle Factory Homes, LLC, the parent company to MHProNews, and MHLivingNews.com.
Related Reports

:
You can

click on the image/text boxes

to learn more about that topic.
Senate Democrats – Including 2020 Presidential Contenders – Ask CFPB Protect Consumers Against Predatory Lenders — Point Finger at Clayton Homes, Berkshire Hathaway Lending
Shocking, True State of the Manufactured Housing Industry, plus Solutions for Profitable, Sustainable Growth – May 2019
"Game On" – "Fighting Discriminatory Zoning" "Moral Obligation" Fix "Worsening Nightmare" – State Associations Entering Spotlight
Clayton Homes, 21st Mortgage Corp, Vanderbilt Mortgage and Finance – Investor Lessons Learned
"Mobile Home Militia," Retail/Production Sources, Sound Alarm Against Clayton Homes, CMH, New "Anti-Competitive Practices" Allegation
Clayton Homes and 21st Mortgage's Manufactured Housing "Spies"
Warren Buffett, Charlie Munger Video Interview at Berkshire Hathaway Annual Meeting on GSEs Lending for Affordable Manufactured Housing and Clayton Homes
Prosperity Now, Nonprofits Sustain John Oliver's "Mobile Homes" Video in Their Reports
Duty To Serve, "Complete Waste of Time" per Tim Williams, CEO/21st Mortgage; POTUS Trump, Warren Buffett Insight$
The last decade-plus has not been especially kind to the manufactured housing industry and consumers of affordable housing. The 21 stCentury began with a great deal of promise for the industry and consumers alike.
Motion – or, more accurately, activity – in and of itself, is not necessarily synonymous with, or equivalent to, realprogress, or, in fact, any progress at all.
Washington, D.C., May 6, 2019 – The Manufactured Housing Association for Regulatory Reform (MHARR) reports that according to official statistics compiled on behalf of the U.S. Department of Housing and Urban Development (HUD), year-over-year HUD Code manufactured home production declined once again in March 2019.