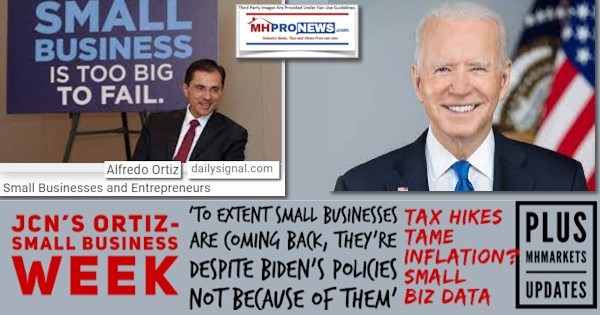 Job Creators Network (JCN) President and CEO Alfredo Ortiz recently published an op-ed that first appeared on the Hill and has since been republished on the JCN website. Ortiz cites facts and figures, including research produced for JCN polling small businesses. That JCN survey included small businesses owned by Democrats, minorities, women and others. The screen captures that bracket Ortiz's article are from that March 2022 survey the organization he leads commissioned. The entire survey is linked from his op-ed and further below. Among the somber claims? Only "13 percent of small companies affected by the [COVID19] pandemic have fully recovered."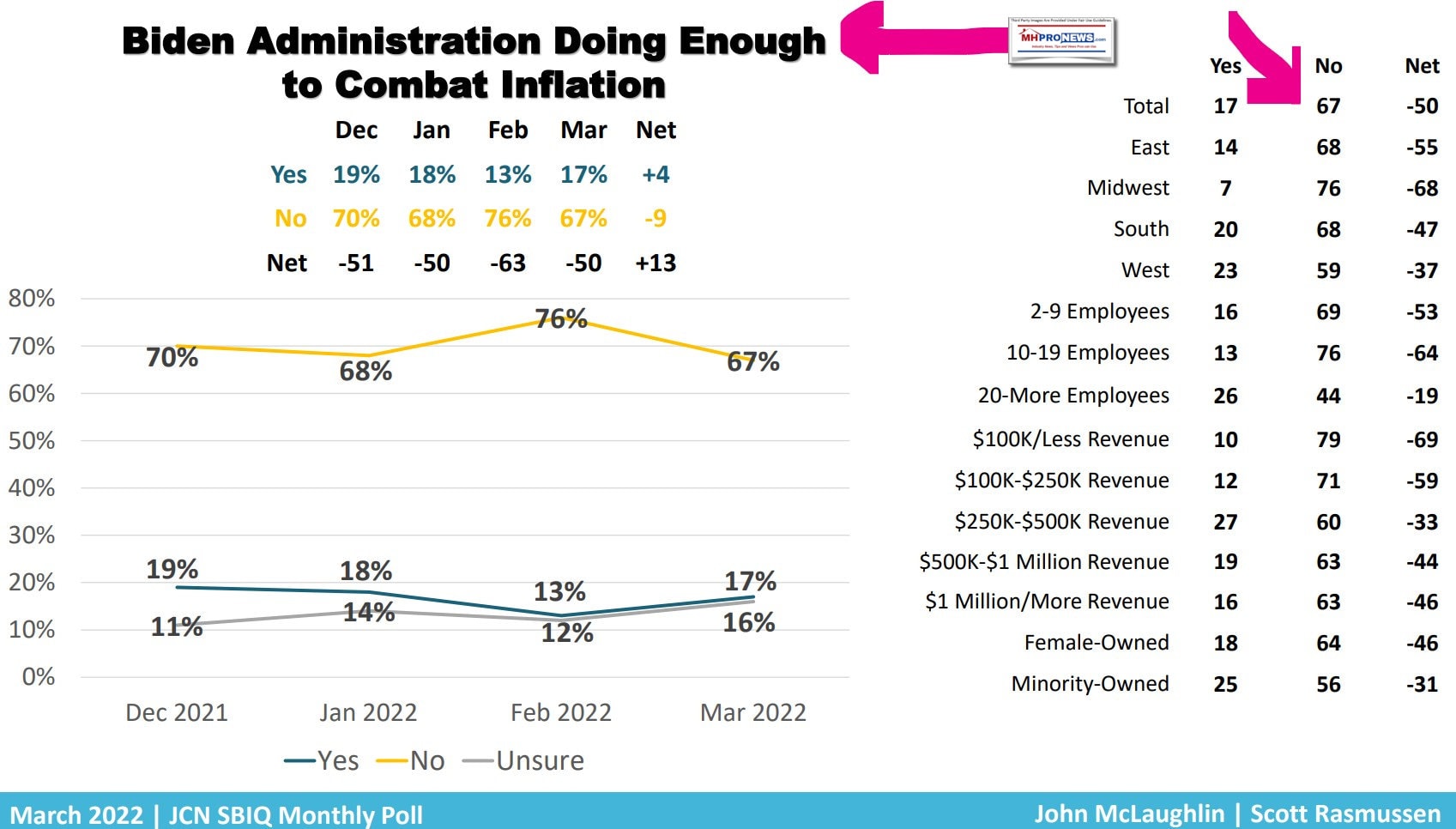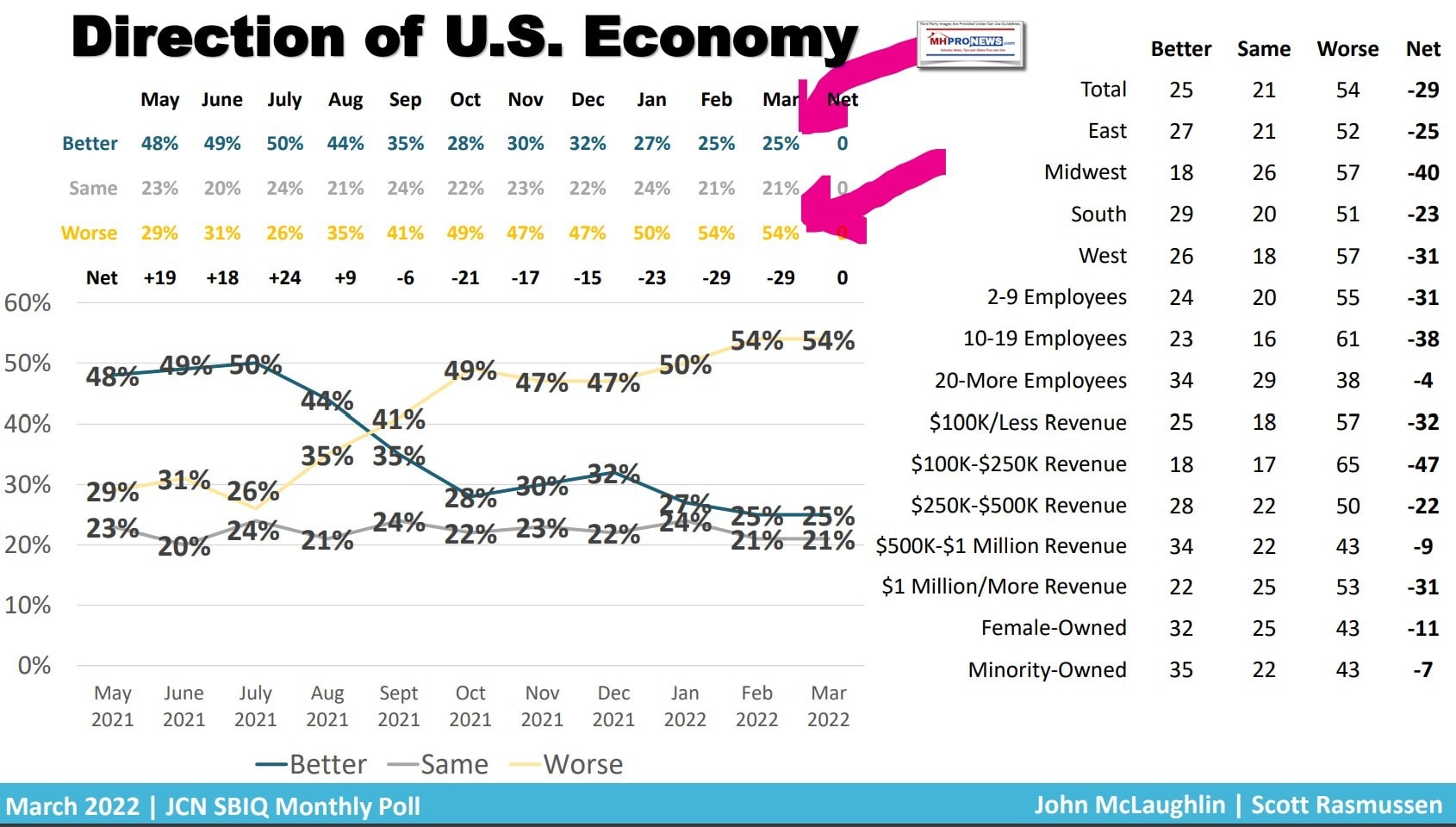 Specter of Stagflation Arrives for National Small Business Week
Op-Ed Appeared in The Hill on May 2, 2022 By Alfredo Ortiz
Just in time for National Small Business Week, stagflation is arriving. On Thursday, the Commerce Department announced the economy shrank by 1.4 percent in the first quarter — well below analysts' estimates. On Friday, the Commerce Department revealed the Personal Consumption Expenditures price index, the Federal Reserve's preferred inflation indicator, rose at its fastest rate in more than 40 years. This combination of a contracting economy and runaway prices equals stagflation, which the economy hasn't experienced since the 1970s.
President Biden responded to the GDP decline by blaming "technical factors," Russian President Vladimir Putin's war in Ukraine, and lingering effects of the COVID-19 pandemic, rather than recognizing his own policies are responsible. He tried to distract from it by taking credit for a "small business boom" of business creation as the pandemic wanes. Yet Job Creators Network's Small Business IQ polling indicates that only 13 percent of small companies affected by the pandemic have fully recovered.
To the extent that small businesses are coming back, they're doing so despite Biden's policies, not because of them. And the inflation and economic headwinds facing these entrepreneurs will only get stronger if Biden and congressional Democrats have their way. That's the real message of National Small Business Week.
Democrats are desperate to pass significant legislation before the midterm elections in November and seem to have landed on tax hikes on their policy craps table. Biden's recently announced budget calls for $2.5 trillion worth of tax increases. His plans include raising rates by one-third on the more than 1 million small companies structured as corporations and significantly increasing the tax burden on successful small businesses set up as pass-throughs.
Unbelievably, congressional Democrats are pitching tax hikes as a cure for inflation. Last week, Senate Majority Leader Chuck Schumer (D-N.Y.) said, "If you want to get rid of inflation, the only way to do it is to undo a lot of the Trump tax cuts and raise rates." Democrats are taking a page from their failed Build Back Better playbook, which also tried to convince Americans that trillions of dollars in new spending is an inflation solution.
It's unclear whether Democrats actually believe this economic sophistry. More likely, they are just pandering to Sen. Joe Manchin (D-W.Va.), whose vote they need to pass anything — and for whom inflation is a top priority. What's clear is that they are attempting to distract from the true inflation culprit: their own bad policies, including reckless spending that has devalued the dollar, and generous social programs that goosed demand and depressed labor supply.
In reality, tax hikes would only accelerate inflation and contract the economy further by hamstringing small businesses. Higher taxes disincentivize small business creation and expansion needed to overcome supply constraints, reduce inflation, and accelerate economic growth. Tax increases would usher in stagflation and an economic recession.
To emerge from this economic contraction and ward off stagflation, Congress should take the opposite approach and make permanent the Tax Cuts and Jobs Act (TCJA), which led to historic shared economic prosperity in 2018 and 2019. TCJA provisions — including a 20 percent qualified business income deduction that approximately 15 million small businesses have taken advantage of each year — have allowed small businesses to keep more of their earnings and reinvest them into expansion, hiring, and wage increases.
Unfortunately, most TCJA provisions are scheduled to expire after 2025. Making them permanent can give small businesses the certainty they need to make investments to bring the economy back.
Republican members of Congress also should begin thinking now about how they can pass pro-small business reforms, given the potential for the GOP to retake control of the House and Senate. In addition to making the Tax Cuts and Jobs Act permanent, agenda items should include increasing traditional energy production and transportation to bring down gas prices; deregulation, especially in the areas of climate and labor, to make it easier for small businesses to thrive; and personalized health care reform to increase choices and reduce prices.
A future with policies such as these can give small businesses something to look forward to this week and in the economically precarious months ahead. ##
Alfredo Ortiz is president and CEO of Job Creators Network. ###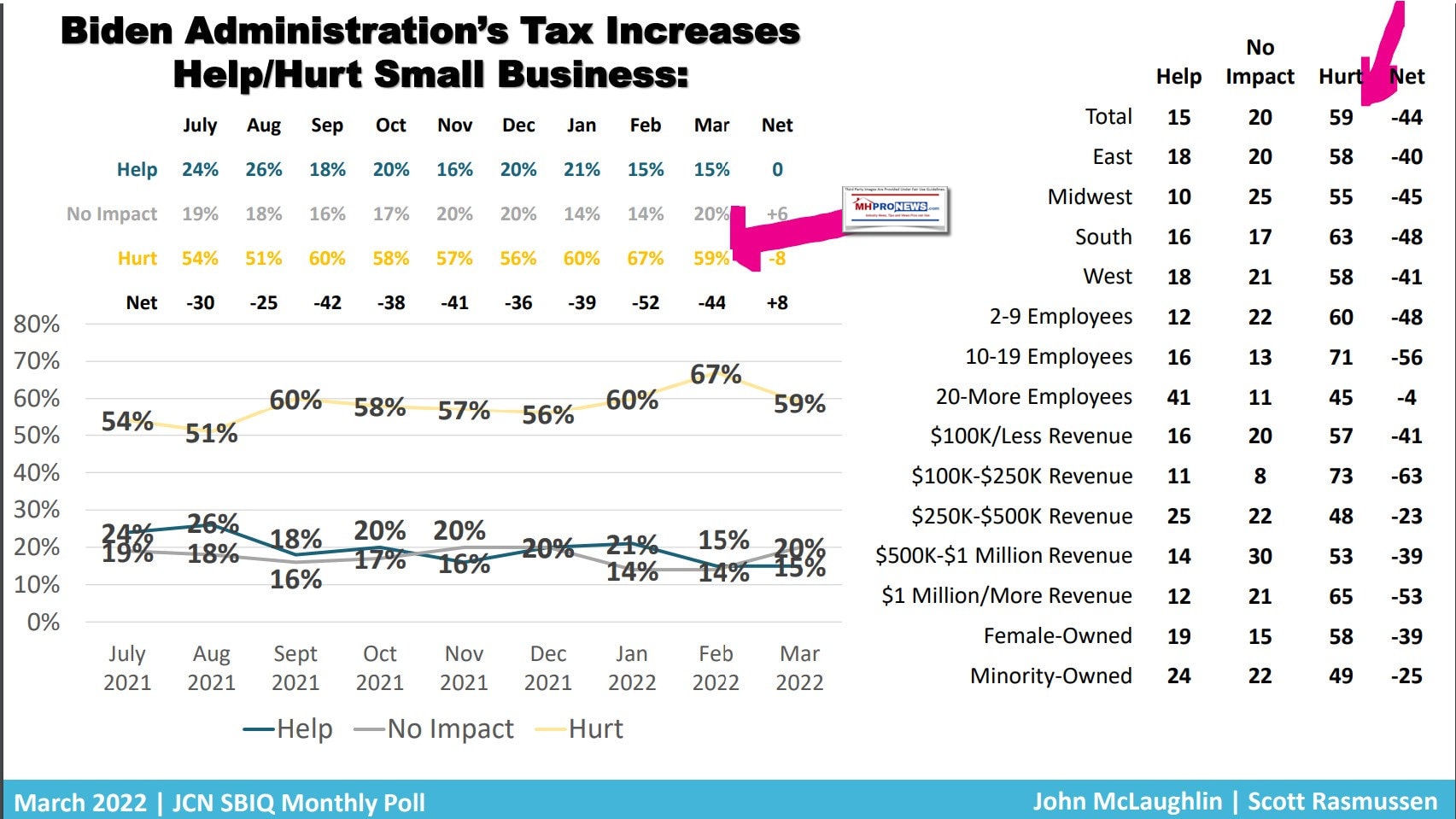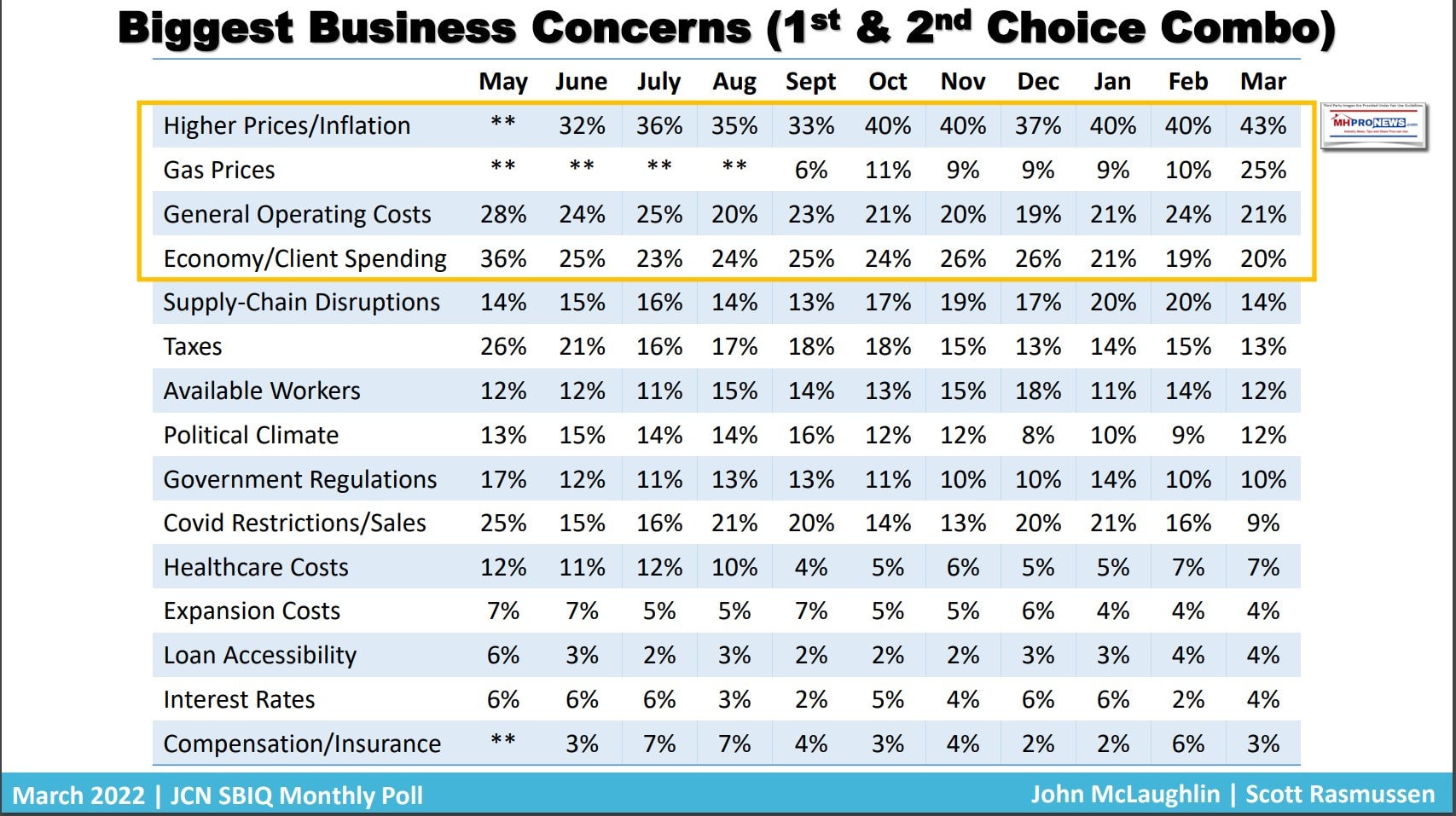 Ortiz's and the JCN Survey provide a useful backdrop to the manufactured home industry specific reports linked below.
'When Thurman Arnold was at DOJ, He, Colleagues Attempted to Protect Factory [Built] Housing Industry' 'Monopolies Sabotage, Destroy Markets' – Prof Jim Schmitz to DOJ; plus Manufactured Home Equities
As FAANGs Fall, New Manufactured Housing Production Rises Per March 2022 HUD Data – Opportunities in Disguise for Investors, Robust Growth Minded Manufactured Home Sellers; plus MH Equities Updates
It is important to note the distinction between the larger corporate response evidenced through the Business Round Table, U.S. members of the World Economic Forum, and others of that type to the Biden regime vs. that of smaller businesses or the Association of Mature American Citizens (AMAC).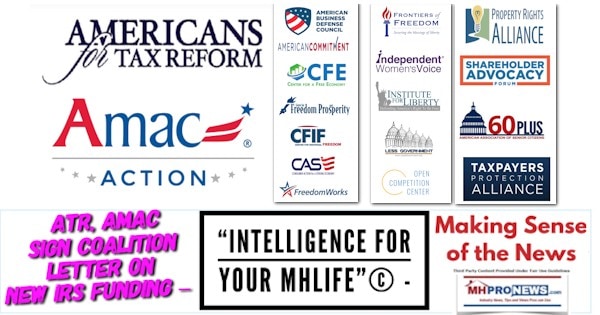 Russian Disinformation? CNN and WND Report on "World Government Summit," Joe Biden Address to Business Roundtable on "the New World Order;" plus Sunday Weekly Headlines Review
Next up is our daily business news recap of yesterday evening's market report, related left-right headlines, and manufactured housing connected equities.
The Business Daily Manufactured Home Industry Connected Stock Market Updates.  Plus, Market Moving Left leaning CNN and Right-leaning (Newsmax) Headlines Snapshot. While the layout of this daily business report has been evolving over time, several elements of the basic concepts used previously are still the same. For instance. The headlines that follow below can be reviewed at a glance to save time while providing insights across the left-right media divide. Additionally, those headlines often provide clues as to possible 'market-moving' news items.
Market Indicator Closing Summaries – Yahoo Finance Closing Tickers on MHProNews…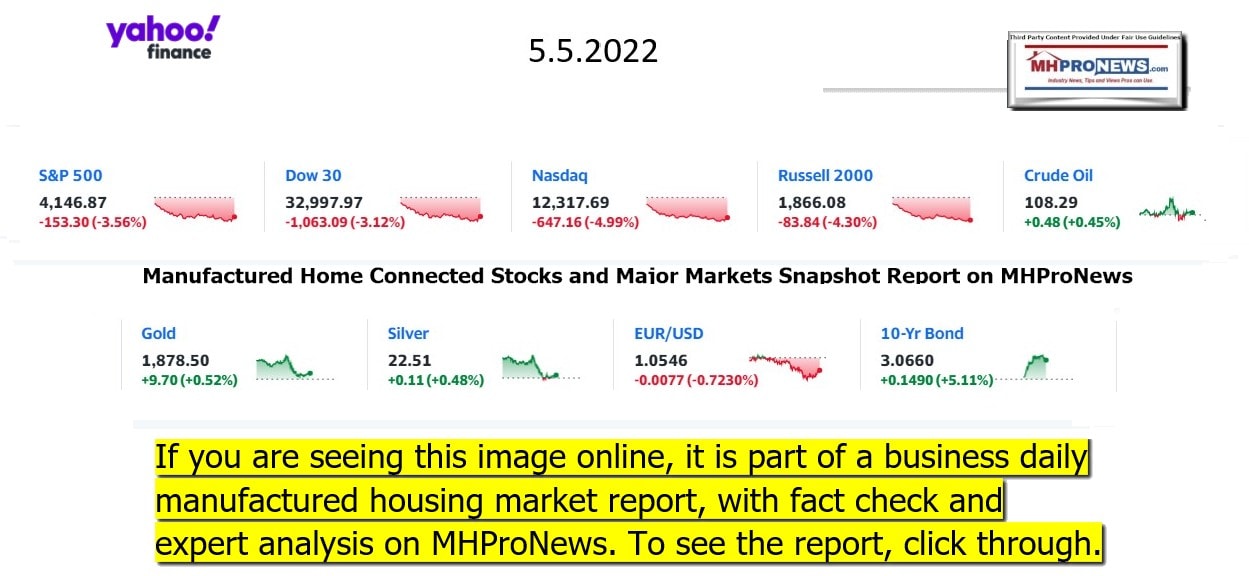 Headlines from left-of-center CNN Business – from the evening of 5.5.2022
So much for that Fed rally
NEW YORK, NEW YORK – MAY 05: Traders work the floor of the New York Stock Exchange during morning trading on May 05, 2022 in New York City. Stocks opened lower this morning after closing high on Wednesday after the Federal Reserve announced an interest-rate hike by half a percentage point in an effort to further lower inflation.
Dow plunges 1,000 points, wiping out Wednesday's surge
Stock market selloff is exactly what the Fed wants, ex-NY Fed chief says
The Fed could have trouble avoiding a double-dip recession
Here's how higher rates will impact you
How to take advantage of rising interest rates
Amazon Labor Union's Chris Smalls faces off against Sen. Graham
US worker productivity fell at the fastest rate in nearly 75 years
Opinion: Europe should call Russia's bluff on energy
China's economy is going backwards
Elon Musk raises an additional $7 billion in financing for Twitter deal
Bill Gates: Elon Musk 'could make Twitter worse'
Elon Musk probably got a huge tax break when he sold off Tesla shares
Searches, texts, location data: How personal data could be used to enforce anti-abortion laws
Harassment is a problem in VR, and it's likely to get worse
28 February 2022, Mecklenburg-Western Pomerania, Lubmin: View of pipe systems and shut-off devices at the gas receiving station of the Nord Stream 1 Baltic Sea pipeline.
Europe is planning to ditch Russia's oil. Will it go after its gas?
Houses in Westchester County in Larchmont, New York, U.S., on Monday, July 5, 2021
Mortgage rates hit highest level since 2009
Clockwork's fingernail-painting robot takes pictures of each fingernail then pipes polish onto the nail, leaving no brush lines.
Here's what it's like to have a robot paint your nails for $10
RETAIL
Meatballs are served at an Ikea restaurant in Amsterdam, Netherlands, in March 2013.
Ikea's restaurants were failing. Then it turned to Swedish meatballs
Why lab-grown diamond sales are surging
Old Navy was supposed to save Gap. Now it's struggling
Shoppers are turning their backs on Bed Bath & Beyond
Employees at a New York Apple store are trying to unionize
WEALTH COACH
Two Asian couples and men and women are together analyzing expenses or finances in deposit accounts and daily income sources with an savings economical concept.
These retirement bills let older workers put even more into their 401(k)s
The S&P is having its worst start to a year since 1939
7 things you're wasting money on
Here's how to retire long before your 60s
These numbers are bad news if you're trying to buy or refinance a house
Headlines from right-of-center Newsmax 5.5.2022
Poll: Majority of Voters Don't Want Biden to Run in 2024
A new poll shows that a majority of voters don't think President Joe Biden should run again in 2024 and that, in a rematch with former President Donald Trump, he would lose by double-digit margins. [Full Story]
Russian Invasion of Ukraine
Russian Duma Member Suggests End to War If Mariupol Captured
Video Shows Massive Russian Attack on Azovstal Steel Plant | video
Ukraine Repels Russian Attacks as Bloody Mariupol Plant Battle Rages
No Ukrainian Counter-Offensive Expected Before Mid-June: Presidential Adviser
US Announces Seizure of Superyacht Owned by Russian Oligarch
Report: US Intel Helped Ukraine Kill Russian Generals
Zelenskyy: Prolonged Truce Needed for Mariupol Evacuations
Russia Renews Claim Israel Aids Ukraine's 'Neo-Nazi Regime'
Report: Sweden, Finland Could Join NATO in Just Two Weeks
More Russian Invasion of Ukraine
Newsmax TV
Missouri AG Schmitt: Biden's MAGA Slam Shows Divisiveness | video
Tuberville: U.S. 'Halfway' Through One Javelin Stockpile
Burchett: Dems Early With 'October Surprise' SCOTUS Leak | video
Texas 'Heartbeat' Bill Writer: Court Draft 'Exciting' for Pro-lifers | video
Keller: Stop Policies That Don't Put 'America First' | video
Lankford: Overturning Roe Won't Outlaw Abortion | video
Ben Carson: SCOTUS Draft Leaker Thinking Like 'Jihadists' Do
More Newsmax TV
Newsfront
Group Plans Protests at Homes of Conservative Justices
A left-wing group is threatening to protest at the homes of the six conservative Supreme Court Justices and has revealed the addresses online. … [Full Story]
Related Stories
Alito Cancels Public Appearance Following Supreme Court Opinion Leak
Biden Taps Karine Jean-Pierre as White House Press Secretary
President Joe Biden said on Thursday he has chosen Karine Jean-Pierre [Full Story]
Fire Crews Close in Around Massive New Mexico Wildfire
Firefighters in New Mexico took advantage of diminished winds [Full Story]
Newsmax Debate in Pennsylvania: Oz Claims 'America First' as Candidates Fight Back
Wednesday night's Newsmax debate for Pennsylvania's Republican Senate [Full Story]
Related
Oz Staves Off Attacks in Pennsylvania GOP Senate Debate |video
Judicial Crisis Network's Severino: Who Is Paying These Protesters?
As liberal abortion activist groups are organizing protests they are [Full Story]
If Roe v. Wade Is Overturned, Here's What Happens Next
Even before Monday's stunning leak of a Supreme Court draft document [Full Story] | Platinum Article
RNC Chair McDaniel: Biden Has Not Condemned SCOTUS Draft Leak
President Joe Biden has still not condemned the unprecedented leak of [Full Story]
Iran Could Already Have Its Nuclear 'Islamic Bomb'
Washington's bipartisan consensus is that Iran does not yet have [Full Story] | Platinum Article
Schumer to Force Senate Vote on Abortion Next Week
Senate Majority Leader Chuck Schumer, D-N.Y., will force the Senate [Full Story]
30-Year Mortgages Rise to 5.27 Percent, Highest Since '09
Average long-term U.S. mortgage rates resumed their ascent this week, [Full Story]
Israel Says Putin Apologized over His FM's Holocaust Remarks
Israeli Prime Minister Naftali Bennett said he accepted an apology [Full Story]
3 Killed in Suspected Militant Stabbing Attack Near Tel Aviv
Israeli medics say at least three people were killed in a stabbing [Full Story]
Cornyn: Expand Security for SCOTUS Justices and Their Families
John Cornyn, R-Texas, has introduced a bill that expands [Full Story]
FTC Says Frontier 'Lied' About Internet Speed Claims
Internet service provider Frontier Communications must back up its [Full Story]
Rubio Slams Federal Retirement Investing in Chinese Companies
Marco Rubio, R-Fla., on Thursday said it should be "common [Full Story]
House Judiciary GOP Members Want 'Disinformation' Czar Jankowicz Testimony
The Republican members of the House Judiciary Committeewould like to [Full Story]
Report: Advanced Russian Tank Destroyed in Ukraine
A Ukrainian war reporterposted a photo of himself on Facebook [Full Story]
Poll: Majority of Voters Don't Want Biden to Run in 2024
A new poll shows that a majority of voters dont think President Joe [Full Story]
Musk's $44B Twitter Buyout Faces FTC Antitrust Review
The U.S. Federal Trade Commission (FTC) is reviewing Tesla Chief [Full Story]
Related
Musk Expected to Serve as Temporary Twitter CEO
Musk Gets $7B Backing for Twitter Bid From Tech Heavyweights
Emerson Poll: Trump-Endorsed Laxalt, Lombardo Lead Nevada Primaries
As former President Donald Trump can boast a 55-0 record with his '22 [Full Story]
WH Economic Adviser Can't 'Definitively' Rule Out Recession
White House economic adviser Jared Bernstein said he could not [Full Story]
Rich Russians Moving to Dubai to Evade Sanctions
Property purchases in Dubai by wealthy Russians have skyrocketed in [Full Story]
Poll: 23% of Americans Rate State of Economy as Good
Just 23 percent of Americans rate the state of the economy as good, [Full Story]
Dems Started Outreach to Hispanic Voters After Biden Win in 2020
Senate Majority Leader Chuck Schumer, D-N.Y., met with top Latino [Full Story]
Schiff Calls GOP Outrage Over Supreme Court Leak a 'Sideshow'
House Intelligence Committee Chair Rep. Adam Schiff, D-Calif., [Full Story]
New White House Helicopter Closer to Being Commissioned
The Marine Corps declared that the new presidential helicopter fleet [Full Story]
Report: COVID Death Toll Hits 1 Million in US
The U.S. surpassed the grim milestone of 1 million deaths from [Full Story]
GOP Senators Evade Questions on Federal Abortion Ban
Republican senators are refusing to commit to seeking abortion [Full Story]
Study: Omicron as Severe as Previous COVID Variants
The omicron variant of the SARS-CoV2 virus is intrinsically as severe [Full Story]
Pelosi: House Vote on $33B More for Ukraine Next Week
House Speaker Nancy Pelosi, D-Calif., said Wednesday that the House [Full Story]
'Fully Vaccinated, Boosted' WH Dinner Spread COVID
Journalists and attendees from Saturday night's White House [Full Story]
The Best Way to Stop Mosquito Bites (Do This)
Trends Consumer Club
More Newsfront
Finance
30-Year Mortgages Rise to 5.27%, Highest Since '09
Average long-term U.S. mortgage rates resumed their ascent this week, as the key 30-year loan reached its highest point since 2009…. [Full Story]
Michael Busler: Fed Action, Once Again, Way Too Little & Way Too Late
Trevor Gerszt: Gold Demand Rises 34@ in First Quarter
Small Businesses Still Struggle to Find Enough Workers
Boeing to Move HQ to Arlington, Virginia
More Finance
Health
Study: COVID Transmission 1,000 Times More Likely From Air Versus Surfaces
If you're still wiping down groceries, doorknobs and light switches in an attempt to thwart COVID-19, maybe you can relax a little: You're 1,000 times more likely to get COVID from the air you breathe than from surfaces you touch, a new study suggests. University of Michigan…… [Full Story]
Vaccine Against 'Mono' Virus Implicated in MS, Cancers Looks Promising
WHO: COVID Led to 15 Million Deaths Globally, Not the 5 Million Reported
These Foods Best for Preventing Dementia, According to New Study
New More Transmissible BA.2 COVID Subvariant Taking Hold in US
MHProNews has pioneered in our profession several reporting elements that keep our regular and attentive readers as arguably the best informed in the manufactured housing industry. Among the items shared after 'every business day' (when markets are open) is our left-right headline recap summary. At a glance in two to three minutes, key 'market moving' news items are covered from left-of-center CNN Business and right-of-center Newsmax. "We Provide, You Decide." © Additionally, MHProNews provides expert commentary and analysis on the issues that others can't or won't cover that help explain why manufactured housing has been underperforming during the Berkshire era while an affordable housing crisis and hundreds of thousands of homeless in America rages on. These are "Industry News, Tips, and Views Pros Can Use" © features and others made and kept us the runaway #1 in manufactured housing trade publisher for a dozen years and counting.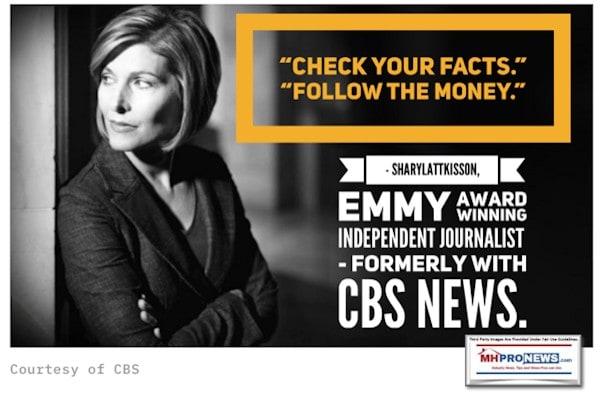 Manufactured Housing Industry Investments Connected Equities Closing Tickers
Some of these firms invest in manufactured housing, or are otherwise connected, but may do other forms of investing or business activities too.
NOTE: The chart below includes the Canadian stock, ECN, which purchased Triad Financial Services, a manufactured home industry lender
NOTE: Drew changed its name and trading symbol at the end of 2016 to Lippert (LCII).
NOTE: Deer Valley was largely taken private, say company insiders in a message to MHProNews on 12.15.2020, but there are still some outstanding shares of  the stock from the days when it was a publicly traded firm.  Thus, there is still periodic activity on DVLY.
Manufactured Home Communities (a.k.a. 'Mobile Home Parks' – SIC) – Exploring UMH Properties; Fellow Manufactured Housing Institute Member Yes! Communities Suits and Settlements; plus MH Markets Updates
'Announcing!' 'Manufactured Community Owners' Association of America' 'Finally Bringing Fight To Manufactured Home Community Sector of the Industry' – plus Sunday Weekly Manufactured Housing Headlines Review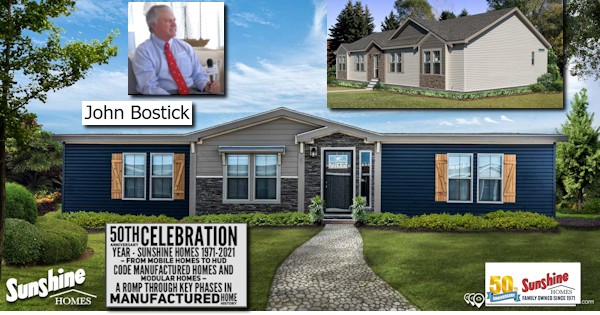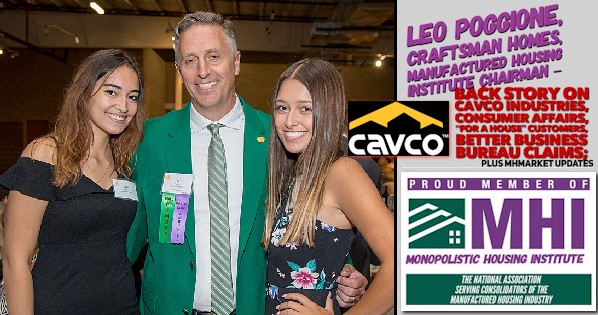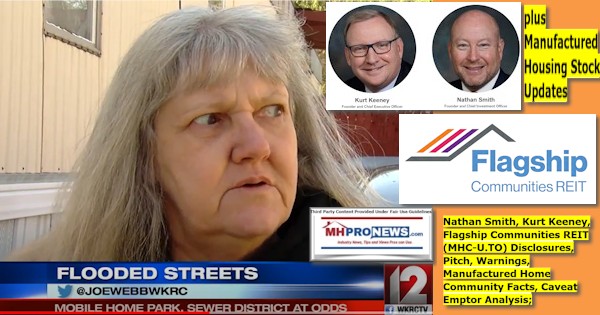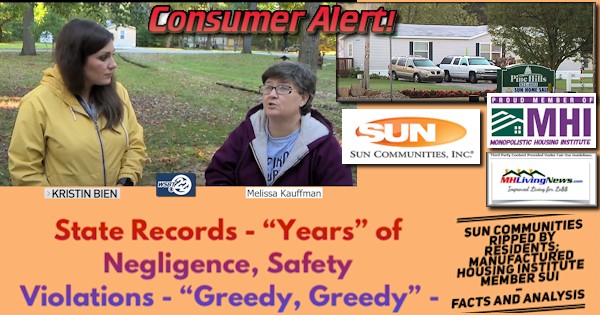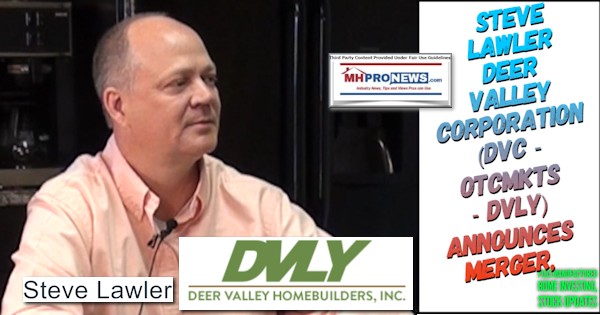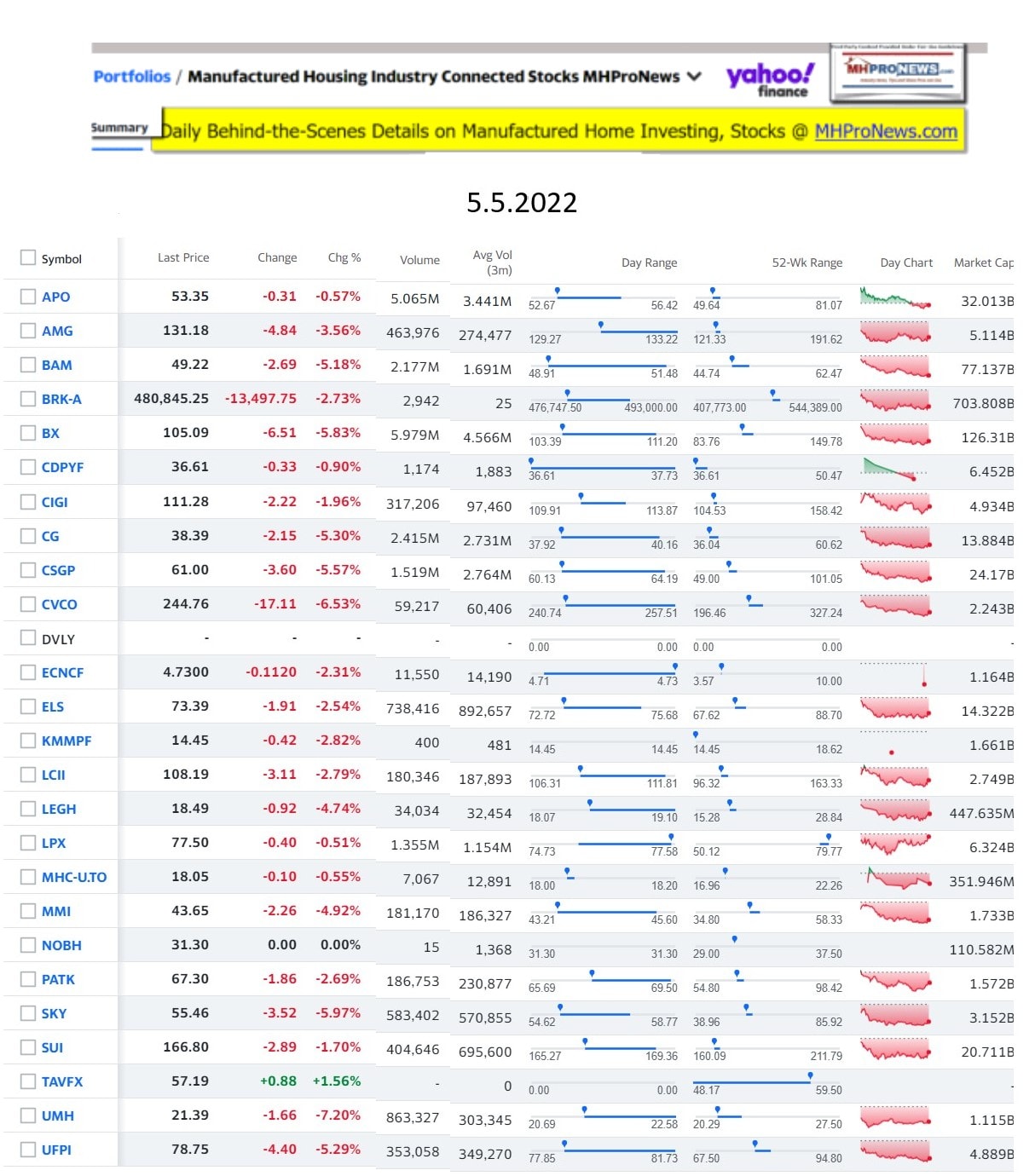 2022

…

Berkshire Hathaway is the parent company to Clayton Homes, 21st Mortgage, Vanderbilt Mortgage and other factory-built housing industry suppliers.


·

LCI Industries, Patrick, UFPI, and LP each are suppliers to the manufactured housing industry, among others.




·

AMG, CG, and TAVFX have investments in manufactured housing related businesses.

For

insights from third-parties and clients about our publisher

, click here.


Enjoy these 'blast from the past' comments.

MHProNews. MHProNews – previously a.k.a. MHMSM.com – has celebrated our 11th year of publishing and have completed over a dozen years of serving the industry as the runaway most-read trade media.
Sample Kudos over the years…
It is now 12+ years and counting…
Learn more about our evolutionary journey as the industry's leading trade media, at the report linked below.
· For expert manufactured housing business development or other professional services, click here.
· To sign up in seconds for our industry leading emailed headline news updates, click here.

Disclosure. MHProNews holds no positions in the stocks in this report.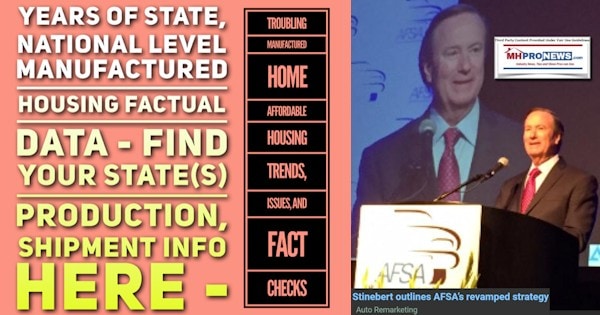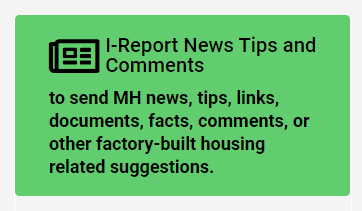 That's a wrap on this installment of "News Through the Lens of Manufactured Homes and Factory-Built Housing" © where "We Provide, You Decide." © (Affordable housing, manufactured homes, stock, investing, data, metrics, reports, fact-checks, analysis, and commentary. Third-party images or content are provided under fair use guidelines for media.) (See Related Reports, further below. Text/image boxes often are hot-linked to other reports that can be access by clicking on them.)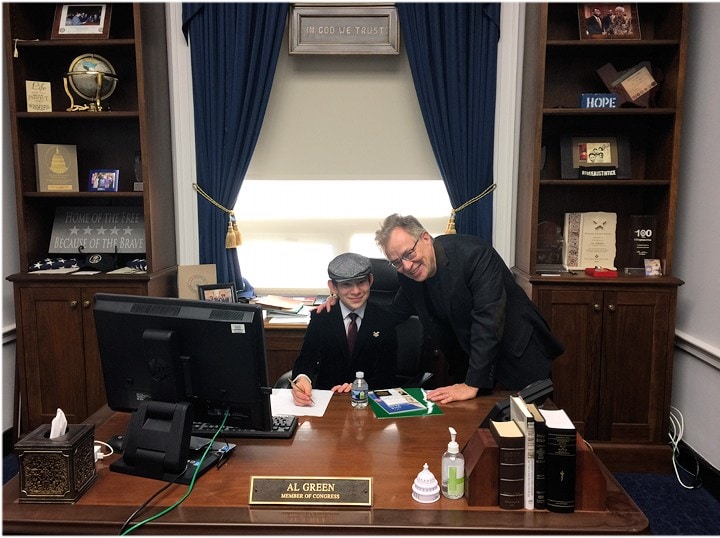 By L.A. "Tony" Kovach – for MHProNews.
Tony earned a journalism scholarship along with numerous awards in history. There have been several awards and honors and also recognition in manufactured housing. For example, he earned the prestigious Lottinville Award in history from the University of Oklahoma, where he studied history and business management. He's a managing member and co-founder of LifeStyle Factory Homes, LLC, the parent company to MHProNews, and MHLivingNews.com. This article reflects the LLC's and/or the writer's position and may or may not reflect the views of sponsors or supporters.