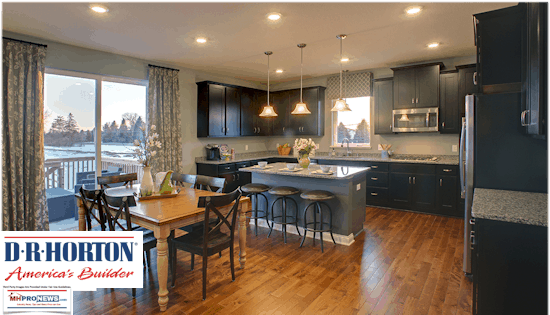 "Investors: D.R. Horton, Inc., America's Builder, has been the largest homebuilder by volume in the United States for thirteen consecutive years," says the publicly-traded company's website.
Their website provided the following data, linked here.  The screen capture below is just part of that fact sheet.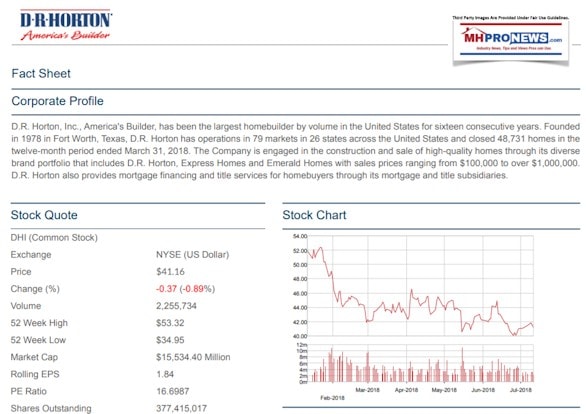 Horton sells more than half the total number of housing units annually sold by the entire manufactured housing industry, and obviously at a far higher average price-point.
A report in Oct 2017, said their sales total in 2016 was $12.3 billion in revenues.
That's more than double the retail sales total for all of the HUD Code manufactured homes sold in 2017 by the manufactured housing (MH) industry. The latest MH data can be reviewed later, at the link below.
Manufactured Home Shipments, State by State Breakdown, May 2018 Official HUD Data
Why does any of this matter to MHVille?
Fair question, let's look.
The Site Built Housing Industry Reality Check  #1
ABC News did the following exposé of the host of problems found in the conventional housing industry.
This isn't new, there are numerous other similar reports.  Check out this short one by a local news report.
These are similar to the kinds of problems that caused the old pre-HUD Code mobile home industry's leaders to turn to the federal government and ask for federal standards.  Problematic pre-HUD Code mobile home builders in the early 1970s caused the builders of better homes NOT to want to be branded by those with a poor image.
The 'quality crisis' of the late 1960s and early 1970s led to exposés by CBS' 60 Minutes and others.  That threatened the credibility of the then-booming mobile home business.  Are site builders heading toward a similar crisis? And will manufactured home producers, marketers and sellers be able to tap into those concerns?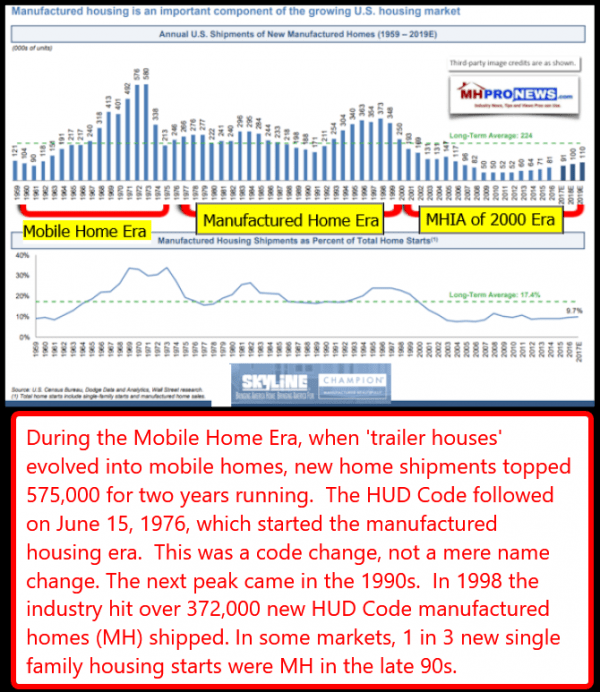 D.R. Horton is far from alone in facing such concerns among conventional, on-site builders.  There have been numerous websites over the years – example, http://www.kbhomesleak.com/kb-home-sucks-1-gone/ – that spotlight these kinds of problems with other stick builders.
The point here isn't to trash D. R. Horton, nor any other, conventional housing builders.
Rather, it is to make a few points similar to what the National Association of Home Builder (NAHB) official interviewed in the ABC News video above made.
Namely, that housing isn't perfect.
No product is, and that includes manufactured homes.
So why is it that conventional housing is roaring, and manufactured home shipments are snoring?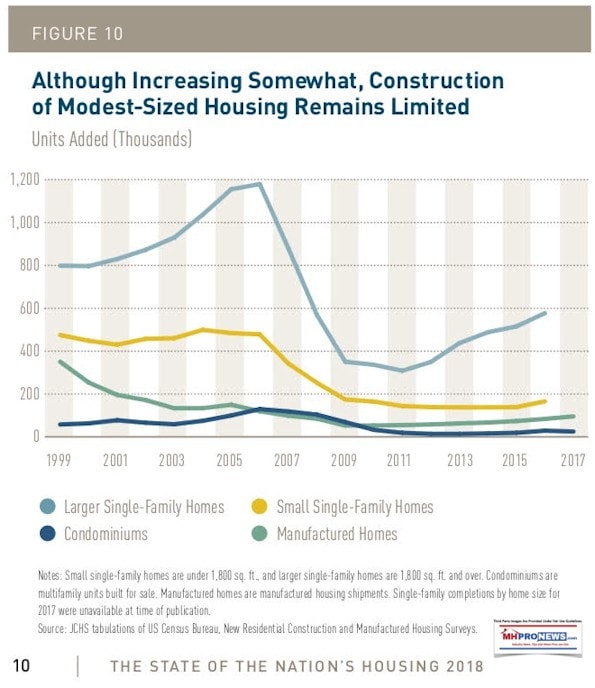 Part of the beauty of manufactured homes is that there are third-party inspections. Those avoid many of the kinds of problems being identified by site builders, noted in the videos above.
HUD Code manufactured housing consumers can take comfort in that inspection process. Furthermore, the dispute resolution process that is part of the Manufactured Housing Improvement Act of 2000 (MHIA) gives consumers a level of confidence that is frankly not found in the conventional housing world.  The MHIA of 2000 is found in the article linked below, along with other information that can be read later for greater depth of understanding on a related topic.
Two Great Laws Already on the Books NOW,  Can Unlock Billion$ Annually for Manufactured Housing Industry Businesse$, Investor$
Unlike many conventional builders, manufactured home producers are all third-party inspected. And the review process – per HUD data reveals – so few consumer complaints that it should make all manufactured home sellers proud.
The article from MHLivingNews last year spotlighted the relatively few numbers of dispute resolution complaints on HUD Code homes.
Based on federal facts Pam Danner, JD, about the number of manufactured homes going to dispute resolution, will HUD's new Secretary, Dr. Ben Carson, make changes?
There are so many ways to make the points to consumers that today's manufactured homes are a good investment.
It should be noted that Horton Homes, a manufactured housing company that was based in Georgia, was not connected with D.R. Horton.
Per References for Businesses, "…the publicly-owned D. R. Horton construction firm, based in Dallas, Texas, is an entirely different company…Horton [Homes] had played a part in improving the industry's prestige, however. For years, jokes had persisted about manufactured housing–or rather trailers, sometimes nicknamed "tornado bait." The homes had been considered to be shoddy, unattractive, substandard, and (in the case of a tornado or even of high winds) unsafe. Starting in the 1970s, however, that began to change. In June 1976, the United States Department of Housing and Urban Development (HUD) set new safety standards for mobile home construction. In the wake of hurricanes Hugo (1989) and Andrew (1992), HUD increased its requirements, declaring that manufactured homes should be able to withstand winds of 110 m.p.h. Horton [Industries] decided that his own product should meet even higher standards, and in 1997 the Atlanta Business Chronicle reported that some Horton Homes could sustain winds of 135 m.p.h."
As an interesting side-note, Texas-based Legacy Housing, Inc. states that it purchased Horton Industries manufactured housing production facilities in Eatonton, GA in a January 2016 statement.
The Stick-Builder Horton Website Says the Following
"About D.R. Horton, Inc.
D.R. Horton, Inc., America's Builder, has been the largest homebuilder by volume in the United States for sixteen consecutive years. Founded in 1978 in Fort Worth, Texas, D.R. Horton has operations in 79 markets in 26 states across the United States and closed 48,731 homes in the twelve-month period ended March 31, 2018. The Company is engaged in the construction and sale of high-quality homes through its diverse brand portfolio that includes D.R. Horton, Emerald Homes, Express Homes and Freedom Homes ranging from $100,000 to over $1,000,000. D.R. Horton also provides mortgage financing and title services for homebuyers through its mortgage and title subsidiaries."
The D. R. Horton Takeaways for Manufactured Housing?
There are numerous top-line takeaways for manufactured housing in the D. R. Horton story. The Daily Business News on MHProNews will point to only one this morning.  It's this.  There is a need for all true leaders in the manufactured home industry to stand up and fight for the reputation of their industry.
D. R. Horton proves you can have significant issues, and still be wildly more successful than those in our industry are today. D. R. Horton's quality concerns arguably dwarf those of manufactured housing. D.R. Horton aggressively markets their product.
If that is obviously so, then how is it that on something as apparently simple as the use of proper terminology about manufactured homes, the MH Industry can't get the media to get that right?  How can it be that 42 years after the first HUD Code homes were built, that the industry's big corporate leaders can't get many in the media to use the correct nomenclature?
Proper Definitions, Mobile Home, Manufactured Home, or Trailer House – Civil Rights, Respect, Public Policy, & Value Issues
See the related story, linked above.  The public focused story on D.R. Horton, is linked below.
Exposé! Heartbroken Conventional Housing Buyers? Dare to Compare Site Built with Modern Manufactured Homes, ABC News, D.R. Horton Homes,
That's this morning's look at "News through the lens of manufactured homes, and factory-built housing." © "We Provide, You Decide." ©  ## (News, analysis and commentary.)
(Third party images, content are provided under fair use guidelines.)
Related Reports:
"Why Advocates Need to Rethink Manufactured Home Quality," Harvard, GSE, Genz, "High Satisfaction"
"Take the MH Advantage Challenge – Can You Tell the Difference?" Fisk of Sarah Edelman, Director of Duty to Serve, Single-Family Mortgage Business for Fannie Mae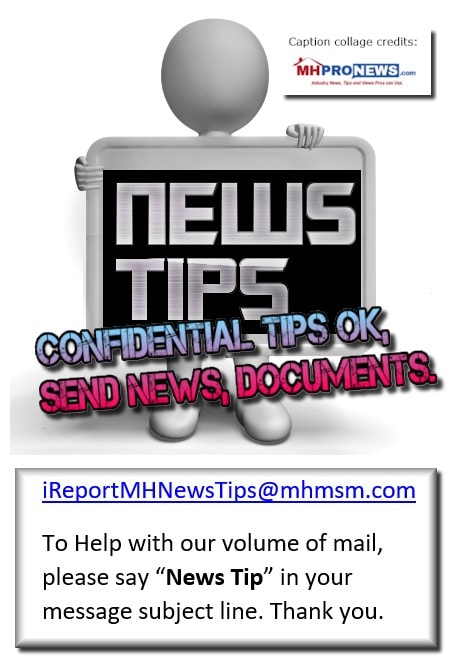 1) To sign up in seconds for our MH Industry leading emailed news updates, click here.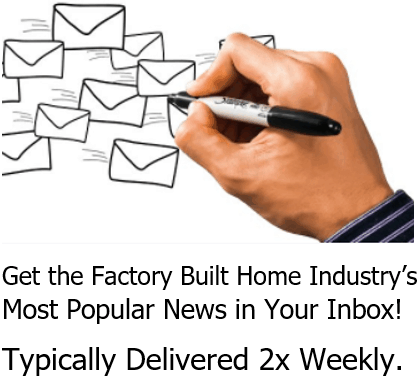 2) To provide a News Tips and/or Commentary, click the link to the left. Please note if comments are on-or-off the record, thank you.
3) Marketing, Web, Video, Consulting, Recruiting and Training Resources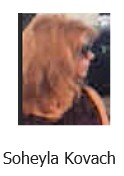 Submitted by Soheyla Kovach to the Daily Business News for MHProNews.com. Soheyla is a managing member of LifeStyle Factory Homes, LLC, the parent company to MHProNews, and MHLivingNews.com.