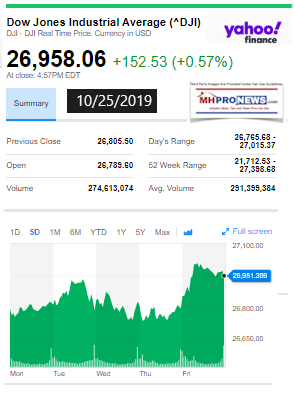 For tens of millions, perception is reality. That's an important point for manufactured housing professionals to keep top of mind. It is an apt point for investors to consider too. Tonight we will look at a Reuters report of some Morning Consult research. It says something simple, yet insightful. Depending on what news sources you watch and read, that influences your perception of the economy. Same data, same reality, different perception. Following our left-right bullet headlines, standard and unique nightly market data, that will be our featured focus tonight.
Regular readers please note there are a few tweaks to some of the standard portions of our evening market/investing report. Read carefully as some changes of the 'standard text' that follows before our left-right headlines and also in other features near the end of tonight's reports.
Every evening our headlines that follow provide snapshots from two major media outlets on each side of the left-right news spectrum that reflect topics that influence or move investor sentiment. In moments on this business evening report, you can get 'insights-at-a-glance.'
This report also sets the broader context for manufactured housing markets, in keeping with our mantra, "News through the lens of manufactured homes and factory-built housing" ©.
We begin with headlines left-of-center CNN followed by right-of-center Fox Business. We share closing tickers and other related data courtesy of Yahoo Finance, and more. 5 to 10 minutes reading this MHProNews market report every business night could save you 30 minutes to an hour of similar reading or fact-gathering elsewhere.
Perhaps more important, you will get insights about the industry from experts that care, but also dare to challenge the routine narrative that arguably keeps manufactured housing underperforming during an affordable housing crisis.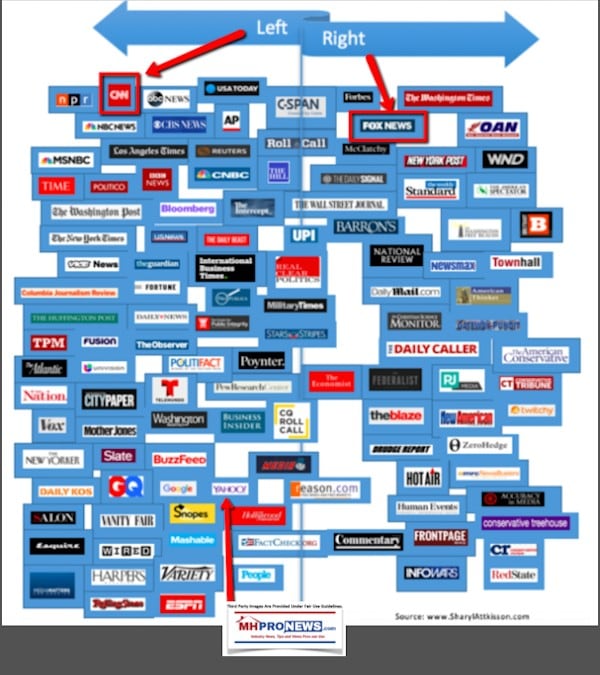 Newsy, Peeling Back Media Bias, Manufactured Housing Sales, Investing, Politics, and You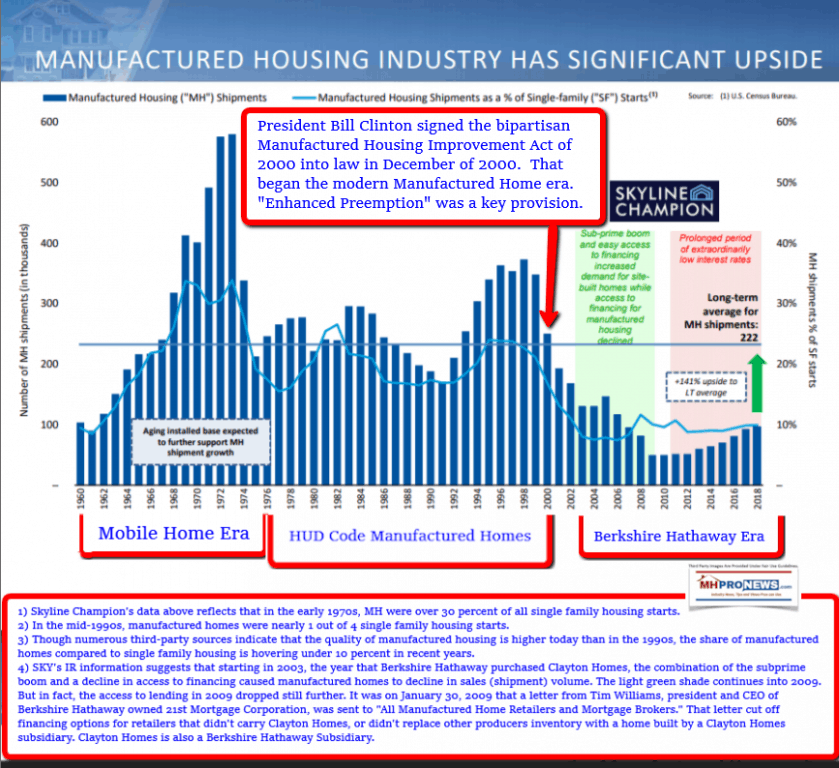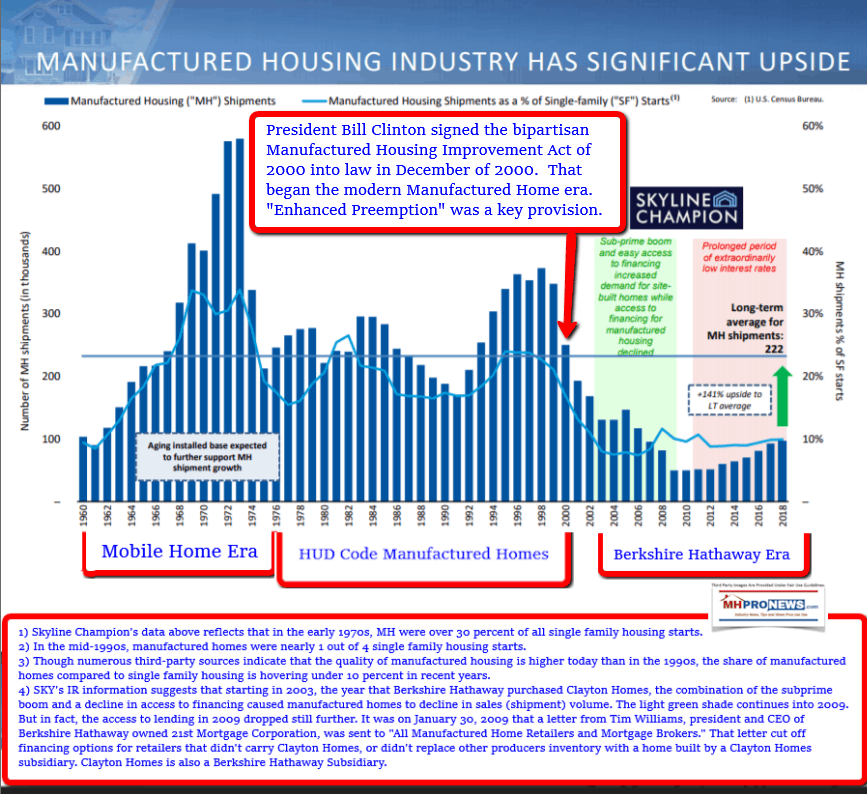 Headlines from left-of-center CNN Business.
GM strike is over
50,000 hourly union members will return to work after voting for a four-year labor deal
Opinion: GM could never offer strikers everything they wanted. Here's why
Stocks climb Friday on China trade deal progress
Amazon is making investors nervous
Overnight lending market drama continues, forcing the Fed to pump in more and more cash
Boeing promises to change 737 Max software as Indonesia releases Lion Air crash report
Pence blasts the NBA and Nike
Walmart wants robots in stores. Target doesn't
Budweiser brewer is running into trouble in China
TikTok could threaten national security, US lawmakers say
American Express just changed its most iconic card
'Joker' is now the highest-grossing R-rated film ever
Crispy, spicy, popular: Why chicken sandwiches are taking over America
Jeff Bezos is dangerously close to losing his title as the 'world's richest person'
Sales of Vans sneakers are starting to cool off
Nike launches a sneaker subscription service for kids
This startup sells rare sneakers. It's now worth $1 billion
Peanut has his own sneaker now. Yes, really
Would you pay more for sustainable sneakers?
She could be the first female CEO of a big US bank
Why CEOs are paid so much
Risk takers become CEOs faster. Here's why
Blankfein: CEOs don't always make great politicians
How to look like you know what you're doing at work even when you don't
He wants to bring a billion people to digital payments
Mark Zuckerberg remained silent after Congressman Barry Loudermilk compared him to President Trump.
Watch Zuckerberg react when a lawmaker compares him to Trump
I report on technology. And I got hacked.
Full Range Virgin Galactic and Under Armour Spacewear System for Private Astronauts
Virgin Galactic's Under Armour spacesuits
Beeflow
Why this startup is making honeybees smarter
Headlines from right-of-center Fox Business.
GM strike to end as auto workers ratify new contract ; Ford strike could be next
Both parties had been in talks stretching into nights and weekends.
S&P 500 just misses all-time high
Washington banning many US flights to this country
Poll reveals how majority of Americans feel about Rockets GM's Hong Kong tweet
Inside America's 'dream' home: Here's what buyers want
Why Fiat Chrysler is recalling thousands of pickup trucks
Inside America's newest mega-mall
WATCH: Mark Zuckerberg announces 'dedicated tab' on Facebook for news
Insurance becomes serious problem amid raging California wildfires
How much billionaire will pay for America's most expensive mansion
One potential way patients could save on medical bills
US-China trade war negotiations make headway
Trumps 'may be willing to sell' this iconic property
Hedge funder on Tesla solar push: 'If you believe this, I have bridge to sell you'
Climb inside Antonio Brown's tricked-out treehouse
Government budget deficit soars to highest level in years
Amazon's Jeff Bezos loses title as world's richest person to this man
Comedians face backlash for confronting Harvey Weinstein at bar
Hedge fund manager on Tesla solar push: 'If you believe this, I have a bridge to sell you'
How this company's $70k base pay may benefit both CEO, workers
More retailers pulling baby powder from shelves amid asbestos fear
EXCLUSIVE: Andrew Yang warns Walmart robots will sideline workers
New advertising platform could change ads at the movies
Mega-mall's opening day was 15 years in the making, former gov. says
A swig of this Scotch costs more than a 2020 Porsche
United Airlines in talks with Apple to upgrade terminal in this major US airport
XFL draftee Corey Vereen rejects contract over low pay
Business travel could hit $2T — as long as these two things don't stop it
Felicity Huffman released from jail early for her role in college cheating scandal
Chipotle launches TikTok costume contest with Boorito deal
SoftBank slides after WeWork bailout spurs scrutiny of high-risk investments
FanDuel kicks off sports equinox with risk-free game, thousands in the pot
The Fed will cut interest rates next week, Goldman predicts
Amazon ups delivery game but it comes at a cost
This company is changing the apartment rental game
Lion Air crash report lays the blame for crash that killed 189
WATCH: Trump teases a less expensive healthcare system if GOP wins House
New York may smack down uber-wealthy's quickest route to airport
Twitter CEO Jack Dorsey takes a swipe at Mark Zuckerberg
Houston Rockets fans back Hong Kong, knock NBA for bowing to China
America's next mega-mall amid retail apocalypse: Dream or disaster?
Another Tom Brady jersey has been stolen, here's what they're worth
Poll reveals how many Americans support reparations for slavery
Citigroup putting Jane Fraser in line to be first woman CEO
10 Market Indicator Closing Summaries – Yahoo Finance Closing Tickers on MHProNews…

Tonight's Business/Market/Political Impact Spotlight –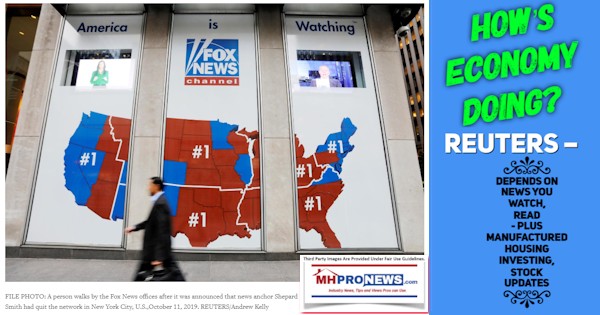 To do news properly, MHProNews has long believed that there is a need to consume information from a wide variety of sources. That has been exemplified for years by our 'left-right' bullet headlines that use CNN Business as well as Fox Business. To tee up tonight's topic, if you normally skip over those headlines from each source today, just go back and take a 60 second look at the two sets of headlines.
There are some points of overlap, right?
But there are clearly distinctions too.
Yet the same events occurred in the U.S. and around the world, regardless if you read or watch CNN, Fox, or use other information/news sources.
The Morning Consult is associated with Politico, which Sharyl Attkisson's left-right media bias chart rates as left-of-center. Attkisson's infographic also rates Reuters as left-of-center.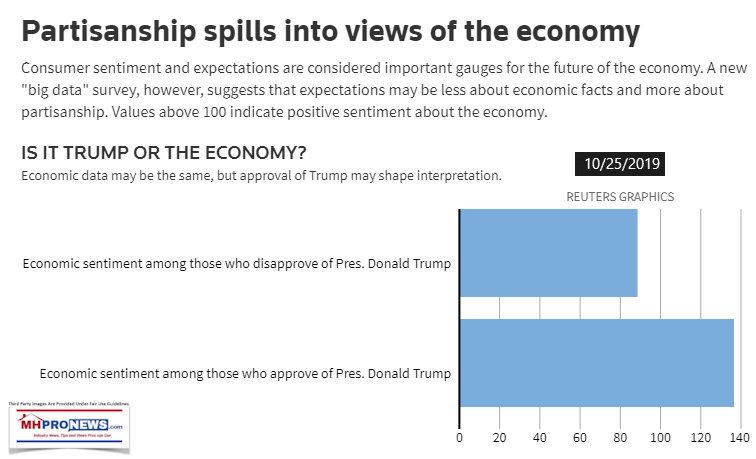 With that background, it is interesting to note that depending on what news you watch or read, that influences your perception of the economy.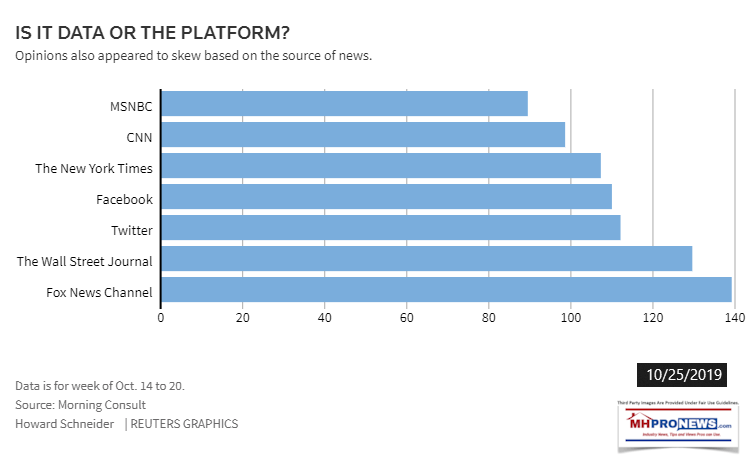 As if to prove the point, the White House press room's "Resolute Reads" today cited this factoid-based report from Fox Business.
It's a Middle-Class Boom — How Americans are Really Doing Under Trump Economy
-Fox Business
"The median or average-income family has seen a gain of $5,003 since Trump came into office," Steve Moore writes. "Under George W. Bush, the household income gains were a little over $400 in eight years, and under Barack Obama the gains were $1,043. That was in eight years for each. Under Trump, in less than three years, the extra income is about three times larger."
Those facts or data points are presumably the same regardless of what party one favors, if any. But this Morning Consult research tells us that if you watch MSNBC more than Fox, you are less likely to believe the economy is doing better under President Trump.
Thomas Sowell would not be surprised by this research. He observed the following.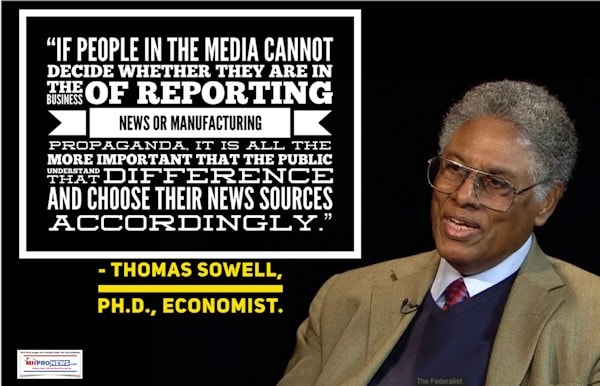 But what this really tells us is this. Media bias is real, and it influences tens of millions of Americans. Perhaps that is why there is media bias?
One more factoid before wrapping this up tonight and tying it to manufactured housing. The graphic below reflects the parent companies of many media outlets. As Danny Glover put it, there is a monopoly of not only money but information too.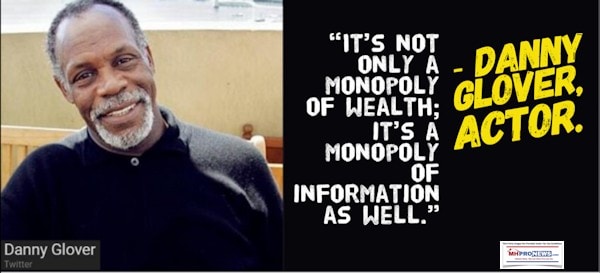 Manufactured housing is misunderstood. There are clearly those who passively or actively like it like that, or the public perception of manufactured housing would be different.

Proper understanding of the industry, plus a principled business plan could be worth a lot to the right investors. As Sam Zell as said, when everyone is going left, look right. As Warren Buffett has said, if you are chasing what others are chasing, odds are your upside isn't very impressive. MHProNews clearly has perspectives, and we label our reports to reflect that reality. That said, there is no source in our industry that strive to do a left-center-right factually accurate, fair and balanced report. We may disagree with Warren Buffett – or example – on several things, but some things he has said quite accurately.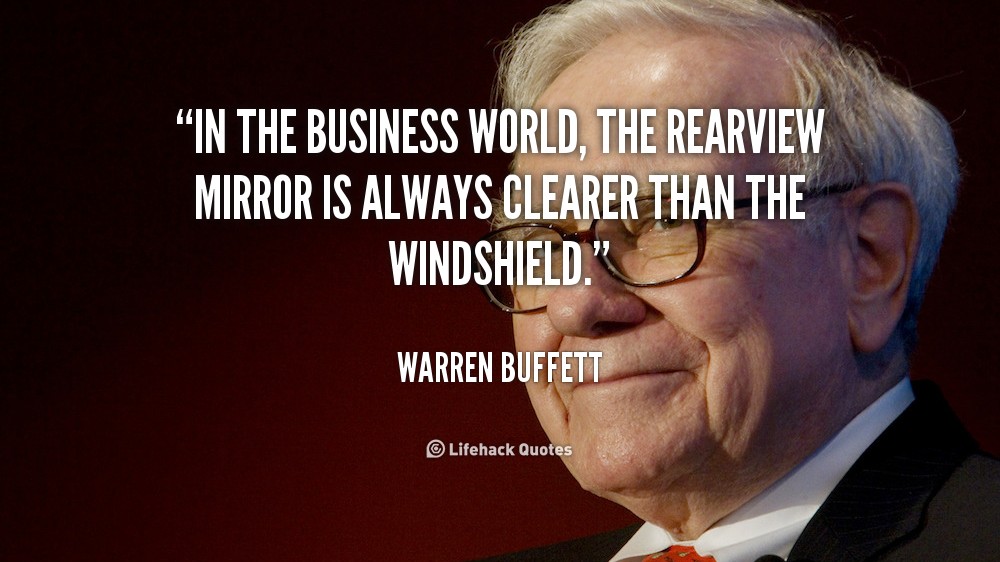 That said, there will always be naysayers in MHVille when it comes to our reports.
Manufactured Housing Institute Issues Housing Alert on Local Zoning
See related reports for more.
Related Reports: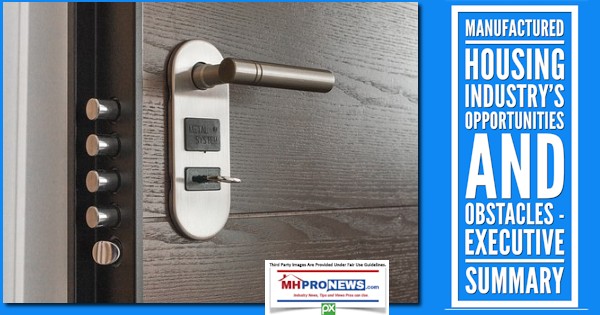 A Tale of Two Cities, Affordable Housing, Manufactured Homes, and You
"Going Mobile," "Midas Mike," "Okay, Trailer Park it Is" – CBS' NCIS Spoofs Manufactured Home Community Living, Including Frank Rolfe Type Character
Doubling Down on Debunked Data, Latest Bold MHInsider Claim Unpacked
Manufactured Housing Industry Investments Connected Closing Equities Tickers
Some of these firms invest in manufactured housing, or are otherwise connected, but may do other forms of investing or business activities too.
NOTE: The chart below includes the Canadian stock, ECN, which purchased Triad Financial Services, a manufactured home industry lender
NOTE: Drew changed its name and trading symbol at the end of 2016 to Lippert (LCII).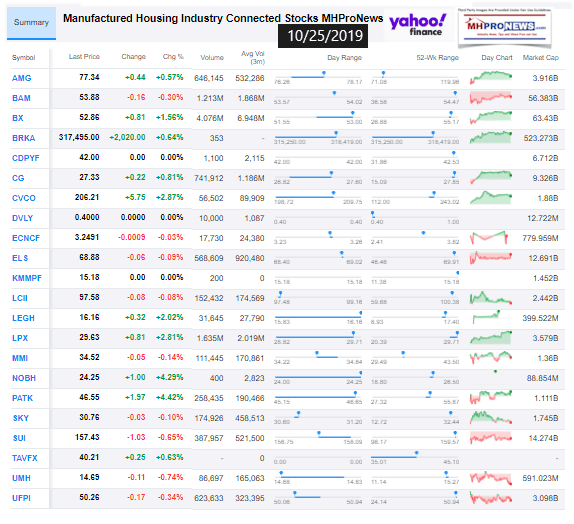 Updated for Fall 2019…
Berkshire Hathaway is the parent company to Clayton Homes, 21st Mortgage, Vanderbilt Mortgage and other factory built housing industry suppliers.
· LCI Industries, Patrick, UFPI, and LP each are suppliers to the manufactured housing industry, among others.
· AMG, CG, and TAVFX have investments in manufactured housing related businesses.
For insights from third-parties and clients about our publisher, click here.
Enjoy these 'blast from the past' comments.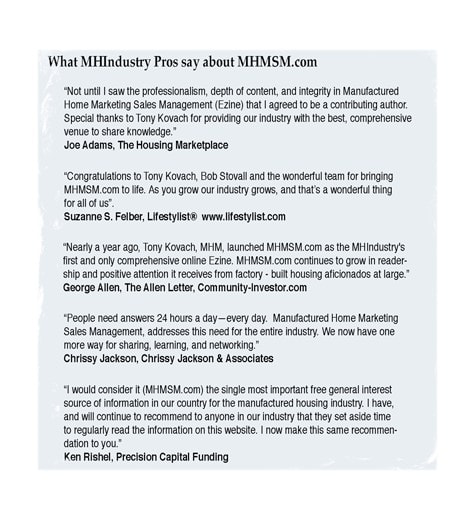 Celebrating 10 Years of Goal- and Solution-Oriented Manufactured Home Industry Innovation Information, and Inspiration for Industry Professionals
· For expert manufactured housing business development or other professional services, click here.
· To sign up in seconds for our industry leading emailed headline news updates, click here.
Disclosure. MHProNews holds no positions in the stocks in this report.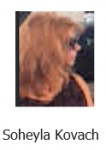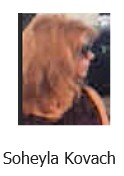 "We Provide, You Decide." © ## (News, analysis and commentary.)
(Image credits and information are as shown above, and when provided by third parties, are shared under fair use guidelines.)
Submitted by Soheyla Kovach, co-managing member of LifeStyle Factory Homes, LLC and co-founder for MHProNews.com, and MHLivingNews.com.