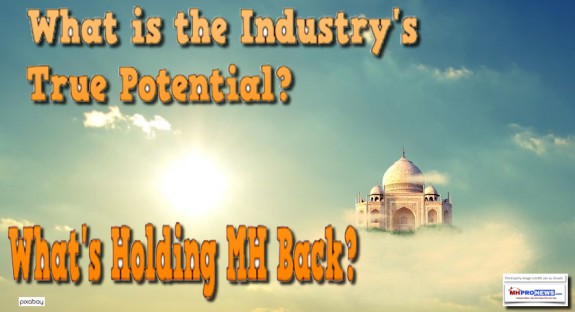 "If something is going to affect your life, it is best to know as much as you can about it." Donald J. Trump, per the book entitled, "Why We Want You To Be Rich," as cited by MegaInvestments.
In an upcoming report that will be found in the industry only on the MHProNews, you will see third-party research that states there is a need for over 8 million housing units in the U.S.
Some 8 million new homes.  Doesn't that spell scores of local opportunities?
That data is similar to a previous report already published on the Daily Business News where the National Low-Income Housing Coalition said there is a need for over 8 million affordable housing units in the U.S.
NLIHC CEO Responds on HUD's Worst Case Housing Needs Report, MH Leader Reacts
For simplicities sake, using that 8 million housing units data, and using a projection for 2017 that the manufactured housing industry will finish the year below 95,000 total new homes shipped, it would take the industry about 84 years at the current production pace to meet the needs that exist not tomorrow, but today.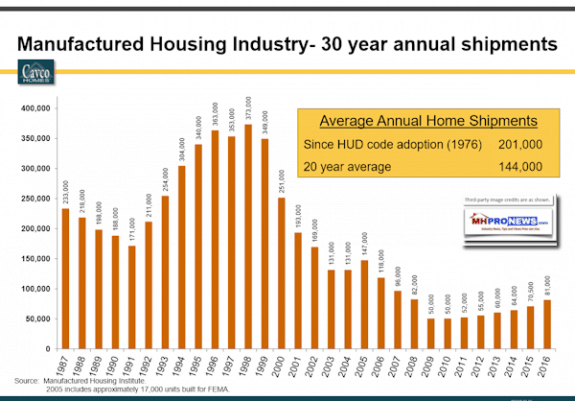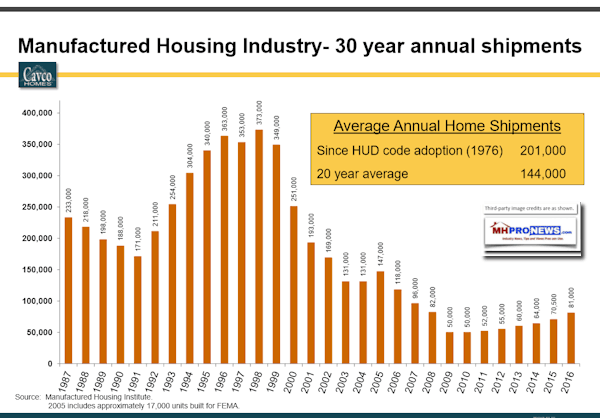 To rephrase, if every retailer or community in the U.S. was able to increase their sales 10 fold, by 1000%, it would still take 8.4 years to meet the needs.
Is this why executives connected to the tech giants are poised or are entering various parts of the factory built housing field?
The Daily Business News has reported that conventional builders are about maxed out, due to labor and other constraints. Nor can site builders compete with the price point that HUD Code manufactured housing serves.
Home Builder Report Released, Single Family Home Market Insights
MHProNews has also reported on the best practices needed to achieve those kinds of numbers.
Manufactured Housing Monday Morning Sales Meeting: Finance & Industry Facts, Figures, Sales Tip$ Improving Best Practice$
In spite of the potential, data supplied by the Manufactured Housing Institute (MHI) President, Richard "Dick" Jennison compared to recent data shows that the industry is declining in the percentage of new home shipments vs. single family housing starts. See that report, linked in the headlined box below. Note that the Daily Business News carefully cited MHI's data accurately, and that MHI has yet to publicly dispute any of our reports, like the one below.
Manufactured Housing Institute Outgoing Chair Tim William's Remarks vs. MHI CEO Richard "Dick" Jennison Comments, Fact Checks
These are just some of the facts researched by third parties, being reported to the manufactured housing industry's professionals here, and sometimes by no one else in the MH Industry, save by MHProNews.  This too is part of our series, the true State of the Manufactured Housing Industry in Nov 2017.
'Tony, if MHProNews is writing about it, I want to know about it." – industry executive.
The huge needs are huge – over 8 million housing units needed.  Are they among the reasons why are the billionaires and billion-dollar operations buying into the industry? Multiple award-winning retailer, Alan Amy answered that question this way.
MHI award-winner Marty Lavin has said that it is more important to watch what people do than what they say.  Should that principle be applied to MHI?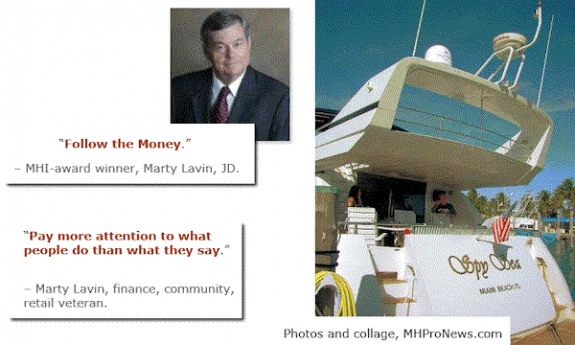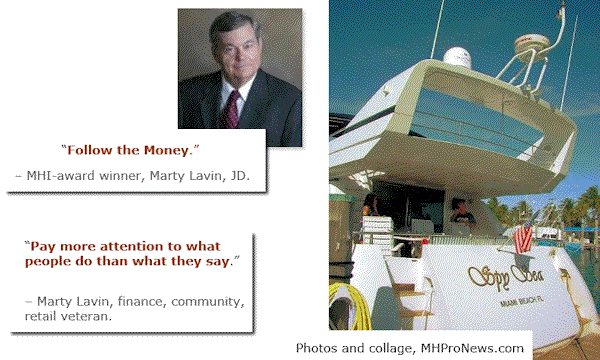 In spite of years of effort by MHI notables like Leigh Abrams to get the industry to promote itself, So why did Dick Jennison say he wanted to limit growth?
Sam Zell has come around on the 45th president and his policies.  He has also noted that heavy regulation, constrained growth, limiting financing lead to consolidation.
ELS' Sam Zell – Compliance Costs Destroys Smaller Businesses = Consolidation
"Sometimes it's best to hide in plain sight." – David Estes
Because of the costs, attorneys don't get into major class action suits, or even explore them, without serious motivation.
Fraud, Class Action, CFPB-Warren Buffett, Berkshire Hathaway, Clayton Homes, Vanderbilt Mortgage & Finance, 21st Mortgage, Manufactured Housing Institute, and the Manufactured Homes Industry
Some key Zell quotes, given exclusively to MHProNews include the following.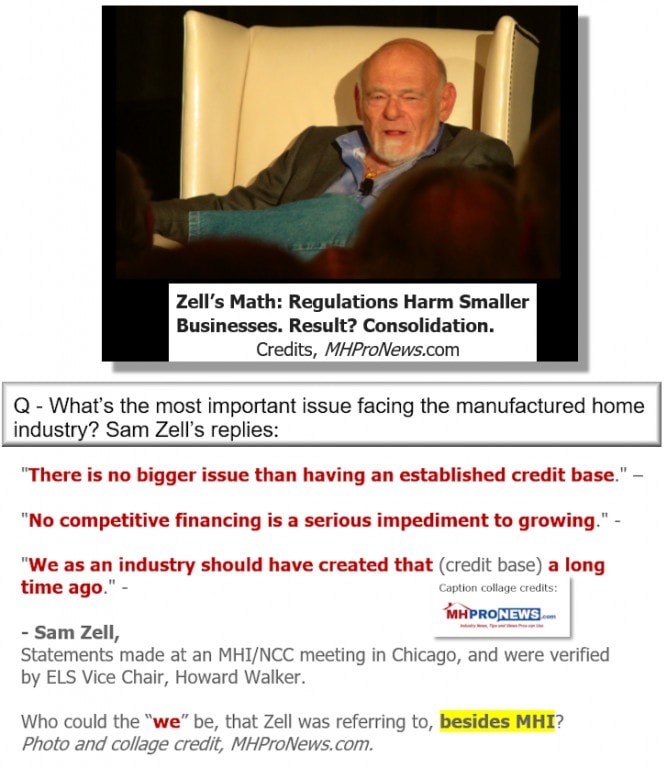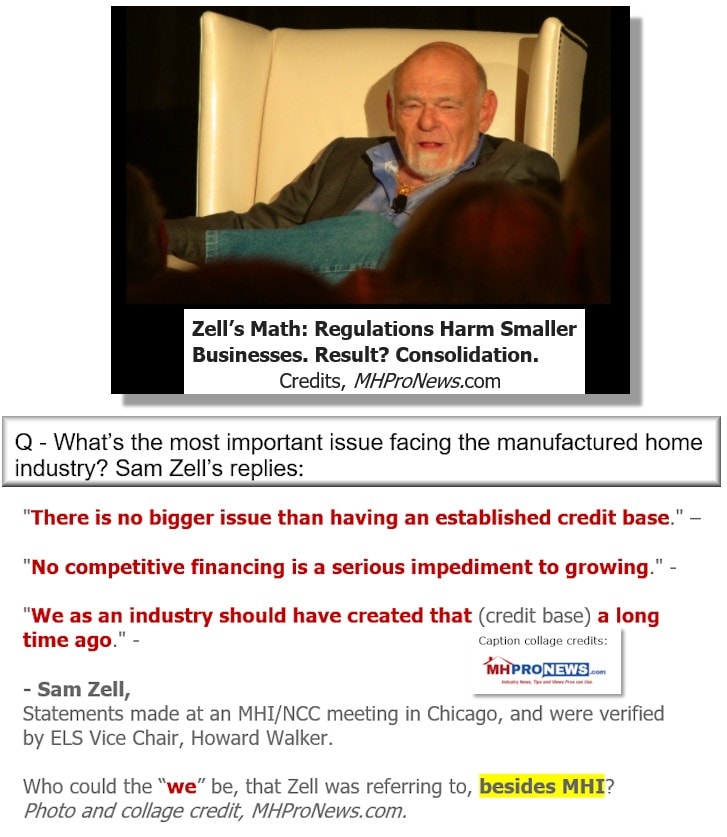 Field Reports – Clayton to Continue Push for Industry Dominance
"If something is going to affect your life, it is best to know as much as you can about it." – Donald J. Trump.
These are just some of the facts that lay out the industry's incredible potential.  But do they also point to the alleged causes of why the industry has been self-limited?


Vanderbilt, 21st Mortgage, "Easy Manufactured Home Loans," GSEs and Manufactured Home Industry Lending Updates
These and other reports should also raise the serious questions about how effective has MHI really been at defending and promoting the industry? Or even at achieving its own stated agenda?
Or why MHI won't answer questions to MHProNews or other media about any claimed successes – or failures – of their agenda?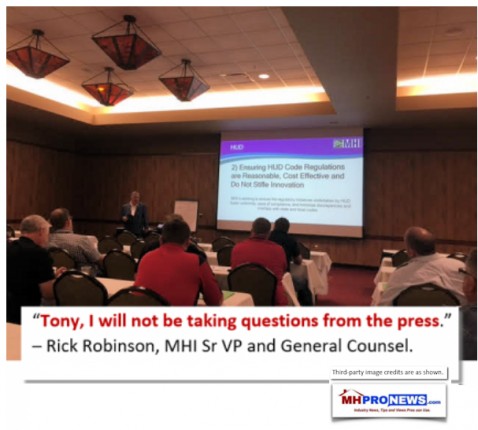 SVP Rick Robinson, general counsel for MHI,  publicly declines answering questions. Why?
Why won't MHI publicly debate via video the issues that MHARR, MHProNews or others in the industry have raised?
Study Recommending New Manufactured Housing Association for Independent Retailers, Communities, Lenders, Others Released
"If something is going to affect your life, it is best to know as much as you can about it." – Donald J. Trump.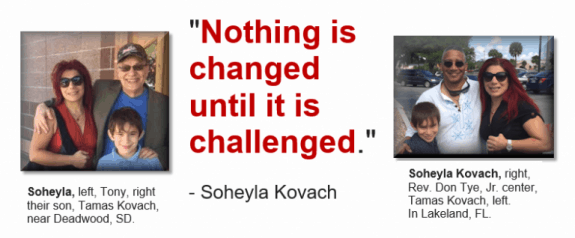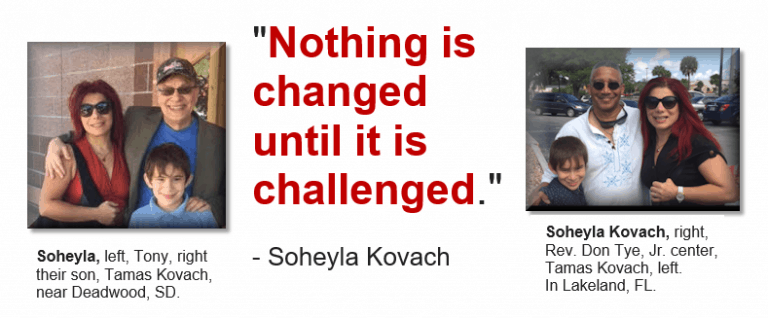 How much of that 8 million affordable housing units does your company want to sell or serve? Do you think you should know before your company or the ones that serve you renew their membership with MHI?
"We Provide, You Decide."  © ## (News, fact checks, analysis, and commentary.)
Note 1: Thanks to for those who directly and/or through social media are sharing their appreciation for our pro-Industry, pro-growth, pro-bottom line solution oriented industry coverage.
(Image credits are as shown above, and when provided by third parties, are shared under fair use guidelines.)

Submitted by Soheyla Kovach to the Daily Business News for MHProNews.com.  Soheyla is a co-founder of LifeStyle Factory Homes, LLC  – parent company to pro-industry MHLivingNews.com and MHProNews.com.
Related: For communication, marketing, training, and other MH Professional Services, click here.