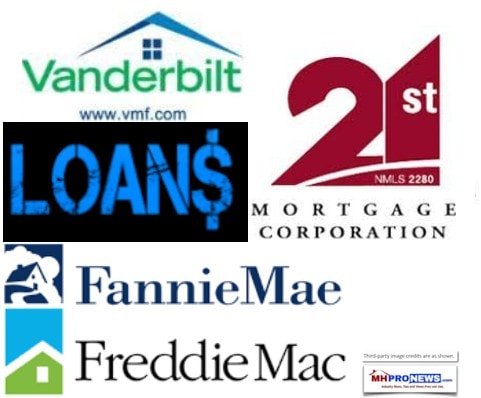 Another informed source with a Berkshire Hathaway unit confirmed to the Daily Business News that Vanderbilt Mortgage and Finance (VMF) does indeed offer a zero-down payment loan program.
That program is made exclusively for corporately owned Clayton Homes retailers, under their various retail outlet brands (Clayton, Oakwood, Freedom, etc.), per that source.
The program is not a 'land in lieu' of down payment program.  It is, per prior and recent reports, a true zero down chattel (home only) loan.
Of course the loan is for those who qualify, but per sources, it is a true zero down payment loan.  This most recent source told MHProNews that part of those qualifications are a 720 credit score or higher.  More on FICO score point, further below.
The issue is significant in a variety of ways, including the possible meaning for the;
Duty to Serve program – if the data were made available to the Government Sponsored Enterprises,
but also for reasons of competitive advantage in the marketplace.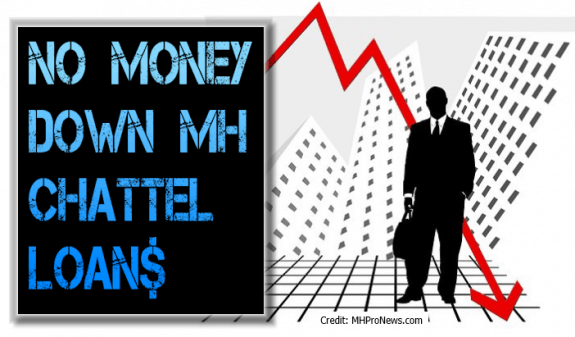 "Unfair Competition…"…?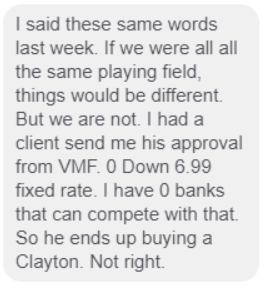 The issue of the zero-down loans from Vanderbilt was first raised by another HUD Code manufactured home retail operation to the Daily Business News (see screen capture at left).
That source stated in a series of messages (only one shown at left) their belief that the VMF no down chattel loan program was an unfair competitive advantage for Berkshire Hathaway owned retailers.
Legal determinations are beyond the scope of trade publishing – they are matters for the legal system.
But the topics of lending, competition, and trade practices are of general interest to the industry; including but not limited to:
retailers,
producers,
and other industry lenders,
among others.
Is A 720 Credit Score High?
While a 720-credit score may seem like a high bar to many retailers, in the world of conventional housing, its about the norm, per sources.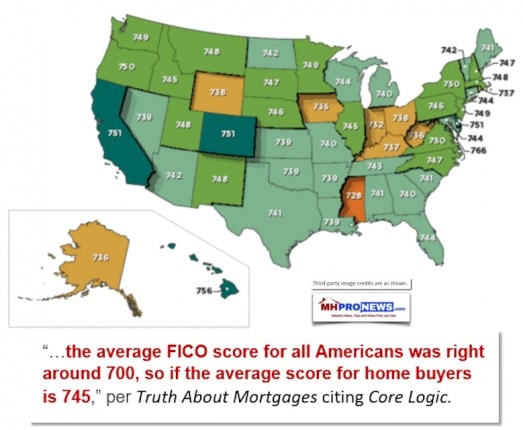 In fact, per the Truth About Mortgages, in September 2017, the average credit score for home buyers was now up to 745.  They cited Housing Credit Index (HCI) from CoreLogic, as the source for their data.
That raises the issue of the quality of credit scores that manufactured housing retailers and communities often, but not always, attracts.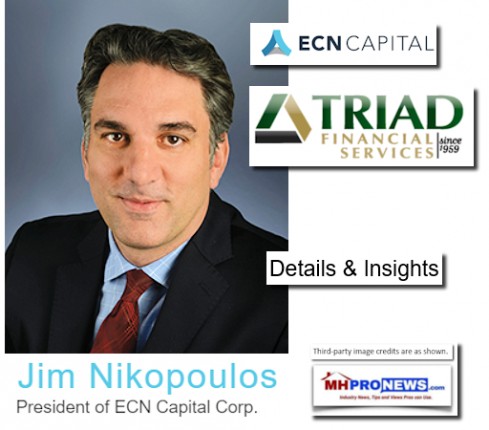 As professionals often stress, those with lower credit scores and lower incomes need an opportunity for home ownership too, and manufactured housing often serves as a pathway for that in the market.
However, when the manufactured home community or retail sides of the industry become too focused on those 'entry level' credit scores, that's a turn-off to many lenders.  The reason low credit scores are shunned, is because they tend not to perform as well as higher ones – and lenders want loans that perform.
Representatives of the GSEs have said in public and private meetings that credit quality is a concern to them.  They might wince when they sit in a meeting room with community and retail sales people, and one of the first questions asked of a lender is "how low of a credit score do you buy?"
The recent announcement of Triad Financial Services entering into an agreement to be acquired by Canadian ECN Capital ought to be a signal for more in the industry on several levels.
One of those takeaways is that Triad – which has historically focused on more qualified credit customers – does hundreds of millions of dollars a year in well qualified manufactured home lending.  Reports say that Triad's preferred lending space are the so called "A & B" credit customers, not the "C & D" paper that are far more commonly found among the VMF and 21st loan portfolios.
As the video below and facts about industry lenders such as Triad and Credit Human reflect, the upside market potential for the industry is found primarily in the higher credit scores, and the more qualified buyers.
Attracting those qualified bill payers would also make it easier, per lending sources, for the Enterprises to take the dive, which might include some lower quality credit scores, so long as lower credits are the minority of the loans being made, and the overall portfolio performance is sound and sustainable.
That those good loans and buyers are out there by the millions is proven by the overall totals in the U.S. housing market (see graphic below).
Manufactured homes barely scratch the surface of the total count of existing homes sold per year, and hover around 9 to 10 percent of new single family housing starts.  Given the affordable housing crisis, the manufactured home industry's potential is enormous.
Thus the statements by award winning retailer, Alan Amy, who stated on camera the intense interest of the billionaires and multi-billion dollar operations in manufactured housing.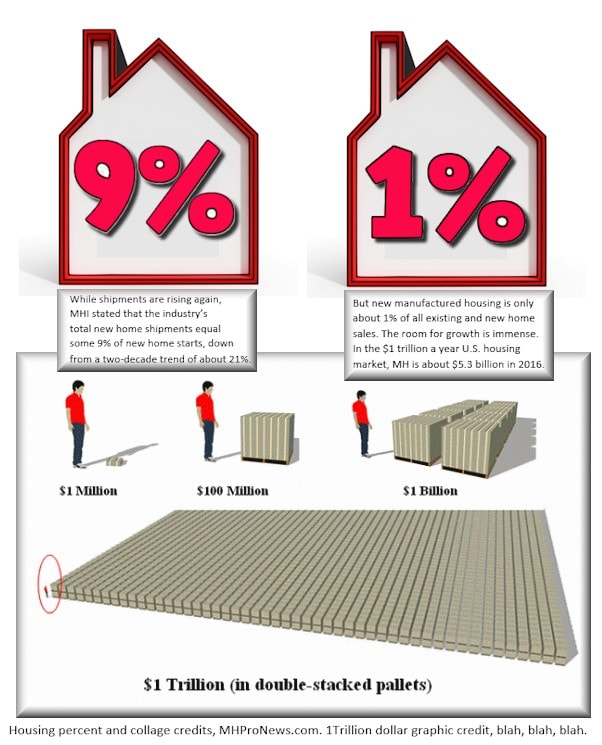 21st Mortgage Competitor For Weaker Credit Scores…
In an upcoming report, MHProNews will spotlight a lender who is targeting lower credit scores.
Per our sources, they want to buy billions of dollars in paper total, much of it home only, chattel loans.
And they want to do so in just a few years, per our inside sources.
Will they be giving 21st Mortgage a run for their money?  Time will tell.
That report, and others are planned during November as part of our ongoing – and industry leading – track of finance related issues that impact the manufactured housing industry.  ## (News, context, analysis.)
NOTICE: To sign up for our typically twice weekly, emailed news updates, click here or go to:
(Image credits are as shown above.)

Submitted by Soheyla Kovach to the Daily Business News on MHProNews.com.