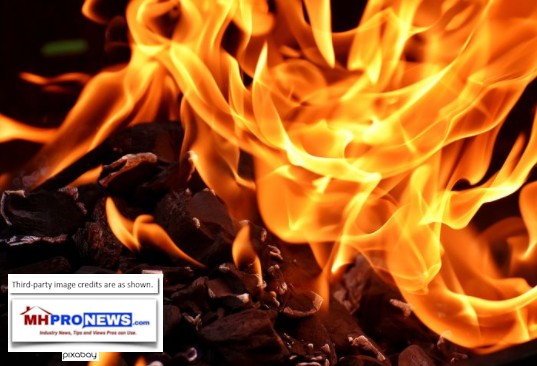 Over two pages of current mainstream media news stories about "mobile homes," are focused on one topic.
That subject?
"Mobile home fire."
MHLivingNews has previously reported that fire-related incidents, and thus news stories, increase in all kinds of housing when winter hits.  But local media often appears to hype – say industry readers – "mobile home fires."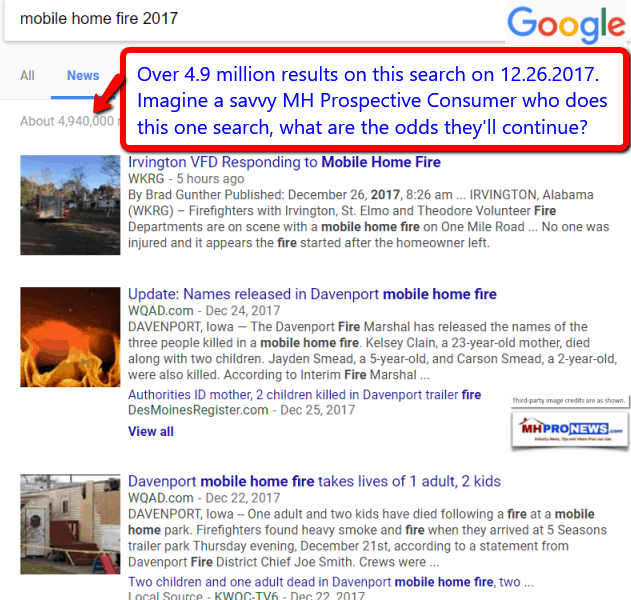 That in turn leaves a misimpression about the safety of modern manufactured homes, which the National Fire Prevention Association (NFPA) has informed MHLivingNews and MHProNews reflects that mobile homes were more vulnerable, but modern manufactured homes are as safe or slightly safer than conventionally built housing.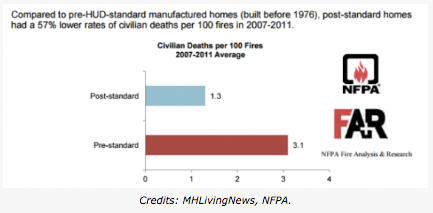 Every unplanned, uncontrolled fire outside of a fireplace, grill or pit is often a story about tragic injuries, deaths and/or property damaged or destroyed. A recent fire reported in Champaign County, Ohio, was no different.
Misinformation, False Impression Cost to Industry, Consumers?
That misimpression can have costly repercussion for manufactured home retailers, communities, and those that build those homes and serve the industry.
Mobile and Manufactured Home Fire Reports, Fact Check, Industry Impact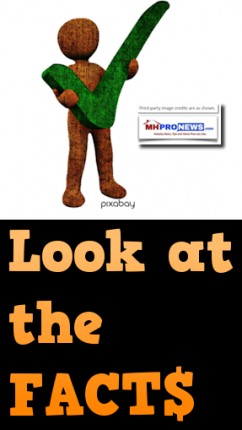 Because of the practical impact of the law of supply-and-demand, that false impression arguably harm existing manufactured homeowners' values.
Prospective buyers may get the wrong idea that today's factory built homes are death traps, when the opposite is true.  Thus, an affordable housing option is all-too-often lost to them.
Part of the responsibility lies with media, for not using proper terminology or doing consistently accurate reports.

But does manufactured housing have some measure of responsibility too?
Example of False Impression Impact in 2017
For example, the fire related mobile home tragedies issue unjustly caused the state of Ohio to lose their independent Ohio Manufactured Home Commission (OMHC) earlier this year. Ohio's Republican Governor John Kasich used selective data and spin to disrupt the commission's existence, even though both consumers and industry agreed their state's structure was working well for all parties.
Manufactured Homes Commission Abolished, Effective January 21, 2018
Because tens of millions improperly conflate the terminology of 'mobile homes' and 'manufactured homes,' one can safely conjecture that this single topic costs the manufactured home industry potentially billions of dollars in lost potential sales that might otherwise take place.
Your Words Matter: Proper Terminology for Factory Built Homes
Association Role in Educating, Correcting the Record
"When one digs into stories about fires and mobile or manufactured homes, per third party, NFPA researcher, they are often
A) true pre-June 15, 1976 mobile homes, not manufactured homes; and

B) when they do involve a manufactured home, they are often caused by accidents or home owner neglected causes," said Mark Weiss, JD, President and CEO of the Manufactured Housing Association for Regulatory Reform (MHARR).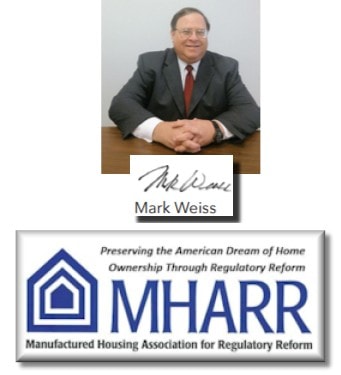 "That said, because the post-production side of the industry fails to clarify and respond to these stories, it is an ongoing negative for the industry," per the MHARR CEO's statement to the Daily Business News.
"Much of it revolves around the terminology confusion that the post-production side of the industry needs to routinely address, every time it comes up," said Weiss.
Weiss statement dovetails with MHI award-winning Marty Lavin's comment to MHProNews that negative stories in the

mainstream media are the de facto "other image campaign," which caused Lavin to question the wisdom  and effectiveness of their announced marketing initiative.
Without an ongoing educational and response by individual businesses at their local market level and/or their post-production associations, the only thing that can be expected is more of the same for manufactured homes in 2018.
"Otherwise, [absent an educational/media post-production engagement effort] the average American is left with misimpressions, when the facts, as gathered and reported by the National Fire Protection Association, are that manufactured homes have fewer fires and fire injuries than site built homes under the current HUD fire safety standards, and a fire death rate that NFPA calls "comparable" to site built homes," per Weiss.
To Keep Doing the Same Things, the Same Way?
As part of the MHProNews 2017 year-end recap, and forward-looking, practical MH industry opportunities and challenges series of reports, it should be clear that failure to change how terminology/definitions and media interaction are handled – or not – is costly.
Frank Rolfe: Pressured into Silence? Manufactured Housing Industry, and Journalism
While individual companies can and should address this issue in their own local markets – see link – this is commonly the kind of work that a national association does.
The Manufactured Housing Institute (MHI) being the self-proclaimed umbrella organization that claims to represent all aspects of factory built housing, thus bears the burden of that mantle.
"This isn't a case where once-a- year press release, or an MHI advertorial is going to fix this," observes industry expert, and publisher, L. A. "Tony" Kovach.
"It's simple math. There are hundreds of these [fire stories] stories every year.  So, if MHI is serious about promoting the industry, they must responsibly do what they claim. That should occur every time an issue arises, or the Arlington, VA based MHI association's and the industry's members must find a way to do this without MHI."  Kovach said, adding, "What else is there that doesn't fit the popular definition of insanity?"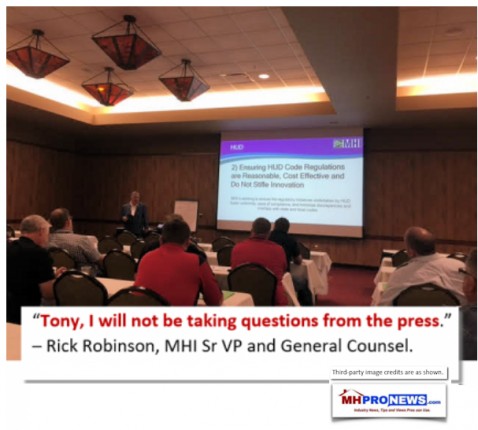 In fairness and for balance, MHProNews has routinely asked MHI for comments on such issues. But the association has declined privately and publicly to defend their controversial and allegedly problematic record. "We Provide, You Decide."  © ## (News, fact checks, analysis, commentary.)
Notice 1: Looking for our emailed MH Industry headline news updates? Click here to sign up in 5 seconds. You'll see in the first issue or two why big, medium and 'mom-and-pop' professionals are reading them by the thousands, typically delivered twice weekly.
Notice 2: Want sustainable growth? Join the Manufactured Housing Revolution team's proven marketing and other MH Professional Services, click here.
(Image credits are as shown above, and when provided by third parties, are shared under fair use guidelines.)


Submitted by Soheyla Kovach to the Daily Business News for MHProNews.com.