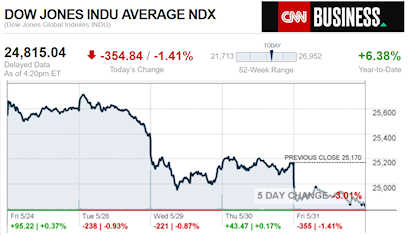 When President Donald J. Trump tweeted his threat last night to impose tariffs on Mexico if they don't do more to deal with the thousands pouring across the southern border with the U.S., Dow futures plunged. So, it's no surprise that the Dow and major markets dropped today. Let's be candid. There are untold thousands of undocumented or 'illegal' immigrants in the U.S. living in mobile or manufactured homes. Some companies have devised ways to finance such undocumented immigrant buyers. Such immigrants are often working in factories, communities, as installers, and other lines of work here in the U.S. in our industry. Rephrased, this issue matters in a variety of direct and oblique ways to manufactured housing professionals and investors. On a day when all but a few manufactured home tracked stocks slipped, this evening's market spotlight will focus on facts about immigration that are often sobering
If you're new, already hooked on our new spotlight feature – or are ready to get the MH professional fever – our headline report is found further below, after the newsmaker bullets and major indexes closing tickers.
The evolving Daily Business News market report sets the manufactured home industry's stocks in the broader context of the overall markets. Headlines – at home and abroad – often move the markets. So, this is an example of "News through the lens of manufactured homes, and factory-built housing." ©
Part of this unique evening feature provides headlines – from both sides of the left-right media divide – which saves busy readers time, while underscoring topics that may be moving investors, which in turn move the markets.
Readers say this is also a useful quick-review tool that saves researchers time in getting a handle of the manufactured housing industry, through the lens of publicly-traded stocks connected with the manufactured home industry.
This is an exclusive evening or nightly example of MH "Industry News, Tips and Views, Pros Can Use." © It is fascinating to see just how similar, and different, these two lists of headlines can be.
Want to know more about the left-right media divide from third party research? ICYMI – for those not familiar with the "Full Measure," 'left-center-right' media chart, please click here.
Select bullets from CNN Money…
Dow slides below 25,000
Stocks tumble after Trump vowed to impose tariffs on Mexico, amplifying trade fears
US auto industry needs Mexico: Because every American car factory uses Mexican parts
LIVE UPDATES Levi's slides 7% on Trump's tariff plan
Stocks to watch: Shares of beer and liquor companies slide
Watch: Why tariffs on Mexico are bad for the US
Going up: Costco says tariffs will lead to higher prices
PERSPECTIVES Tariffs on Mexico will hurt American business
Fact check: Where Trump's 'emergency power' on tariffs comes from
'A grave error': CEOs tell Trump that Mexican tariffs are a bad idea
FedEx Ground will offer seven-day delivery all year
Jeep's incredible popularity is one thing Renault could really use
China could dump $1.12 trillion of US debt. Here's why it won't
Is $2 million enough to feel wealthy?
The reason why the Fed could be pressured to raise rates
NASA picks three companies to send cargo to the moon
People loved LaCroix. What happened?
Fox News stands by Laura Ingraham after she defends extremists on her show
Amazon's reported interest in Sprint's Boost is 'economically insane,' analyst says
Shopping Content by CNN Underscored
This is the most affordable Echo with a screen
Silicon Valley's real estate market is finally cooling off. Sort of
What it's like to own a whole town
The secret market of private real estate listings
McMansions are out. Ritzy ranches are in
How to avoid overpaying for a home
Robots find a new job: Skyscraper window washers
Ford's delivery robot walks like a human
Why Facebook is teaching a bug-like robot to walk
Tesla plans to have robo-taxis by next year
Robot valets may soon park your car at this airport
Select Bullets from Fox Business…
Stocks close at 3 month low, bond yields tumble, after Trump hits Mexico with tariffs
Trump's Mexico tariffs draw immediate rebuke, threaten USMCA deal and China trade talks
Mexico President: Won't act desperate after Trump's tariff threat
Trump takes aim at auto industry with new Mexico tariffs
First rare earth processing facility outside of China to be built in Texas
Trade tensions create silver lining for American homebuyers
Trump's Mexico tariffs will impact these US imports the most
What is Elton John's net worth? 'Rocket Man' singer among world's richest artists
The world's most expensive SUV will cost you $1.9M
Jeep's new pickup a dealer's dream
Crude oil prices tumble to 3-month low
Connecticut revenue swells after boat tax reduction
What is Kirsten Gillibrand's net worth?
Trump's Mexico tariffs cause USMCA trade deal concerns in business community: 'A grave error'
Mike Bloomberg pens op-ed calling on Congress to 'stop Trump on trade'
The IRS released a new W-4 draft: Here's what it looks like
Trump admin in early stages of $100 billion offering of Fannie, Freddie
Trump lifts year-round ethanol restrictions, could lower gas prices
Salesforce says some firearms can no longer be sold using company software
Social Security: What is the best age to begin collecting?
Booming vs. bust retirements ahead: The choice is ours
Social Security benefits: 5 ways to increase your retirement checks
Today's markets and stocks, at the closing bell…
Today's Big Movers
For all the scores and highlights on tracked manufactured home connected stocks today, see the Bloomberg graphic, posted below.
Today's MH Market Spotlight Report –
Facts are what they are.
In a polarized nation, there's a need to be able to look at evidence for what it is, not as we'd like it to be.
Problems aren't solved by wishful thinking. Thus this report.
The graphics that follow come from a variety of sources that span the left-right divide.
For example, the Pew Research Center, which is often viewed as a left-of-center resource. Other data comes from Homeland Security's US Border and Custom Enforcement. Still more comes from Jeff Bezos' owned, left-of-center Washington Post article that features data per the Cato Institute. Let's start there.
The claim above is often used by voices from the political left. Let's stipulate that the Daily Business News on MHProNews is taking all of these data claims at face value, giving the source the benefit of the doubt. Let's disclose that this writer is an immigrant who is legally in the U.S., and our publisher is the firstborn son of legal immigrants to the U.S. We know scores of immigrants of all kinds, plus native born citizens too.
With those points, what the first chart obliquely reveals is this. Even if that data is correct, it misses the obvious point that those crimes would not have occurred had those individuals not been in the United States at all. Even a reduced crime rate still means more crime occurred than what would have taken place in the absence of illegal crossings, visa overstays, etc.
Pew's data reveals the volume of crimes that has occurred in recent years, attributed to illegal immigration related offenses.
Note that occurred in significant numbers during the Obama years and on into the Trump administration.
In that light, the Homeland Security agency data below is but one more reminder that crimes – often serious crimes – are occurring as a result of illegal immigration.
A recent report by GSMOL spotlighted by MHProNews reflected concerns that illegal immigrants may not be treated as fairly as those here legally.
Stephanie Reid Raises Undocumented Immigrants Getting Ripped Off by Manufactured Home Communities Issue
As serious as that is, perhaps the most significant issues are these:
There are people that die in these illegal border crossings. The body of a young woman was found inside the U.S. recently, 80 miles inside our border. Trucks have been found with piles of dead illegals inside. What is occurring is inhuman.
Illegal drugs are coming across the border.
There is no telling how many possible terrorists could or have crossed. The border patrol says such have been caught, which begs the question, how many crossed undetected?
There have been forces in both major parties that for years were OK with status quo, for their own reasons.
For years, Democratic leaders that previously said the border needed to be secured have since flip-flopped. Among those are then Senator Barack Obama, then Senator Joe Biden, or then Senate Majority Leader Chuck Schumer.
The border ought to be secured. As rapidly as possible. Period.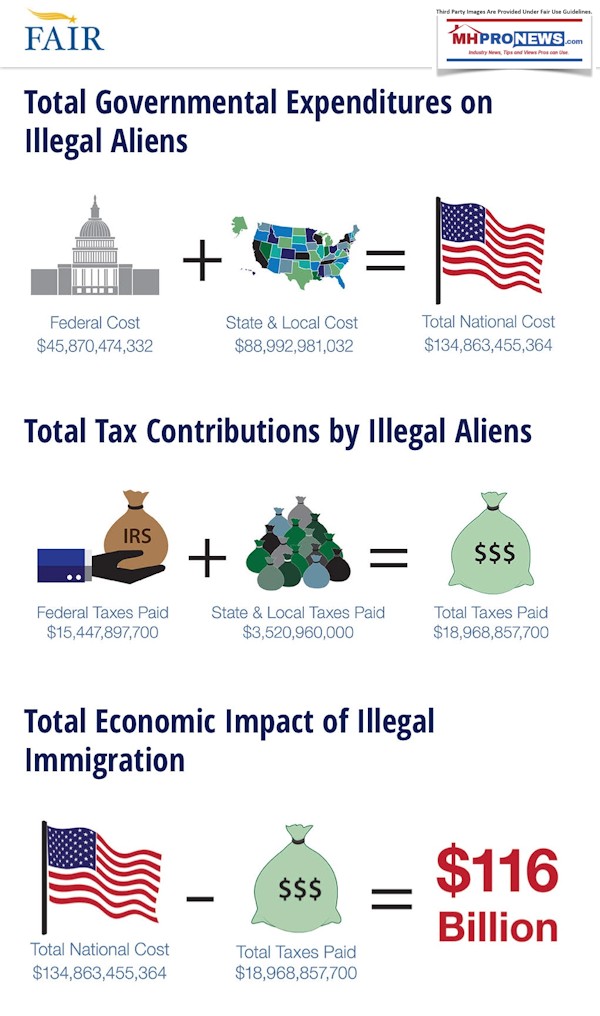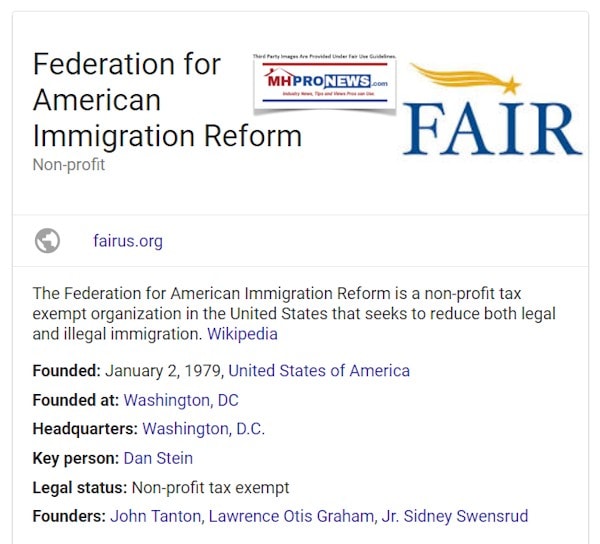 The ideal way is for a bipartisan fix of the immigration issues. In the absence of that, the 45th president is acting in a measured way that puts pressure on the Mexican government. It isn't without domestic pain, but that pain can be projected back to Mexican officials to stop the flow at THEIR southern border.
The border between Mexico and Central America is small compared to the U.S.-Mexican border. They can stop the illegal crossings there.
Life, Liberty, Property, Crime, and Costs
Here's the obvious reality. Whatever your political beliefs, there are politicians who have prioritized disrupting President Trump's economic and other achievements any way that they can. It's unacceptable that illegal drugs, crime, rapes, and deaths are occurring as a result of that cold political calculation.
FAIR
It remains to be seen if the president's tariff threat will cause Mexico to stop the flow of illegals into their country, who then cross significant distances to enter the U.S. It is arguably in Mexico's best interest to stop the flow at their southern border too.
But some effort is better than none.
The facts and reason should speak for themselves.
Finally, politicians who claim that walls don't work need to tear down their own walls and fencing, if they believe that, which they don't. If politicians are foolish enough to lie about the realities of the southern border and immigration, what else will they be deceptive about?
See the Related Reports for more.
Related Reports

:
Want a Robust Economy? Fix the Southern Immigration Crisis, Plus MH Market Updates
"Playing Politics" – Immigration, Border Battle, and Manufactured Housing
U.S. Slips in World Competitive Rankings, per Swiss-Based IMD Competitiveness Center
Americans "Lost Faith in Washington," Politics Threatens Economic Recovery
Yahoo Finance Closing Ticker for MHProNews…
NOTE: The chart below includes the Canadian stock, ECN, which purchased Triad Financial Services.
NOTE: The chart below covers a number of stocks NOT reflected in the Yahoo MHCV, shown above.
NOTE: Drew changed its name and trading symbol at the end of 2016 to Lippert (LCII).
Berkshire Hathaway is the parent company to Clayton Homes, 21st Mortgage, Vanderbilt Mortgage and other factory built housing industry suppliers.
LCI Industries, Patrick, UFPI and LP all supply manufactured housing.
AMG, CG and TAVFX have investments in manufactured housing related businesses.
Your link to industry praise for our coverage, is found here.
For the examples of our kudos linked above…plus well over 1,000 positive, public comments, we say – "Thank You for your vote of confidence."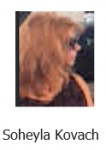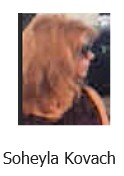 "We Provide, You Decide." © ## (News, analysis and commentary.)
(Image credits and information are as shown above, and when provided by third parties, are shared under fair use guidelines.)
Submitted by Soheyla Kovach to the Daily Business News for MHProNews.com.