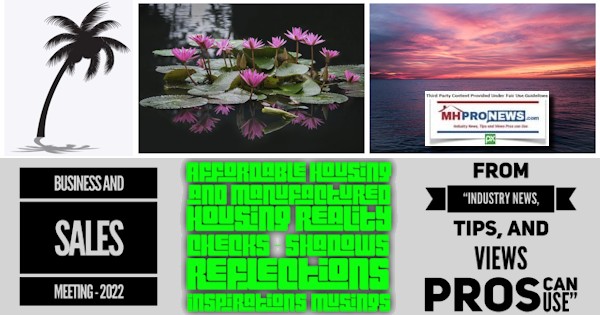 It is useful in business to periodically step back and take stock in an objective and rational fashion. Some retailers in manufactured housing, for example, will hold a Monday morning sales meeting. How many deposits? Approvals? Denials? What can be done, if anything, to turn the TD into a financeable deal? Which good prospects that have not yet been written up? What will it take to earn their business? Which model of what builders' homes are on order? In a retailer's service department, what service is outstanding? What is the hold up on a given customer's parts? In the community's sector, each land lease manufactured home property has their own internal reality checks. Lenders and builders have their respective pipelines, profit and other metrics. Especially in sales, while data is a key, it is not all hard numbers, because people are involved. There is a measure of uncertainty with individuals who are capable of making a choice between you and a competitor. That brief review of internal processes for any successful business in manufactured housing is grounded in reality. If it is a larger firm with stockholders, there are audits, a board of directors, other forms of oversight and accountability. Some person employed – for example – in sales can only fake it so long. Performance must occur sooner than later. It would be virtually unheard of if someone – even a close relative of an owner working for a retail center in sales – would be kept unless there was measurable and measurable performance. Otherwise, a nonperforming 'salesperson' is 'wasting' valuable prospects, office space, supplies, expenses and whatever payments are provided. Performance matters. Given problematic behavior or poor performance, in time, someone is shown the exit. Some may lack what it takes in sales or may simply fail to give the required effort to be successful. If there is no turn-around, there has to be a parting of the ways.
Thus sales, service, training, and other meetings occur. Records are kept – which in several ways are obviously historic in nature. Information is gathered precisely to guide owner/investor decision-making. If someone is caught doing something deemed wrong, contrary to policy, or failing to measure up to (especially in the case of documented) company standards, sooner or later, action is taken to separate from that person. That termination or separation may occur with some advance or periodic notice, but sometimes with no notice.
Using Berkshire Hathaway owned BusinessWire, market research firm IBISWorld published the following news release almost 11 years ago. Among the most 'dying' industries? "Mobile home" – i.e., manufactured housing retailers. These are a sampling of hard-numbers driven 'reality checks' – which will be followed by another similar reality check courtesy of Kevin Clayton with Clayton Homes and others.
Recall that this occurred in the aftermath of the 2008 housing/financial crisis.
Top 10 Dying Industries: IBISWorld.com Identifies Key Sectors Set to Decline Even after the Economy Revives
March 28, 2011 07:00 AM Eastern Daylight Time
LOS ANGELES–(BUSINESS WIRE)–Although the US economy is headed further into recovery, not every industry is performing well, according to market research firm IBISWorld.com. The company analyzed its database of more than 700 industries and identified 10 that may be on the verge of extinction in the United States.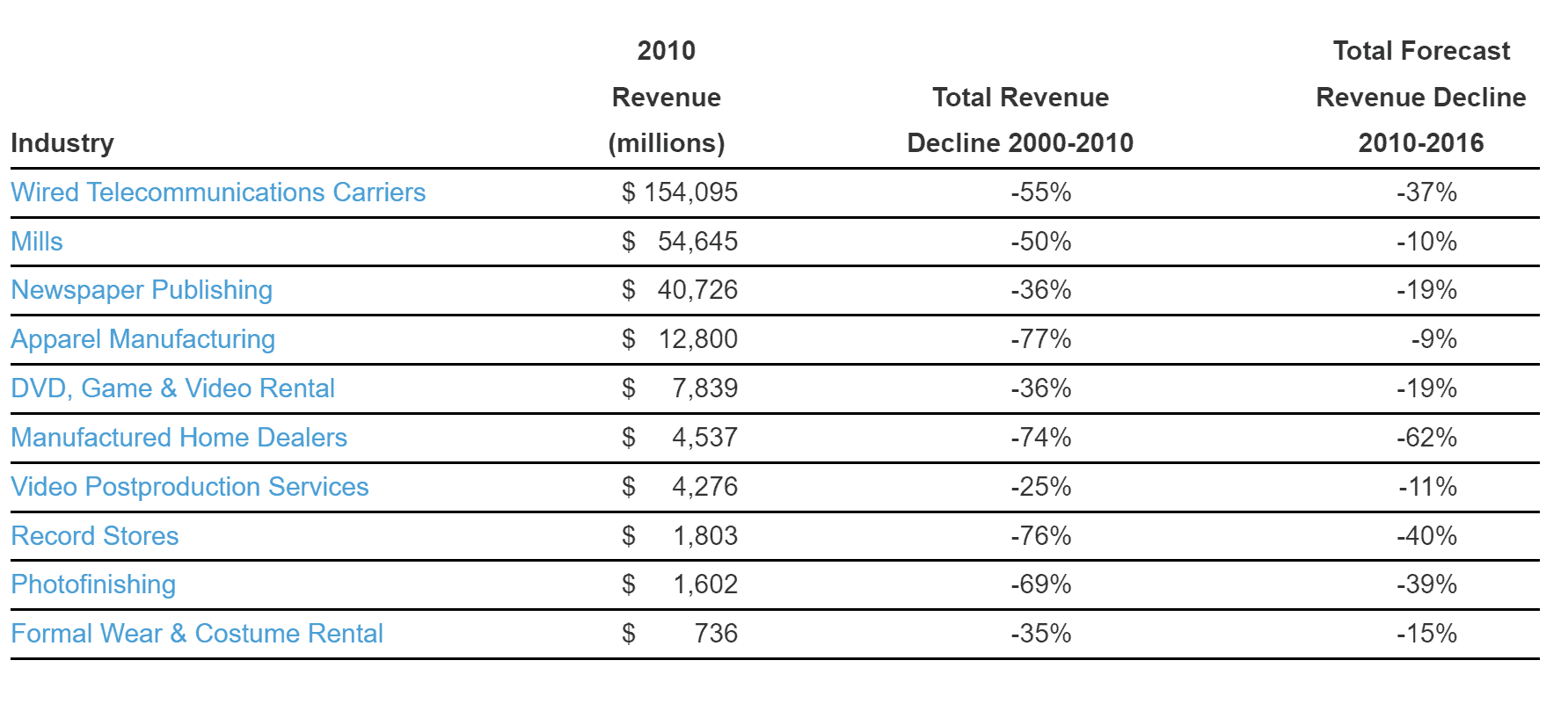 All of the 10 industries listed are in the decline stage of their life cycle, have observed a sizable contraction in both revenue and establishments from 2000 to 2010 and are expected to continue experience revenue and establishment declines through 2016. All these industries also exhibit at least one of the following detrimental factors: damaging external competition, supplanting advancements in technology and industry stagnation. Industries and companies that experience these conditions may be vulnerable to their own demise in the future.
Manufacturing – These sectors include: Men's and Boys' Apparel Manufacturing; Women's and Girls' Apparel Manufacturing; Costume, Uniform, Infant and Other Apparel Manufacturing; Hosiery and Sock Mills; Textile Mills; Apparel Knitting Mills; and Carpet and Rug Mills. Berkshire Hathaway (BRK.A) is a key player in all of the mill industries, while Hanesbrands (HBI) is a strong player in mill and apparel manufacturing industries.
Retail – Record Stores and Manufactured Home Dealers industries are highlighted in IBISWorld's 10 dying industries. Industry exits have already occurred for many major players within the Record Stores industry, including Virgin Media (VMED) and MTS Incorporated. In the Manufactured Home Dealers industry, Berkshire Hathaway also has a presence through its subsidiary Clayton Homes (CMH), the biggest player in the industry.
… [Information – The Wired Telecommunication Carriers, Newspaper Publishing and Video Postproduction Services industries are suffering the most due to the rapid change in technology. … Other – This final category includes the industries of DVD, Game and Video Rental; Formal Wear and Costume Rental; and Photofinishing. …]
"Although these industries are all facing negative numbers, the operators in them aren't necessarily on the brink of death," explains IBISWorld senior analyst Toon van Beeck. "Firms that protect their strength in certain market segments, focus on niche opportunities and capitalize on the dwindling number of competitors can often reap the greatest rewards as sole operators, obtaining market survival and profitability."
What analyst Toon van Beeck was describing might be called in Berkshire Hathaway chairman Warren Buffett's lingo as protecting the castle with the moat that is infested with man-eating amphibians.
That IBISWorld report sent shock waves through media, and the manufactured housing industry, as the page 1 screen capture from Google shown below taken on 1.17.2022 reflects. Note, Googles searches are dynamic, as are those on other search engines. They may be location sensitive and give a different result here than there. But on a search like this one, experience suggests it is likely to be similar for Tony near Orlando as it would be for you wherever you are, because of its national topic. That noted, here between the dashes was the search phrase used – IbisWorld the most dying industry, mobile homes – with no quotes. Try that search term and see if you get the similar or same result shown below.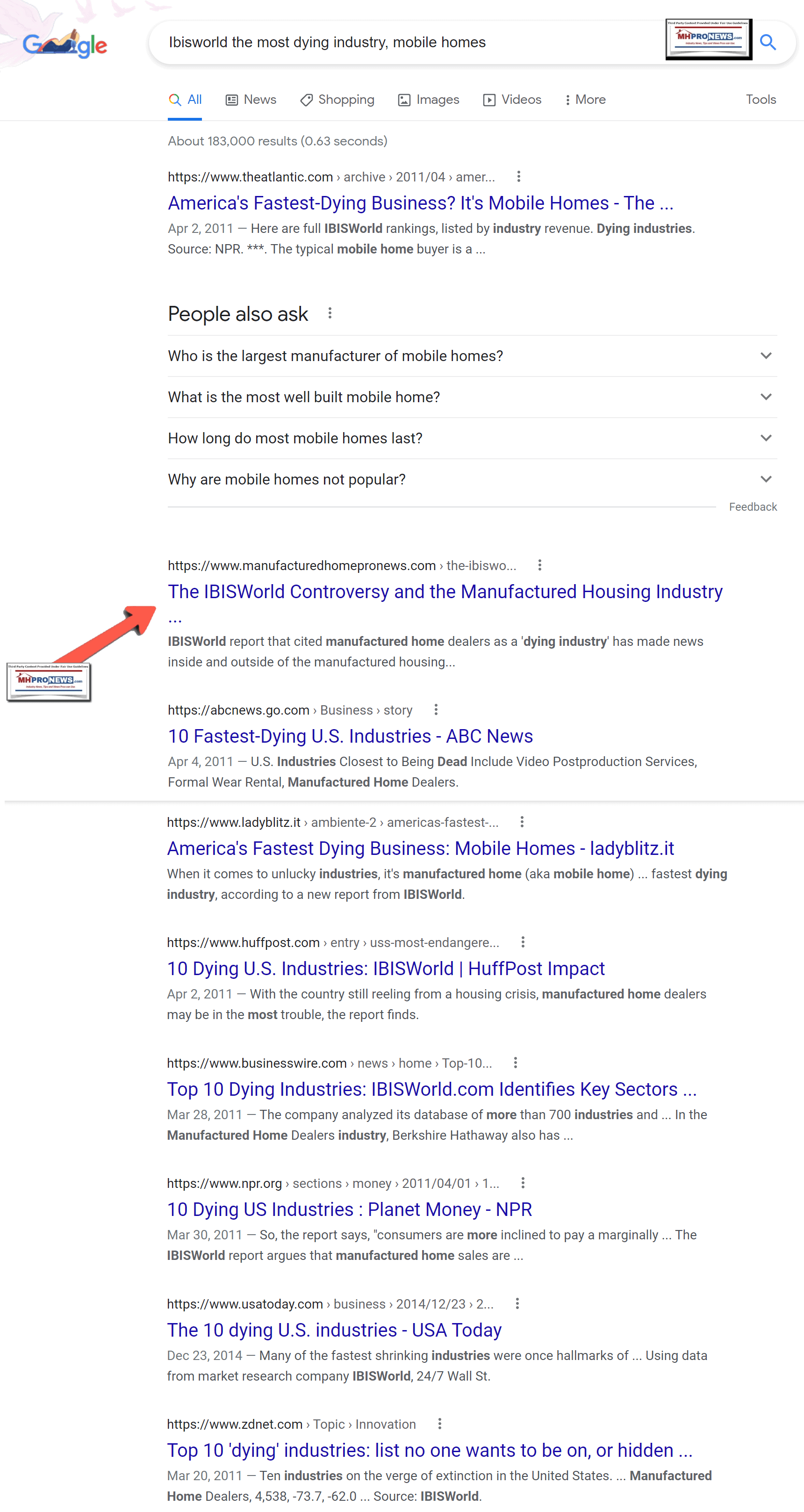 Memory and experience in manufactured home history and research were the thoughts that informed that specific Google keyword search.
Note first that the MHProNews report at that time is one of the top 'page one' results.
Next, from that initial MHProNews report then, shown in the screen captured search result above, were the following text. Note that MHMSM.com – short for Manufactured Home Marketing Sales Management (MHMSM) – since rebranded as MHProNews, short for Manufactured Home Pro News.
From that MHProNews (MHMSM) report: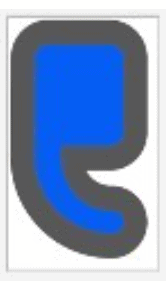 Derek Thompson, associate editor at The Atlantic, penned a commentary that included these words:
"At the center of a perfect storm of boomer burnout, a brutal recession,
and a rapidly changing industry, the mobile home retail market
could be the worst industry in America. Here's why."
"If I asked you to name America's least fortunate industry, your mind might go to record stores, obliterated by on-demand apps; or photofinishers, left in the cold as digital cameras turn Americans into our own photo editors; or fabric makers, where business is booming … in Shenzhen, China.
"But when it comes to unlucky industries, it's manufactured home (aka mobile home) retailers who really hit the trifecta. First they missed out on the housing boom. Then they felt the gut-punch of the recession. Now they might yet miss out on the recovery. That makes them America's fastest dying industry, according to a new report from IBISWorld."
Paul Bradley with Resident Owned Communities USA (ROC USA) was one of the first in the manufactured housing world's leadership to publicly respond to this IBISWorld report. Bradley wrote a feature article for MHMSM.com that analyzed the IBISWorld report. Quoting from Bradley's analysis:
"The (IBISWorld) report states 'demand is dwindling' and 'sales are stagnant because the industry is not innovating, and that sales are likely to continue falling in the coming years.' They go on to say, 'Manufacturers have made cosmetics changes to manufactured homes, but they have not been significant enough to alter their life cycle stage.' The report puts MH retailers in the 'Industry stagnation' category of declining industries.
"Are you kidding me? These are 'deeply researched answers'?
"First, the headline clearly comes from their marketing division as a means of grabbing headlines. The research is not about a dying industry but a declining industry segment – one of two long-standing distribution channels in the business.
"With MH shipments in 2010 at 50,000 or 20 percent of 2000 levels, it's not news that retailer revenues over that period declined. On that data, I'm surprised establishments are not down more than 56 percent. It suggests that the segment has excess capacity and additional closings are likely.
"Most surprising to me is laying the blame at the feet of manufacturers on the issue of design! From a ground-level market vantage point, that's misplaced.
"The industry's great declines came about as a result of, first, an industry-created chattel collapse where the seeds were sown in run-up to the 373,000 shipments in 1998. The collapse, and the repossession overhang which followed, began the decline like a skilled boxer's well-placed left jab.
"The right overhand came next in the form of aggressive sub-prime and predatory lenders in the site-built market. In that run-up, traditional MH buyers – who were harder to finance for MH as a result of the chattel collapse – were lost to site-built housing in an eerily familiar boom market.
"Dazed by the right hand blow to our collective heads, the left to the body that has people reeling now is the regulatory reaction – the SAFE act, etc. – to the clearly consumer-eating lending practices of the last decade.
"The results of this three punch combination are declines of the magnitude widely reported and felt, and like a good whack, the pain lasts a while.
"Innovation in housing design, however, is not the industry's chief failing.
"For those of us in the community market segment, in fact, innovation in new homes is a small issue – not a non-issue but a mere shadow of the aforementioned home financing issue. In fact, we are seeing demand for replacement and in-fill homes but only where we are able to arrange decent home financing. People want more efficient homes and the cost savings with new EnergyStar homes can be dramatic based on buyers with whom I've spoken."
(Editor's Note: The complete analysis by Paul Bradley can be found at this link.)
Other commentary in the form of articles proposed for publication, private and public comments followed. Thayer Long at the Manufactured Housing Institute issued this email as part of his response:
"State Execs & MHI Board:
"A very well articulated response to the IBIS report from last week by Paul Bradley which was just posted on www.MHMSM.com.
"I'd also just add that the sentiment at the Tunica Show, the Louisville Show, and the expected strong turnout at the Congress & Expo and the Tulsa Show and York Show later this month certainly don't indicate this industry is going anywhere.
"Tony/Paul – I hope you don't mind me sharing. We'll see you in Las Vegas. Thanks for your support.
Thanks-
Thayer"
MHMSM.com spoke with Danny Ghorbani at the Manufactured Housing Association for Regulatory Reform (MHARR) and to Thayer Long at the Manufactured Housing Institute.
Danny Ghorbani stated in a telephone interview that his comments were not the official position of MHARR but represented his own views on the IBISWorld report and related.
Ghorbani stressed that the IBISWorld report represented the "failure" of "the post-production sector of the Industry" [meaning, MHI] in "serving that segment of its membership."
The MHARR official then referenced two previously published documents that do represent MHARR's official position, which were previously published on MHMSM.com in August and October 2010. These MHARR Viewpoint articles called for 'the post-production segments' of the manufactured housing industry to form their own national association; a thinly veiled vote of no-confidence from MHARR towards MHI." ##
That snapshot was approaching 11 years ago.
But in that year – and thus a similar timeframe – was the following comments presented to Congress under "Truth in Testimony" certification and made by Kevin Clayton, President and CEO of Berkshire Hathaway owned Clayton Homes. Kevin's remarks were made on behalf of the Manufactured Housing Institute (MHI) and were part of a document printed on MHI's letterhead.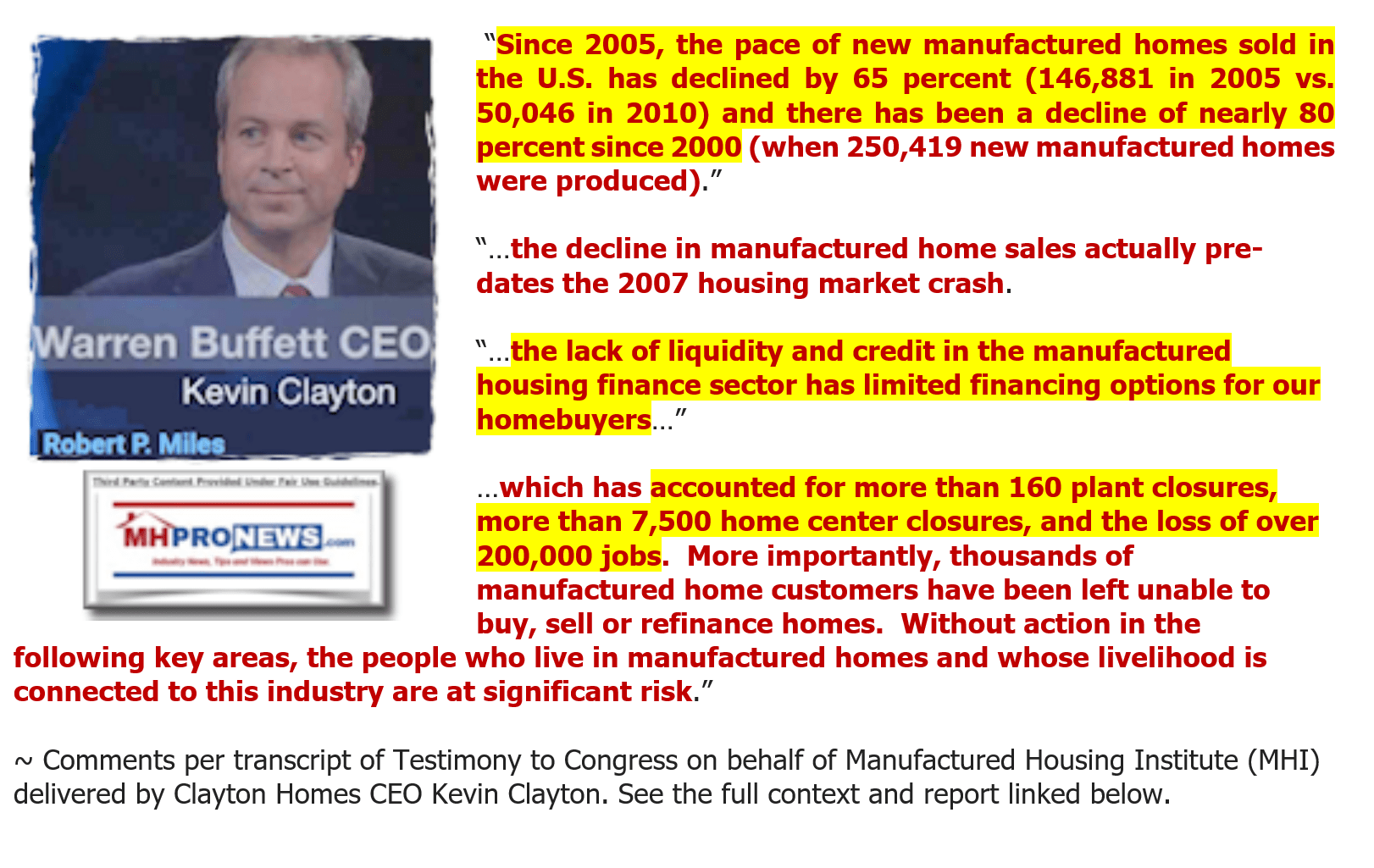 That may well have been largely accurate. But it is arguably not the full story, as Clayton himself indicated by saying far more. That noted, there are those like pro-MHI voice Ken Corbin who asserted that the number of lost manufactured home retailers were far higher, perhaps 10,000 closed manufactured home 'dealers' or more.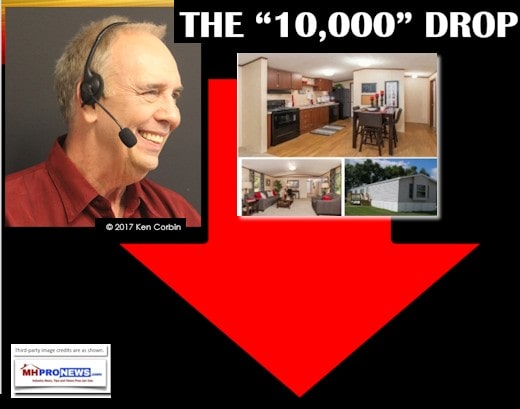 What none of the above voices – frankly including our own editorial views at that point in time – directly pointed out is that the final part of that collapse of the industry occurred following the now notorious letter from Berkshire Hathaway owned 21st Mortgage Corporation President and CEO, Tim Williams. A copy of the text of that letter is shown below. The context of the Williams letter and related will follow.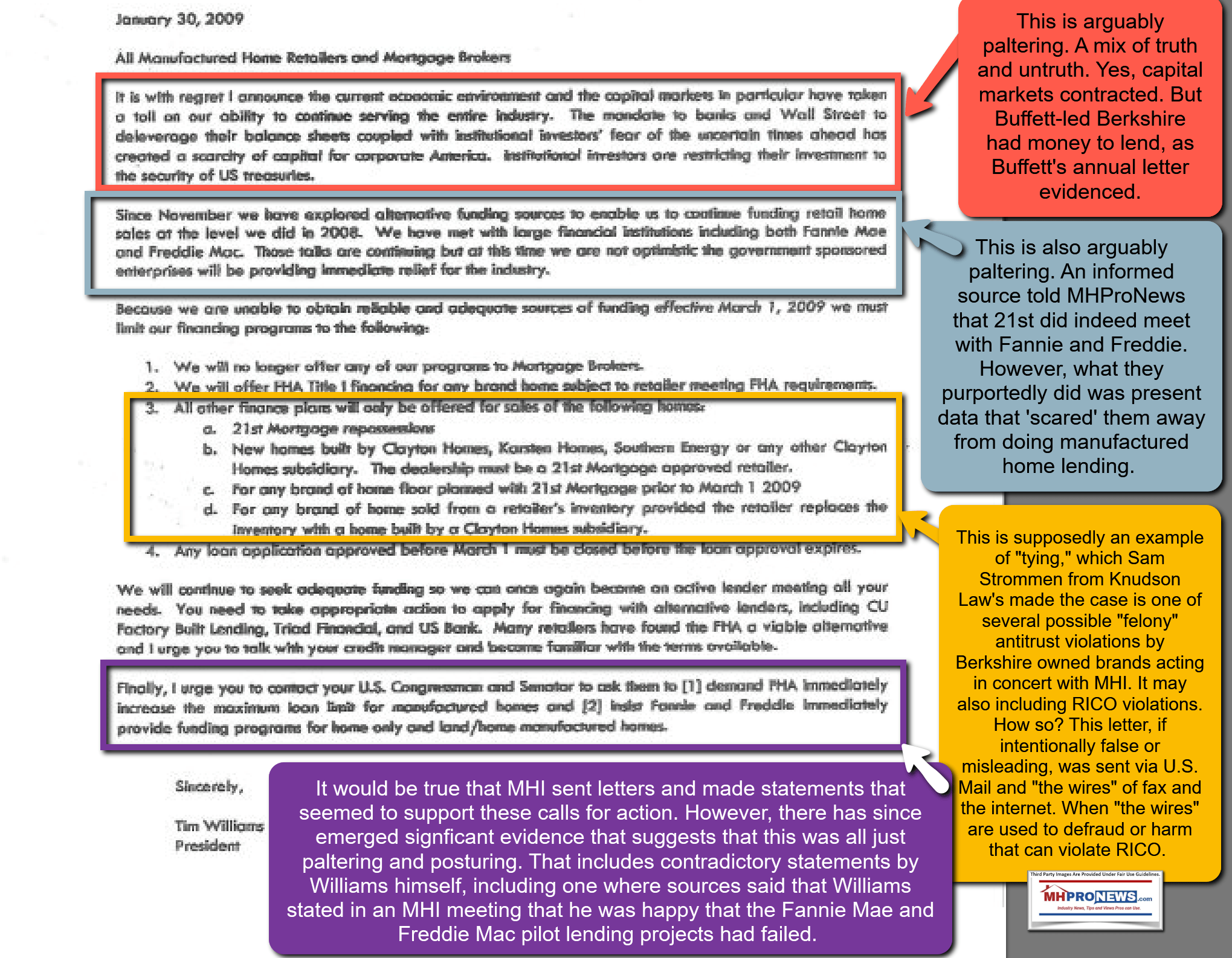 Manufactured housing was riding a wave downhill following the enactment of the widely bipartisan Manufactured Housing Improvement Act of 2000 (MHIA). The push to enact the MHIA occurred near the highwater mark of the industry in 1998, and in the early stages of the financing meltdown referenced by Paul Bradley, as quoted above.
The MHIA, due to additional consumer safeguards, was supposed to generate more manufactured home sales, especially because of the provision that gave what numbers of industry professionals refer to as "enhanced preemption" of manufactured housing over local zoning and placement barriers. The following quotation from now MHI CEO Lesli Gooch is a reference to the MHIA, enhanced preemption, and related.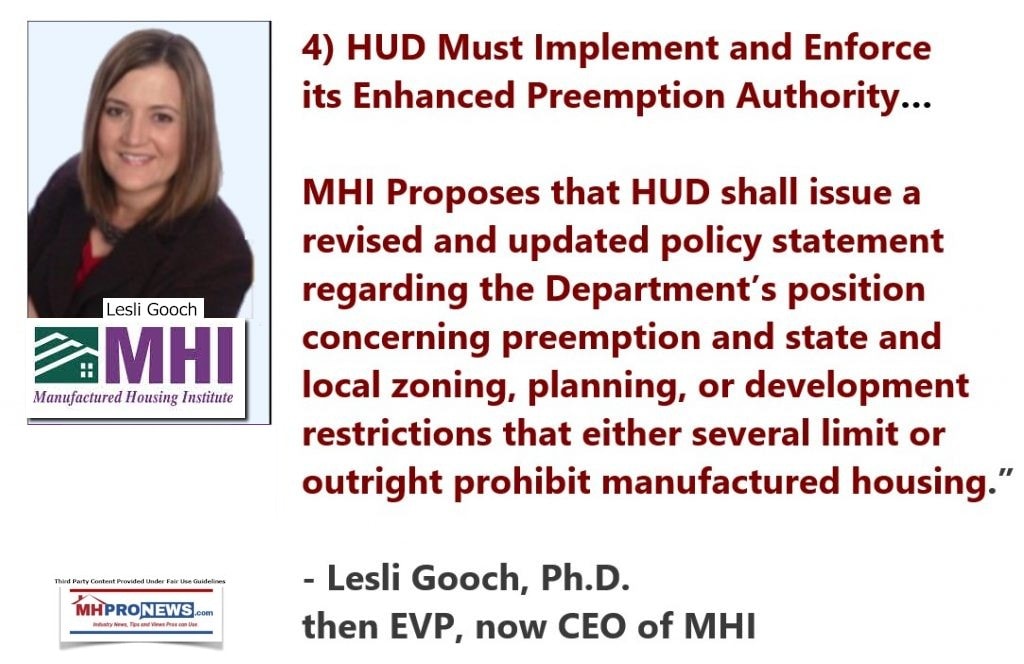 Keep in mind, or be advised for new readers, that Kevin Clayton's comments were part of a set of hearings held by Congress regarding the Implementation of the Manufactured Housing Improvement Act of 2000. These are not matters of speculation. It is based on hard evidence. On paper, MHI and MHARR held seemingly similar stances in those Congressional hearings.
The following on finance merits a separate treatment and more thorough investigation. But for now, it ought to be mentioned that Buffett-led Berkshire had significant investments in Fannie Mae and Freddie Mac. Those so-called Government Sponsored Enterprises (GSEs or Enterprises) were publicly traded companies with shareholders. The GSEs were placed in conservatorship under the Federal Housing Finance Agency (FHFA). As the FHFA website says: "Fannie Mae and Freddie Mac are in conservatorship to preserve and conserve their assets and property, and restore them to a sound financial condition so they can continue to fulfill their statutory mission of promoting liquidity and efficiency in the nation's housing finance markets." At some point in time, the plan is to recapitalize the GSEs and release them from conservatorship, but that would still leave them as regulated housing finance business entities.
Buffett later explained why he says he dumped his shares in Fannie and Freddie. Per Yahoo News and GuruFocus on September 13, 2018 in an article by Holly LaFon were these statements.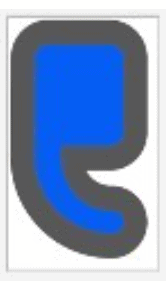 "Though he declined to help bail them out when they neared failure, Warren Buffett (Trades, Portfolio) at one point owned shares of two of the entities at the epicenter of the financial earthquake that shook markets in 2007 and 2008, Fannie Mae (FNMA) and Freddie Mac. …"
Federal Home Loan Mortgage Corp. (FMCC) (Freddie Mac), a government-sponsored home mortgage lender, was delivering 23% returns on equity and trading for less than eight times estimated earnings when Buffett touted the investment to Fortune Magazine in 1988.
"'You've got a low price/earnings ratio on a company with a terrific record," Buffett told the magazine. "You've got growing earnings. And you have a stock that is bound to become much better known to equity investors."
…
"I can't think of a more tangible compliment to the stock than to buy every damn share we are allowed to," he said.
On Aug. 11, 1989, the earliest data available, Freddie Mac traded for around $6.63 per share.
By 2000, Buffett was the largest shareholder of Freddie Mac, whose stock had soared to between $41 and $64 per share, for a sizable gain. His view on it changed, though, and he unloaded nearly all of his Freddie Mac and Fannie Mae shares that year, according to his testimony to the U.S. Financial Crisis Inquiry Commission in May 2010.
When Brad Bondi, deputy general counselor of the commission, asked if he sold because the stocks were no longer good investments, Buffett responded that he "didn't know they weren't going to be good investments" but became "concerned" about their management.
…
Then, he used the same insect metaphor he would apply when Wells Fargo (WFC) was discovered to have created fake accounts for its customers in a scandal years later.
"And the truth was that they were arbitraging the government's credit, and for something that the government really didn't intend for them to do," he said. "And, you know, there is seldom just one cockroach in the kitchen. You know, you turn on the light and, all of sudden, they all start scurrying around. And I couldn't find the light switch, but I had seen one."
Freddie Mac and Fannie Mae's stock prices did not begin to crash until seven years later in 2007 when mounting home foreclosures led to unsustainable losses. In 2008, Buffett passed when Freddie Mac approached him about participating in a capital infusion.
"They're looking for help, obviously. And the scale of help is such that I don't think it can come from the private sector," Buffett told CNBC.
Freddie Mac closed at $1.51 per share Thursday [keep in mind, this is from 2018], down 46% for the year." ##
This graphic is not from that report.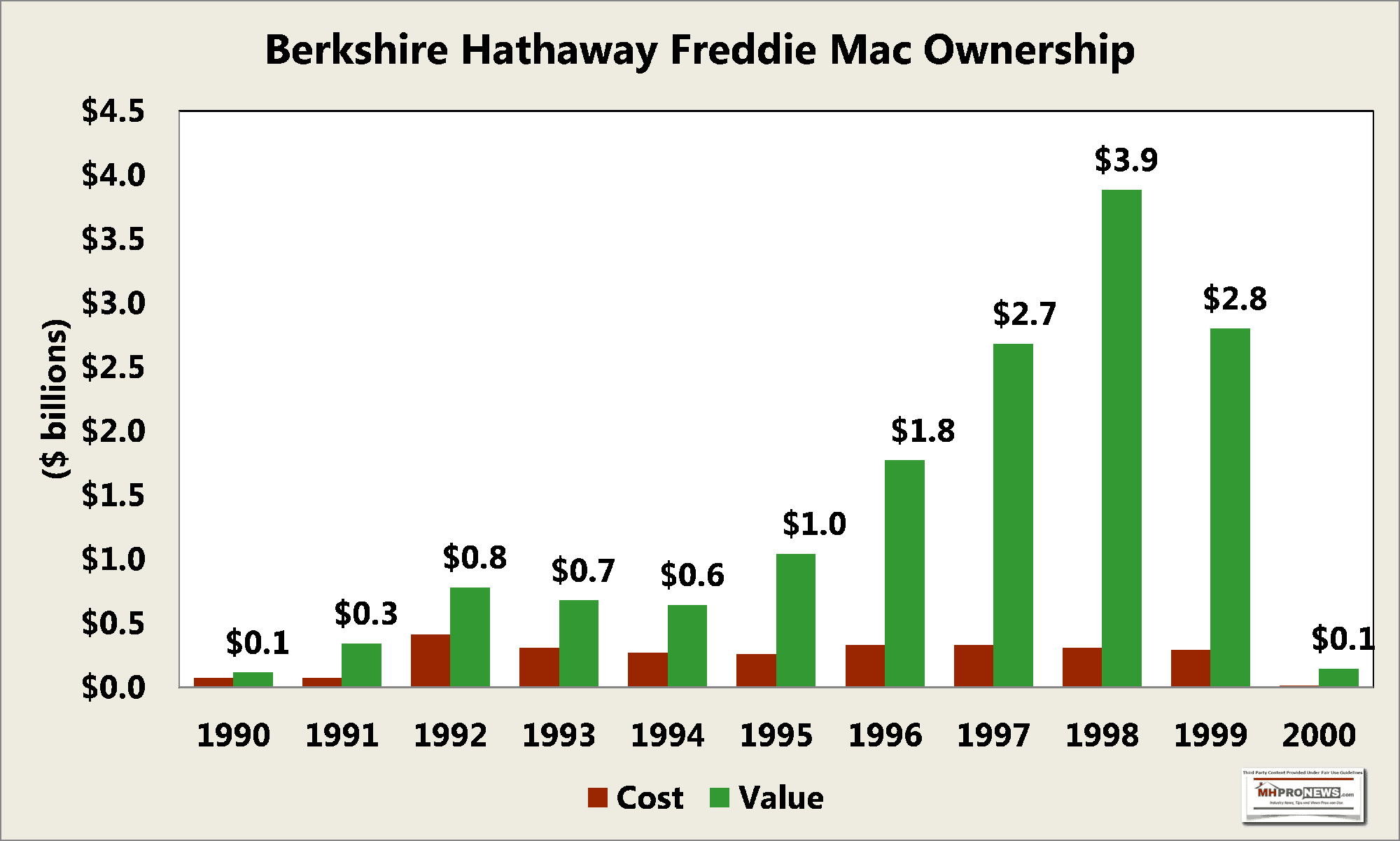 Now, what's not mentioned in that Yahoo article is the fact that manufactured housing was the beneficiary of yet another piece of what was supposed to be useful and positive legislation. That law was also widely bipartisan. It aimed to increase the liquidity that Kevin Clayton told Congress in the testimony quoted above was needed to spur more sales. In essence, it was obliquely referenced by Williams in his letter shown above. That was the Duty to Serve Manufactured Housing, Rural, and Underserved Markets. That Duty to Serve or DTS mandate was part of the then big new Housing and Economic Recovery Act (HERA) of 2008. As MHARR's former VP and now President and CEO Mark Weiss put it, a mandate is an obligation.

MHI's Gooch on paper seems to agree. But Doug Ryan has publicly ripped MHI and Clayton.  More recently, Ryan and others were part of an affordable housing coalition that pressed FHFA to finally do what they have long claimed they would do. MHI was not part of that effort. Nor was MHI part of the effort to sue to get "enhanced preemption" enforced. Do you see the pattern involving MHI of apparently cheap talk with no follow through action?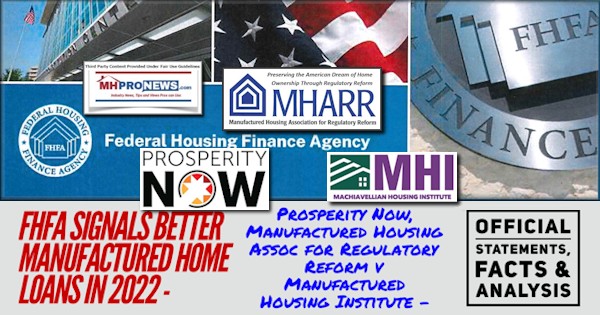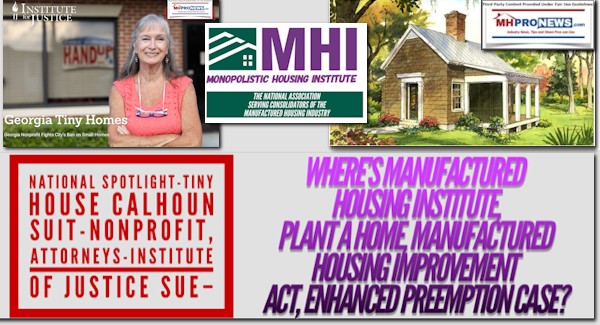 But in the case of both of those key pieces of legislation – the MHIA with enhanced preemption and more, plus DTS, which was supposed to restore competitive yet sound lending lost when the GSEs essentially pulled out of the manufactured housing market due to the brutally bad loans mentioned by Bradley above. Perhaps that manufactured home loan performance – due to abuses of the system – was a 'cockroach' – per Buffett?  Was that the "cockroach" he saw in the Fannie and Freddie portfolio performance? That merits an inquiry under oath and using subpoena powers to gather documents. As a disclosure, while what was quotes above from our 2011 IBISWorld report were accurate enough to that point, what was frankly lacking at the time were additional facts and insights not yet properly understood and/or known. While the 21st letter and its impact were known, what was unknown at that time was that that Berkshire owned 21st had pulled the rug in 2009 by using what were arguably false and misleading statements.
If false, how so?
Because Buffett's and Kevin Clayton's own words contradicted what Williams said in that 21st letter to retailers that cut off lending to non-Clayton selling independents. The evidence of those contradictory details are found in the two reports linked below. The first cites Buffett verbatim and the second cites Clayton verbatim. These reports have not been publicly contradicted or questioned.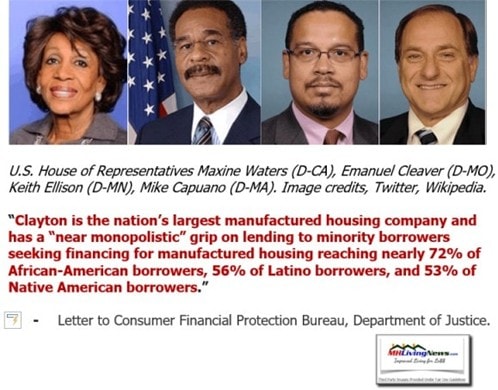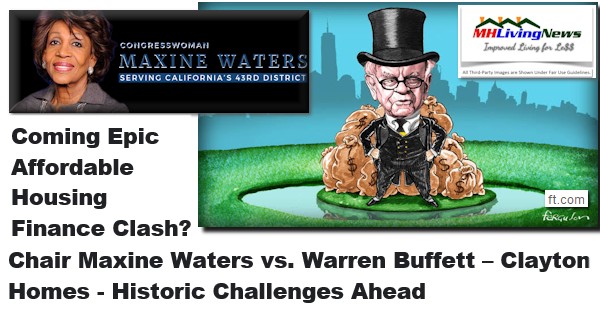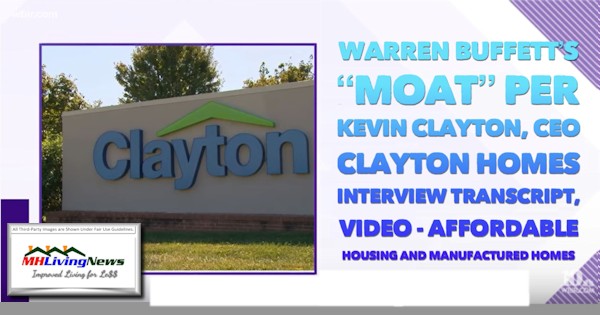 Additionally, as has been previously reported by MHProNews/MHLivingNews, Buffett made clear in 2003, not long after acquiring Clayton Homes, that they were going to be retaining Clayton's lending affiliates loans. That is per both Buffett's annual letter to shareholders and was cited by pro-Buffett author, Bud Labitan.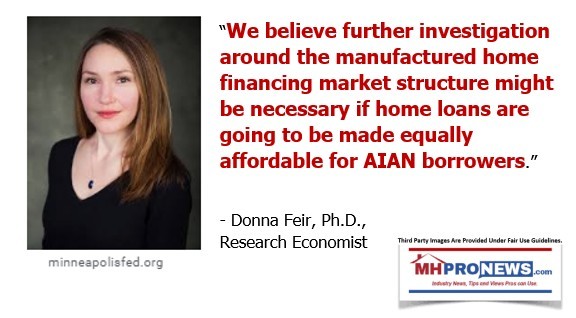 As Labitan's book on "Moats" put Buffett's statement as part of an extended quote and analysis by that author.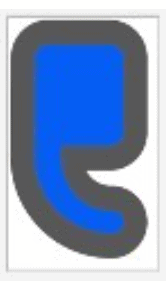 "We are in no hurry to record income, have enormous balance-sheet strength, and believe that over the long-term the economics of holding our consumer paper are superior to what we can now realize through securitization. So Clayton has begun to retain its loans."
How did Clayton build up its economic moat? In 2003, Berkshire did $2 billion of such borrowing and re-lending, with Clayton using much of this money to fund several large purchases of portfolios from lenders exiting the business.
Why borrow money while sitting on a mountain of cash? Buffett believes that any subsidiary lending money should pay an appropriate rate for the funds needed to carry its receivables and should not be subsidized by its parent. "Otherwise, having a rich daddy can lead to sloppy decisions" said Buffett.
Clayton Homes is the country's leading producer of modular and manufactured homes. It is the largest housing company that builds, sells, finances, and insures its homes. Clayton's large market share gives them a large competitive advantage because of their brand recognition and innovative manufacturing processes. Also, the Berkshire Hathaway association helps with its ever growing name recognition.
Clayton has 36 manufacturing plants operating in 49 states. It provides mortgages to over 435,000 customers and insurance services for over 135,000 families. Another advantage is that it is vertically integrated; and it provides services from the building stage to the retailing and insurance buying stage.
Providing the financing for customers was a major factor in their success. Clayton homes includes brand names such as Schult, Crest, Golden West, and Karsten's and these multiple formats help Clayton homes better serve their extended customer base. One of Clayton's biggest strengths is the ability to construct the homes indoors where weather does not play a factor. These homes are constructed quicker, with less energy and waste, while maintaining lower costs.
Are these advantages sustainable for the next 10 years?"
That's a useful place to pause in Labitan's narrative. Bud Labitan's first edition was published in 2012, about a decade ago. We now know how those durable competitive advantages held up. More on that later.
Let's factually note that based on current trends and projection, manufactured housing in 2022 appears to be operating at about 30 percent of the last highwater market of 1998. By an objective metric, that's hardly good news. The industry will top 100,000 shipments for the first time in over 15 years (not since 2006). Why such a long and slow recovery during an affordable housing crisis?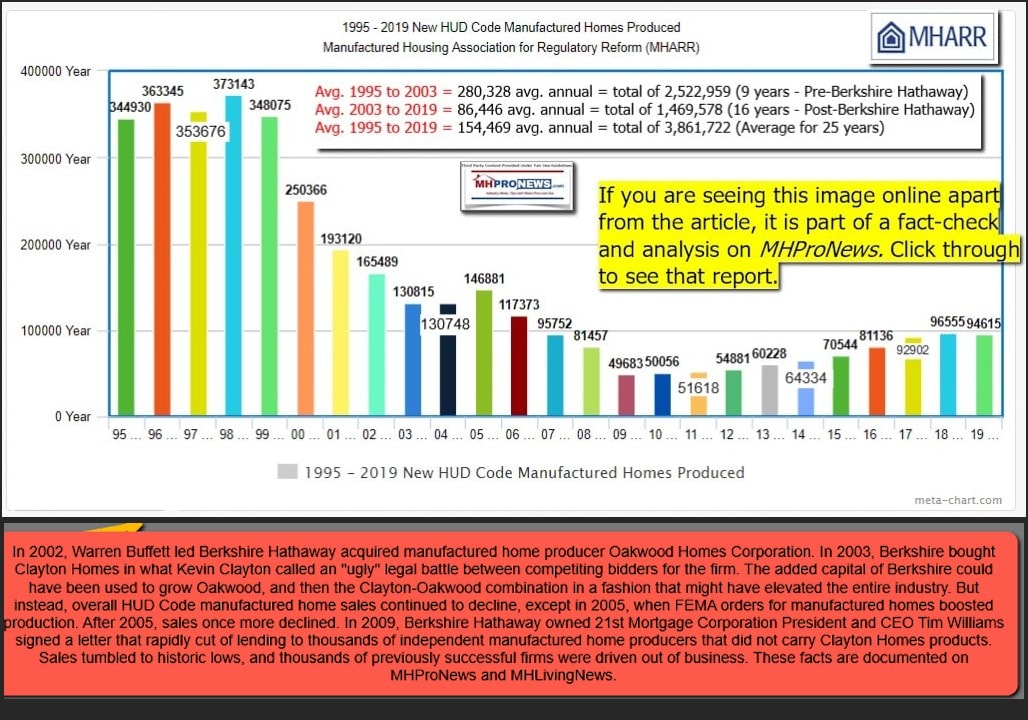 IBISWorld to some extent was correct in saying that there was a serious loss of independent manufactured home retailers.
Bradley was correct in saying that it wasn't caused by a lack of innovation by producers, it was more closely tied to the loss of retail financing.
Clearly, MHI's then staff leader Thayer Long agree with those parts of the published MHProNews report, because he felt it important enough to send that assessment to all manufactured housing state association executives. Those state executives have been referred to by "MHI 2.0" as "MHI state affiliates."
These are facts backed by evidence.
Manufactured housing is arguably underperforming for several reasons. These are commonly thought to be the following. In no particular order of importance:
A) Zoning and placement barriers.
B) A lack of competitive lending.
C) A lack of proper public understanding, which is sometimes referred to as the need for an image/educational/marketing program.
To that third point, let's turn back to Kevin Clayton. In that video interview linked above and here is the following exchanged between pro-Berkshire interviewer Robert Miles and Kevin Clayton's voluntary statements.
As MHProNews has uniquely explored in a series of flashback (historic) reports, MHI and/or Clayton have been talking about doing an image/educational campaign since at least 2005. There is obvious evidence from two MHI members, one of whom is now a unit leader in a Berkshire Hathaway brand.
"Catastrophic" "Expensive Dog Food" "Least Liked Industry…Ever Studied" Joanne Stevens, Warren Buffett, Marty Lavin, Roper Report – Years of Costly Manufactured Housing Institute "Failures"-Facts & Analysis
Additionally, there are interesting factoids and tidbits like the following. Former MHI Vice President Jason Boehlert in a presentation for MHI cited the following quotation.
"The government wants high quality, low cost housing and manufactured housing provides that product." Warren Buffett
There are two broad possibilities, one that the quotation is accurate or close enough where Buffett has not publicly objected to it.
The other is that the quote is not accurate, which would beg the question: if Buffett never said it, why didn't he object to MHI using his name in that statement in that fashion?
For the sake of brevity, let's presume that the Boehlert/MHI quoted statement by Buffett is accurate.
That begs another question. Based on the illustration from a Google search this morning shown below, why is it potentially useful quotation found online only 7 times?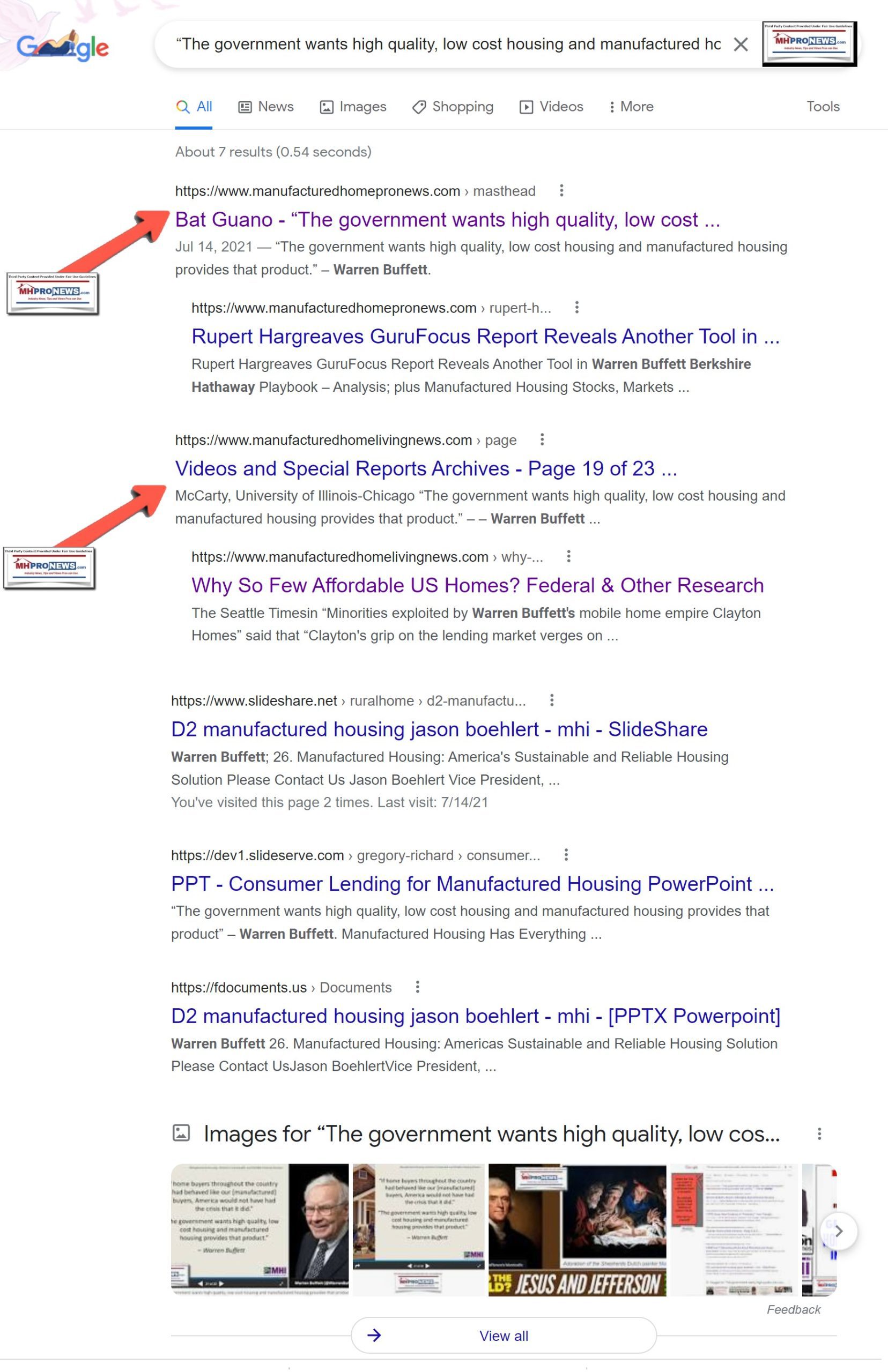 Most of those references are by MHProNews. They occurred as a result of research and fact-checks by this publication performed on that topic in roughly the last year.
Given the weight Buffett's words carry with millions of people – including other investors and public officials – why hasn't that statement been broadly and publicly promoted?  Why has that Buffett quote praising manufactured housing shouted from proverbial rooftops online? Why isn't it in television, radio, billboards, in ads wherever? It is astonishing – if accurate – that such a potentially potent statement has been obscured. Why would MHI use that Buffett statement only in front of select audiences in a PowerPoint?
Partial Summary, Analysis and Commentary Before Pressing Ahead
At this point, serious minds in an underperforming industry during an affordable housing crisis must ask: are the leaders of this profession – corporate, at MHI, and their state association affiliates – possibly inept? Lazy? Incompetent? Or are they working toward a business model that doesn't require industry growth? Are they working on a business model different than the one that largely operated in the late 1990s and previously? Namely, keeping the industry operating at a low level, as a moat to keep out competitors while the industry is consolidated?
Let's return to the title of Labitan's book: "Moats The Competitive Advantages Of Buffett & Munger Businesses."
Now, let's link up a recent media release from MHProNews via EIN, shown below.
Causes-Possible Cures Affordable Housing Crisis-Monopolistic Moat-Sabotaging Monopolies-Manufactured Home Controversies
Next, let's preview a planned release which would read as follows.
Saving America from Big Tech, Corrupt Oligarchs, Socialists, Public Officials & Gov't Regulators – News/Analysis Op-Ed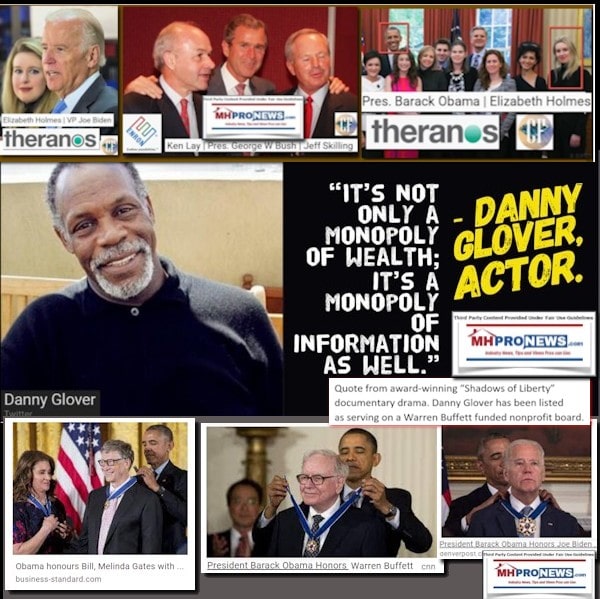 Minneapolis Federal researcher James Schmitz Jr, others documented sabotaging monopolists harming millions in dentistry, affordable housing, manufactured homes.
In no specific order of importance:
· Enron
· WorldCom
· Boeing 737 Max
· VW "DieselGate"
· Theranos
· Tyco
· Xerox
· Bernard "Bernie" Madoff
· WeWork
· Solyndra
· Lehman Brothers
· Fannie Mae, Freddie Mac (Government Sponsored Enterprises or GSEs).
Collectively that list involved $100s of billions in direct losses claimed by investors, often involving purported fraud, corruption, and what Capital Research Center dubbed "deception and misdirection."
Because taxpayers and the broader economy were impacted by Lehman Brothers, Fannie Mae, Freddie Mac, and the housing-finance scandal, the collective impact in those cases total trillions of dollars.
Canadian-American economist, diplomat, and public official John Kenneth Galbraith wrote "Regulatory bodies, like the people who comprise them…become, with some exceptions, either an arm of the industry they are regulating or senile."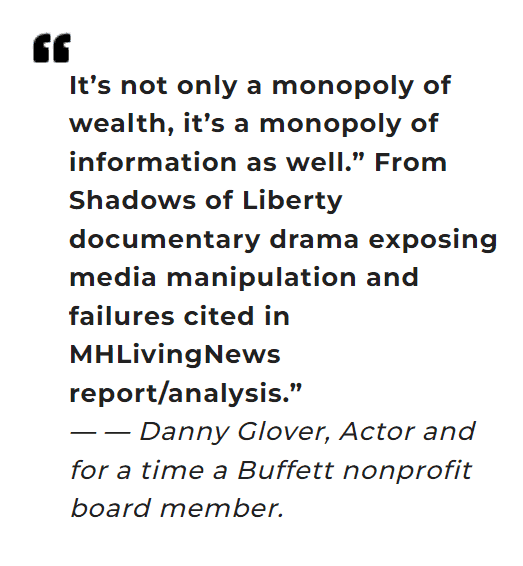 Before these lessons are applied to solving Big Tech and modern Robber Baron oligarchs, the following facts are valuable.
Near the end of a Cold Fusion documentary video about the Theranos' scandal is this quote. It explains how that recently completed criminal case – and others – avoided scrutiny for so long. "It's the illusionary effect where if you repeat a lie enough times people start to believe it especially if you have credible names surrounding the product."
Theranos' Elizabeth Holmes is shown with then Vice President Joe Biden (D) as well as then President Barack Obama (D). Ken Lay, Jeff Skilling, and then-President George W. Bush (R) appeared together amidst the massive Enron Scandal. Those examples of establishment politicos are sufficient to make the point of the "illusionary effect" of "repeating a big lie enough times" when seemingly (to some) "credible names" are involved.
There are exceptions. But broadly speaking, the "dirty dozen" 21st century regulatory misses undermine illusory daydreams of effective oversight.
Convicted fraudster Bernie Madoff died in prison. Harry Markopolos and his colleagues spent years trying to get public officials and mainstream media to expose massive fraud they knew existed.
Markopolos explained part of the evil genius of Madoff. The slick con man made sure others were benefiting from Madoff's scam – financially and/or otherwise. By spreading the wealth around, many turned a blind eye to colossal fraud. Forbes said the Madoff fraud exceeded $50 billion dollars.
Those examples are sufficient to explain why some regulatory mechanism alone won't restore the free-market balance abused by big tech and other oligarchs. Market manipulation, fraud, wink-and-a-nod, pay-for-play dark deals are routinely occurring in Washington, D.C. and at a capital near you.
Founding father Thomas Jefferson was asked to comment on a draft of what became the current U.S. Constitution. Jefferson wrote the following to James Madison. "…I will now add what I do not like. First, the omission of a bill of rights providing clearly and without aid of sophisms for freedom of religion, freedom of press, protection against standing armies, restriction against monopolies…and trials by jury in all matters…"
The 19th century had uproars against monopolists. Wikipedia credits Senator John Sherman (R): "If we will not endure a king as a political power we should not endure a king over the production, transportation, and sale of any of the necessaries of life." Congress passed the Sherman Antitrust Act almost unanimously in 1890.
Flashback to the Boston Tea Party. Those pre-Revolutionary war rebels tossed the tea overboard for at least two reasons. One motivation was the tax, the other protest was because the tea was a sanctioned British crown monopoly.
Fast-forward from Boston in 1773, through the Gilded Age and Robber Baron eras, to Warren Buffett and his fellow modern billionaires and corporate oligarchs.
The New York Times quoted Buffett: "There's class warfare, all right, but it's my class, the rich class, that's making war, and we're winning." Buffett later doubled down. "Actually, there's been class warfare going on for the last 20 years, and my class has won."
CNBC interviewed Buffett and his Berkshire Hathaway partner Charlie Munger on 6.29.2021. Buffett said: "Politicians in this country want more power. The rich want more power." Munger said, "Well, the regulators aren't [regulating]."
Bill Gates and Buffett have years of close financial, nonprofit, and political ties. CNBC quoted billionaire Gates: "I didn't even want to meet Warren because I thought, 'Hey this guy buys and sells things, and so he found imperfections in terms of markets, that's not value added to society, that's a zero-sum game that is almost parasitic.'" Per the CDC: "A parasite is an organism that lives on or in a host organism and gets its food from or at the expense of its host."
Understanding Buffett, Gates, and numerous modern billionaire oligarchs requires grasping their apparent practice of a slow-motion monopolistic method colorfully called "the moat."
Buffett said "The most important thing for me is figuring out how big a moat there is around a business. What I would love, of course, is a big castle and a big moat with piranhas and crocodiles."
Attorney- turned-journalist Glenn Greenwald described what's occurring in America a "blinding propaganda." "Establishment Democrats and Republicans" are part of a "ruling coalition that is consolidating power…authoritarianism." "And they have on their side – beyond the bulk of the corporate media, and the intelligence community, and Wall Street – an unprecedently powerful consortium of tech monopolies willing and able to exert greater control over [the] population…"
The solution is to use existing RICO, antitrust and other legal tools to legally break up and prosecute market manipulating monopolists. These can be pursued at the federal and/or state level. ##
L. A. "Tony" Kovach
MHProNews.com/MHLivingNews.com
+1 832-689-1729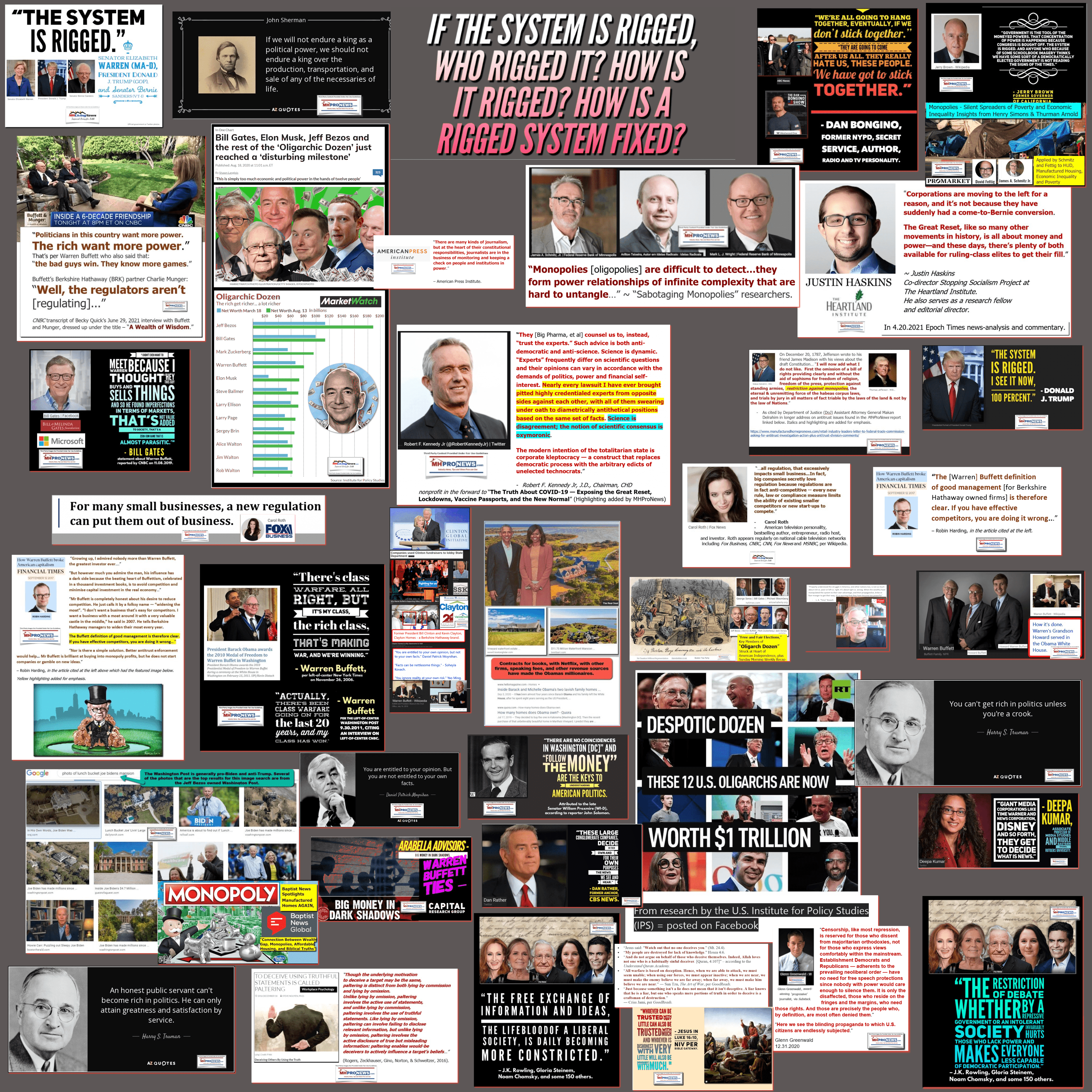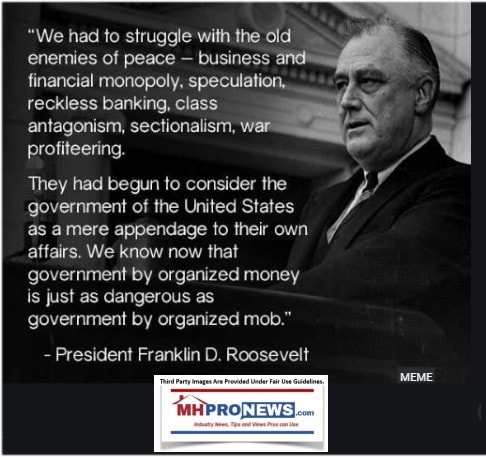 ##
Part III Additional Information, More MHProNews Analysis and Commentary
To disparage someone wrongfully, wittingly, and publicly can be actionable. To speak a harsh truth based on evidence, given the proper disclaimers is a legal shield against any possible legal action based upon a possible claim of slander or libel.
While it is true that anyone that can afford to sue based on a weak or false premise can likely do so if they want to spend the money, there are also reasons why even a party with deep pockets may not want to do so.
Among them?
A countersuit and the discovery that can occur may lead to additional revelations.
Possible sanctions or other professional repercussions for an attorney that brings a wrongful suit.
Possible criminal risks to a party wrongfully suing, in certain egregious scenarios, among others.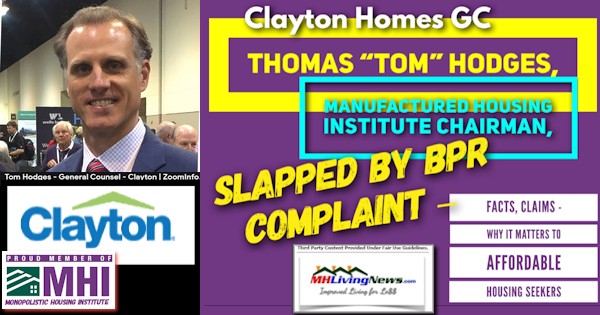 This isn't a short article. But it might save a forward-looking investor, career-minded professional, business owner, or public official probing the problems in affordable manufactured housing months or years of costly efforts absent these insights. What has this roughly 21 minute (+/- for an average reader, per CapitalizeMyTitle) review and reality check demonstrated?
There is little question that the manufactured housing industry is underperforming. There have been numbers of articles in mainstream media about this topic, not just IBISWorld, the Atlantic, and those shown above. There has been third-party research on why manufactured housing is underperforming.
Ironically, the Buffett-supported Urban Institute – which boasted Buffett as a lifetime trustee – established reasons why the manufactured housing industry is underperforming. MHI's former president and CEO, Chris Stinebert – the man who teamed up with then Danny Ghorbani led Manufactured Housing Association for Regulatory Reform (MHARR) to enact the MHIA 2000 – essentially ripped his own trade group politely as he was exiting MHI.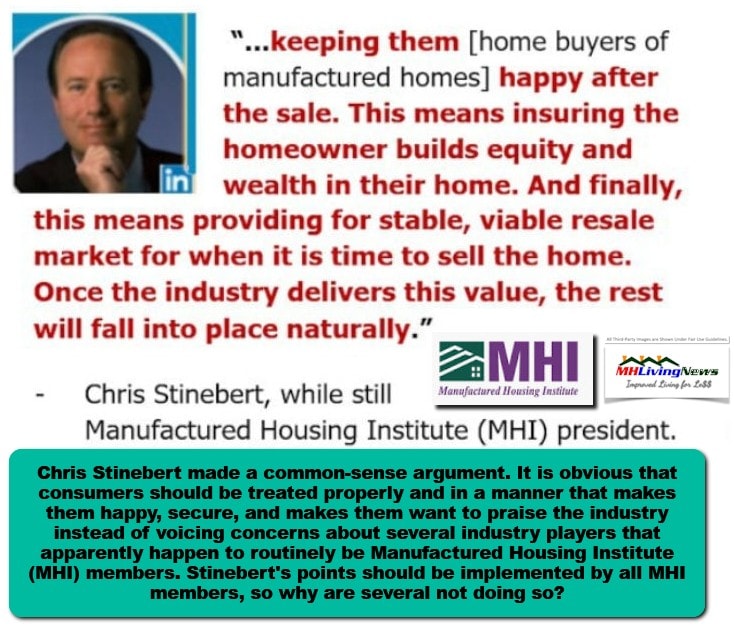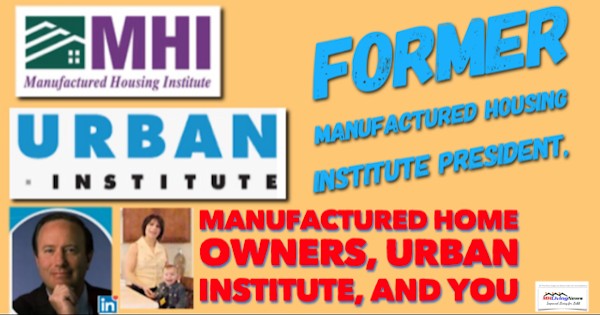 Instead of building the industry's image up through marketing and education, MHI has looked the other way for years for the so-called predatory behavior of Clayton Homes, and several of their larger MHI/National Communities Council (NCC) members. Who says? HBO's Last Week Tonight with John Oliver and others. When the firm's Oliver named or shown are traced, they each had apparent ties to MHI.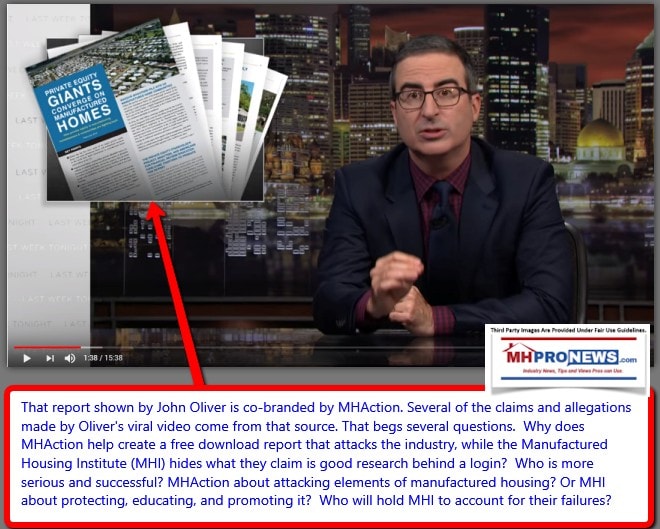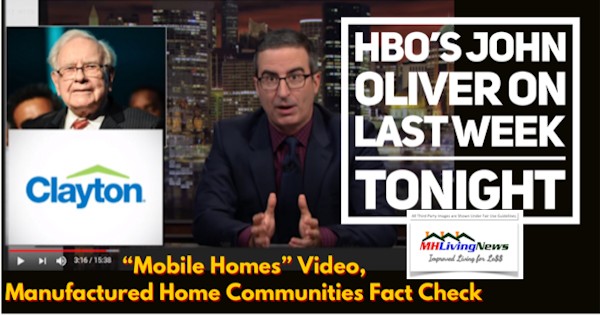 MHI – their staff, corporate leaders, and outside attorneys – when asked have never denied that evidence-based claim.
Given an opportunity to refute or respond to the third-party research from Samuel "Sam" Strommen at Knudson Law, Berkshire Hathaway board member and attorney Ron Olson, along with other attorneys and corporate leaders, declined comment.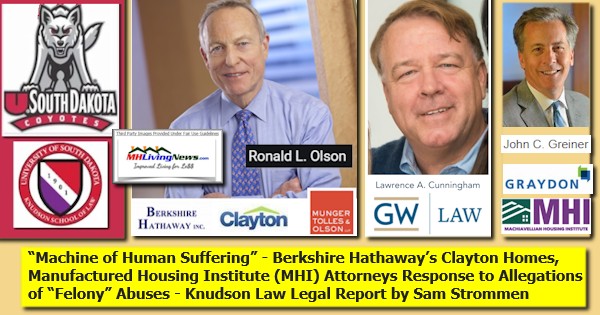 So MHI for years publicly ducked comments or responses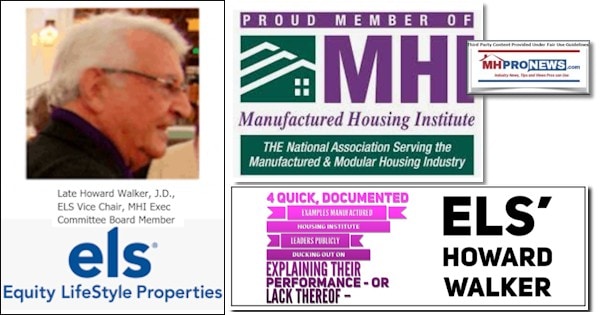 Unlike MHI's Thayer Long, or for some years, Richard "Dick" Jennison, so-called self-branded "MHI 2.0" staff has made no comments about these controversies relating to accountability for their behavior and performance.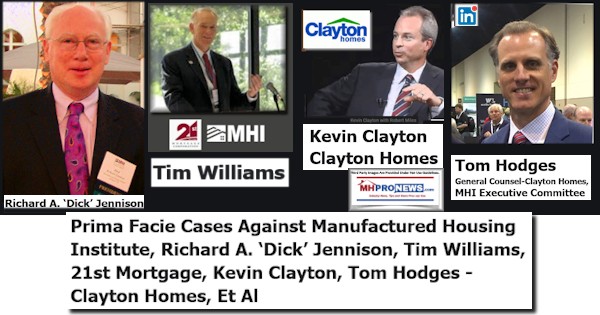 Let's return to the opening premise. "It is useful in business to periodically step back and take stock in an objective and rational fashion." A few questions should suffice.
What precisely has MHI accomplished since the enactment of the HERA 2008 DTS provision?
Why hasn't MHI sued to enforce the MHIA enhanced preemption provision?
Why hasn't MHI sued to enforce the DTS provision that would yield more competitive lending?
Why hasn't MHI performed an effective and measurable educational/marketing effort, as the RV industry has done with its GoRVing campaign?
Perhaps that could be rephrased in the fashion of the classic Wendy's ad: "where is the beef?"
Where is MHI's performance?
To be clear, MHI is an association front or proxy for their dominating brands. So, while MHI staff have a measure of accountability, so too do corporate leaders and their respective boards, auditors, and public officials in an oversight or regulatory capacity.
MHProNews/MHLivingNews have documented for years examples to our readers of opportunities for the industry's leaders to respond to these concerns. They have in recent years routinely declined. The only public debate about performance was by loyal MHI member Andy Gedo. Gedo, have a vigorous public discussion which made several useful admissions, tossed in the proverbial towel and walked away from an effort to defend what is not easily defended.
Gedo quote
MHProNews plans once again provide MHI staff and corporate leaders with an opportunity to respond.
In the meantime, MHProNews/MHLivingNews plans to continue its 2022 effort to inform the public about the truth of manufactured housing. That effort is spelled out in the links below.
There are two parallel paths that arguably need to occur.
There must be a routine spotlight shown on the various ways that MHI and/or their corporate leaders are posturing vs. performing on behalf of the manufactured housing industry's independents.
There has to be a method developed that allows 'white hat' (as opposed to "predatory" or 'black hat' brands to grow despite MHI's apparent failures.
To accomplish the later, a bright line distinction must be made. The public must grasp that manufactured housing is – as Buffett is quoted by MHI as saying: "The government wants high quality, low cost housing and manufactured housing provides that product."
Then, the causes of the bad news must be separated from those who want to do business in an honorable fashion. Ironically, several MHI members have in essence said as much. One is now would-be rival Darren Krolewski.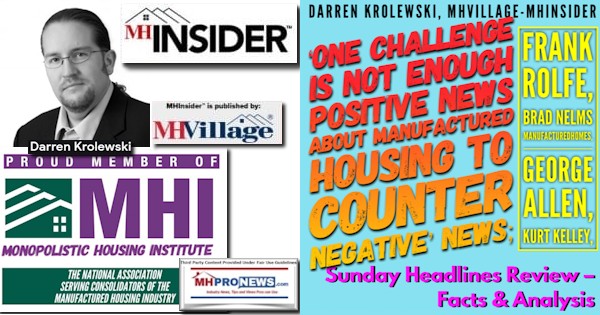 There has to be enough good news to counter the bad news. MHProNews and our MHLivingNews sister site have been and continue to lay the foundation for these key efforts.
Shadows are cast depending on the angle of the light. Water and mirror reflect images, sometimes clearly, but at other times in a distorted fashion. MHI has said for years that they want industry growth. Clayton said over a decade ago that they were ready then to promote the industry. What happened to those promises, claims, and statements? It becomes increasingly difficult to refute the claims of MHI's critics, and those who have studied the issues and point their fingers at Buffett and his oligarchic allies.
Let the accountability and/or pivot toward growth and performance begin. Let insiders and whistleblowers with fresh tips to compliment those previously received reach out. ##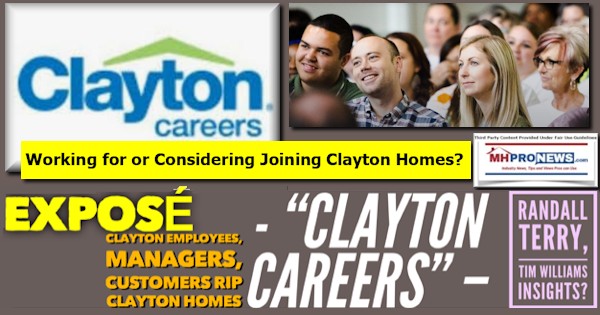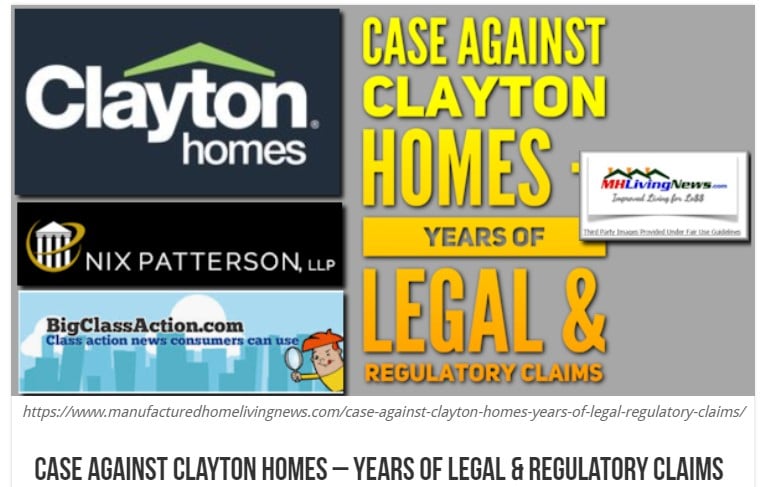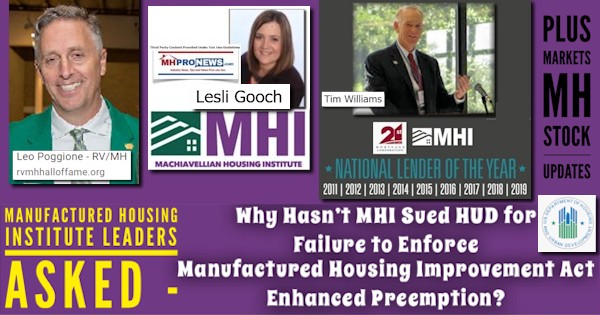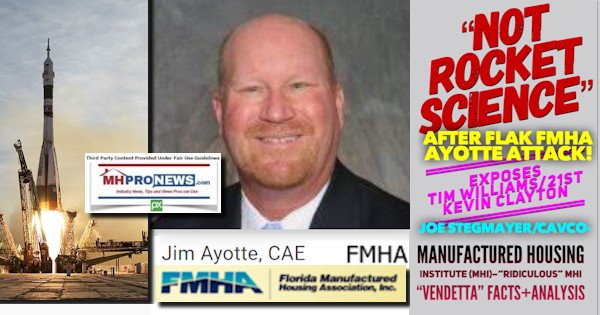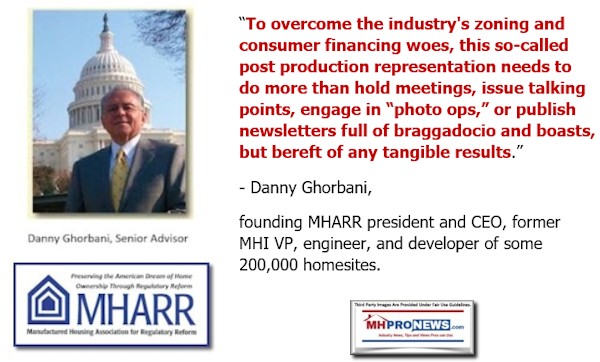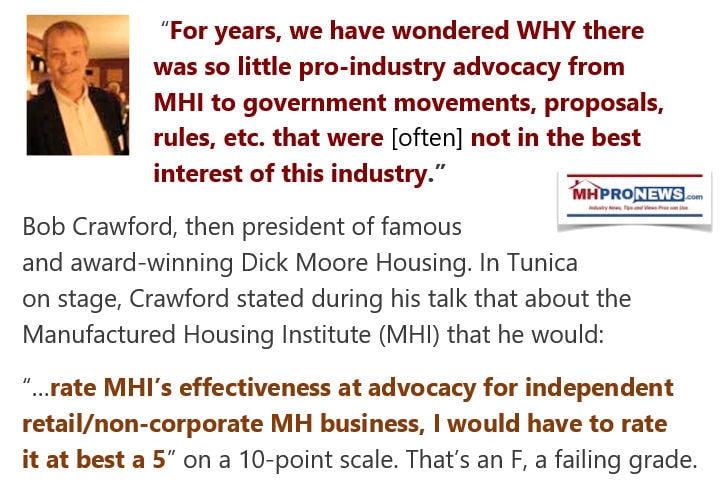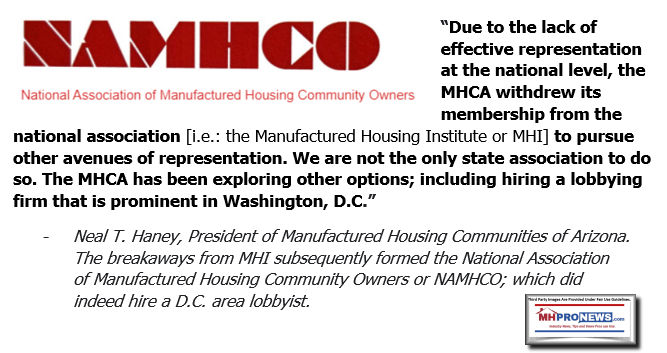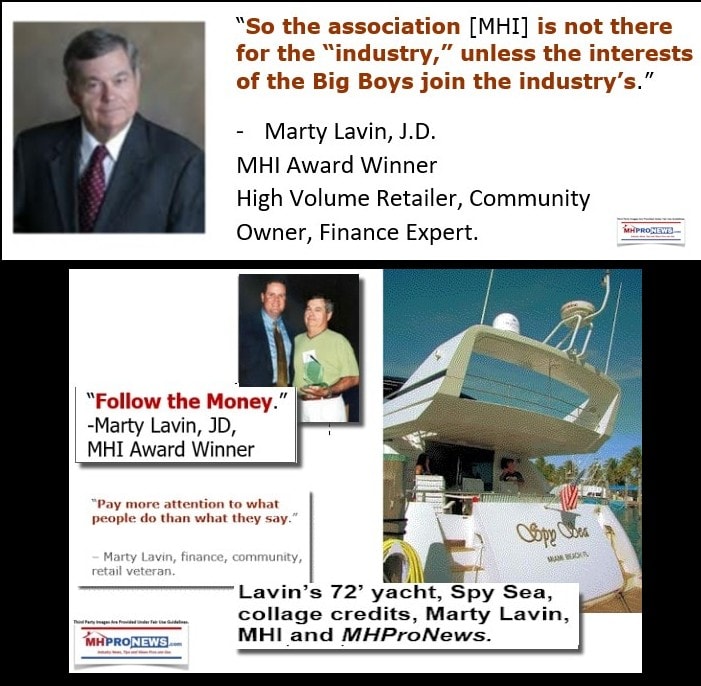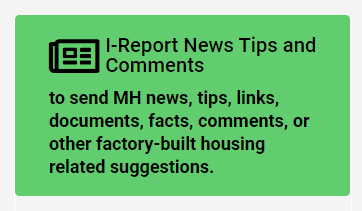 Our thanks to you, our sources, and sponsors for making and keeping us the runaway number one source for authentic "News through the lens of manufactured homes and factory-built housing" © where "We Provide, You Decide." © ## (Affordable housing, manufactured homes, reports, fact-checks, analysis, and commentary. Third-party images or content are provided under fair use guidelines for media.) (See Related Reports, further below. Text/image boxes often are hot-linked to other reports that can be access by clicking on them.)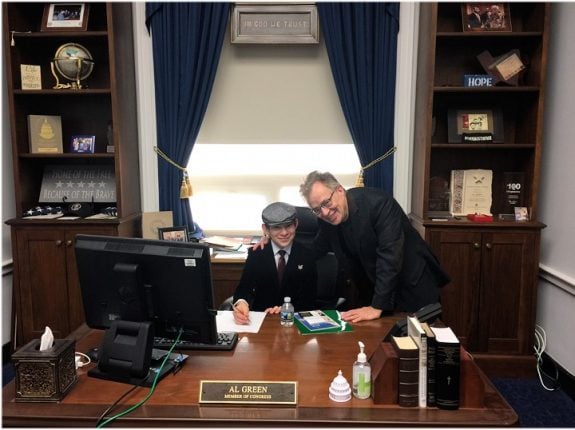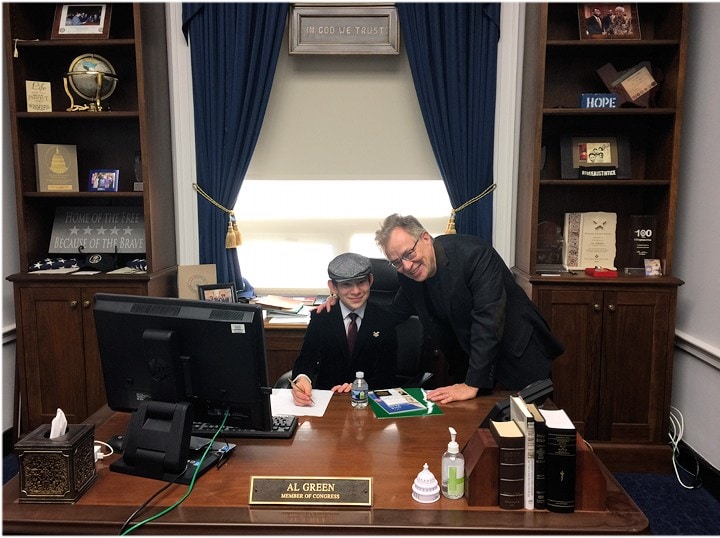 By L.A. "Tony" Kovach – for MHProNews.com.
Tony earned a journalism scholarship and earned numerous awards in history and in manufactured housing.
For example, he earned the prestigious Lottinville Award in history from the University of Oklahoma, where he studied history and business management. He's a managing member and co-founder of LifeStyle Factory Homes, LLC, the parent company to MHProNews, and MHLivingNews.com.
This article reflects the LLC's and/or the writer's position, and may or may not reflect the views of sponsors or supporters.
Connect on LinkedIn: http://www.linkedin.com/in/latonykovach
Related References:
The text/image boxes below are linked to other reports, which can be accessed by clicking on them.