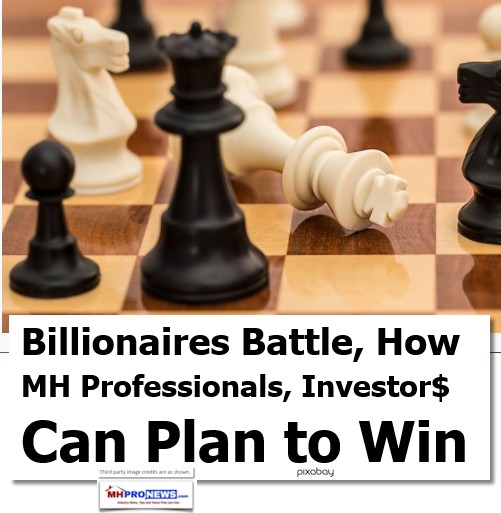 "They call it the rope-a-dope. Well, I'm the dope. Ali just laid on the rope and I, like a dope, kept punching until I got tired. But he was probably the most smart fighter I've ever gotten into the ring with." – former boxing champion George Foreman, speaking about Mohammed Ali, per BrainyQuote.
Last night, the 45th president told a crowd of enthusiastic supporters something he's said periodically for the last two years.
"The system is rigged." – Donald J. Trump.
Bernie Sanders has said precisely the same thing, "The system is rigged."
Only the rigged system in Sanders' case was how Hillary Clinton's campaign won in their primaries – by Clinton rigging them – as was reported recently in the Daily Business News by former Democratic National Committee (DNC) Chair, Donna Brazile, in a series of explosive revelations found in her new book.
"Hacks" – Explosive 2016 Campaign Claims by Former DNC Chair, Donna Brazile
There are those who believe that the system in manufactured housing was rigged too.
http://mhmarketingsalesmanagement.com/blogs/tonykovach/andy-gallagher-ousting-pam-danner-mhi-claytons-rvp-wvhi-transparency/
There are certainly many factors, influences, and potential inputs that resulted in the precipitous decline of manufactured housing that began in 1998. Bad lending practices, and short-term thinking were among those causes.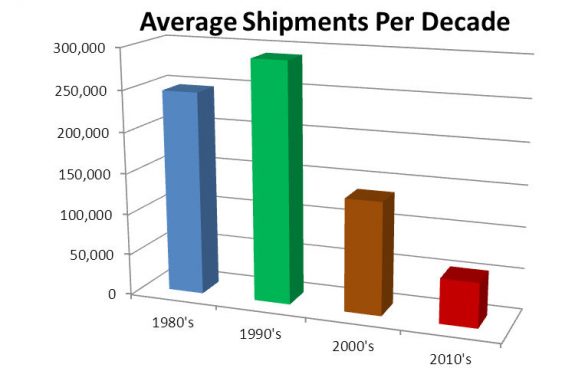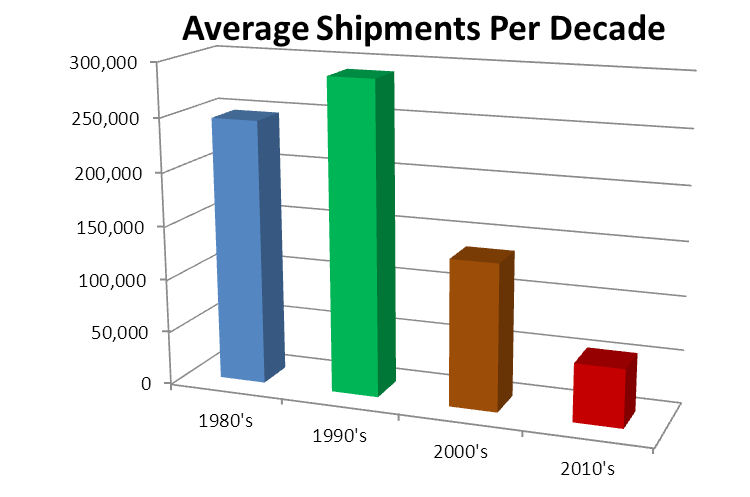 Into a world of short-term thinkers, came a long-term billionaire strategist.  One who reads, thinks, analyzes, and who has the financial resources to influence business, media, and politics alike.  Is there any doubt about those statements being accurate?
"Perverse"–Warren Buffett-Dodd-Frank, CFPB, Manufactured Housing, Loans, Independent Businesses Fact Check$
"Strategy, like warfare, is an interactive, dynamic process. Most executives understand that business is no longer a one-move game. The CEO who says, "The competition is gaining market share, let's cut price," is a dinosaur. Managers need to look several moves into the future and anticipate the feedback," said Fast Company.
"Know thy self, know thy enemy. A thousand battles, a thousand victories." – said Sun Tzu.
Billionaires and Billion Dollar Operations Do Battle…
The billionaire battle and business warfare are all around you.
The Top 10 American Corporations, Manufactured Homes, and PreFab Housing
Can the little guy survive, and thrive?  Yes, but they must be informed, nimble, and prepared to think long-term.  They must plan how to learn more, to earn more, so they can successfully fight to win.
"You will need to use unorthodox strategies to take down a formidable foe."  – Business Insider.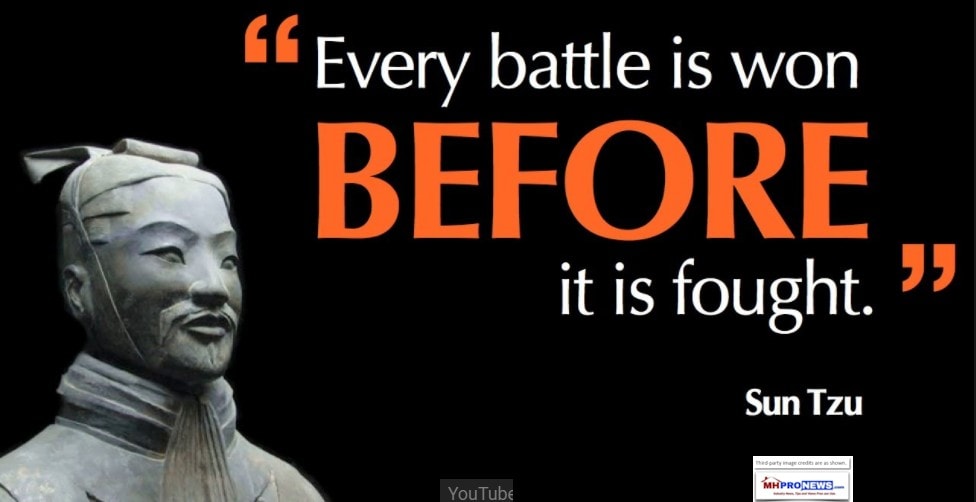 MHI's Former President, Chris Stinebert – Lessons Learned?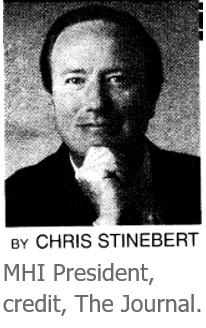 One need not agree with his proposals or conclusions.
But realize that when an outgoing Manufactured Housing Institute (MHI) president delivers as his farewell message a list of things that ought to have been done, but wasn't, a thinking person must ask, 'what the devil is going on?'
Chris Stinebert, then president of MHI, delivered a detailed a list of actions he believed the national MH umbrella association should have been doing, but wasn't. Stinebert's list, is linked here.
One point all should agree on was Stinebert's final one; that the entire industry must be laser focused on increasing the value proposition to the manufactured home owner. Because increasing the value proposition to the owner, increases to the value to potential MH owners, which in turn increases the potential value of all businesses within the MH Industry.
What's the Plan of the Billionaires and Manufactured Housing?
"All warfare is based on deception." by Sun Tzu, fabled ancient Chinese strategist.
"Marketing warfare strategies represent a type of strategy, used in commerce and marketing, that tries to draw parallels between business and warfare, and then applies the principles of military strategy to business situations, with competing firms considered as analogous to sides in a military conflict, and market share…" per Wikipedia, Marketing Warfare Strategies.
Another MHI Senior Staffer Speaks Out…
Those critical digressions aside, another MHI senior staffer, VP Jason Boehlert, laid out the case why the industry was going to fail for the next four years.  It was his truth, hiding in plain sight.
Manufactured Housing Institute VP Revealed Important Truths on MHI's Lobbying, Agenda
The industry was being gobbled up, and Sam Zell, speaking to an MHI crowd, laid out his case for what the industry should have done, but didn't.
MHProNews exclusively covered Zell's statements, in these articles, linked below.
Sam Zell, the Point of the Spear, and You've Got to Have Confidence.
Sam Zell, Our Way of Life is Very Much Threatened.
But we boiled down Zell's main takeaways for the industry's professionals, at this link below.
ELS' Sam Zell – Compliance Costs Destroys Smaller Businesses = Consolidation
Billionaires Battle to Control America, and Beyond…
Sanders and Trump are very different men.  Sanders, who has his own legal problems, was arguably badly mistaken about socialism being the cure.  Socialism is the disease.
Socialism is a disease that's sadly infecting millions of American Millennials.
So why would Warren Buffett promote people, positions, and politicians that on the surface are arguably harmful to his own business interests?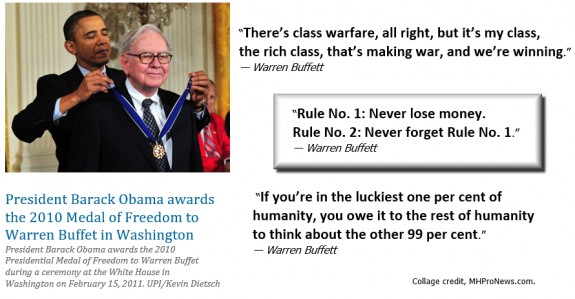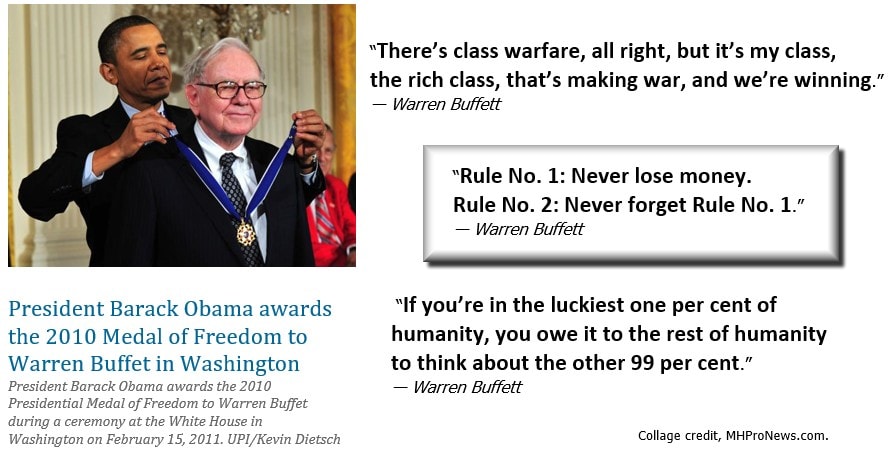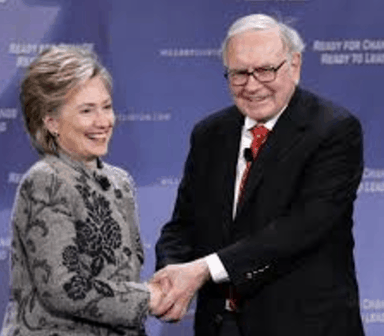 It's an important question. What's your answer?
"The supreme art of war is to subdue the enemy without fighting." – by Sun Tzu.
Increase regulations. Increase risks. Cut off or restrict lending, and you drive competitors out of business.
Reduce or allow the industry to decline to a low level.  Make it where the billionaires can survive and thrive, but the mom-and-pop businesses, or even mid-sized ones, can't compete. Are those all a part of the business model?
Consolidation? Not just Manufactured Housing, Look at Banking – Similar Causes?
Isn't that what happened with U.S. Bank?  Didn't they and numerous other businesses get outflanked?
We've heard for some time the whispers about the now announced closure of U.S. Bank's indirect manufactured housing lending program. To protect sources, we've been unable to do more than hint before today about what is now a done deal. We didn't have a date, but knew it was 'coming.'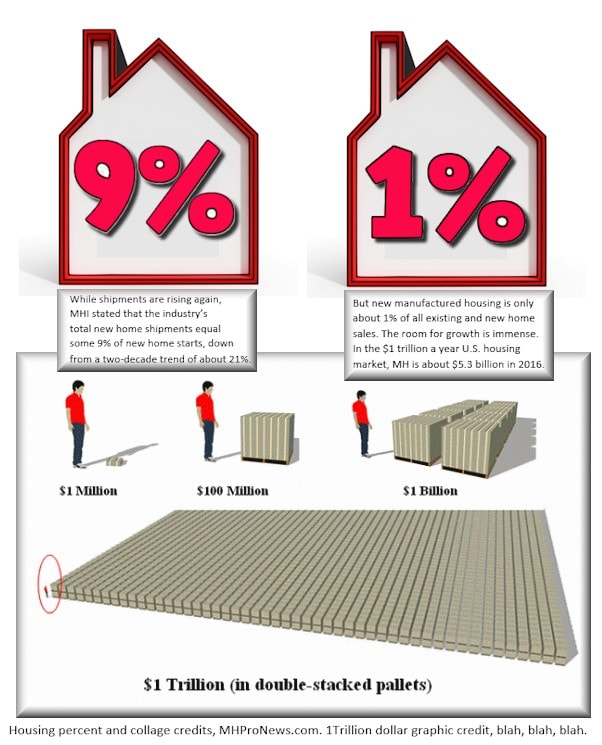 Think whatever you will about Donald Trump, but isn't there a battle of billionaires and multi-billion dollar operations clashing?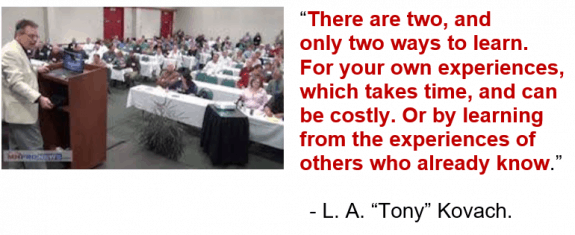 Center-Right Coalition Still the Best in U.S.
Gallup – U.S. Liberals Up, but America Still Center-Right Nation Politically
Hasn't the nation, through Trumponomics like de-regulation, seen the most powerful stock rally, and job growth, the country has seen in decades?
POTUS Trump has been signaling, and taking on the monopolists, one step at a time.  We supported Trump a year ago as the better option for our industry, while MHI had two paid Clinton supporters on their stage in Chicago.
President Raises the M-Word, "Monopoly," Plus Manufactured Housing Industry Market Update$
Democrats are also lining up in the battle of billionaires and manufactured housing.
Maxine Waters Statement, Preserving Access Manufactured Housing Act 2017, Warren Buffett, Clayton Homes
And Warren Buffett himself has said that there will be a fight to keep Berkshire Hathaway intact.
Who Will Replace Warren Buffett at Berkshire Hathaway? Expert Insights, Video & Manufactured Home Industry Outlook
MHI noted the year before Buffett began his run on manufactured housing, that the industry was poised for success, citing university research.
Appealing Manufactured Housing Institute (MHI) Marketing, Finance Booklet Reviewed
What happened to that surge which MHI, think tanks, and others predicted?  Was it choked off by regulations?  Who supported choking those regulations off?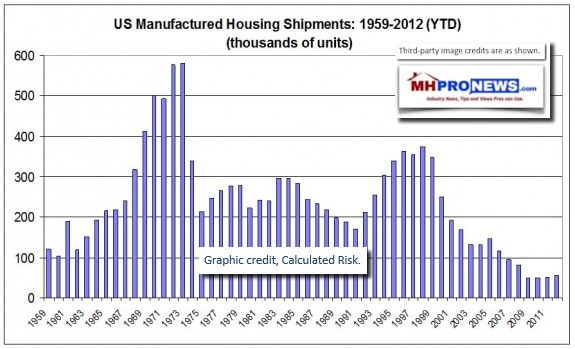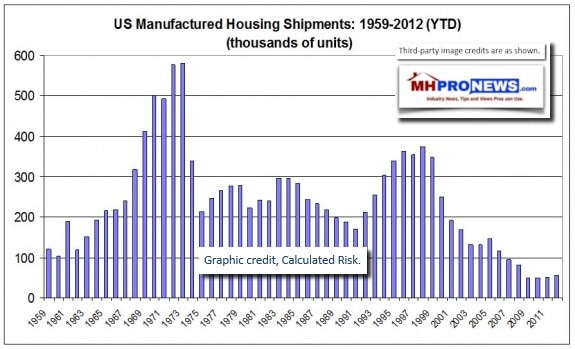 "The supreme art of war is to subdue the enemy without fighting." – by Sun Tzu.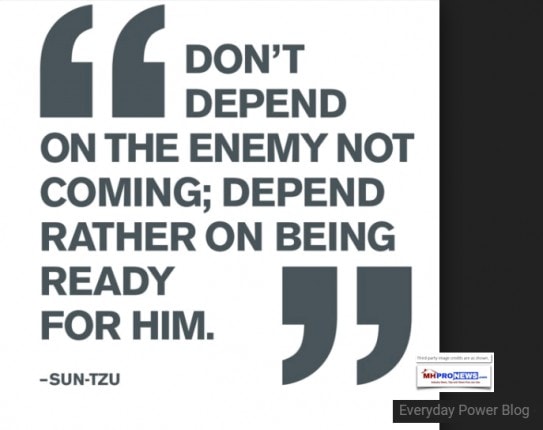 Documented Conflict Between 21st Mortgage CEO Tim Williams, MHI Chair, and Warren Buffett, Chairman of Berkshire Hathaway
There are several ways that the industry can survive and thrive in this era of billionaires battling.
But first, one must understand that manufactured housing is the future, not the past.  That their are billionaires who get it, and want what MH has to offer.
Then, one must look at what the wise are doing, that are causing them to thrive with honor, and deliver not only homes, but happy customers.
Let's begin with a blast of honesty. Doing some Inside MH video episodes are more fun than others. At the start and end of the video below, yours truly gets rebuked by a person being interviewed. Part of what's interesting in doing unscripted interviews is that you never know what someone is going to say.
The upcoming Monday Morning Sales Meeting will remind the industry that smaller companies can position themselves successfully against the giants.
Meanwhile, let the billionaires battle, but consider supporting the president, who is trying to reign in those billionaires while supporting independent businesses.
NFIB's Juanita Duggan Cheers, Leads, Explains Why on Tax Reform for American Businesses
Warren Buffett reads.
Sam Zell, Randy Rowe, John Bostick, Terry Decio, Joe Stegmayer, Marguerite Nader, Barry Noffsinger – Manufactured Home Industry Interviews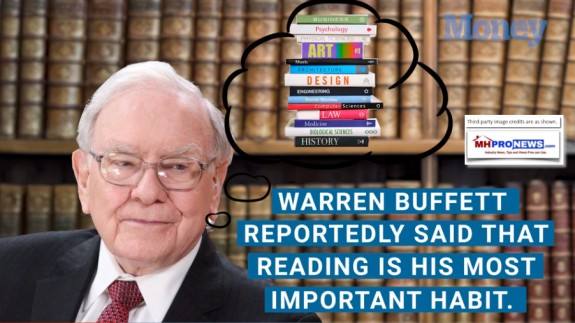 Warren Buffett plans.
"Accurate, but Misleading" MHI Preserving Access to Manufactured Housing Act Alert – 'Weaponized New$,' Fact Check$
They have their plans.
You need a plan too, don't you?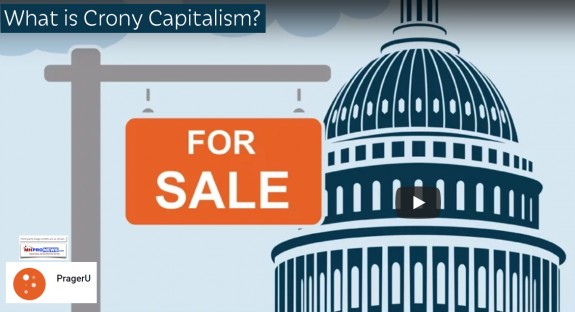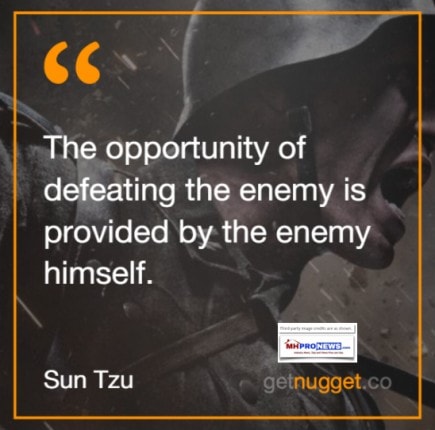 "We Provide, You Decide." © ##  (News, fact checks, analysis, commentary.)
Note 1: To learn about business development and other services/strategies that can help position a company in the age of the giants, click here.
Note 2: Thousands do it. For those industry pros, investors, and MH advocates who want to sign up to our industry leading headline news/updates – typically sent twice weekly – please click here to sign up in just seconds.
Many of our stories come as suggestions or tips from readers. Do you have concerns, allegations, comments, or news tips of your own?  Send them in.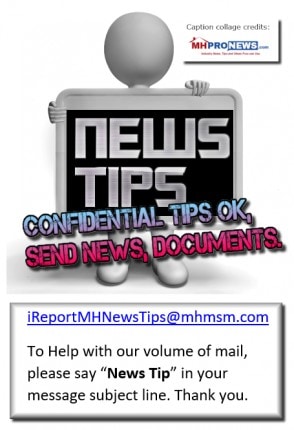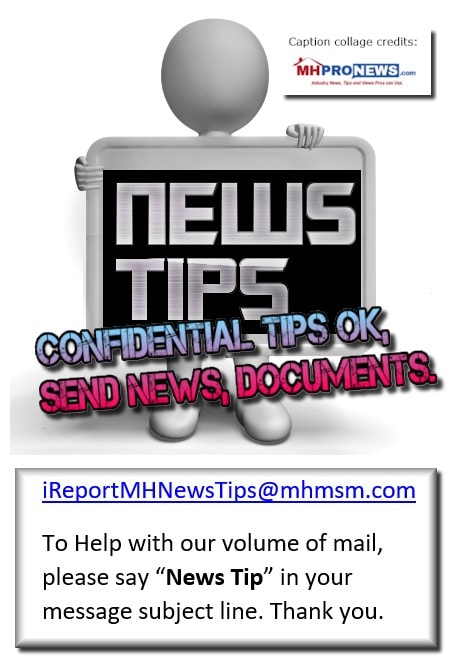 (Image credits are as shown above, and when provided by third parties, are shared under fair use guidelines.)


By L. A. "Tony" Kovach. Kovach is the managing member of LifeStyle Factory Homes, LLC, parent to MHProNews, and MHLivingNews.com. Both are #1 in their categories.