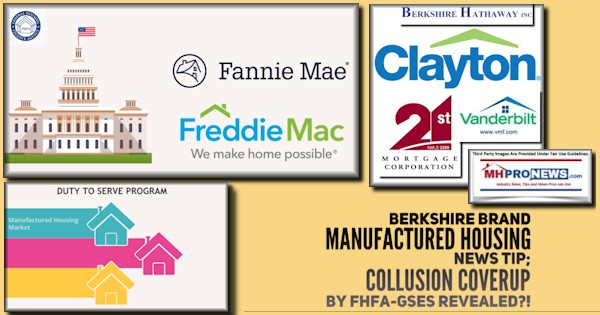 "I too believe in the [manufactured home] industry and what it can be. But it's being choked out by one business trying to have a monopoly on it."
That was from a source based in the Knoxville metro. Along with it came several pieces of information that confirmed prior concerns, but also opened new avenues for investigation.  If it was a one off, perhaps it could be dismissed. But when Democratic and other lawmakers, mainstream media and more have raised the same concern, then it should be cause to lean into the topic.
The source explained that there were others he/she knows that are equally unhappy with what is occurring inside specific Berkshire Hathaway brands. Those purportedly illicit activities are steadily twisting the industry into a "monopoly." Part of the thread of messages mentioned fear of legal, job loss and other pressures from Berkshire brands at whistleblowers if sources were revealed.
Some of the insights shared confirmed prior reports published on MHLivingNews and/or MHProNews. But others were new revelations. Some, per that insider source, would if published reveal that professional – because of the sensitive and specific nature of insights.
MHProNews, as do others in media, seeks to protect anonymous sources from making accidental revelations that could cause them to be discovered. Of course, when someone has the chutzpah to speak out under their own name publicly, that's cool.
21st Mortgage News Tip – Not Just DTS Chattel Lending Being Diverted, plus Manufactured Home Investing, Stock Updates
Readers should know that there are a variety of legal protections for those who report allegedly illegal or improper activities. But public officials should also be concerned if citizens rights are being marginalized through intimidation tactics. The mention of video cameras in the report linked immediately above raises other questions that merit investigation.
But as that Knoxville metro source stated, if revealed, he/she would expect legal ramifications from a Berkshire Hathaway brand. It's no light or easy decision to provide certain types of news tips.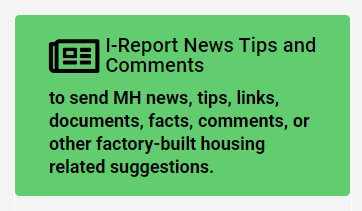 That's why, among other suggestions, MHProNews recommends that those who decide to provide a news tip NOT use any company provided cell phone or email address. Always use methods that are secure, which company emails and cell phones are not.
We have little interest in the who slept with whom stuff, our focus in on legally problematic behavior that harms consumers, businesses and the general public interest.
FHFA – Fannie Mae/Freddie Mac Virtual Listening Session Points to Coverups
Speaking of financing, the virtual listening session and prior ones alike enhanced objective concerns of a coverup of alleged program manipulation involving the Manufactured Housing Institute (MHI), Fannie Mae, Freddie Mac, one or more professionals at the Federal Housing Finance Agency (FHFA) and likely a few other well placed MHI members.
How so? Let's look at some recent evidence.
First, in the report below one can see specific concerns of how the Housing and Economic Recovery Act (HERA) of 2008 which mandated the Duty to Serve (DTS) Manufactured Housing and other underserved rural and affordable housing preservation markets has not been properly implemented. Who said? Numerous presenters.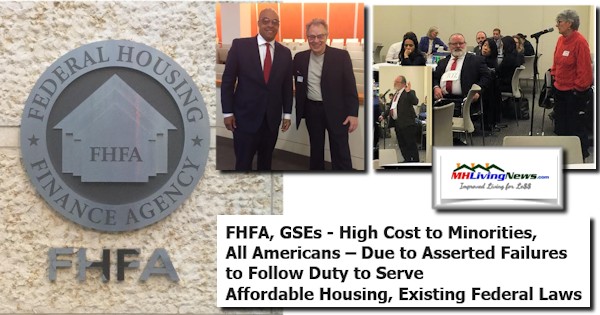 At the 12.11.2019 Duty to Serve Listening Session, the statement was made verbally and in written form via a 'chat box' on the right side of the webinar screen that questions and answers would occur after all presentations were completed.
Did that actually occur?
Only one other person besides L. A. 'Tony' Kovach submitted a question. That was Robert 'Bob' Van Cleef, a resident-leader from California. His question did not appear on the screen, perhaps because it was addressed in private mode to the webinar administrator. Van Cleef's question and answer may be dealt with another time, as it too was enlightening.
One or more audio recordings of the webinar were made, so there is an audio record of the event. As the collage of screen captures below reflects, the webinar ran ahead of schedule. Even though there were no other questions, the final two from Tony Kovach were not addressed at all, and the webinar was abruptly ended.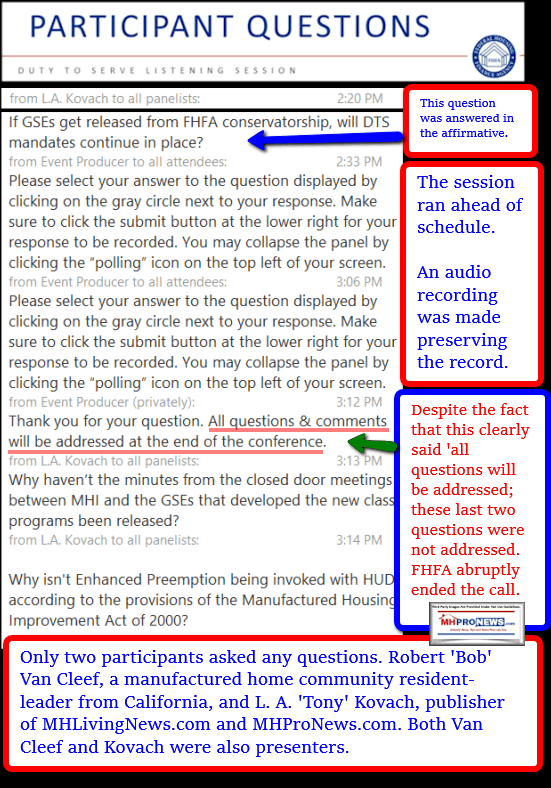 It should be noted that prior to the event, MHProNews specifically inquired from appropriate officials at FHFA, Fannie Mae and Freddie Mac why no press releases had been issued to draw mainstream media attention to that final or the prior three live listening session events?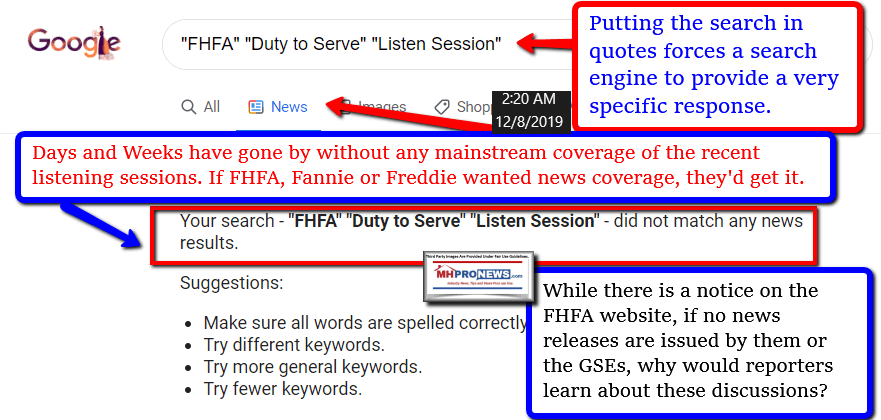 There was a page on the FHFA website with information, that linked to other information. But without a press release being issued to draw mainstream media attention to that page or to the "listening session" events, how would mainstream media even know to be looking for it? It would be one page among billions online.
Rephrased, there is evidence that suggests that the listening sessions were part of a sham process. Insiders advised MHProNews prior to the first listening session event that these sessions were effectively 'window dressing' for those who are keen on the process. The listening sessions are something the FHFA and the GSEs could point to, but which had little practical meaning.
The allegation is that the process has predetermined outcomes. Those outcomes tend to benefit the status quo. The status quo, per the statements of several who attended live or virtual listening session events, tended to harm large portions of the population that the DTS law was supposedly aimed at serving. Meanwhile, a select few are benefiting from the status quo. Is that by accident or design?
The vantagepoint of the Manufactured Housing Association for Regulatory Reform (MHARR) on this process is linked below. They have been calling for Congress to hold hearings to investigate.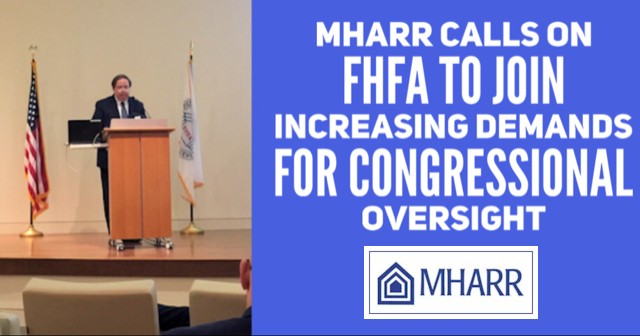 Resident-leader Robert Van Cleef has called for investigations too.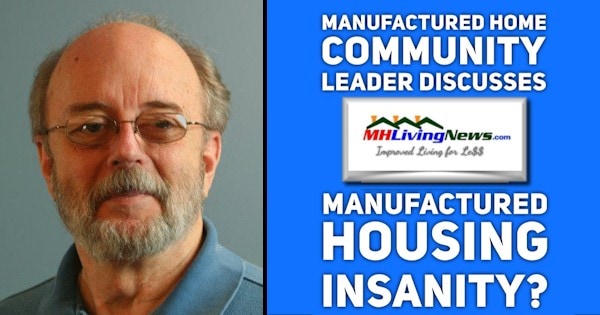 As noted, a fair reading of the events are that the status quo benefits a few at great harm to the many. As MHProNews has previously reported, both Fannie and Freddie have paid MHI to sponsor events. Why is that necessary? Is that even proper? If Fannie and Freddie are serious about following the law, they might at some level wish to work with nonprofits like MHI, MHARR or others. But the goal should be to implement the law as written.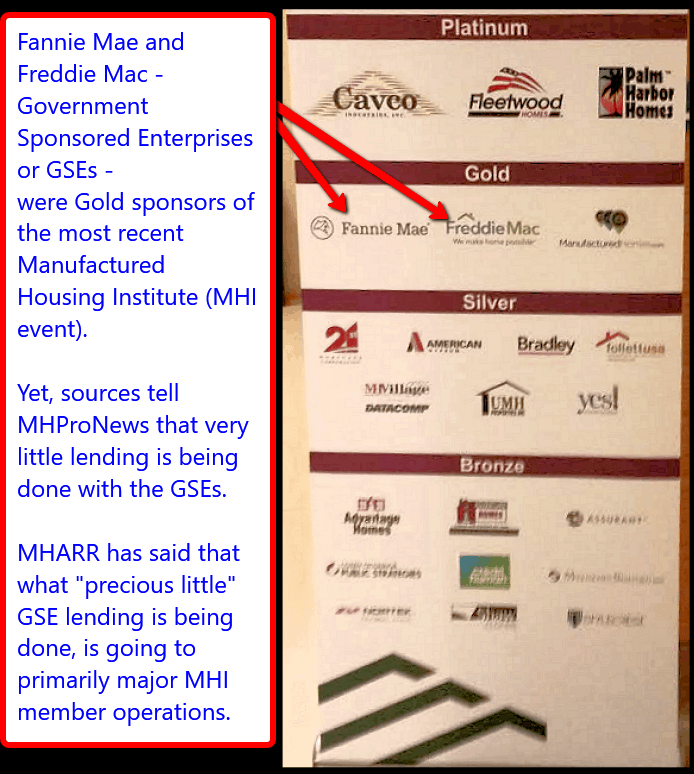 Fannie and Freddie each opened with statements about their 'accomplishments' (see screen capture with comments below).  FHFA's Jim Gray specifically seems to be giving them cover; why?
Are 'regulator,' the 'regulated' GSEs, MHI and the Berkshire brands all too cozy? Why does MHI de facto give cover to this same "process" that goes nowhere fast with much fanfare?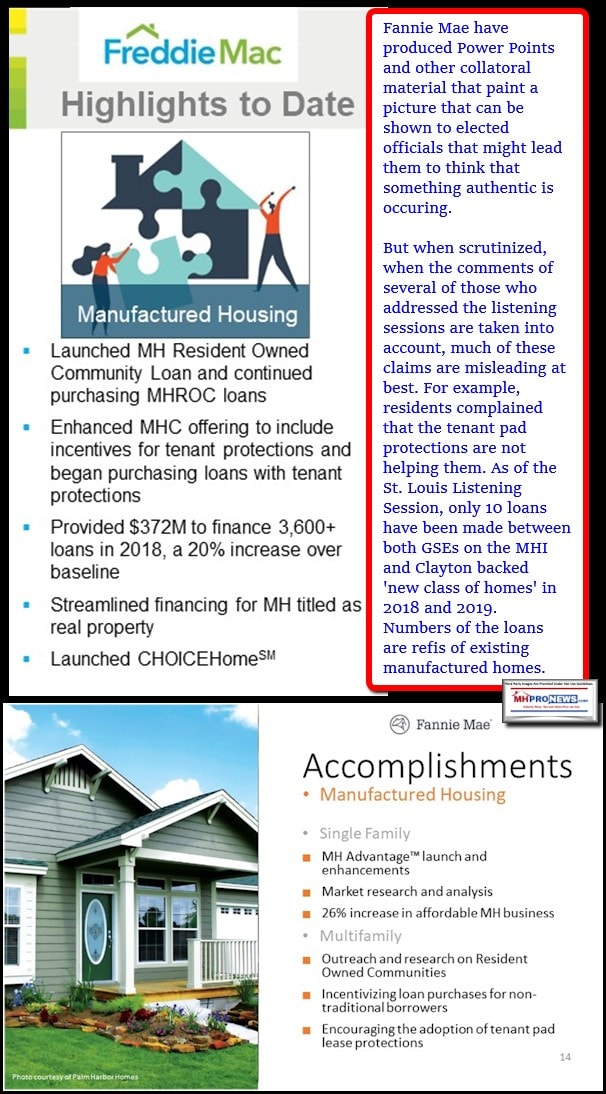 But when examined, especially in the light of summary in this 5 page PowerPoint linked here, it becomes another purported example of razzle dazzle, an "illusion of motion" as MHARR phrased it earlier this year.
As several presenters made clear, they don't think that is occurring. They are routinely in a position to know, so their allegations bear careful attention. Following the logic from the FHFA's own Duty to Serve webpage ought to make it clear that the law is being thwarted, and in some cases, turned on its head. Who says? Several participants in the DTS "listening sessions."

In the manufactured housing space, who benefits from the status quo? It happens to be the Berkshire Hathaway owned lenders of 21st Mortgage Corporation and Vanderbilt Mortgage and Finance (VMF). That again points back to the concerns from the Berkshire insider, cited at the top.
Antitrust, Other Investigations Heating Up
There are a variety of insights from certain nonprofits, publicly traded firms, governmental agencies and more that antitrust is heating up in Washington, D.C. Dozens of state attorneys general are also doing various antitrust inquires. While tech giants are getting the bulk of the media attention, sources to MHProNews indicate that there are reasons to believe that at least a few are looking at issues that are manufactured housing specific.
Those involve, per sources, Clayton Homes, 21st and VMF.
When one glances back at concerns and allegations that Berkshire brand insider from the Knoxville metro this report was opened with, one can see how twisting, perverting and thwarting good laws fits a pattern that tends toward market monopolization.
A Knoxville metro TV station made this report that buttresses concerns raised from this article and those linked from it. This is Clayton and 21st hometown media spotlighting allegations against the firm.
Then, when one ponders that points made by satirist HBO's John Oliver in the viral video below, realizing that each of the firms named or shown are members of and/or have ties to MHI, a picture begins to emerge.
Despite their so-called code of ethical conduct, MHI has yet to take any known action despite several incidents well publicized in mainstream media.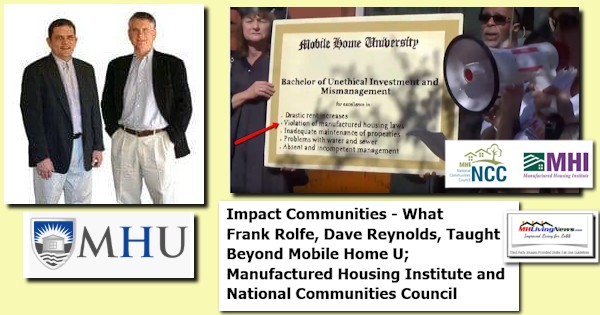 Summing Up
MHProNews has repeatedly stressed that there are 'white hat' members of MHI, and 'white hats' within so-called 'black hat' MHI member brands. Some of those white hats are sources for this publication.
That said, it seems increasingly clear that from among MHI's own members are a steady stream of behaviors that fuel the stigma against the industry, as the Manufactured Home Living News report linked immediately above reflects.
That negative news tends to cause concerns among lawmakers and public officials, understandably so. But what may be missed are the nuances. There are direct and oblique ties between those alleged black hat behaviors and MHI several specific member companies. The outcome is often a call for new regulations. Who does that benefit? Larger consolidators.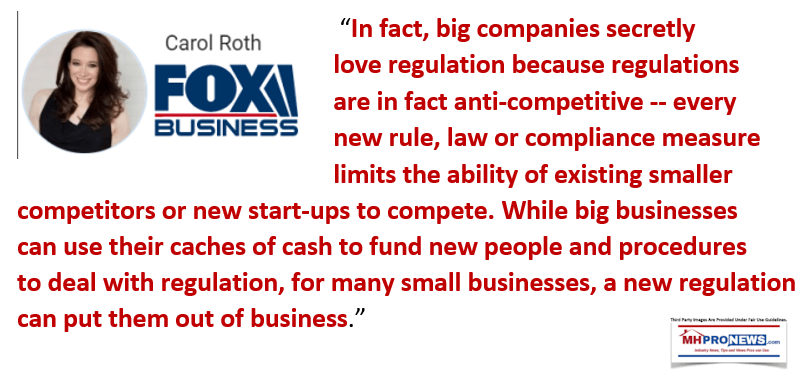 Meanwhile, good laws that exist that ought to be freeing the industry from the clutches of monopolists are instead perverted to benefit consolidators.  When David Dworkin – who worked at an executive level with Fannie Mae for years – says that he has full confidence that the GSEs could execute if so desired, isn't that one more clue that something is seriously awry with this process?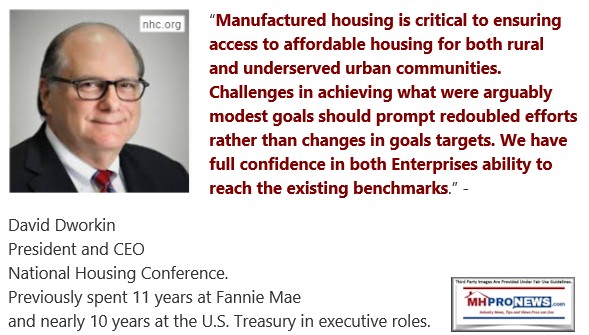 David Dworkin, National Housing Conference, Compared and Contrasted with Lesli Gooch, Manufactured Housing Institute on Fannie Mae, Freddie Mac Proposed Modifications to FHFA on Duty to Serve Finance Plans
One or more at the FHFA and with the GSEs have their fingerprints on these concerns. That bears investigation by appropriate officials who should take all necessary legal measures to bring those involved to justice.
That's a wrap on your Monday morning installment of the manufactured housing trade media's #1 source for "Industry News, Tips, and Views Pros Can Use," © where "We Provide, You Decide." © (News, fact-checks, analysis, and commentary.)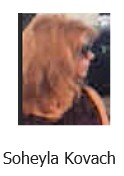 Submitted by Soheyla Kovach for MHProNews.com.Soheyla is a co-founder and managing member of LifeStyle Factory Homes, LLC, the parent company to MHProNews, and MHLivingNews.com. Connect with us on LinkedIn here and here.
Related Reports:
Click the image/text box below to access relevant, related information.
National Criminal Justice Reference Service (NCJRS), Razzle Dazzle, Manufactured Housing Institute – Analyzing the Latest
Pragmatic, Positive Profitable Vision in a Negative World, Plus Manufactured Housing Sunday Headlines Review, 12.8 to 12.15.2019
What Warren Buffett, Kevin Clayton, Tim Williams, Berkshire Brands and Manufactured Housing Institute Leaders Fear
Study in Contrasts-Lesli Gooch v Mark Weiss, Manufactured Housing Duty to Serve Presentations Spotlight Lack of Proper Lending
SEC, Cavco Industries, Duty to Serve Lending, Investing and Claimed Manufactured Housing Institute Corrupt Practices – Facts & Analysis
"I was Moved, Literally Crying" – Duty to Serve Manufactured Housing, Underserved Markets DC Meeting – plus Manufactured Home Investing, Stock Updates
"White Hat" Manufactured Home Community Operator, MH Retailer Sound-Off on FHFA, Fannie Mae, Freddie Mac, and Duty to Serve Manufactured Home Lending
MHARR Fingers Fannie Mae, Freddie Mac, and FHFA – "Profoundly False" "Misleading" – Duty to Serve Manufactured Housing Revised Plans