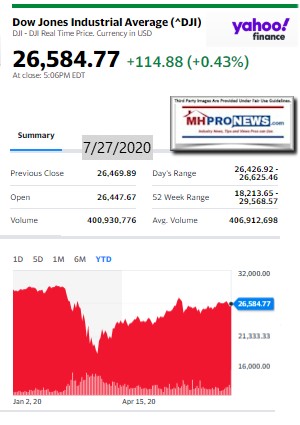 Orlando Magazine cites "fundraiser for Democratic Presidents Bill Clinton and Barack Obama" by attorney John Morgan, founder of the giant Morgan & Morgan injury law firm.
Morgan has made Orlando Magazine's 50 Most Powerful People list.
"An experienced lemon law lawyer can help you to pursue the options as they relate to your mobile home. Contact Morgan & Morgan today," says the law firm's website. More on that in the featured focus segment further below.
Also on the Morgan & Morgan website is this.
"Two People Critically Injured in Columbus Mobile Home Explosion
A mobile home explosion in Columbus, Ohio on Tuesday morning sent two people to the hospital with critical injuries. Around 6:40 a.m., firefighters arrived at the Enchanted Acres mobile home park to find one of the homes engulfed in flames.
Staff
Catastrophic Events
Feb 6, 2020"
John Morgan in recent radio ads his voice is often featured in has boasted about having hosted Nancy Pelosi, Barack Obama, and another prominent Democratic figures, but he does so without specifically mentioning that these politicos are Democrats.
That noted, Wikipedia says that "On November 24, 2017, he [John Morgan of Morgan & Morgan] announced on Twitter that he was disillusioned with the current state of American politics and was leaving the Democratic Party to register as an independent.[9] However, that same announcement included the mention that Morgan thought that Senator Bill Nelson (FL-D) should run for governor.
WFTV says that Morgan is backing a $15 minimum wage ballot initiative, which is a typical Democratic plank. "Since December 2017, Morgan & Morgan has donated $478,158 to the political committee Florida for a Fair Wage. As of August 2019, Morgan & Morgan had donated the bulk of the $4.15 million raised by the political committee Florida for a Fair Wage," said Wikipedia.
Attorneys deal with manufactured homes both for and against. Some of lawyers do so in the context of lawsuits. So, why does this matter?
There are several reasons why this is instructive and relevant as the November 3 is just 3 months away. One is that Morgan & Morgan is arguably building his own anticompetitive-style moat, ala Warren Buffett's Berkshire Hathaway moat-building methodology.
CNBC reported that "In 1999, Buffett sold his 20-year-old wallet to the highest bidder for $210,000, with all proceeds going to Girls Inc…" and the highest bidder was John Morgan.  In fairness, the report didn't specific which Morgan that was.
Attorney John Morgan drunk,
cursing in pro pot-rant, calls out Polk Sheriff Grady Judd,
Sept 3, 2014
That's enough backdrop to tease the balance of the profile report on John Morgan, who proudly says that he has the largest personal injury law firm in the world.
Tonight's featured focus segment of this evening's market report is found beyond the left-right headline news bullets and 2 of our 3 market snapshots at the close today. The manufactured housing industry connected stocks are near the end of the report each evening, after the featured focus and the related/recent report links.
Quotes That Shed Light – American Social, Industry, National Issues…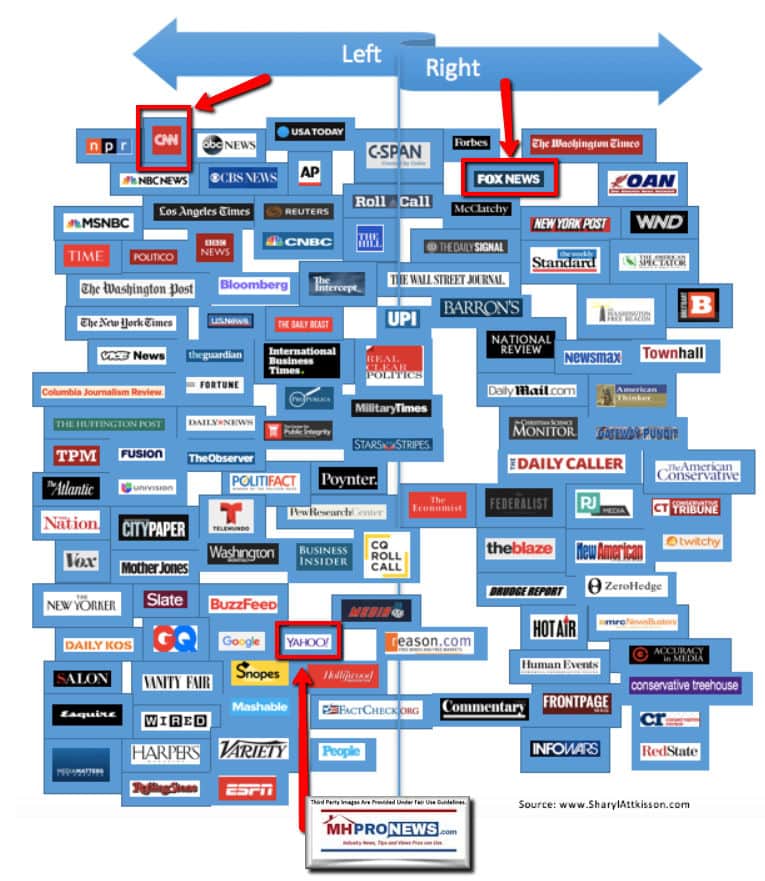 Headlines from left-of-center CNN Business
On edge
A trader makes a phone call outside the New York Stock Exchange (NYSE) on July 20, 2020 at Wall Street in New York City. – Wall Street stocks were mixed early July, 20, 2020 as markets awaited congressional debate on another round of stimulus spending and major earnings releases later in the week.
The US economy could fall off a fiscal cliff. Investors don't seem to care
Andrew Yang: It's a 'ridiculous fantasy' to think America's economy will snap back to normal
Google will let employees work from home until at least next summer
Bugatti made a car for kids that costs more than yours
Target and Dick's Sporting Goods will close stores on Thanksgiving Day
Under Armour notified that the company and CEO could face civil charges
Baseball games are getting postponed and that's spooking Wall Street
Masks, no guests and bathroom lines: What the post-pandemic office will look like
Garmin is slowly coming back online after a massive ransomware hack
The world's most powerful tech CEOs are about to testify before Congress
Opinion: Congress, don't re-up the $600 unemployment benefit. Do this
Covid-19 will permanently change the world's economy
People wearing face masks walk by a light box of American flag at Times Square on April 12, 2020 in New York City.
14 charts that show the US economic recovery is stumbling
Delivery is booming. Yet there's still no perfect car for its drivers
A woman wearing a face mask as a precaution against the transmission of the novel coronavirus crosses the road near the Royal Exchange and the Bank of England in the City of London on July 17, 2020. – Boris Johnson said on July 17 he hoped Britain would "return to normality" by November despite being badly affected by the coronavirus and predictions of a second wave of cases during winter months. Johnson sketched out a timetable for easing the remaining lockdown measures in England, including lifting homeworking guidance and reopening sports stadiums and live theatre.
Gold surges to record high on new fears for the economy
MARKETS
THE MASK DEBATE
Shoppers patronize Home Depot announced 7.1% revenue growth in the first quarter of 2020 on May 20, 2020 in Farmingdale, New York. The company beats analysts estimates as home-improvement stores were deemed essential services during the coronavirus pandemic.
Walmart and others will still serve customers who refuse to wear masks
All Walmart customers now required to wear masks
CEO: I'm willing to lose customers over mask policy
How McDonald's plans to enforce face coverings
Winn-Dixie reverses stance on masks after Trump tweet
YOUR PHONE
Hey, clumsy: This new phone screen glass can withstand a 6-foot drop
AT&T's 5G network is now nationwide
Apple is tracking iPhones stolen from its stores
You car key might soon be replaced by your iPhone
Doctors use smartphones to scan coronavirus patients
Headlines from right-of-center Fox Business
MONEY
Bernie Sanders slams Elon Musk, calls anti-stimulus spending tweets 'pathetic'
Bernie Sanders ripped Elon Musk, who has made nearly $50 billion during the pandemic.
Republicans push to send checks to 2M Americans excluded from first payment
WATCH: Trump on Operation Warp Speed accelerating coronavirus vaccine development
MONEY
White House, Republican proposal cuts extra unemployment benefits from $600 to $200
Stocks gain as gold surges to record, Republicans prepare $1T coronavirus package
Kudlow explains why 'V-shaped' rebound is still 'intact,' despite COVID-19 spikes
MARKETS
DraftKings sinks as coronavirus outbreak rips through MLB team, postponing games
LUXURY
Luxury retailer reports 'strong signs' of sales recovery despite pandemic
OPINION
Failing to make this investment would leave millions of students in a modern Dark Ages
'DEEP, DEEP CRISIS'
OPINION
Joe Rogan is the latest high-profile refugee from the urban mess
LIVE NOW
FINAL FAREWELL
VIDEO
WATCH: Honor guard carries casket of Rep. John Lewis into Capitol Rotunda
A FIGHTING CHANCE
ECONOMY
Study says self-driving trucks won't put truckers out of business just yet
BLUE SUEDE NEWS
TRAVEL
Graceland adding new additions to Elvis Presley's Memphis complex
BREAKING COVER
NEWS
Why Disney World is banning some masks
PIVOT TO PPE
MONEY
Ivanka Trump visits Minnesota coronavirus PPE maker
LACKING LUSTER?
MARKETS
Record-breaking gold to run out of steam at this price, strategists forecast
BIG DISADVANTAGE
PERSONAL FINANCE
When it comes to Social Security, 2020 is a very bad year to turn this age
CUSTOMERS SAFE?
TECH
Garmin says crippling cyber attack didn't hit key area
SUB'S SEA CHANGE
FOOD & DRINKS
Jersey Mike's is shelling out millions to change its look
TROUBLE BREWING
RETIREMENT
Who's ready for a $5,826 Social Security benefit cut?
'O' NO
MEDIA
Oprah's magazine going out of print; Hearst CEO resigns amid allegations
FOOD & DRINKS
Chipotle requires coronavirus face masks for customers
JOBS
Papa John's to hire 10,000 workers to meet coronavirus delivery demand
MONEY
How restaurants can rebuild from coronavirus: 'Bar Rescue' host Jon Taffer
MARKETS
Goldman just took a step that looks like it could lead to job cuts
PRODUCT RECALLS
Whole Foods desserts voluntarily recalled in multiple states over undeclared allergens
MONEY
Port Canaveral, other major US ports seek $1.5B in coronavirus relief, warn jobs at risk
MARKETS
Moderna launches coronavirus vaccine Phase 3 trial
NEWS
'Buck it!': Thousands pack stands for rodeo event in this state, sparking COVID concerns
ECONOMY
McConnell prepares to unveil GOP's $1T coronavirus stimulus framework
RETAIL
Big retailer to launch holiday sales much earlier this year, make Black Friday change
ECONOMY
Why the Fed's economic outlook has turned gloomier
TECH
Nearly all Google employees will keep working from home until this date
MARKETS
Gold soars to all-time high as dollar dive adds fuel to record run
HEALTH
Coronavirus is back with a vengeance in places where it had all but vanished
VIDEO
WATCH: Escalating tensions could lead to US-China military clash, Gordon Chang says
MARKETS
Walgreens CEO stepping down, will transition into new role
MARKETS
Experts sketch a more hopeful outlook of US economy
POLITICS
DC mayor says visitors to capital from these 27 states must quarantine
MARKETS
Orders for big-ticket manufactured goods jump in June
REAL ESTATE
Jumbo mortgages are no longer the cheapest mortgages around
MONEY
Beware of these hidden credit card fees and charges
10 Market Indicator Closing Summaries – Yahoo Finance Closing Tickers on MHProNews…

Featured Focus –
Where Business, Politics and Investing Can Meet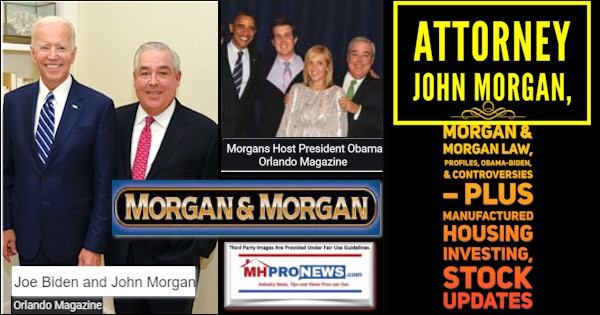 John Morgan's twitter feed calls on his buddy Bill Clinton (D), the former President of the United States, to help in one of his political causes. "Let's challenge our friends to help. I challenge @BillClinton to help us."
LeBron, you put up $100K and I put up $100K.

Let's challenge our friends to help. I challenge @BillClinton to help us.

We pay the cheapest fines first. @KingJames, who are you going to challenge?!?#ForThePeople https://t.co/Nq407Cu6zg

— John Morgan (@JohnMorganESQ) July 24, 2020
"On March 31, 1956, John Morgan was born in Lexington, Kentucky. In 1971, he and his family moved to Orlando, Florida," says Martindale.
Morgan & Morgan advertising does some heart-string pulling and other purportedly 'clever' ads as part of his marketing. Indeed, on December 10, 2019, the firm is listed as one of the "Masters of Plaintiff Marketing: Morgan & Morgan," said LarryBodine.
He supports leftists and their causes, which is his right as an American. Here is what Influence Watch says about John Morgan.
"John Morgan is a Florida-based trial lawyer and a partner and founder of one of the nation's largest law firms, Morgan and Morgan.
Morgan has donated millions of dollars to Democratic candidates and left-of-center ballot propositions including legalization of marijuana and raising the Florida minimum wage to $15 an hour.
He has been nicknamed "Pot Daddy" for his spending on marijuana initiatives…has dined with George Soros and President Barack Obama…"
Video dated December 29, 2016.
The Morgan & Morgan website says "John [Morgan] has received Martindale-Hubbell's esteemed "AV" rating, which recognizes lawyers with the highest ethical standards and professional ability."
By contrast, Influence Watch lists some controversial backdrop items, which include two arrests and a sizable malpractice suit.
ARRESTS
John Morgan has been arrested twice for allegedly driving under the influence. The first time, in 1993, Morgan pleaded guilty to a reduced charge of reckless driving. On the second occasion, in 1998, Morgan allegedly head-butted a police officer, leading to the police filing a charge of battery on a police officer. Morgan pleaded guilty to a misdemeanor as part of a deal that saw prosecutors drop the battery charge and led to him avoiding jail time. [10][11]
LEGAL MALPRACTICE SUIT
In December of 2018, Morgan's law firm, Morgan & Morgan, lost a legal malpractice suit that led to a judgment of $5 million. The court found that Morgan & Morgan failed to represent a client adequately after her newborn had suffered permanent brain damage during delivery that also destroyed her ability to have children. After the announcement of the judgment, John Morgan declared his intention to continue to fight the verdict. [12]
The full extent of Morgan's influence into the world of affordable manufactured housing is up for discussion. Those seeking a plaintiff's attorney may want to consider the items in this report and their sources before making a decision."
The Morgan & Morgan website also listed this: "National Finance Committee – Clinton/Gore 1996 (Florida)."
For other political and recent reports, see the links below.
Related, Recent, and Read Hot Reports
"Madder Than Hell" – Meddling "in Business Deal" – plus Sunday Weekly Headlines Review
"China is now engaged in an economic blitzkrieg" a "campaign to seize…the global economy and…surpass the United States as the world's preeminent superpower" AG Bill Barr, plus Manufactured Housing Stock, Investing Updates
President Trump Signs Law, Hits China Over Hong Kong, Shots at ex-VP Joe Biden, plus Manufactured Home Investing, Stock Updates
When Will POTUS Trump Finger Pointing Stop, Consequences Start With China? Trump Administration's Peter Navarro Speaks. Plus, Manufactured Home Investing, Stock Updates
Improving Jobs News, Contrasted Against Exacerbated Housing Crisis, plus China, Oil, and Manufactured Housing Investing, Stock Updates
Producers, Suppliers Alert – President Trump Announces Tough Steps Targeting China RE: Hong Kong and "Wuhan Virus," plus Manufactured Housing Investing, Stock Updates
Manufactured Housing Industry Investments Connected Closing Equities Tickers
Some of these firms invest in manufactured housing, or are otherwise connected, but may do other forms of investing or business activities too.
NOTE: The chart below includes the Canadian stock, ECN, which purchased Triad Financial Services, a manufactured home industry lender
NOTE: Drew changed its name and trading symbol at the end of 2016 to Lippert (LCII).
Summer 2020…
Berkshire Hathaway is the parent company to Clayton Homes, 21st Mortgage, Vanderbilt Mortgage and other factory built housing industry suppliers.
· LCI Industries, Patrick, UFPI, and LP each are suppliers to the manufactured housing industry, among others.
· AMG, CG, and TAVFX have investments in manufactured housing related businesses. For insights from third-parties and clients about our publisher, click here.
Enjoy these 'blast from the past' comments.
MHProNews. MHProNews – previously a.k.a. MHMSM.com – has celebrated our tenth anniversary and is in year 11 of publishing.
Learn more about our evolutionary journey as the industry's leading trade media, at the report linked below.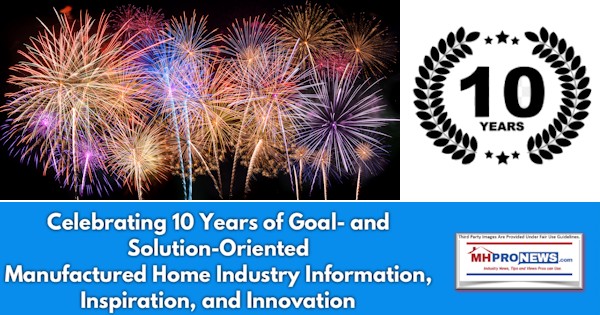 · For expert manufactured housing business development or other professional services, click here.
· To sign up in seconds for our industry leading emailed headline news updates, click here.

Disclosure. MHProNews holds no positions in the stocks in this report.
2019 Year-End Totals Reveals Decline in New HUD Code Manufactured Home Production, Shipments vs. 2018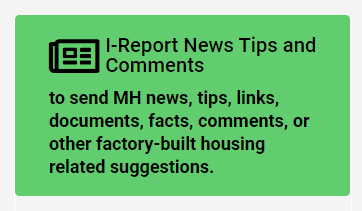 That's a wrap on this installment of "News Through the Lens of Manufactured Homes and Factory-Built Housing" © where "We Provide, You Decide." © (Affordable housing, manufactured homes, stock, investing, data, metrics, reports, fact-checks, analysis, and commentary. Third-party images or content are provided under fair use guidelines for media.) (See Related Reports, further below. Text/image boxes often are hot-linked to other reports that can be access by clicking on them.)
By L.A. "Tony" Kovach – for MHLivingNews.com.
Tony earned a journalism scholarship and earned numerous awards in history and in manufactured housing. For example, he earned the prestigious Lottinville Award in history from the University of Oklahoma, where he studied history and business management. He's a managing member and co-founder of LifeStyle Factory Homes, LLC, the parent company to MHProNews, and MHLivingNews.com. This article reflects the LLC's and/or the writer's position, and may or may not reflect the views of sponsors or supporters.