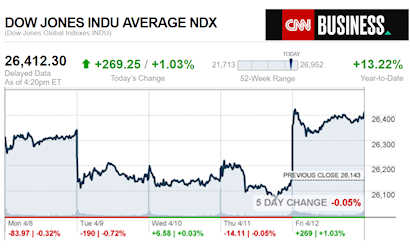 President Donald J. Trump and the Federal Communications Commission (FCC) Chairman Ajit Pai made several announcements today about 5G. On a day when the markets largely rose, as did much of the manufactured home industry's tracked stocks, our focus will be the importance and looming economic impact of 5G.
If you're new, already hooked on our new spotlight feature – or are ready to get the MH professional fever – our headline report is found further below, after the newsmaker bullets and major indexes closing tickers.
The evolving Daily Business News market report sets the manufactured home industry's stocks in the broader context of the overall markets.  Headlines – at home and abroad – often move the markets.  So, this is an example of "News through the lens of manufactured homes, and factory-built housing." ©
Part of this unique evening feature provides headlines – from both sides of the left-right media divide – which saves busy readers time, while underscoring topics that may be moving investors, which in turn move the markets.
Readers say this is also a useful quick-review tool that saves researchers time in getting a handle of the manufactured housing industry, through the lens of publicly-traded stocks connected with the manufactured home industry.
This is an exclusive evening or nightly example of MH "Industry News, Tips and Views, Pros Can Use." © It is fascinating to see just how similar, and different, these two lists of headlines can be.
Want to know more about the left-right media divide from third party research?  ICYMI – for those not familiar with the "Full Measure," 'left-center-right' media chart, please click here.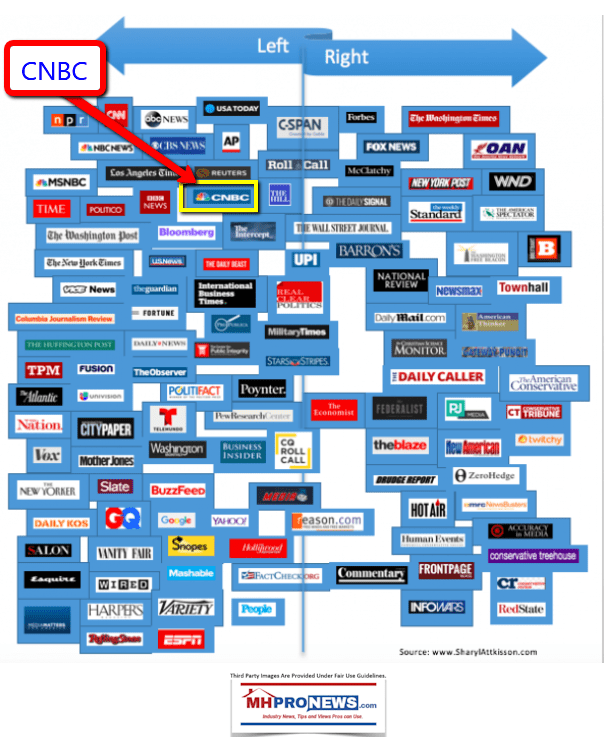 Select bullets from CNN Money…
Disney's plan to beat Netflix: Access to hugely popular TV and movies – at a shockingly low price
The five most important things to know about Disney+
Autopilot will now be a standard feature on most Tesla cars. But drivers will have to pay for it
Walmart wants to become a big advertising player like Amazon
LIVE UPDATES Campbell Soup sells Bolthouse juice brand
SoftBank and Saudi Arabia are big winners from the Uber IPO
Wells Fargo's bottom line is growing despite shrinking deposits and loans
Chevron is making $33 billion acquisition to expand its natural gas and shale operations
Fred's is closing nearly 30% of its stores
Southwest Airlines plans for a summer without the 737 Max
Jamie Dimon: Banking sector pays employees better than others
Behind the wheel with Ferrari's top test driver
SpaceX's Falcon Heavy rocket launches first paid mission and lands all three boosters
How fans are bracing for life after 'Game of Thrones'
Shopping Content by CNN Underscored
Apple's HomePod is now $50 cheaper
GM to reveal a radically new Corvette
'Star Wars: Episode IX' trailer is finally here
This company uses AI to flag racist and sexist comments from potential hires
Amazon reportedly pays workers to listen to Alexa conversations
What Bezos said in his letter to investors
Jeff Bezos has made the same salary for two decades
Employees pressure Amazon to release climate change plan
Amazon plans to take cash at cashierless 'Go' stores
Interviewing for a new job? Here's the best time to bring up salary
You messed up at work. Now what?
Why the way you accept praise at work matters
How to buy stocks that pay you back
When are you too old to start investing?
Select Bullets from Fox Business…
FCC chief: Banning Huawei protects 5G
WATCH: Trump says 5G will create astonishing opportunities
Stocks rise to 6-month high on bank earnings, Chevron deal
ObamaCare architect dismisses possibility of single-payer health care
WikiLeaks founder Julian Assange protected by first amendment: Judge Napolitano
Starbucks braces for Democratic backlash as Howard Schultz mulls 2020 run
AOC suggests the IRS should do your taxes for you
'Star Wars' movies on hiatus after 'The Rise of Skywalker,' Disney CEO says
Americans are getting over yogurt. Here's why
GE pays $1.5b to settle with DOJ over fraudulent subprime loans
A 'new era' of retirement: This is what it means for you
Buying a summer home? Here are 7 beach town you can actually afford
GOP senators shouldn't count out Herman Cain for the Fed: Kevin Hassett
How much Amazon would pay under Elizabeth Warren's newest tax proposal
Ocasio-Cortez defending Omar over 9/11 comments is 'incomprehensible,' Fmr. DNC chairman says
Disney details 'Disney+' streaming service to launch on Nov. 12
Here's how much your tax info is worth on the dark web
Uber IPO: Drivers get cash payouts for long service
Rising gas prices at the pump: What you need to know
Democrats must surely be embarrassed by the young insurgents: Varney
Billionaire Dalio's Ocasio-Cortezesque tax-the-rich rant: Socialism's biggest lie
Today's markets and stocks, at the closing bell…


Today's Big Movers
For all the scores and highlights on tracked manufactured home connected stocks today, see the Bloomberg graphic, posted below.
Today's MH Market Spotlight Report –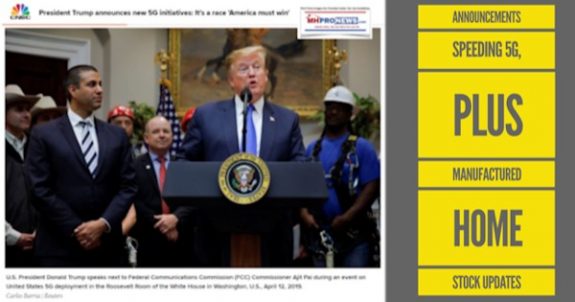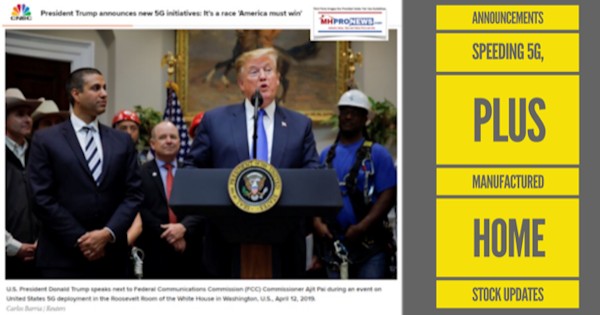 Let's tee up the CNBC pull-quotes and video re: 5G.
It's been over decade since smartphones began to transform how Americans access the internet and communicate.  It would be hard to imagine for most professionals to give up their web-connected smart devices.
Businesses with websites know that online searches via smartphones have surged in recent years. Search Engine Land says "According to official Google statements, more than 50 percent of search queries globally now come from mobile devices."
That sets the stage for some of the reasons why 5G is a big deal for every business that has any ties to the internet.
With that backdrop, let's dip into what CNBC had to say about the Friday afternoon announcements.
The 45th president and FCC commissioner made several announcements today to accelerate 5G deployment in the U.S.
President Donald Trump and the FCC on Friday announced several initiatives to spur 5G network growth in the U.S.
"The race to 5G is on and America must win," President Trump said, noting that 92 5G markets will be ready by the end of the year, outpacing South Korea, which is on pace to have 48 markets live by the end of 2019.
"It's [a] race our great companies are now involved in," President Trump said. "According to some estimates, the wireless industry plans to invest $275 billion in 5G networks, creating 3 million American jobs quickly, and adding $500 billion to our economy."
Unlike 4G LTE, which mainly targeted mobile phones, tablets and computers, 5G is also expected to enable more reliable connections on self-driving vehicles that will need a constant data connection, and smart cities that use "Internet of Things" devices, such as connected street lamps, traffic lights and more.
AT&Tand Verizon already have fledgling 5G networks in the United States, and T-Mobile and Sprint plan to activate their networks later in 2019. Only one phone from Motorola, offered on Verizon, supports 5G in the U.S. right now.
"

The FCC aims to create a $20.4 billion Rural Digital Opportunity fund

," to "extend high-speed broadband to up to 4 million homes and high-speed businesses in rural America," FCC chairman Ajit Pai said.
"To accelerate and incentivize these investments, my administration is freeing up as much wireless spectrum as needed," President Trump said. "[We're] removing regularity barriers to the buildout of networks. The FCC is taking very bold action, bolder than they've ever taken before, to make wireless spectrum available."
Pai addressed the crackdown on Huawei's equipment for use in 5G networks across the U.S. and Europe.
"We believe that the security and reliability of 5G is absolutely important, not just as a matter of national competitiveness, but also as a matter of national security," Pai told CNBC's Eamon Javers. "I have been very encouraged by my conversations with our European allies all across the continent about the importance of security and 5G networks. The need to have a framework to understand the risk profile of certain equipment and services is something most allies recognize and it's just a collaborative process of making sure that we have a framework that works for everybody."
Related Reports:
Bloomberg Closing Ticker for MHProNews…
NOTE: The chart below includes the Canadian stock, ECN, which purchased Triad Financial Services.
NOTE: The chart below covers a number of stocks NOT reflected in the Yahoo MHCV, shown above.
NOTE: Drew changed its name and trading symbol at the end of 2016 to Lippert (LCII).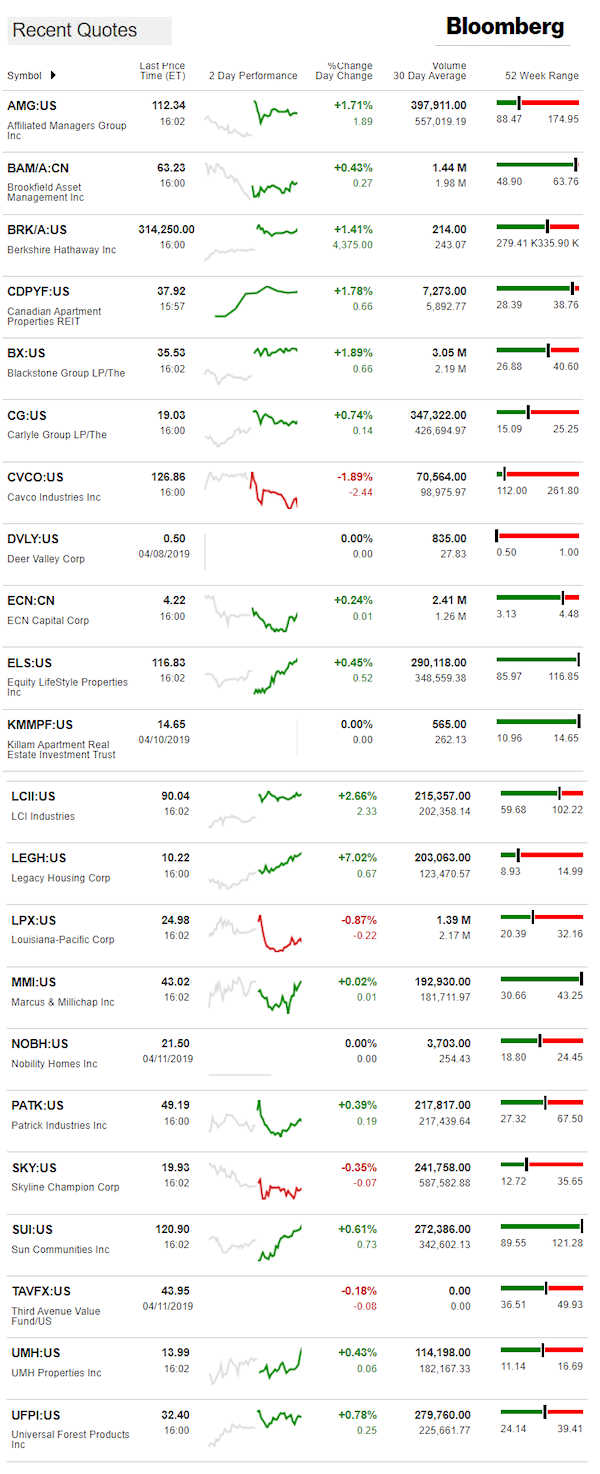 Berkshire Hathaway is the parent company to Clayton Homes, 21st Mortgage, Vanderbilt Mortgage and other factory built housing industry suppliers.
LCI Industries, Patrick, UFPI and LP all supply manufactured housing.
AMG, CG and TAVFX have investments in manufactured housing related businesses.
Your link to industry praise for our coverage, is found here.
For the examples of our kudos linked above…plus well over 1,000 positive, public comments, we say – "Thank You for your vote of confidence."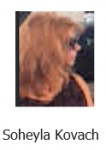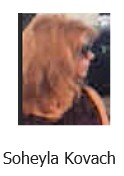 "We Provide, You Decide." © ## (News, analysis and commentary.)
(Image credits and information are as shown above, and when provided by third parties, are shared under fair use guidelines.)
Submitted by Soheyla Kovach to the Daily Business News for MHProNews.com.