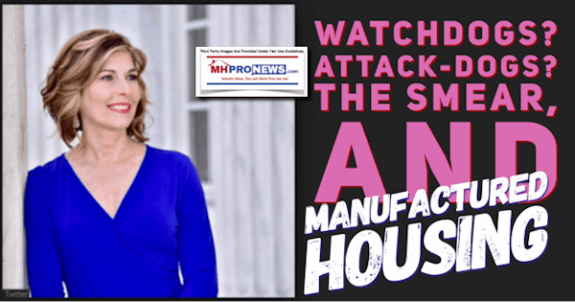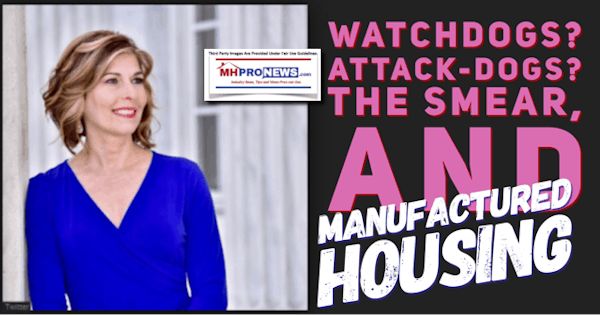 The historic vision in America for the news media is to hold the powerful to account. To be a voice for the voiceless.  Investigating concerns about governmental, criminal, or corporate malfeasance are what made for riveting reports that sold newspapers or caused channels to be turned to for some breaking, relevant news report.
Unlike numbers today, we believe that mainstream news reporting absolutely still occurs. That reporting – to varying degrees – occurs on both sides of the left-right divide.  But the reason that media has lost so much credibility, per surveys, is because the independence and objectivity of news reports have been called into question.  The fact that Sharyl Attkisson – among others – has devised a list of left-right media bias is itself revealing, and saddening.
The Smear, Media, and Manufactured Housing
Speaking of the media, today Sharyl Attkisson's team provided the Daily Business News on MHProNews her expert insights on Smear Tactics as they are used in the media.
Here are the top-lines and neatly notes Attkisson provided here, as published last month in the Hill.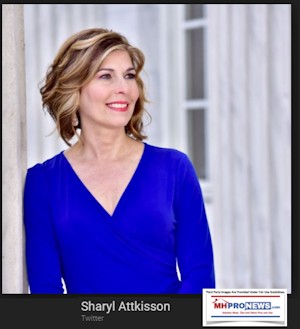 "I Dream of a World Without Smears"
Smear /smeer/: noun
Carefully timed and publicized release of negative material, true or not, about a target.
Character assassination.
Bork, Thomas, Hill, Clinton, Clinton, Beck, Imus, Palin, Biden, Obama, O'Reilly, Sanders, Trump, Hannity, Kavanaugh, Northam, Klobuchar, Carlson …
Smears have become a distasteful staple in our media diet. The nonprofits, LLCs, super PACs, PR firms, crisis management companies and global law firms that organize and promote smears have formed a multibillion-dollar industry. They're profiting beyond imagination.
Are we?
After interviewing many players who work in the smear industry, I came up with three characteristics that qualify an accusation as a smear. The determination of whether a particular attack is, in fact, a smear lies not so much in the truth of the accusation, but in execution and motivation.
In a smear:
▪           The media are used as a tool in an organized effort to amplify accusations, true or not, in a fashion disproportionate to the alleged offense.
▪           Though moral outrage is voiced, the accused actually is targeted for entirely different reasons, usually in a campaign by political or financial competitors.
▪           The goal of a smear is the target's destruction.
When a smear is launched against someone we don't like, we may be happy to enjoy the ride. If it's against someone we like, we fret about how unjust it is. But we seldom step back and see the big truth: We are little more than an unwitting audience watching a scripted play. There are behind-the-scenes producers, writers and actors. They are experts at working the media, plucking our emotions and prompting their desired results. They carefully time each allegation, roll out demands for apologies or resignations, and organize "grassroots" boycotts.
##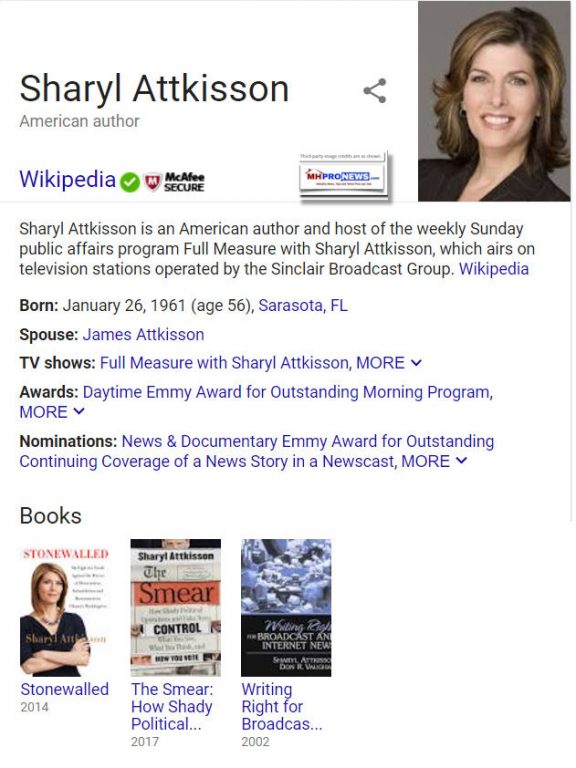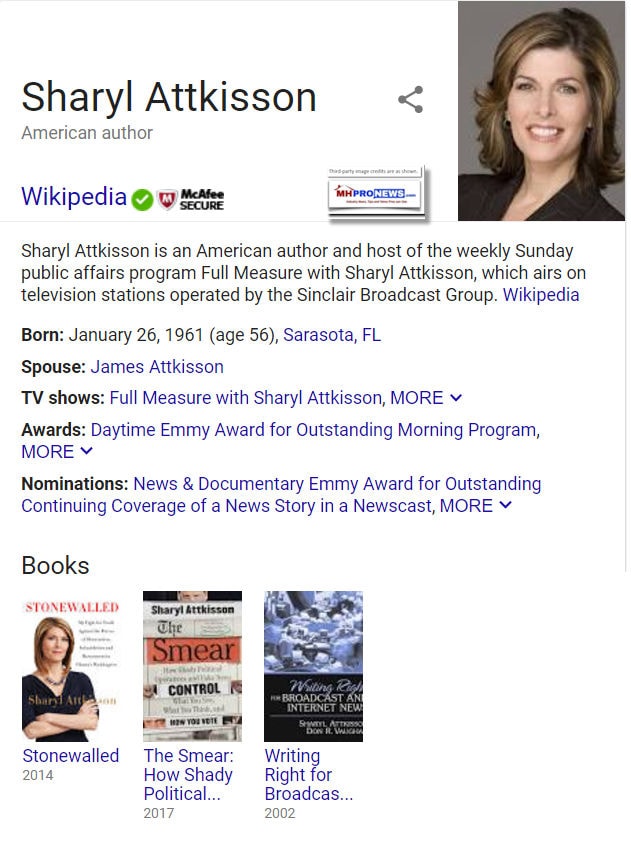 With that backdrop from award-winning journalist and best selling author Attkisson, it seemed prudent to see what bias, if any, Last Week Tonight with John Oliver portrayed, per third party sources.  So MHProNews looked.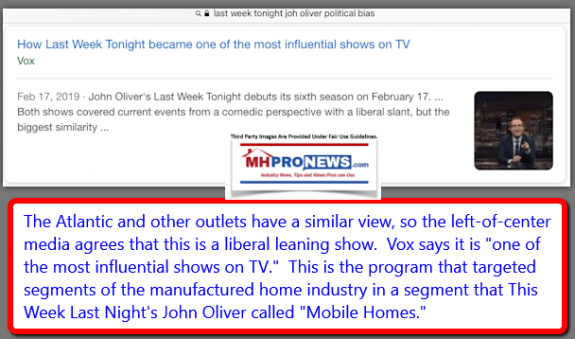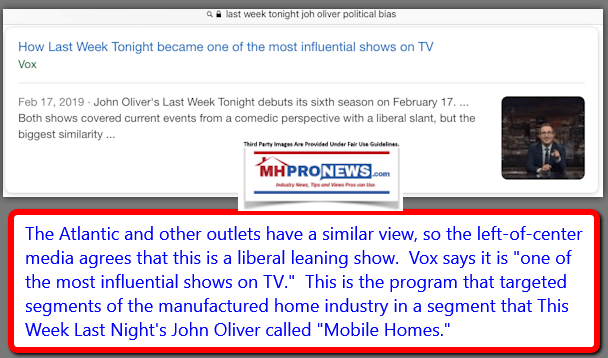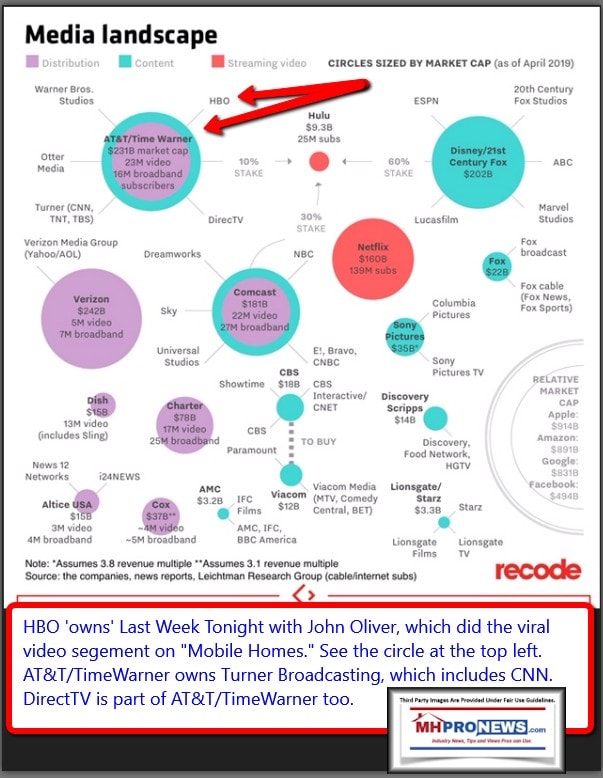 More than one left-of-center outlets described it and HBO as 'liberal' leaning programing.  Fair enough.
That's interesting, because a reportedly liberal program has taken dead aim at a progressive billionaire icon.  That would be Warren Buffett, who drew a healthy dose of Oliver's satirical wrath.  If you've not yet seen the video and report, check it out at the linked text-image box below, along with an analysis, and fact-check.  BTW, what follows is the number 1 fact check on this viral video on this date.
" Mobile homes were perfected by humans, but invented by snails," John Oliver on HBO's Last Week Tonight, per Time. " The homes of some the poorest people in America are being snapped up by some of the richest people in America." Really?
Back to Mr. Buffett, the person who supported Secretary Hillary Clinton, or Senator-turned President Barack Obama.
That would also be the same Buffett who is Chairman of Berkshire Hathaway, that includes brands like Clayton Homes and their related lending units.  Those firms reportedly dominate the Manufactured Housing Institute (MHI).
Now what's odd about that is the fact that Tim Williams, when he was chairman of MHI, said that one of the risks to the industry was from the progressive agenda.  Would that be the same agenda that Chairman Buffett supports politically?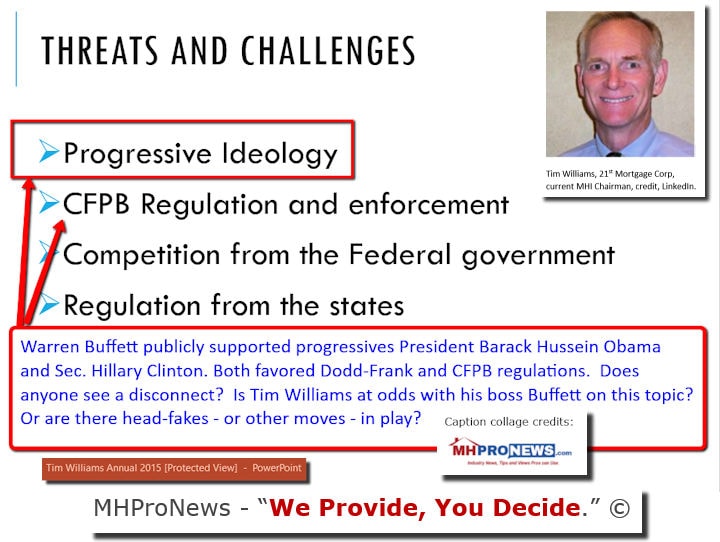 What those sources didn't say is how the Buffett empire came to dominate the manufactured home market, and how that impacted customers or independent businesses.  ICYMI, or need that refresher, see that at the linked text-image box below.
America woke up today to division. But perhaps 75 percent (+/-) of the nation's people could come together on a plan that demonstrably could do the following. Increase the U.S. Gross Domestic Product (GDP) by some $2 Trillion Annually, without new federal spending.
By the way, no Clayton, 21st, or MHI senior leader has publicly challenged the accuracy of any of these points. MHProNews has asked them, and their attorneys, to do so. They've ducked out every time for some 2 years.  Given the report linked above uses their own words and documents, how could they deny it, with a straight face?
Now, there are several possible ways to consider these facts on top of other facts.  Manufactured home industry professionals who want to believe and support Clayton and MHI are left with a dilemma. Either Williams and Buffett don't see eye-to-eye on politics, or there is some kind of head-fake going on, right?
Let's not forget that Secretary Clinton, as the Democratic candidate for the White House pledged to keep Dodd-Frank intact.  Hmm, so the MHI sponsored Preserving Access to Manufactured Housing Act was backed by Tim Williams, 21st, Clayton Homes, and their allies – but Warren Buffett was backing a candidate that opposed that same legislative bill?
These apparent contradictions lead to another question.  If Buffett, Williams, and Clayton are willing to give a head-fake on one thing, and another, is it unrealistic to think that they might do so on something else of consequence?
Holding the Powerful to Account
The media is supposed to hold the powerful to account when the crossed a line.  Are they going to play the role of watchdog?  Attack dog?  Will they take part in a smear?
What shouldn't happen is that reports that hold the powerful to account, is that others get swept up who are bystanders, making the innocent and the alleged wrongdoers – or their victims – all look badly.
Buffett and a few of his uber-rich, MHI supporting buddies are exposed in this video by John Oliver.  Okay.  But do the independents and honorable people in the industry wanted to be tarred and feathered along with them?
That's enough food for thought on a Friday night.
But for those who want to dig deeper into these mysterious issues, see the linked related reports, below the byline, offers, and notices that follow. That's tonight's edition of "News through the lens of manufactured homes, and factory-built housing." © where "We Provide, You Decide." © ## (News, analysis, and commentary.)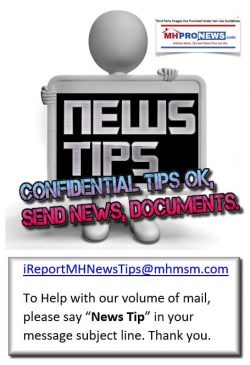 NOTICE: You can get our 'read-hot' industry-leading emailed headline news updates, at this link here. You can join the scores who follow us on Twitter at this link. Connect on LinkedIn here.

NOTICE 2: Readers have periodically reported that they are getting a better experience when reading MHProNews on the Microsoft Edge, or Apple Safari browser than with Google's Chrome browser. Chrome reportedly manipulates the content of a page more than the other two browsers do.
(Related Reports are further below. Third-party images and content are provided under fair use guidelines.)
1) To sign up in seconds for our MH Industry leading emailed news updates, click here.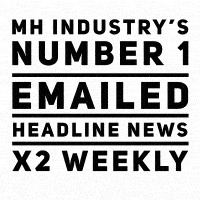 2) To pro-vide a News Tips and/or Commentary, click the link to the left. Please note if comments are on-or-off the record, thank you.
3) Marketing, Web, Video, Consulting, Recruiting and Training Re-sources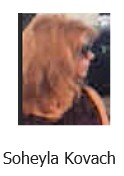 Submitted by Soheyla Kovach to the Daily Business News for MHProNews.com. Soheyla is a managing member of LifeStyle Factory Homes, LLC, the parent company to MHProNews, and MHLivingNews.com.
Related Reports

:
You can

click on the image/text boxes

to learn more about that topic.
In just over three weeks, this video below entitled " Seattle is Dying " by KOMO, a local ABC TV affiliate there, has broken 2.1 million views. It is an hour-long and compelling documentary that ends with hope based upon some promising solutions. But it first lays out one troubling fact and example after another.
When someone is introduced to manufactured homes and their tremendous value, they are often shocked. ' How is this much home for such a modest price possible?' A key part of the answer mirrors any product produced in a production center. Cars built in a driveway would cost far more than a car built in production center.
The year was 1998. It happened to be the year that manufactured housing hit its last peak, but it was also the year that Simon Reynolds compiled and published " Thoughts of Chairman Buffett – Thirty Years of Unconventional Wisdom from the Sage of Omaha."
MHARR CALLS ON NEW FANNIE MAE CEO TO FULLY AND PROPERLY IMPLEMENT FEDERAL LAW Washington, D.C., April 11, 2019- The Manufactured Housing Association for Regulatory Reform (MHARR), in an April 9, 2019 communication to newly-installed Fannie Mae Chief Executive Officer, Hugh R.
Washington, D.C., February 4, 2019 – The Manufactured Housing Association for Regulatory Reform (MHARR) reports that according to official statistics compiled on behalf of the U.S. Department of Housing and Urban Development (HUD), HUD Code manufactured home production declined again in December 2018.
Motion – or, more accurately, activity – in and of itself, is not necessarily synonymous with, or equivalent to, realprogress, or, in fact, any progress at all.