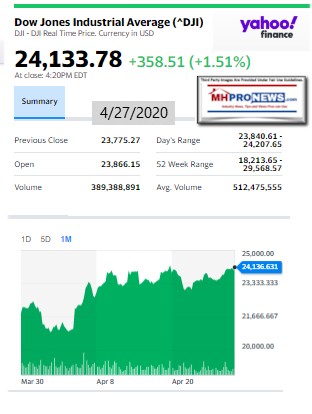 Much of the mainstream media in the U.S. has given relatively scant attention to First Lady of the United States (FLOTUS) Melania Trump compared to predecessors such as Jacqueline Kennedy or Michelle Obama.
Certainly, FLOTUS Melania Trump rivals or arguably transcends the standards set by "Jackie" during her time in the White House. While "Jackie" was given scads of media attention, by comparison, President Donald J. Trump's wife has been relatively less attention.
That's not to say that she is devoid of coverage, as the lighter side featured focus tonight will reflect. As is true every business-night, that follows our left-right headlines, graphical snapshots, and standard fare.
Every Business Nightly – Headline and Graphical Insights-at-a-Glance.
Every weekday night that the stock markets are open, we provide headlines from left-of-center CNN followed by right-of-center Fox Business. It is sometimes surprising how much We share closing tickers and other related data courtesy of Yahoo Finance, and more. 5 to 10 minutes reading this MHProNews market report every business night could save you 30 minutes to an hour of similar reading or fact-gathering elsewhere.
Perhaps more important, you will get insights about the industry from experts that care, but also dare to challenge the routine narrative spun by some that arguably keeps manufactured housing underperforming during an affordable housing crisis.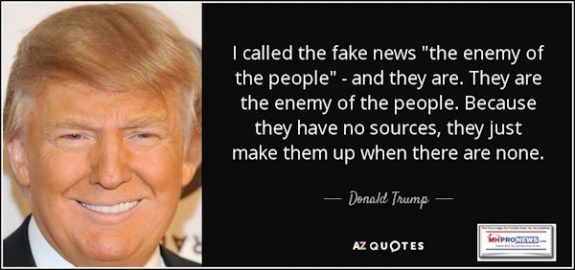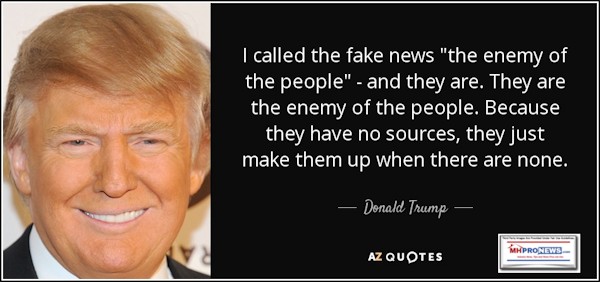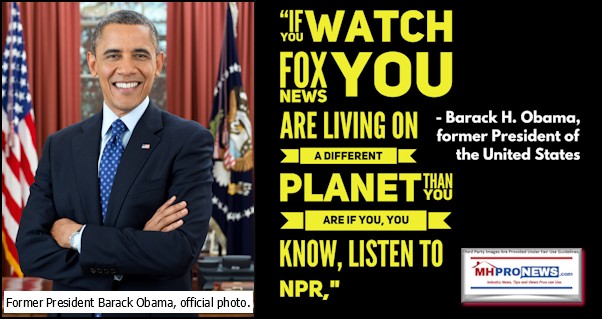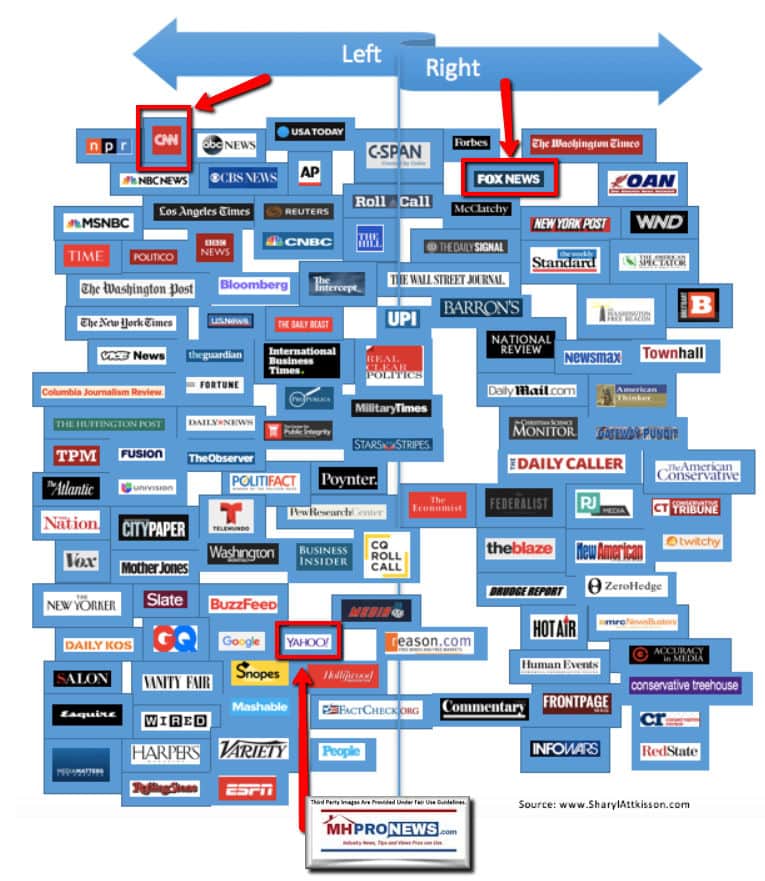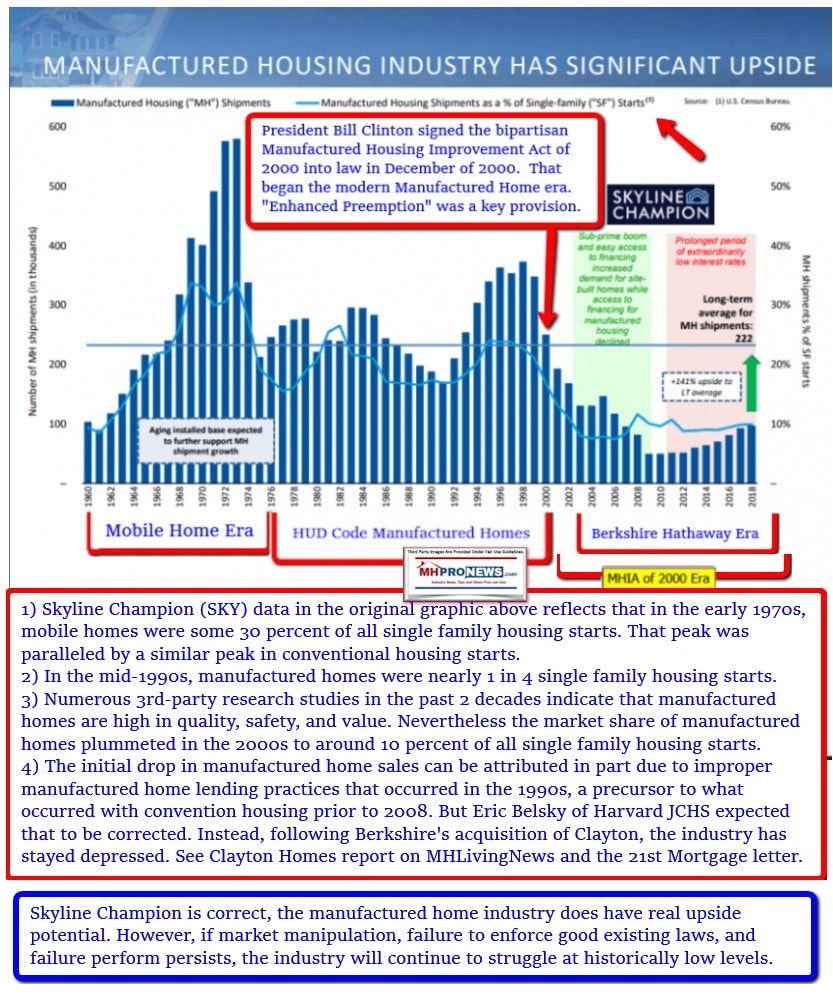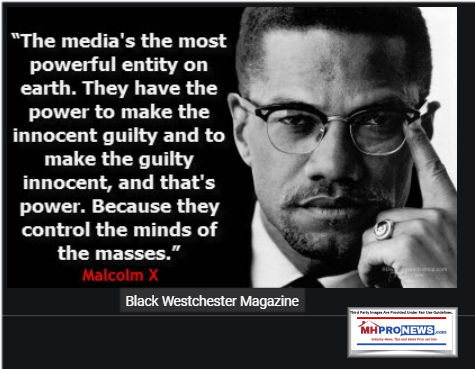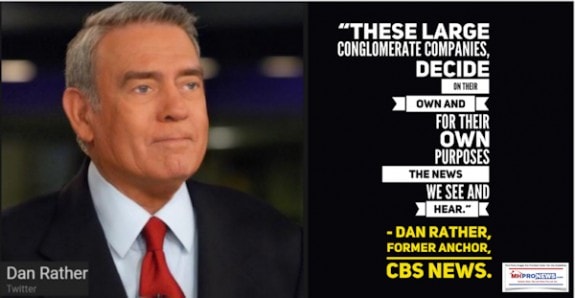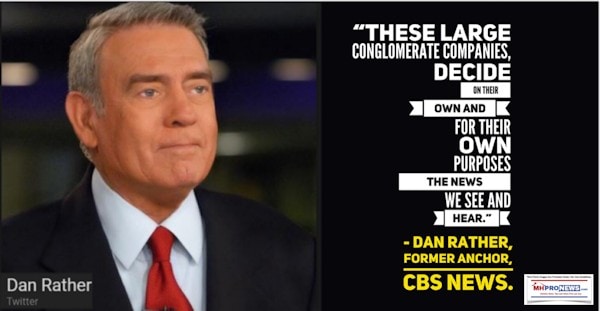 Headlines from left-of-center CNN Business
Waking a giant
WOLFSBURG, GERMANY – MARCH 31: The Volkswagen factory stands following a temporary halt to car production there on March 31, 2020 in Wolfsburg, Germany. Volkswagen extended the shutdown of factories in Germany until April 19 amid COVID-19 coronavirus outbreak
How Volkswagen just reopened the world's biggest car factory
A big difference between the Great Depression and today: America has a safety net this time
LIVE UPDATES US stocks move higher ahead of earnings deluge
LIVE DATA Track what stocks are being battered by coronavirus — and which are getting a boost
The Fed's low rates will punish people who save
Tyson says millions of pounds of meat will disappear from stores as plants close
Oil company Diamond Offshore files for bankruptcy
Airbus is furloughing 6,000 staff in Europe and 'bleeding cash'
Meat shortage and China deals send Beyond Meat's stock spiking
The coronavirus pandemic could push telemedicine into the mainstream
What happens when your employer cuts your pay?
Can you pay the rent on May 1? Here's what to do if you can't
Maatje Benassi poses for a portrait on Wednesday, April 22. A mother of two and US Army reservist, Benassi has become the target of conspiracy theorists who falsely claim she was coronavirus Patient Zero.
EXCLUSIVE She's been falsely accused of starting coronavirus. Her life has turned upside down
A pedestrian wears a protective mask to help protect from contracting Coronavirus along a mostly empty Hollywood Blvd. sidewalk and closed businesses in Hollywood, CA, on April 21, 2020.
Hollywood has gone dark, and it's crushing thousands
File Photo by: zz/PBG/AAD/STAR MAX/IPx 2017 9/20/17 Bill Gates at The Bill and Melinda Gates Foundation's Goalkeepers Conference 2017 at Jazz at Lincoln Center in New York City. (NYC)
Bill Gates explains how the US can safely ease coronavirus restrictions
MARKETS
GADGETS
SHANGHAI, CHINA – APRIL 24, 2020 – Newly phone Se2, Shanghai, China, April 24, 2020. Apple's new iPhone se2 mobile phone officially landed in major apple stores in Shanghai.
Review: The $399 iPhone SE is the right phone for an uncertain time
Meet Apple's new — and cheap — iPhone SE
Apple unveils new budget iPhone
These 12 essential apps will make quarantine bearable
Your phone may become a Covid-19 tracking device
WORRIES ABOUT THE FOOD SUPPLY
The Smithfield Foods pork processing plant in South Dakota, one of the countrys largest known Coronavirus clusters, is seen on April 20, 2020 in Sioux Falls, South Dakota. – Smithfield Foods pork plant in South Dakota is closed indefinitely in the wake of its coronavirus outbreak.
Meat processing plants across the US are closing due to the pandemic
Why fruit and vegetables could be in short supply
Tyson closes its biggest pork plant
Why farmers across America are dumping their milk
Meat plants are closing. Don't panic shop just yet
Headlines from right-of-center Fox Business
MONEY
Wealthy homeowners who tapped small business rescue program could reportedly face criminal charges
Congress established the $349 billion program at the end of March to provide low-interest loans to small businesses.
Loans from small biz rescue program went to more than 200 public firms
MARKETS
Tesla to reveal coronavirus impact as US factory gears up for reopening
Tesla says update lets cars automatically stop for traffic lights
MONEY
Second wave of small biz loan program already plagued by outages and delays
What you need to know about receiving small business relief
MARKETS
Dow pops 300 points as states start coronavirus reboot
Oil prices tank as mounting supply nears storage capacity
OPINION
Grover Norquist: Virus crisis proves 'net neutrality' was a mistake, repeal was right
FOUL ON THE PLAY
SPORTS
Lakers received $4.6M coronavirus small business loan, will return funds
BACK IN BUSINESS?
ECONOMY
White House updates coronavirus testing rules as states begin to reopen
MORE THAN 2 TRILLION?
MONEY
Biden: coronavirus stimulus response needs to be 'a lot bigger'
POWDER KEG
HEALTHCARE
US judge rules talc lawsuits against J&J can proceed
MAY THE 4TH BE WITH YOU
DISNEY
Final 'Star Wars' film to hit home theaters on May 4
BUSTING TO 'GET OUT'
FOOD & DRINKS
Texas restaurant emerges from virus lockdown to three-hour waits
BREATH OF FRESH AIRBNB
LIFESTYLE
Airbnb attempts coronavirus prevention with new cleaning protocol
'VIRTUAL AFFAIRS' SPIKE
LIFESTYLE
Popular matchmaking service for cheating spouses sees surge in interest
WILL RESIDENTS RETURN?
REAL ESTATE
Another crisis may be looming over coronavirus-ravaged New York City
ARGUMENT HOLSTERED
LEGAL
Supreme Court tosses gun rights case over city's ban on transporting firearms
LIFESTYLE
California official resigns after bizarre stunt in Zoom meeting
COMMON CURE?
HEALTH CARE TECH
Researchers looking at household medication as possible virus treatment
MARKETS
Tyson Foods boss shares grim warning about meat shortages at grocery stores
MARKETS
Boeing to slide into even more debt under coronavirus headwinds
TECHNOLOGY
HBO Max streaming service will be available on Apple devices at May 27 launch
LIFESTYLE
FBI agents in college bribery probe deny bullying core witness
LIFESTYLE
Small NYC clothing shop defies coronavirus closure
MONEY
Alaska Girl Scouts to get small business relief loan for lost cookie sales
TECHNOLOGY
Houseparty app fueling coronavirus video chat demand
OPINION
Congress must rescue childcare after virus crisis or workforce won't be able to return
MARKETS
Goldman Sachs' 3 tips to investors as US economy starts reopening process
HEALTH
FDA directs producers to make sanitizers taste bitter after spike in poison control calls
WATCH: Former Starbucks CEO says virus will leave 'apocalyptic' carnage
VIDEO
WATCH: Former Starbucks CEO says virus will leave 'apocalyptic' carnage
LEGAL
Supreme Court rules insurers can collect $12B under health care law
LIFESTYLE
America's wealthiest zip code will return $2M in virus relief to government
TECH
Bad news for anyone looking to buy new iPhone model
MARKETS
Airbus says company's 'survival at stake,' sends warning to employees
CRIME
Reality TV personality targeted in drive-by shooting, police make arrest
MONEY
IRS enhances 'Get My Payment' online application to help taxpayers
FOOD & DRINKS
KFC expands plant-based menu in this country after US debut
OPINION
Varney: Americans entitled to a media with 'even hand'
POLITICS
Boris Johnson recovers from coronavirus and returns to work with a message
10 Market Indicator Closing Summaries – Yahoo Finance Closing Tickers on MHProNews…
Featured Focus – Where Business, Politics and Investing Can Meet
First Lady Melania Trump reached the 'big 5-0' on 4.26.2020. Hundreds of thousands signed the online birthday card promoted by Team Trump.
The teaser promised to address a wrong. More specifically, it is that the First Lady Melania Trump – or for that matter, her spouse – are routinely short-changed when compared to several other possible examples of prior presidential couples.
This will be a tip-of-the-hat to the First Lady who has acted with style and grace for years in her role.
The NYPost said "Melania Trump, who turned 50 on Sunday, is expected to celebrate like most Americans during the coronavirus pandemic — at home."
First Lady Sends Gifts to Hospitals Dealing with Coronavirus
-The Associated Press
"Melania Trump is sending blankets, caps and other gifts to hospitals in 10 states, including some hit hardest by the new coronavirus outbreak, for use by medical staff and children who are patients," Darlene Superville reports. "Mrs. Trump met doctors and nurses at some of the hospitals during past visits to promote her youth program."
Per the White House website is the following.

First Lady of the United States Melania Trump is the wife of President Donald J. Trump and the mother of Barron Trump. She is the second First Lady born outside of the United States, and she is the only First Lady to become a naturalized U.S. citizen. And like the First Ladies before her, Melania Trump will make her mark on history.
Melania Trump was born on April 26, 1970 in Slovenia. At age 16, she began what would soon become a highly successful modeling career, appearing in many high profile ad campaigns and working with some of the best photographers in the fashion industry.
In 1996, Mrs. Trump moved to New York and ten years later, she proudly became a United States Citizen. Mrs. Trump has always been an active member of her community. In 2005, she was Honorary Chairwoman for the Martha Graham Dance Company. That same year, she was awarded Goodwill Ambassador by the American Red Cross—a role she served in for four years. Mrs. Trump served five years as Honorary Chairwoman for the Boys' Club of New York and was named Woman of the Year in 2006 by the Police Athletic League. Mrs. Trump has participated in National Love Our Children Day and National Child Abuse Prevention month, ringing the closing bell at NASDAQ.
In 2010, Mrs. Trump was the Chairwoman for the American Heart Association, which raised $1.7 million for research. That same year she launched her own jewelry collection.
While Melania Trump became a household name in modeling and a contributing member of her community, she is first and foremost a mother and wife, and in 2017, Melania Trump made the White House and Washington home for her family.
In her role as First Lady, Mrs. Trump focuses her time on the many issues affecting children. An unwavering characteristic of the First Lady is her aptitude for showing love and compassion in all that she does. Mrs. Trump spends much of her time meeting with children who are patients at hospitals and care centers. Recently, she took valentines to the Children's Inn at the National Institutes of Health and Cincinnati Children's Hospital. Over the Easter holiday, she made a surprise visit to St. Mary's Medical Center in Palm Beach, Florida, bringing Easter baskets to the children. Following the devastating hurricanes last year, Mrs. Trump visited Texas to meet with families that suffered greatly under Hurricane Harvey. In the wake of two horrendous mass shootings, Mrs. Trump traveled with her husband to Las Vegas and Parkland to be with the victims and families in their times of need. Internationally, Mrs. Trump has visited several hospitals and schools. One of her most memorable visits being at the Pediatric Hospital Bambino Gesu in the Vatican City, where she met a boy who had been waiting for a new heart. Upon arrival in Belgium the following day, Mrs. Trump learned that the hospital had found a transplant for the boy–Mrs. Trump celebrated the news in a press statement and said "my own heart is filled with joy over the news."
As First Lady, Mrs. Trump has made multiple visits to schools—both foreign and domestic. From participating in a Viking huddle class, which focuses on emotional learning at Orchard Lake Middle School in Michigan, to taking the Queen of Jordan to Washington, D.C.'s first public charter school for girls at Excel Academy in Southeast, Mrs. Trump is always bringing children to the forefront of her agenda. While traveling abroad, Mrs. Trump visited the American International School in Riyadh, Saudi Arabia, with Education Minister Ahmed Al Eissa, and took a calligraphy lesson with local children at Kyobashi Tsukiji Elementary School with Mrs. Abe while visiting Japan. Earlier this spring, Mrs. Trump invited a group of local students to the White House so she could talk with them, hear their stories, and understand the issues they are challenged with today. Mrs. Trump addresses those issues each opportunity she gets. From Governors' spouses' luncheons to the United Nations General Assembly, Mrs. Trump puts the emphasis on children and how we can protect them, teach them, and empower them.
In the midst of the opioid epidemic, Mrs. Trump has utilized her platform as First Lady to raise awareness about the dangers of opioid abuse—notably the devastating effects it has on infants and unborn babies. Mrs. Trump traveled to Huntington, West Virginia, where she visited Lily's Place, the Nation's first nonprofit infant recovery center that prioritizes the whole family to ensure infants born dependent on drugs are given the best opportunity to thrive. More recently, in February, Mrs. Trump traveled to Ohio to visit Cincinnati Children's, a leading pediatric hospital where she learned more about the ongoing research around neonatal abstinence syndrome (NAS)—a harmful result of drug abuse in pregnant mothers. Mrs. Trump has participated in multiple opioid summits and continues to work with the Administration on raising the awareness of opioid abuse and how we can better protect children from it.
On May 7, Mrs. Trump launched BE BEST—an awareness campaign focused entirely around the well-being of children. The campaign has three pillars, which represent key areas of concern for Mrs. Trump: well-being, which includes the social and emotional health of children; social media, and understanding both the positive and negative effects it has on our children; and opioid abuse, and how to protect our most vulnerable from the effects of drug abuse while educating parents about the detrimental effects of opioids.
After the launch, the First Lady is dedicated to carrying out her BE BEST campaign."
##
The video below appears to be from a young fan of the First Lady.
Happy Birthday, First Lady Melania Trump.
Related Reports: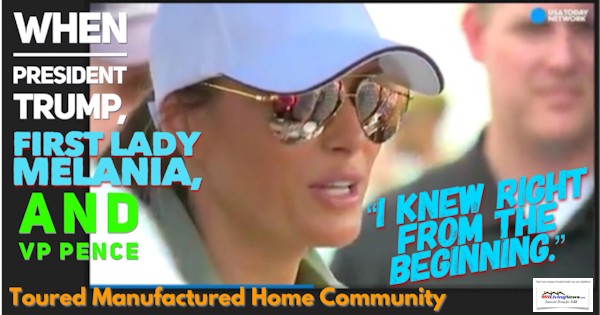 Bias Confirmation, MHI's SBA PPP Funding Effort, plus Sunday Manufactured Home Headlines Review 4.19.2020
Illusions, Collusions – "Heads I Win, Tails You Lose" – "Never Let a Serious Crisis Go To Waste" – Gates, Buffett Massive Money Grabs?
"Be Greedy When Others are Fearful" – Bill Gates, Warren Buffett and Follow the Money, plus Manufactured Home Investing, Stock Updates
Historic Insights; Legacy Housing, Franklin Homes, Other HUD Code Builders and 2020 Tunica Show Cancellation Impact
MMI Exec Michael Glass' Exclusive Analysis on COVID19 Impact on Manufactured Home Communities; Latest 2020 "Parks" Data & Trends
Special COVID19 Economic Data, Report and Projections from Marcus & Millichap, plus Manufactured Home Stock, Investing Updates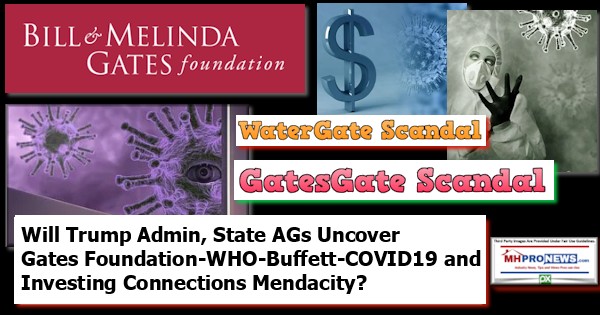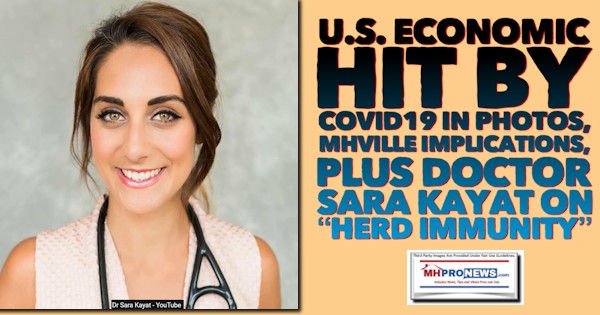 Manufactured Housing Industry Investments Connected Closing Equities Tickers
Some of these firms invest in manufactured housing, or are otherwise connected, but may do other forms of investing or business activities too.
NOTE: The chart below includes the Canadian stock, ECN, which purchased Triad Financial Services, a manufactured home industry lender
NOTE: Drew changed its name and trading symbol at the end of 2016 to Lippert (LCII).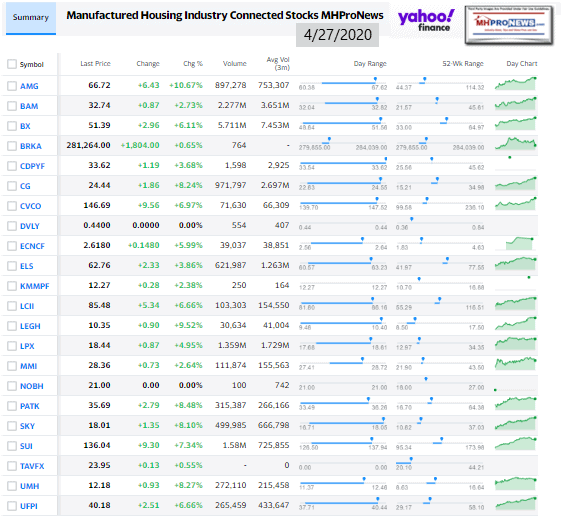 Spring 2020…
Berkshire Hathaway is the parent company to Clayton Homes, 21st Mortgage, Vanderbilt Mortgage and other factory built housing industry suppliers.
· LCI Industries, Patrick, UFPI, and LP each are suppliers to the manufactured housing industry, among others.
· AMG, CG, and TAVFX have investments in manufactured housing related businesses. For insights from third-parties and clients about our publisher, click here.
Enjoy these 'blast from the past' comments.
MHProNews. MHProNews – previously a.k.a. MHMSM.com – has celebrated our tenth anniversary and is in year 11 of publishing.



Learn more about our evolutionary journey as the industry's leading trade media, at the report linked below.
Celebrating 10 Years of Goal- and Solution-Oriented Manufactured Home Industry Innovation Information, and Inspiration for Industry Professionals
· For expert manufactured housing business development or other professional services, click here.
· To sign up in seconds for our industry leading emailed headline news updates, click here.

Disclosure. MHProNews holds no positions in the stocks in this report.
2019 Year-End Totals Reveals Decline in New HUD Code Manufactured Home Production, Shipments vs. 2018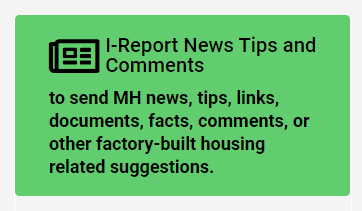 That's a wrap on this installment of "News Through the Lens of Manufactured Homes and Factory-Built Housing" © where "We Provide, You Decide." © (Affordable housing, manufactured homes, stock, investing, data, metrics, reports, fact-checks, analysis, and commentary. Third-party images or content are provided under fair use guidelines for media.) (See Related Reports, further below. Text/image boxes often are hot-linked to other reports that can be access by clicking on them.)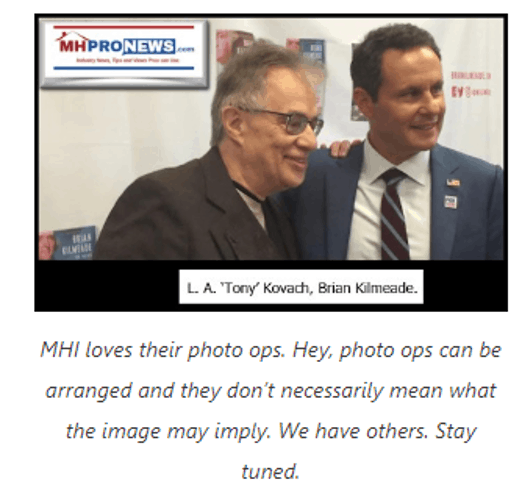 By L.A. "Tony" Kovach – for MHLivingNews.com.
Tony earned a journalism scholarship and earned numerous awards in history and in manufactured housing. For example, he earned the prestigious Lottinville Award in history from the University of Oklahoma, where he studied history and business management. He's a managing member and co-founder of LifeStyle Factory Homes, LLC, the parent company to MHProNews, and MHLivingNews.com. This article reflects the LLC's and/or the writer's position, and may or may not reflect the views of sponsors or supporters.
http://latonykovach.com
Connect on LinkedIn: http://www.linkedin.com/in/latonykovach