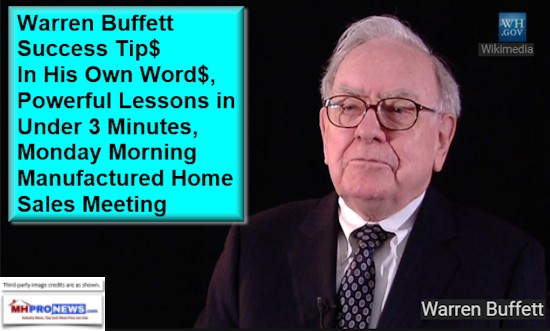 If the third richest man in the world (net worth of $87.5 billion as of February 17, 2018, per Wikipedia), and the biggest boy on the block in manufactured housing (MH) was to give you some advice, would you take it?
Can you think of a good reason why would you and your team shouldn't at least watch, read and consider it?
You may agree or disagree with Warren Buffett's politics, or his sometimes controversial business practices.
But what is beyond question is that within months of his closing the deal on purchasing Clayton Homes, Buffett's MH brand become the largest producer in manufactured homes.
They also become the largest retailer in manufactured housing.
Every savvy professional should want to understand their own business, and understand that of their competitors.
Take less than 3 minutes to watch, read, and listen to what Warren Buffett has to say.
Then, consider how you and your team could learn and benefit from those insights. ##
Select Previous Monday Morning Topics:
Related:
Not necessarily in this order of importance, but count us as true believers in: Manufactured Homes, America as a Constitutional Republic with free enterprise, and in the four F's – Faith, Family, Flag, and Fortune (career). Count me as a pragmatist too.
(Third party images, cites are provided under fair use guidelines.)

By L. A. "Tony" Kovach,
award-winning consulting, publisher, web, video, recruiting, sales training, business development service provider.
MHLivingNews.com | MHProNews.com | Office 863-213-4090 |
Connect on LinkedIn:
http://www.linkedin.com/in/latonykovach