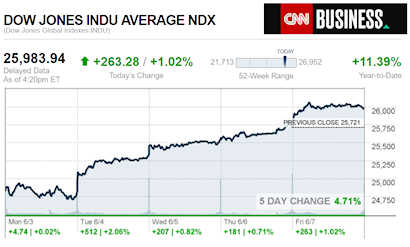 For those new or returning to this business daily manufactured housing markets feature found only MHProNews, 2 to 3 minutes reading the left-right headlines from CNN and Fox Business can go a long way to keeping professionals informed on national and global issues that often move investors to act. There's a raft of headlines, as usual, but two that merit more attention are significant signals that Mexico and the U.S. are moving toward an agreement on border battle related issues. The other is the growing belief that the Federal Reserve will cut rates sometime this year. Those two topics will be featured videos with some commentary this evening.
If you're new, already hooked on our new spotlight feature – or are ready to get the MH professional fever – our headline report is found further below, after the newsmaker bullets and major indexes closing tickers.
The evolving Daily Business News market report sets the manufactured home industry's stocks in the broader context of the overall markets. Headlines – at home and abroad – often move the markets. So, this is an example of "News through the lens of manufactured homes, and factory-built housing." ©
Part of this unique evening feature provides headlines – from both sides of the left-right media divide – which saves busy readers time, while underscoring topics that may be moving investors, which in turn move the markets.
Readers say this is also a useful quick-review tool that saves researchers time in getting a handle of the manufactured housing industry, through the lens of publicly-traded stocks connected with the manufactured home industry.
This is an exclusive evening or nightly example of MH "Industry News, Tips and Views, Pros Can Use." © It is fascinating to see just how similar, and different, these two lists of headlines can be.
Want to know more about the left-right media divide from third party research? ICYMI – for those not familiar with the "Full Measure," 'left-center-right' media chart, please click here.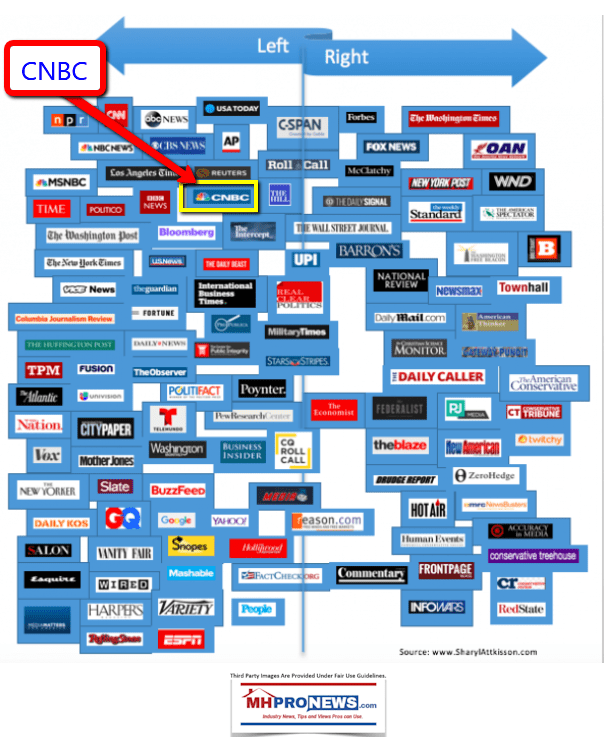 Select bullets from CNN Money…
A 180-degree turn
Stocks bounced back this week after a miserable month and a half. Here's why
LIVE UPDATES Stocks post their best week of the year
The US economy is about to break a record. These 11 charts show why
The world's largest economies are mulling new tax rules. The alternative could be 'chaos'
US economy added 75,000 jobs in May
Automakers, fearing prolonged regulatory uncertainty, tell Trump to cut a deal with California on emissions
Wall Street is clamoring for rate cuts. Banks, not so much
The 2019 stock market is starting to feel like the 2008 stock market
Walmart will deliver groceries straight to your fridge
Barnes & Noble shares pop after announcing it's going private
This is why America's travel business is worried
Can the X-Men beat the 'Secret Life of Pets' at the box office this weekend?
Shopping Content by CNN Underscored
Bose opens preorders for its tiny Home Speaker 300
The 2020 Census hiring spike has yet to show up
May's weak jobs report is the latest sign of a US economic slowdown
The International Space Station
NASA opens space station to private astronaut missions
Your phone carrier can now block robocalls by default
Virtual kidnappings are rattling families across the US
Why we're still years away from a robocall-free future
The frightening future of robocalls: Numbers and voices you know
What you can do right now to stop robocalls
Toyota sets aggressive new target for electrified cars
Automakers to Trump: Drop emissions plan
Ferrari's plug-in hybrid supercar is also its most powerful
Tesla is hurting but electric and self-driving cars are still a good investment
By 2040, more than half of new cars will be electric
Select Bullets from Fox Business…
Inside the Dow's 1168+ point weekly gain
Trump, Powell spoke on the phone in April as president pushes for lower rates
Dow tops 26,000 on Chinese tariff delay, rate cut hopes
Why are car costs rising? (Hint: tariffs aren't to blame)
China's Xi Jinping calls Trump a 'friend,' says US isn't interested in rupturing ties with country
Raining and pouring: Midwest farmers fret about wet spring
Economist Art Laffer, Medal of Freedom winner, on why he won't join Trump team
The white working class is 'declining,' here's why
Electrician shortage creates potential for six-figure jobs
Trump signals trade deal optimism with Mexico but vows to impose tariffs if agreement isn't reached
Michael Bloomberg pledges $500M to have US coal plants shuttered
Automakers urge Trump to rethink emission standards: 'With your leadership it can happen'
Biden, Buttigieg, Gabbard hit Wall Street for money despite class warfare rhetoric
Used cars being bought more than new ones, study shows
Honoring innovation and impact at the Susan G. Komen Impact Awards
NASA allowing commercial travel to International Space Station, but it'll cost you
FIFA Women's World Cup: Prize money and other key numbers to know
Chegg announces student loan payoff program for employees
Your retirement savings go furthest in this state, analysis says
The costly retirement planning mistake most American workers are making right now
How to get your finances in order in 30 days
SEC Chief: Financial professionals now required to advise in 'plain English'
Mexico tariffs: Exactly the wrong move for U.S. economy
Summer internship cheat sheet
Today's markets and stocks, at the closing bell…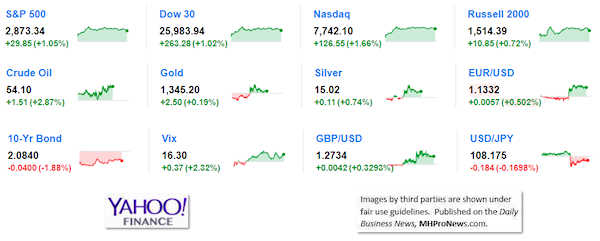 Today's Big Movers
For all the scores and highlights on tracked manufactured home connected stocks today, see the Bloomberg graphic, posted below.
Today's MH Market Spotlight Report –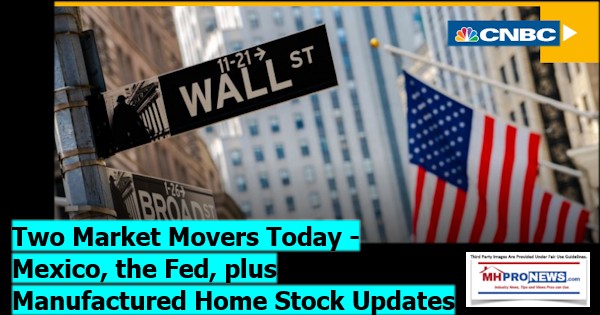 Per CNBC:
· The surprisingly weak jobs report for May, with just 75,000 jobs created, shows that the resilient job market is now being hit by the same weakness cropping up in other parts of the economy.
· Economists say it's now likely the Fed will move to cut rates this year, possibly as early as July.
· Treasury yields, which move opposite price, continued to fall sharply, and the futures market moved to price in an almost three-quarter point rate cuts by December.
· President Donald Trump said Friday that Mexico may be able to avert tariffs on its goods by purchasing American agricultural products. Trump had previously said that escalating tariffs would be imposed, starting Monday, until Mexico took steps to stem unlawful immigration to the U.S.
· "If we are able to make the deal with Mexico, & there is a good chance that we will, they will begin purchasing Farm & Agricultural products at very high levels, starting immediately," Trump wrote in a post on Twitter. "If we are unable to make the deal, Mexico will begin paying Tariffs at the 5% level on Monday!"
· The Mexican peso hit session highs following Trump's tweet before edging down.
· In 2018, the U.S. exported about $19 billion worth of agricultural products to Mexico, making it the second-largest buyer of U.S. farm-related products after Canada.
Let's take a complex issue and oversimply this evening. American trade policy has been a mess for decades, under both major parties. Failure to protect our borders properly has been an issue under both Democratic and Republican administrations too.
We don't completely agree with CNBC's takes, for those reasons. The indications are that President Trump has pumped up the economy significantly. The Trump Administration's next step then was/is to address systemic issues such as trade and borders. Those have been top issues for him for years, in some cases, for decades.
Mexico looks like it will make significant concessions that result in their protecting their own southern border with the Central American nations from which the flow of illegal immigrants comes.
On the Fed and rates, that's anyone's guess, but there certainly has been signals that they may consider a rate cut.
If the president and loyalists to his policies in his party win in 2020, it is not hard to imagine that he may go far deeper into addressing structural issues in Washington's policies that have made business more difficult in the U.S. for decades. Coupled with positive steps being taken by HUD Secretary Carson – especially if he learns and gets on board with enhanced preemption, plus if the DOJ antitrust takes on Berkshire and related – could yield a much brighter future for manufactured housing.
Related Reports:
Fed Hikes Blamed for Housing Slowdown, per Chan, former Chase Chief Economist, plus MH Stock Updates
Borders, Tariffs, and Looming Antitrust – plus Manufactured Home Market Updates
Members Point to Positives, Problematic – Manufactured Housing Institute (MHI) says, "Get the Facts on Zoning"
Hold the headline for 125 words. Poisoning the well. Salting the fields. Those are but two of several ancient methods some enemies used to harm their opponents. The notion behind those vile tactics was if you could kill off their drinkable water or their food supply, someone could effectively destroy their enemy.
Yahoo Finance Closing Ticker for MHProNews…
NOTE: The chart below includes the Canadian stock, ECN, which purchased Triad Financial Services.
NOTE: The chart below covers a number of stocks NOT reflected in the Yahoo MHCV, shown above.
NOTE: Drew changed its name and trading symbol at the end of 2016 to Lippert (LCII).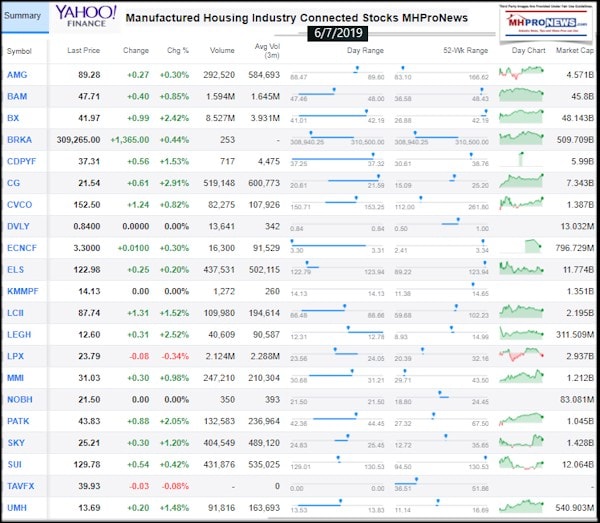 Berkshire Hathaway is the parent company to Clayton Homes, 21st Mortgage, Vanderbilt Mortgage and other factory built housing industry suppliers.
LCI Industries, Patrick, UFPI and LP all supply manufactured housing.
AMG, CG and TAVFX have investments in manufactured housing related businesses.
Your link to industry praise for our coverage, is found here.
For the examples of our kudos linked above…plus well over 1,000 positive, public comments, we say – "Thank You for your vote of confidence."
"We Provide, You Decide." © ## (News, analysis and commentary.)
(Image credits and information are as shown above, and when provided by third parties, are shared under fair use guidelines.)
Submitted by Soheyla Kovach to the Daily Business News for MHProNews.com.