In May, the McBee Town Council passed a temporary moratorium on manufactured homes from being placed in that town's city limits.
WISTV reports that the motion read, "Mobile Homes are prohibited from being placed on any lot within the town limits of McBee, South Carolina and any current uninhabited mobile homes cannot be occupied and that the Mobile Home Ordinance will be reviewed and updated within the next 90 days."
"I'm a single mother of four kids. I'm going to try not to cry," said Carrie Johnson, with her voice faltering with emotion. "I'm mad, I'm angry, and I'm hurt."
Johnson, and her four daughters had been living in two-room single section home, stated WISTV, "but then she got good news: a plan to rent a double wide1 and move it to the small town of McBee."
"I've seen pictures of it, and it's beautiful. To me, it would be their mansion," she said of the manufactured home.
The sudden controversy has caused some like Johnson to feel less than welcome, said WISTV. The resident feels like she's thought of as "trailer trash" or a "second-class citizen" in the Town of McBee, "a town where some estimate there are more mobile homes1 than stick-built homes."
But Johnson says that slice of her American Dream is now uncertain, due to McBee's planned change in their ordinance.
According to a councilman Kemp McLeod, McBee simply isn't discriminating at all. "It's not the intent of the town to judge anybody," he said. The town needed to make sure manufactured homes weren't blocking right-of-ways, were hooking up to the water system correctly, and weren't devaluing homes already here.
But that councilman's statement reflects a common mistaken notion is disproven by Trulia and a study by two economic researchers, previously reported in the report linked below.
YIMBY vs. NIMBY, Obama Admin Concept Could Unlock $1.95 Trillion Annually, HUD & MH Impact
McLeod's comment also represents a potential unjust taking, as was a decision in a recent court ruling in a high court ruling in Iowa.
"Unconstitutional Taking," "Gentrification on Trial" in Recent Oak Hill Manufactured Home Community Ruling
Associations, Associations…
"The Manufactured Housing Institute of South Carolina is working with the city officials in McBee," said Mark Dillard, Executive Director Manufactured Housing Institute of SC (MHISC) to the Daily Business News on MHProNews.
"We've offered to help them put together an updated manufactured home ordinance.  We've always found it works well to get with officials during the early drafting stage," Dillard said. "That's when you can have the most influence."
That fits with what MHISC's Ed Schafer said to MHProNews in 2016, who's praise for forward looking towns hints that there are others that aren't so open minded.
Ed Schafer, Government Affairs Director for Manufactured Housing Institute of SC, Op-Ed, Zoning, Urban Infill, insuring Citizens heard, manufactured homes,
But the battles in South Carolina – which has one of the highest percentage of manufactured homes in the housing stock – rages on there, and elsewhere in the U.S. too.
Third-party researchers who've been contacting MHProNews have asked variations of the following question. 'Given the national scope of the problem, isn't this something that a national trade association should be addressing?'
Fair question. Two MHI connected sources suggested to MHProNews today that MHI has not taken any apparent interst in the McBee matter.
It's one of the reasons why the Washington, D.C. based Manufactured Housing Association for Regulatory Reform (MHARR) has said that a new national post-production association is needed to supplant what is often seen as the failures of the Arlington, VA based Manufactured Housing Institute (MHI) from habitually acting.
Those failures aren't new, argued former MHI award winner, Marty Lavin, who explained that MHI has long worked in favor of the interests of their largest members.
'Tip of Iceberg' – Rick Rand; Marty Lavin, Communities have 'No Confidence' in Manufactured Housing Institute, New National Trade Group Announced
Long time, now former, MHI member George Allen recently said that the problem with MHI is summed up as "Perennial corporate consolidation and power plays among far too few elite producers of HUD-Code manufactured homes, along with far too few purveyors of chattel capital…"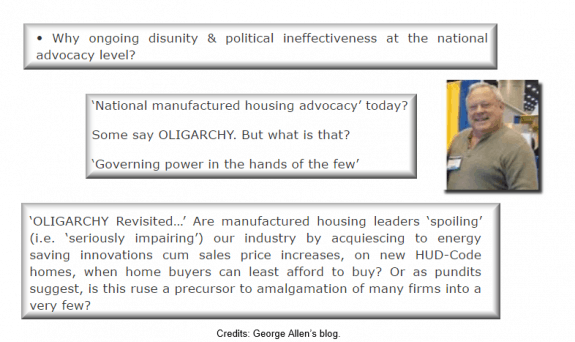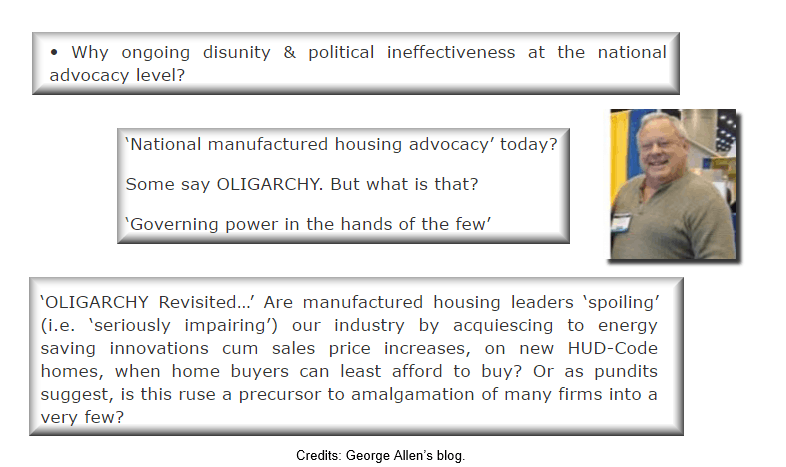 The graphic above was a prior set of similar comments by Allen, who regular Daily Business News readers know has some of his own controversies.
While some might quibble over Allen's conclusion, the problem he described echoes a point Sam Zell has also made.  High regulatory barriers results in more consolidation.
ELS' Sam Zell – Compliance Costs Destroys Smaller Businesses = Consolidation
But beyond the cost to business, is the far higher cost to would be manufactured home owners.
MHI in recent years has responded only after months, or years, of pressures from within the industry, per voices inside and outside of that trade body.
Greener, Stylish Manufactured Homes – Hidden Facts in the Washington Post Manufactured Housing Narrative
That failure to provide genuine representation is among the reasons why the Arizona and Nevada community owners associations have launched their own national body with a focus on communities.
State Associations, Companies Quit Membership in Manufactured Housing Institute, (MHI), One Explains in Writing, 'Why?'
The steady spread of local jurisdictions attempting to zone out, or outright ban, manufactured homes has led a non-profit to take legal action. For more on that, see the related report, linked below. "We Provide, You Decide." © ## (News, analysis, and commentary.)
(Third-party images and content are provided under fair use guidelines.)
Footnote 1: typo or terminological error is in the original WISTV report. As LMHA's Steve Duke, JD, has said, "The terminology matters because the terminology defines the construction standards." 
Related Reports:
"'Trailer Trash'? Watch Who You're Insulting When You Throw Around Those Words" – Buffalo News
Proper Definitions, Mobile Home, Manufactured Home, or Trailer House – Civil Rights, Respect, Public Policy, & Value Issues
"Trailer House Trauma," Fresh Look at Manufactured Housing's Opportunities
1) To sign up in seconds for our MH Industry leading emailed news updates, click here.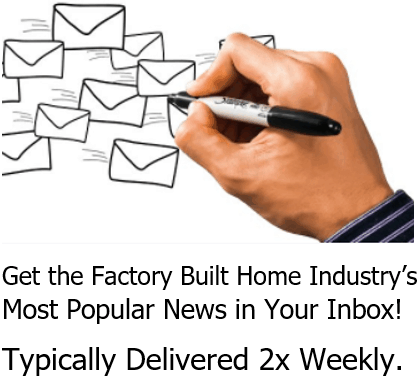 2) To provide a News Tips and/or Commentary, click the link to the left. Please note if comments are on-or-off the record, thank you.
3) Marketing, Web, Video, Consulting, Recruiting and Training Resources
Submitted by Soheyla Kovach to the Daily Business News for MHProNews.com. Soheyla is a managing member of LifeStyle Factory Homes, LLC, the parent company to MHProNews, and MHLivingNews.com.