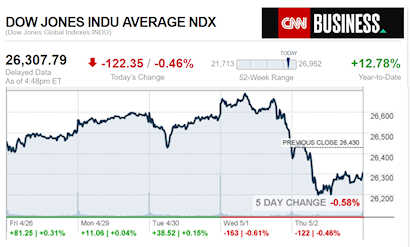 Let's have some fun admitting that while there are real pains to being the contrarian to the manufactured housing industry's BOR-ing 'Knoxville-Arlington Amen Corner,' there is also a liberating quality to it. We on the Daily Business News on MHProNews don't have to wonder what the big boys think when we publish a report that is based on evidence that they won't want their Amen Corner writing about. We don't ask a sponsor what we can or can't say. Our views are our own, which is liberating all around. It's like a popular talk radio station, where the views and opinions may not represent the sponsors, or even the station management. On another day of red on the big boards, with many manufactured home stocks dipping that should be rising, let's look at the top ten cities that millennials are reportedly moving to so they can get lower housing prices.
We will, of course, tie it all into manufactured housing!
If you're new, already hooked on our new spotlight feature – or are ready to get the MH professional fever – our headline report is found further below, after the newsmaker bullets and major indexes closing tickers.
The evolving Daily Business News market report sets the manufactured home industry's stocks in the broader context of the overall markets. Headlines – at home and abroad – often move the markets. So, this is an example of "News through the lens of manufactured homes, and factory-built housing." ©
Part of this unique evening feature provides headlines – from both sides of the left-right media divide – which saves busy readers time, while underscoring topics that may be moving investors, which in turn move the markets.
Readers say this is also a useful quick-review tool that saves researchers time in getting a handle of the manufactured housing industry, through the lens of publicly-traded stocks connected with the manufactured home industry.
This is an exclusive evening or nightly example of MH "Industry News, Tips and Views, Pros Can Use." © It is fascinating to see just how similar, and different, these two lists of headlines can be.
Want to know more about the left-right media divide from third party research? ICYMI – for those not familiar with the "Full Measure," 'left-center-right' media chart, please click here.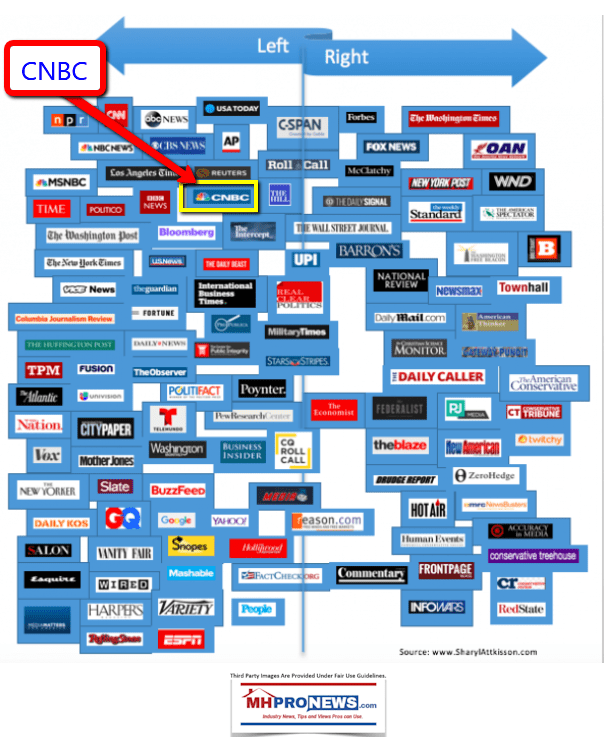 Select bullets from CNN Money…
Banned from Facebook
Facebook bans Louis Farrakhan, Alex Jones and others, calling them 'dangerous'
LIVE UPDATES Stocks finish in the red
Even if the next US jobs report is strong, economists predict slower hiring ahead
SpaceX confirms its Crew Dragon capsule, built to carry humans, was destroyed during a test fire
Tesla's CEO is famous for making bold claims and big bets. But has he delivered?
Family of Apple engineer sues Tesla, saying Autopilot caused his fatal crash
Uber is being urged to dump former Merrill Lynch CEO John Thain
Dunkin' bet on better breakfast. It's paying off
Beyond Meat soars 163% in market debut
BREAKING NEWS Stephen Moore out of Fed contention
PepsiCo drops lawsuit against Indian farmers over potatoes used in Lays chips
When it makes sense to own more bonds than stocks
Subway closed more than 1,000 stores in the United States last year
Shopping Content by CNN Underscored
Why a Chromebook might be right for you
Ikea is working on a new meatless meatball
Europe's imports of American natural gas are soaring
Gillette is selling a $200 luxury razor that heats up to 122 degrees
When good executives go bad
Why it matters so much every time a woman CEO leaves
Executives say 'digital detox' retreats are key to their success
He made his way to the top of 'Big Law.' Then his drinking almost brought him down
Being CEO can kill a marriage. Here's how to prevent that
Your first ride on an e-scooter will be the most dangerous
In some new cars and e-scooters, it isn't up to you how fast you drive
Lyft pulls electric bicycles in DC, NY and San Francisco after reports of brake issues
Harley-Davidson's evolving mission toward a greener future
Select Bullets from Fox Business…
What to expect from the April jobs report
US Steel shares fall after $1.2B investment in new facilities
Steve Moore 'bummed out' over Fed board withdrawal
Vegan meat company Beyond Meat soars in market debut
Ray Dalio: Adoption of Ocasio-Cortez backed economic theory 'inevitable'
Oil prices drop as US stockpiles swell
The DOJ just explained how it plans to kill ObamaCare
Facebook bans prominent extremists in crackdown of hate speech
Billionaire Mark Cuban reveals shocking 'side hustle' that paid $25 an hour: 'I'd take that job now'
If tuition keeps going up, this is how much college will cost in 20 years
China fighting an economic war with US: Sun Microsystems co-founder
Knicks owner James Dolan sued for excessive pay, spending too much time with his band
Drug company founder, executives convicted of bribe scheme that fueled US opioid crisis
Kentucky Derby betting favorite Omaha Beach withdraws, shakes up field
College students call Bernie Sanders a 'hypocrite' after learning he's a millionaire
Venezuela: How Trump can use military force to topple Maduro's regime
What Trump can do now to recharge U.S. manufacturing
Hot economy a big headache for Dems in 2020: Varney
Venezuela, a cautionary tale of socialism that started with good intentions
Trump's Fannie Mae and Freddie Mac reform agenda will develop over two years: Eric Kaplan
Milken Institute Director of Housing Finance Eric Kaplan discusses the future of mortgage giants Fannie Mae and Freddie Mac with FOX Business' Charlie Gasparino.
Aging population, lack of savings poses major risk to US economy: Ric Edelman
US farmers face challenges from Mother Nature, trade war
Today's markets and stocks, at the closing bell…

Today's Big Movers
For all the scores and highlights on tracked manufactured home connected stocks today, see the Bloomberg graphic, posted below.
Today's MH Market Spotlight Report –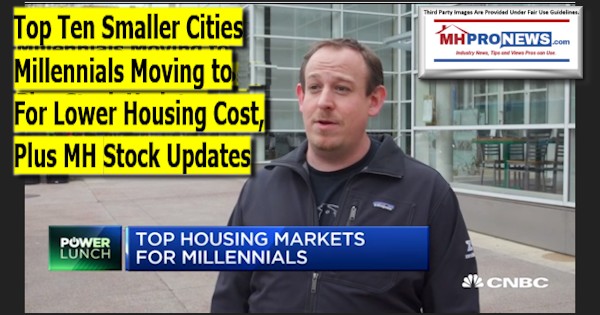 Listen carefully to what is said during this video. Only about 1 out of 10 millennials can buy a house in some cities, in the ones listed, about 1 in 4 can. The vast majority of these could buy if they were able to place a HUD Code manufactured home on vacant city lots, which has been done in other major metro areas with success.
The Arlington, VA based Manufactured Housing Institute (MHI) managed today to get another message out for their fundraising meeting next week. But even though they had SVP Lesli Gooch, Ph.D., at that MHCC Washington, D.C. meeting we reported on early today that was visited by HUD Secretary Carson, the large MHI association staff apparently did not have time to let the industry know about Secretary Carson's pro-manufactured housing comments. Why not?
ICYMI, see the linked text image box below.
HUD Secretary Ben Carson Surprise Appearance at Manufactured Housing Consensus Committee, Exclusive Quotes – Addressing Manufactured Home Industry
Only MHProNews brought you that exclusive report, thanks to 3 insider tips. We bumped another story to run that one.
What's wrong in manufactured housing is that too few are questioning the leadership of the Omaha-Knoxville-Arlington axis. Warren Buffett's Omaha based Berkshire Hathaway arguably could grow the manufactured home industry. Buffett has the media contacts, right? The Berkshire owned BH Media group could do it, if they wanted to, correct? Plus, given the wonder of Google, Bing, or Yahoo News, the right effort would over time win hundreds of thousands over, and then millions.
But instead, with John Oliver's video ruling – thanks in part to funding from Buffett via dark money nonprofits – is proof once more that the truth can be stranger than fiction. Given there are billions in opportunities, why are so many big boy MHI members silent on what's happening?
So as a result, millennials are turning to other cities, and whatever conventional housing they should be buying. And as a result, investors in several MHI member publicly traded companies who are in on it or aren't fighting back are arguably robbing investors of far higher rewards.
A few will benefit, long term. But many are being de facto cheated in a purportedly rigged game. Millions of potential housing owners are among them. So too are industry pros, and investors.
So these are the headlines from CNBC.
The Manufactured Housing Association for Regulatory Reform (MHARR) is a fraction of MHI's size and budget. But they are taking on some of these issues.
The last decade-plus has not been especially kind to the manufactured housing industry and consumers of affordable housing. The 21 stCentury began with a great deal of promise for the industry and consumers alike.
Washington, D.C., April 30, 2019 – The Manufactured Housing Association for Regulatory Reform (MHARR) in an April 24, 2019 communication to U.S. Department of Housing and Urban Development (HUD) Secretary, Ben Carson (copy attached), has called on the Department to federally preempt local zoning ordinances which discriminatorily exclude manufactured homes regulated by HUD pursuant to the National Manufactured Housing Construction and Safety Standards Act of 1974 and the Manufactured Housing Improvement Act of 2000.
The National Association of Manufactured Housing Community Owners broke with MHI, because of their failures to perform.

Say, what are those plaintiffs shareholders attorneys for Cavco doing for others in MHVille? Have they looked yet?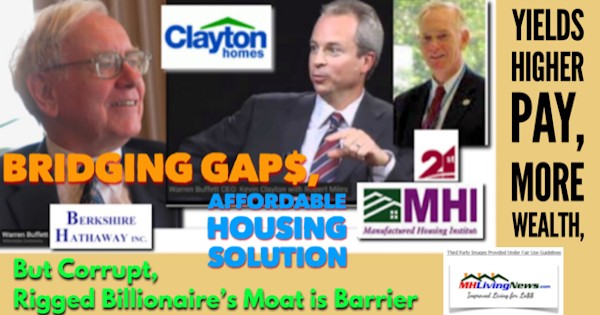 That's our food for thought for industry pros. By the way, if you are an investor only, let me tell you. Our sources tell us that the big boys are on our site day by day. MHI has an outside attorney who is on our site to check our reports. We've invited the powers that be to refute or respond to our concerns. Silence.
They have the right to remain silent.
Investors have the right to get vocal.
Related Reports:
2020 News: Big Brother, Antitrust – Anti-Monopoly – Manufactured Housing, and You
Bloomberg Closing Ticker for MHProNews…
NOTE: The chart below includes the Canadian stock, ECN, which purchased Triad Financial Services.
NOTE: The chart below covers a number of stocks NOT reflected in the Yahoo MHCV, shown above.
NOTE: Drew changed its name and trading symbol at the end of 2016 to Lippert (LCII).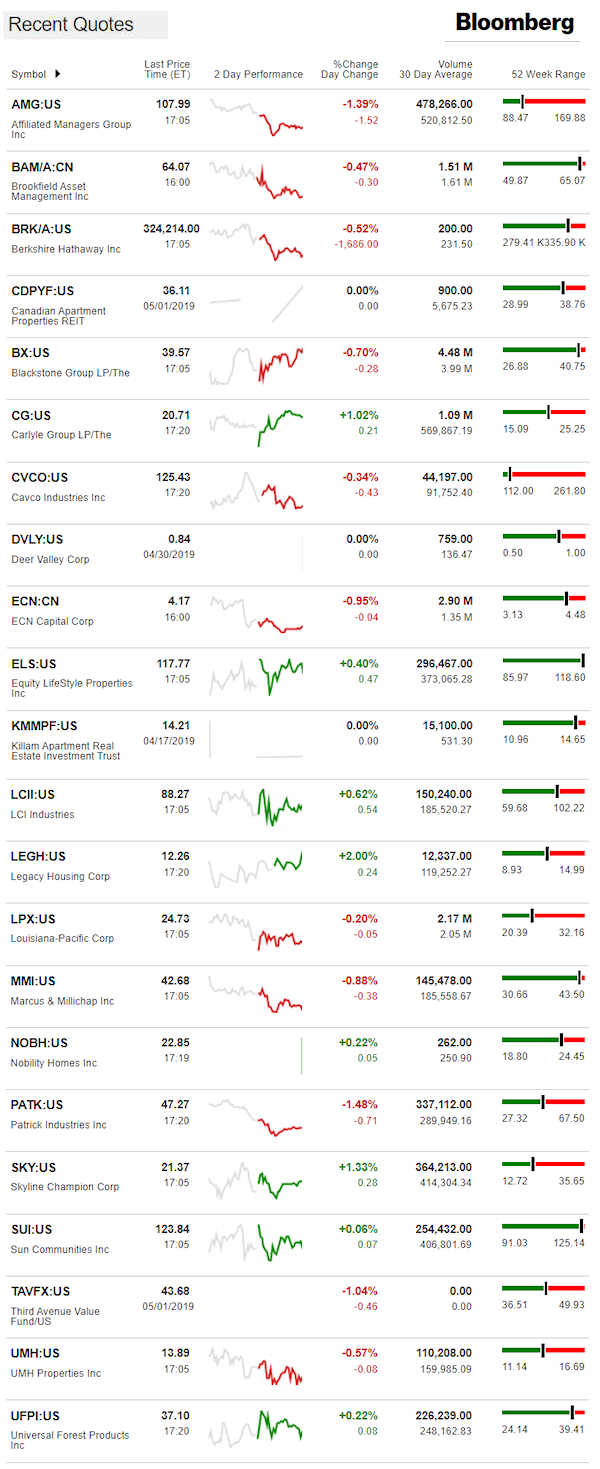 Berkshire Hathaway is the parent company to Clayton Homes, 21st Mortgage, Vanderbilt Mortgage and other factory built housing industry suppliers.
LCI Industries, Patrick, UFPI and LP all supply manufactured housing.
AMG, CG and TAVFX have investments in manufactured housing related businesses.
Your link to industry praise for our coverage, is found here.
For the examples of our kudos linked above…plus well over 1,000 positive, public comments, we say – "Thank You for your vote of confidence."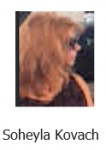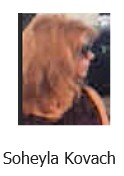 "We Provide, You Decide." © ## (News, analysis and commentary.)
(Image credits and information are as shown above, and when provided by third parties, are shared under fair use guidelines.)
Submitted by Soheyla Kovach to the Daily Business News for MHProNews.com.