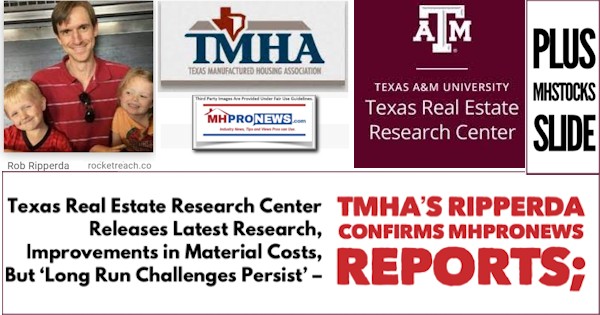 "Price pressure for raw materials showed signs of easing in April, according to the latest Texas Manufactured Housing Survey (TMHS)," according to a May 10, 2022 media release from the Texas Real Estate Research Center to MHProNews and other media outlets. Texas, as many manufactured home professionals know, has long been the #1 state in the U.S. for new manufactured housing production and shipments. Indeed, Texas has dominated in those two categories in the 21st century, supplanting Indiana which may have produced manufactured housing – and pre-HUD Code mobile homes – years earlier. Their media release follows, which will proceed the sobering continued slide of most manufactured housing equities along with other stocks that are suffering steady losses in value in recent days.
FOR IMMEDIATE RELEASE
May 10, 2020/News Release No. 17-0522
Bryan Pope 
979-845-2088
Texas' manufactured-housing industry sees price improvements, but long-run challenges persist
COLLEGE STATION, Tex. (Texas Real Estate Research Center) – Price pressure for raw materials showed signs of easing in April, according to the latest Texas Manufactured Housing Survey (TMHS). While prices continued to increase, the raw-materials index marked its largest monthly deceleration since July 2020, and manufacturers believe that trend may continue.
"The slowdown in price appreciation for raw materials is a welcomed sign," said Dr. Harold Hunt, research economist at the Texas Real Estate Research Center (TRERC) at Texas A&M University, "but the Bureau of Labor Statistics' Producer Price Index (PPI) continues to trend above double-digit growth. The PPI is released with a one-month lag, so we'll have to wait until next month to see if the rest of the economy experienced price relief during April."
The root of the manufactured-housing's price improvement is unclear, and supply-chain disruptions persisted for the eighth straight month. Production lines, however, continued to pump out new homes and chip away at backlogs.
While demand remained robust, the combination of supply-side challenges, growing uncertainty, and impending regulatory burdens weighed on the industry's outlook and overall optimism.
"The Department of Energy's consideration of updating efficiency standards and its preference for the most stringent changes tempered manufacturers' expectations," said Rob Ripperda, vice president of operations for the Texas Manufactured Housing Association.
The TMHS regulatory-burden index reflected these concerns with a positive reading in 13 of the past 14 months.
"Other headwinds include higher mortgage interest rates for both real and personal property as well as a hit to housing manufacturers' stock prices," said Ripperda.
The industry anticipates a slowdown in capital expenditures and hiring activity through the summer to adjust to these obstacles. While Texas' manufactured-housing outlook remains positive, the health and resilience of the broader economy remains a critical factor moving forward.
Funded by Texas real estate licensee fees, the Texas Real Estate Research Center was created by the state legislature to meet the needs of many audiences, including the real estate industry, instructors, researchers, and the public.
—30—
Editor's note: As of Jan. 1, 2021, our official name is the Texas Real Estate Research Center.  ## Note: the Texas land sales data in 2021 is per the Texas Real Estate Research Center, but was not part of this specific report.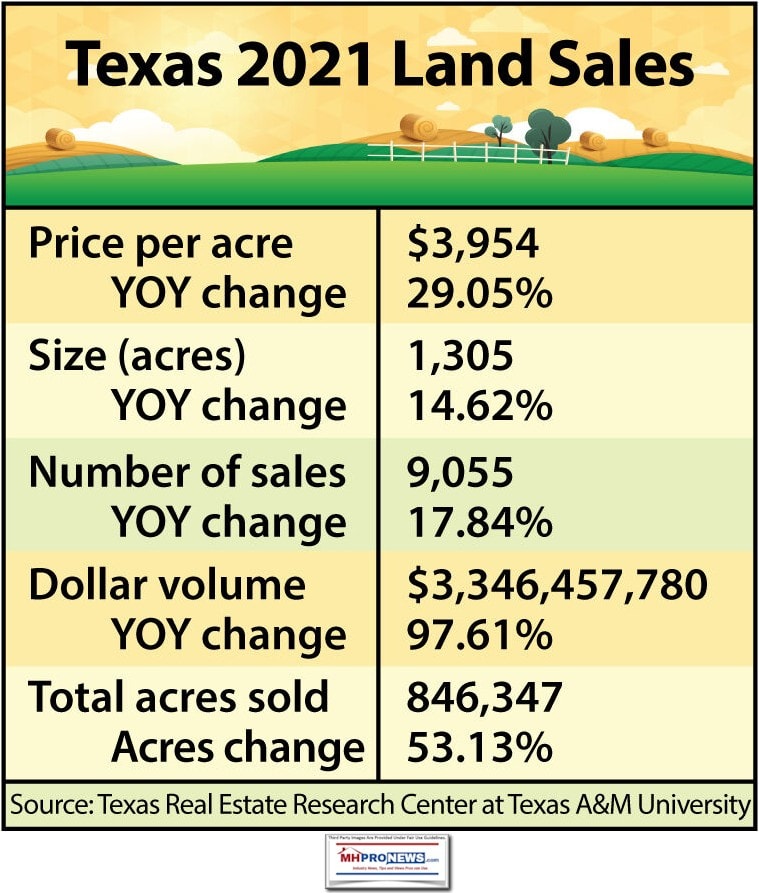 Additional Information, More MHProNews Analysis and Commentary in Brief
When association executives, such as Rob Ripperda, vice president of operations for the Texas Manufactured Housing Association (TMHA), sticks to the facts, they routinely tend to confirm MHProNews reporting, though they may not utter that phrase. Not much was said in this report that hasn't been previously reported in MHProNews.
For example. While Ripperda doesn't speak at all about the Manufactured Housing Institute (MHI) machinations on the Department of Energy (DOE) pending energy rule issue, he admits that the expectation is that the impact of the rule will be negative. "The Department of Energy's consideration of updating efficiency standards and its preference for the most stringent changes tempered manufacturers' expectations," said Ripperda.
In contrast to MHI's essentially supporting the DOE energy rule, as the Manufactured Housing Association for Regulatory Reform (MHARR) has alleged, MHARR has been pushing back consistently in their pushback.  It should also be noted that MHARR's profile in the news cycle has been increasing in 2022. Two examples of that in the past few days are visibly noted in the Google News search result shown below.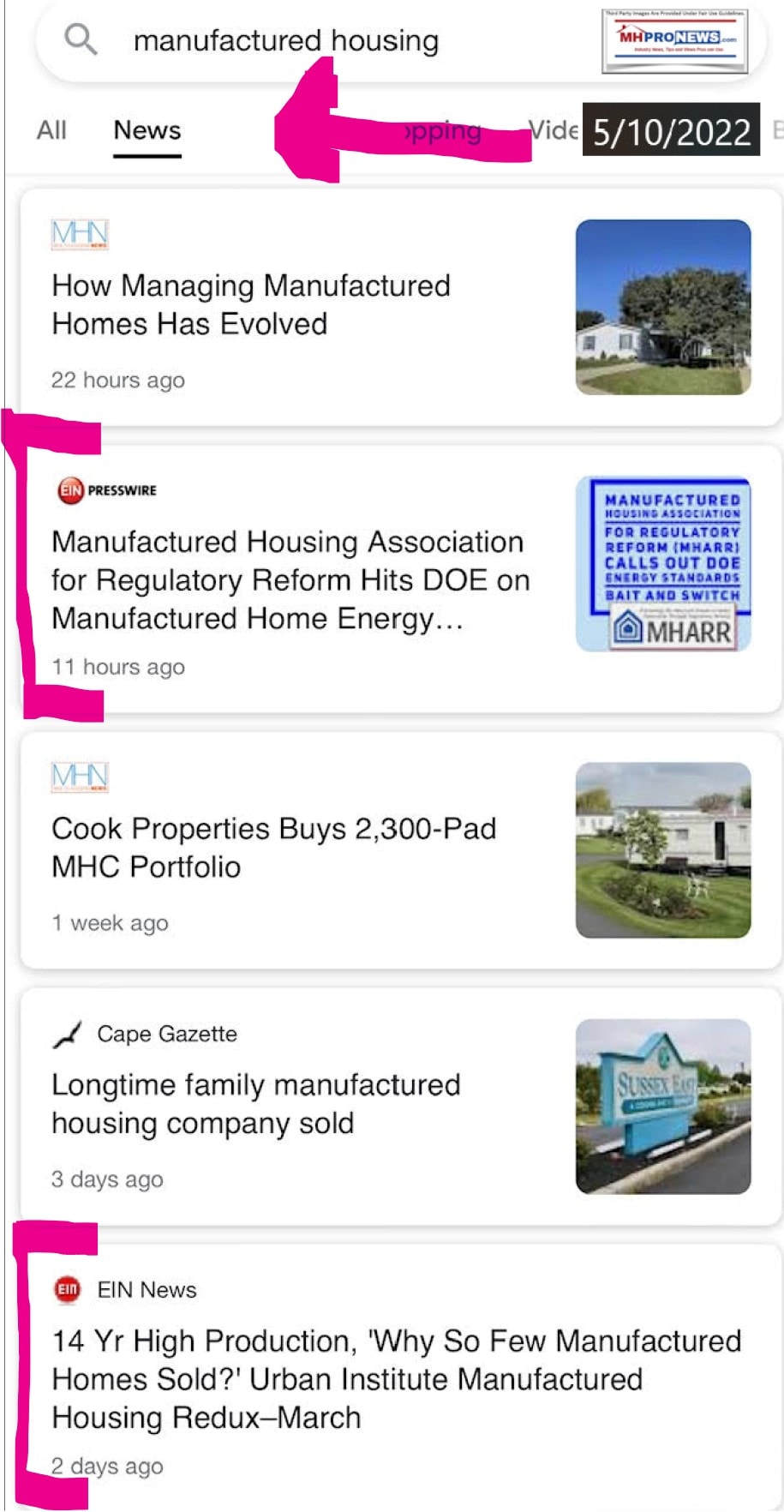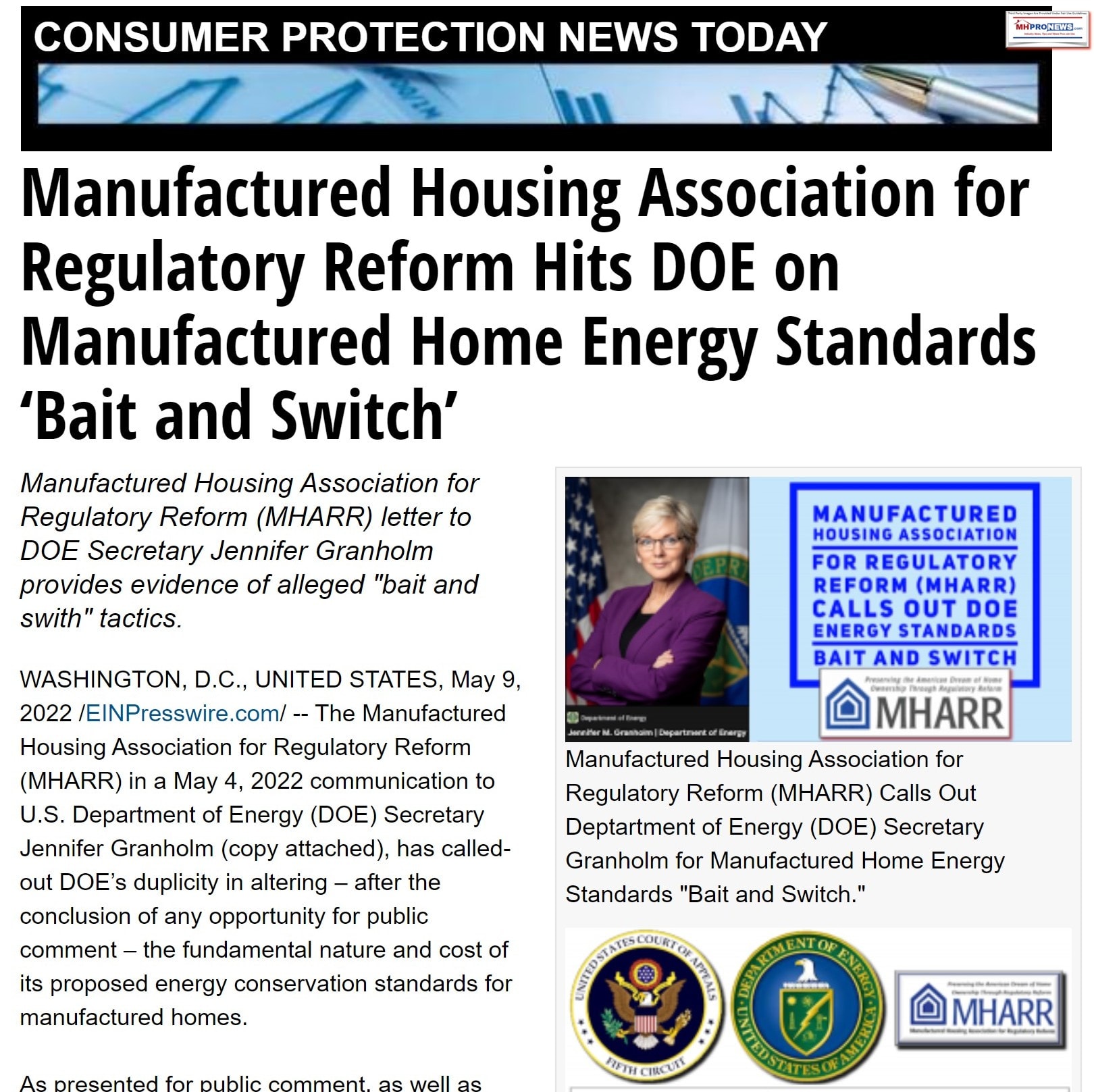 Manufactured Housing Association for Regulatory Reform (MHARR) Calls Out Department of Energy for Manufactured Home Energy Standards 'Bait and Switch' – Facts, Related Info & Analysis
See the linked and related reports to learn more.
Construction News Today-'MHI Does Not Represent Entire Industry' Manufactured Housing Assoc Slams Manufactured Housing Institute on Energy Rule, Homestar's Jayar Daily Redux; MHVille Markets
JCN's Ortiz-Small Business Week 'To Extent Small Businesses Are Coming Back, They're Despite Biden's Policies Not Because of Them" Tax Hikes Tame Inflation? Small Biz Data; plus MHMarkets Updates
Next up is our daily business news recap of yesterday evening's market report, related left-right headlines, and manufactured housing connected equities.
The Business Daily Manufactured Home Industry Connected Stock Market Updates.  Plus, Market Moving Left leaning CNN and Right-leaning (Newsmax) Headlines Snapshot. While the layout of this daily business report has been evolving over time, several elements of the basic concepts used previously are still the same. For instance. The headlines that follow below can be reviewed at a glance to save time while providing insights across the left-right media divide. Additionally, those headlines often provide clues as to possible 'market-moving' news items.
Market Indicator Closing Summaries – Yahoo Finance Closing Tickers on MHProNews…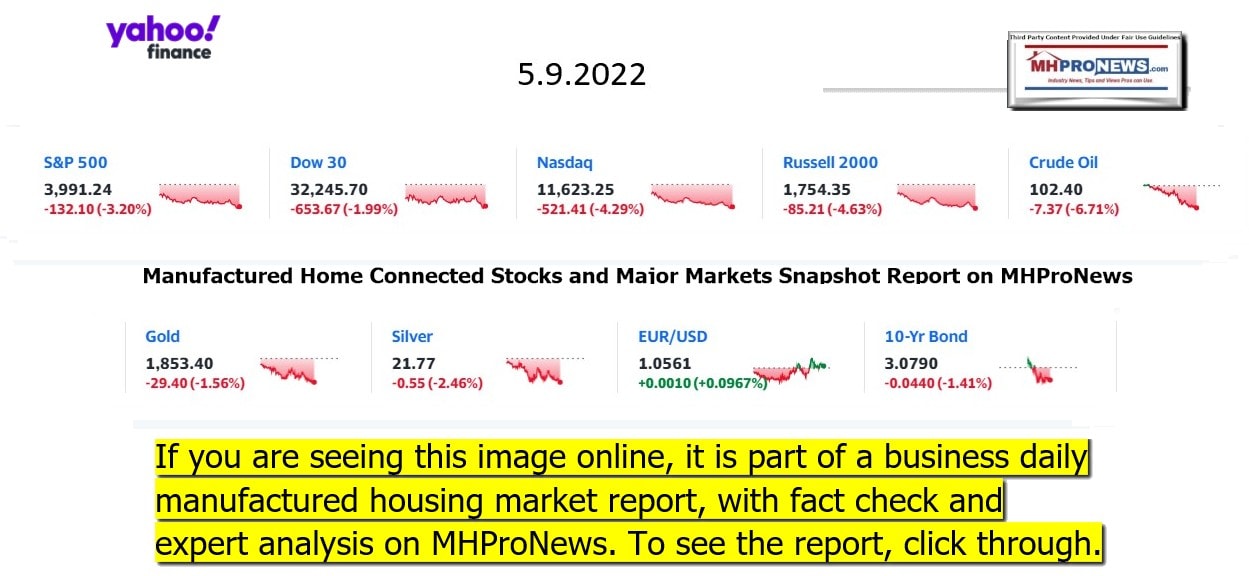 Headlines from left-of-center CNN Business – from the evening of 5.9.2022
Cutting Russia's oil
SCHWEDT, GERMANY – MAY 03: The PCK oil refinery, which is majority owned by Russian energy company Rosneft and processes oil coming from Russia via the Druzhba pipeline, stands on April 30, 2022 in Schwedt, Germany. European Union member states are to meet later this week to possibly agree on a phased-in ban on oil imports from Russia after Germany, which relies heavily on Russian energy imports, recently said it was willing to support a ban.
Moscow needs to sell crude, but it's running out of buyers
The Middle East won't rescue Europe if it turns off Russian oil
Making money on crypto? Yes, the IRS expects a cut
Bitcoin tumbles more than 50% below its all-time high as crypto plunges again
Rivian's stock plunges on report that Ford is selling shares
How to beat inflation: Buy what you know — and what you eat
Travel stocks are hot. But it's not all smooth sailing
How long will inflation last? The answer lies in the past
Opinion: The housing market is about to finally cool off
China faces 'complex and grave' job market, warns Premier Li
The baby formula supply problem is getting worse
Watch what this Kawasaki factory in Nebraska did to attract workers
This Singaporean startup has reinvented the instant noodle
What Trader Joe saw that everyone else missed
Dow tumbles again as tech wreck continues, S&P hits 52-week low
A customer holds a fuel nozzle at a gas station in San Francisco, California, U.S., on Wednesday, April 27, 2022. California is set for an automatic increase in its fuel tax July 1 after Governors Gavin Newsom failed to convince lawmakers to pause the hike, part of his plan to bring relief to residents in the state with the most expensive gasoline.
Gas could hit $4.50 a gallon
A United Airlines plane departs behind a Boeing office building in Arlington, Virginia, U.S., on Thursday, May 5, 2022. Boeing Co. confirmed today that its Arlington campus just outside Washington will serve as the company's global headquarters.
Boeing is losing the plane race. So it packed up and left for Washington
STARTUPS
Lordstown Motors unveils their new electric pickup truck Endurance in Lordstown, Ohio, on October 15, 2020.
Electric car startups want to avoid same fate as Britain's 1890s bike bubble
Ukrainian startup brings school to displaced students
Two ultra-fast delivery startups shut down in one week
Wag is going public through a SPAC
An Indian startup could revolutionize ocean farming
NETFLIX
Netflix may clamp down on password sharing. Here's what that means
Ackman gives up on Netflix, taking $400 million loss
David Zaslav takes on Netflix in his first earnings call
Netflix's world has been turned upside down
Netflix's collapse is a warning sign for stocks
Headlines from right-of-center Newsmax 5.9.2022
Pelosi Gets Hysterical: GOP Wants Murder Charges for Abortion
House Speaker Nancy Pelosi, D-Calif., denounced Republicans seeking to protect the life and rights of the unborn in an open letter to Democrats Monday — and even claimed GOP wants to charge women with murder for getting an abortion. [Full Story]
Russian Invasion of Ukraine
Putin's New Narrative: West Was Poised to Invade Us
Putin Channels Victory Over Hitler to Spur Russian Army in Ukraine
Russian Ambassador to Poland Hit With Red Paint
US to Suspend Tariffs on Ukrainian Steel for Year
Putin: West Was Preparing to Invade Our Land
Last Civilians Leave Ukraine Steel Mill
Zelenskyy: Ukraine to Soon Have Victory Day
Russia: Talks With Ukraine Continue but Not Ready for In-Person Meeting
Accused Bucha Attackers Targeted in US Visa Bans
Russia TV: Putin More Likely to Start WWIII Than Accept Defeat
Biden Meets G7 Leaders, Ukraine's Zelenskyy to Discuss War
UN: More Than 170 Evacuated From Mariupol
UN Ambassador: Russia Has 'Nothing to Celebrate'
More Russian Invasion of Ukraine
Newsmax TV
Steube: Rallies Shouldn't Target Justices' Homes | video
Ukraine MP Rudik: Worry About What Putin Didn't Say | video
RNC's Dennard: Biden Should Denounce SCOTUS Protests | video
Hunter Laptop Repairman: Lawsuits Demand Accountability | video
Comer: GOP-Led House Will Focus on Hunter Biden | video
Ben Carson: Celebrating Abortions Is 'Pure Evil' | video
Alex Mooney: Americans Back Trump Candidates, Rebuke Biden Agenda | video
Sessions: Separate Votes on Ukraine Funding, Title 42 | video
More Newsmax TV
Newsfront
Navy Removes 'Anti-American' Books From Sailors' Reading List
Several controversial books deemed to be "anti-American" or "Marxist" were removed from the U.S. Navy's recommended reading list…. [Full Story]
Florida Gov. DeSantis Signs Bill Requiring Students to Learn About Communism's Effects
Florida Gov. Ron DeSantis on Monday signed legislation requiring [Full Story]
Former Acting Director of National Intelligence Grenell Hits Pompeo Over Oz Remarks
Richard Grenell on Monday hit out at former Secretary of State Mike [Full Story]
NASA Still Giant Leap From Manned Mars Mission
In January 2004 when former President George W. Bush announced that [Full Story] | Platinum Article
Hawley Calls on Biden Admin to Keep Tariffs on Chinese Goods Intact
Josh Hawley, R-Mo., requested the Biden administration keep [Full Story]
CatholicVote Working to End Abortion, May Get Supreme Assist
Within days of a CatholicVote anti-abortion rally held outside the [Full Story] | Platinum Article
Majority of Voters Want More Oil and Gas Drilling: Poll
A majority of likely voters (60%) favor a law that would drastically [Full Story]
Missouri Poll: Fmr Gov. Greitens Up 7 Points in Senate GOP Primary
Before the actual November midterm election, and even before the Aug. [Full Story]
GOP Spurs Record Ballots Cast in Early Georgia Primary Voting
Early voting in Georgia's primary is breaking records, with a 236% [Full Story]
Wisconsin Anti-abortion Office Fire Investigation Ongoing
Police said Monday that they hadn't arrested anyone over a weekend [Full Story]
Pelosi: GOP Aims to 'Rip Away' Women's Rights
House Speaker Nancy Pelosi, D-Calif., denounced Republicans seeking [Full Story]
Texas GOP Lawmakers Turn Abortion Focus to Post-Roe
Some Republican lawmakers in Texas plan to focus on investing in [Full Story]
NY AG Letitia James Looks to Legislation to Fund Abortion Providers
After the leaked Supreme Court draft opinion that shows the court is [Full Story]
NYC Mayor Eric Adams, AOC Have Not Spoken Since July
New York City Mayor Eric Adams and Rep. Alexandria Ocasio-Cortez, [Full Story]
Florida: Previously Banned, Now Legal "The Best Pain Reliever"
The Healthy Living Club
Funeral Costs for COVID Deaths Paid by Government
The costs of a funeral for people who died from COVID can be [Full Story]
Trafalgar Poll: Pennsylvania Senate GOP Primary Tight 3-Way Race
The trio of leaders in Pennsylvania's Senate GOP primary gained [Full Story] | video
BLM Co-Founder Admits Group's Mansion Used for Personal Reasons
No, insists Patrisse Cullors, former leader of the Black Lives Matter [Full Story]
Majority to Overturn Roe Remains Months After Leaked Draft Opinion Written
There remains a Supreme Court majority to strike down Roe v. Wade [Full Story]
Gallup Poll: Americans Increasingly Worried About Finances
Americans have grown increasingly worried about their finances over [Full Story]
Russian TV Hacked to Display Anti-War Message
Russian smart TV owners saw an anti-war message on Victory Day. [Full Story]
Pandemic Spurs Florida's Rightward Tilt, Population Growth
The coronavirus pandemic has been a key reason for Florida's [Full Story]
Trump Blasts 'Lightweight' Former Defense Chief Esper
Former President Donald Trump slammed his former "lightweight" [Full Story]
Marcos' Son Seen Winning Philippines Presidency
Philippine voters streamed to polling stations on Monday, with [Full Story]
NY Times Deletes 'Fetus' as Wordle Answer Amid SCOTUS Leak
The New York Times changed a recent Wordle answer from "fetus" amid [Full Story]
Congress Pressed to Ease Immigration Policy for International Tech Talent
In an attempt to ensure that American science and tech leadership is [Full Story]
Biden Disinformation Czar Spread Trump-Russia Collusion Claims
The Department of Homeland Security's new disinformation chief fueled [Full Story]
Bitcoin Price Dips, Crypto Market Loses $200B
Several cryptocurrencies, including Bitcoin and others, have fallen [Full Story]
Trump Judge Will Not Dismiss Lawsuit Against Biden's Mass Release of Migrants
A Trump-appointed federal judge denied a request from the Department [Full Story]
American Woman Stricken in Bahamas Now Hospitalized in Miami
An American woman hospitalized on Friday in the Bahamas in serious [Full Story]
Mexico President Says No Country Should Be Excluded From Americas Summit
Mexican President Andres Manuel Lopez Obrador said on Sunday during a [Full Story]
Trump Jr.: American People See 'They've Been in a Rigged Game'
Highlighting the Disinformation Governance Board and the left-wing [Full Story]
Florida: Previously Banned, Now Legal "The Best Pain Reliever"
The Healthy Living Club
More Newsfront
Finance
Yellen: US Financial System Operating in 'Orderly Manner'
S. Treasury Secretary Janet Yellen said on Monday that the U.S. financial system was functioning in an "orderly manner" despite recent market volatility, and valuations of some assets remain high compared to historical values…. [Full Story]
Goldman, Morgan Warn of Ongoing Volatility
JPM: Emerging Markets Growth to Slow Sharply in 1Q22
Lauren Fix, The Car Coach: 10 Car Dealer Tricks to Avoid
Rare Cases of COVID Returning Pose Questions for Pfizer Pill
More Finance
Health
COVID Infection May Help Protect Against the Common Cold
If you get infected with COVID-19, there may be a sliver of a silver lining: COVID may help protect you against the common cold, researchers say. The SARS-CoV-2 virus that causes COVID-19 belongs to a large and diverse family of coronaviruses that include common cold…… [Full Story]
Rare Cases of COVID Returning Pose Questions for Pfizer Pill
Study: Vigorous Exercise Effective Against Fatty Liver Disease
Antibiotics Used to Treat UTIs May Be Cause of Recurrent Infection
Being Overweight or Obese Raises a Woman's Risk for Bone Fractures
MHProNews has pioneered in our profession several reporting elements that keep our regular and attentive readers as arguably the best informed in the manufactured housing industry. Among the items shared after 'every business day' (when markets are open) is our left-right headline recap summary. At a glance in two to three minutes, key 'market moving' news items are covered from left-of-center CNN Business and right-of-center Newsmax. "We Provide, You Decide." © Additionally, MHProNews provides expert commentary and analysis on the issues that others can't or won't cover that help explain why manufactured housing has been underperforming during the Berkshire era while an affordable housing crisis and hundreds of thousands of homeless in America rages on. These are "Industry News, Tips, and Views Pros Can Use" © features and others made and kept us the runaway #1 in manufactured housing trade publisher for a dozen years and counting.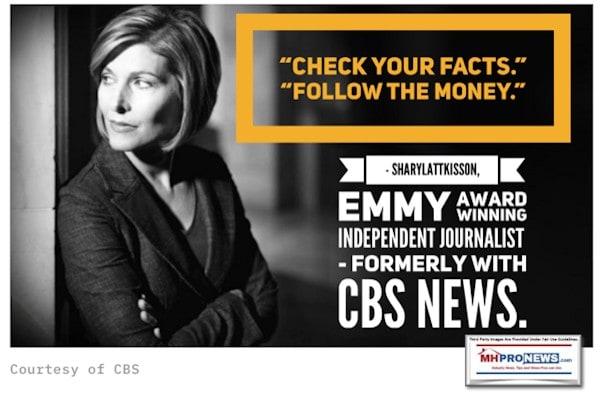 Manufactured Housing Industry Investments Connected Equities Closing Tickers
Some of these firms invest in manufactured housing, or are otherwise connected, but may do other forms of investing or business activities too.
NOTE: The chart below includes the Canadian stock, ECN, which purchased Triad Financial Services, a manufactured home industry lender
NOTE: Drew changed its name and trading symbol at the end of 2016 to Lippert (LCII).
NOTE: Deer Valley was largely taken private, say company insiders in a message to MHProNews on 12.15.2020, but there are still some outstanding shares of  the stock from the days when it was a publicly traded firm.  Thus, there is still periodic activity on DVLY.
Manufactured Home Communities (a.k.a. 'Mobile Home Parks' – SIC) – Exploring UMH Properties; Fellow Manufactured Housing Institute Member Yes! Communities Suits and Settlements; plus MH Markets Updates
'Announcing!' 'Manufactured Community Owners' Association of America' 'Finally Bringing Fight To Manufactured Home Community Sector of the Industry' – plus Sunday Weekly Manufactured Housing Headlines Review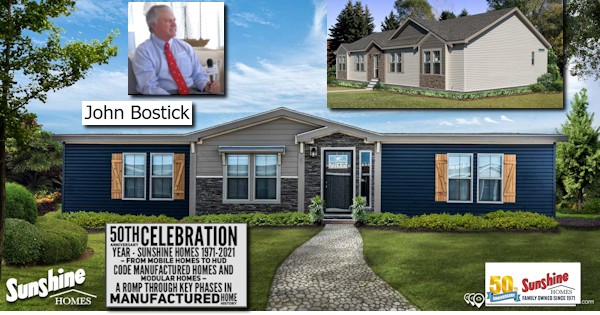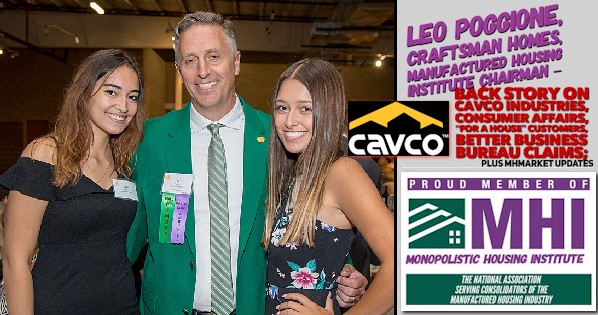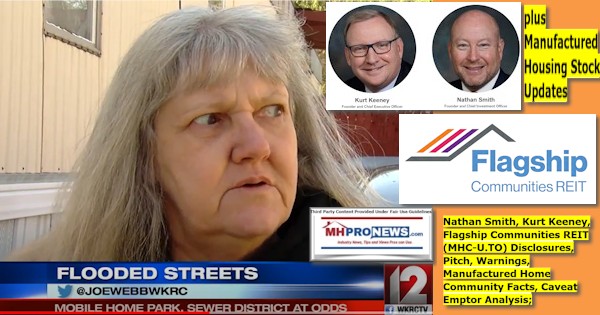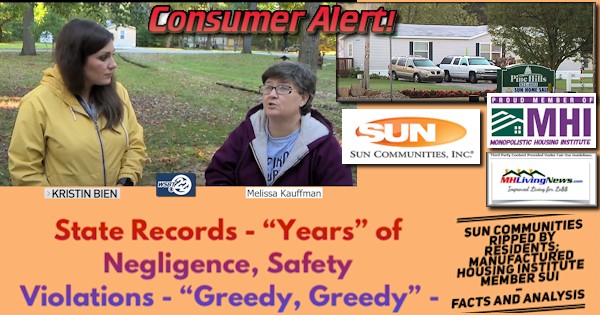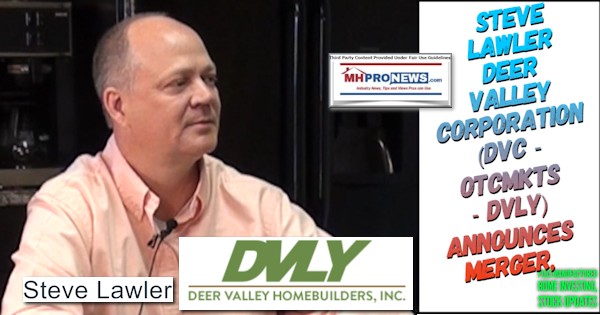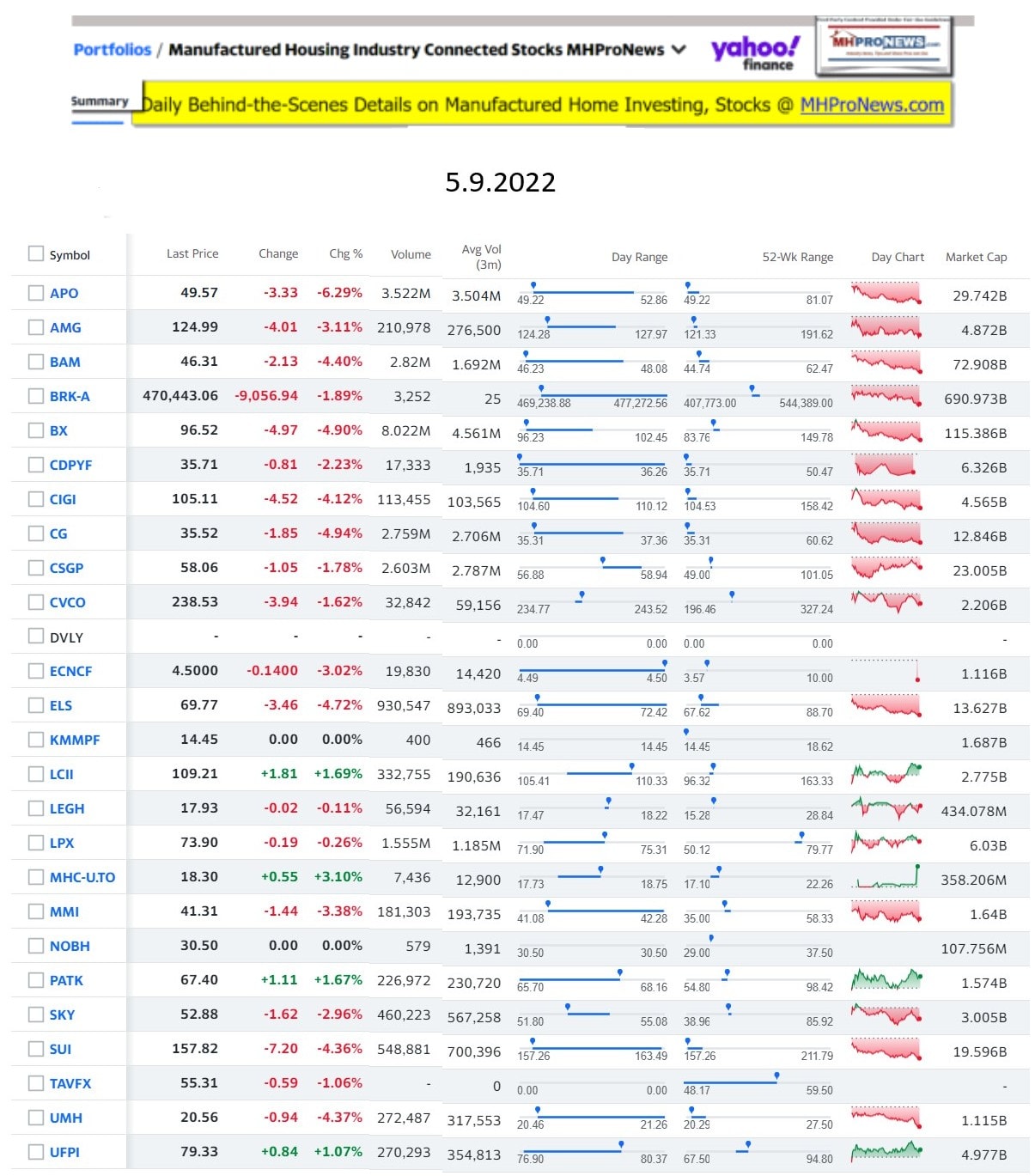 2022

…

Berkshire Hathaway is the parent company to Clayton Homes, 21st Mortgage, Vanderbilt Mortgage and other factory-built housing industry suppliers.


·

LCI Industries, Patrick, UFPI, and LP each are suppliers to the manufactured housing industry, among others.




·

AMG, CG, and TAVFX have investments in manufactured housing related businesses.

For

insights from third-parties and clients about our publisher

, click here.


Enjoy these 'blast from the past' comments.

MHProNews. MHProNews – previously a.k.a. MHMSM.com – has celebrated our 11th year of publishing and have completed over a dozen years of serving the industry as the runaway most-read trade media.
Sample Kudos over the years…
It is now 12+ years and counting…
Learn more about our evolutionary journey as the industry's leading trade media, at the report linked below.
· For expert manufactured housing business development or other professional services, click here.
· To sign up in seconds for our industry leading emailed headline news updates, click here.

Disclosure. MHProNews holds no positions in the stocks in this report.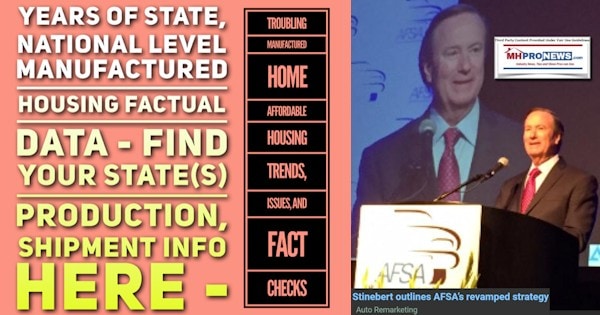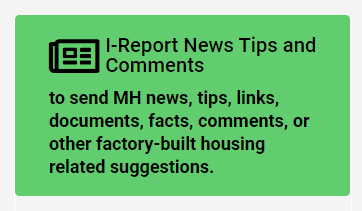 That's a wrap on this installment of "News Through the Lens of Manufactured Homes and Factory-Built Housing" © where "We Provide, You Decide." © (Affordable housing, manufactured homes, stock, investing, data, metrics, reports, fact-checks, analysis, and commentary. Third-party images or content are provided under fair use guidelines for media.) (See Related Reports, further below. Text/image boxes often are hot-linked to other reports that can be access by clicking on them.)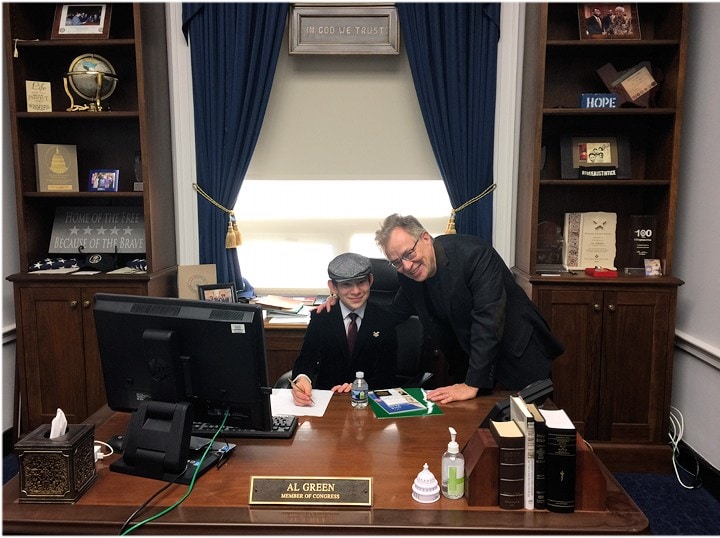 By L.A. "Tony" Kovach – for MHProNews.
Tony earned a journalism scholarship along with numerous awards in history. There have been several awards and honors and also recognition in manufactured housing. For example, he earned the prestigious Lottinville Award in history from the University of Oklahoma, where he studied history and business management. He's a managing member and co-founder of LifeStyle Factory Homes, LLC, the parent company to MHProNews, and MHLivingNews.com. This article reflects the LLC's and/or the writer's position and may or may not reflect the views of sponsors or supporters.