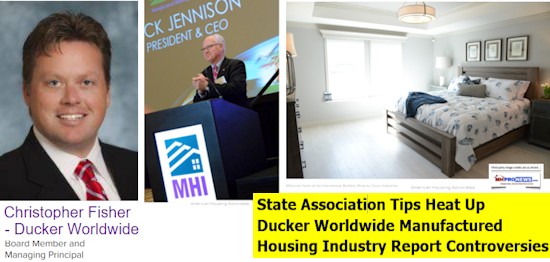 "Christopher C. Fisher, managing principal of Ducker Worldwide, spoke at length…about marketing possibilities for the manufactured housing industry. His company has undertaken an extensive study of what millennials and baby boomers need and how the industry can attract those customers," according to a state association source to MHProNews.
"He [Fisher] went through an extensive array of finding and statistics, saying our industry is in line to attract 2.7 millennials and nearly 1 million baby boomers. The boomers want to downsize to a smaller home with a single floor and a reduced payment," per that source to the Daily Business News.
"Both groups [millennials, boomers] want homes that includes garages, energy efficiency and have pitched roofs. Upgraded exteriors also are important. "They would find value and pay for an attached garage," Fisher said. "The current product does not close the gap on what we want to do."
The "we" from Fisher here refers to the Manufactured Housing Institute (MHI), who funded the research.  Those top lines are rather similar to what Barry Noffsinger said in a 16 minute video seminar, shown below.
But Credit Human's Noffsinger – an MHI member company – did not make Fisher's final caveat,  "The current product does not close the gap on what we want to do," why?  Perhaps because Noffsinger and others know manufactured home retailers and communities that are already closing sales using HUD Code manufactured homes sold prior to the MHI paid for research.
"What the industry needs to do is secure better regulatory standards; establish and improve financial alternatives; translate new exterior and other change concepts being proposed by industry leaders into common industry offers; and find a way to get this new product to market," said Fisher to MHI meeting attendees.
It's a problematic close to a presentation, according to another now-former MHI member who still does business with MHI companies. Per that source, there was no stunning new revelation, much of the material the Ducker presentation was covered by other third party research. And for them to essential sa there was no plan i.e.: Fisher's "and find a way to get this new product to market," was revealing.
A MHEC member has blasted the plan and raised red flags for independent producers and others, see that, linked below.
Secretive "NEW" Class of Manufactured Housing Raises Serious Concerns
Louisville Show attendees recall that Jennison cancelled that presentation "at the last minute" per a source with Show Ways, after MHProNews encouraged industry members at Louisville to ask Jennison 12 questions.  The photo below revealed that Jennison was on the show floor at the time his scheduled presentation was supposed to take place.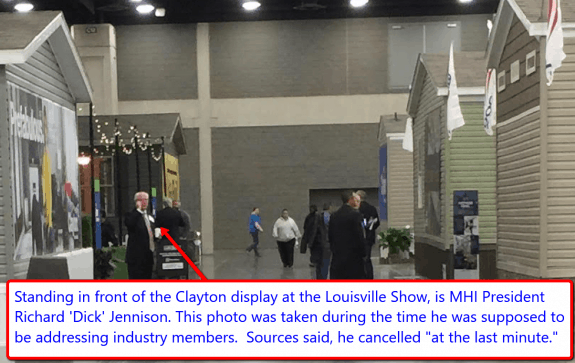 As another association executive said, if they wanted to publicize their Ducker plan, why doesn't MHI take every opportunity – including engagement with MHProNews to – do so?
The AHA take On MHI Ducker Plan

American Housing Advocates (AHA) was founded by Suzanne Felber and Bruce Savage, according to their own website.
Felber is well known as an "MHI surrogate," who happily promotes whatever's the MHI party line is. Felber and her partner reportedly do contrast work for MHI, and for some MHI member producers too.
AHA said that the Ducker initiative, "will research underserved areas that can be vital to the growth of the industry: millennials, immigrants, and step-down baby boomers.
MHI stated that the initiative would be led by the following industry leaders:
Keith Anderson, President of Champion Home Builders"
Kevin Clayton, President and CEO of Clayton Homes
Jayar Daily, Chief Operations Officer of American Homestar Corporation
Richard Florea, CEO and President of Skyline Corporation
Joe Stegmayer, Chairman & CEO of Cavco Industries
Dick Jennison, President & CEO of MHI
Christopher C. Fisher, Managing Principal of Ducker Worldwide"
Private "Club" within MHI?
According to a source at Skyline Homes, Florea had to ask if he could "join their club" meaning the producers who are part of this MHI-Ducker Worldwide so-called  "initiative," which apparently leaves most other industry producers out in the cold, if this plan is advanced with regulators at HUD, or with the GSEs. Thus the concerns by the Manufactured Housing Association for Regulatory Reform (MHARR).

Daily Business News readers recall how MHI award winner, Marty Lavin torched the MHI initiative, as it failed to address underlying issues that caused the industry's relatively low production levels.
The Question for Industry Professionals?
The question for Industry professionals is this. What has MHI accomplished since Richard "Dick" Jennison become president and CEO that merits confidence? Where are other successes, that back up the reason to be confident in this project?
Or is this another dead-end/head fake which would lead to more companies. Including rival producers, to be put out of business?
Another state association source said, 'We've hired outside [of the industry] consultants like them [Ducker Worldwide] before too,' said that source to the Daily Business News. And 'we learned the hard way it was costly, and they always told you what those paying for the study wanted to hear.'
As one source said, so those that failed to:
head of the SAFE Act,
or modify Dodd-Frank,
or stop Pam Danner's overreaches at HUD,
or who routinely fail to address bad news when it hits the media,
are now to be trusted to fix the industry's relatively low production levels with a plan led by the same people who allowed these challenges to occur in the first place?
"We Provide, You Decide." © ## (News, analysis, and commentary.)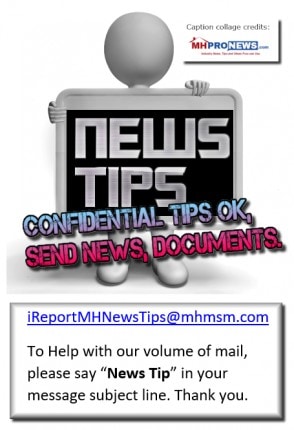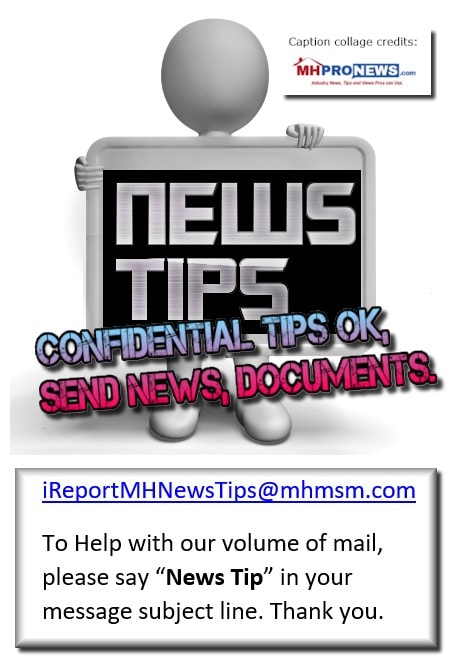 Thousands "Get It." Sign Up Today! Click here to sign up in 5 seconds for the manufactured home industry's leading – and still growing – emailed headline news updates. You'll see in the first issue or two why big, medium and 'mom-and-pop' professionals are reading them by the thousands. These are typically delivered twice weekly to your in box.
(Third party images, and cites are provided under fair use guidelines.)
Follow us on Twitter:
ManufacturedHomes
@mhmsmcom

Submitted by Soheyla Kovach to the Daily Business News for MHProNews.com.
Soheyla is a managing member of LifeStyle Factory Homes, LLC, the parent company to MHProNews, and MHLivingNews.com.