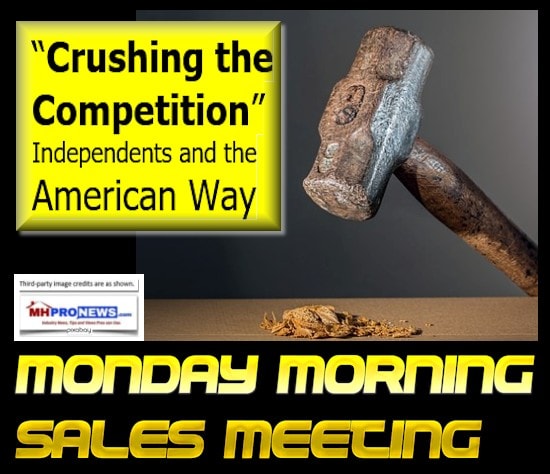 Independents vs. Corporate Giants. What's the traditional American Way?
Last week, two experts sounded off on that issue, at the link below.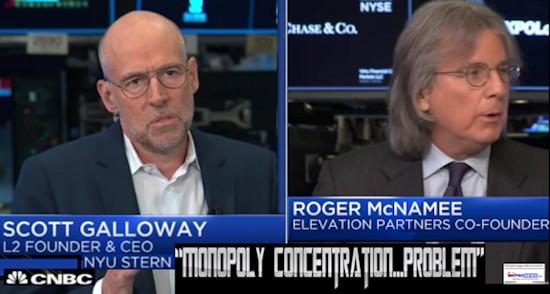 It's a timely question, because those experts argue that there's a routine struggle avoiding the modern version of the "robber barons" – witnessed over a century ago. Then or now,  it tends to be individuals – the "mom-and-pop" entrepreneurs –  that have been the main catalyst for innovation, job creation and wealth-building.
Anti-monopoly (anti-trust) laws exist precisely to protect the economy and the millions of other Americans from the harmful economic, social, and political effects that occur when mega-powers dominate given industries.
Clayton Team Mate Sounds Off
A Clayton Homes team mate messaged MHProNews recently to say, 'what's wrong with crushing the competition?'
Every independent needs to be aware of the origins of that mindset.
It begins with Warren Buffett, is echoed by Kevin Clayton, and picked up by many (but not all) of the members of Team Clayton.
Crushing the competition is part of the mandate, is what Buffett himself has said. Listen to how Kevin Clayton expressed that in his own words in the linked video/article below. 
Kevin Clayton Interview-Warren Buffett's Berkshire Hathaway, Clayton Homes CEO
Presuming they mean what the say, every forward-looking independent must consider the question;
how does one survive and thrive long term against an operation that has already taken over roughly half of the industry nationally?

How do you succeed long-term, when some states reportedly have 60 to 70 percent of retail sales from Clayton or using Clayton products?
The answer varies from market-to-market, and must be based upon the specific circumstances of a specific retailer or selling community.
As a Clayton Homes retail rival tipped MHProNews last year, the Berkshire Hathaway brands routinely have access to financing advantages outreach don't. 
Zero Down Payment – not Land in Lieu – Manufactured Home Chattel Lending Program
The first reality is you must know reality. You can't win in a battle where only one side realizes it's is in an economic, competitive "war."
Jiu Jitsu 
Specific plans are done for consulting clients, for a fee. But let's lay out one of several basic concepts on how a retailer at the margins can learn how to beat a giant competitor, Clayton Homes, and/or any other.
It's simple. Emphasize what you do that they can't, don't, or won't do. To rephrase, you apply the principles of jiu jitsu.
Jiu Jitsu is the martial arts concept that takes the apparent power of an opponent, turning the energy or strength of the larger aggressor against them.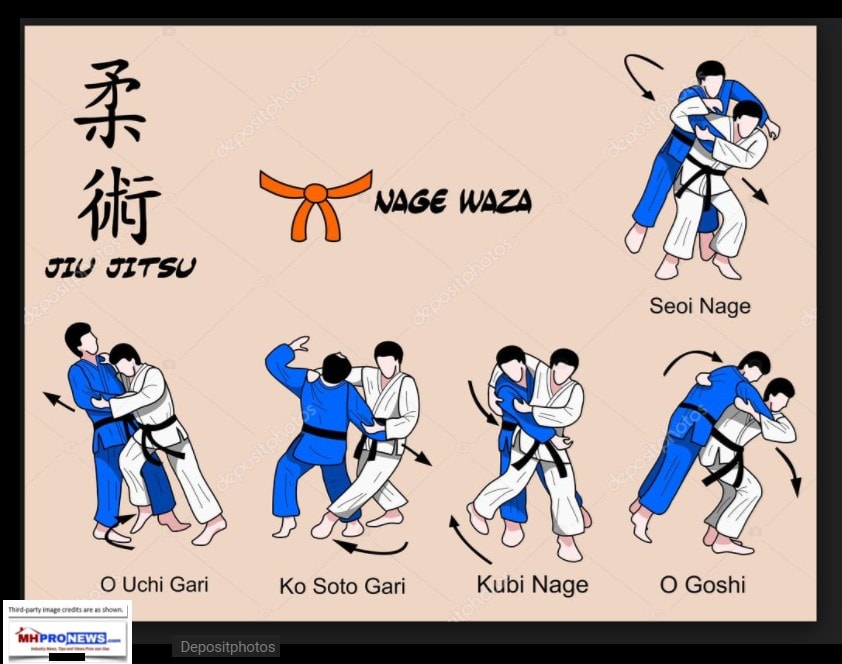 As a historic analogy, imagine the initial success of the Nazi blitzkrieg during World War II. The French were conquered, the Brits fled Dunkirk for he safety of the British Isles.
But guerrilla warfare tactics broke out in France. They used those to occupy tens of thousands of superior Nazi forces.
The Brits in turn supplied the French, as did later the Americans. The Allies put their unique advantages to work, and what at one point looked like an unbeatable opponent was utterly crushed in the end.
Sailing the River Nile?
There are retailers and communities that, according to some of their industry peers, are 'sailing the river "de Nile,"  a.k.a. denial. That's from a long-time retailer that says, if other independents don't realize they are in a life-and-death struggle, "they are sailing in the river of denial."
Perhaps your organization is a pretty good size, or perhaps your a mom-and pop. Never forget that 20 years ago Fleetwood and Champion we're battling for 1 and 2, with everyone else as also rans.
About a dozen years later Clayton was buying Fleetwood retail out of bankruptcy. The prior MH Giants had fallen. 
Vertical integration has helped some, but will it prove to be enough in the face of a monopolistic 'crush the competition' monolith?
Again, look at Fleetwood/Clayton 20 years ago for historic clues.
That said, individual locations are out-performing Clayton today in specific locales. It's doable. Our clients are among those doing it. In fact, it is a fact that Clayton is growing at a slower pace that the industry at large is, per national statistics and the last Berkshire Hathaway annual report.
To succeed, you must have a short, medium and long-term strategy; because Kevin Clayton has said that Warren Buffett would be okay with losing money for several years, so long as their Moat – think market share – is getting wider. Be prepared! ## (Monday morning marketing, sales, management tips, analysis, commentary.)
Related: When you are engaged in combat, you have to be able to spot the proverbial Trojan Horse.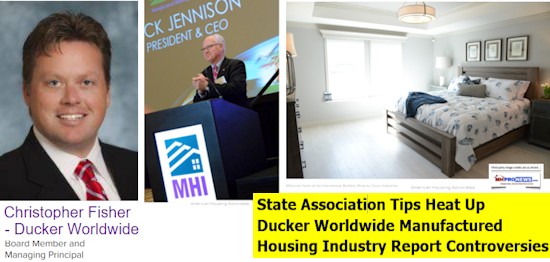 (Third party images, cites are provided under fair use guidelines.)

By L. A. "Tony" Kovach, award-winning consulting, publisher, web, video, recruiting, sales training, business development service provider.
MHLivingNews.com | MHProNews.com | Office 863-213-4090 |
Connect on LinkedIn:
http://www.linkedin.com/in/latonykovach