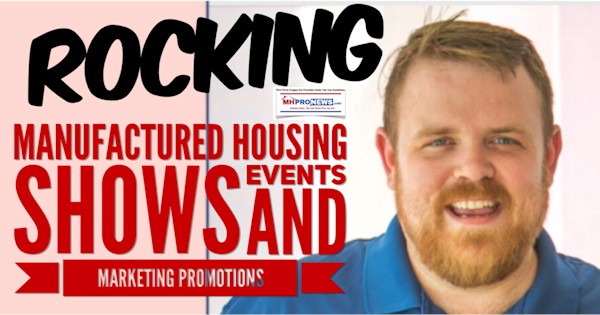 In an email to MHProNews, came the following on 3.10.2019.

"Tony, Soheyla and their team are always my first call for getting the word out about Legacy Housing's manufactured home shows.  They are excellent at promoting to our targeted industry audience and it shows every time in our post-show attendee analysis.  Thanks team MHPRONEWS.com! You rock!"
So said Casey Mack and he's in charge of Legacy Housing Corporation's Marketing, Web, and Dealer Programs.  Legacy provides manufactured homes and tiny houses to street retailers and manufactured home land-lease communities, a.k.a. 'mobile home parks.'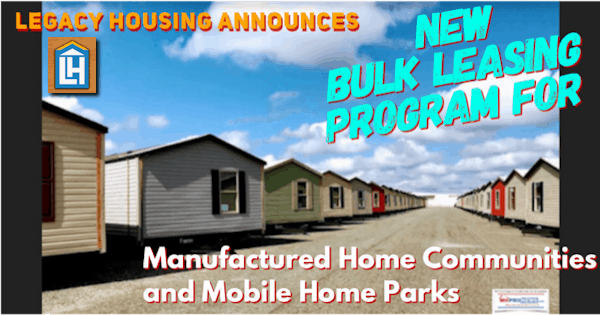 Key facts behind why Mack and others have found our marketing, events, and other programs to be effective are found at the report linked below. Click the text/image box to access that linked information.
Years of Measurable Results
A dramatic example and widely known example of performance by what Mack called the MHProNews Team is the Louisville Manufactured Housing Show, which was cancelled in 2010, after it had trended down for years prior to that point.
The only change made by the Louisville Show management in their comeback promotional effort that began with their 2011 Show was MHProNews.  Here's what two of the state executives who where involved with the Louisville Show's parent organization at that time had to say about our team's work.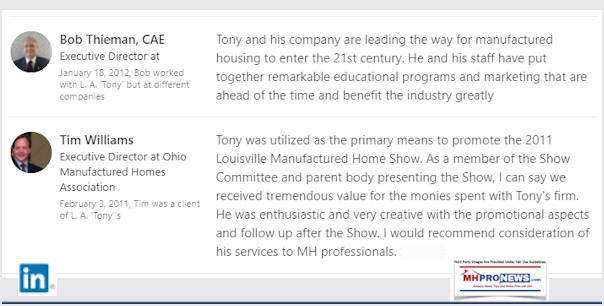 More recently, when the Louisville show promotion was assumed by MHVillage, the 2019 Show was physically smaller in the scope of displayed homes and exhibitor booths, per show sources. A once growing trajectory for the historic event – while under years of MHProNews promotion and educational management – is now measurably sliding once again, per facts provided by show management and their own promoters. Rephrased, the event made a come back while MHProNews promoted, but in 2019 is falling after MHVillage's promotion. See the stark contrast in the trends?
Speaking of trends, we've been spot on regarding various trends in our predictions and alerts. While delivering warnings or 'bad news' isn't always fun, it is useful and necessary to intelligent business and association leaders. By contrast, the amen echo chamber in much of the rest of MH trade media can't or won't tackle the tough topics we do. Of course, that means we get more readers who read more here.
The Right Kind of Controversy Is Good
While some avoid controversy, savvy business leaders – decision makers – recognize the value of authentic news, reports, and analysis.  The rest are details and commentary, as the examples that follow further below reflect.  It's arguably foolish to say everything is rainbows and sunshine when it is raining.  We call it as it is, and others are welcome to engage.

Who are You Going to Call for Manufactured Home Industry Marketing? B2B?  B2C?
There are years of measurable results confirmed via third party video, written, letters of recommendation from clients, and other endorsements. While some clients want their results kept confidential, which we respect, others have shared their statements publicly. LinkedIn has literally hundreds of kudos messages of various kinds, from professionals from all segments of the factor-built housing industry. Some 99 percent of those recommendations and endorsements were given without being requested.  It is entirely possible that this is the most endorsed professional media and business development service provider on LinkedIn.
Just see for yourself what others have said at this link here.
One of those was from Andrew Peters who reported that their business doubled after working with MHProNews.  Here's how Peters' said it.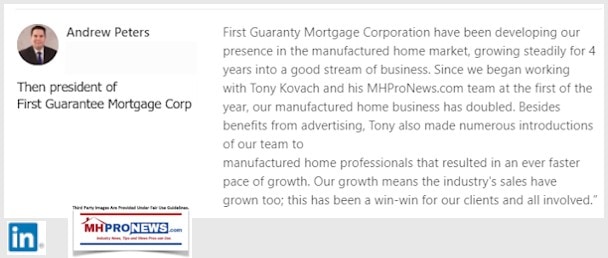 For marketing Business to Business (B2B) or Business to Consumer (B2C), outside agencies simply can't have the same level of insights, much less success, as the MHProNews | MHLivingNews | MHMarketingSalesManagement team possess. From inside the industry, others don't have our audience size.  So the results we provide are common sense.
Much bigger audience, more engagement, more results.
Search the drop-down menu, linked here —> for examples of services provided. We don't do everything sales and marketing related.  But what we do, is proven to work when put to work.  See the related report, below the byline and notices for more examples.

So, while no one can nor should claim to know everything, our team's breadth of proven experience means we can routinely pick up on the nuances of your operation faster than others are able to do.  Because we already have proven B2B and B2C platform's what MHProNews and MHLivingNews, we have an edge that others simply lack.
Transparency
Sources in the know that have used our service and others have told MHProNews that when they tracked results from other manufactured housing industry trade media sources, in some cases those others provided little or any measurable results.  By contrast, marketing with MHProNews routinely worked.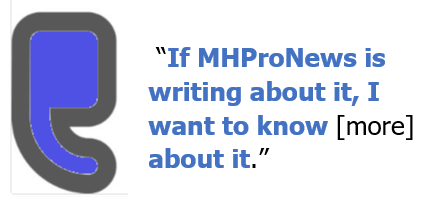 There is arguably no more transparent B2B platform in manufactured housing than MHProNews. We've provided hard data for years, and measurable results.
So why are our results better?  Bigger, broader, deeper audience engagement.  
How is that level of engagement explained?  Arguably no one else in manufactured housing media takes on the tougher topics with the same verve, fact-checks, evidence, follow-the-money trail, plus linked backup resources, than MHProNews provides. We also seek input from across the spectrum of views, which gives us appeal across the various industry segments.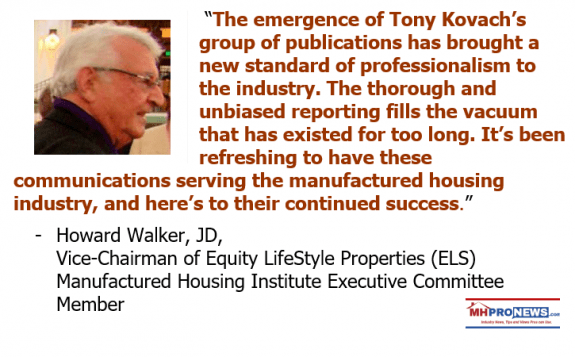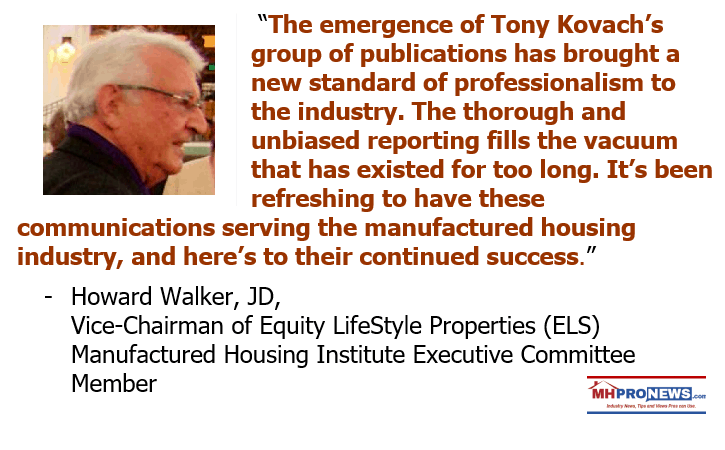 So, you aren't getting bland or hyperventilating opinions here. Rather, you'll find actionable intelligence, and the news tips from sources that yield information that industry professionals crave.
All of that means that B2B marketers get the largest and most engaged manufactured home industry professional audience right here on MHProNews. From the largest firms to the smallest, and those in between, across the range of industry segments, count on MHProNews to have the biggest and best reach.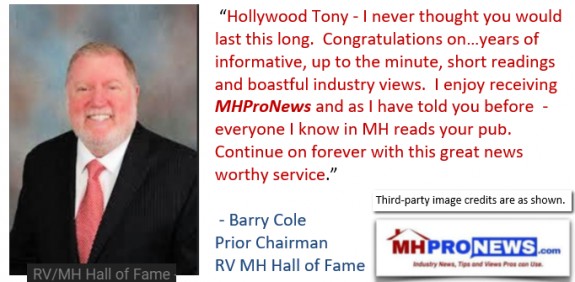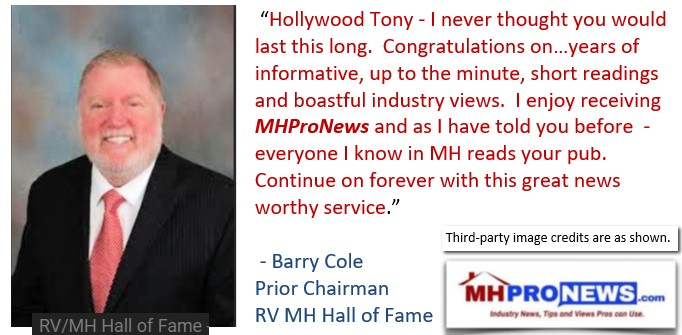 Also consider this fact. Because we publish several items every business day, plus offer new weekend content too, there are good reasons for our audience to keep coming back for more.
When it comes to growing your business, we provide that information.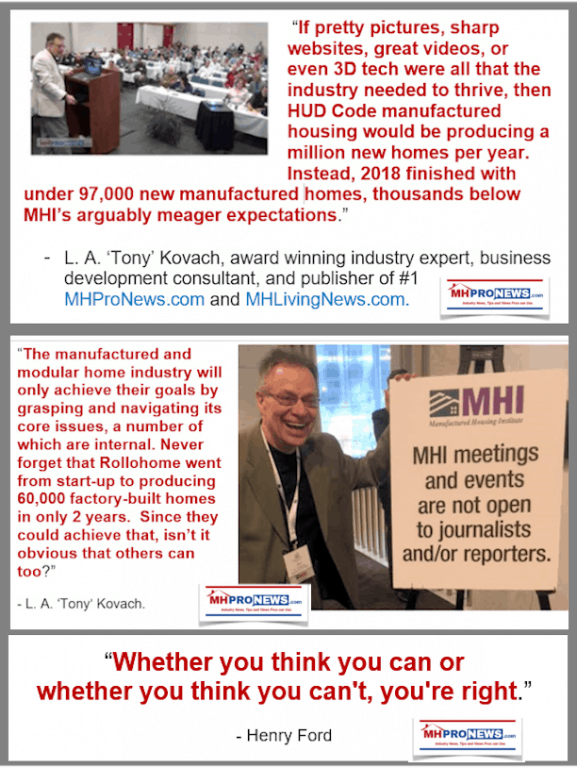 Our Sponsors Don't Have to Agree
Our sponsors don't have to agree with our editorial perspectives, any more than talk radio stations agree with all of the content that their own programing provides.
But de facto, those who support us with their ads are supporting the reports and analysis.  Each report is part of our sincere efforts to spotlight the roadblocks and paths to sustainable, robust industry growth.
So when it comes to B2B marketing, or other business development service needs, who are you and your firm going to call?
For those looking to see their location(s) grow, and want to see industry growth in general, there is no more proven resource than MHProNews.com. As even this brief survey of past and current results demonstrates, we have been the proven #1 way to grow bottom line results.  We provide good ROI. When you advertise here, you are seen.
Want a campaign?  We can help you design one.
For examples of the thoughtful analysis and research done here on MHProNews,  see the related reports, below the byline, business development service links, free email headline news signup.
As our understanding of industry dynamics has evolved, so has our news, analysis, and commentary.  But one thing has remained the same.  Our focus is to address the internal and external factors that keep manufactured housing from achieving its potential.  The rest are the details, analysis, and commentary found in every report. "We Provide, You Decide" © on the #1 MH "Industry News, Tips, and Views Pros Can Use."  ©. ## (News, analysis, commentary.)
NOTICE: You can get our 'read-hot' industry-leading emailed headline news updates, at this link here. You can join the scores who follow us on Twitter at this link. Connect on LinkedIn here.
NOTICE 2: Readers have periodically reported that they are getting a better experience when reading MHProNews on the Microsoft Edge, or Apple Safari browser than with Google's Chrome browser. Chrome reportedly manipulates the content of a page more than the other two browsers do.
(Related Reports are further below. Third-party images and content are provided under fair use guidelines.)
1) To sign up in seconds for our MH Industry leading emailed news updates, click here.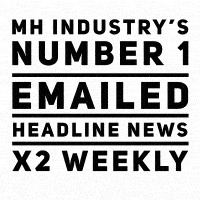 2) To pro-vide a News Tips and/or Commentary, click the link to the left. Please note if comments are on-or-off the record, thank you.
3) Marketing, Web, Video, Consulting, Recruiting and Training Re-sources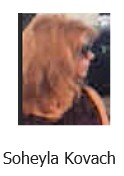 Submitted by Soheyla Kovach to the Daily Business News for MHProNews.com. Soheyla is a managing member of LifeStyle Factory Homes, LLC, the parent company to MHProNews, and MHLivingNews.com.
Related Reports

:
You can

click on the image/text boxes

to learn more about that topic.
Killer Alabama Tornadoes Didn't Discriminate – Tragic Yet Powerful Storms vs. Manufactured Housing, Conventional & Commercial Construction Insights
Controversy Erupts! Tunica Manufactured Home Show 'Educational Seminar'-Legally Questioned "Lease Option" "Chattel Lending" 'Taught' by Spencer Roane, Promoted By George F. Allen, SECO
HUD, Census Bureau Releases Mainstream January 2019 Housing Starts Data, How Does Manufactured Housing Compare?
Apt Warning for Manufactured Housing Professionals, MH Customers, by Award Winning Journalist Sharyl Attkisson, TEDx
Drilling Down on State Manufactured Housing Shipment Data, Shocking Revelations, Warning Signs
Anti-Monopolistic or "Antitrust" Action Heating Up in Washington, D.C., What It Could Foreshadow for MHVille
"What Are We, Chopped Liver?" MHI Member December 2018 Reactions
MHVillage Confirms Data, and Michigan Operational Slide Revealed
Study – Top Reasons People Can't Buy a House? Plus, Manufactured Housing Stock Updates
Examining Derek Thompson's Atlantic Report on 'Mobile Home' Retail Market as Fastest Dying Business In America
While Manufactured Housing Overall Rises, Some Slip Sliding Away
Sheila Dey, Western Manufactured Housing Communities Assoc, Tells Capitol – Manufactured Homes Could Ease Housing Crisis, Report and Analysis
MHI's Growth Agenda? Rick Robinson, JD, SVP Manufactured Housing Institute, Preemption Evidence, Writ of Mandamus, and Addressing HUD Code Manufactured Home Shipment Woes