As IBISWorld and the Atlantic previously reported some time ago, the 'street retail' sector of the manufactured home industry has been devastated during the Berkshire Hathaway (BRK) era of manufactured housing. Does the loss of perhaps some 20,000 independent street retailers in the last 2 decades mean that the manufactured home industry is incapable of a potentially rapid recovery?
While it certainly makes the task more difficult, it is hardly a given. Here are some examples why. In no specific order of importance.
Given the lack of street retailers, MHProNews' professional services has previously worked with manufactured home land-lease communities on a simple but profound concept. Namely, to do community-based manufactured home sales. Those sales obviously included in community sales. But they could also include sales outside of the land-lease community. What does that imply?
Instead of a relatively few remaining street retail locations, there would instead be potentially thousands of community-based sales that could occur, if communities expand to selling off property, and given that more land-lease communities could make the decision to do so too.
Additionally, MHProNews' professional services segment has worked with scattered lot retail-developers. Simply put, sales could occur using a business model that is more akin to what a traditional site builder would do. One or a few 'spec' homes could be installed at a development or scattered lot location. Not only can those model 'spec' homes be sold when desired, but they can be used to 'sell off of' the model, using floorplans and other visuals, much like conventional housing sales have often been done for years. Rephrased, such a model is another simple but profound method for a channel that could rapidly sustain scaling up retail sales.
Furthermore, virtual sales have been done for some time.
Finally, existing 'surviving' manufactured home retail centers have significant upside potential. Modifications in their business models could tie in one or more of the other points above.
Note that while most factories have long lead times, there are reportedly some that have a more modest and reasonable order-to-delivery timeframe.
For those who get involved in the AIM HIGH WISDOM project, those are just some of the opportunities for rapid growth that could be deployed.
It should be noted that a range of suppliers, lenders, and other service providers should be willing to embrace a plan for a return to robust growth over the recent trends since the Berkshire era began of overall declines, periods of modest growth following a major crash, and over 2 years of overall backsliding in production/sales that began in late 2018.
Buffett Tips and Insights
Additionally, there are some reports and tips obtained by MHProNews about Warren Buffett-Kevin Clayton strategic planning.  Per sources and public records, before and since the Berkshire acquisition of Clayton Homes, their associated lending, Berkshire also acquired the land-lease communities Clayton once owned. Insiders claim that Buffett wanted to spin off those Clayton-owned manufactured home communities to 'keep Clayton from [directly] raising the rents on grandma.' However, through lending, product sales, commercial real estate deals, and through nonprofits, Berkshire could maintain their influence in communities without being directly associated with them.
That may be the subject of a future report, as it merits additional insights and expert analysis.
Other Industry Developments Relative to Sales Capacity, Strategic and Tactical Insights
There is a new HUD Code production center that is reportedly nearing completion.
Some production companies, such as Adventure Homes, have the potential to gear up currently idle space that would allow for growth beyond their current capacities.
Some current MHI members that may have thought that they benefited for a time with the Berkshire moat-squeeze ploy are – per insider sources – feeling less enthusiastic than they once did. If so, there are several possible reasons. Not the least of which, per sources, is the perception that Berkshire and their allies could be more vulnerable to various legal as well as other strategic and tactical moves.
Rephrased, the very tactics that Berkshire brands have deployed could lead them vulnerable. That is a more detailed topic. To learn more, see 'red hot' and 'read hot' the deeper dive report linked below.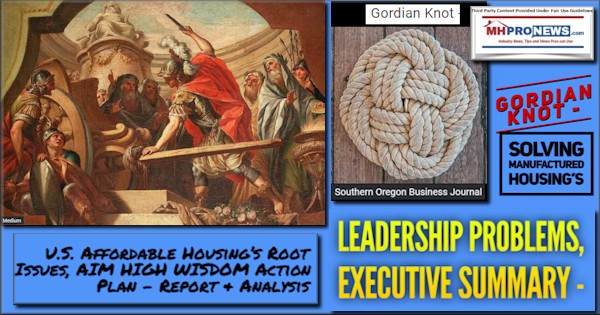 Years of State, National Level Manufactured Housing Factual Data – Find Your State(s) Production, Shipment Info Here – Troubling Manufactured Home Affordable Housing Trends, Issues, and Fact Checks
##
Programming NOTICE:
For the next several days, MHProNews will publish an article a day, not two or three.
Once we return to our normal publishing schedule, we will spotlight a new set of revelations that we have not yet reported relative to Berkshire Hathaway lending. Tim Williams will be a focus, but not the only one in that planned report. Stay tuned.
The market report for Thursday night is below.
Notice: The headlines that follow are also from 4.22.2021.  While the arrangement or layout of this report has been modified, the basic concept is still the same. The headlines can be reviewed at a glance to save time while providing insights across the left-right media divide. Additionally, those headlines often provide clues as to possible 'market moving' reports. The manufactured home connected equities follow the left-right headline bullets.
Market Indicator Closing Summaries – Yahoo Finance Closing Tickers on MHProNews…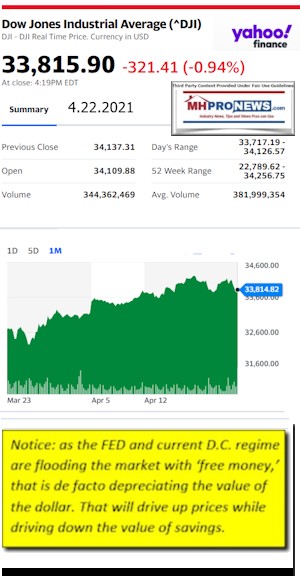 Headlines from left-of-center CNN Business
Record home prices
Vehicles parked outside residential homes in Manhasset, New York, U.S., on Friday, April 16, 2021. Across the U.S., house hunters are fighting for scraps in a market picked clean of listings during the key spring homebuying season. Photographer: Johnny Milano/Bloomberg via Getty Images
There simply aren't enough houses for the crush of buyers hitting the market
Selling your home? Here's how accurate online estimates are
This spring could be as good as it gets for the global economy
Bitcoin? Ethereum? Dogecoin? Your guide to the biggest names in crypto
Net zero pledges are all the rage in Corporate America. And they're paying off
New York City office space hits lowest level in three decades
Big Oil hit with lawsuit for allegedly misleading consumers about climate change
Australian government tears up the Belt and Road agreement with China
SpaceX is sending a capsule back to space, with new astronauts
The US tax code can make things even harder for Black Americans
Spider-Man is heading to Disney streaming
The New York Post spent weeks fearmongering about vaccines. Now it's telling people to 'GET VAXXED'
Quesadillas are taking off at Chipotle
Whole Foods and an iconic NYC bakery team up to sell decadent cookies
In this photo provided by the New York Stock Exchange, trader Robert Greason, left, right, works on the floor, Thursday April 22, 2021. Stocks wobbled between small gains and losses Thursday as investors continue to focus on company earnings reports and the economic recovery.
Dow sinks more than 300 points on worries about higher taxes
6 steps to avoid running out of money in retirement
A shovel is set in place before the groundbreaking ceremony of Foxconn flat-screen TV factory in Wisconsin on June 28, 2018. Over a year after U.S. President Donald Trump, Softbank CEO Masayoshi Son and Foxconn Chairman Terry Gou attended the groundbreaking ceremony in Mount Pleasant, Wisconsin, United States, the plan has not been finalized on whether the factory will become a reality.
Foxconn's giant factory in Wisconsin sounded too good to be true. Turns out it was
Headlines from right-of-center Newsmax 
Republicans Unveil $568B Infrastructure Package to Counter Biden's $2.3T Plan
GOP lawmakers have lambasted the president's infrastructure proposal, saying it goes far beyond conventional "infrastructure" and is loaded down with funding for too many liberal Democrat priorities.
The Biden Presidency
Attendance Becomes Point of Contention for Biden Speech
Tim Scott to Deliver GOP Response to Biden Speech
Biden Eyeing Capital Gains Tax Up to 43.4%
McClain Says Government Aiding Cartels by Resettling Migrant Children
Issa: Arizona Border Actions Show Division With WH
GOP Senators Speak Out Against Democrats' Call to Pack Court
Todd Young: 'Endless Frontier Act' Fuels New 'Space Race' With China
Dems Call GOP Opposition to DC Statehood 'Bigotry'
Biden to Recognize Massacre of Armenians as Genocide
Newsfront
New House Seat Numbers Tied to Census Can't Be Released Until Next Week
The numbers used for deciding how many congressional seats each state gets can't be released until next Monday at the earliest, according to an agreement that settles litigation between the U.S. Census Bureau and a coalition of local governments and civil rights groups…
Activists Hunker Down at George Floyd Square, Post List of Demands
Activists who declared the area in Minneapolis where George Floyd was
Russia Orders Troops Back to Base After Buildup Near Ukraine
Russia announced on Thursday it was ordering troops back to base from
Experts Say Chauvin Jury Was Likely Influenced by Media, Politicians
In the months before a jury of his peers found ex-cop Derek Chauvin
Related
Whites Visiting George Floyd Square in Minneapolis Must Follow Specific Instructions
New COVID Variant Shows Antibody Resistance, Illness in Young
A new variant of COVID-19 has been detected that appears to be more [Full Story]
Related
New Data Reassuring for COVID-19 Vaccination in Pregnancy
US Pays Some Sponsors' Travel to Pick Up Migrant Kids
The U.S. government is paying costs of travel for some adult sponsors
1 CBD Gummy Soothes Pain, Arthritis, Stress & Helps You Sleep – Try Now
SPONSOR: Natural relief for chronic pain, anxiety, stress, and sleep
Trump Not Speaking at Upcoming House GOP Gathering, Rep. McCarthy Says
Former President Donald Trump won't be a speaker at an upcoming House
Tim Scott to Deliver GOP Response to Biden's First Speech to Congress
Tim Scott, R-S.C., will deliver the official Republican response
RNC Chair McDaniel Said to Be Mulling Michigan Governor Run
Republican National Committee chair Ronna McDaniel has reportedly
Politico Orders Staff to Quit Referring to Surge in Border Crossings as a 'Crisis'
Politico is ordering its staff to quit referring to the surge in
How To: Eliminate 'Bone on Bone' Pain
SPONSOR: Wake up in the morning with stiff & painful joints?
Cawthorn to Newsmax TV: Infrastructure Plan a 'Trojan Horse' for Green New Deal
Madison Cawthorn, R-N.C., told Newsmax TV on Thursday that
Mexico President Suggests US Citizenship for Planting Trees
Mexican President Andres Manuel Lopez Obrador on Thursday suggested
How's Your Portfolio Looking?
SPONSOR: Bidens $1.9 trillion dollar bet
Approval Sought for Aircraft Carrier Coverage in Afghanistan Withdrawal
A top US military commander is seeking Pentagon approval to deploy an
Biggs: Biden Administration Won't Visit Border and Expose Situation
Members of the Biden administration, including Vice President Kamala
World's Largest Gold and Silver Shortage is Here
SPONSOR: GoldPro offers the lowest prices, hassle free
Report: Chevron Lobbying Against Myanmar Sanctions
Chevron is lobbying Biden administration officials against imposing
Ex-College Soccer Star Sues Coach for Forcing Her Out Over Refusal to Kneel
An ex-Virginia Tech women's soccer star is suing her former coach,
Senate OKs Bill to Fight Hate Crimes Against Asian Americans
The Senate on Thursday passed a bill that would help combat the rise
Russia Suspected of Directed-Energy Attacks on US Troops, Legislators Told
Russia is suspected of carrying out directed-energy attacks on U.S.
Mark McCloskey to Newsmax TV: No Decision on Senate Run Yet
Mark McCloskey, the St. Louis lawyer who famously pointed a
Biden Eyeing Capital Gains Tax as High as 43.4 Percent for Wealthy
President Joe Biden will propose almost doubling the capital gains
Accused Colorado Supermarket Gunman Faces 44 Additional Charges
Prosecutors on Wednesday charged a 21-year-old man accused of fatally
GOP Counters Biden, Pitches $568B Infrastructure Plan
A group of Senate Republicans on Thursday unveiled a public works
DC Statehood Approved by House as Senate Fight Looms
A decades-long movement to reshape the American political map took a
GOP Feels Immigration Key to Winning Congress Control
The crisis at the U.S.-Mexico border has made immigration the top
Dems Want Justice Barrett to Recuse Self From Donor Privacy Case
Democrats on the House and Senate Judiciary Committees have asked
House Prepares to Say Yes to Making Washington, DC, 51st State
The U.S. House of Representatives on Thursday is set to approve, for
Biden Will Open Summit With Pledge to Cut US Emissions in Half
President Joe Biden will open a global climate summit with a pledge
NRA Has $2M Lobbying Plan Against Biden Gun-Control Agenda
The National Rifle Association, in the midst of its leaders being
Biden Expected to Recognize Massacre of Armenians as Genocide
President Joe Biden is expected to formally recognize the massacre of [Full Story]
White House, LeBron James Attempting to Cast Ohio Shooting as Racially Motivated
The White House and pro basketball player LeBron James are attempting
The Surprising Guest Johnny Carson Couldn't Stand
Past Factory
More Newsfront
Finance
Amazon Begins Rollout of Pay-by-Palm at Whole Foods near HQ
Amazon is rolling out pay-by-palm technology at some Whole Foods grocery stores near its headquarters to make paying quicker and more convenient.
Stocks Slide on Biden Plan to Lift Capital-Gains Tax
Apple IOS 15 to Get Notifications, IPad Home Screen Upgrades
Southwest Prepares for Increase in Bookings as Vaccines Drive Leisure Travel
Billionaire James Dyson Changes Residency Back to UK
More Finance
Health
Pandemic Creating Devastating Amounts of PPE Waste
April is Earth Month and Earth Day is Thursday, but and as the pandemic persists, we are witnessing a devastating rise in the environmental hazard of personal protective equipment pollution that is choking our oceans…
Arnold Schwarzenegger Cutting Out Bread to Lose Weight
5 Ways to Prevent Prostate Cancer
Do You Need to Wear a Mask Outdoors?
Chronic Sinusitis May Affect Brain Health
Manufactured Housing Industry Investments Connected Closing Equities Tickers
Some of these firms invest in manufactured housing, or are otherwise connected, but may do other forms of investing or business activities too.
NOTE: The chart below includes the Canadian stock, ECN, which purchased Triad Financial Services, a manufactured home industry lender
NOTE: Drew changed its name and trading symbol at the end of 2016 to Lippert (LCII).
NOTE: Deer Valley was largely taken private, say company insiders in a message to MHProNews on 12.15.2020, but there are still some outstanding shares of  the stock from the days when it was a publicly traded firm.  Thus, there is still periodic activity on DVLY.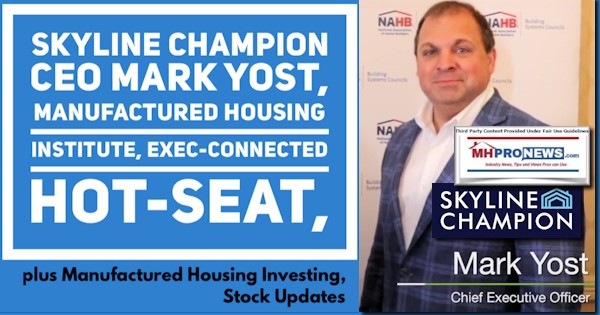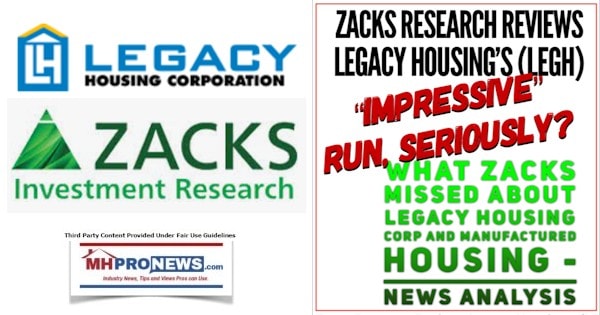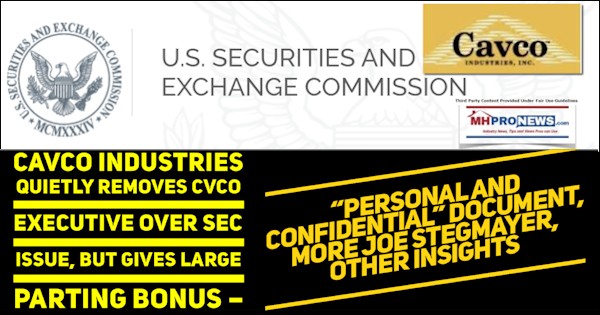 Spring 2021…
Berkshire Hathaway is the parent company to Clayton Homes, 21st Mortgage, Vanderbilt Mortgage and other factory built housing industry suppliers.
· LCI Industries, Patrick, UFPI, and LP each are suppliers to the manufactured housing industry, among others.
· AMG, CG, and TAVFX have investments in manufactured housing related businesses. For insights from third-parties and clients about our publisher, click here.
Enjoy these 'blast from the past' comments.
MHProNews. MHProNews – previously a.k.a. MHMSM.com – has celebrated our 11th year of publishing, and is starting our 12the year of serving the industry as the runaway most-read trade media.

Sample Kudos over the years…
It is now 11+ years and counting…
Learn more about our evolutionary journey as the industry's leading trade media, at the report linked below.
· For expert manufactured housing business development or other professional services, click here.
· To sign up in seconds for our industry leading emailed headline news updates, click here.

Disclosure. MHProNews holds no positions in the stocks in this report.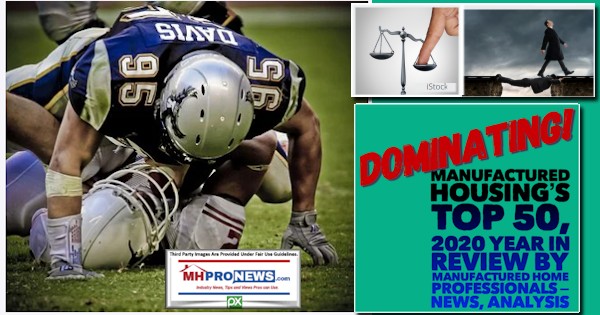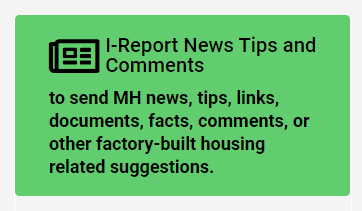 That's a wrap on this installment of "News Through the Lens of Manufactured Homes and Factory-Built Housing" © where "We Provide, You Decide." © (Affordable housing, manufactured homes, stock, investing, data, metrics, reports, fact-checks, analysis, and commentary. Third-party images or content are provided under fair use guidelines for media.) (See Related Reports, further below. Text/image boxes often are hot-linked to other reports that can be access by clicking on them.)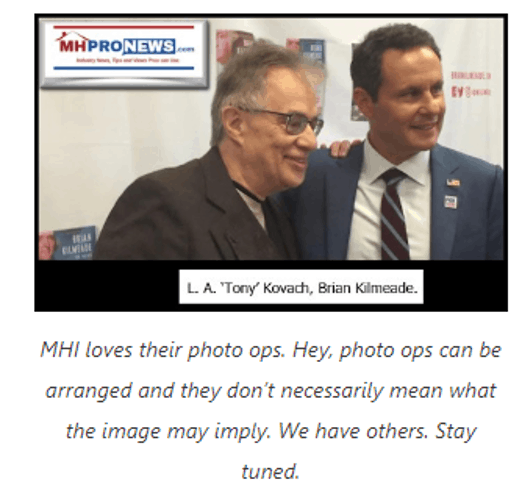 By L.A. "Tony" Kovach – for MHLivingNews.com.
Tony earned a journalism scholarship and earned numerous awards in history and in manufactured housing. For example, he earned the prestigious Lottinville Award in history from the University of Oklahoma, where he studied history and business management. He's a managing member and co-founder of LifeStyle Factory Homes, LLC, the parent company to MHProNews, and MHLivingNews.com. This article reflects the LLC's and/or the writer's position, and may or may not reflect the views of sponsors or supporters.