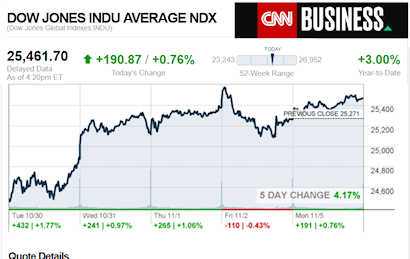 Markets rose, but they've been bouncing around pre-midterms through much of October.  This past weekend, several of the Sunday talk shows featured the booming economy.  It was a surprising pivot from media outlets that have kept mum of the economic boom in roughly 21 months of President Trump's administration. With a booming economy – recently rated by an international monitor as the best in the world – mainstream media voices are asking, why is the economy not getting more emphasis by Team Trump? Why are they closing instead of what Democrats and left-leaning media decry as a Willie Horton style theme?
If you're new, already hooked on our new spotlight feature – or are ready to get the MH professional fever – our headline report is found further below, after the newsmaker bullets and major indexes closing tickers.
The evolving Daily Business News market report sets the manufactured home industry's stocks in the broader context of the overall markets.  Headlines – at home and abroad – often move the markets.  So, this is an example of "News through the lens of manufactured homes, and factory-built housing." ©
Part of this unique evening feature provides headlines – from both sides of the left-right media divide – which saves busy readers time, while underscoring topics that may be moving investors, which in turn move the markets.
Readers say this is also a useful quick-review tool that saves researchers time in getting a handle of the manufactured housing industry, through the lens of publicly-traded stocks connected with the manufactured home industry.
This is an exclusive evening or nightly example of MH "Industry News, Tips and Views, Pros Can Use." © It is fascinating to see just how similar, and different, these two lists of headlines can be.
Want to know more about the left-right media divide from third party research?  ICYMI – for those not familiar with the "Full Measure," 'left-center-right' media chart, please click here.
Select bullets from CNN Money…
PERSPECTIVES I worked for the FBI. The mid-terms could be hacked, but here's the bigger threat
Tesla cuts price on Autopilot upgrade
Lowe's is closing 51 stores
FedEx is hiking rates again
7-Eleven hops on the self-checkout bandwagon
NBC and Fox News pull Trump campaign's racist ad
Facebook pulls Trump ad as well
'Boycott Amazon' is trending in Saudi Arabia
The mystery around Amazon HQ2 continues
Amazon offers free shipping on all holiday orders
Investors too optimistic about US stocks, and Millennials have too much cash
How the economy is playing in five close House races
Inside the battle over San Francisco's homeless tax
How narcissistic CEOs put companies at risk
Oil drilling is on the ballot
20181105-colorado-energy-ballot
Voters will decide on new safety and environmental regulations for Colorado
Iran is still exporting oil as sanctions deadline passes
Will Exxon's oil production keep shrinking?
Saudi Arabia has 'no intention' of repeating 1973 oil embargo
How the shale oil revolution made the U.S. the world's number 1 oil supplier
Applebee's is betting on stress eaters, and it's paying off
Starbucks' red and green holiday cups are back
Chick-fil-A is trying to get into your home
Dunkin' is serious about high-end espresso
Panera wants you to know exactly what's in your bread
Big Tech and the midterms: The scary thing is what we still don't know
The drastic rise of America's news deserts
Social media giants beef up election security
Facebook promised to fix political ads on its platform. It hasn't
Twitter took down thousands of accounts that discouraged voting in midterms
Select Bullets from Fox Business…
Amazon HQ2 to be split evenly between two cities: Report
Stocks mixed on eve of midterms as tech lags
Lowe's to close underperforming stores in US, Canada
Former GE CEO will get this much severance
Verizon to reorganize business segments[overlay type]
Verizon to reorganize business segments
Amazon: The Bezos Behemoth
Free shipping promotion could cost Amazon big bucks: Moody's
Amazon HQ2 search: Where Bezos' private jet has traveled most
Amazon drops free-shipping minimum for all customers
Trump's Iran sanctions: EU plans for workaround
Iran sanctions had 'enormous' economic consequences: John Bolton
IRS increases retirement contribution limits for 2019
The most livable mid-sized cities in America
Franchising fast food restaurants isn't as profitable as you think
Looking to sell your home? Top advice from the 'Property Brothers'
Ben & Jerry's, Patagonia take political stances before Election Day
Maxine Waters will 'grind down' Trump's deregulatory efforts: Jeb Hensarling
Midterms and marijuana: These 4 states will vote on legal pot
Here are the best credit cards for cash back deals
Subaru and Toyota to recall more than 400,000 vehicles
Inside the jobs report and why it did not disappoint
Microsoft is getting ripped off by China, losing $10B in profits
Today's markets and stocks, at the closing bell…

Manufactured Housing Composite Value (MHCV)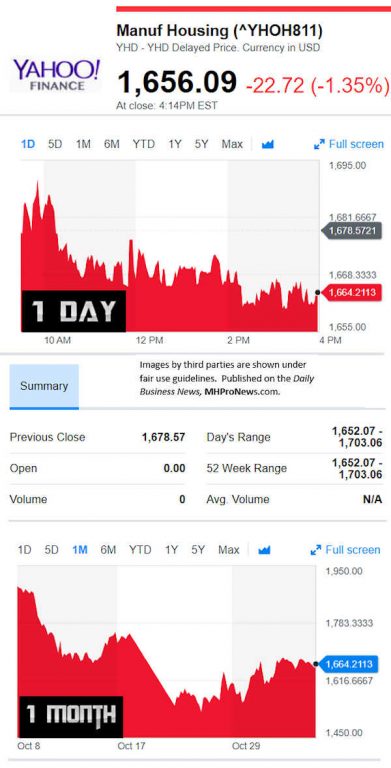 Today's Big Movers
For all the scores and highlights on tracked manufactured home connected stocks today, see the Bloomberg graphic, posted below.
Today's MH Market Spotlight Report –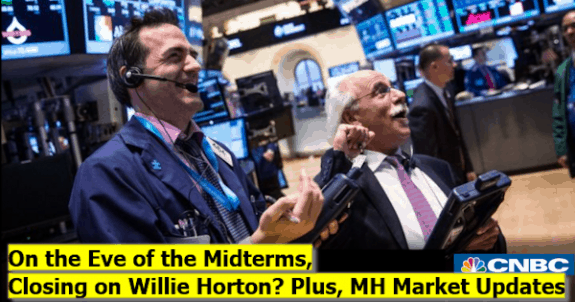 The die is almost cast.  The pundits and talking heads in 36 hours will be talking about why the results of the midterms.  The panels will ask, why did it go this way instead of that way?
Many now are saying that the market turbulence has been pre-election jitters.
Investors like certainty.
As part of the agenda media, CNBC tonight has a video that says that investors should "hope" for a split House and Senate.  They have a pundit that says that investors should want the GOP in charge of the Senate, and Democrats in charge of the House.  That's one view.
Some normally anti-Trump media outlets this past weekend surprisingly praised the economy, and then asked: why isn't the president spending more time talking about the economy than about immigration? Why did the GOP roll out an ad that even Fox News said they would not run?
A new GOP backing ad is being compared to the controversial Willie Horton ad from the late 1980s. That ad, by the way, worked. This is what a CBS affiliate in Boston, a clearly anti-Trump outlet had to say.  They include some clips of the controversial video, which features an illegal immigrant who killed cops, and said he wants to kill more.
What follows below is the controversial Willie Horton ad that some say helped sweep the George Bush to victory over Michael Dukakis.  Note that YouTube says that this ad was not run by the GOP or the Bush campaign.  The "Infamous attack ad from 1988 U.S. Election against Michael Dukakis. This ad was ran by the National Security PAC, not directly by the Bush/Quayle campaign," is how it was described.

Perhaps the Willie Horton ad would not have been described as racist if Willie had been Anglo, but the principle applied.  That's water under the bridge.
The illegals coming into the U.S. aren't white. Is it really racist to show clips of a courtroom video?
Immigration is a strong motivating issue for millions of GOP voters.  It is unclear if this ad will have the effect that it aims for, because it is being discussed by mostly negative news analysts in a mostly negative way.  Fox News won't run it.
That said, a few observations from those who have observed a number of Trump rallies in 2018.
The economy is discussed in some detail at rallies.
Health care is discussed, including the GOP position that pre-existing conditions will be protected.
Veterans' health care is a talking point.
The "right to try" law is discussed.
Defense and foreign policies are rally topics too.
All of that is framed in the context of "promises made, promised kept."
On immigration, it is one of the issues that gets voters motivated.
Texas has studied the immigration issue.  Literally hundreds of thousands of crimes in that state are committed by illegals.
According to Texas Department of Public Safety: "According to DHS status indicators, over 270,000 criminal aliens have been booked into local Texas jails between June 1, 2011 and October 31, 2018, of which over 182,000 were classified as illegal aliens by DHS."
This writers is someone who came to the U.S. legally.  Our publisher is the son of 2 legal immigrants, who applied and waited for years to come to America.
The immigration question is often morphed into something that it shouldn't be.  Laws exist for a reason.  Immigration laws exist for a reason too.  It is unjust and unsafe to allow people to enter the nation without vetting. It is unsafe for those making the journey.  It is unsafe for citizens on both sides of the border.
Will the president's gamble pay off on the immigration issue pay off?  In about 36 hours, we'll know more. For other topics, from an industry perspective, see the related reports, linked below.
Related Reports:
The following are not the only purported purveyors of monopolistic moats, manipulating misinformation, or harmful policies and practices. But they are a good start. The companies listed ought to broken up under federal antitrust laws. Not regulated. Broken up. Don't worry, the world didn't stop when the AT&T monopoly was broken up in the 1980s, America benefited.
Who Gets Credit? Latest National Data, Including Wages, Salary Jump Decade's High-VIDEOS, Plus MH Market Updates
Following Facts, Money – Sam Zell, Warren Buffett, Tim Williams/21st Mortgage, and Manufactured Housing
Bloomberg Closing Ticker for MHProNews…
NOTE: The chart below includes the Canadian stock, ECN, which purchased Triad Financial Services.
NOTE: The chart below covers a number of stocks NOT reflected in the Yahoo MHCV, shown above.
NOTE: Drew changed its name and trading symbol at the end of 2016 to Lippert (LCII).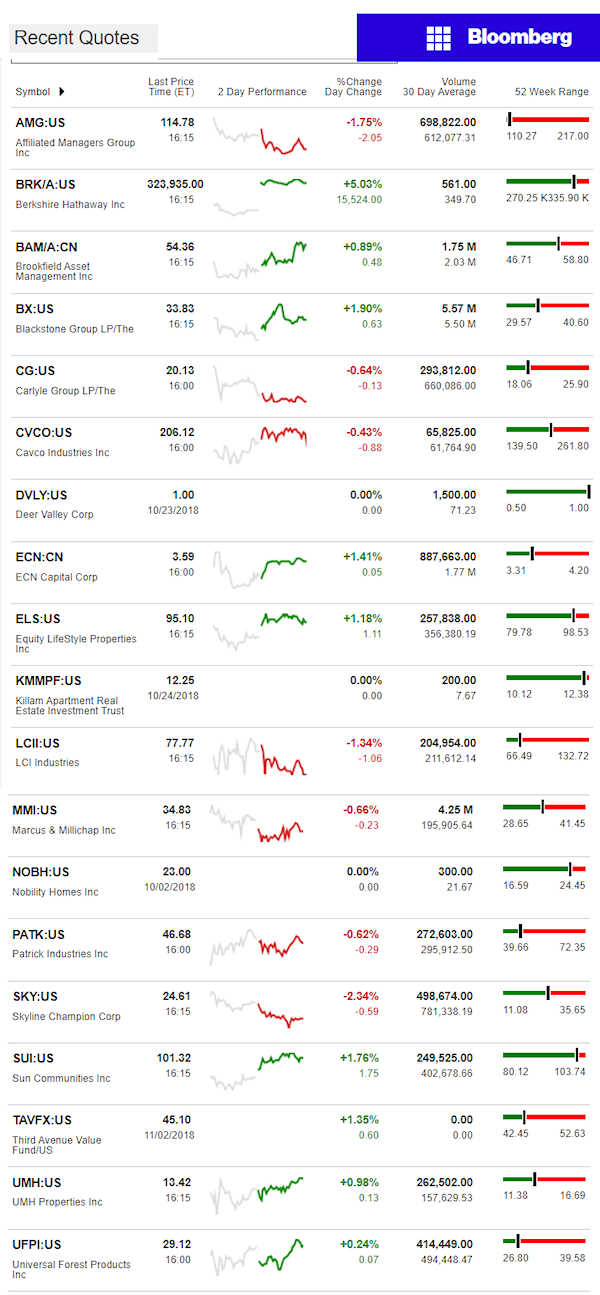 Berkshire Hathaway is the parent company to Clayton Homes, 21st Mortgage, Vanderbilt Mortgage and other factory built housing industry suppliers.
LCI Industries, Patrick, UFPI and LP all supply manufactured housing.
AMG, CG and TAVFX have investments in manufactured housing related businesses.
Your link to industry praise for our coverage, is found here.
For the examples of our kudos linked above…plus well over 1,000 positive, public comments, we say – "Thank You for your vote of confidence."
"We Provide, You Decide." © ## (News, analysis and commentary.)
(Image credits and information are as shown above, and when provided by third parties, are shared under fair use guidelines.)
Submitted by Soheyla Kovach to the Daily Business News for MHProNews.com.