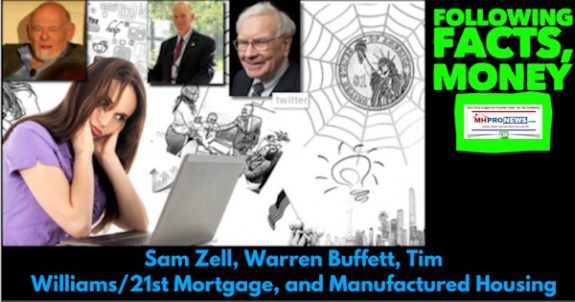 Opinions are common.  As the saying goes, opinions are a dime a dozen.
But facts, evidence, and money trails are nettlesome things.
Sam Zell
Sam Zell is the Chairman of Manufactured Home (MH) Community giant, Equity LifeStyle Properties (ELS). In the MH and RV site spaces – and related home sales and rental business – they are at the top with Sun Communities, per figures used by the Manufactured Housing Institute (MHI).
According to Open Secrets, which uses federal information sources, Sam Zell has given during the 2018 election cycle 100 percent of his campaign contributions to Republican (GOP, Grand Old Party) candidates.

ICYMI, or need a refresher, a prior Daily Business News on MHProNews report about Zell is linked below.
ELS' Sam Zell – Compliance Costs Destroys Smaller Businesses = Consolidation
Warren Buffett
Warren Buffett is the Chairman of the Berkshire Hathaway (BH) conglomerate. Buffett's Berkshire owns numerous manufactured housing connected brands. They include, but are not limited to:
Clayton Homes,
21st Mortgage Corp,
Vanderbilt Mortgage – which began making loans in the MHCommunities (MHC) commercial lending space – beyond making loans on manufactured homes for Clayton Homes,
Berkadia,
NAI,
Shaw Carpets,
Berkshire Hathaway Home Services,
plus numerous other suppliers and financial services firms, not overlooking BH's serious stake in controversy-laden Wells Fargo.
As MarketWatch and MHProNews reported last week, Buffett gave 100 percent of his campaign contributions to Democrats in the 2018 midterm election cycle.
MarketWatch Reports Warren Buffett's Midterm Campaign Contributions
It must be noted that via so-called "dark money" channels, Buffet has given to foundations and non-profit groups. Through those foundations, Berkshire money is supporting anti-MHC activist group, Manufactured Housing Action (MHAction).
Expose! Why Has Warren Buffett/BH Funded Anti-MHC Activists, MHAction? Why Fund Attacks on ELS, Frank Rolfe, Blackstone Group?
As we recently reported on MHLivingNews, MHAction has targeted with protests that drew mainstream media attention:
HUD Secretary Ben Carson,
ELS,
Frank Rolfe and Dave Reynolds led RVHorizons, MHPFunds, and Mobile Home University (MHC),
Blackstone Group, which MHProNews reported entered the MHC space last summer.
Even Golden State Manufactured-Home Owners League (GSMOL), another manufactured home owner resident group, has cautioned against MHAction.
If you scratch deeply enough, people of good will can find some common ground with others of good will. There will be disagreements between people. It has been so, since 'the fall,' and is expected to continue that way until time comes to an end.
Tim Williams
Tim Williams is the President and CEO Buffett's Berkshire owned 21st Mortgage Corp. Williams has been the subject of numerous reports, exclusive statements and interviews by MHProNews for several years.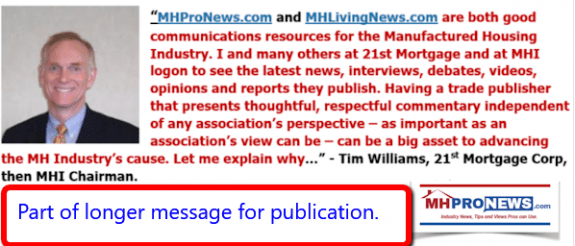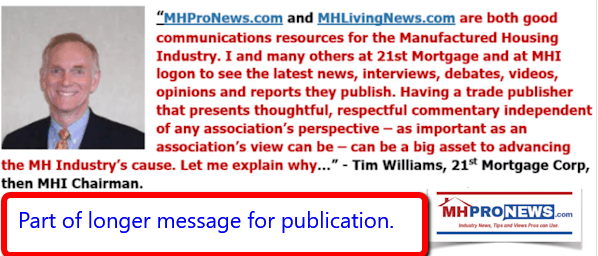 Williams, along with ELS' late Vice-Chairman Howard Walker, Williams has praised MHProNews and MHLivingNews, see the comments above and below.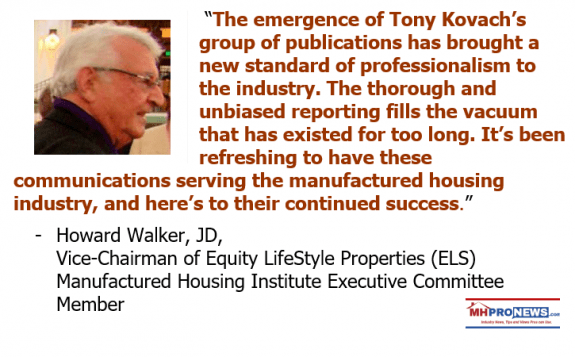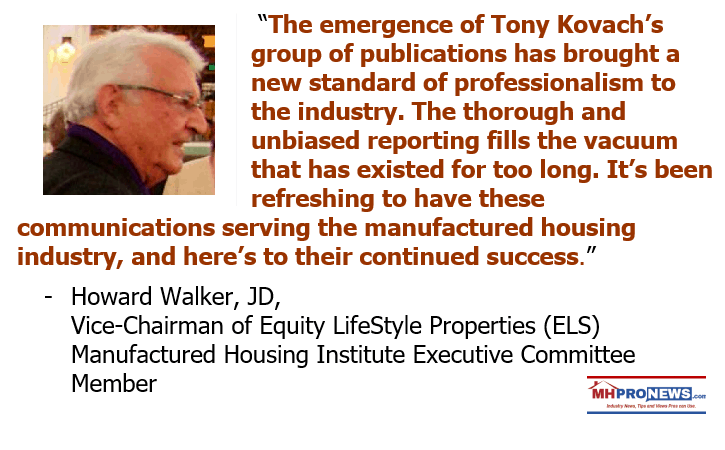 According to Open Secrets, Williams has split his personal campaign donations. Most, per that source, has gone to Republicans. But it is worth noting that Williams has given to high profile U.S. Senate candidates who are Democrats. Those Democrats include, but may not be limited to, Joe Donnelly (IN-D) and Sherrod Brown (OH-D).

Donnelly is considered the more moderate among Democrats, but Brown is pretty far leftist. What makes the Williams contributions controversial is the fact that Williams publicly blasted "progressives" in an MHI meeting, while he was still MHI Chairman.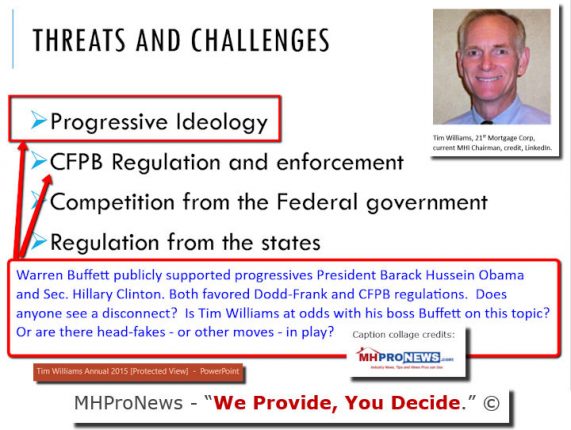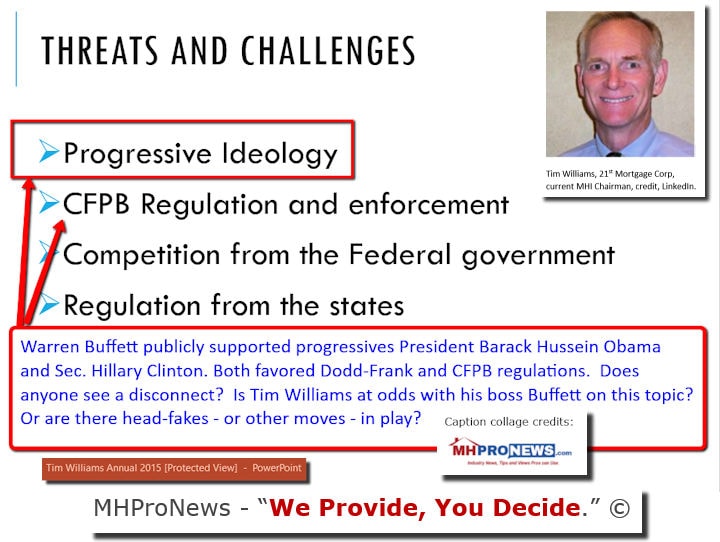 The Terrain on D-8
Both Senators Donnelly and Brown are in states that President Donald J. Trump (R) has campaigned in. It must be noted that it was President Trump who signed S. 2155, which gave the manufactured housing industry a measure of relief from the onerous MLO Rule imposed by the Consumer Financial Protection Bureau (CFPB, or more recently being dubbed the Bureau of Consumer Financial Protection (BCFP)).
It was after an MHProNews satirical image, that was followed by a spotlight from sources at the CFPB that said that MHI had not yet contacted acting director Mick Mulvaney about regulatory relief, that The Manufactured Housing Institute (MHI) reportedly began their push for repealing the MLO rule via S 2155.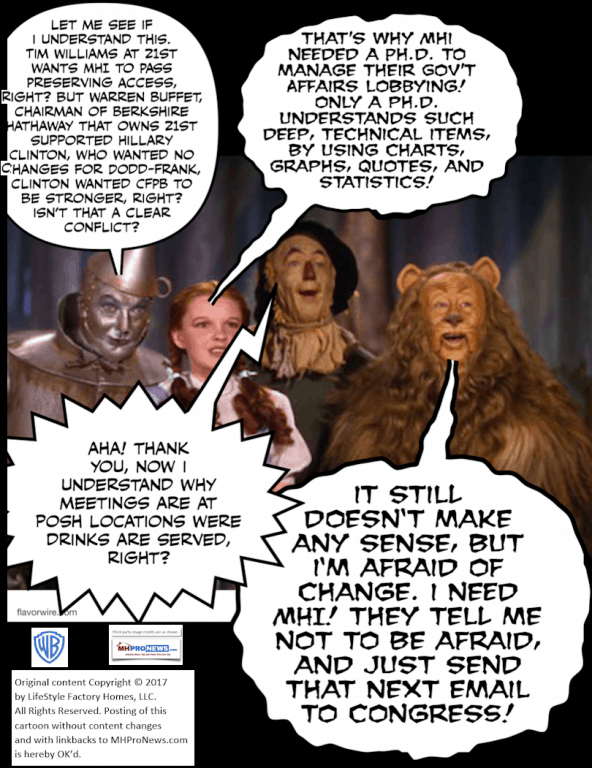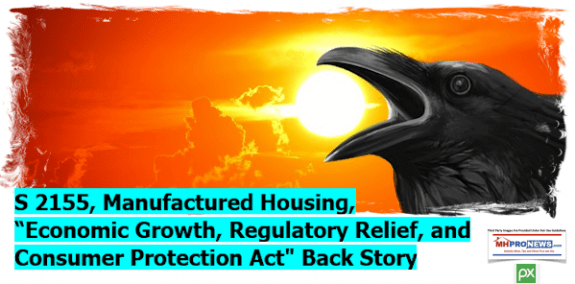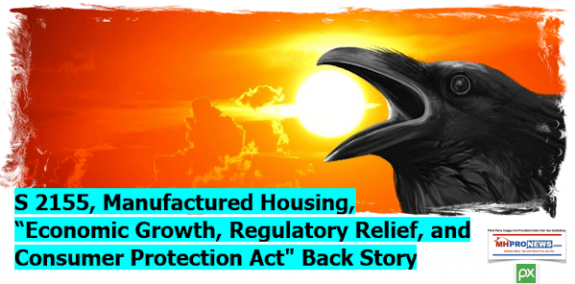 Because of the presence in Indiana of a Libertarian candidate who is drawing single digit polling that might otherwise go to the GOP, that Senate race is tight. But there is polling data that suggests that the Republicans are marginally ahead in both states.  The varied House races are a tougher call, but early voting data seems to suggest Republican momentum, in spite of what Nate Silver and other pro-Democratic pundits are saying.
Indiana, of course, is the state where Vice President Mike Pence (R) was governor. MHProNews sources have said that Pence understands MH industry issues, knows our industry's lingo, and has been supportive of manufactured housing.
President Donald J. Trump Visit to Manufactured Home Community, Video, Hurricane Florence Update
MHProNews was alone in industry trade media to point out the apparent conflict between Tim Williams/21st and his boss Buffett, or was it a head fake? Either way, it's problematic for thinking manufactured housing industry professionals, most notably independents.
7 of the top ten billionaires are backing Democrats, and have been for some time, per Open Secrets and other third-party sources. See the graphic below.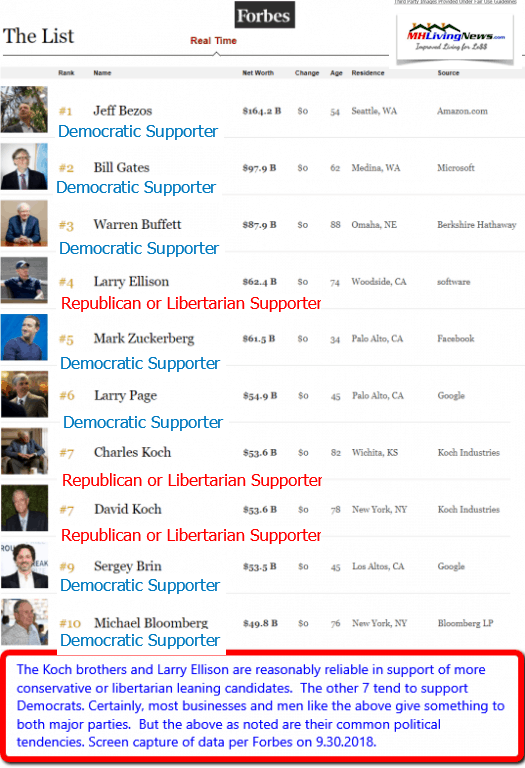 Connecting the Dots in and for MHVille
While Mr. Barack Hussein Obama was the 44th President, Buffett's grandson served in the Obama White House.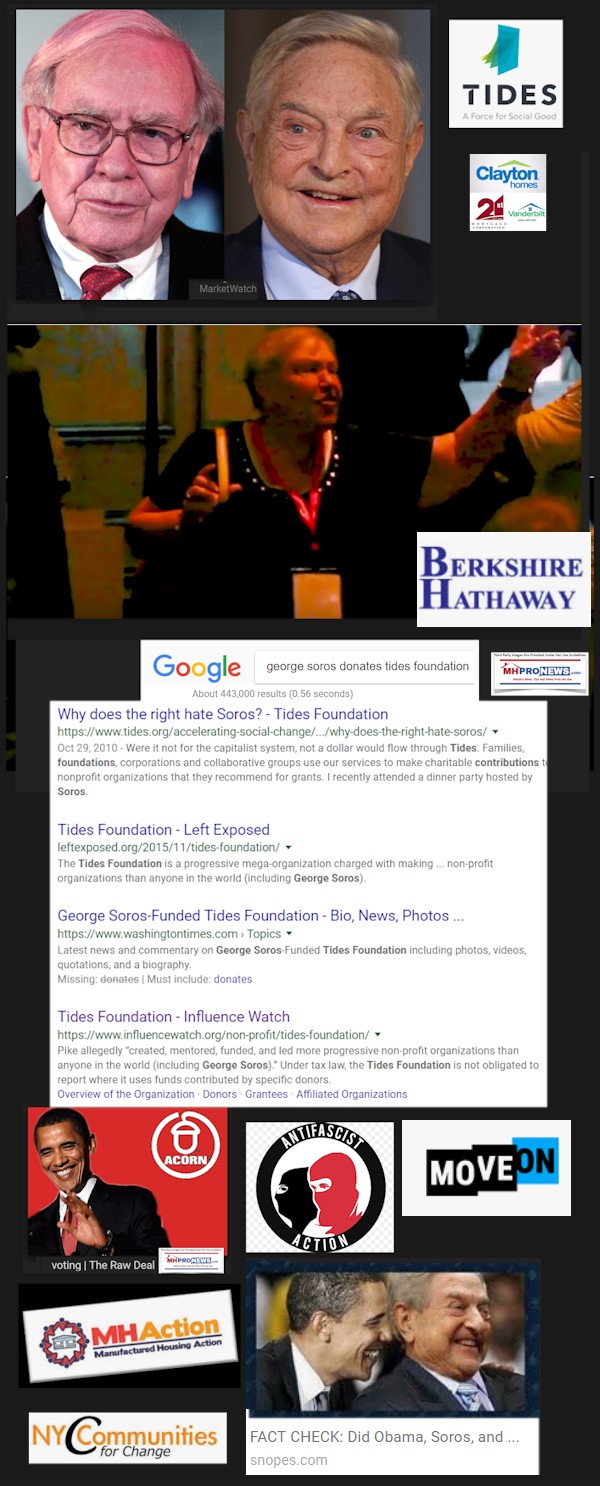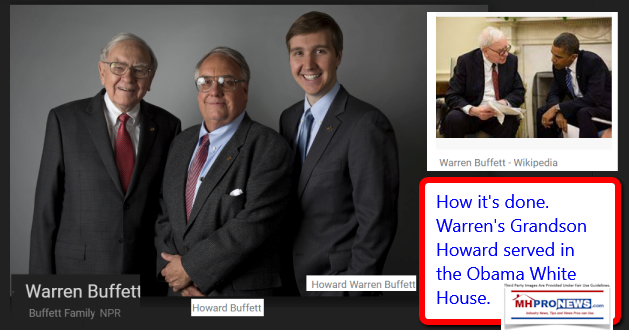 One could argue that Zell and ELS are trying to protect their interests against Berkshire Hathaway dominated MHI, by being in MHI. Speculation and statements on that topic vary.
But what the facts and money trail point to is that MHI leaders like Buffett, Clayton, Tim Williams, and Nathan Smith have supported Democratic candidates that have been working against the interests of the majority of manufactured home industry independents for all of the Obama era years.
"He's Lying," Campaign Insider Video – "Don't Do Politics?" Tell Jim Clayton, Phil Bredesen, and Marsha Blackburn, Preserving Access to Manufactured Housing Act Supporter
Sources tell MHProNews that Berkshire Brands in Manufactured Housing have worked for at least a decade to keep the Government Sponsored Enterprises (GSEs) of Fannie Mae and Freddie Mac out of chattel lending.  The Manufactured Housing Association for Regulatory Reform (MHARR) President and CEO, Mark Weiss has argued the GSEs are mandated to do chattel lending as part of their Duty to Serve (DTS) Manufactured Housing.
Next Steps? 
The Hill and other sources say that voters are following this midterm more closely than others. MHProNews data on 'hits' on various articles related to issues like those noted indicates something similar within the manufactured home industry's circles.
It should be noted that MHProNews respects the right of Buffett, Williams, Clayton or others to give their money and vote as they wish. That said, it is questionable for them to argue that they are working for regulatory relief, when they have supported candidates that have and are doing the opposite of regulatory relief to manufactured housing.
Greener, Stylish Manufactured Homes – Hidden Facts in the Washington Post Manufactured Housing Narrative
With November 6 only a week away on Tuesday, and early voting started, this is arguably the time for thinking professionals to see what has happened to them, at the hands of MHI's leadership.
That in turn leads to the point that it is the 45th President, Donald J. Trump's Administration that has shown in numerous ways that they are fighting to break down the barriers for manufactured housing that billionaires like Buffett, his minions, and his allies have built up.
Beyond voting wisely, please consider sharing posts like this with your fellow professionals. Also, consider sharing with home owners and consumers MHLivingNews, and specifically the related reports, linked herein and further below.
There are growing indications, even from mainstream media sources, that the so-called blue wave has not materialized.  Early voting has favored Republican turnout, per NBC News, the Hill and other mainstream media sources that span the left-right media divide.
But every election comes down to counting each vote, and that means motivated voters must show up and cast their ballots wisely.
With the Trump agenda clearly supporting the interests of small-to-midsized manufactured home businesses and homeowners, isn't it just logical to provide the Trump Administration with the Republicans in Congress that he needs to keep the momentum going?
Mr. Zell's money would seem to indicate that, while Mr. Buffett's dough continues to support building "the regulatory moat" that has grown Berkshire's grasp over manufactured housing for some 15 years.
Connecting the Dots in MHVille
Accurate information,
a clear understanding of how manufactured home professionals and homeowners alike have purportedly been played by deep Democratic billionaires have held sway over the MHVille, big tech, and other industries,
how it could be broken up, following successful GOP midterms, via antitrust action by the Trump Administration.
For more on how that could play out, see the related reports, further below. That's this morning's "News through the lens of manufactured homes, and factory built housing," © where "We Provide, You Decide." ©. ## (News, analysis, and commentary.)
(Related Reports are further below. Third-party images and content are provided under fair use guidelines.)
1) To sign up in seconds for our MH Industry leading emailed news updates, click here.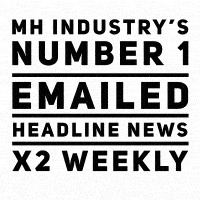 2) To pro-vide a News Tips and/or Commentary, click the link to the left. Please note if comments are on-or-off the record, thank you.
3) Marketing, Web, Video, Consulting, Recruiting and Training Re-sources
Submitted by Soheyla Kovach to the Daily Business News for MHProNews.com. Soheyla is a managing member of LifeStyle Factory Homes, LLC, the parent company to MHProNews, and MHLivingNews.com.
Related Reports

:
In all 50 states, it is difficult for renters to afford rental housing, based upon a wage of $15 an hour. According to the National Association of Realtors, the typical renter could own a manufactured home for less than the cost of their rent.
Smoking Gun 3 – Warren Buffett, Kevin Clayton, Clayton Homes, 21st Mortgage Corp Tim Williams – Manufactured Home Lending, Sales Grab?
The Coming Breakup of Berkshire? MHI? Plus Sunday Headline Recap 10-14-2018 to 10-21-2018