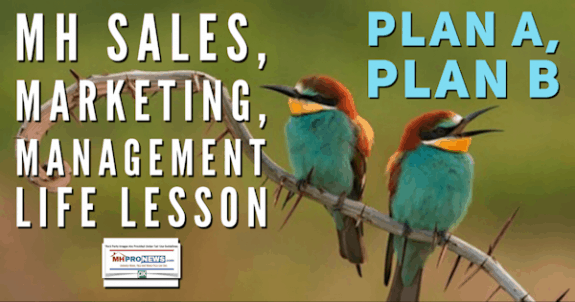 Imagine the following, because the odds are good that it has already happened to you and your business.
Let's presume for the next few minutes that you are an ethical person, working in an honest business.
Based on that, do you have to have a perfect product or service in order to sell it?
Of course not. If perfection was the standard, there would be NO business. "Excellence" was Apple founder Steve Jobs' standard.
Coach Lou Holtz standard was doing good, following the principles of the millennia-ageless "golden rule."
We tell professionals in columns and our clients "don't over promise, don't under deliver."
We did and do that in our MH businesses.
We do that in our publishing work too. Our website isn't perfect, this writer isn't perfect, but thousands of manufactured and factory-built housing professionals like yourself will logon today to see something good enough to read, consider, and perhaps do themselves. By the way, thank you, and know that serving you and thousands of others is a responsibility we don't take lightly.
Back to the headline point, the life lesson that impacts your business or professional routinely. What if someone smeared you personally, and/or smeared your operation.  What would you do?
Before answering the question, let's clarify the topic.
What is or isn't "a smear?"
The dictionary says that "smear" in this context means: "damage the reputation of [someone, some organization] by false accusations; slander."
So, a smear is a false accusation, designed to disparage someone or some operation's reputation.
There are some who confuse a true or evidenced based concern with a smear.  But spotlighting a legitimate issue isn't a smear at all. A smear is a lie designed to make you or your organization look bad.  If something isn't a lie, it isn't a smear.
That clarified, based upon our experiences in MHVille, smears happen routinely. They happen to us, they happen to others.
Before we get into specific smears, let's make a brief, but related point.  In a very real sense, Manufactured Housing as an industry has been smeared.
So as a professional or business, there must be a strategy to deal with the reality of smears.
I'm writing this on an iPad. That iPad or my iPhone does automatic word completion. It's a useful feature.  Odds are good you have a smart phone with a similar feature.  Have you ever had an automatic word turn out to be the wrong word? Or have you thought you typed one thing, and autocompletion or autocorrection was wrong?
It happens all the time, right?
It is an example of a good product, that isn't perfect product. Yet millions of smart phones of all brands have a similar feature.
You have a manufactured home for sale. It isn't perfect. It's not the Taj Mahal. But it doesn't have to be perfect! It only has to do the job it is supposed to do. I've personally sold as many as 15 homes in a month – closed, delivered, and funded – with double digits in the month before and after.  This isn't theory.  We talk facts, experience, and reality here.
The point is simple yet profoundly important to you, your business or location(s).
Solution to Smears?
So long as you don't over promise, or under deliver, part of the solution to smears are the following:
You have to continue to be who you authentically are, honest, responsible, delivering on every promise. Just HONESTLY showing up, day after day, doing the right work with the right words, will over time prove to discerning people that the smear isn't true.
One has to be willing to defend the truth. That's the truth of our industry, and the truth about you, your firm, your product or service. If your firm is a client of our business development services division, you already know how we do that, successfully. If you want coaching on this and you are the boss, send that message, or pick up that phone and call the number below. If you're not the boss, then talk to your boss, or send that person this article.
The Truth Well Told is Powerful, and NECESSARY. The truth well told is HUGE in debunking a smear.
We've paid attention to some companies and associations that have spent sometimes large sums of money with others (and I'm not knocking the others).  A year goes by.  Two years.  What actually changed for those firms or states? If there was only modest growth, was that growth any different than the growth rate of the industry at large?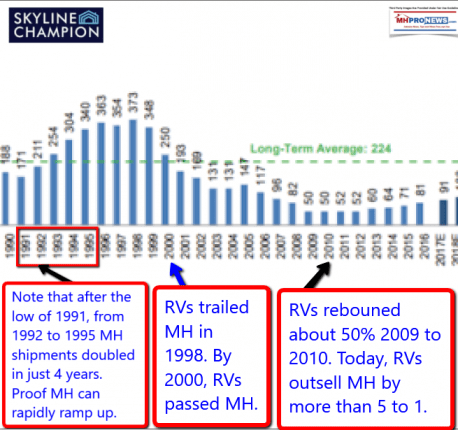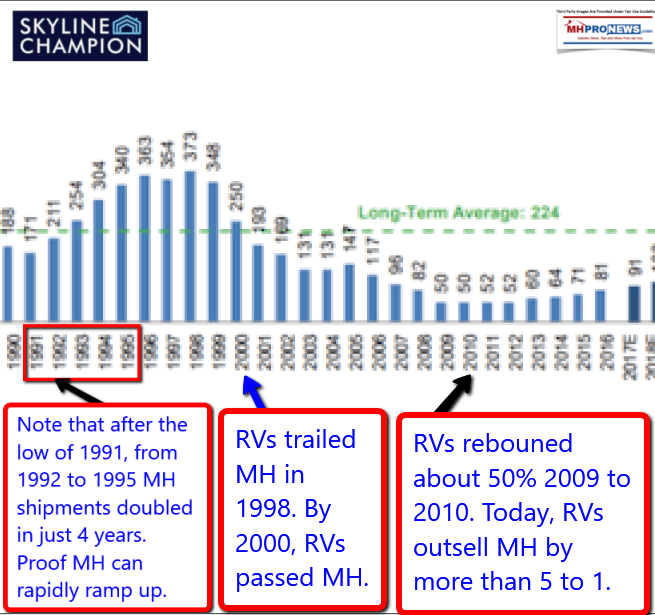 We show charts like the one above for good reasons. Thousands of manufactured home industry professionals have not experienced shipment levels 3, 4, or 5 or more times greater than they are today.
A Very Public Example of Beating The Smear
Closing on a very public example, which may sound political, but is in fact an amazingly powerful public example of the smear. Why is President Donald J. Trump controversial?  He's accused of all sorts of things.  Where is the evidence, beyond the smear?  The Mueller probe has gone mostly quiet.  Many of the attorneys who worked for special counsel Robert Mueller have left.  Everything has leaked out or was made public.
If there was a case against the 45th president, the whole world would know it.  Instead, there is this drum beat of racist, and other slurs – the smear – even though there were no such allegations about this same man before he started to run for the White House.  This president is an amazing example of how to deal with the smear.
Book after book came out that tried to paint the president as the devil's own brother.
Third-party research shows that 92 percent of mainstream media coverage of the president is negative.
Yet, at this point in his presidency, after years of "the smea

r

," the president's approval rating is higher than President Barack Obama at this same point in the two's presidencies. Yet, former President Obama had an often fawning media.
The point? How did President Trump accomplish what he has, in the face of an onslaught of attacks and smears?
A) POTUS Trump pushes back. He often points out the hypocrisy of the allegations, or shows how they contradict the facts.
B) POTUS Trump rallies and communicates with his base. He tweets. He holds rallies. He is communicating daily to his supporters, and his support has grown. 
C) POTUS Trump educates. Have you watched more than one of his rallies?  Have you watched one from start to finish, not just the 30 or 60 second sound bite on the evening news? The president is informing his base.  He is telling them what he promised, and what they've done. He uses facts and figures. Sure, he tries to make it entertaining and engaging. Millions love it.
If you hate, love or are somewhere in the middle on the president, you're getting a life lesson that is absolutely priceless. Pushback against the smear, and showing up and doing your job well are huge.
By this time Wednesday, the odds are excellent that the results of the midterms will be known. But you and we have to get up and go back to work, regardless of the outcome. Whatever the outcome, President Trump will go back to work too.  Ditto folks like you or we too.
One of the president's slogans is so smart. "Promises Made, Promises Kept." That works in business. It works in business and life too.
How do you beat the smear?
Frankly, some may never believe the truth. Some will accept the smear.
But if you do the right things, in the right ways, over time, it can be used to benefit you and your business. It's not easy, but it is doable.  The most obvious example is the 45th President.
Finally, you have to think long-term.  You have to plan your career and your location(s) like you are going to do this, and only this, for the next several decades.  Long-term thinking and "promises made, promises kept" has huge long-term benefits.
That's our Monday morning sales, marketing, management tip. That's "Industry News, Tips, and Views Pros Can Use." © where "We Provide, You Decide." ## (Manufactured housing related marketing & sales news, analysis, and commentary.)
(See Related Reports, further below. Third-party images and content are provided under fair use guidelines.)


By L.A. "Tony" Kovach – for MHProNews.com.
Tony is the multiple award-winning managing member of LifeStyle Factory Homes, LLC, the parent company to MHProNews, and MHLivingNews.com.
Office 863-213-4090 |Connect on LinkedIn:
http://www.linkedin.com/in/latonykovach
Sign Up Today!
Click here to sign up in 5 seconds for the manufactured home industry's leading – and still growing – emailed headline news updates.
Related References:
Proper Planning, Manufactured Housing, Marketing and Sales, Monday Morning Meeting
Sustainable Success. Your Best MH Investment? Monday Morning Manufactured Housing Sales and Marketing Meeting