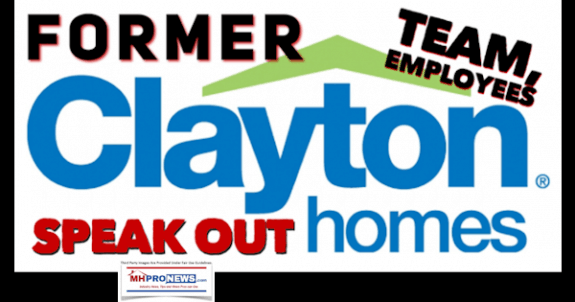 Pay more attention to what people do than to what they've said or promised. Then, "Follow the Money."
There have been several reports in recent years that have spotlighted troubling claims of problems with respect to Clayton Homes, and their Berkshire Hathaway lending affiliates, 21st Mortgage Corp and Vanderbilt Mortgage and Finance (VMF).
The call for comments from the Daily Business News on MHProNews has also drawn a steam of insider insights.
The last one is perhaps the biggest bombshell, and from a well placed source. But let's work up to that one by beginning with select quotes from a Value Walk analysis of Clayton Homes' denials. That Value Walk review will be followed by statements to MHProNews from Clayton team members and/or former employees.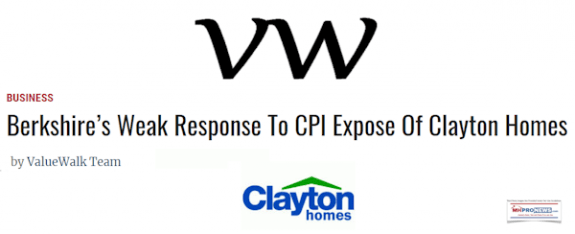 Per the Value Walk Team, From the Article Cited Above
According to Value Walk, in an article at this link here, "Clayton Homes published a rebuttal of CPI's investigation…as an article in the Omaha World Herald, but the article was full of half-truths and omissions. Moreover, it did not factually rebut a single fact presented by CPI in regard to its investigation."
The following are pull-quotes from Value Walk.
"The truth about Clayton Homes,"
"FACTS: Many customers interviewed as a part of the investigation said they were told that Clayton lenders were their only option or the best option, but offered no proof. Numerous customers did not realize and were not told, that the home dealers and lenders were part of the same company. Most said they were not encouraged to explore alternatives."
"FACTS: Two former Clayton dealers interviewed as a part of the investigation noted they received financial incentives, which they called "kickbacks," for financing buyers through Clayton lenders or adding on Clayton insurance products. A third former manager, who worked for the firm until late 2013, described constant pressure from his supervisor to make sure at least 80% of borrowers used Clayton financing."
"FACTS…Clayton has successfully pressured federal financial regulators against proposals to mandate appraisals on more transactions. Of note, the firm also succeeded in preventing new rules requiring full appraisals, including inspections, on loans for new homes that were secured by land."
"CLAIM: Loans over the past year had an "average total down payment of just under 19 percent."
FACTS: This one is pretty much a flat out lie in that Clayton is not referring to down payments in the traditional sense. The company has long advertised "$0 CASH DOWN" loans where customers put up land that they own instead of cash. Obviously, land collateral is very different from a cash down payment, because it does not reduce the balance of the loan or increase the borrower's equity in the asset being bought…"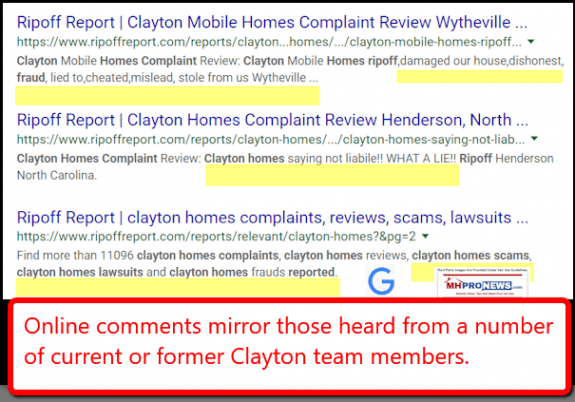 Taught to Pressure, Manipulate, Deceive and Lie
Let's note for balance that there are sources we've asked at Clayton that contradict, or explain the following or the above in different ways that their accusers do.
All motivated sellers want to close more deals, and sell more homes. It's a given. Done ethically, it's the free market at work.
That said, we have heard from multiple sources that Clayton Homes in their initial and ongoing training are encouraged to pressure prospects.  Clayton then rewards certain kinds of behaviors and outcomes.
A standing joke from sources in one Clayton region was that "divorce is good."
"A divorce means you can sell two manufactured homes instead of one," was how the company perspective was explained by more than one source at or formerly with Clayton.
One of them claimed that the "divorce is good" philosophy in sales dated back several years, and started "at the top" of the organization.
"There are several techniques we were shown that were manipulative," said another. "Some are so deceptive, that they might as well be a lie."
Some common threads are phrases designed to get the customer to commit today, or to go with in-house Vanderbilt for loans, vs. trying other sources of lower-cost lending. That's in keeping with Seattle Times, Value Walk and other mainstream media claims.
Indeed, when an online "Ripoff Reports" and/or some legal court filings are examined as third-party checks for accuracy, there are similar claims found there too.  See the screen capture, further above, which are just a sampling from 11.4.2018.
Why this Matters not only to Clayton, But Others in MHVille Too
The problem for non-Clayton companies in this purported pattern is that while it can be traced to a specific firm, because Clayton is the largest company in manufactured housing, it may cause others to think it is the entire industry behaves in this problematic fashion.
Given the number of independent retailers or producers that get good reviews from customers and avoid headlines or court rooms, what may be true about Clayton, clearly need not be true about others in the industry.
Again, in fairness, some Clayton members asked about these concerns often put a different light or spin on such issues and allegations.
Clayton GMs…
A key to the Clayton structure is their store location general manager, or GM. Many Clayton sales professionals are taught and encouraged to to aspire to the GM role.
That's what makes the following insight a possible earthquake for Clayton thousands of employees, their GMs and sales team members.
From a Key "Team Clayton" Member
'If Buffett and Clayton get their way, and finally conquer Manufactured Housing, here's what the Clayton GMs don't realize. Right now, a good Clayton GM can make 6 figure income, no problem,' said a longtime Team Clayton member, who added the following key insight. 'But if Clayton does wins, and they essentially take over the manufactured home marketplace, watch their GMs pay plan change. Then GMs will become more like a shoe store manager, earning maybe 50k to 70k.'
Rephrased, Clayton "success" at "conquering the industry" could be rewarded with a de facto pay cut.  If so, ouch and ouch.
Destroying the Competition
While the message below was posted publicly via social media to MHProNews, the name will be withheld for the sake of the sender. Having read one of the Smoking Gun reports, the Clayton man said, "What's wrong with destroying the competition?"
Smoking Gun 3 – Warren Buffett, Kevin Clayton, Clayton Homes, 21st Mortgage Corp Tim Williams – Manufactured Home Lending, Sales Grab?
For those who watch and read the related reports, linked above and below, keep the following in mind.
Pay more attention to what people do, than what they claim or promise.
Then follow the money.
In a society that tolerates a rigged system, professionals must be careful to avoid the traps, pitfalls, and swindles that are established which aim to "destroy the competition…" Loyalty to Clayton and their success could result in less earning power, and other possible problems, per sources.
That's manufactured home "Industry News, Tips and Views Pros Can Use," © where "We Provide, You Decide." © ## (News, analysis, and commentary.)
(Related Reports are further below. Third-party images and content are provided under fair use guidelines.)
1) To sign up in seconds for our MH Industry leading emailed news updates, click here.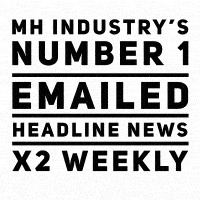 2) To pro-vide a News Tips and/or Commentary, click the link to the left. Please note if comments are on-or-off the record, thank you.
3) Marketing, Web, Video, Consulting, Recruiting and Training Re-sources
Submitted by Soheyla Kovach to the Daily Business News for MHProNews.com. Soheyla is a managing member of LifeStyle Factory Homes, LLC, the parent company to MHProNews, and MHLivingNews.com.
Related Reports

:
The following are not the only purported purveyors of monopolistic moats, manipulating misinformation, or harmful policies and practices. But they are a good start. The companies listed ought to broken up under federal antitrust laws. Not regulated. Broken up. Don't worry, the world didn't stop when the AT&T monopoly was broken up in the 1980s, America benefited.
Due Credit, Warren Buffett, Media, and Manufactured Housing's Historic Achievement
Nathan Smith, SSK Communities, and Manufactured Housing Institute (MHI) Slam New National Manufactured Home Communities Group in Written Statement