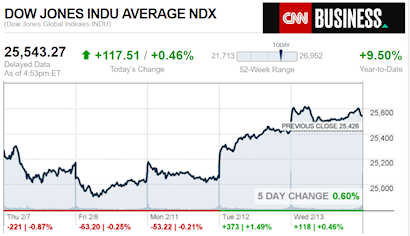 Some power-readers of the Daily Business News on MHProNews have effectively said, 'you need to be blunt in telling your readers how often you raise issues that no one else in manufactured housing trade media raises.'  Others have expressed this notion, 'your wheat and chaff' and sourcing across the aisle are common-sense principles your competitors lack.'  Yes, we have our political favorites whose policies make sense for America and our industry. MHProNews also has those whose policies – policies, not personalities – routinely are problematic for MHVille
That said, the Democratic U.S. Senators who signed letters obtained by MHProNews will be of interest for industry readers who look beyond the headlines at details that could prove useful for industry independents and investors. Those two Democratic letters are our featured report this evening.
If you're new, already hooked on our new spotlight feature – or are ready to get the MH professional fever – our headline report is found further below, after the newsmaker bullets and major indexes closing tickers.
The evolving Daily Business News market report sets the manufactured home industry's stocks in the broader context of the overall markets.  Headlines – at home and abroad – often move the markets.  So, this is an example of "News through the lens of manufactured homes, and factory-built housing." ©
Part of this unique evening feature provides headlines – from both sides of the left-right media divide – which saves busy readers time, while underscoring topics that may be moving investors, which in turn move the markets.
Readers say this is also a useful quick-review tool that saves researchers time in getting a handle of the manufactured housing industry, through the lens of publicly-traded stocks connected with the manufactured home industry.
This is an exclusive evening or nightly example of MH "Industry News, Tips and Views, Pros Can Use." © It is fascinating to see just how similar, and different, these two lists of headlines can be.
Want to know more about the left-right media divide from third party research?  ICYMI – for those not familiar with the "Full Measure," 'left-center-right' media chart, please click here.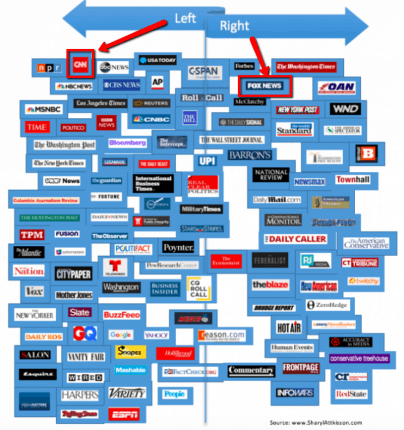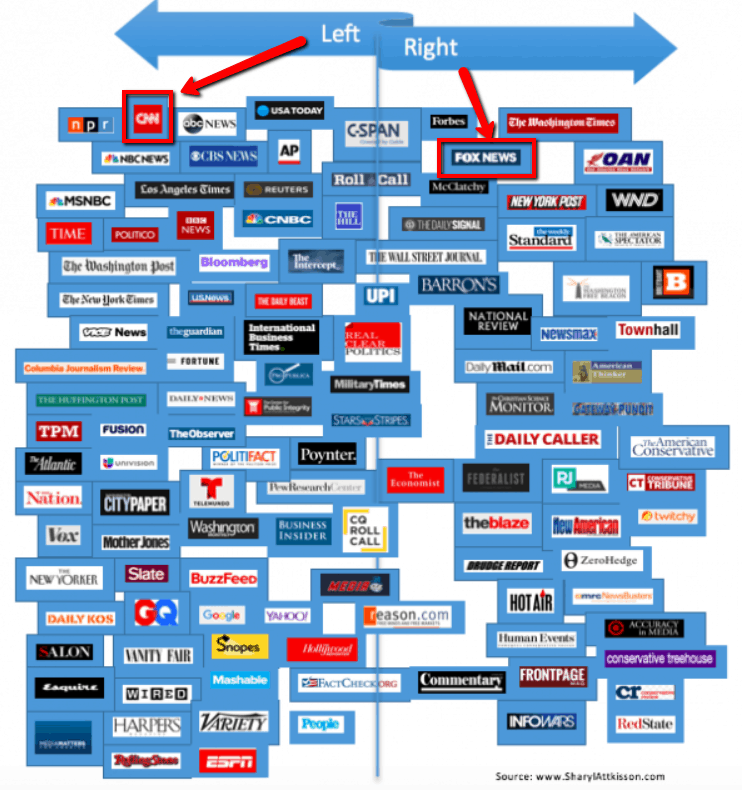 Select bullets from CNN Money…
The US dollar is getting even stronger
If the economy remains healthier than most other countries, the dollar will likely rally further
LIVE UPDATES Dow jumps 118 points to two-month high
The case for why this year will be bad for markets and 2020 will be worse
Trade turmoil could cause a recession this year
Remember MoviePass? It was just delisted
Former Apple lawyer accused of insider trading
Google to invest $13 billion in US data centers and offices this year
Carlos Ghosn won't get his $34 million payout from Renault
Marco Rubio wants to end stock buybacks' tax advantage
Levi's wants to be more than a jeans company, so it's going public
What is Rappler, the website targeted by the Philippine government?
Reports: Apple seeks 50% of revenue in deal with news publishers
Every business should have at least one of these cards (Here's why)
Why flowers get so expensive on Valentine's Day
Cowboy boots are pricey and tricky to buy. This startup wants to change that
E6TFXW Used car lot – Arlington, Virginia USA
More Americans are behind on their car loans than ever before
I binge-watched Amazon's version of QVC for a day. Here's what I learned
Levi's thinks it can be much more than a jeans company
Toys 'R' Us wants to return to the United States
Can Sears ever win back its customer base?
Target is expanding its free loyalty program
Companies use your data to make cash. California thinks you should get paid
Amazon defends its facial-recognition technology
Germany orders Facebook to change how it gets data
Data privacy drama can't stop Google
Apple says Facebook's controversial market research app violated its policies
Select Bullets from Fox Business…
Stocks extend week's gains on trade optimism
Trump economy working for bottom 10% of Americans: Hassett
US government ran a $14B deficit in December
Tennessee 'very interested' in Amazon HQ2 after NYC strife
World's most expensive island oasis – with private beaches, nightclubs and resorts – is for sale
The group of islands are set against a backdrop of the Arabian Peninsula.
Taxpayers fight back over IRS refunds issues
These are the 20 richest towns in the US
Here's what change Bill Belichick made to his boat after Super Bowl win
Chick-fil-A gives millions in scholarships but most employees want to stay
7M Americans behind on auto loan payments
Bill Gates says he should pay higher taxes, doesn't 'deserve' his fortune
Tim Tebow turned down AAF offer to pursue baseball, Steve Spurrier says
Why Whole Foods is raising prices
Green New Deal: There's some good news about it, Varney says
T-Mobile, Sprint battle criticism over $26.5B merger on Capitol Hill
Whole Foods, Netflix, U.S. stamps will cost more this year, here's a full list
Trump admin charges former Apple exec with insider trading
Here's what Eddie Lampert has planned for Sears
Chicago Cubs games to be broadcast on new cable channel this season
Today's markets and stocks, at the closing bell…

Today's Big Movers
For all the scores and highlights on tracked manufactured home connected stocks today, see the Bloomberg graphic, posted below.
Today's MH Market Spotlight Report –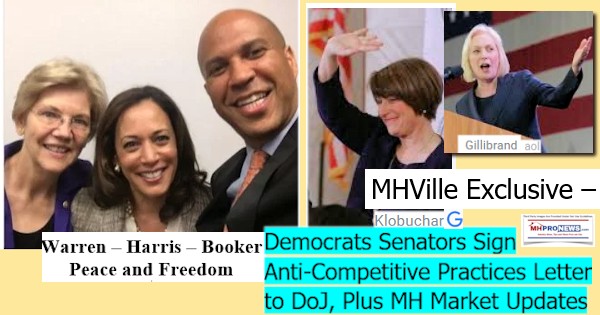 Senator Richard Blumenthal's (CT-D) office provided the Daily Business News on MHProNews with two letters that on the surface may not seem to matter to our industry.
But a closer look will tell industry leaders that these policy stances – if implemented – could be a boon to manufactured housing independents, possible newcomers, and almost all save the monopolists.
The topic is the proposed merger between Sprint and T-Mobile.  This matters to MHVille because of the principles involved, as a close reading of what follows will reveal.  Keep in mind the report on MHLivingNews that cited Senator Elizabeth Warren's legal rationale for why antitrust action could be initiated without new legislation. That report, is linked via the text/image box below. That report, could be significant for manufactured housing – if and when regulators bring action in MHVille.
variation of a Texas maxim. Seeking bipartisanship can be dangerous, as the dark humor noted above reminds readers. But let's risk finding common ground for the next few minutes. Affordable homes ought to be a non-partisan or bi-partisan issue. The topic of this column, properly understood, is likewise a non-partisan challenge that at least on paper enjoys bi-partisan support.
Tuesday, February 12, 2019
Senators express staunch opposition to merger that would "lead to job losses and harm workers around the country" and bring "higher monthly bills for consumers."
Senators urge the Department of Justice & the Federal Communications Commission to reject the merger, warning that approval would "be a sharp blow to competition" and "undermine innovation."
[WASHINGTON, DC] – Expressing their staunch opposition to the proposed merger between T-Mobile and Sprint, U.S. Senator Richard Blumenthal (D-CT) led eight colleagues today in writing to the Department of Justice's (DOJ) Antitrust Division and the Federal Communications Commission (FCC), urging DOJ and FCC to reject the proposal. The merger is"likely to raise prices for consumers, harm workers, stifle competition, exacerbate the digital divide, and undermine innovation," wrote the senators in letters to Assistant Attorney General Makan Delrahim and FCC Chairman Ajit Pai. In the letter to Delrahim, the senators urged DOJ to seek an injunction to block the merger. The two letters were co-signed by U.S. Senators Amy Klobuchar (D-MN), Tom Udall (D-NM), Sherrod Brown (D-OH), Kirsten Gillibrand (D-NY), Elizabeth Warren (D-MA), Bernie Sanders (I-VT), Cory Booker (D-NJ), and Edward J. Markey (D-MA).
"For more than 30 years, our enforcers have understood that fostering robust competition in telecommunications markets is the best way to provide every American with access to high-quality, cutting-edge communications at a reasonable price.  This merger will turn the clock back, returning Americans to the dark days of heavily consolidated markets and less competition, with all of the resulting harms," wrote the senators in both letters. "Our enforcement officials are the last line of defense preventing reconsolidation of our telecommunications markets at the expense of American consumers. We urge you to act to prevent this dangerous merger from proceeding."
Consumer advocates, economists and small wireless carriers have warned that a T-Mobile-Sprint merger would increase market consolidation. The merger would result in just three competitors—down from four—covering the wireless market. This would be "a sharp blow to competition in the telecommunications industry,"wrote the senators, warning that as a result of the merger, "three remaining members of this exclusive club will have every incentive to shut the door on new members, happily divide the market, and collect ever-rising monthly rents from wireless subscribers with few real alternatives."
"We are deeply concerned that the merger of Sprint and T-Mobile in particular will eliminate competition that has been shown to benefit consumers and stifle the emergence of new carriers,"the senators added.
For nearly a decade, DOJ and the FCC have acted vigorously to protect competition in the mobile market through blocking and discouraging four-to-three mergers. In 2011, DOJ acted decisively to reject AT&T's proposed merger with T-Mobile and, according to news reports, T-Mobile and Sprint abandoned previous merger plans after conversations with federal regulators."History has proven that those were the right decisions,"wrote the senators in both letters.
Consumers have "benefited from increased innovation and price competition" brought by a four-carrier market, as exemplified by the fierce competition of T-Mobile and Sprint. The T-Mobile-Sprint merger would undo these benefits and "likely lead to higher monthly bills for consumers" and "lead to job losses and harm workers around the country," wrote the senators in their letter to the FCC. According to one expert study, consumers would see their monthly bills increase at least 9% for post-paid plans and 10% for pre-paid plans. The proposed merger would also lead to reduced wages and kill jobs – as many as 30,000 jobs according to the Communications Workers of America.
"If this merger is approved, the rising cost of wireless services will be borne most heavily by low-income consumers and vulnerable seniors who can least afford it. At least one study has concluded that this merger will dramatically increase consolidation in the prepaid market," wrote the senators. "Because low-income consumers disproportionately rely on the prepaid wireless market, these communities will suffer the most, despite being the very communities that our antitrust laws should most vigorously protect."
In their letter, the senators also called into question claims that the merger is needed to build out 5G networks. "T-Mobile's and Sprint's sudden claims that neither can create a competitive 5G network separately flies in the face of announcements, disclosures, and marketing to consumers and investors over the past two years," wrote the senators.  "Not only do each of these companies have their own path forward to achieving 5G coverage, but the financial details of this deal and the technical challenges of building a 5G network suggest that the New T-Mobile is unlikely to meaningfully speed up the deployment of nationwide 5G."
The full text of today's letters are available here: Letter to FCC and Letter to DOJ.
— End of statement from Senator Blumenthal's office. —
Video on Same Topic Democratic Hopefuls Push Back on Deal
Eight Democratic senators are opposing a deal to merge T-Mobile and Sprint, states Watchit. The group of senators called on the FCC and Justice Department to block the merger because it will likely raise prices for consumers. But the group of senatorial colleagues have another thing in common, many are presidential candidates. The group, including Amy Klobuchar, Kirsten Gillibrand, Elizabeth Warren, Bernie Sanders, and Cory Booker, signed letters for the FCC and the Justice Department. The letters come just before the first of two oversight hearings on Capitol Hill regarding the merger.
It should be noted that the Trump Administration, including the president himself and his 2020 campaign manager, Brad Parscale, have raised their own antitrust issues.  Some examples of those are linked in related reports, below.
Time will tell what, if anything, occurs in the way of antitrust action on firms such as Berkshire Hathaway and their subsidiaries in manufactured housing.  What is beyond question to careful watchers is that compared to prior 8 – some would say 16 years – before the Trump Administration, there is more antitrust talk in the air.
Related Reports

:
Draft EO for Trump Administration AntiTrust Order Obtained by MHProNews
Brad Says POTUS Trump is Right: More than Facebook & Twitter, Google Threatens Democracy, Online Freedom
Bloomberg Closing Ticker for MHProNews…
NOTE: The chart below includes the Canadian stock, ECN, which purchased Triad Financial Services.
NOTE: The chart below covers a number of stocks NOT reflected in the Yahoo MHCV, shown above.
NOTE: Drew changed its name and trading symbol at the end of 2016 to Lippert (LCII).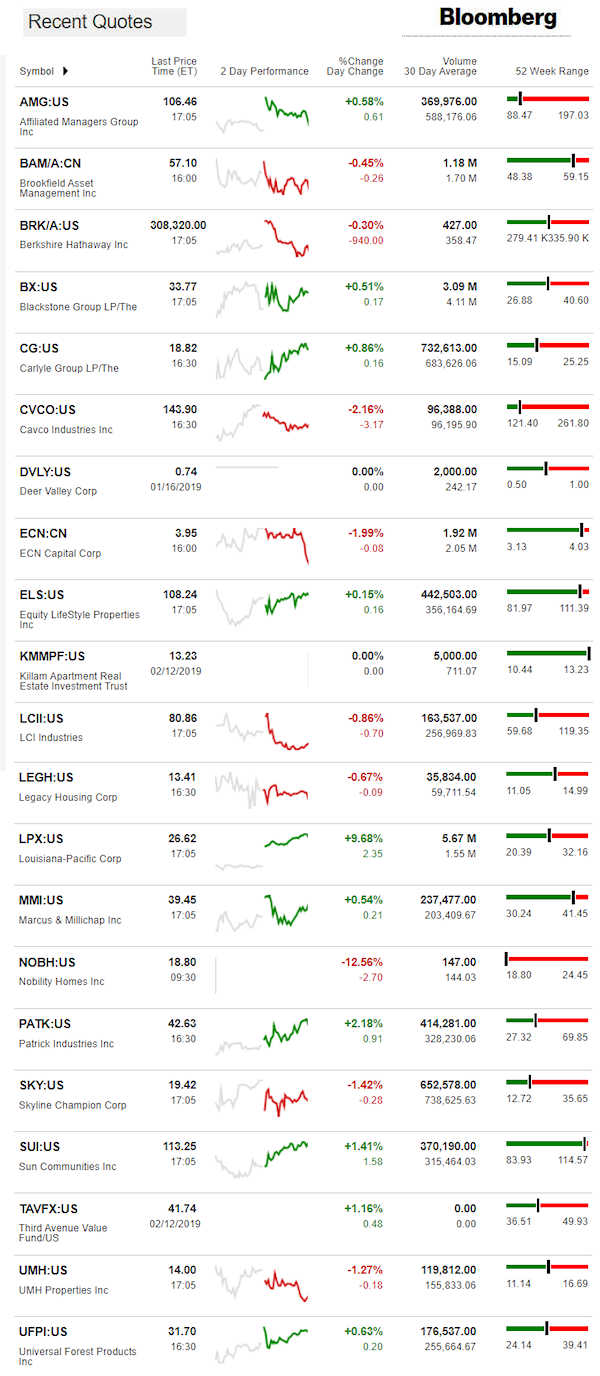 Berkshire Hathaway is the parent company to Clayton Homes, 21st Mortgage, Vanderbilt Mortgage and other factory built housing industry suppliers.
LCI Industries, Patrick, UFPI and LP all supply manufactured housing.
AMG, CG and TAVFX have investments in manufactured housing related businesses.
Your link to industry praise for our coverage, is found here.
For the examples of our kudos linked above…plus well over 1,000 positive, public comments, we say – "Thank You for your vote of confidence."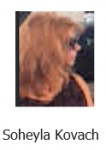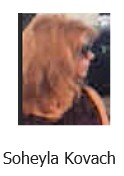 "We Provide, You Decide." © ## (News, analysis and commentary.)
(Image credits and information are as shown above, and when provided by third parties, are shared under fair use guidelines.)
Submitted by Soheyla Kovach to the Daily Business News for MHProNews.com.