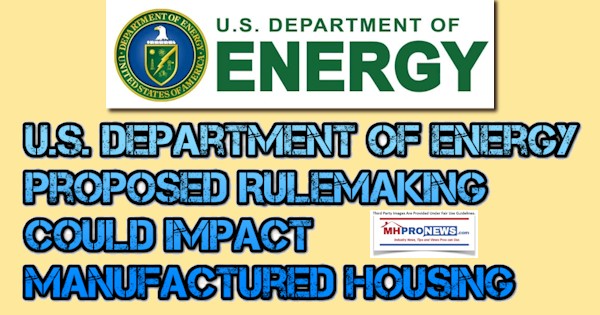 The Department of Energy was established during the administration of President Jimmy Carter.
The creation of the DOE was a throwback to the drama of lines at U.S. gas stations arguably sparked by policies from the Organization of the Petroleum Exporting Countries or OPEC.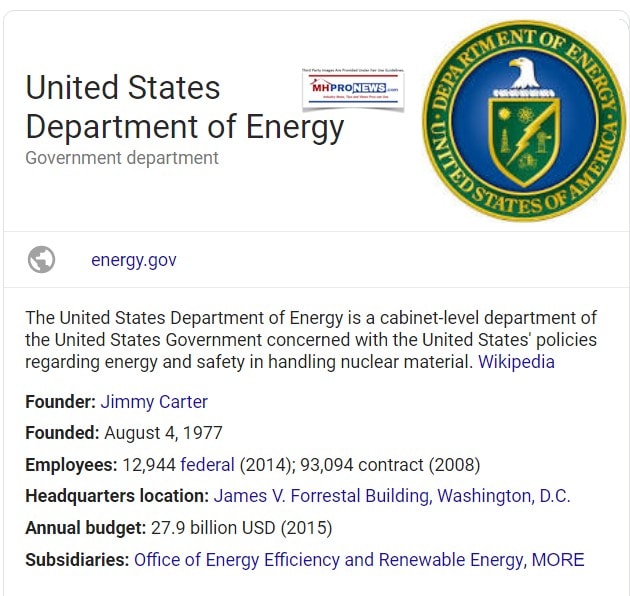 Decades of American involvement in Middle Eastern affairs was just part of the ebb and flow of oil, energy, terror, or geopolitical issues.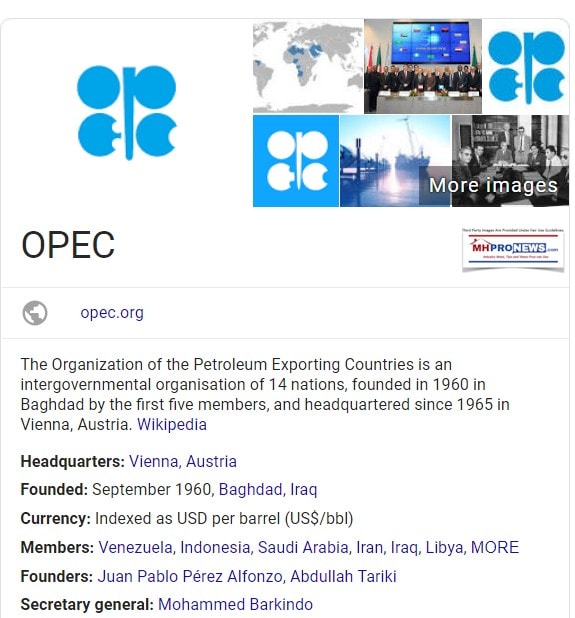 Fast-forward to the 2019.  A generation has grown up that has no experience much less memory of those episodes from the 1970s.  The U.S. says it is now the top oil and gas producer in the world. Texas, per reports, is now producing more oil and gas than at any other time in its history.
And from the great state of Texas comes former Governor Rick Perry, who is now the Secretary of the Department of Energy.
With that brief backdrop, is this press release to the Daily Business News on MHProNews from the Manufactured Housing Association for Regulatory Reform or MHARR.

FEBRUARY 13, 2019
TO:                  MHARR MANUFACTURERS
                        MHARR STATE AFFILIATES
                        MHARR TECHNICAL REVIEW GROUP (TRG)
FROM:             MHARR
RE:                  NEW PROPOSED ENERGY STANDARDS RULE SHOULD 
                        APPLY TO MANUFACTURED HOUSING ENERGY RULEMAKING
The U.S. Department of Energy (DOE) has published a new proposed rule in the February 13, 2019 Federal Register (copy attached) that would significantly modify its procedures for developing new or revised energy conservation standards and related test procedures for consumer products, "appliances," and certain commercial and industrial equipment.
While the proposed rule, as published, does not specifically reference standards development and/or test procedures under section 413 of the Energy Independence and Security Act of 2007 (42 U.S.C. 17071) directly pertaining to manufactured homes, the proposed rule does, by its terms, apply to DOE's Appliance Standards Program — the same program under which the original proposed DOE manufactured housing energy standards rule (published June 17, 2016) was developed and subsequently modified by DOE pursuant to a Notice of Data Availability (NODA) published in the Federal Register on August 3, 2018. Industry members will recall that the manufactured housing energy rule had not substantially progressed at DOE until a segment of the industry, together with energy special interests (and DOE) in 2014, sought and engineered an illegitimate, truncated, dysfunctional "negotiated rulemaking" under DOE's "appliance" rulemaking process, as a fig-leaf designed to achieve a pre-ordained result.
Given that the proposed (and still pending) DOE manufactured housing standards were developed under DOE Appliance Standards Program procedures that are addressed by the changes proposed in the February 13, 2019 DOE Notice, MHARR will file comments with DOE seeking to have the procedural modifications noted in the proposed rule applied to the manufactured housing proceeding, which would constitute yet another basis (among many others previously detailed by MHARR) for the withdrawal of any and all previously-proposed versions of the DOE manufactured housing standards – developed under or derived from — the inherently tainted DOE "negotiated rulemaking" process, and the ultimate development of a new rule based on a legitimate and lawful standards-development process consistent with the regulatory policies of the Trump Administration.
Among other things, the February 13, 2019 proposed rule would: (1) expand various procedural protections to test procedure rulemakings for regulated products; (2) define "a significant energy savings threshold that must be met before DOE will update an energy conservation standard;" and (3) "clarify DOE's commitment to publish a test procedure six months before a related standards [Notice of Proposed Rulemaking]."  This is particularly significant in relation to DOE's proposed manufactured housing energy standards, insofar as proposed test procedures were not published by DOE until after publication of the June 17, 2016 proposed rule, as was pointed out by MHARR at the time.
Written comments on the proposed rule are due by April 15, 2019.  MHARR will submit comprehensive comments (and participate in related meetings) in advance of the April 15, 2019 deadline and will make its comments available for reference by industry members.
As always, MHARR shall keep you apprised of any new developments in this matter.
cc:  Other Interested HUD Code Industry Members
— end of MHARR release —
See the related reports, below the byline, business development opportunities, and notices.  "We Provide, You Decide." © ## (News, analysis, and commentary.)
NOTICE: You can get our 'read-hot' industry-leading emailed headline news updates, at this link here. You can join the scores who follow us on Twitter at this link. Connect on LinkedIn here.

NOTICE 2: Readers have periodically reported that they are getting a better experience when reading MHProNews on the Microsoft Edge, or Apple Safari browser than with Google's Chrome browser. Chrome reportedly manipulates the content of a page more than the other two.
(Related Reports are further below. Third-party images and content are provided under fair use guidelines.)
1) To sign up in seconds for our MH Industry leading emailed news updates, click here.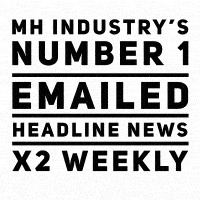 2) To pro-vide a News Tips and/or Commentary, click the link to the left. Please note if comments are on-or-off the record, thank you.
3) Marketing, Web, Video, Consulting, Recruiting and Training Re-sources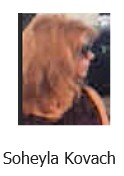 Submitted by Soheyla Kovach to the Daily Business News for MHProNews.com. Soheyla is a managing member of LifeStyle Factory Homes, LLC, the parent company to MHProNews, and MHLivingNews.com.
Related Reports

:
You can

click on the image/text boxes

to learn more about that topic.
MHPro Alert: DOE Issues Manufactured Housing Energy Rule RFI
" We recently did an audit of where we stand year over year, and we are up at a rate about double that of the industry's growth," said Stan Posey, sales manager at Sunshine Homes. " 2016 was up about double the growth rate of the industry at large over 2015.
Will Costs Rise $6,000 per Home? DOE Energy Rule on Manufactured Housing Revived, MHARR Rattles Legal Saber
Manufactured Housing Institute (MHI) Shifts on DOE Regulatory Rule, Report, Analysis
NAHB Report – High Cost of Regulations Impact Housing – and Manufactured Housing
HUD Comment Letter – FR-6075-N-01 Regulatory Review of Manufactured Housing Rules
Report: Manufactured Housing Institute (MHI) Follows Prior MHProNews Lead
Court Hands DOE Procedural Victory in Potentially Costly Manufactured Housing Energy Standards Case
Contact: MHARR (202) 783-4087 Washington, D.C., September 17, 2018 – The Manufactured Housing Association for Regulatory Reform (MHARR) filed written comments ( see, copy attached hereto) on September 17, 2018 responding to an August 3, 2018 Notice of Data Availability and Request for Information (NODA) published by the U.S.
Electrifying Price Hikes Threatened; Manufactured Housing DOE Energy Rule Controversies Heat Up
DOE RFI Closed, But Issue, Impact Still Looms over Manufactured Housing, HomeBuyers
Washington, D.C., December 18, 2017 – The proposed rule to implement manufactured housing "energy" standards, published by the U.S.
FROM: MHARR RE: REVIVAL OF DOE ENERGY RULE MAY REQUIRE LEGAL ACTION The revival of a previously "inactive" energy rule for manufactured homes by the U.S. Department of Energy (DOE) may trigger legal action by MHARR on behalf of smaller HUD Code industry businesses.