The Daily Business News plans to review a mainstream news story next week that featured as part of their headline the phrase, "Vulture Capitalists."
An upset resident/activist group used the phrase, which of course the mainstream media repeated.
Like it or not, that's part of the reality of numerous companies in MHVille.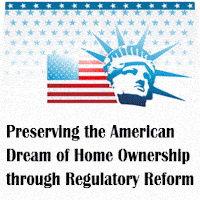 The operative question for those who want to improve their bottom lines ought to be, what can be done about an image or vexing issues like that one? Let's start to unpack that question and topic, with some facts, evidence and common sense.
Status Quo
Doing nothing will logically only continue the past pattern.
Marty Lavin told MHProNews a few days ago that the industry has seen hundreds of stories similar to Bloomberg's recent positive report on modern manufactured homes.
Lavin's view is that nothing changed before, why should it be different now?
"156," and "Questioning Politics"
Our publisher L. A. 'Tony' Kovach and his brother Tom often have wildly different views on political, lifestyle, or other subjects. So, when this writer heard Tony laughing out loud over a text from his brother, naturally, the next question was 'what did he say that was so funny?'
Tom had told Tony, "I question your politics, not your ethics."
The brothers have locked horns on numerous issues. The discussions can get heated, at times. Nevertheless, the two stay in touch, respect each other's views, and love each other as brothers should. FYI, Tom ok'd this reference before our publishing it.
While controversial, Tom developed quite a reputation in local politics, before stepping down from years on the Norman, OK city council. He's done political and other consulting.
Tom's not just smart, he's a genius, with a tested IQ of 156.  That's Tony's nickname for Tom, "156."
After decades of experience in debating topics, Tom may disagree with Tony's political views, but not his ethics.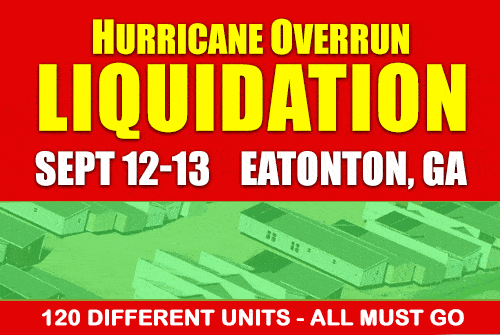 "Muckraker" 
A well-known and respected industry professional emailed Tony yesterday, and said in part that our publisher is a 'gent,' '…even though some think you are a muckraker.' It was a jest from the that industry pro who sent the message, but it also reflects a serious allegation held by few in the industry.
To some in MHVille, publishing anything that is deemed 'negative' is equal to 'muckraking.'  But is that true?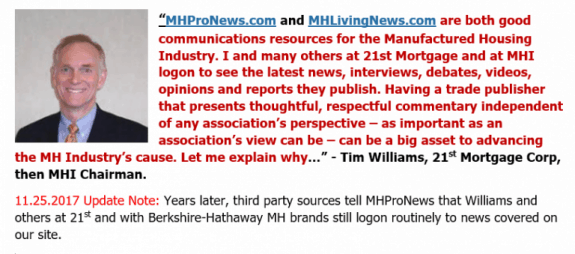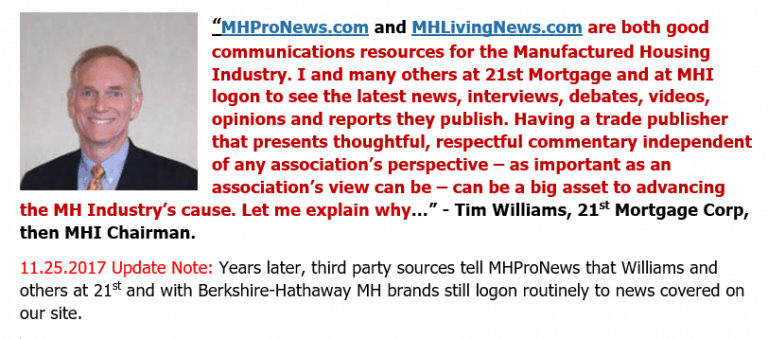 There are several cheer-leading writers and publishers in MHLand today, and every industry needs some measure of that kind of writing. But if the prime focus of others is 'feel good' stuff – published without balance or at the expense of honesty, ethics, or reality – isn't that a problem?
By analogy, what doctor want to hear only the good things from their patient?  Every medical professional wants a complete picture: the good, bad and the ugly. The good MD asks questions, listens, looks for evidence, tests it, all before making a diagnosis. Accountants, attorneys and other professionals do something similar. It's what journalists and serious writers are supposed to do too.
Reality matters.
So why is there a dearth of other independent trade media in MHVille that dig deeply into real world issues?
Why do so few other writers care about evidence and facts that point to why manufactured housing is so badly underperforming during this affordable housing crisis?
MHProNews has a history of looking at the facts, evidence, and then considering ways real challenges can be addressed.
Back for a moment to the headline topic.
If your company was accused by residents or customers of being a 'vulture capitalist,' what would you say or do to counter that claim in public?
There are many answers, but let's start with some facts next…
Trendlines Don't Lie, Real Challenges, Hidden Manufactured Housing Opportunities Revealed
Robust Pageviews – What MHVille Readers Read a Lot
To understand how valuable articles and the digital real estate are on MHProNews.com (a.k.a. MHMSM.com, mhmarketingsalesmanagement.com, etc., etc.) consider this statistical peek at media giant FORBES, shown below.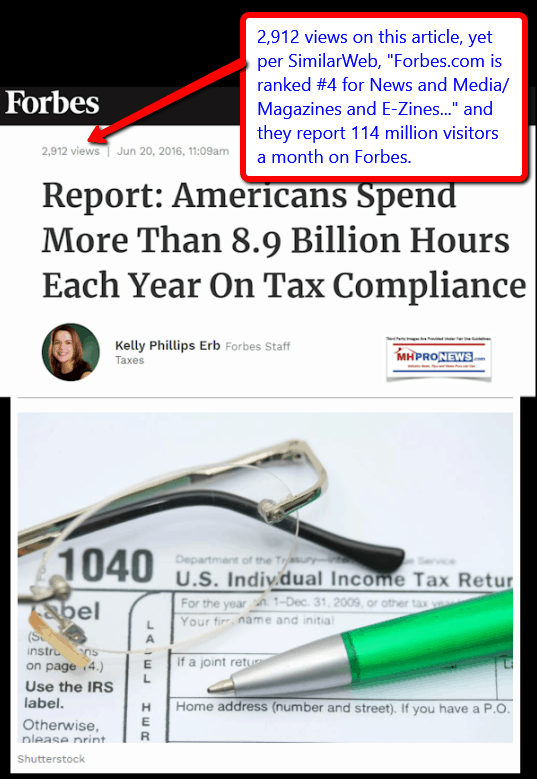 So, while the giant Forbes' mega-site will no doubt get some articles with huge readership, a pretty important topic like the one shown has – after some 2 years – fewer page views than the ones shown above got in their first month online.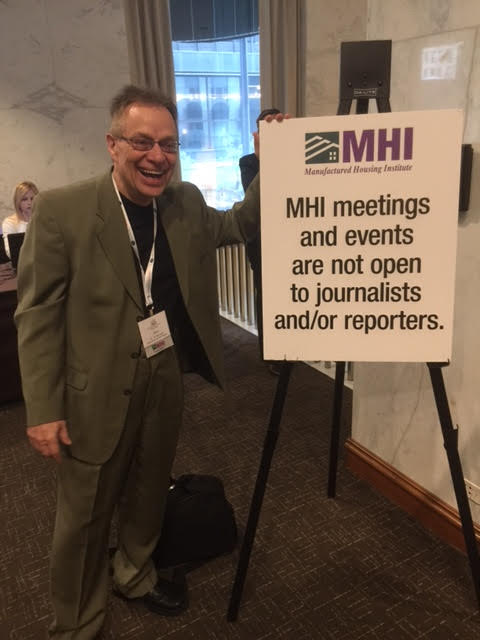 Our MHProNews.com platform has numerous valid URLs (web addresses), and a number of c-panels. So complete site gathering statistics can take quite a bit of time, if each URL and C-panel data set is checked.
To save precious time, we normally only check one c-panel, and that's the one for our original URL, MHMarketingSalesManagement.com.
In spite of direct and indirect push-back from a certain trade group that's been going after us for years – but lacks the guts to debate our publisher in public – third-party data reflects our traffic has more than doubled in the past year.
Rephrased, in spite of digs and disses by MHI – which began years before we did our first deep dive into their problematic practices – what was an initial hit from them has over time eventually resulted in a regrowth and new appreciation by industry readers of our topics and covered issues. Yes, they can say they  'got us' for a while, but by focusing on facts and evidence no one else in MHVille does, our readers have rewarded us with more traffic that is still rising at steady rate.
The first examples – the evidence or proof – are from the dates and times, shown below.
Summary Period: August 2018
Generated 23-Aug-2018 07:18 CDT
Here's how you read this. The first number reflects its relative page rank, with #1 always being 'direct request' i.e.: the home page. The second number reflects reader hits on a given linked article, and the third box shown is the URL of the specific article being ranked.
It was May 9th, 2018 when Smoking Gun 3 was published.  The below was the traffic for roughly 2/3rds of the month on that one article.  That one article is more than anything else in MHVille's professional trade media, period. Third-party data like this tells you want industry professional readers really want to read and know.
That same month (May 2018), Tom Lackey, Spencer Roane, George Allen were spotlighted in the article linked below.  Yes, ours is a small industry today, but in that small industry thousands wanted to read these articles.
During August of 2019, an article like Smoking Gun 3, over 90 days later, still draws significant traffic.
We can't spare the time to check how many times TOTAL Smoking Gun 3 has been accessed, but its in the tens of thousands of hits, from professional readers like you.
What Does it Mean?
With over well over 25,000 articles online, it's no surprise that MHProNews is the most widely read publication in the industry, and has been since near the end of our first year publishing.
Per Alexa, and other third-party sources, some of our less read new Daily Business News articles get more pageviews than an entire issue of a given competitor's magazine or several combined competitor's blog posts.
Industry readers are hungry to know the truth, not just feel good cheerleading that has led the industry no where exciting.
What those statistics tell us is that professional readers in MHVille want meat and potatoes, not pablum.
Professionals don't have to agree with everything to realize that we are all eager to find and share solutions to the issues that hold the industry at historically low levels of performance.
Back to our headline question.
If you were slammed with the phrase, "vulture capitalist," what would you do?  Say nothing? Frank Rolfe thinks that's a mistake.
Or would you do something?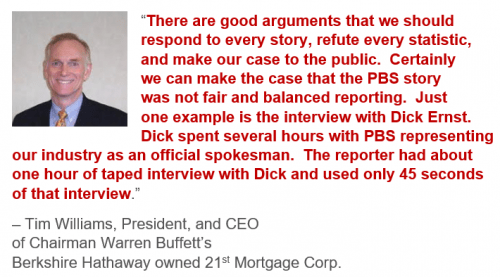 This upcoming Monday morning's "sales meeting" will tackle that issue.
A relevant upcoming Masthead post promises simple yet profound ways to advance sales in local, regional, and national markets.
Next week also promises a new report or two that some may call 'muckraking,' but they are fact and evidence-based insights that no one else in MH trade media dares to do.
That's part of the reason why from the smallest to the largest players in the industry, we are the runaway #1.
Thank you for that confidence.  Stay tuned, and please sign up for our industry leading emailed headline news at the link below.  Thousands get it, from the biggest in the business, to the mom-and-pops or one-person shops.
The above is something to think about for those who are marketers in MHVille, because we not only have the largest audience, but also the most engaged.
The above also tells you this.  We understand MHVille better overall than some who proclaim themselves to be champions of the industry.
That's an inside Saturday look at "News through the lens of manufactured homes, and factory-built housing," © where our respectful motto is "We Provide, You Decide." © ## (News, analysis and commentary.)
(Third party images, content are provided under fair use guidelines.)
1) To sign up in seconds for our MH Industry leading emailed news updates, click here.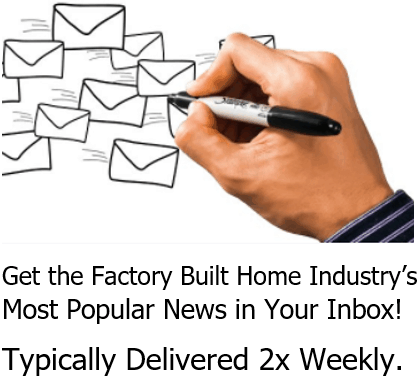 2) To provide a News Tips and/or Commentary, click the link to the left. Please note if comments are on-or-off the record, thank you.
3) Marketing, Web, Video, Consulting, Recruiting and Training Resources
Submitted by Soheyla Kovach to the Daily Business News for MHProNews.com. Soheyla is a managing member of LifeStyle Factory Homes, LLC, the parent company to MHProNews, and MHLivingNews.com.
Related Reports

:
What RV Industry's 2018, Prior Results Reveal for Manufactured Housing
Only 3 Options – the Elephant in the Room, Clayton Homes, Berkshire Hathaway, Warren Buffett, 21st Mortgage, Vanderbilt Mortgage, Manufactured Housing Institute, MHI, Manufactured Housing Assoc Regulatory Reform, MHARR, Frank Rolfe, Marty Lavin, Consolidation, monopolistic moats,
Just the Facts – Compare Curbed and MHI, Next Step, Clayton, Cavco, Champion Homes Video Results
Manufactured Home Community Owner Alert, Rent Control, MHAction Plans Organized Action in Several States