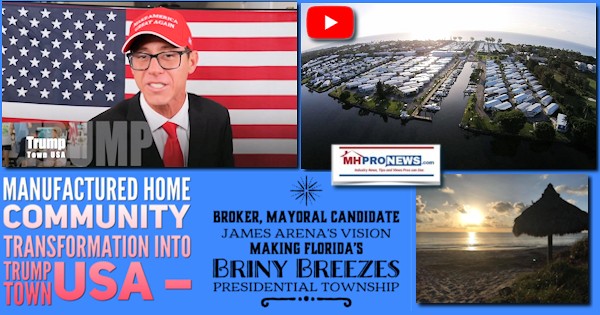 James M. Arena is a real estate broker in Palm Beach County, Florida. He is a mayoral candidate for the Town of Briny Breezes, FL. Arena believes the town could be a perfect site for President Donald Trump to build a Presidential Library, Hotel and the first ever Presidential Township in America. He dubs that vision, "TRUMP TOWN USA."
When Manufactured Home Pro News (MHProNews) got word of the plan yesterday afternoon, we reached out to Arena to learn more.
Arena said that Briny Breezes is "a mix of mobile, manufactured and modular homes with only 4 RV locations." That would make it mildly similar to the Villages in FL, which also has a mix of factory-built homes plus site-built housing in their community. As long-time MHProNews readers know, President Trump visited the Villages earlier this year. He has also toured another FL manufactured home community with his wife Melania, Vice President Pence and other federal and state officials in 2017.
The video certainly brims with enthusiasm about the president and the plan for Trump Town USA. MHProNews asked Arena if he supports the president and his agenda?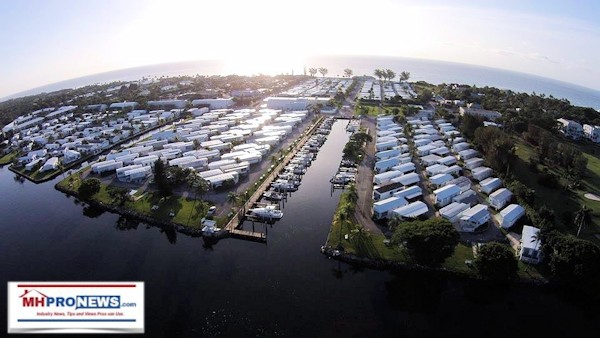 "Yes, I support the President and appreciate all of his hard work. I think he is an amazing leader and has produced tremendous results for our country. The President is also a phenomenal builder with great vision and the plan I have laid out for him to build a presidential library, hotel and the First Presidential Township in America is perfect," he wrote in a reply message.
The mayoral hopeful elaborated.
"The town of Briny Breezes is a perfect site and President Donald Trump is a perfect match! Visitors could come by water taxi, the impact would be positive on the surrounding communities and the experience of going to the Presidential library could be truly amazing, just like our President. The site could host world leaders and will boost the economy of every city in Palm Beach County."
When asked if he knew President Trump, Arena said, "I do not know the President and I have never met him, but it would be an honor to get the chance to shake his hand and discuss the potential of this development." The president discussing a real estate deal personally may have to wait until his term of office ends, but that might be privately explored by others in the Trump Organization.
MHProNews obtained a few contacts from a source other than Arena and reached out to residents for comments. As of this writing, those outreaches for comments have not yet been returned.
But Arena asserts that he's been discussing the plan with neighbors in Briny Breezes. The video near the end shows a group cheering, as if to confirm that contention.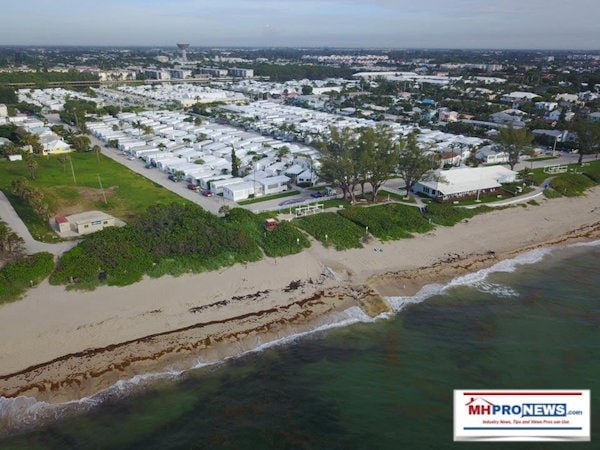 Detailing the Trump Town USA Vision
Arena via email told MHProNews that:

"I have discussed this with a lot of people in our community. A large number of shareholders would sell for the right price and to the right buyer. We care about our neighbors and we all love living here. Most of the shareholders would love for something to be built that will benefit Palm Beach County and celebrate the historical value of our township. What an honor it would be to celebrate the historical town of Briny Breezes by turning it into the first Presidential Township in America, that could host world leaders, create a new booming section of the local economy that currently does not exist and establish a beacon for America's Ingenuity for people from all over the world to enjoy. Visitors could come visit the [proposed Trump] Presidential Library by water taxi and every city within Palm Beach County could establish water taxi locations. The surrounding Real Estate will boom, new business opportunities will be created and President Trump can do what he does best, make history and the shareholders of Briny Breezes could be a part of that.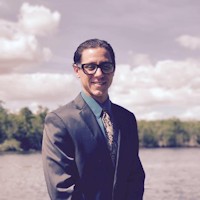 The Town of Briny Breezes, all 43 acres, is owned by Briny Breezes Inc. and the shareholders of Briny Breezes Inc. must vote to sell. 67% of the shareholders must vote in favor of whatever offer comes our way and we have had offers in the past. Most are crumbled up and tossed in the trash because there is just no place like Briny [in] the world! However, we could be a part of American History, we could help establish the first Presidential Township in America and help our President celebrate his amazing accomplishments with the most amazing Presidential Library ever imagined. This is worth exploring and something every city in Palm Beach county should be excited about."
The vision and video have, observed our publisher, a Trump-like flair. How far the broker's plan will go is unknown, so additional follow ups to this report are anticipated. The photos and video were provided by mayoral-hopeful Arena at our request. Our publication and management has had no known prior contact with Arena, so the vision is his.
There is obviously an election to navigate for Arena-supported President Trump, and plenty of drama in Washington and beyond that includes housing policies related to manufactured homes. See more on those in the related reports below the byline and notices.
Update 12.23.2019 1:29 PM: pushback to this plan from Briny Breeze residents has been coming in, as well as support. Expect an update in the days ahead on what is shaping up to be an intriguing controversy.
Update: 12.27.2019 see the more detailed report about reactions to Arena's concept at this link here.
Whatever happens with this plan, it seems like a fitting time to wish the First Family and the nation a Merry Christmas. That's a wrap on this Monday morning installment of the manufactured housing trade media's #1 source for "Industry News, Tips, and Views Pros Can Use," © where "We Provide, You Decide." © (News, fact-checks, analysis, and commentary.)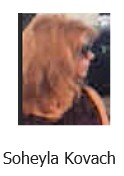 Submitted by Soheyla Kovach for MHProNews.com.Soheyla is a co-founder and managing member of LifeStyle Factory Homes, LLC, the parent company to MHProNews, and MHLivingNews.com. Connect with us on LinkedIn here and here.
Related Reports: Click the image/text box below to access relevant, related information.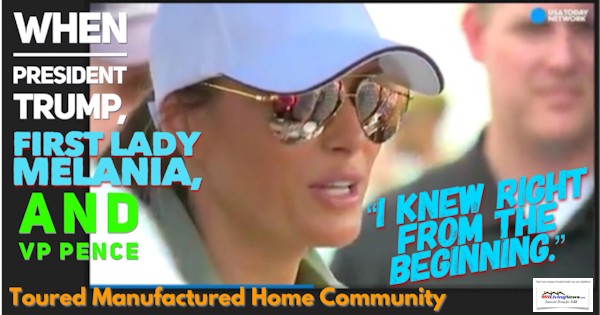 California Housing Crisis, HUD Secretary Ben Carson, and Manufactured Housing
Historic Presidential Impeachment, Donald J. Trump, Motivations, Rights, Investing and the American Dream
David Dworkin, National Housing Conference, Compared and Contrasted with Lesli Gooch, Manufactured Housing Institute on Fannie Mae, Freddie Mac Proposed Modifications to FHFA on Duty to Serve Finance Plans
Study in Contrasts-Lesli Gooch v Mark Weiss, Manufactured Housing Duty to Serve Presentations Spotlight Lack of Proper Lending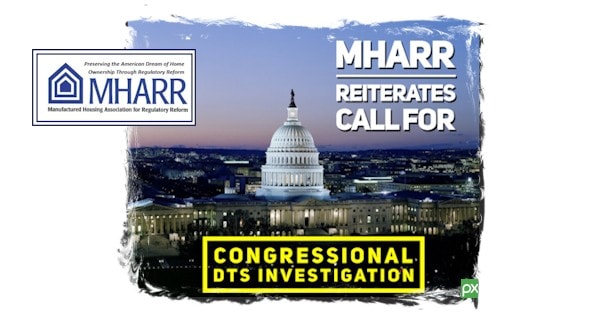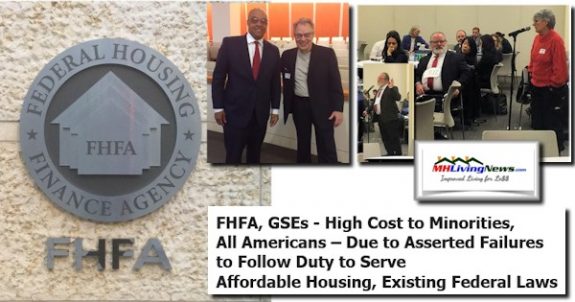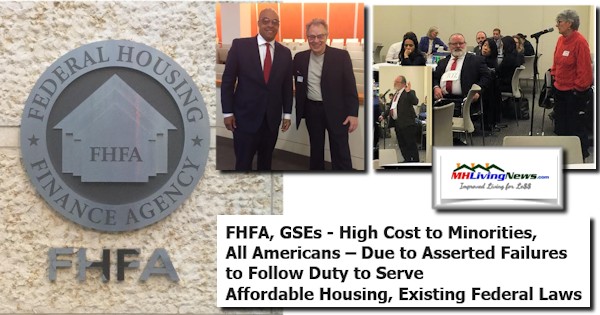 Affordable Housing Experts Reveal Surprising Research Results, While Public Officials and Media Decry Corruption