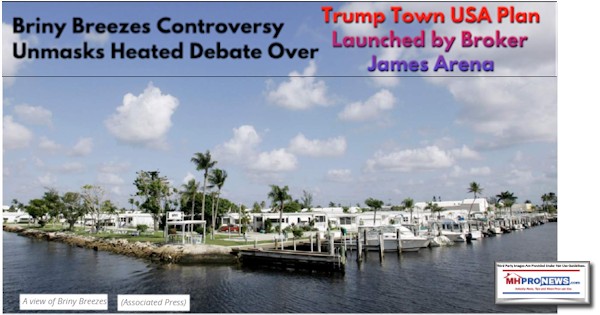 Depending on whom you listen to in Briny Breezes, in Palm Beach County, Florida broker James Arena is either being creatively pragmatic or he is a con man who should have his real estate license revoked.
Is there middle ground about Arena and his concept for the 43 acre tract near Boynton Beach to become Trump Town USA?
If so, that is far from clear at this point. Because the town's board has made it clear that Arena's plan to sell Briny Breezes to the Trump Organization for a billion dollars is not sanctioned. Meanwhile, supporters of the plan think if Arena can legitimately get a billion-dollar offer to buy the manufactured home community, then residents should seriously consider such a deal.
Official Background and Unofficial Efforts, Reactions from Briny Breezes
Susan Brannen is the president of Board of Directors of Briny Breezes, Inc. She told MHProNews via email that the community is "…a Cooperative – each resident owns shares in the Corporation under Article 719 of the Florida Statutes."
Brannon also said "This [James Arena's concept] is not a plan of Briny Breezes, Inc. It is one person's ideas [i.e. Arena's]- it has not been brought to the Board of Directors, it has not been brought to our shareholders and it has not been vetted in any official capacity."
She went on to say in a message that "We will not know how shareholders feel about "this proposed plan". We have no offers and no plan to present to our shareholders."
Lynne Weiner said in a message that "…my family has vacationed, lived, helped build, supported and enjoyed Briny Breezes for generations."
Weiner stated "James Arena being a realtor/broker held an event [dubbed] Food for Thought.  His ideas and knowledge were received mingled with the mistakes of the past.  His ideas and data collection are undeniable.  But I think that most of the stockholders just visit.  They don't live here full time year round and a lot of the important issues are blurred to them.  They are here to have a good time."
Arena admitted to MHProNews that the charge that the plan is his idea is fair and that there is controversy about him and his plan. He asserted that "I have discussed this with a lot of people in our community. A large number of shareholders would sell for the right price and to the right buyer."
It would take 2/3rds of residents to approve the plan, if an offer ever comes.
The Official Statement of the Briny Breezes Board
In a letter provided to MHProNews by multiple residents, the following was sent out to those in Briny that have email.

Dear Shareholders,
It is the Holiday season and the last thing we need is stress. So let's hear what is happening and what all the chatter is about. I am sure that some of you went to the event, some of you heard about it from your friends and then some of you read about it in Palm Beach Post. Some perhaps have heard nothing.
Thursday December 19, 2019 Mr. James Arena reserved the auditorium for an event. Although I was not able to attend, I have heard from many shareholders as well as the newspaper article the following information. All shareholders were invited but they needed to reserve a ticket from him. The agenda was to get everyone to agree for yes again another billion dollar sale and to sign amendments to the Briny By-Laws to facilitate this outcome. He presented information about Briny, which was often misleading and incorrect. From what I heard it appeared to target residents' emotions of fear, concern, and intimidation and to inspire general uncertainty in our community for a personal spotlight.
He spoke about the aging infra-structure of Briny, he mentioned the risk of hurricanes and he essentially said that Briny could afford nothing. It was said that Briny had no plan, and yet we do. He stated that through a friend, a rapper, he was in touch with Donald Trump Jr who might facilitate a sale to Donald Trump, our US President. Mr. Arena reportedly said how much he and his family loved and enjoyed living at Briny however the message was not improve Briny but rather sell and make it Trump Town, U.S.A.; a place with hotels and a Presidential library that would attract tourists.
A couple of thoughts for now- Mr. Arena is a real estate agent who gets publicity and probably business each and every time he mounts these campaigns. He said something to the effect that most people who buy into Briny do so for investment purposes.
The Board takes the state of infrastructure, maintenance and shareholder financial matters very seriously. The Board is an all-volunteer panel from fellow shareholders and is not motivated by personal gain from their real estate businesses or benefit from any associated publicity. Any offer that comes to the Board must be vetted prior to asking for a vote. The Board has and will always do its due diligence to shareholders.
I am away from Briny for the Holidays but will return by week's end. Please enjoy your holidays.
Respectfully,
Susan Brannen,
President of the Board of Directors
—
An online search for the above at this time indicates that no other media outlet has previously obtained/published those comments from Briny's board president.
An off-the-record message from a board member stated that "…there has been no proposal and certainly no communication from the Trump group inquiring. James Arena and/or Chuck Swift have absolutely no official capacity within our Community or within the Corporation." Follow up since then indicates that status is unchanged.
There are residents on both sides of the topic, favoring and opposed. None of those in contact with MHProNews made an issue about President Trump per se, which stands in stark contrast to what occured on Twitter about this matter.  The focus of residents of Briny has been Arena, whom one decade-long resident asserted should have his real estate license revoked for problematic business practices he claimed he could document if necessary.
By phone and email Arena shrugged such comments off, saying there are "crazy people" in Briny who say whatever. Google's rating of Arena on this date was 3.3 stars out of 5.
One resident said that a billion dollars was a lot of money, and if Arena can get such an offer, other residents should consider it.
Mainstream News Media Coverage
From Fox Business to the Palm Beach Post, Chicago Tribune, Click Orlando and Fox and Friends are among the range of news outlets that have covered the controversy. Arena proudly told us that the concept was now "global."
Some recent media reports appear to be missing key details. For example Click Orlando wrote that, "Arena told the Post that he ran the idea by rapper Vanilla Ice, who in turn called Donald Trump Jr. and told him about the proposal. Trump Jr. was reportedly interested." That was posted on 12.26.2019, but Vanilla Ice had already denied that statement in tweet.
Per Vanilla Ice's Twitter page, the following.

Of course, the Twittersphere had statements of support and pushback or mocking of the plan. A sampling across the spectrum is below. Fortunately, the 45th president and his family have become thick-skinned about the rudder kinds of comments and social media reactions.

The conservative leaning BizPacReview and Washington Examiner both stated that Donald Trump, Jr. denied any knowledge of the plan, much less had any interest in it.
Mediate said, "A spokesperson for Don Jr. told The Daily Beast in a statement, "Don hasn't spoken to anyone about building a presidential library and has never even met Vanilla Ice." They added that President Trump had mentioned Florida for a presidential library possibility earlier this year, but that he had lots of options and opportunities.
At this point, while Arena has clearly stirred up a discussion and attention, there would be a several layers of residents, officials, professionals and others that would have to be sold – not the least of which is the Trump Organization. The president has his hands full of the nation's business and a re-election effort, and may not weigh in at all, given that it is a business deal.
Apparently, Arena obtained several days-worth of media spotlight, but now has his work cut out for him in actually making the plan a reality.
This may or may not be the last word on this issue. MHProNews' will monitor and report as if and as warranted.
Our initial report on this matter is below the byline and will include a link to this update. That's a wrap on this Friday morning installment of the manufactured housing trade media's #1 source for "Industry News, Tips, and Views Pros Can Use," © where "We Provide, You Decide." © (News, fact-checks, analysis, and commentary.)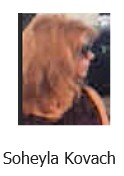 Submitted by Soheyla Kovach for MHProNews.com.Soheyla is a co-founder and managing member of LifeStyle Factory Homes, LLC, the parent company to MHProNews, and MHLivingNews.com. Connect with us on LinkedIn here and here.
Related Reports: Click the image/text box below to access relevant, related information.
Manufactured Home Community Transformation into Trump Town USA – Broker, Mayoral Candidate James Arena's Vision Making Florida's Briny Breezes Presidential Township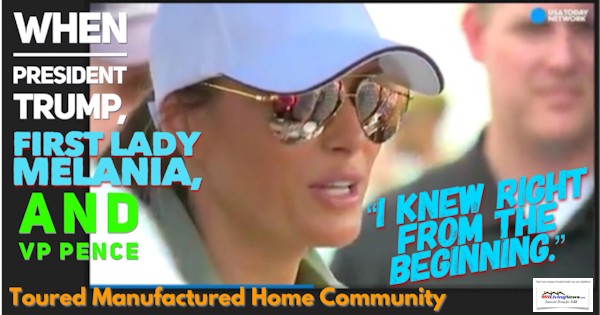 California Housing Crisis, HUD Secretary Ben Carson, and Manufactured Housing