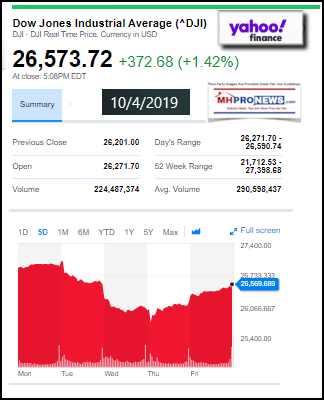 There are allegations that left-leaning media and talking heads are 'trying to talk the country into a recession.' If so, it wouldn't be the first time, as those that may recall the 2008 economic meltdown recall years of denial that the housing-finance system was putting the economy at risk suddenly shifted narratives, and turned to talk of a coming crash. That crash came. The outcome was in part was the rise of then Senator Barack Obama into the White House as the 44th U.S. President. Is something like that occurring now? Let's watch, listen to, and read from the competing narratives. You decide in tonight's featured focus.
Regular readers please note there are fall updates and several more tweaks and changes in some of the 'standard text' that follows before our left-right headlines and also in other features near the end of tonight's reports.
Every evening our headlines that follow provide snapshots from two major media outlets on each side of the left-right news spectrum that reflect topics that influence or move investor sentiment. In moments on this business evening report, you can get 'insights-at-a-glance.'
This report also sets the broader context for manufactured housing markets, in keeping with our mantra, "News through the lens of manufactured homes and factory-built housing" ©.
We begin with headlines left-of-center CNN followed by right-of-center Fox Business. We share closing tickers and other related data courtesy of Yahoo Finance, and more. 5 to 10 minutes reading this MHProNews market report every business night could save you 30 minutes to an hour of similar reading or fact-gathering elsewhere.
Perhaps more important, you will get insights about the industry from experts that care, but also dare to challenge the routine narrative that arguably keeps manufactured housing underperforming during an affordable housing crisis.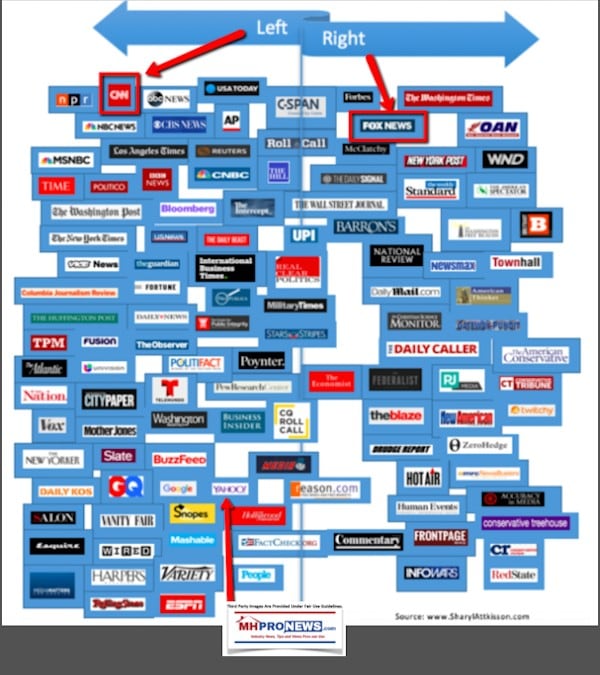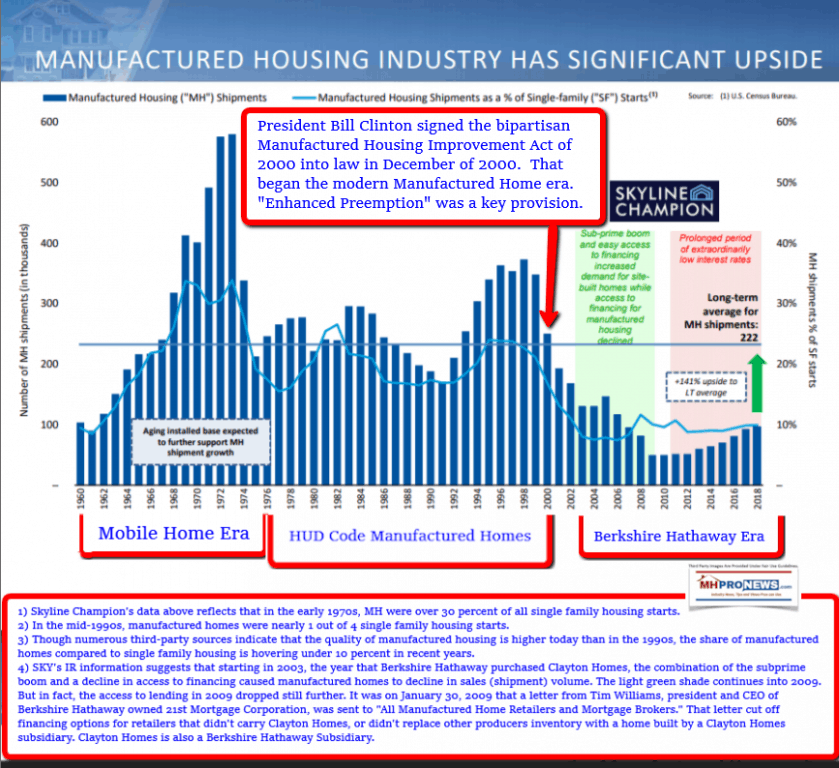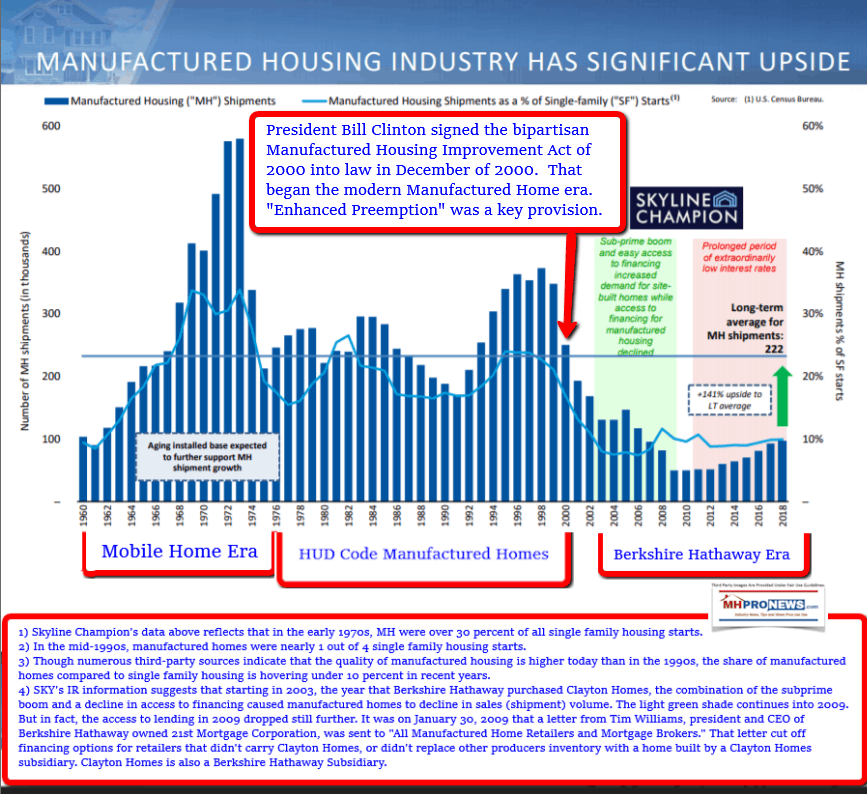 Headlines from left-of-center CNN Business.
Disney blocks Netflix – The company has banned Netflix from advertising on some of its networks
Dow climbs more than 200 points as investors hold out hope for rate cuts
The entire American steel industry just got downgraded
US unemployment drops to lowest since 1969
NY vape shop owner: We'll be bankrupt in a couple weeks
Marc Benioff says capitalism, as we know it, is dead
House committee wants Mark Zuckerberg and Sheryl Sandberg to testify on Libra
We tried Uber's new helicopter service
PayPal pulls out of association for Facebook's Libra cryptocurrency
Google Maps incognito mode is only hiding you from you
How to land a job in a hot market
A new, non-vaping, non-smoking way to get nicotine comes to America
Mark Zuckerberg on billionaires: 'No one deserves to have that much money'
Joaquin Phoenix stars as Joker in a new film from Warner Bros.
'Joker' expected to break box office records as controversy and anxiety swirls
Trump is giving late night TV plenty to talk about. Trouble is, nobody's watching
THE FUTURE OF RETAIL
Target is opening Disney shops inside its stores
Bed Bath and Beyond is closing 20 more stores
Forever 21 files for bankruptcy and will close up to 178 US stores
Marshalls opens its first online store
Nike posts another strong quarter thanks to digital strategy
SMARTPHONE WARS
A man walks past a Samsung Electronics Co. signage outside the company's D'light flagship store in Seoul, South Korea, on Monday, Jan. 28, 2019. Samsung is scheduled to announce earnings figures on Jan. 31.
Samsung admits defeat in China's vast smartphone market
Microsoft teases new foldable phone, unveils AirPods rival
Africa's top smartphone maker soars 64% in debut on China's tech market
OnePlus 7T Android phone is an affordable phone with high-end specs
iPhone 11 and 11 Pro: When the best is just good enough
Headlines from right-of-center Fox Business.
EXCLUSIVE: Jailed Trump fixer Michael Cohen says he can't wait to write tell-all. Mum is not the word for Michael Cohen. The president's former attorney is said to have big plans once he gets sprung.
EXCLUSIVE: Ivanka Trump responds to Democrats' impeachment inquiry
POLITICS – EXCLUSIVE: Ivanka Trump responds to Democrats' impeachment inquiry
Facebook's cryptocurrency organization loses first major financial partner
Stocks soar on Fed Chair's comments and 50-year low unemployment
Don't make these 5 huge money mistakes
Billy Joel has only worked 15 days in 2019 and he's already earned this much
WATCH: Sean Spicer says he's cha-cha-cha-ing for a good cause
Airline under fire after employee rails against Trump-supporting passenger
American-made businesses surging, cranking out jobs
Home sweet home: Top-rated gadgets that'll make your life a little easier
Why middle-class Americans should worry about a wealth tax
Out of this world: How much taxpayers forked over for crashed flying saucer
Mall vacancies reach post-recession high as department stores vanish
WATCH: Elizabeth Warren fires back at Mark Zuckerberg
Walmart having second thoughts about investment in this money-losing service
Despite Boeing 737 Max grounding, Spirit AeroSystems continues fuselage production
WATCH: Trump says Schiff should've gotten four Pinocchios years ago
Fed's Powell vows to keep economy in a 'good place' for 'as long as possible'
AdvoCare settling 'Illegal pyramid scheme' charges with $150M FTC payment
Steve Scalise: Why it's time for Dems to stop blocking USMCA
Impossible Foods CEO on near-term IPO plans
WATCH: Larry Kudlow says Trump is 'doing the Lord's work'
Inside late comic book legend's beautiful San Francisco getaway
WATCH: Former congressman lays out possible economic consequences of a Warren presidency
Will California's animal protection rule raise food prices?
32-acre Colorado estate will hit auction block next month
Couples sleeping apart is waking up the real estate industry
Apple reportedly ramping up iPhone 11 production
Joe Piscopo: Eddie Murphy's new movie 'is going to be magnificent'
10 Market Indicator Closing Summaries – Yahoo Finance Closing Tickers on MHProNews…

Tonight's Business/Market/Political Impact Spotlight –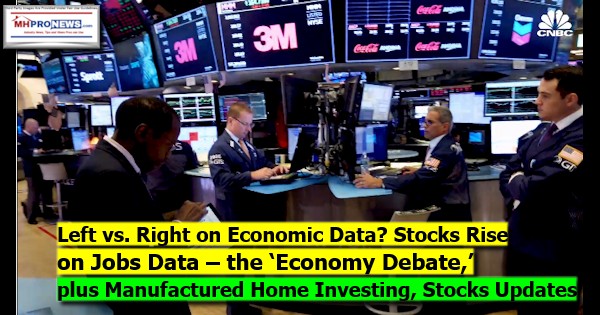 Let's start with something that has almost no relevance to the latest economic data, and then pivot to the headline topics.
Many thought the Jackie Kennedy and Michelle Obama were examples of classy First Ladies (FLOTUS) who often drew positive media for their fashion choices. Why is it that Melania Trump, a stunning and successful model, gets so little attention for the same qualities? While there are periodic stories in right-of-center Breitbart that follow her fashion and attire, as a rule, the mainstream media is by comparison to Michelle O oddly silent. Is that a sign of media bias?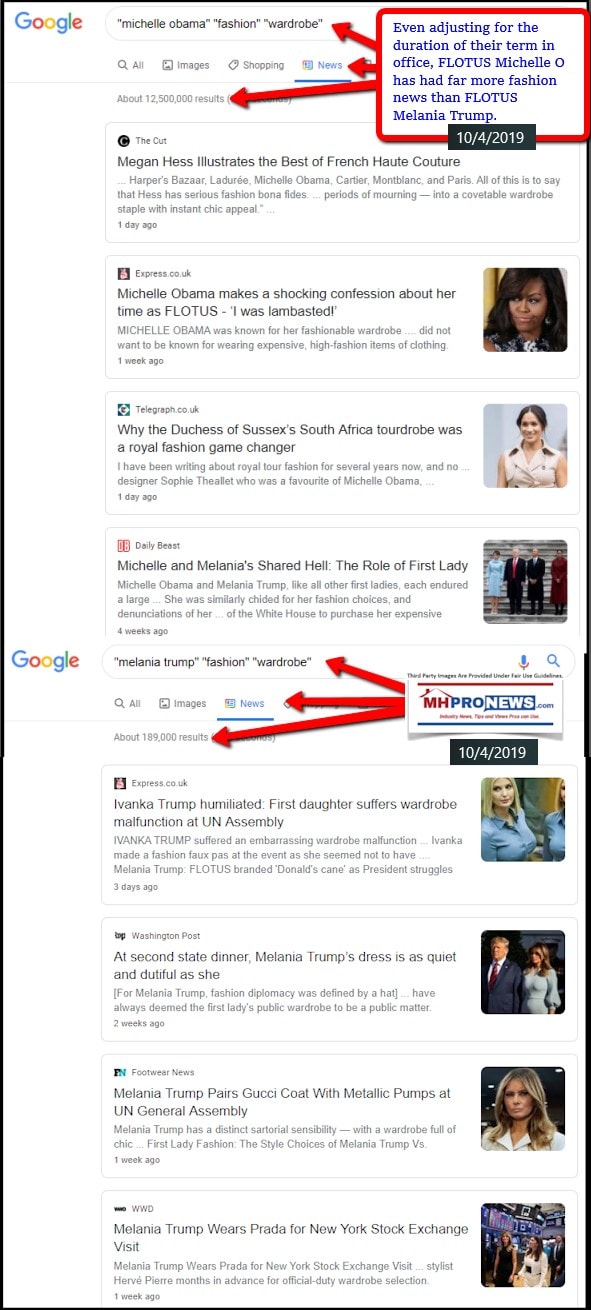 It is interesting too because according to left-of-center Time, "Melania Trump will be the second-ever First Lady born outside of the United States. Louisa Adams was the first."
That is said to state what many believe is obvious. There is media bias. Some have said so for decades. That's why award winning former CBS News reporter Sharyl Attkisson developed the left-right media chart shown further above or at this link here.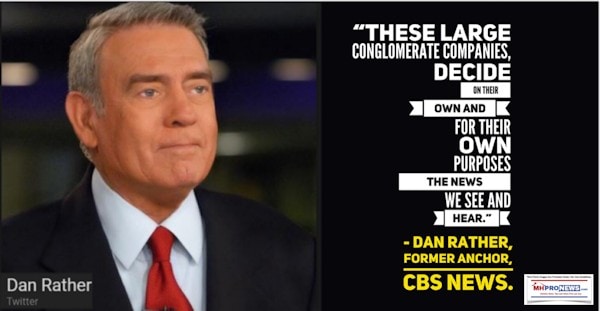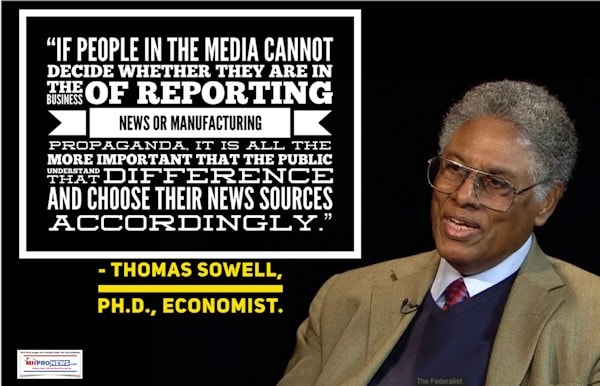 News is NOT Dead…But…
There are those on each side of the spectrum that unfairly charge the other with reporting no news at all. That's going too far. At best, that's hyperbole designed to draw attention to the issue.
For example, when right-of-center Fox News host Sean Hannity finds something worth mentioning from the New York Times, the Washington Post, or more recently Politico – all left-of-center media – he does so.
There is a routine use by media on both sides of the aisle of video clips by rival networks. By the way, with proper disclosures and citations, its legitimate.
Hey, objectively speaking, we at MHProNews pull quotes from rival publishers too – always citing the source – but more commonly to debunk some point they claim to make, or to show how they contradict themselves without explanation.
Some news should just be news. Our routine use of news from across the left-right media divide is a practice unlike anyone else in MHVille. But that doesn't mean that MHProNews does so blithely.
With that tee up, left-of-center CNBC lined up several 'expert' voices in this video below that tend to beat the drum for why a recession might be ahead. In fairness, there are CNBC personalities like Jim Cramer that deny that such is the case.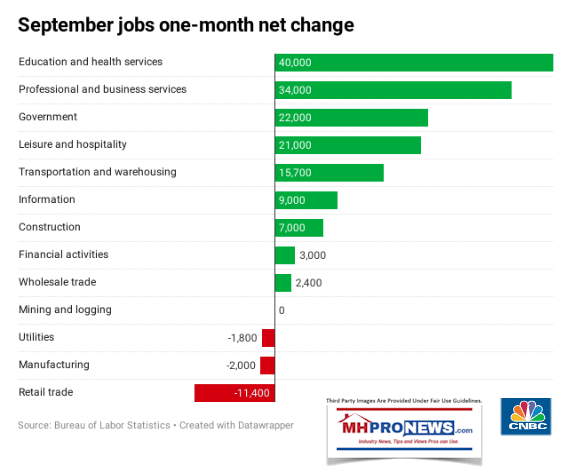 Every writer, every news source, 'crafts' a story – whether they recognize or admit that point or not. That's not a slam. It's reality. We could have taken this exact same information and framed it entirely differently, which is to say, we do something similar, but with this difference. We at MHProNews strive to frame a story in a way that sheds light, rather than throws shade or creates spin.
This CNBC video reflects a somewhat more left-of-center view of what the latest data means, and if there is a recession ahead in 2020.
By contrast, here below is what the White House press room sent to MHProNews today. Note that we at MHProNews get almost daily, sometimes several times a day, briefings from the White House. We periodically select one and do a report, much like we would when CFPB, HUD, the Census Bureau, or other federal agencies that send us data and media releases.
On the far side of the White House's statement below, we'll do a bit more analysis before diving into tonight's closing numbers on manufactured housing connected tracked stocks.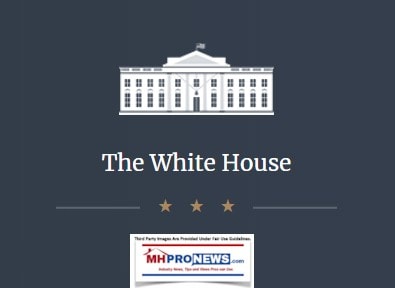 US Unemployment Rate Falls to Five-Decade Low of 3.5%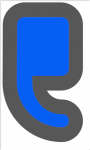 America's unemployment rate fell to a 50-year low last month, dropping to 3.5 percent and matching a level last seen in December 1969, Alexandra Steigrad reports in the New York Post.
"A more encompassing measure that includes discouraged workers and the underemployed also fell, declining 0.3 percent points to 6.9 percent, meeting its lowest level in nearly 19 years and just off the all-time low of 6.8 percent."
Furthermore, "the jobless rate for Hispanics also hit a new record low, while the level for African Americans maintained its lowest level ever."
Click here to read more.
—
"If the latest impeachment push continues to backfire, Democrats can thank their duplicitous House Intelligence chairman, Adam Schiff," Kimberly Strassel writes in The Wall Street Journal. This week, a bombshell report revealed that Schiff's team had advance knowledge of the complaint from the "whistleblower"—and withheld that fact from both his colleagues and the American public. "The timeline of this orchestrated campaign is another knock to the legitimacy of the so-called impeachment inquiry."
—
"With first daughter and White House adviser Ivanka Trump by his side, Google CEO Sundar Pichai signed a pledge Thursday in Dallas that the company will boost its investment in tech skills training for American workers," Melissa Repko reports in The Dallas Morning News. Google, one of more than 350 companies to join the White House's Pledge to America's Workers, "will create 250,000 training opportunities over the next five years."
—
"The same biased reporters who pushed two-and-a-half years of Russian conspiracy theories aren't done with their vendetta against President Trump. They will stop at nothing until he is removed from office. These aren't journalists, they're political operatives. Now, they're even trying to criminalize the president's attempt to get to the bottom of the Russian collusion hoax," Jenna Ellis Rives writes in the Washington Examiner.
—
"First lady Melania Trump kicked off a two-day visit to Wyoming on Thursday, meeting with local fourth graders and touring a sliver of Wyoming backcountry as part of promotional efforts for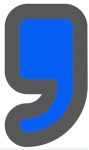 her 'Be Best' initiative," Nick Reynolds writes in the Casper Star-Tribune. "In Jackson Hole Mercantile, which faces the town square, many customers were caught by surprise, according to a shopkeeper, with some saying that the first lady's visit 'made their day.'"
##
MH Investor Analysis?
While we disagree with several things that community investor Frank Rolfe has said or done over the years, he is arguably correct when he says that the future of manufactured home communities is bright. By the way, we invited Rolfe and his partner Dave Reynolds to respond to that linked report. They declined commenting.
MHProNews recently launched what some are or soon will be concerned about, namely, the Snopes project. As millions know, Snopes is a left-of-center fact check resource.
We've asked Snopes to fact-check a report that we've invited Berkshire Hathaway brands in manufactured housing, specifically Clayton Homes, 21st Mortgage Corp, and Vanderbilt Mortgage and Finance, as well as the Manufactured Housing Institute to respond to these allegations of antitrust violations. Each of those industry operations have repeatedly declined comment. That's their right and doesn't necessarily prove that they are guilty of what is alleged.
There have been a few who have tried to mildly defend on LinkedIn those organizations against this charge, but they quickly gave up. No one has tried it again for months. It wasn't pretty for those who took that stance.
MHProNews, MHLivingNews and MHARR are oddly almost alone among trade media and industry associations in stating the obvious. The manufactured home industry is underperforming. Several investor relations packages for MHI member companies make or allude to that same point. What they don't do is explain 'why' that underperformance exists.
That raises the serious question. If in fact there is 'marketing rigging' that to some measure explains why the industry is underperforming during an affordable housing crisis, investors need and deserve to know.
We try to create a distinction between our professional audience and our general public one. For that reason, we invite any and all to go to this page linked below and ask Snopes to do their own fact check. If enough do so, perhaps they will go where others have feared to tread?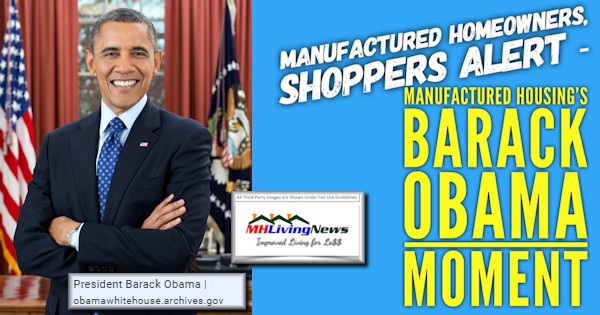 That said, it is worth mentioning that some media on both sides of the left-right media divide have made a similar allegation about market monopolization, only with this twist. They did not provide direct evidence of how that has been accomplished. MHProNews and our sister site are to date the only ones to do so. Those other mainstream media outlets are named and linked from the report that can be accessed via the text image box below.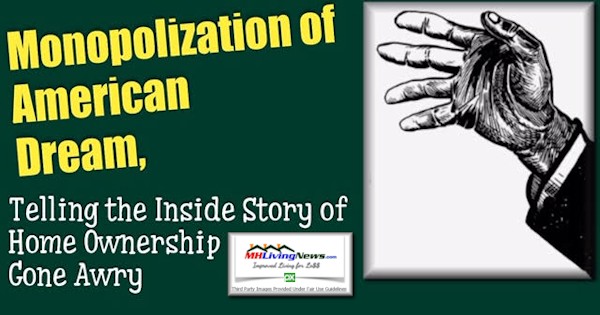 Help us, help investors, along with millions of manufactured homeowners, and would be owners. Look at the report linked here, and then take 30 seconds to ask Snopes to do a fact check of our research. We are confident in the data, the accuracy of our citations, and the conclusions.
Let a third-party fact check begin. Investors, after the "Cavco debacle," have the absolute right to know. Our publisher has not been bashful about challenging MHI, Clayton, 21st, or VMF to discuss these issues publicly, on stage with a moderator, and with video cameras to catch a discussion on these serious charges. If they were confident in their position, why haven't they taken him up on it?
Why are they scared of publicly facing what L. A. 'Tony' Kovach and the MHProNews team have publicly raised concerns over? Is giant Goliath afraid of David's slingshot?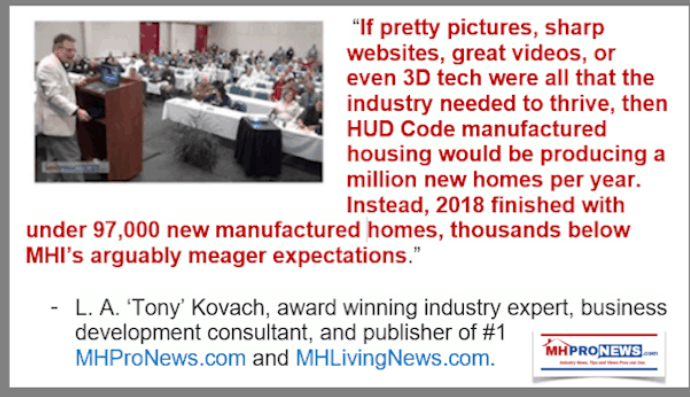 As a closing note, other than to encourage the deeper dive into the related reports, is this. An increasing number of investors are reaching out to our publisher to ask questions about our research. Omaha-Knoxville-Arlington and your attorneys, are you reading this the right way? When leading voices on each side of the left right divide say that the system is rigged, when will more in manufactured housing investing ponder what that might mean to them and our industry specifically?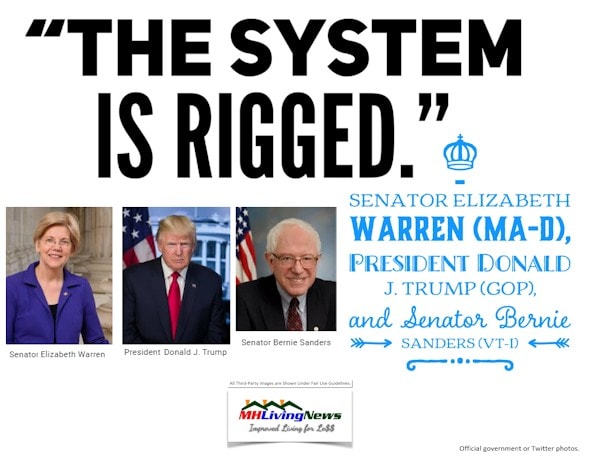 Change is coming. One can debate the timing or outcome, but changes are coming. Industry professionals vote with their time and browsers by making this the runaway most read news in our industry. Webalizer can detect that federal officials are a smaller subset of our audience, but they are here routinely too.  We've been cited by numerous federal researchers, media, and other third parties, which clearly value our expertise. Hey, it wasn't our goal when we launched this site to discover what we have.  But once you find the truth, isn't there an obligation to report it?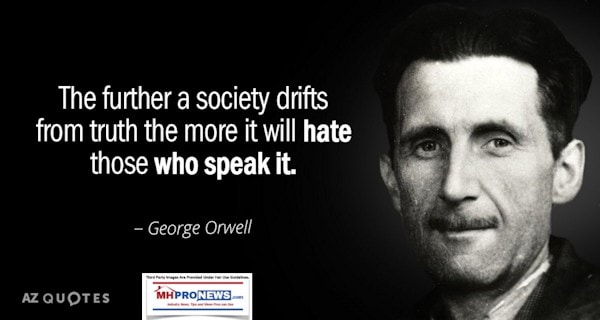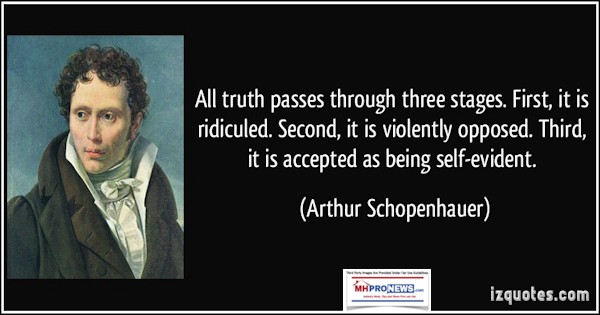 Related Reports.
"Brass Tacks" Special Report to Fully Implement Duty to Serve Federal Law Duty to Serve Manufactured Housing Via Robust Home-Only Lending
MH Community Leader Robert Van Cleef – Public Call – Federal Investigations of Berkshire Hathaway, Clayton Homes, 21st Mortgage, Manufactured Housing Institute
Insights on Manufactured Housing From Obama White House Federal Archives
Cavco Industries Investigated Anew for Violations of Federal Securities Laws, plus Manufactured Home Industry Stock Updates
Bryan Resident Blast Officials "Travesty by Government" – Manufactured Home Ban, Limitations, Update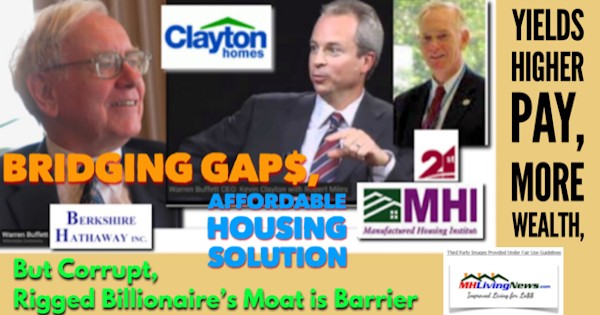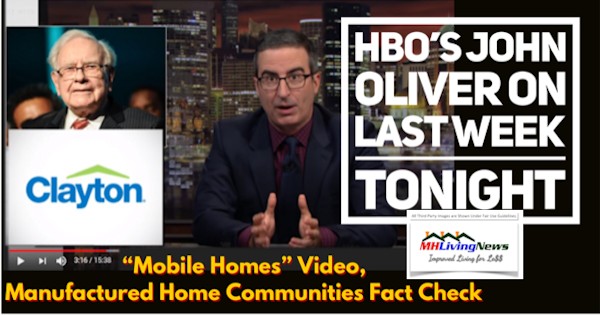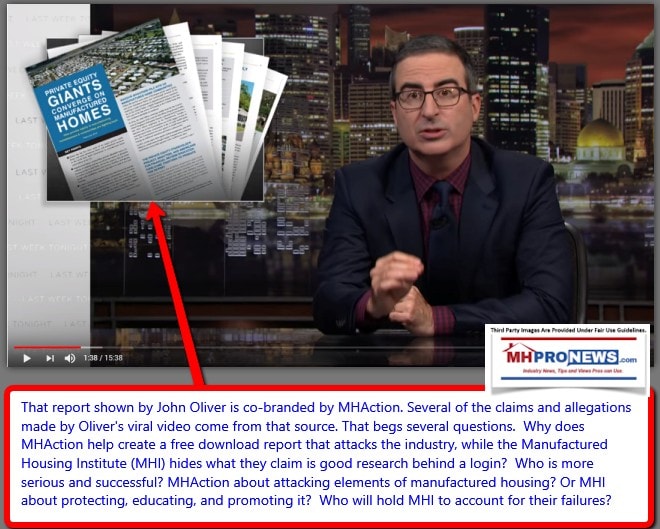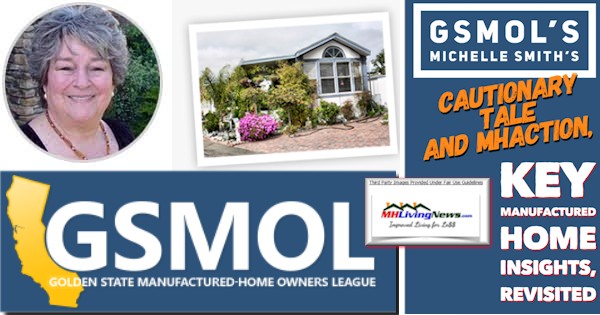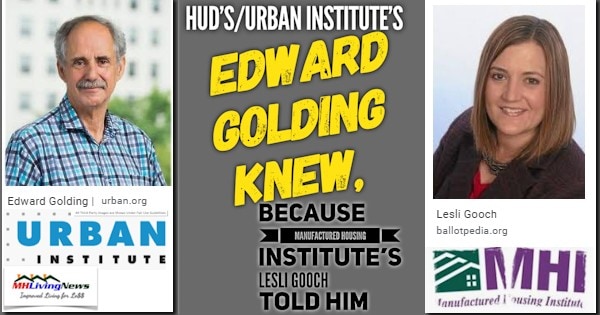 Manufactured Housing Industry Investments Connected Closing Equities Tickers
Some of these firms invest in manufactured housing, or are otherwise connected, but may do other forms of investing or business activities too.
NOTE: The chart below includes the Canadian stock, ECN, which purchased Triad Financial Services, a manufactured home industry lender.
NOTE: Drew changed its name and trading symbol at the end of 2016 to Lippert (LCII).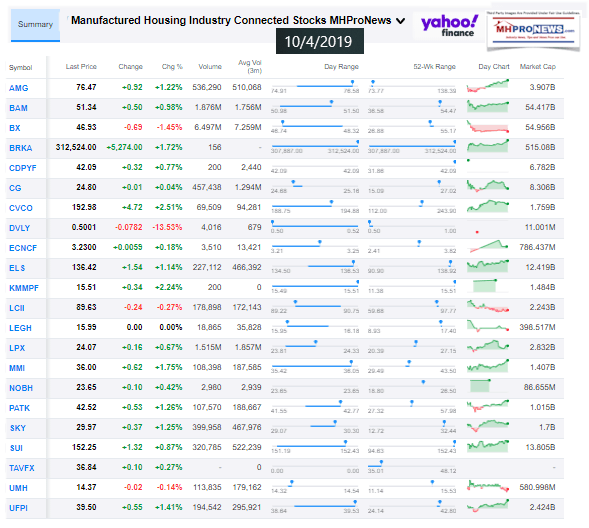 Updated for Fall 2019…
Berkshire Hathaway is the parent company to Clayton Homes, 21st Mortgage, Vanderbilt Mortgage and other factory built housing industry suppliers.
· LCI Industries, Patrick, UFPI, and LP each are suppliers to the manufactured housing industry, among others.
· AMG, CG, and TAVFX have investments in manufactured housing related businesses.
For insights from third-parties and clients about our publisher, click here.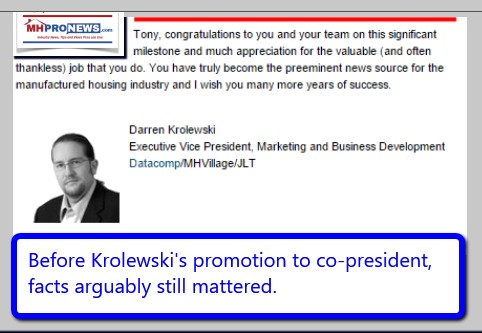 · For expert manufactured housing business development or other professional services, click here.
· To sign up in seconds for our industry leading emailed headline news updates, click here.
Disclosure. MHProNews holds no positions in the stocks in this report.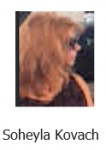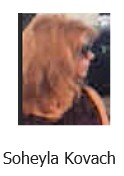 "We Provide, You Decide." © ## (News, analysis and commentary.)
(Image credits and information are as shown above, and when provided by third parties, are shared under fair use guidelines.)
Submitted by Soheyla Kovach, co-managing member of LifeStyle Factory Homes, LLC and co-founder for MHProNews.com, and MHLivingNews.com.