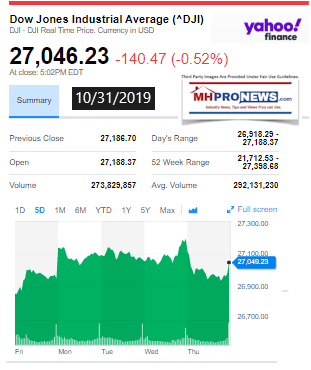 There is no technical reason that the Democratically controlled House of Representatives would be unable to impeach President Donald J. Trump. Right or wrong is a different question.
Impeachment in the modern era is a political process which allows a simple majority of the House voting in favor of an impeachment resolution to accomplish. But impeachment, while potentially embarrassing, isn't a conviction. Think of impeachment like an indictment, and the Senate then becomes the trier of facts. A conviction in the upper chamber requires 2/3rds of the U. S. Senate to vote in favor of, so, given that Republicans hold the majority there, it seems unlikely. It's Halloween, a contraction of "All Hallows' Eve" – the evening before All Saints Day. It seems appropriate that people dress up in costumes pretending things that aren't so. The Halloween event, like our Congress and country, has notably evolved over time. On a day the markets slid, our featured focus tonight will be a review of the politics and facts behind impeachment.
Regular readers please note there are a few tweaks to some of the standard portions of our evening market/investing report. Read carefully as some changes of the 'standard text' that follows before our left-right headlines and also in other features near the end of tonight's reports.
Every evening our headlines that follow provide snapshots from two major media outlets on each side of the left-right news spectrum that reflect topics that influence or move investor sentiment. In moments on this business evening report, you can get 'insights-at-a-glance.'
This report also sets the broader context for manufactured housing markets, in keeping with our mantra, "News through the lens of manufactured homes and factory-built housing" ©.
We begin with headlines left-of-center CNN followed by right-of-center Fox Business. We share closing tickers and other related data courtesy of Yahoo Finance, and more. 5 to 10 minutes reading this MHProNews market report every business night could save you 30 minutes to an hour of similar reading or fact-gathering elsewhere.
Perhaps more important, you will get insights about the industry from experts that care, but also dare to challenge the routine narrative that arguably keeps manufactured housing underperforming during an affordable housing crisis.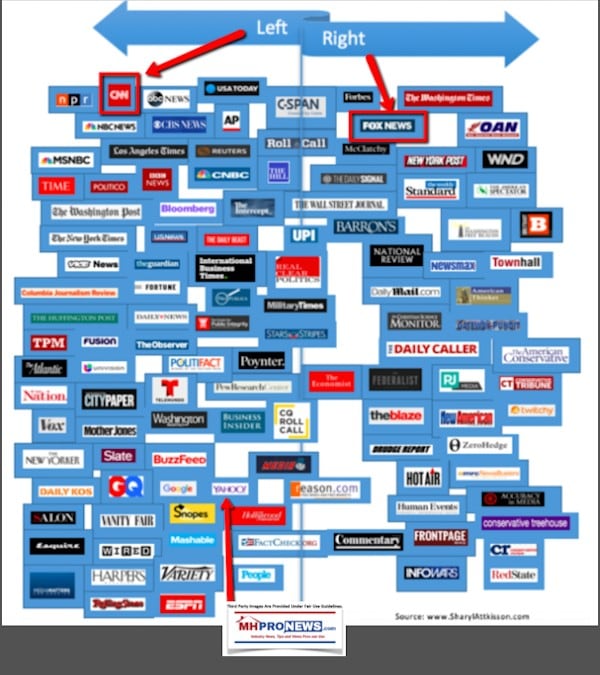 Newsy, Peeling Back Media Bias, Manufactured Housing Sales, Investing, Politics, and You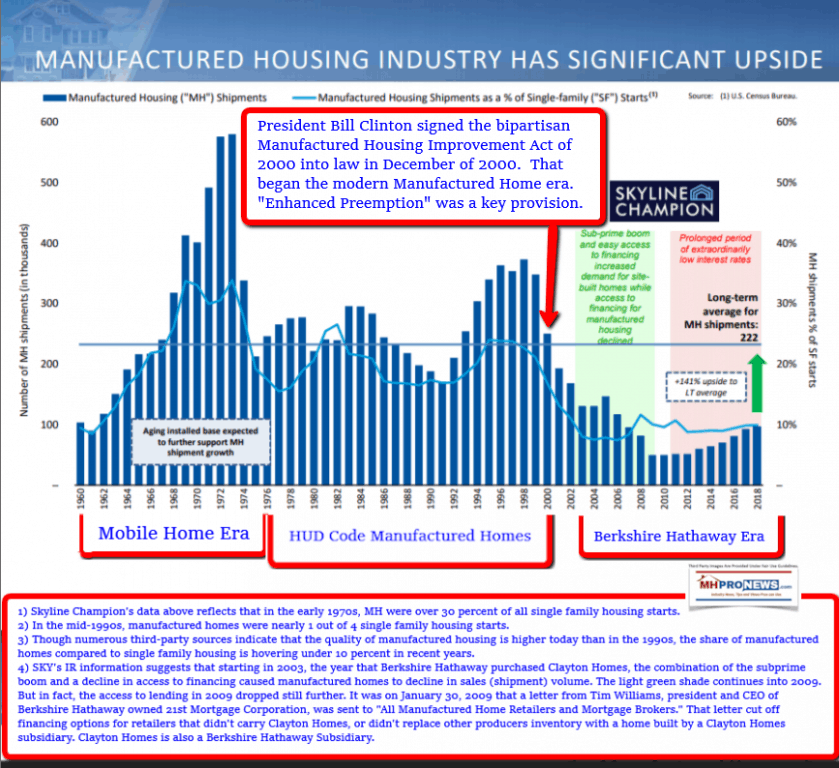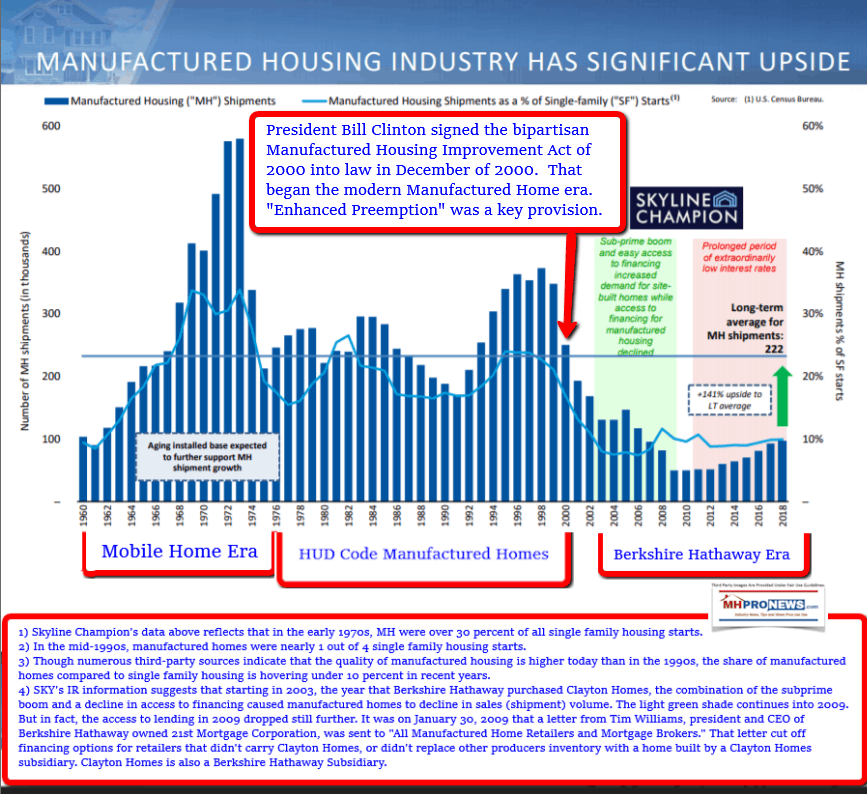 Headlines from left-of-center CNN Business.
A big moment for Apple – Apple announced the launch of it's new video streaming service, unveiled a premium subscription tier to its News app, and announced it would release its own credit card, called Apple Card.
As iPhone sales slump, Apple needs to convince customers to pay for new services like Apple TV+
Stocks hit by worries about the potential for a US-China trade deal
Analysis: The US economy isn't as supercharged as Trump says. But it may not matter
Opinion: Pressure will be on the Fed to clean up Trump's trade war mess
A CEO change isn't the end of the world — as long as it's planned and amicable
Hong Kong recession could be even worse than feared
Peugeot owner approves merger with Fiat Chrysler
Alphabet scales back its smart city project in Toronto after backlash
Fact-checker to propose a solution to Facebook's false ad debacle
Fox News veteran leaves for CBS
How the maker of Skittles and M&Ms gets ready for Halloween
This economic expansion could last for years
WWE wrestlers Natalya and Lacey Evans
WWE rocked after Middle East TV deal concerns
Stocks have gained 34% in Trump's presidency so far
American Express just changed its most iconic card
The Royal Mint has created a $23,000 gold debit card
Walmart has a new credit card program with Capital One
Apple's credit card can be damaged by loose change
How 'buy now, pay later' companies are getting younger shoppers to use credit
VAPING MISTAKE – Juul announced plans to immediately suspend sales of its fruit flavored e-cigarettes ahead of a policy by the Trump administration that is expected to ban all flavored e-cigarettes.
Altria to take $4.5 billion writedown on Juul
Big Tobacco survived a crackdown. So can e-cigarettes
Juul announces CEO will be replaced
Altria and Philip Morris end plans to reunite
US vaping crackdown hurting British tobacco group
Headlines from right-of-center Fox Business.
Fires leave California economy in peril
Businesses are closing, homeowners are evacuating and the local economy is in danger.
WATCH: California business owners in dismay over wildfires
California wildfire flames sweep in, ruin 150-year-old winery
Anger as California as fires, blackouts plunge citizens into the dark ages
MGM Resorts lining up another Vegas sale as it strives to be 'asset-light'
VEGAS RESHUFFLED: MGM sells casinos, Steve Wynn faces ban
How much money pro-Trump super PAC raked in after impeachment inquiry
Republicans turn House impeachment resolution into fundraising bonanza
Ford shuttering plant in this state as part of UAW contract agreement
These ridiculous taxes are a true Halloween horror
President Trump to return to his MMA past this weekend
Utah mourning the loss of weak beer
Stocks tumble as investors spooked by weak manufacturing read, trade jitters
Chicago teachers, school district reach agreement to end 11-day strike
C. Penney: The hot new hangout?
Why retired Americans are at risk financially
'TORTURE CHAMBER': Thousands call for haunted house to be shut down
McDonald's adding this to its breakfast menu
SEE PICS: Hall of Famer's field of dreams for sale in Georgia
The October jobs report may be a one-off ⁠— here's why
Auto union leader's top associate ensnared in sprawling scandal
JetBlue passenger screams that plane will 'crash,' gets flight diverted
Google asks court to protect private info amid antitrust investigation
Varney: Joe Biden is facing a crisis
THE ONE THAT YOU WANT? Iconic 'Grease' outfit up for sale
College-bound Chicago students pay price for 11-day teachers strike
Top 5 spooky songs for your Halloween soundtrack
Why millennials are set to become the richest generation of all time
Watchdog suggests something 'improper in US handling of tariffs
Top 10 celebs raking in the most money from the grave
California's fires, blackouts plunge it into the dark ages as citizens get angry
Hong Kong protesters have finally hit China where it hurts
Fed's cut is good for big business, terrible for savers, retirees: Mark Grant
Shooting victim's family claims 8chan, CloudFlare are liable in $1M lawsuit
USDA finalizes hemp farming regulations: What producers need to know
These fast food chains get an 'F' for antibiotics use in beef supply
Wall Street, Warren relations thaw as she inches closer to front-runner
As Sanders peddles rent control, here's what it costs to live in candidates' hometowns
US-China trade deal: Beijing's doubts about 'unpredictable' Trump snarl prospects
Apple lands enormous new client: The US government
Garmin developing wearable technology to help save lives
10 Market Indicator Closing Summaries – Yahoo Finance Closing Tickers on MHProNews…

Focus/Featured Report – Markets/Political/Big Picture/Stock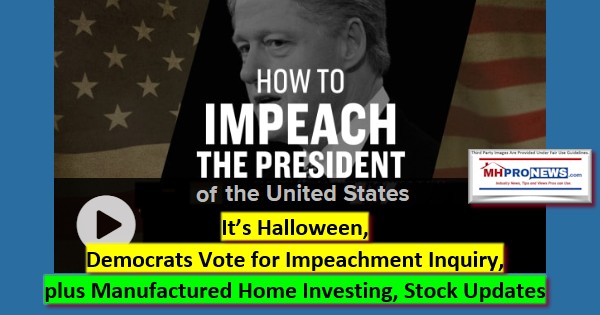 Happy Halloween.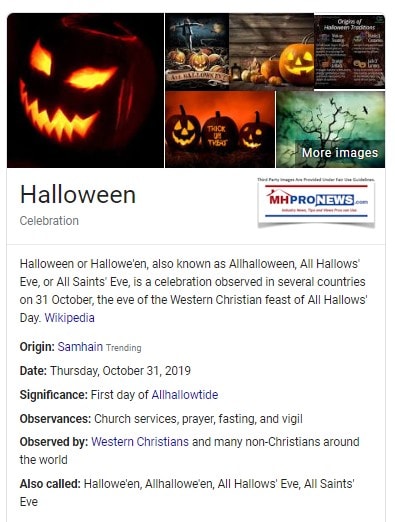 CNBC is listed by Sharyl Attkisson's left-right media divide guide as left-of-center. As regular readers know, we often use CNBC to tee up a topic, not because we always agree with their take, but because they often set the table in useful ways.
Tonight is a good example of that, as the bullets and interactive graphic below are from CNBC, as is the video below of the process of impeachment.
Twenty-nine of 31 House Democrats who hold districts President Trump won in 2016 vote to move forward with the impeachment probe into the president.
Those lawmakers face possible political risks in the 2020 election by supporting impeachment.
Two of those Democrats, Collin Peterson of Minnesota and Jeff Van Drew of New Jersey, voted against the resolution setting up rules for the impeachment probe.
Three Republicans who represent districts Hillary Clinton won in 2016 voted against the Democratic measure.

We'll start with two videos tonight, the first from CNBC, the second from the Cato Institute.
Cato on 5 impeachment myths.
Both parties are rolling the dice on how this impeachment inquiry is handled. First, as NBC's former anchor Tom Brokaw recently said, the Democrats 'don't have the goods.' There is no evidence of wrongdoing by President Trump in the Ukrainian phone call. It's absurd, but is being used politically in the hopes of putting fear into Republicans and putting them on the defensive, despite the fact that quid pro quos are the basis of most any foreign aid program in modern times. One could quibble if it was prudent or stylish of President Trump to handle the question of investigating former Vice President Joe Biden by the Ukraine or China in the ways he did. But it wasn't illegal or unethical, based upon the transcript and known facts.
Ugly, But Useful?
The fact that major Democratic donors are reportedly worried about the 2020 crop of candidates and how they are faring so far speaks volumes about why the impeachment process is being used at all. Today, the ubiquitous Drudge Report floated a headline where former President Bill Clinton made it clear that former Secretary of State Hillary Clinton may or may not run in 2020. Former New York City Mayor Michael Bloomberg – a billionaire would is able to self-fund a campaign – could jump in and run. There are periodic calls for former First Lady Michelle Obama to run.
So, despite polling that routinely suggests that almost any Democrat could beat President Trump in November 2020, don't bet on it. Those Democratic donors and bundlers may know more than those public opinion polls do.
During the 2016 campaign, the phrase "Drain the Swamp" was chanted during many Trump Rallies. Millions of Americans are getting a closer look at how the sausage is made, and how the dough is dolled out in Washington than perhaps ever before. Millions who were unsure if there was media bias in mainstream news have less doubt today than 3 years ago as networks, magazines, and newspapers are divided in how the report the exact same events.
Millions are seeing how the echo chamber works, when Democratic (they are often better at it than their GOP rivals) talking points backers or party members say the same phrase, as if they are singing for the choir from the same hymnal. If the Trump Administration is accomplishing something for Republicans, it may be that they are starting to get it that pushing back in a similarly choreographed fashion is useful with so-called 'low information voters.'
But the problem goes beyond Democrats or Republicans. It is how the Republic has been allowed to slowly morph into a Democracy in practice if not in law. While a Republic may have democratic elements to it, a pure Democracy technically gives the majority the power to do…whatever to the minority. By contrast, a Republic provides rights and protections for all citizens, be they in the minority or in the majority.
These kinds of issues absolutely impact investors. Stocks rise or fall, or positions are taken based upon what polling or voting trends reveals instead of what may be a good, moral, and legal investment. That makes investing more vulnerable to political winds than would be the case when the founding principles of America are at work.
What is happening in Washington and across the country is analogous to a boil. Sometimes, the best thing that can be done is to lance a boil, but it is ugly and painful. Blood and puss comes out of the boil. But done properly, healing can occur in the aftermath of that lancing process.
Don't discount the possibility that President Trump is playing his Democratic rivals, along with GOP 'never Trumpers,' in these maneuvers.
How this will all play out is anyone's guess. But there are datapoints – like growing support from minority voters – that suggest that this ugly 'drain the swamp' process will make the 45th president stronger in the end politically.
That's not to say that the president is a saint, he's been clear on that concern. He's not. Perhaps to his credit, by not claiming to be so, he has arguably cemented a relationship with his base. He seems authentic because he doesn't posture being a choir boy.
So far, there is no hard evidence of any wrongdoing, despite nearly 3 years of efforts to block him from taking office or keeping it after the 2016 election. Who says?  NBC's former anchor Tom Brokaw.
Did POTUS Trump goad Nancy Pelosi into doing what she didn't want to do? How will it play out? It's better than a soap opera, and its real. Stay tuned because each side's strategists are playing their cards in the hope of being on top when this process plays out.
Related Reports:
Longtime NBC Anchor Tom Brokaw's Stunning Impeachment Reveal, plus Manufactured Home Investing, Stock Updates
Ukraine's Historic Gift to America, "Quid Pro No" – VP Biden, POTUS Obama, Trump and Lessons Learned
Bloomberg, Hillary In? Dem 2020 Hopeful Rep Tulsi Gabbard Has Wall Street Meeting, plus Manufactured Home Investing, Stock Updates
"This Video Will Get Trump Elected," Donald the Disrupter Rips Establishment, Uber-Rich, Corporate Media, Deep State Insiders, Globalists
Manufactured Housing Industry Investments Connected Closing Equities Tickers
Some of these firms invest in manufactured housing, or are otherwise connected, but may do other forms of investing or business activities too.
NOTE: The chart below includes the Canadian stock, ECN, which purchased Triad Financial Services, a manufactured home industry lender
NOTE: Drew changed its name and trading symbol at the end of 2016 to Lippert (LCII).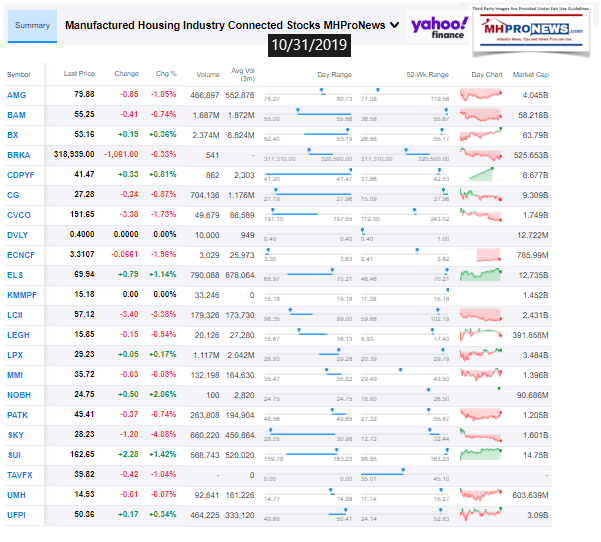 Updated for Fall 2019…
Berkshire Hathaway is the parent company to Clayton Homes, 21st Mortgage, Vanderbilt Mortgage and other factory built housing industry suppliers.
· LCI Industries, Patrick, UFPI, and LP each are suppliers to the manufactured housing industry, among others.
· AMG, CG, and TAVFX have investments in manufactured housing related businesses.
For insights from third-parties and clients about our publisher, click here.
Enjoy these 'blast from the past' comments.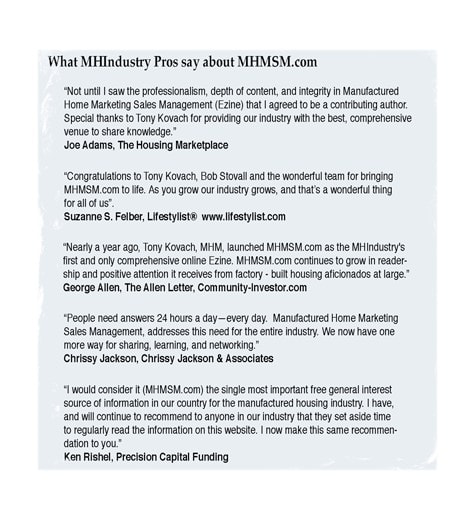 Celebrating 10 Years of Goal- and Solution-Oriented Manufactured Home Industry Innovation Information, and Inspiration for Industry Professionals
· For expert manufactured housing business development or other professional services, click here.
· To sign up in seconds for our industry leading emailed headline news updates, click here.
Disclosure. MHProNews holds no positions in the stocks in this report.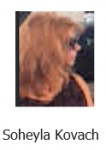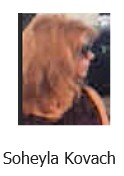 "We Provide, You Decide." © ## (News, analysis and commentary.)
(Image credits and information are as shown above, and when provided by third parties, are shared under fair use guidelines.)
Submitted by Soheyla Kovach, co-managing member of LifeStyle Factory Homes, LLC and co-founder for MHProNews.com, and MHLivingNews.com.