A local news story of a "mobile home fire" on I-20 underscores why the terminology issue matters.
Before diving into the local media report to see the lessons learned, let's examine part of a detailed statement from a multi-decade manufactured home professional.
Why?
Because it very much relates to this issue.
It was an off-the-record remark, and the key part reads exactly as follows, with only the brackets added for clarity:
"You [MHProNews/MHLivingNews] have to give us – and the rest of the owners out there – a break on the "terminology". I agree that we should try to elevate the industry, but you know as well as I do that you cannot reach anyone with the name "manufactured home community" as nobody Google searches for that term. It's marketing suicide. It's like pretending that the average American wears a tuxedo to dinner just because we want them to. Until some other term becomes the standard for our product line, there's no way we can use any term that is not the #1 on searches. We did not create this fact, decades of time and millions of Americans did…I think any term but "home" is frankly insulting."
There is no doubt that the search term "mobile home" scores far better on Google than "manufactured home." Take a look for the proof.

Then compare the search term for "trailer house" to "manufactured home," shown below. Sadly, its not ideal either, but per Google it is improving.  But do those trend lines from Google make that message writer correct?  Let's look deeper before we answer that question, because common sense and doing what's right may surprise you.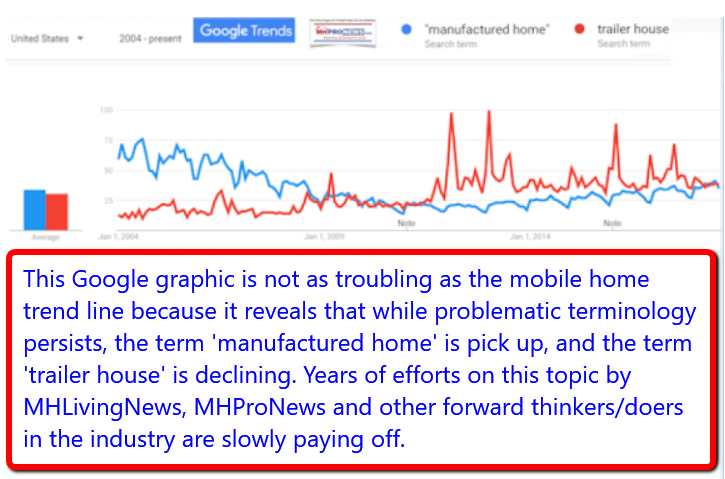 MHLivingNews reported on the trend in the rise of the use of the term "mobile home" and "trailer house" in a research study by Foremost, found at this linked report below.
Foremost Insurance Company has sponsored corporate studies of the manufactured home market since 1979. In recent years, their report is updated every 4 years. The 16 page report attached began by collecting information on October 2 through October 18, 2012.
Does that mean that we as industry professionals should abandon the effort?
The chart below reveals that a steady efforts in recent years by forward thinkers and doers in the industry are starting to pay off.
The use of the term "manufactured home" was trending down for several years, as you can see below.  But in the last few years, the use of the term manufactured home is finally trending up.  The second side-by-side trend line above reveals the term manufactured home is starting to surpass the term "trailer house."
Those facts from Google suggest that more efforts are needed.  But the steady efforts of those who use the correct terminology already are demonstrably working.  The opposite of trying to correct the problems would be to abandon the effort, as some mistakenly believe should occur.  You'll see why reason, facts, and emotions are all reasons why this effort ought to be accelerated, not quit.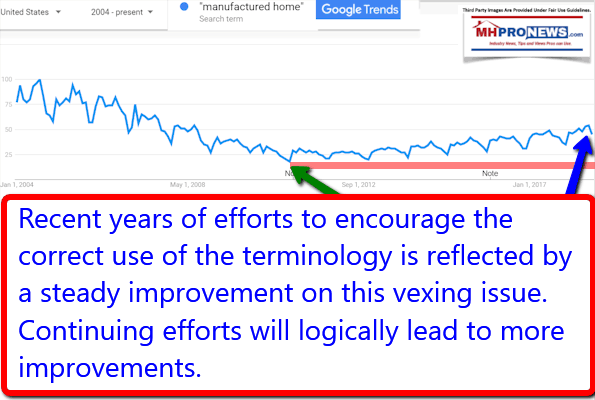 A look at a quoted reply from the publisher of MHProNews and MHLivingNews to that industry professional provides the relevant response.
RE: "Terminology.  This is not a killer between us, but I respectfully disagree.  You said it yourself.  The ideal is home, but the practical is manufactured home.  All you have to do is what Realtor did in their [white] paper.  You say, people call it 'trailer house, mobile homes, and trailer parks.' [Indeed] Some of them [the homes being described] ARE trailers and mobile homes.  But since June 15, 1976, its manufactured homes.  No mobile homes since that date."
"We do that [in marketing work for others and for our own platforms], "Realtor does that, and you can get the marketing/SEO mileage that way too."
With all due respect to our publisher, L. A. 'Tony' Kovach could have clarified a few points.
How so?
Obviously, the best of all possible worlds is to have each of those terms found on your website.
So,
if someone is searching for "

mobile home

," make it easy for them to find you.
If someone is searching for "manufactured home," you certainly want them to find you.
If someone is searching for "

trailer house

," make it possible for them to find you.
But that should debatably be done as Realtor, MHProNews and MHLivingNews do it, educationally explaining the terminology while using it.
One would think that Equity LifeStyle Properties (ELS) and others that use terms like "Village," "Estates," "Community" recognize that home owners don't want to have the terminology of "trailer" attached to them.
MHProNews reported it, but we didn't make it up.  Third-party research suggests that one of the 'turn offs' for millennials to manufactured homes is precisely the terminology "trailer."
Millennials don't like it.
Why turn-off the largest home buying demographic group by saying mobile home or trailer house?
So why would you or anyone use that term, other than to explain that it doesn't apply to a manufactured home?  And that the cut off date when manufactured homes were born occurred on June 15, 1976.
But here is a brilliant and succinct use of terminology that the NFPA – the National Fire Prevention Association – used.
And that is just how simple it can be for anyone who wants to maximize both education and SEO.  Quote the NFPA, and reference it to MHLivingNews.
That one-two punch gives your comments two sources of third-party credibility.  We've done this, coached this, and know that when done properly, it works.
And guess what?  That's what people frankly want anyway.  In the U.S., or Canada, people don't like the term trailer house. They don't like it in Australia either. There are very few manufactured homes in Hawaii, which could be a perfect place to prove what the future of manufactured housing could be.  But the term 'trailer house' dogs those on the islands who want to bring HUD Code homes there.
Mobile home is not an accurate term either, as Steve Duke explained succinctly in the quote cited below why the nomenclature matters, which he gave on-the-record to MHLivingNews.
Why Terminology Matters, Local Media Report
"Traffic was blocked on Interstate 20 Westbound near Ruston [LA] due to a mobile home fire," said KNOE.
"According to the Ruston Fire Department, a mobile home being moved caught fire while on Interstate 20. The fire department was able to contain the fire," said the report. The visual evidence suggests that this was in fact a mobile home, and not a manufactured home.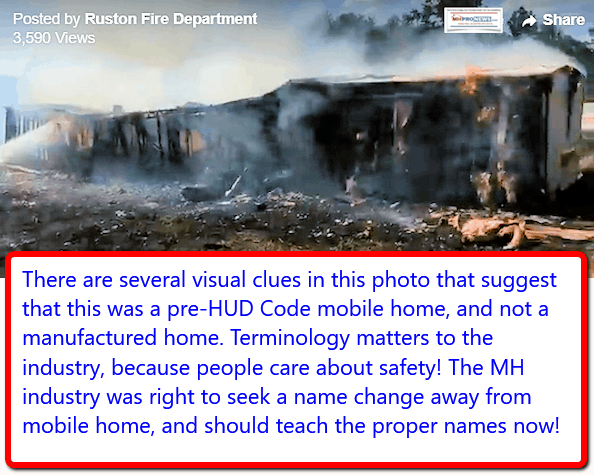 The reason why terminology can matter is what occurred in the battle waged in Ohio.
Recall that their Governor John Kasich weighed in on an effort against the industry and their home owner associations, claiming mobile homes were less safe in a fire.  What the governor was being deceptive or ignorant on is that the pre-HUD Code mobile home safety issue had been remedied by the national manufactured home construction and safety standards.  That fix took place 4 decades before the issues in Ohio came to a head.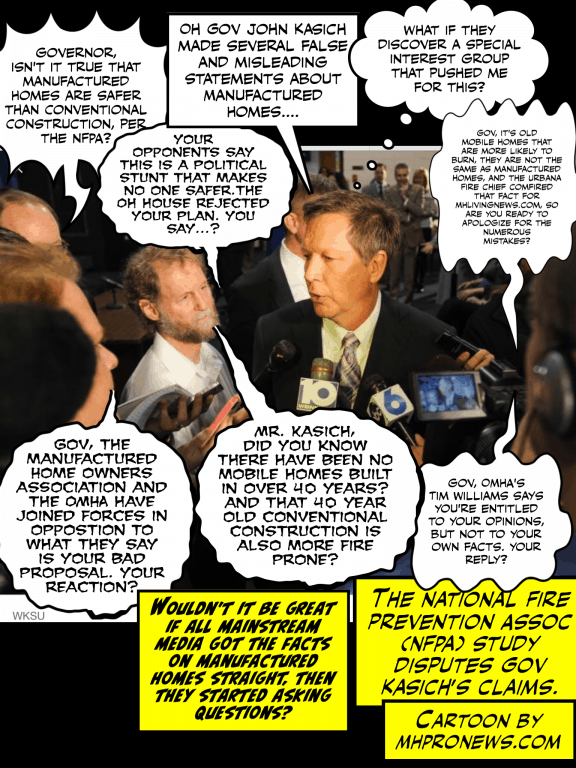 That powerful fact is one of numerous reasons why the precise terminology matters.
In this specific KNOE report, local media got it right, because the fire fighters called the charred unit by its actual proper name.
With all due respect to Stacey Epperson, who has previously said that "a home is a home" and there should be no other terminology, like "mobile home," "trailer house" or "manufactured home" used. That's nice, but arguably unrealistic. A home that is born in a factory on a chassis – and that running gear is often used just once or twice – and then is rarely if ever moved again. Was that home born before of after June 15, 1976? Did it exit the production center with or without a red HUD Label, which is makes it earn the title of a manufactured home?  Those details matter.  The standards the home was built to matter to that homeowner, the neighbors, to the industry, and a nation seeking an affordable housing solution.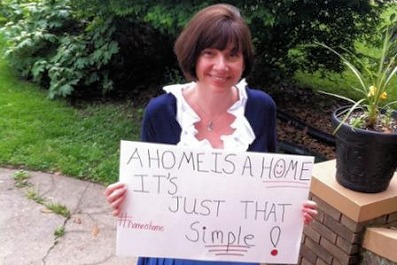 Education is an answer that could bring tens of billions of dollars annually in more retail sales to the industry.  That education can and should be done locally, regionally or nationally. See the related reports, linked further below.
Mobile homes are more fire prone, while a manufactured home is as safe as a conventional site built house statistically. That's a reality that requires names, facts, and definitions.  That reality is the one that caused the NFPA to do their study, referenced above.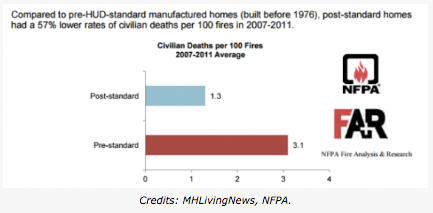 "Easy doesn't pay well," says Sunshine Homes President John Bostick.  It may be hard work – at first – to change habits of how we call things. But changing terminology was accomplished during the civil rights movement.  It was the right thing to do.  It needs to be done to advance the manufactured home movement, because that's the right thing to do too.
Reviewing Another Reason Terminology Matters
Here's another reason why it matters.  This local media report, whether they knew it or not, got it right. That house that burned wasn't a manufactured home.  It wasn't a trailer house.  It was a pre-HUD Code mobile home, as an expert can tell by looking at the photo from the local media, shown above.
The public and millions of manufactured home owners don't want to be known as trailer trash.  The industry can and must lead on this issue.  It is as simple as it is laid out herein.
If the
Manufactured Housing Institute (MHI) wanted to fix this issue,
or if Berkshire Hathaway wanted to fix this issue, arguably either or both could make big strides in short order. Berkshire owns numerous newspapers. Berkshire could alternate the use of their various platforms to educate others in media, and the public at large.
So why don't they?
But if the whole world did it wrong, is that a reason for you or your colleagues to do it wrong?
"What's wrong is that we don't ask what's right." – G.K. Chesterton. The tuxedo argument of that message writer is cute, clever, but it isn't logical.  We don't call a black man the n-word, as the Rev. Donald Tye Jr explained. Nor should we call a manufactured home a trailer house or a mobile home.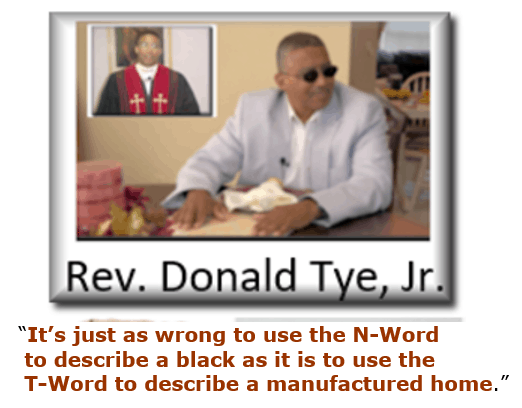 Two wrongs never have, and never will, make something right.  Experience shows that qualified people who are home shopping would rather buy a manufactured home, as opposed to a mobile home or a trailer houses.  The letters to the editor that pop up over the years often say the same thing.
Proper Definitions, Mobile Home, Manufactured Home, or Trailer House – Civil Rights, Respect, Public Policy, & Value Issues
The Bottom Line?
We as MH Industry business owners, investors or professionals need to elevate the discussion, not add to the confusion. Check out the linked related reports, below and above, to see more practical reasons why the terminology matters.
But that email from an industry professional was arguably correct in this sense.  A misuse of terminology is "frankly insulting" to millions of home owners, and thousands of industry professionals. 
Who agrees with that last point?  Mark Weiss, President and CEO of MHARR.
When did he say that?  At the same time others did in response to the outrage expressed in MHVille when an anti-Trumper used the term "trailer park trash" to describe three people who visited the White House.
When Frank Rolfe was still speaking publicly against MHI and their failure to engage with the media, he said this about Olbermann's tweet.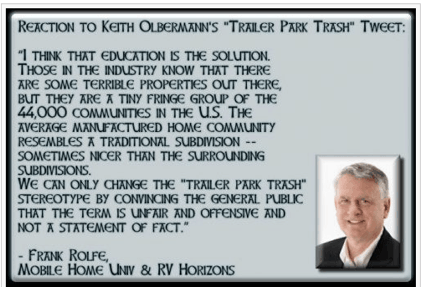 That's "News through the lens of manufactured homes, and factory-built housing," © where "We Provide, You Decide." © ## (News, analysis, and commentary.)
(Third-party images and content are provided under fair use guidelines.) See Related Reports, linked further below.
1) To sign up in seconds for our MH Industry leading emailed news updates, click here.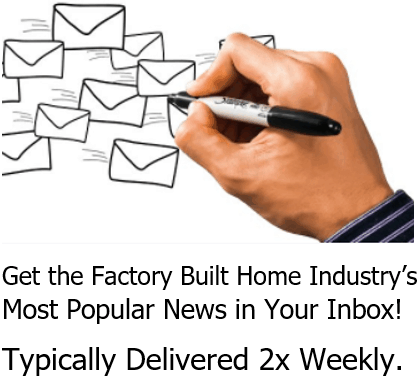 2) To provide a News Tips and/or Commentary, click the link to the left. Please note if comments are on-or-off the record, thank you.
3) Marketing, Web, Video, Consulting, Recruiting and Training Resources
Submitted by Soheyla Kovach to the Daily Business News for MHProNews.com. Soheyla is a managing member of LifeStyle Factory Homes, LLC, the parent company to MHProNews, and MHLivingNews.com.
Related Reports:
"Fixing Our Industry's Terrible" Public Relations, a Proven Strategy
"Thou Shall Not Steal," $2 Trillion Annually Lost to Lack of Affordable Homes, Making the Manufactured Home Case
"Trailer House Trauma," Fresh Look at Manufactured Housing's Opportunities
"Trailers for Sale or Rent," "Pencil Head, Its Not a Trailer Park," Manufactured Home Rental Reality Checks