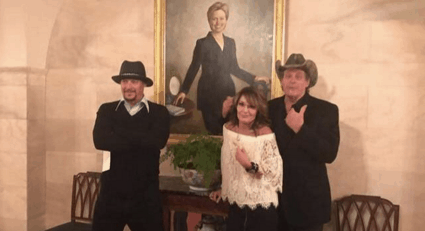 In what is quickly becoming known as the "tweet heard 'round the manufactured housing world," former ESPN and MSNBC host Keith Olbermann's reference to President Donald Trump supporters — former Presidential candidate Sarah Palin and musicians Ted Nugent and Kid Rock during their White House visit — as "trailer park trash" has set off a fire storm.
"It is amazing to me that any media person can stereotype millions of Americans without being worried about their career being at stake," said Frank Rolfe.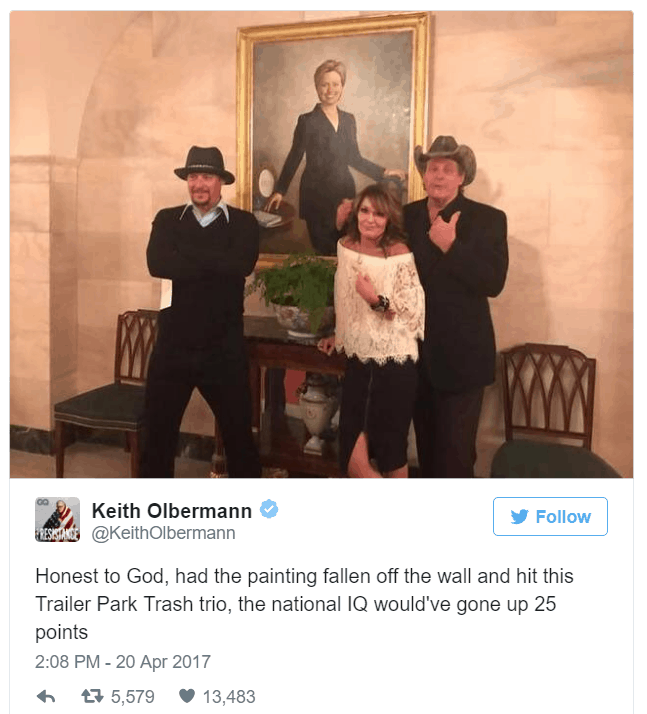 "In today's politically correct world, why is it acceptable to use such a derogatory term as "trailer park trash"?
Rolfe opens up another potent question with his statement: why does it seem that some "get a pass" by the mainstream media, when others do not?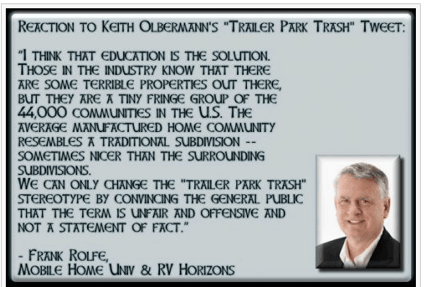 "Newscasters and journalists are losing their careers over the use of every other insulting slang term — however minor — simply from special interest groups threatening to boycott the advertisers. So why is 'trailer trash' the one insulting term in the U.S. that you can use without any fear of reprisal? Is it because the average American feels it's true," asks Rolfe, "thanks to the consistent negative portrayal of the industry in the media?"
"Those in the industry know that there are some terrible properties out there, but they are a tiny fringe group of the 44,000 communities in the U.S. The average manufactured home community resembles a traditional subdivision — sometimes nicer than the surrounding subdivisions. We can only change the 'trailer park trash' stereotype by convincing the general public that the term is unfair and offensive and not a statement of fact," Rolfe told MHProNews.  
He added, "That would generate a grassroots movement to protest the term aggressively and that, in turn, would scare the media away from ever using it again. If any journalist who uttered the phrase "trailer park trash" immediately lost their job, then it would disappear overnight."

Rolfe's Not Alone…
And, Rolfe is far from alone in his feelings.
"It's an absolute disgrace that this pejorative ("Trailer Park Trash") somehow remains 'socially acceptable' among the politically correct elite and their mouthpieces," said MHARR President & CEO, M. Mark Weiss, JD.
"People like Olbermann, who routinely slam others over alleged 'micro-aggressions' and other fabricated nonsense, would do well to show proper and decent respect for the millions of hard-working Americans who are able to own a home of their own because of the unequalled affordability of manufactured homes located either in — or outside of — manufactured home communities," Weiss said to MHProNews. "They, and a lot of other Americans living in the heartland of the country, deserve better than this type of arrogant slander."
A Moment of Personal Commentary, by RC Williams, OK'd by the Editor…
As a writer who covers the manufactured housing industry – and also happens to be black – I wondered out loud today if Olbermann would have received the same "atta boys" and backslaps from his echo chamber if he would have used terms like "ghetto urchin," "welfare queen," or "wetback beaner" to describe hard working White, Black or Hispanic Americans?
There isn't anything wrong with disliking a person, or having a different political, or policy perspective.  Such may be the case with Olbermann when it comes to Palin, Nugent and Kid Rock.  But Olbermann seems to be acting like a junior kid who didn't receive discipline when he was young – and thinks it's OK to do or say whatever he wants.
Journalism requires research, and respect, to build credibility. Olbermann seriously put his into question with his comments, and offended millions in the process.
Perhaps lacking sound arguments against the economic progress already being made by the Trump Administration, Olbermann resorts to what weak minds turn to — cheap insults and ad hominem attacks.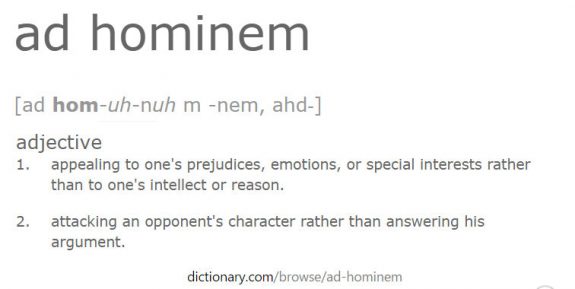 Community Owners Sound Off
Mari Blaquiere and Todd Lamb of Lamb Investments, are among the many who provided on-the-record comments to MHProNews from community owners on this issue.
Lamb views the situation as partisan hypocrisy.
"Wow!! Keith Olbermann should be careful. I'm sure he knows that God humbles the proud, and gives grace to the poor," said Lamb.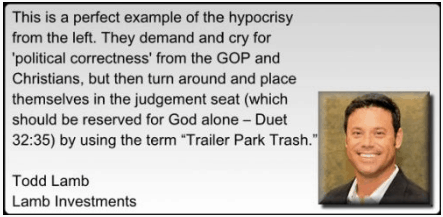 "This is a perfect example of the hypocrisy from the left. They demand and cry for 'political correctness' from the GOP and Christians, but then turn around and place themselves in the judgment seat (which should be reserved for God alone – Duet 32:35) by using the term 'Trailer Park Trash.'"
Lamb continued.
"Some of the most joy-filled, hard-working and good people that I have had the privilege to know live in Manufactured Home Communities. I'm sure they would not appreciate his terminology, or Olbermann's judgment on two Rockers and Sarah Palin."
It really is shocking to see the left-wingers squirm when they are not in power," Lamb said. "A reminder to all Conservatives: 'Pray for Donald Trump, the President is under constant attack.'"
Not All Will Speak Up – On or Off the Record – To Defend the Industry and It's Homeowners
MHProNews asked Kevin Borden of MHAction for a comment, giving him an opportunity to defend the industry's homeowners.
Silence.
As with Borden, and also after more than 48 hours, a request was made to the senior staff at the Manufactured Housing Institute (MHI) for their reactions. Top staff and their communications director…were all equally silent, as if to prove Frank Rolfe's previous point on their unwillingness to engage the media.
MHProNews will continue to monitor MHI's responses, if any, and provide follow up from this as warranted. ##
(Editor's Note: As our primary Daily Business News writer, RC Williams' mission is reporting, not commentary. It's a mission that management feels he does well – and the industry has responded to his writing with an ever larger audience. In this case, Wiliams was given the OK to share his personal thoughts on this highly charged issue, which MHProNews thanks him for offering – instead of just sounding off without warning. That's a team player.)
(Image credits are as shown above, and when provided by third parties, are shared under fair use guidelines.)

Submitted by RC Williams to the Daily Business News for MHProNews