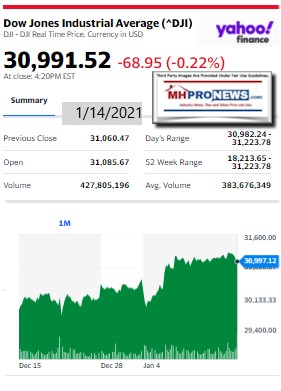 President Donald Trump could have "tempered down" his Jan. 6 speech but was not to blame for the breach of the U.S. Capitol that day, according to Housing and Urban Development (HUD) Secretary Ben Carson.
"I think it was potentially something that could have been tempered down," Secretary Carson told the Washington Examiner. "When you saw in the audience some of the elements that looked somewhat violent, you might want to temper what you have to say."
Silencing a significant number of voters and erasing history is no way to unite us; it only further divides. Big tech & social media platforms want to act like media orgs but don't want to be held accountable with the rest of media. Speech should be free whether you agree or not. pic.twitter.com/XEDExaMwj7
— Ben & Candy Carson (@RealBenCarson) January 9, 2021
Trump spoke to a crowd in Washington, telling them at one point, "We fight like Hell and if you don't fight like Hell, you're not going to have a country anymore," per the Epoch Times.
He also said that people who were planning to march to the Capitol should do so "peacefully and patriotically."
You want to ban @realDonaldTrump, fine you're a private company, but @Twitter deleting the President's account which highlights this admin & its history is wrong. @Facebook & @instagram banning all images from the Capitol riot is a dangerous precedent to set. We aren't in China.

— Ben Carson (@SecretaryCarson) January 9, 2021
President Trump finished at 1:12 p.m. But the crowd at the Capitol started their unruly and problematic behavior before then. The Epoch Times noted that it takes about 45 minutes to walk from where Trump spoke to the Capitol. It is a point that several others, more routinely in conservative media, have made. Facts matter, or at least they should. But the House, in a chilling reminder of Soviet-era show trials, impeached President Trump in a record 7 hours, with little discussion and no rights for the defendant. It was a slap in the face of the American system of justice and the rights of the accused.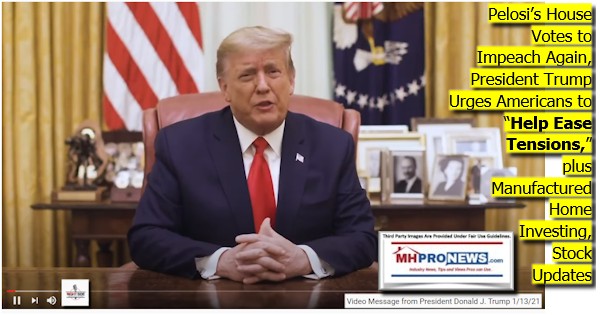 Dr. Carson said it was clear that the group that attacked the Capitol was already going to do so before Trump spoke. Indeed, CBS News' investigative reporter Catherine Herridge said that "small unit tactics" – such as military-style hand signals – were reported and are being investigated in connection with the Capitol breach.
#CapitolRiot SCOOP: A law enforcement official confirms @CBSNews the identification of individuals using military or "small unit tactics" is among the "highest priorities" for DC US Attorney's Sedition Task Force. Video footage + eyewitness accounts of the apparent use of these

— Catherine Herridge (@CBS_Herridge) January 14, 2021
tactics (trained to military + law enforcement) drew immediate scrutiny from investigators. CBS News has learned these tactics were witnessed both OUTSIDE + INSIDE the Capitol Building. NOTE: These tactics are commonly used in hostile, unknown environments to clear rooms + reach

— Catherine Herridge (@CBS_Herridge) January 14, 2021
mission objectives. They can include hand signals or physical contact, to unify the group + communicate directions. These are TRAINED behaviors (my emphasis) @USAO_DC #OriginalReporting

— Catherine Herridge (@CBS_Herridge) January 14, 2021
Herridge didn't mention it, but military news sources are reportedly investigating the presence of a female PSYOPs officer at the Capitol, and she has reportedly resigned her commission.
Those points noted, returning to Carson's comment, "There's a lot of evidence that they were planning this before the day of the attack and brought appropriate weapons to carry out what could have been very devastating," he said.
Secretary Carson, who during the 2015-2016 election cycle was a candidate for the Republican presidential nominee as well as a famous neurosurgeon, said last week that he was "focused on finishing what I started in uplifting the forgotten women and men of America."
"It's time to move toward peace. We are not each other's enemies!" he added in a tweet.
In the new interview, he said the country needs to be united.
"It won't be Russia or China or Iran," he said. "It will be us that destroys this if we don't learn." It is a remark similar to what Abraham Lincoln is reputed to have said, shown further below in today's quotable quotes.
Those statements noted, MHProNews will now pivot toward the featured focus which is an interview with Twitter rival Gab CEO.
Quotes That Shed Light – Industry, American, Social, National Issues…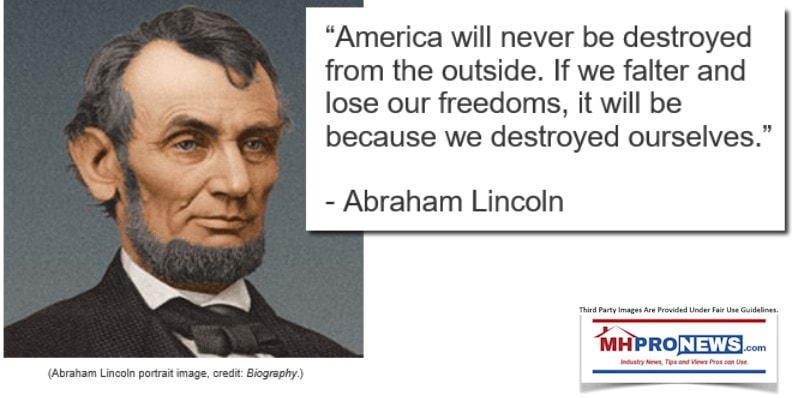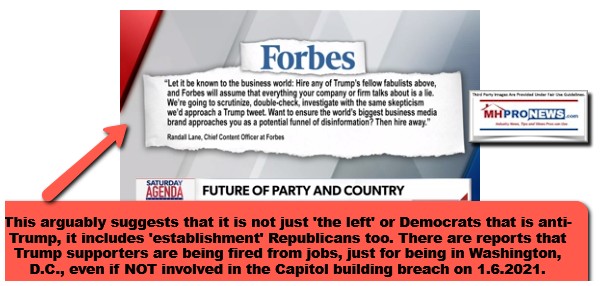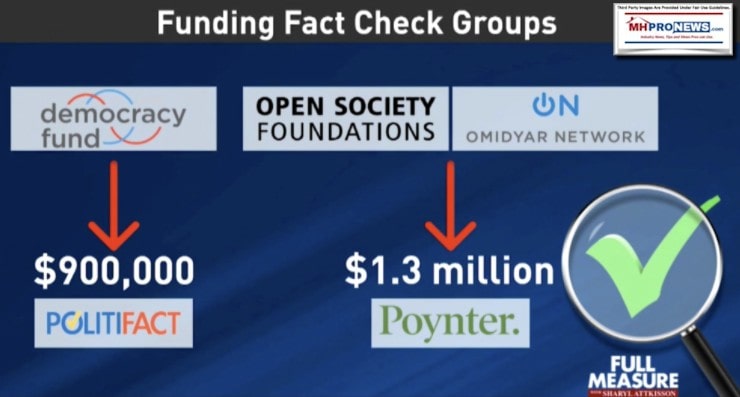 Headlines from left-of-center CNN Business
Bitcoin roller coaster
The photo shows a physical imitation of a Bitcoin in Dortmund, western Germany, on January 27, 2020.
Prices roared back towards $40,000, but investors should expect a bumpy ride ahead
Big banks and climate activists join forces to denounce new Trump administration lending rule
Huge step in the wrong direction: Unemployment claims soar
Opinion: Prepare for a jobs boom in 2021
BlackRock now has a whopping $8.7 trillion in assets
China is winning the trade war, and its exports have never been higher
'He could never tell the truth:' Trump's presidency kneecapped by his lies
Xi wants Howard Schultz to help repair US-China ties
Christopher & Banks is going out of business
Taco Bell is bringing back potatoes
Samsung Galaxy S21 smartphones are smarter and cheaper
Capitol riot denialism is already here
Seth Rich conspiracy theorists retract and apologize for false statements as they settle lawsuit
S. President-elect Joe Biden delivers remarks after he announced cabinet nominees that will round out his economic team, including secretaries of commerce and labor, at The Queen theater on January 08, 2021 in Wilmington, Delaware. Biden announced he is nominating Rhode Island Gov. Gina Raimondo as his commerce secretary, Boston Mayor Martin J. Walsh his labor secretary and Isabel Guzman, a former Obama administration official, as head of the Small Business Administration.
US debt surged by $7 trillion under Trump. It will go much higher under Biden
WASHINGTON, DC – JANUARY 14: The U.S. Capitol is pictured at dawn on January 14, 2021 in Washington, DC. Security has been increased throughout Washington following the breach of the U.S. Capitol last Wednesday, and leading up to the Presidential inauguration.
No alcohol and no checked guns: Airlines tighten security for Inauguration Day
A view of people queueing outside Costco in Queens, New York after supermarkets have introduced a range of new measures in order to keep stores open and shelves stocked during the coronavirus pandemic.
Coronavirus outbreak, New York, USA – 07 Apr 2020
Costco is shutting down all of its photo centers
Headlines from right-of-center Newsmax
Mast Hits Back After CNN's Tapper Questions His Patriotism
Brian Mast, who lost his legs while serving in the military in Afghanistan, Thursday hit back at a CNN anchor who questioned his patriotism over his line of questioning during the House impeachment arguments and his opposition to the charge brought against President Donald Trump.
America in Crisis
Marvel Comics Called to Retire 'Punisher' After Skull Logo Worn by Capitol Rioters
Man Photographed With Confederate Flag at Capitol Is Arrested
Chad Wolf: 'Every Trust and Confidence' Inauguration Will Go Well
National Mall May Close on Inauguration Day
Navarro: Dems 'Did Violence' by Impeaching 'Legally Elected' Trump
France's Le Maire: US Turmoil an 'Alarm' for Democracies
The Trump Presidency
Trump Impeachment Trial Could Begin on Inauguration Day
Texas AG Paxton to Newsmax: Trump Social Media Bans 'Very Concerning' Brian Mast to Newsmax TV: I Fought for Tapper's Right to 'Say Something I Disagree With'
Brian Mast to Newsmax TV: I Fought for Tapper's Right to 'Say Something I Disagree With'
Brian Mast, R-Fla., on Newsmax TV Thursday responded to CNN
Trump's Former Personal Physician Dies
Trump Admin Shelves Planned Investment Ban on Alibaba, Tencent, Baidu
Trump Administration Set for Its Last Auction of US Oil Drilling Rights
Fish and Wildlife Service to Slash Imperiled Spotted Owls' Habitat
Snap Terminating Trump's Account
Trudeau: Canada, Allies Expect Biden to Re-Engage US on World Stage
Canada and other U.S. allies are looking to President-elect Joe Biden
CNN's Don Lemon: If You Voted for Trump, You Back the Klan, Nazis
Trump voters support the Ku Klux Klan, Nazis, the alt-right, and
Chinese Officials Barred From US Over South China Sea
The United States has barred some officials in the Chinese ruling
Finance
US Job Openings Declined by Less Than Forecast in November
S. job openings fell in November by less than forecast, indicating labor demand remained relatively steady before the resurgent virus began to weigh on employment. The number of available positions eased to 6.53 million from a revised 6.63 million in October, according to…
Bitcoin Unlike Any Other Bubble We've Ever Seen
US Weekly Jobless Claims Spike Unexpectedly to Nearly 1M
US Bans Xinjiang Cotton Products, Tomatoes Over Forced Labor
Winklevoss Twins Consider Taking Gemini Crypto Exchange Public
Market Indicator Closing Summaries – Yahoo Finance Closing Tickers on MHProNews…
Featured Focus –
Where Business, Politics and Investing Can Meet
100PercentFedUp reported on 1.13.2021 about the recent video interview with GAB CEO Andrew Torba by WBRE, a local tv station in Scranton, PA.  Torba describes himself as a devout Christian. A crucifix is hanging in the background as he speaks.
"I had very close relationships with Facebook and Twitter…" said Torba. "I got to see the evils of their business model for many years," in the video posted further below. "What we're seeing in America right now is the rise of Communism."
Torba explained to WBRE that he founded GAB in 2016 as an alternative to Twitter, a free speech social media platform.
"I was living and working in Silicon Valley at the time, and I had very close relationships inside of Facebook, Twitter, and Google, by nature of my last start-up company which was a digital advertising company," Torba explained, adding, "I got to see the evils of their business model for many years."
The social media entrepreneur explained that because of the many relationships he developed within these big tech companies, he had "insider sources" who warned him that "the rise of censorship was coming and was inevitable."
Torba shared that he witnessed the manipulation of trending topics on Facebook, "which a whistleblower from inside of Facebook leaked in May of 2016," explaining, "And that is what really pushed me over the edge."
"This whistleblower from Facebook admitted that they were actively suppressing conservative news, conservative topics, conservative sources, conservative stories from the trending topics product, which is used by billions of people every day as a source of news. They have since retired this process since the whistleblower came out," he explained.
"So, that was really the impetus behind starting this [i.e. Gab]. The left was saying if you don't like, go build your own—so that's exactly what I did," Torba stated.
On Newsmax tonight, Judicial Watch's Tom Fitton said that what happened to Parler should be investigated as securities fraud and by the Department of Justice, and he urged that President Trump order an investigation by multiple federal agencies.
Torba believes that "Free speech and the free flow of information has never been more important."
"What we're seeing in America right now is the rise of Communism—plain and simple," Torba explained. "If you study history, you can see many parallels of communist regimes that have risen up throughout history to what is happening right here in the United States of America, right now today."
He believes that critical race theory and other beliefs that drive the tech giants are a "a demonic and toxic ideology that basically destroys everything around itself."
Torba blasted the big tech tyrants for their part in the communist takeover of America.
"And anybody that criticizes this uprising, this oligarchy that we're seeing, this communist regime uprising that we're seeing from these billionaire elites who think that they own this country, that think that they run this country, is silenced, and that includes the president, that includes the 75 million Americans who support the president."
Markets Drop – Parler Sues Amazon, CNN "Could F-cking Destroy You," Insurrection Act Buzz Grows – Plus Manufactured Housing Investing Stock Updates
Before the Recent Parler Assault, Gab Suffered Similar Treatment
Torba explained that years before Parler had their apps pulled from Google and Apple, something similar was done to Gab.
Also similar to Parler, Gab had a range of other services that were pulled. He specifically mentioned that:
Email,
Payment processing,
Servers and everything that they need to operate they have built themselves, so that they would no longer be as vulnerable to the purported tech tyrants.
"We will build the free speech internet that is grounded in American law and First Amendment free speech protections for everyone around the world, if we have to do it from the ground up—whatever it takes, we will get it done!"
"We call them 'community members' "Torba explained, "as opposed to Facebook and Twitter, who dehumanize the people on their platform by calling them "users."
Torba explained they are not funded by a billionaire or a venture capitalist firm. They are community member funded.
"We saw a spike last week after the Capitol protests," explaining that GAB witnessed 40 million people who visited the site this week and that they're getting 600-700K sign ups per day, calling it "unprecedented," saying, "We've never seen this type of growth in our history."
While Parler initially thought they might get back on line rapidly, days are going by, and they are still not back up at the time this report is posted.
Gab has posted on their site that they are working hard to keep up with the growing demand.
GAB has 3 rules:
1.We have no tolerance for threats of violence. Torba explained how GAB monitors it's community members. "We have a decentralized army that are moderating their own groups," he said, adding that when community members see something that concerns them, they notify GAB, and we act accordingly.
2.No doxxing.
3.No pornography.
"Watch the incredible interview," said 100PercentFedUp.  They are quite right, it is a worthwhile and insight commentary from a tech industry insider.  It offers insights into parallel issues that face our profession and others.
It should be noted that several of the concerns that apply to our industry and to prior reports by MHProNews on the threats from monopolists is confirmed by what Torba had to say. Almost 2 years ago, MHProNews created this graphic to express the obvious threat and the arguable need for public officials to deal with them through antitrust and other legal tools. A pre-election report on the tech titans and how it relates to our industry is linked below the graphic.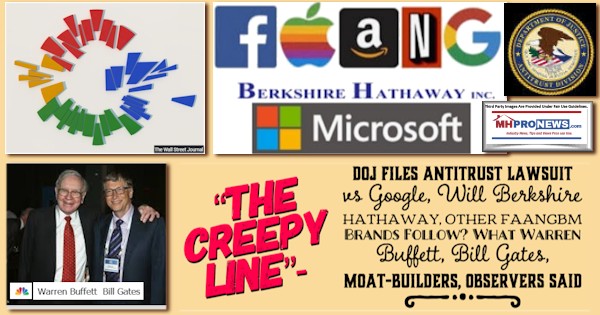 Related, Recent, and Read Hot Reports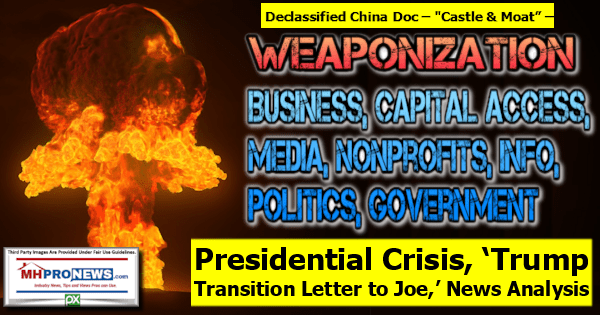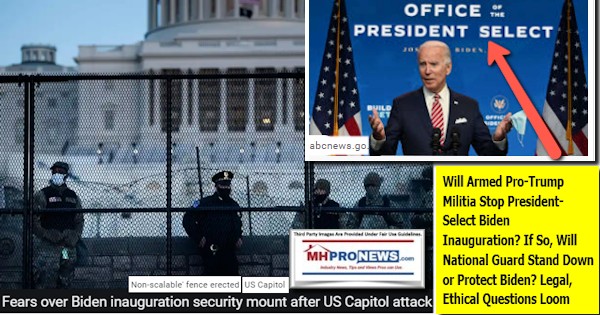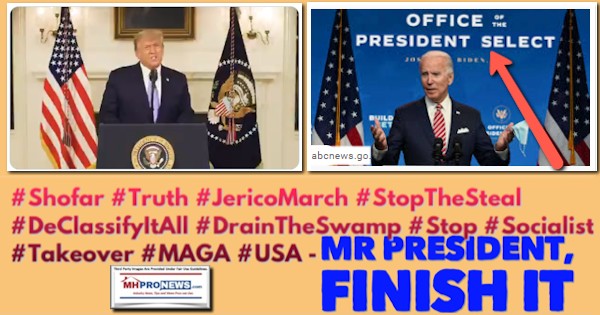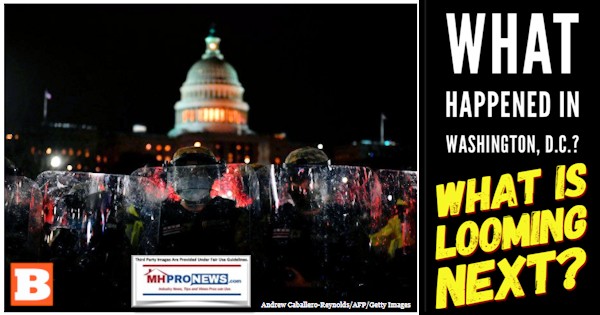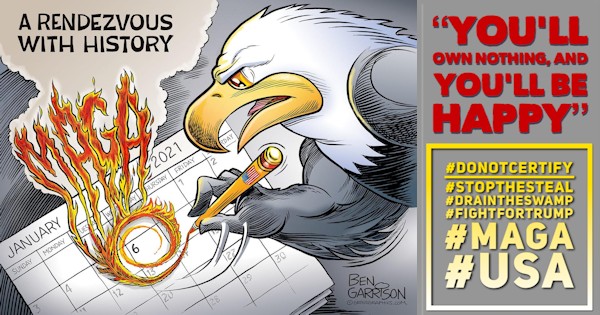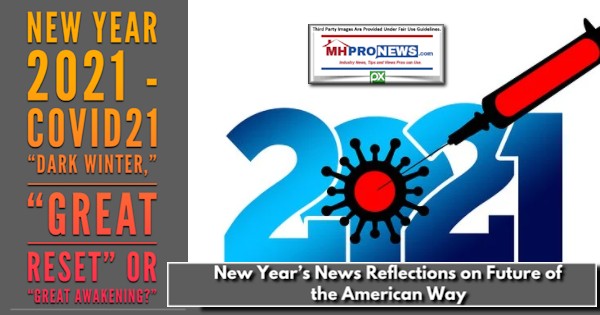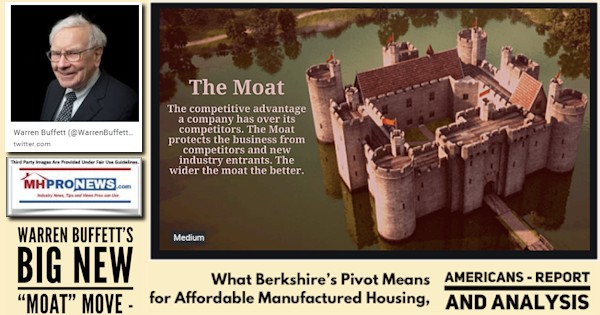 Manufactured Housing Industry Investments Connected Closing Equities Tickers
Some of these firms invest in manufactured housing, or are otherwise connected, but may do other forms of investing or business activities too.
NOTE: The chart below includes the Canadian stock, ECN, which purchased Triad Financial Services, a manufactured home industry lender
NOTE: Drew changed its name and trading symbol at the end of 2016 to Lippert (LCII).
NOTE: Deer Valley was largely taken private, say company insiders in a message to MHProNews on 12.15.2020, but there are still some outstanding shares of  the stock from the days when it was a publicly traded firm.  Thus, there is still periodic activity on DVLY.
Winter 2021…
Berkshire Hathaway is the parent company to Clayton Homes, 21st Mortgage, Vanderbilt Mortgage and other factory built housing industry suppliers.
· LCI Industries, Patrick, UFPI, and LP each are suppliers to the manufactured housing industry, among others.
· AMG, CG, and TAVFX have investments in manufactured housing related businesses. For insights from third-parties and clients about our publisher, click here.
Enjoy these 'blast from the past' comments.
MHProNews. MHProNews – previously a.k.a. MHMSM.com – has celebrated our 11th year of publishing, and is starting our 12the year of serving the industry as the runaway most-read trade media.
Sample Kudos over the years…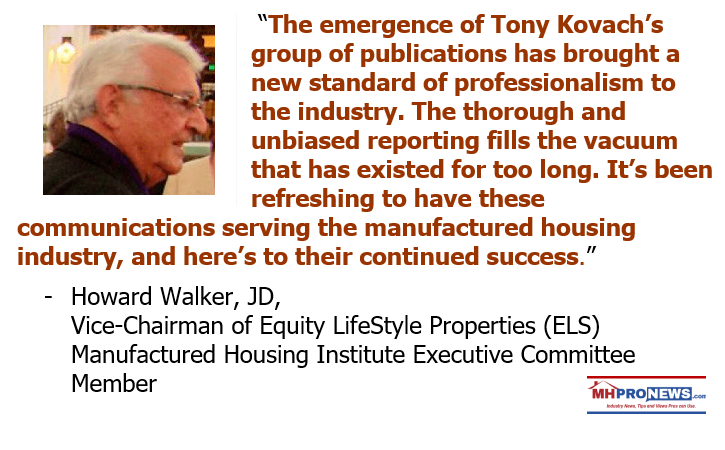 Learn more about our evolutionary journey as the industry's leading trade media, at the report linked below.
· For expert manufactured housing business development or other professional services, click here.
· To sign up in seconds for our industry leading emailed headline news updates, click here.

Disclosure. MHProNews holds no positions in the stocks in this report.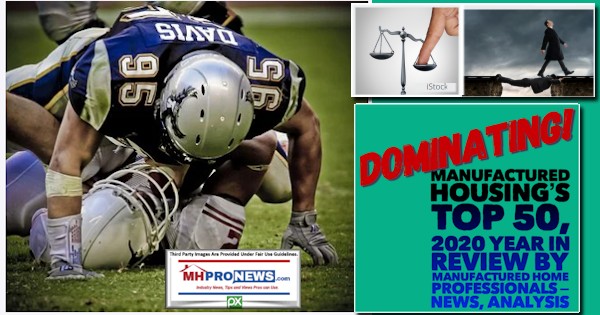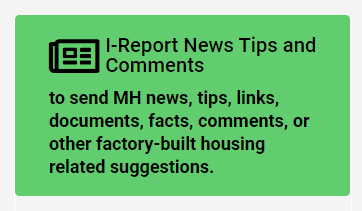 That's a wrap on this installment of "News Through the Lens of Manufactured Homes and Factory-Built Housing" © where "We Provide, You Decide." © (Affordable housing, manufactured homes, stock, investing, data, metrics, reports, fact-checks, analysis, and commentary. Third-party images or content are provided under fair use guidelines for media.) (See Related Reports, further below. Text/image boxes often are hot-linked to other reports that can be access by clicking on them.)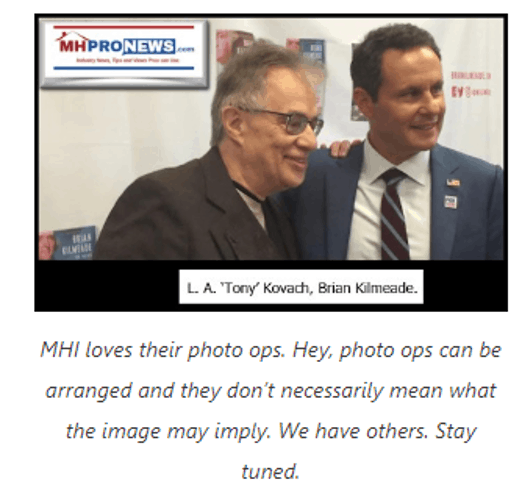 By L.A. "Tony" Kovach – for MHLivingNews.com.
Tony earned a journalism scholarship and earned numerous awards in history and in manufactured housing. For example, he earned the prestigious Lottinville Award in history from the University of Oklahoma, where he studied history and business management. He's a managing member and co-founder of LifeStyle Factory Homes, LLC, the parent company to MHProNews, and MHLivingNews.com. This article reflects the LLC's and/or the writer's position, and may or may not reflect the views of sponsors or supporters.