"You'll own nothing, and you'll be happy." So begins a video posted further below by the World Economic Forum (WEF) which includes several businesses that have clear ties to our profession and scores of others. What do you own that you do not want to lose?
The big business focused U.S. Chamber of Commerce said this week "Thomas J. Donohue, CEO of the U.S. Chamber of Commerce, issued the following statement today ahead of the counting of electoral votes on January 6th and expected political gatherings in Washington D.C." in a media release. "We urge Congress to fulfill its responsibility in counting the electoral votes, the Trump administration to facilitate an orderly transition for the incoming Biden administration, and all of our elected officials to devote their energies to combatting the pandemic and supporting our economic recovery," said Donohue. Warren Buffett led Berkshire Hathaway, a member of the Chamber, is quoted on their website. Bill Gates founded Microsoft is a member too.
By contrast, in Washington, D.C. today, NTD broadcasting from the #StopTheSteal #SaveAmerica event, had an attendee that said that the members of Congress better do the right thing, because there are "angry, pissed off people" that support President Trump who will not tolerate the steal of the 2020 presidential election.
In Georgia, the Associated Press (AP) has called the race between Raphael Warnock (D) vs. Senator Kelly Loeffler (GA-R) in favor of Warnock, who has been depicted as a wife abusing socialist who has had Fidel Castro, Communist Cuba's dictator, at a church where Warnock was listed as a pastor.  Senator Loeffler has said she still sees a path to winning, and has not conceded. Democratic challenger Jon Ossoff  and Senator David Perdue are near a 50-50 deadlock, per the latest. Allegations of election fraud and irregularities favoring Democrats in a traditionally Republican stronghold are once more being claimed by GOP supporters.
The Ossoff campaign says it expects to win. The Purdue campaign issued this statement via Twitter.
Purdue campaign issues statement saying election is "exceptionally close" and "will require time and transparency to be certain the results are fair and accurate" pic.twitter.com/xvGUyVVqDG

— Kristen Holmes (@KristenhCNN) January 6, 2021
Pivoting back to the World Economic Forum (WEF), the video promoting the Great Reset that follows says opens with the pitch that by 2030 "You'll own nothing, and you'll be happy."  The WEF Great Reset video continues by saying you will rent everything, and things will be delivered by drone. So, what will millions employed by small businesses do? No answers to such questions are offered.
Starting in June 2020, these messages plugging the Great Reset have been wrapped in a mantle of environmental and economic realignment necessary due to the COVID19 pandemic.
Monopolistic oligarchs have been forging for years an oligopoly in our part of the affordable housing industry, but also in others too. Oxford Languages describes an oligopoly as "a state of limited competition, in which a market is shared by a small number of producers or sellers." When the top 3 firms hold some 80 percent of manufactured housing market share, in stark contrast to what existed just 2 decades ago, isn't that an oligopoly? These issues have been tracked and reported by MHProNews for some years, pointing to quotes by Warren Buffett like the one below.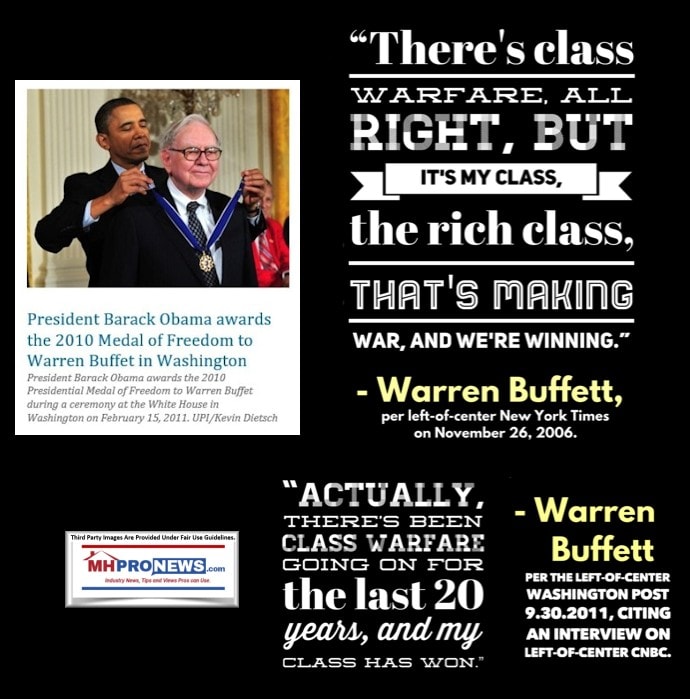 Joe Biden has been described as a "sock puppet" by WMAL's Chris Plante. Plante is colorful, but hardly alone in saying that Biden is a front man for the forces that have not 'elected' but have 'selected' him to be the next president. Glenn Greenwald from the political left to voices on the political right have said that an authoritarian state is coming and that elections have become a farce.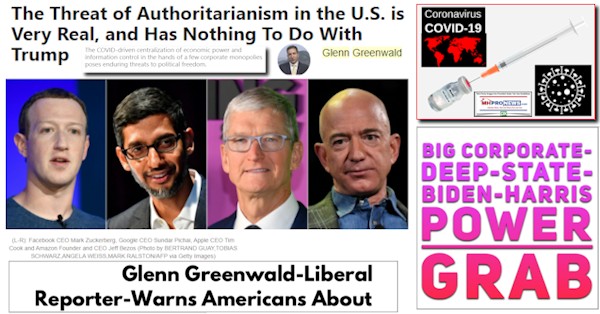 Democratic leadership has made their plans plain. They want to open the southern border again, and legalize millions of people living in the U.S. who entered illegally. They often represent cheap labor for big business, which is why immigration is often promoted by the billionaire class. They are also expected to be largely a pro-Democratic voting block. It is part of an effort, say concerned Americans, that could turn the USA into California, with a marginalized Republican Party unable to win national (or statewide) elections.
Turning D.C. and Puerto Rico into states would give Democrats two more states and four more U.S. Senators.
The billionaires and their big corporate media, big tech/social media, Hollywood/entertainment, dominate the Democratic Party. But they also have influence over several Republicans. Blinding propaganda, says Greenwald, is creating a dark future where the oligarchs will rule. The American Dream isn't to "rent everything" and "be happy," Great Reset style. Homeownership, small businesses, could become things of the past.
One need not look beyond "essential businesses" and COVID19 lockdowns to see where the country is heading.  But the good news is that experts in this matter say that the structure set up by the Constitution favors President Trump. But that is only true if lawmakers are encouraged to do what is right.  That means that the voices of millions must be heard.
What Can Be Done?
Ben Garrison, a political cartoonist and periodic commentator has said that today, January 6 is critical. The late Ruth Bader Ginsburg has said that this is the time set aside by the constitution for the Joint Session of Congress to resolve election-related concerns. Democrats, as Greenwald noted, tried something similar in 2001, 2005, and 2017 in response to the elections of 2000, 2004, and 2016.
MHProNews has reported for weeks, and more recently has been encouraging readers to contact lawmakers and Vice President Pence with a simple message.
#DoNotCertify #StopTheSteal #DrainTheSwamp #FightForTrump #MAGA #USA
Katrina Pierson, apparently speaking for the Trump campaign, said that today is just the beginning, in speaking to the rally in Washington this morning. "We are taking names today," said Pierson, saying they will replace the GOP members who do not fight for the integrity of the 2020 election. "There are more of us than there are of them" said Pierson. "We fight" as "patriots" said Pierson. "We are still a Constitutional Republic and we will take our rights back." Pierce added, "We are all in this fight together to restore America, to save America."
https://www.votervoice.net/ALG/campaigns/78980/respond
At 9:54 AM, over 65 million actions – meaning, individual messages apparently sent by several million people. The two portals, above and below, are quick ways to let elected officials know rapidly how you feel about this election. That is about 10 million more actions since last night's report.  You can take action in moments via the link below.
Those getting these messages may only scan the subject lines.  So, we suggest you send a message with this subject line. #DoNotCertify #StopTheSteal #DrainTheSwamp #FightForTrump #MAGA #USA. Say whatever you want below that or use their formatted message.
This writer's message this morning via FreeRoots linked here said the following.
"We are taking names today," said Katrina Pierson with the Trump Campaign to the #StopTheSteal rally in Washington, D.C. today. "There are more of us than there are of them" she said. "We fight" as "patriots" Pierson stated. "We are still a Constitutional Republic and we will take our rights back." Pierce added, "We are all in this fight together to restore America, to save America."  Millions are not likely to allow the Swamp to go back to normal. Better to do what's right now, than later when it may be too late.
I am writing you as an elected official who has sworn an oath to protect and defend the Constitution regarding my grave concerns about the results of the 2020 presidential election.
### End of message to elected officials. ###
Is there a legal basis for this? In a word, yes, say experts.
Graham Allison, whose bio says he is the Douglas Dillon Professor of Government, Harvard Kennedy School and a Member of the Board, Belfer Center at Harvard University, posted on Harvard's Belfer Center the following on November 6, 2020: "most of the press and punditry have concluded that Vice President Biden has won the 2020 election.
Certainly, a substantial majority of the rest of us are suffering from "election fatigue" and eager for this drama to be over. Without disagreeing with the conventional wisdom about the final tally when all the legal votes are counted, I believe the current consensus is missing the fact that Trump has a second, viable stealthy road to victory. I'm reluctantly betting that the debate about who won will continue until at least January 6 when slates of electoral college members are opened in Washington, and most likely beyond that as whatever is decided then is appealed by the loser to the Supreme Court. My conclusion reflects the analysis of my colleague in the Applied History Network at the Belfer Center which is below.
As he notes, this stealthy road follows in the footsteps of a number of previous contested American elections, especially the 1876 election that pitted Tilden v. Hayes. Then as now, each state must decide on a group of electors to meet with a joint session of Congress on January 6 where the winner of the presidential election is declared. The normal practice in a state where Biden won the popular-vote total would be for state election officials to certify the results and send a slate of electors to Congress. But state legislatures have the constitutional authority to conclude that the popular vote has been corrupted and thus send a competing slate of electors on behalf of their state. The 12th Amendment to the Constitution specifies that the "President of the Senate shall, in the presence of the Senate and House of Representatives, open all the certificates and the votes shall then be counted." That means that in the case of disputes about competing electoral slates, the President of the Senate—Vice President Pence—would appear to have the ultimate authority to decide which to accept and which to reject. Pence would choose Trump. Democrats would appeal to the Supreme Court.
Alternatively, if at that point, no candidate has the required 270 electoral votes, the 12th Amendment stipulates, "the House of Representatives shall choose immediately, by ballot, the President. But in choosing the President, the votes shall be taken by states, the representation from each state having one vote." Currently, Republicans have a state delegation majority with 26 of the 50 states and they appear almost certain to keep that majority in the new Congress. A vote of the states would then elect President Trump for a second term. And again, Democrats would appeal that outcome to the Supreme Court.
As the analysis below notes, these issues are even more complex. But to repeat the bottom line: both the words of the 12th Amendment, and historical precedent offer a credible, stealthy, winding road that could lead to Trump's victory and a second term. Or as the saying goes: the opera ain't over till the fat lady sings." That links to the full article at this link here.
Long story short, in different words but using similar legal arguments, the Harvard Belfer Center's Graham Allison makes a case much like what is found linked below.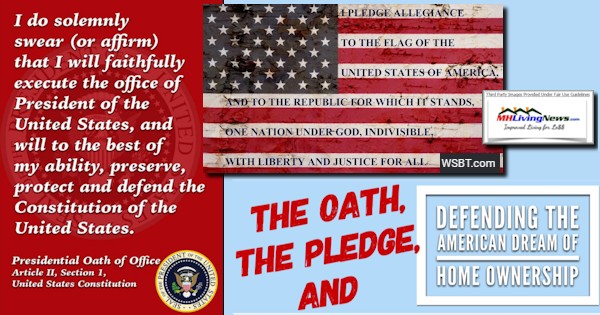 MHProNews has a perspective which is routinely on display. But that perspective is based upon research and evidence that is cited, as the above article does, or as others linked from this report does.
Not only Republicans, but Democrats have to be told that this is not over. Use the tools above.  Then send a link. "Chose wisely" said the president's son, Donald Trump Jr this morning.  "Fight for Trump," or "we are coming for you," he said. He said that they will fight like the Democrats do. "We need to be the party of common sense. We need to be the party of reason," said Donald Trump Jr., ending with "Hold your representatives accountable. Keep fighting!"
Yes, it is fighting for the just cause of keeping President Trump in office as the person who arguably won the 2020 race, when only legal votes are counted. But more than that, it is a fight for your rights, your future, and that of your family, friends, and loved ones. Do nothing, and you'll end up with the Great Reset's odd Orwellian promise "you will own nothing, and be happy."
https://justthenews.com/politics-policy/elections/more-100-state-legislators-ask-pence-delay-certification-electoral-votes
To learn more, see the related reports. But today, take action.
These scoundrels are only toying with the @sendavidperdue (a great guy) vote. Just didn't want to announce quite yet. They've got as many ballots as are necessary. Rigged Election!

— Donald J. Trump (@realDonaldTrump) January 6, 2021
If Vice President @Mike_Pence comes through for us, we will win the Presidency. Many States want to decertify the mistake they made in certifying incorrect & even fraudulent numbers in a process NOT approved by their State Legislatures (which it must be). Mike can send it back!

— Donald J. Trump (@realDonaldTrump) January 6, 2021
For nine weeks, Democrats have been afraid to have a real debate on election integrity.

Why? pic.twitter.com/n3hcoOi4rS

— Rep. Jim Jordan (@Jim_Jordan) January 5, 2021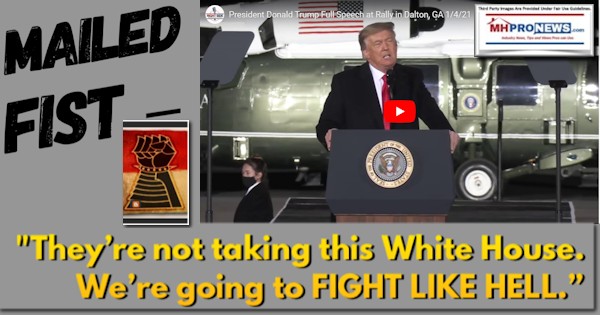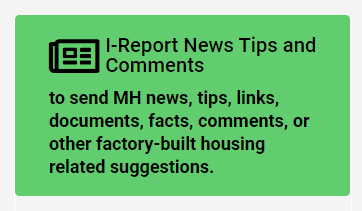 Don't wait for someone else. You step up and make those calls and/or messages. That's a wrap on this installment of the runaway number one source for authentic "News through the lens of manufactured homes and factory-built housing" © where "We Provide, You Decide." © ## (Affordable housing, manufactured homes, reports, fact-checks, analysis, and commentary. Third-party images or content are provided under fair use guidelines for media.) (See Related Reports, further below. Text/image boxes often are hot-linked to other reports that can be access by clicking on them.)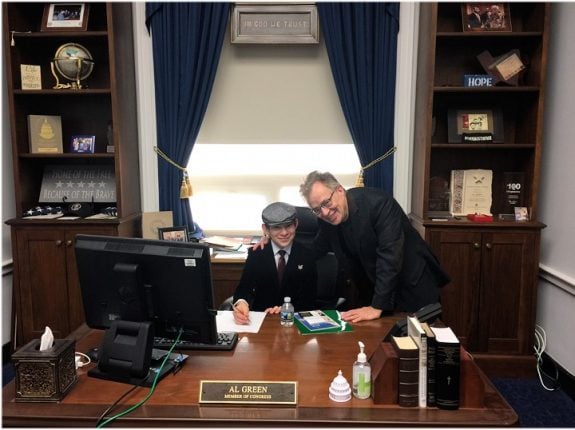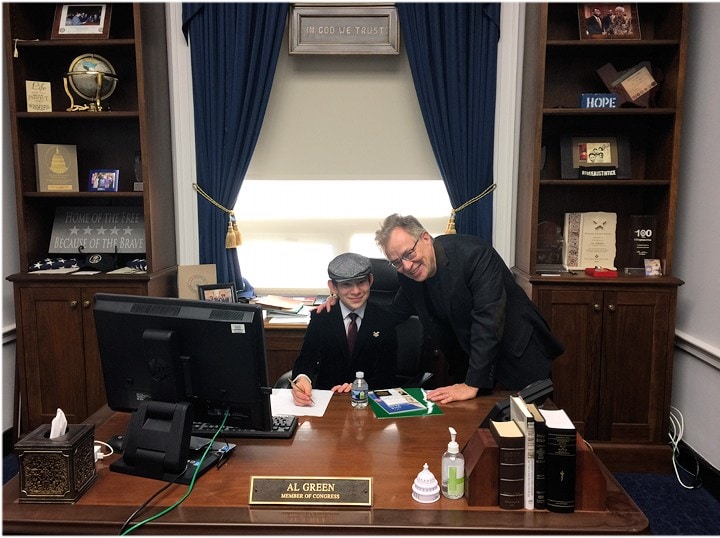 By L.A. "Tony" Kovach – for MHProNews.com.
Tony earned a journalism scholarship and earned numerous awards in history and in manufactured housing.
For example, he earned the prestigious Lottinville Award in history from the University of Oklahoma, where he studied history and business management. He's a managing member and co-founder of LifeStyle Factory Homes, LLC, the parent company to MHProNews, and MHLivingNews.com.
This article reflects the LLC's and/or the writer's position, and may or may not reflect the views of sponsors or supporters.
Connect on LinkedIn: http://www.linkedin.com/in/latonykovach
Related References:
The text/image boxes below are linked to other reports, which can be accessed by clicking on them.