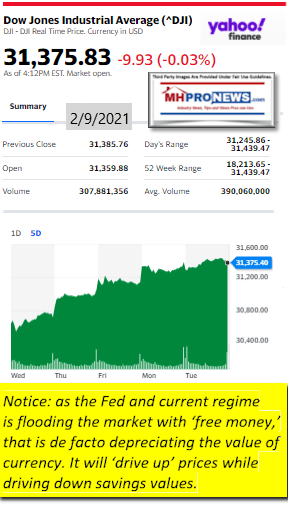 On Jan 22, 2017 the Manufactured Housing Association of Oklahoma (MHAO) tweeted: "Have you seen the new Clayton Homes ads on TV….loved it! Homes made in the US…."who's laughing now?"
Months later, pro-Manufactured Housing Institute (MHI) surrogate MHInsider picked up on that theme. On May 4, 2018,  Patrick Revere wrote that Kevin "Clayton said backstage at the annual Berkshire Hathaway Investor Meeting in Omaha Friday. "This is the legacy we want to leave on the industry. And I predict a year from now, we will be able to point to the neighborhoods where this is happening. And there's no reason it shouldn't happen."
Have you seen the new Clayton Homes ads on TV….loved it! Homes made in the US…."who's laughing now?"

— Mfd Hsng Assoc of OK (@mfdhousingOK) January 22, 2017
That prediction made by Clayton CEO Kevin Clayton has been missed. But did MHInsider, who published that 'prediction' call Kevin on it?
In fairness, Revere wrote that "Home ownership is at its lowest in 50 years." MHInsider continued "These factors along with the industry initiative to get financing, zoning, and appraisals on par with site built put the manufactured housing industry in an opportunistic position." That's putting a positive spin on a problematic issue in terms of the manufactured home industry's historic underperformance since the start of the Berkshire-Hathaway era.
"He [Kevin Clayton] points to the idea of factory-built homes that have all the characteristics, look and feel, of traditional site-built homes, able to be placed seamlessly in residential neighborhoods along their site-built counterparts."
What Revere fails to mention, for whatever reason, is that Clayton made similar statements over a decade ago. He did so on video.  That video of Clayton and the transcript are found in the report linked below. That report is published months ago has surged in recent days.  Is it because of the Sam Strommen/Knudson Law research report that alleges "Felony" misbehavior by Clayton and MHI?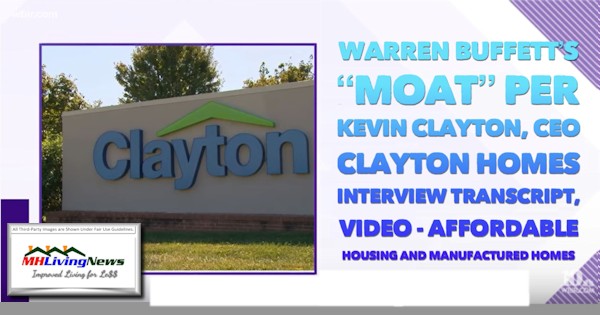 Revere quotes Kevin saying "The initial TV commercial espousing the question "Who's laughing now?" has garnered 37 million views." That video is posted below.
With apparent humility? – Clayton's CEO said "It's [the "Who's Laughing Now" video] elevating our industry in a big way," Kevin Clayton said.
That was 2018. A few months later, MHI formally launched the Clayton supported "new class" of manufactured home campaign that was later rebranded as "CrossModTM homes."
The outcome is described in the context of the report linked below.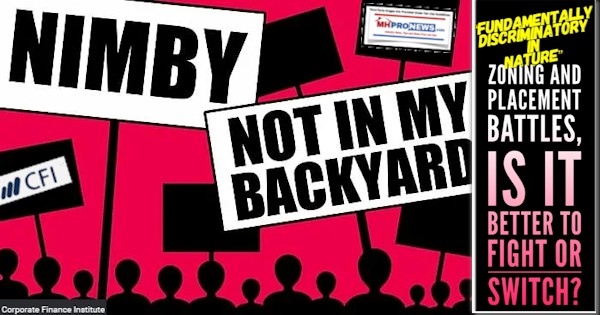 Revere also wrote something in that column that was factually inaccurate. "The industry always has held eight to 10 percent of the new home market." That statement by Revere is demonstrably false. The manufactured home industry has at times been 2 to 3 times of the percentage in recent years of new conventional housing. See that, per the National Association or Realtors (NAR) – or other like graphics – in the example shown below.
When Kevin "With rising interest rates and land prices, site-built housing is not in a position to help like manufactured housing," that is arguably true. But by intention, accident, or otherwise, that so-called "campaign" – like others before it or since – was arguably a case of overpromising and under-delivering.
"I'd like to see our industry stay focused on this New Class of MH which includes the exterior features that the GSE's, appraisals, and zoning officials want to see," said Clayton.
"That home [the so-called "new class" now called "CrossModTM"] with the price tag on it right at the front of the home center facing the highway without any discrimination in how it is financed or appraised will draw a whole new buyer in addition to the important customers we serve today."  Seriously?
3 years ago, MHProNews predicted that this problematic plan for a 'new class' of manufactured homes could turn out to be a "Trojan Horse." After years of additional delays in getting zoning, placement, and DTS financing – aren't those examples of how it could now be seen as a Trojan Horse? Hasn't that expert predication by MHProNews come to pass?
If we could predict that, why couldn't Kevin Clayton or MHI?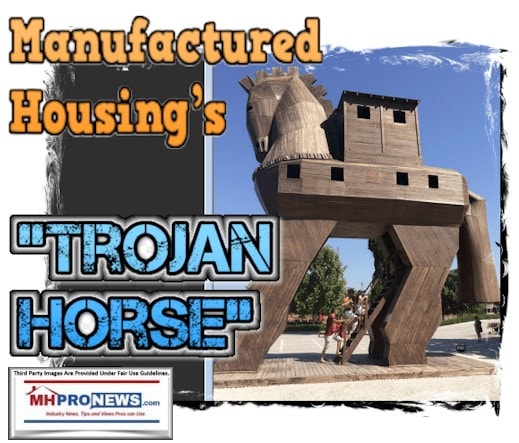 It was common-sense 2 years ago that if the so-called "new class" later rebranded as "CrossModTM homes" got superior appraisal, zoning, placement and finance treatment, that it would diminish the impression of what the Manufactured Housing Association for Regulatory Reform calls "mainstream" manufactured homes.
Who's laughing now? Fair question. How about those that spotted the obvious flaw in the Clayton-MHI plan when it was rolled out and called "BS" and "foul" then or not long afterward? An example of outrage by an MHI only member manager is found in the report linked below.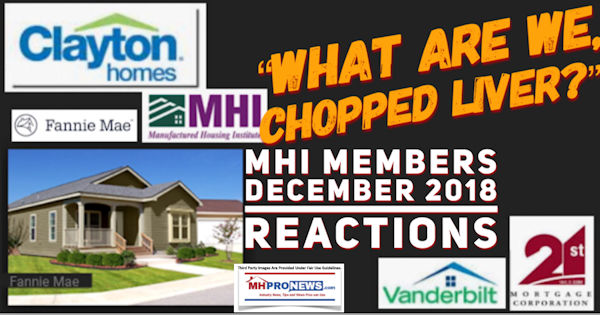 There is more on this topic as part of the featured focus further below.
For the growing numbers of new readers, a few quick evening/nightly market report insights.
Every business evening, MHProNews provides a bullet list of left-right news headlines from CNN and in a matter of moments, savvy professionals can see at a glance news headlines and views across the political spectrum.
This is a time saving and insightful way to quickly grab insights from across the left-right divide for those who are hooked on this market-nightly feature.
Our featured focus follows the quotable quotes, periodic political cartoons, those left-right headlines, and two of our three market summary graphics as reported at the closing bell.
After the featured focus, are some recent/related report links and the third manufactured housing focused stock equities graphic. There are some additional items that include the free signup for the manufactured housing industry's x2 weekly emailed news to the most-read trade publication in our profession:
On a day that saw most manufactured home connected equities rise, let's press ahead toward those other business-nightly features.
Quotes That Shed Light – Industry, American, Social, National Issues…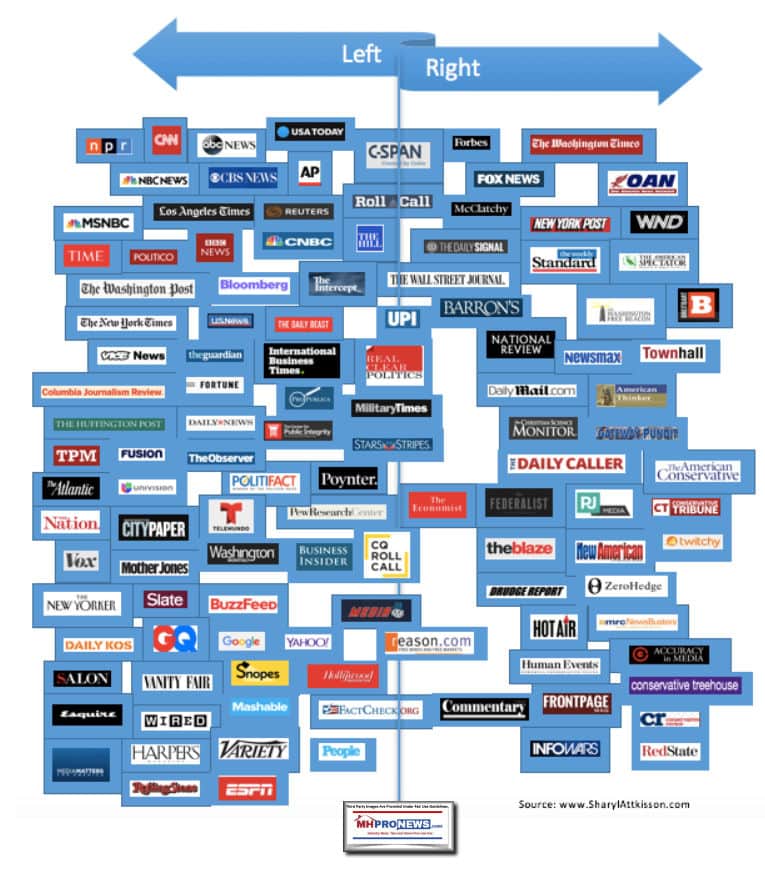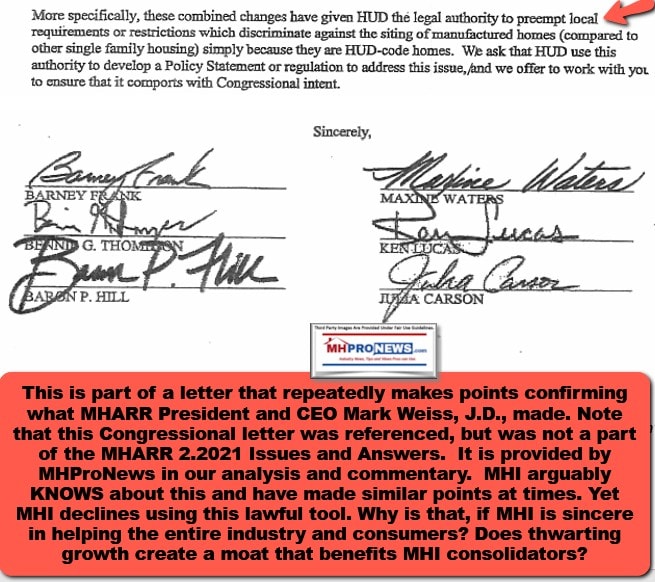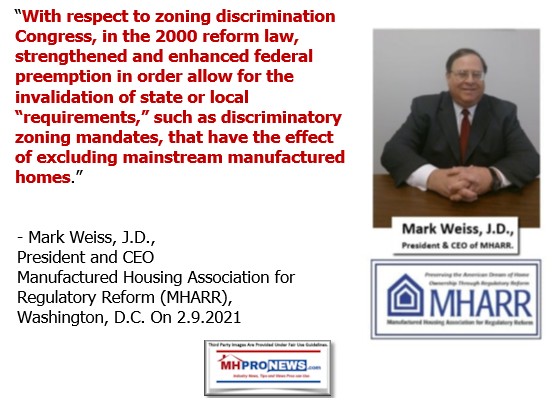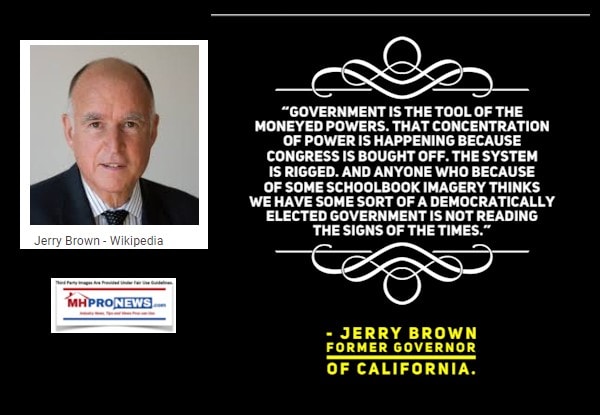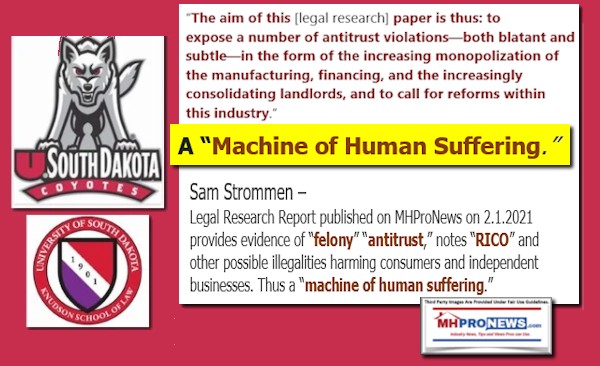 Headlines from left-of-center CNN Business
Housing crisis
PHOENIX, ARIZONA – OCTOBER 07: Hector Medrano delivers cash to a landlord while narrowly avoiding eviction from an RV park on October 07, 2020 in Phoenix, Arizona. Medrano was able to get a last-minute salary advance to forestall the eviction. Even for families who have remained healthy from the coronavirus, the indirect effects of the pandemic have been especially tough on America's poor, who often move from crisis to crisis even in normal times. In the Medrano family's case, inconsistent work, a string of tragedies and even family separation have combined to push them to the brink of homelessness. This summer Medrano's work as a truck driver was sporadic due to the pandemic economy. Meanwhile, he spent his entire savings on three funerals for family members in less than four months. Causing further family stress, Medrano's wife Ana Cecilia, who had temporary residency status in the U.S. traveled to Mexico in December of 2019 to care for her sick mother, but has since been unable to return to Arizona due to a sealed U.S.-Mexico border. The separation left Hector Medrano to care for their three children, supervising distance learning during the day, while working nights. For families like the Medranos, new federal pandemic assistance, yet to be authorized by Congress, cannot come soon enough.
Unpaid rent is piling up. Landlords with their own bills to pay can't hold on forever
He died by suicide thinking he owed $730,000. Now his family is suing Robinhood
Eli Lilly CFO resigns after 'inappropriate' communications with employees
Delta CEO blasts Biden proposal to require Covid tests for travelers
GameStop tumbles nearly 20% as Reddit-fueled party winds down
Bitcoin is going mainstream. Elon Musk isn't the only reason
China regulators are going after Tesla
Opinion: US will come to regret Biden's decision to cancel Keystone
Here's just how extreme Dobb's rhetoric became before cancellation
Opinion: A $15 minimum wage would hurt those it's meant to help
Coke is launching a new bottle size
GM extends shutdown at three plants due to chip shortage
Flying vehicles could become a reality in China
Secretary Pete Buttigieg wants fast trains. He'll have to succeed where Obama couldn't
The New York Stock Exchange in New York, New York, USA, 28 January 2021. Amateur stock traders, many using the San Francisco-based stock trading app Robinhood, have disrupted, and caused losses, for traditional Wall Street investing firms by causing unexpected and substantial fluctuations in the share value of companies like AMC Theaters and Game Stop.
US stocks are in a bubble, and it's unclear when it will pop, hedge fund manager warns
Audi's new four-door electric sports car takes on a world of SUVs
Tampa Bay Buccaneers quarterback Tom Brady (12) holds the Vince Lombardi trophy following the NFL Super Bowl 55 football game against the Kansas City Chiefs, Sunday, Feb. 7, 2021 in Tampa, Fla. Tampa Bay won 31-9 to win Super Bowl LV.
Super Bowl LV ratings are in: They're a disappointment
ENERGY AND OIL
The Chevron Corp. El Segundo Refinery stands in El Segundo, California, U.S., on Monday, April 27, 2020. Chevron is scheduled to release earnings figures on May 1. Photographer: Kyle Grillot/Bloomberg via Getty Images
Chevron may not be an oil-first company in 2040, CEO says
The people tracking high levels of methane in Texas
ExxonMobil reports first annual loss since merger
Global oil prices have fully recovered from pandemic
Powerful lobby loses oil giants over climate change
APPLE CAR SPECULATION
Apple CEO Tim Cook speak to the press during a tour of the Flextronics computer manufacturing facility, with US President Donald Trump, where Apple's Mac Pros are assembled in Austin, Texas, on November 20, 2019.
ANALYSIS
Who could make the iCar? Apple is running short of options
Hyundai and Kia aren't talking to Apple about a car
Analysis: Hyundai would have been a good iCar partner
Patents offer hints about what an Apple car could look like
Kia stock soars on talk of Apple car deal
Headlines from right-of-center Newsmax
Trump and Biden Quiet as Impeachment Trial Gets Underway
Donald Trump's second impeachment trial may be the talk of America but a few people, at least, are mum so far, for very different reasons – Trump himself, and his successor, President Joe Biden.
Impeachment
Trump Can't Tweet Now but His Supporters Can
Lee: Arguments in Trump Impeachment 'Ambiguous'
Impeachment Aides: Case Against Trump Is 'Devastating'
Rand Paul and Jim Jordan Blast Dems for Focusing on Impeachment
GOP Sen. Murkowski Says Trump Is Gone
Trump Defense Lawyer Withdraws Request Trial Not Be Held on Jewish Sabbath
Jason Miller: Impeachment 'Vindictive Way' to Block Trump From 2024
The Biden Presidency
Meeting Biz Leaders, Biden Backs Stricter Stimulus-Check Income Limits
14 AGs Reviewing Legal Options on Biden Canceling Keystone Pipeline
Election of Democratic Chair Portends Change at Post Office
Manchin Urges Biden to Permit Keystone XL Pipeline
White House Announces Boost in Vaccine Shipments, New Sites
Federal Judge in Texas Blocks Biden's Deportation Freeze
Biden OMB Nominee Offers to Work With GOP After Tweet Row
Attorney Overseeing Hunter Biden Probe Asked Not to Resign
Newsfront
Facebook Steps Up Vaccine Misinfo Efforts. Will it Work?
As inoculation efforts for the coronavirus ramp up around the world, Facebook says it's going all in to block the spread of bogus vaccine claims. In practice, that means the social network plans to ban a new bunch of false claims in addition to the manifold false claims…
Manchin Urges Biden to Keep Keystone XL Pipeline
Trump Is Still a Hero in These Countries
Mark Meadows: Trump Offered 10,000 National Guard Troops to Ready Ahead of Jan. 6
14 AGs Reviewing Legal Options on Biden Canceling Keystone Pipeline
US Job Openings Unexpectedly Increase to a 5-Month High
Veteran News Anchor Rob Finnerty Joins Newsmax TV
WHO Expert in Wuhan Says Lab Leak 'Very Unlikely' as COVID Source
Kobe Bryant Crash Pilot Disoriented in Clouds, Agency Says
The Supremes Co-founder Mary Wilson Dies at 76
Blexit Co-Founder Candace Owens Talks Presidential Run
Marjorie Taylor Greene to Newsmax TV: Will Use Free Time to Shape GOP
Democrats Cut Off Relief Checks at $200,000 Household Income
Court Ends Manhattan DA's Effort to Prosecute Pardoned Paul Manafort
Judge Releases Proud Boys Leader Charged in Capitol Riot, Pending Trial
Georgia Secretary of State's Office Launches Probe Into Trump
Finance
Millions of Small Businesses Could Close by Year's End Without Aid
About nine million small businesses could shutter by the end of the year due to the coronavirus pandemic unless the government steps in with additional assistance, according to a survey conducted by the Federal Reserve Bank. The poll found the about 3 in 10 small businesses…
In Meeting With Business Leaders, Biden Backs Stricter Income Limits for Stimulus Checks
Procter & Gamble: A Recession-Proof Dividend King
Ponnuru: Mitt Romney Wants Your Child to Have an Allowance: $4,200
Walgreens Vaccine Signup Page Falters Amid Heavy Volume
Health
People With Dementia Have Double the Risk of Getting COVID-19
People suffering from dementia are twice as likely to get COVID-19. They are also more likely to be hospitalized and die from the disease according to a U.S. study analysis of 61.9 million electronic medical records…
Market Indicator Closing Summaries – Yahoo Finance Closing Tickers on MHProNews…
Featured Focus –
Where Business, Politics and Investing Can Meet
As the evidence in the fact check above and linked therein and further below makes plain, Clayton Homes arguably has some problems. Among those issues?
That they have made years of claims that have not materialized.
They have consistently grown in market share while the industry has underperformed, which raises concerns that are addressed by the as yet unchallenged research paper by Sam Strommen at Knudson Law.
Clayton and MHI have for years said things like MHInsider claimed without question, namely, that they claim that some 37 million people viewed Clayton's commercial posted above. If so, and if their plan was as good as they mutually claimed, then when has the industry's production and sales declined for the past two calendar years?
A container housing firm told MHProNews recently that they think there is a need for 20 million new affordable housing units. 20 million!
Then how could Clayton or MHI explain the declining results, given the sheer size and out-performance by others parts of more costly conventional housing?

The report linked below has been notching hundreds of thousands of hits monthly for some time now. To learn more, see that and the other related reports.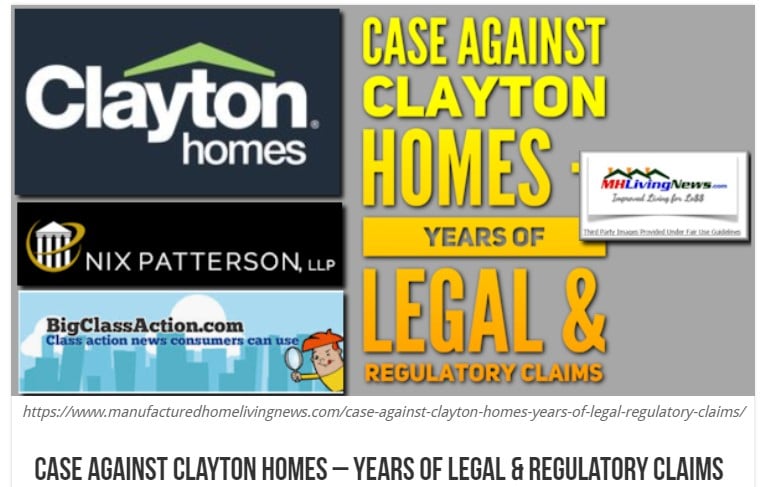 Related, Recent, and Read Hot Reports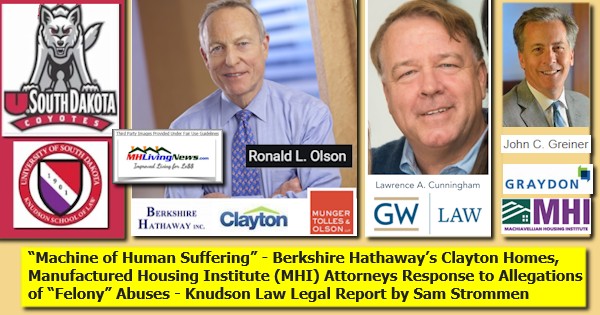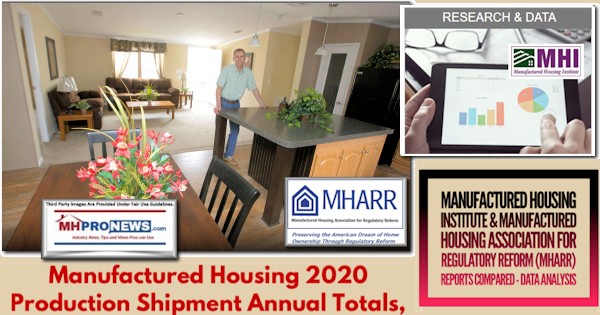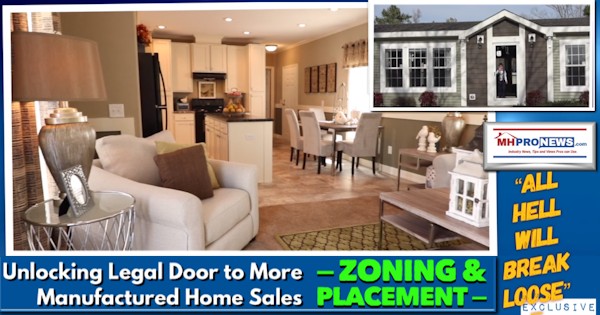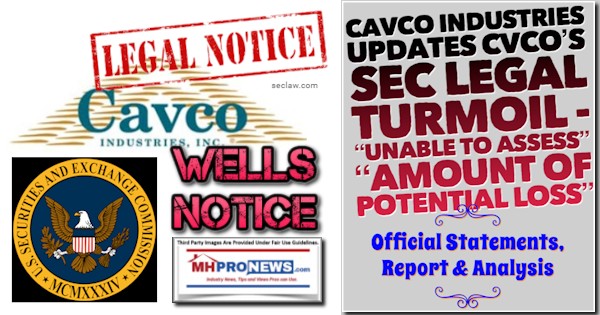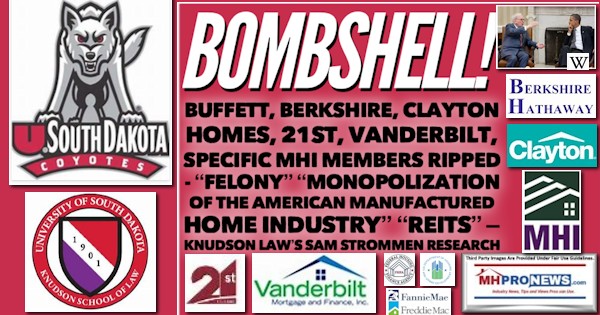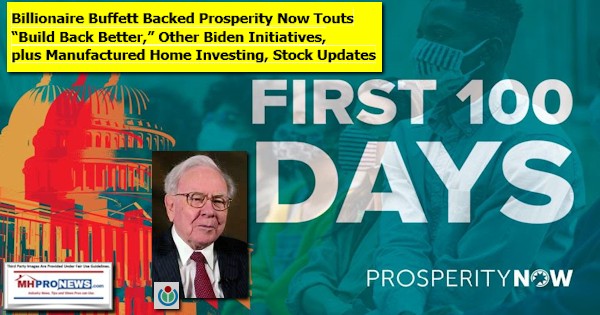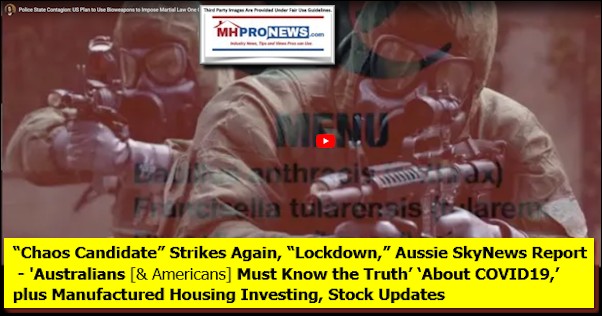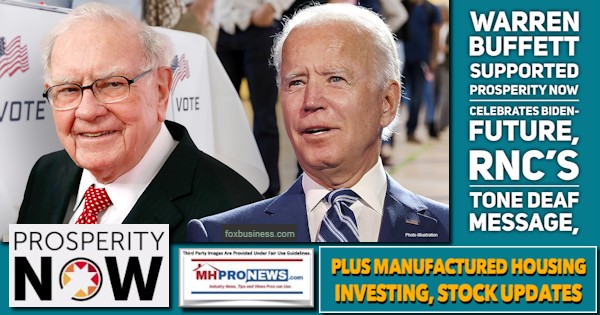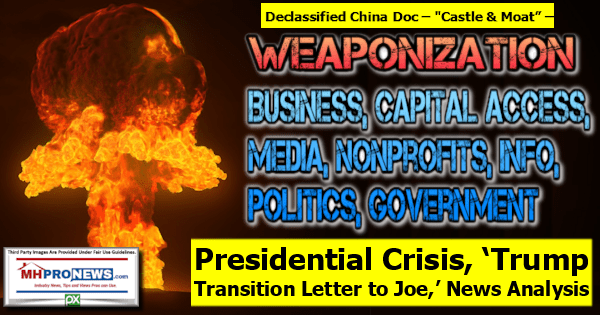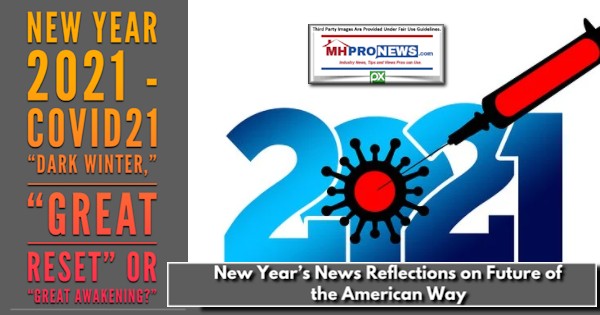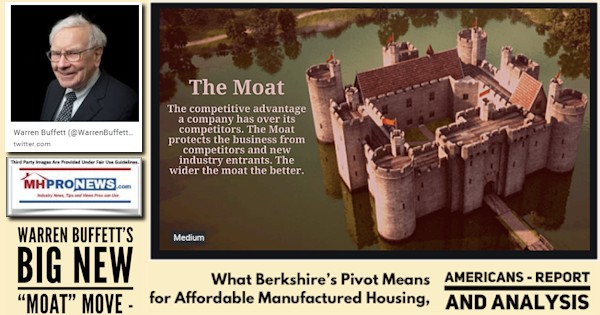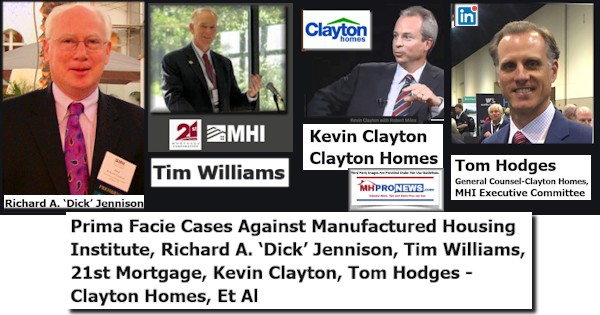 Manufactured Housing Industry Investments Connected Closing Equities Tickers
Some of these firms invest in manufactured housing, or are otherwise connected, but may do other forms of investing or business activities too.
NOTE: The chart below includes the Canadian stock, ECN, which purchased Triad Financial Services, a manufactured home industry lender
NOTE: Drew changed its name and trading symbol at the end of 2016 to Lippert (LCII).
NOTE: Deer Valley was largely taken private, say company insiders in a message to MHProNews on 12.15.2020, but there are still some outstanding shares of  the stock from the days when it was a publicly traded firm.  Thus, there is still periodic activity on DVLY.
Winter 2021…
Berkshire Hathaway is the parent company to Clayton Homes, 21st Mortgage, Vanderbilt Mortgage and other factory built housing industry suppliers.
· LCI Industries, Patrick, UFPI, and LP each are suppliers to the manufactured housing industry, among others.
· AMG, CG, and TAVFX have investments in manufactured housing related businesses. For insights from third-parties and clients about our publisher, click here.
Enjoy these 'blast from the past' comments.
MHProNews. MHProNews – previously a.k.a. MHMSM.com – has celebrated our 11th year of publishing, and is starting our 12the year of serving the industry as the runaway most-read trade media.
Sample Kudos over the years…
It is now 11+ years and counting…and Williams, who praised our accuracy and other services to manufactured housing for years, then said this.
Learn more about our evolutionary journey as the industry's leading trade media, at the report linked below.
· For expert manufactured housing business development or other professional services, click here.
· To sign up in seconds for our industry leading emailed headline news updates, click here.

Disclosure. MHProNews holds no positions in the stocks in this report.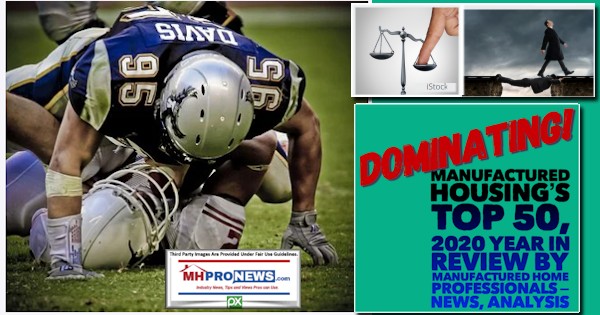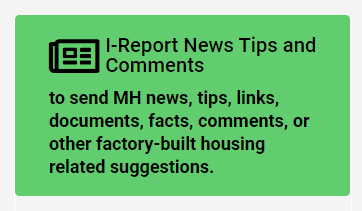 That's a wrap on this installment of "News Through the Lens of Manufactured Homes and Factory-Built Housing" © where "We Provide, You Decide." © (Affordable housing, manufactured homes, stock, investing, data, metrics, reports, fact-checks, analysis, and commentary. Third-party images or content are provided under fair use guidelines for media.) (See Related Reports, further below. Text/image boxes often are hot-linked to other reports that can be access by clicking on them.)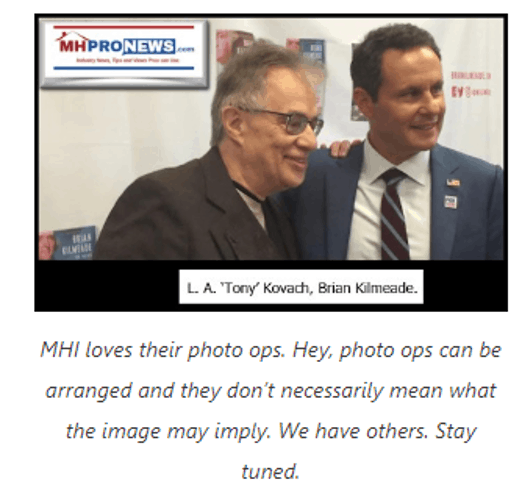 By L.A. "Tony" Kovach – for MHLivingNews.com.
Tony earned a journalism scholarship and earned numerous awards in history and in manufactured housing. For example, he earned the prestigious Lottinville Award in history from the University of Oklahoma, where he studied history and business management. He's a managing member and co-founder of LifeStyle Factory Homes, LLC, the parent company to MHProNews, and MHLivingNews.com. This article reflects the LLC's and/or the writer's position, and may or may not reflect the views of sponsors or supporters.