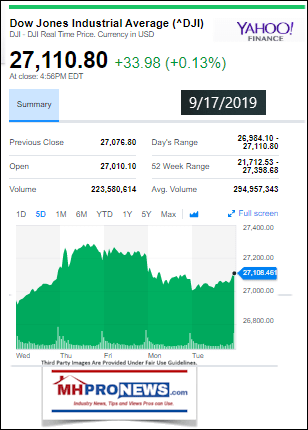 Senators Elizabeth Warren (MA-D), Bernie Sanders (VT-I) and former Obama administration Vice President Joe Biden have been the top 3 candidates in most polls among the Democratic 2020 presidential hopefuls in recent weeks. While it is Biden who has been tagged for gaffes, in fairness, other hopefuls have had their 'oh, no' moments too.
In a fundraising email provided today to MHProNews, the Warren campaign has arguably stepped in it. That unforced error – literally historic – will be our exclusive featured report this evening.
Every evening our headlined provide snapshots from two major media outlets on each side of the left-right news spectrum that reflect topics that influence or move investor sentiment. In moments on this business evening report, you can get insights-at-a-glance.
This report also sets the broader context for manufactured housing markets, in keeping with our mantra, "News through the lens of manufactured homes and factory-built housing" ©.
We begin with left-of-center CNN followed by right-of-center Fox Business. We share closing tickers and other related data courtesy of Yahoo Finance, and more. 5 to 10 minutes reading this MHProNews market report every business night could save you 30 minutes to an hour of similar reading or fact-gathering elsewhere.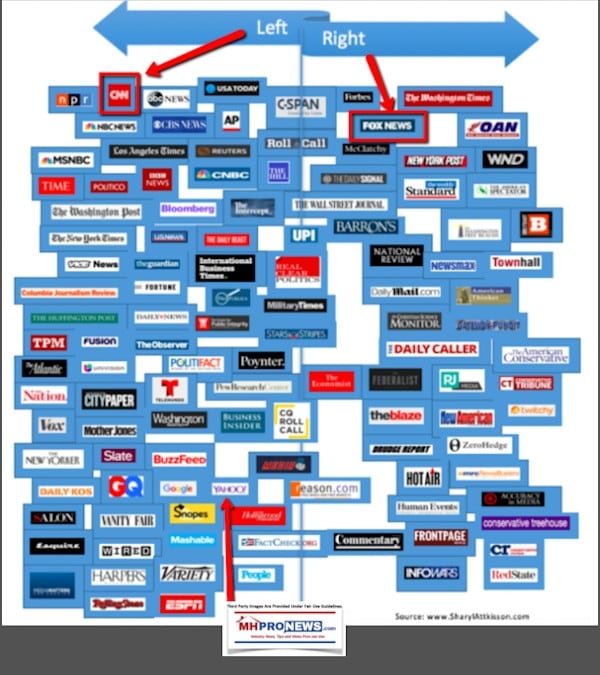 Headlines from left-of-center CNN Business.
How GM got here – The General Motors strike was inevitable. How it will end isn't so clear
GM employee: Strike is a 'battle for the middle class'
A crack just emerged in the financial markets
The worst oil shock in years hits a global economy that's already on shaky ground
Wine, whiskey and cheese to be hit by new tariffs
Oil prices drop as Saudi production could get restored in weeks
Facebook will soon announce the first members of its oversight board
SpaceX wants to beam internet across the southern US by late 2020
Amazon bets users will pay up for high-definition music streaming
Cokie Roberts has died at age 75
NYT reporters grilled about botched Kavanaugh story
Asking customers not to bring guns into stores is one thing. Enforcing the policy is another
Opinion: The gender pay gap will remain until companies change their ways
iOS 13 is coming this week: Here's what to expect
Chipotle carne asada burrito bowl
Chipotle adds a new meat to its menu
Starbucks is adding a new pumpkin spice drink to its fall menu
Taco Bell now has a vegetarian menu
Wendy's has a new breakfast menu. Here's what's on it
KFC will start testing Beyond Meat fried chicken
INSIDE WEWORK
WeWork expected to postpone its IPO
How it became the poster child for everything wrong with tech unicorns
WeWork may cut its IPO valuation by billions
Frances Frei is WeWork's first female board member
Inside the company, one couple wields control
Headlines from right-of-center Fox Business.
US GASOLINE PRICES JUMP, ANALYSTS SAY IT COULD GET WORSE
Here's when Saudi Arabia says oil production will return to normal
Stocks gain as two-day Fed meeting begins
Saudis aren't 'totally convinced' oil strikes were carried out by Iran: Gen. Jack Keane
GM-UAW STRIKE: DAY 2
General Motors is reportedly experiencing a major interruption to its production capabilities while union representatives and company officials attempt to negotiate an end to the ongoing employee strike.
Meet President Trump's Los Angeles 'Money Man'
The Amazon jobs available at its Career Day⁠ — and how much they pay
Billionaire scion accused of rampant gambling, drug use with prostitutes
How a Fed rate cut could impact the housing market
The college cheating scandal just got bigger
Sean Spicer's 'Dancing with the Stars' performance sparks backlash
FBI agents raid home of boss behind vanishing payroll company
80,000 Kaiser health care workers to strike nationwide
These items owned by Anthony Bourdain are going on sale
TV star to launch hard-seltzer brand amid White Claw shortage
Giants now paying expensive price for bringing back Eli Manning
US-China trade war: How to know when a 'real deal' is coming
Shoppers expected to spend $1.1T at US retailers this holiday season
Millennials find new path to homeownership
FBI manhunt: Who is the CEO in suspected $35M payroll heist?
Iran's attack underscores failure of nuclear deal: Rep. Andy Barr
Andy Barr, (R-KY), discusses the Iranian attack on Saudi oil and Democrats playing politics.
How the trade war is impacting made in America pianos
Steinway CEO Ron Losby discusses the piano company's rich American history.
Are Democratic tax plans equitable?
10 Market Indicator Closing Summaries – Yahoo Finance Closing Tickers on MHProNews…

Tonight's Business/Market/Political Impact Spotlight –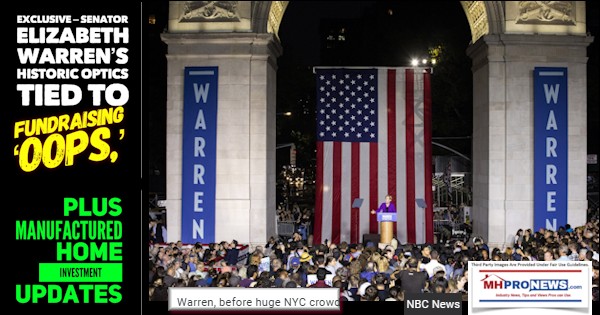 We'll begin with an extended quote from the Warren campaign today. The illustration was added by MHProNews, but the balance of the information is from the Warren campaign. The 'we' below is Elizabeth Warren, her campaign, and supporters.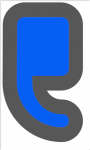 "We were in Washington Square Park. Not because of the arch that was behind me, or the president the square is named for. We weren't there because of famous arches or famous men. In fact, we weren't there because of men at all.
We were there because of some hard-working women. Women who, more than a hundred years ago, worked long hours in a brown, ten-story building a block away. Women who worked at the Triangle Shirtwaist Factory.
That was the site of one of the worst industrial disasters in American history. 146 workers were killed — mostly women, mostly immigrants — because of dangerous conditions, and because of corruption. Because fat-cat factory owners greased the political system to prevent lifesaving regulations.
A woman named Frances Perkins ran into the street, watching the fire. That day changed her. It changed a lot of people. The next week, women's trade unions organized a funeral march down Fifth Avenue, and half a million people showed up.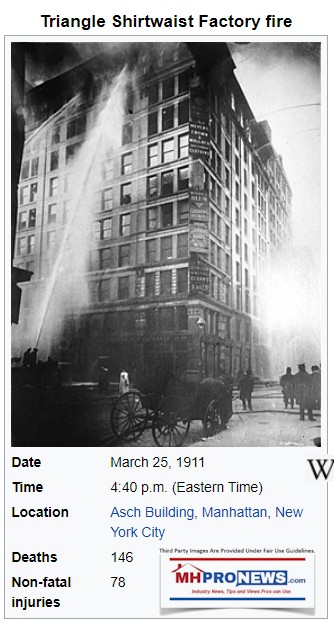 They organized and pushed for change from the outside, and Frances pushed from the inside. She went to Albany ready to fight. She worked to create a commission investigating factory conditions, and then she served as its lead investigator. They got fire safety measures passed. But they didn't stop there: They rewrote New York's labor laws from top to bottom to protect workers.
Frances went on to become the first woman in American history to serve in the Cabinet, as President Franklin Roosevelt's Secretary of Labor. And what did she push for when she got there? Big, structural change.
She used the same model she and her friends had used after the Triangle Fire: She worked the political system relentlessly from the inside, while a sustained movement applied pressure from the outside. As Frances Perkins put it, the Triangle Fire was "the day the New Deal was born."
So, what did one woman — one very persistent woman — backed up by millions of people across this country get done? Social Security.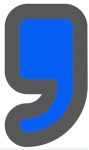 Unemployment insurance. Abolition of child labor. Minimum wage. The right to join a union. Even the very existence of the weekend. Big, structural change. One woman, and millions of people to back her up."
Let's see what makes this a potential historic gaffe. The timeframe that Warren campaign's spotlighting of Frances Perkins' activism – as the Wikipedia photo and graphic above reflects – was during the Tammany Hall era of Democratic control – and related corruption – in New York City.
The highlighting is added by MHProNews, to underscore the date involved.
"Tammany Hall was a political force in New York City from its 1789 inception as a benevolent association to mayoral campaigns in the 1950s. Frequently its leadership was identical to the Executive Committee of the local Democratic party, and it was a major or controlling faction in the party in 1821-1872 and 1905-1932. Key Tammany bosses through the years included William M. Tweed, Richard F. Croker, and Charles F. Murray." So said History.
Rephrased, this fund-raising email by Warrens campaign is akin to the Joe Biden gaff, when he was praising segregationists, who were also Democrats.
Rep SWALWELL Said "Pass The Torch," Biden says No – Democratic Debates, Nights 1 & 2, Full Transcripts, Videos – plus MH Stock Updates
This misstep may not come to haunt Warren any time soon, any more than Biden's gaffes have hurt him, at least per some public polling. But when it comes to the general election, these missteps could prove costly, especially with independents. Why? Because presidential campaigns routinely have monitors who are looking for precisely these kinds of 'ooops' missteps.
There are whispers we hear from D.C. that in 2020, the Trump campaign could unleash a rain of historical facts that may flip the script on topics like racism and political corruption.
In sharing this, it must be noted that MHProNews could just as rapidly point to – and has – to arguably historic Republican fumbles, such as the Nixon administration era wage price controls or the same administration's 'opening up Communist China' to become the challenge that it has become to the United States economically and militarily today. Both of those were big oops moments of their own.  So this analysis isn't partisan.  It is what it is, factoids laid out for consideration, because they could well come up in the days ahead.
In fact, this new attack video is an example of what this might look like.
With that disclaimer, this next item is one of the issues that MHProNews – per sources – thinks could become an embarrassment to Democrats in 2020, because it lays out more historic facts that run counter to common public perceptions.  It is tied to the Biden gaffe.
Nor is the history of Franklin D. Roosevelt and the Depression era "New Deal" Warren's team cited quite as rosy as some textbooks or politicos may tell us.
That doesn't mean that those specific videos will be rolled out by the Trump campaign. But those points may well be part of stump speeches at rallies, as President Trump has often brought up past events for his followers to ponder.
All that said, the Warren campaign deserves credit for staging an event that certainly enhanced the 'presidential look' of the maverick Democratic senator from Massachusetts, who helped forge what became the Consumer Financial Protection Bureau (CFPB or BCFP). Note the imaging the campaign arranged in the featured photo at the top of this segment, above.
That noted, let's pivot back to our own era.
MHProNews stresses that manufactured housing has been, and continues to be, a bipartisan or non-partisan issue. At various times, members of both major parties have helped and/or harmed, our industry.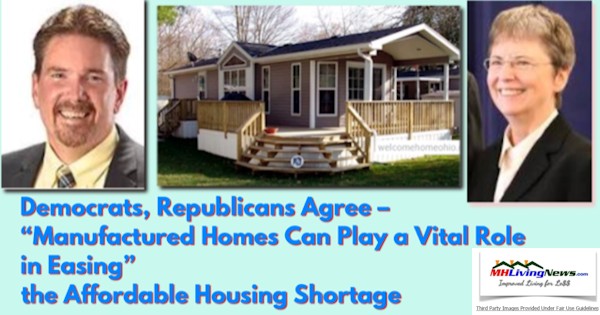 See the related reports for more on such examples. This is a reminder that fact checks inside and outside of manufactured housing matter. If Warren becomes the Democratic nominee, which at this early stage is possible, think back to this report if the Trump campaign uses this campaign messaging gaff against her. According to our sources, the answer may be 'yes.'
Related Reports: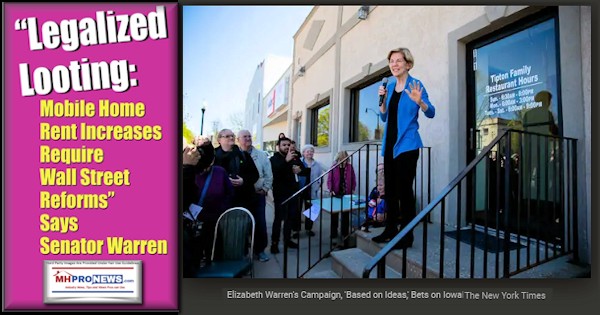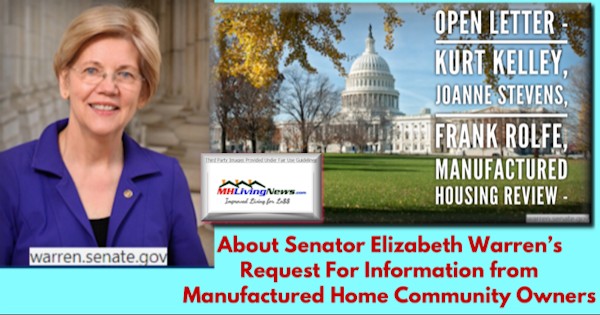 President Says Democratic Run Cities Responsible for Growing Homeless Crisis, Other Big Metro Ills, Democrats, Protestors Strike Back
'Hell Yes, We'll Take Your AR 15s,' 'Corrupt System,' 3rd Democratic Duel, plus Manufactured Housing Investment Updates
Sen Elizabeth Warren Buzz, GOP 2 for 2 in NC Special Elections, 2020 Implications? Plus, Manufactured Home Investing Updates
Good Dan or Bad Dan? President Trump Tells NC Special Election Crowd – Send Message to "America-Hating Left"
"More Extreme Ideas," "More Fairy Tale Economics" – Frmr Rep John Delaney on 2020 Democratic Contest, Zogby on POTUS Trump, plus Manufactured Home Stock Updates
Manufactured Housing Connected Billionaires Donors, List of Democratic Presidential Contenders with Most Billionaire Donations
Legal Insurrection – Will Senator Warren, Other 2020 Presidential Hopefuls Business Deals Hurt Democrats in 2020?
Senate Democrats – Including 2020 Presidential Contenders – Ask CFPB Protect Consumers Against Predatory Lenders — Point Finger at Clayton Homes, Berkshire Hathaway Lending
Manufactured Housing Industry Investments Connected Closing Equities Tickers
Some of these firms invest in manufactured housing, or are otherwise connected, but may do other forms of investing or business activities too.
NOTE: The chart below includes the Canadian stock, ECN, which purchased Triad Financial Services.
NOTE: Drew changed its name and trading symbol at the end of 2016 to Lippert (LCII).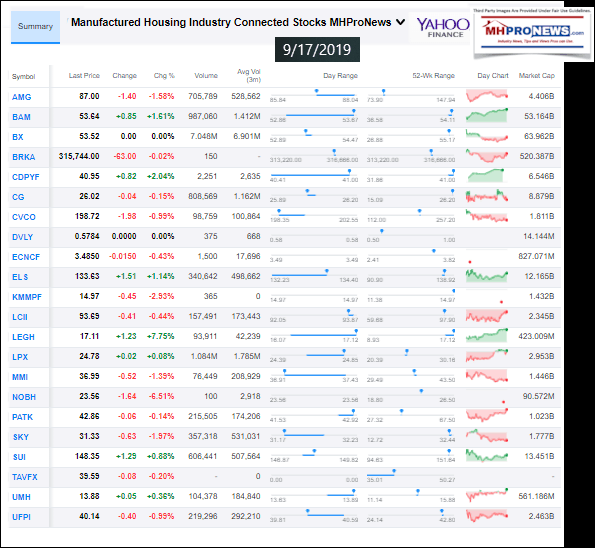 Updated for Summer 2019…
Berkshire Hathaway is the parent company to Clayton Homes, 21st Mortgage, Vanderbilt Mortgage and other factory built housing industry suppliers.
· LCI Industries, Patrick, UFPI, and LP each are suppliers to the manufactured housing industry, among others.
· AMG, CG, and TAVFX have investments in manufactured housing related businesses.
Your link to an example of industry praise for our coverage, is found here and here. For the examples of our kudos linked above…plus well over 1,000 positive, public comments, we say – "Thank You for Your Vote of Confidence."
· For expert manufactured housing business development or other professional services, click here.
· To sign up in seconds for our industry leading emailed headline news updates, click here.
Disclosure. MHProNews holds no positions in the stocks in this report.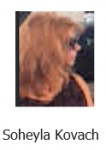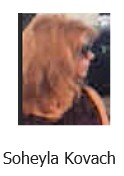 "We Provide, You Decide." © ## (News, analysis and commentary.)
(Image credits and information are as shown above, and when provided by third parties, are shared under fair use guidelines.)
Submitted by Soheyla Kovach, co-managing member of LifeStyle Factory Homes, LLC and co-founder for MHProNews.com, and MHLivingNews.com.