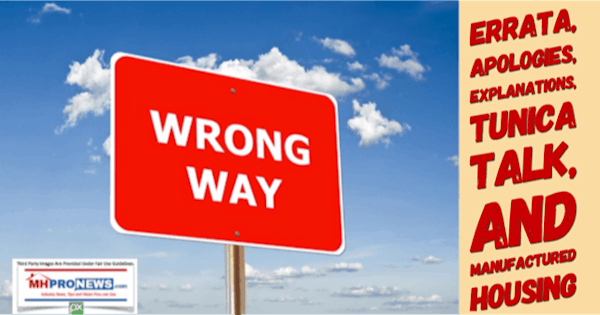 "Perfection is not attainable, but if we chase perfection we can catch excellence." —Vince Lombardi, per BrainyQuotes.
There's significant value to live events of many kinds, and the Tunica Manufactured Housing Show last week underscored that on several levels.  The MHProNews team was there, and we had a chance to hear from scores of readers – like yourselves – face to face.
Among the feedback, which ran the gamut of topics?
Failure to accept 'friend' or 'connection' requests on a timely basis.  Guilty as charged.  But the reason is time, we get floods of such social media requests, and we strive to accept them as a matter of habit.  But some are missed, and it should never be taken as personal.  There are very few we deliberately decline.  For example, if someone appears to be connected with a sex-trade, we are not interested in that.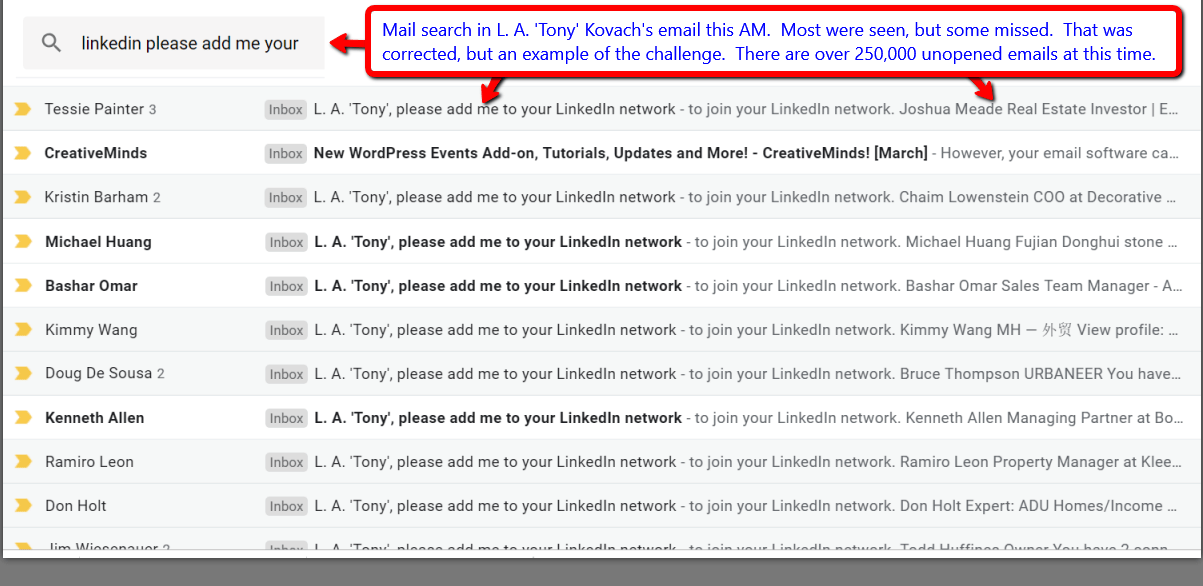 But well over 90 percent of spotted invites are connected, once we've had a chance to glance at a profile. So please don't stop sending those social media connections for Twitter, Facebook, or LinkedIn.  We appreciate them and accept them routinely.
Errata
We periodically apologize for typographical or 'auto-correction' errors that get by us.  No one in manufactured housing publishes more content than MHProNews and MHLivingNews does, it isn't even close. Others get typos too. In fact, the mainstream media gets typos, as this in L. A. 'Tony' Kovach's mail this morning spotlights.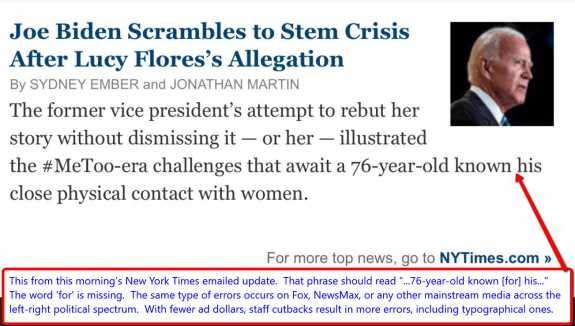 We strive to curate content from sources across the left-center-right media divide. We don't have to agree with a publication's editorial perspective to consider it, because in fairness, all media produces some significant and accurate reports, even if their editorial viewpoint may be skewed or agenda driven.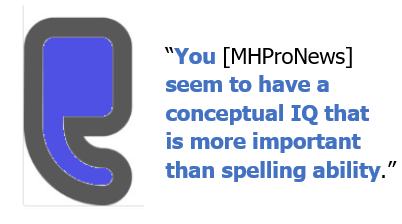 The cause for typos and editing errors should be clarified, not just for us, but for all media.  When Google-Facebook take up a growing share of ad dollars, that means that mainstream and even specialized media has less revenue.  In turn, that means editing or other features suffer.  That's one reason why we periodically pop up the reader comment in the quote shown, it is heart warming that so many – we thank you – overlook that, presumably due to the content's value.
Gracias, Danke, Thank You
But the most common feedback we received during the Tunica Show included these two words – "thank you."
Scores of independents stepped up to say "thank you" – or the periodic 'gracias' – for covering industry topics that no one else in manufactured housing trade publishing dares to cover.  Besides the mom-and-pop operations, those words of thanks came from larger companies too.
Heads of a well-known, larger operations were among those that specifically said words to the effect that, 'You [MHProNews] take complex topics and make them easier to understand.  We routinely read what you publish, and can't thank you enough for what you do."
Or this one:  'The issues [related to] market manipulation you [MHProNews] cover are essential for a clear understanding of why manufactured housing is underperforming. Keep it up.'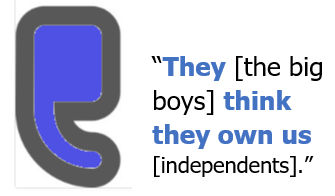 Or, another corporate head, while thanking us, pointed to a topic that they think we need to spend a bit more time on.  That subject?  State associations.
Frankly, it's a difficult issue.  Here's why.  On the one hand, state association executives are among our sources for news tips and insights. Let us hastily add that so too are sources within the Manufactured Housing Institute, or other "Big 3," or Knoxville-connected, and other operations too. For those who are part of a larger organization, we remind you again to use a non-company cell phone or a private email to send us your thoughts and tips.  Sad that it should be that way, but we have sources that have told us that mails are being scanned by larger firms.  That said, our news tips sources are part of the reason why we get subjects no one else in the industry does.
That noted, the corporate leader who slammed state associations – many of which that MHI-connected firm is a member of – has made a valid point.  While state associations do battle certain issues with success, there are others that arguably go unaddressed or are allowed to slide. Why?  It could be summed up in this prior report, linked below.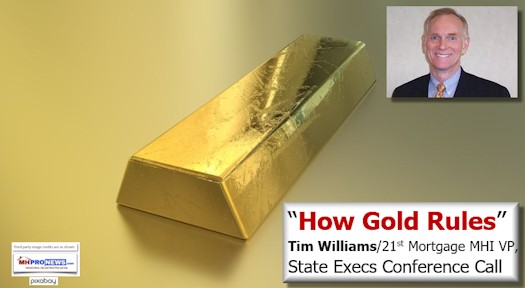 Given the fact that zoning-placement issues are among the top concerns for HUD Code manufactured home retailers – and thus broad swaths of the industry –  state executives and MHI ought to be at the forefront of such challenges.  MHProNews spot-checks have revealed that it is often sadly true that the "enhanced preemption" that is part of the Manufactured Housing Improvement Act of 2000 (MHIA) are going unmentioned in zoning-planning board or other local issues.  Given that several state association executives, and MHI, ought to be very familiar with the MHIA 2000 and "enhanced preemption," why is it going largely unmentioned, save by MHARR, MHLivingNews, and MHProNews? Why have state execs who previously called on HUD to enforce this law, go silent?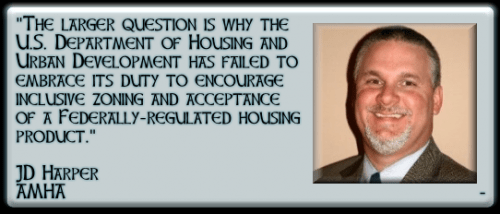 The solutions to the industry's challenges are in many cases hiding in plain sight.  Good laws are already on the books.  Why does Clayton Homes, state associations, and MHI so often fail to mention or highlight those good laws?  Why do they posture activity, but don't use their best arguments?
When one looks at the true, underlying causes of the industry's lack of advancement since 2003, it can be boiled down to a few simple principles.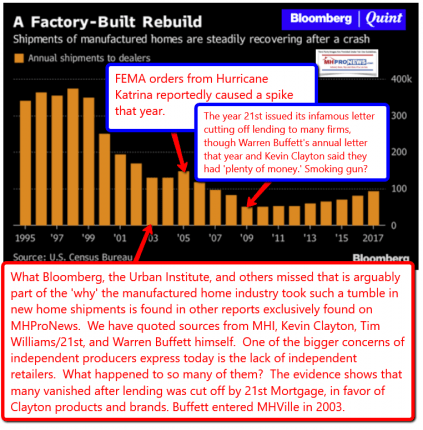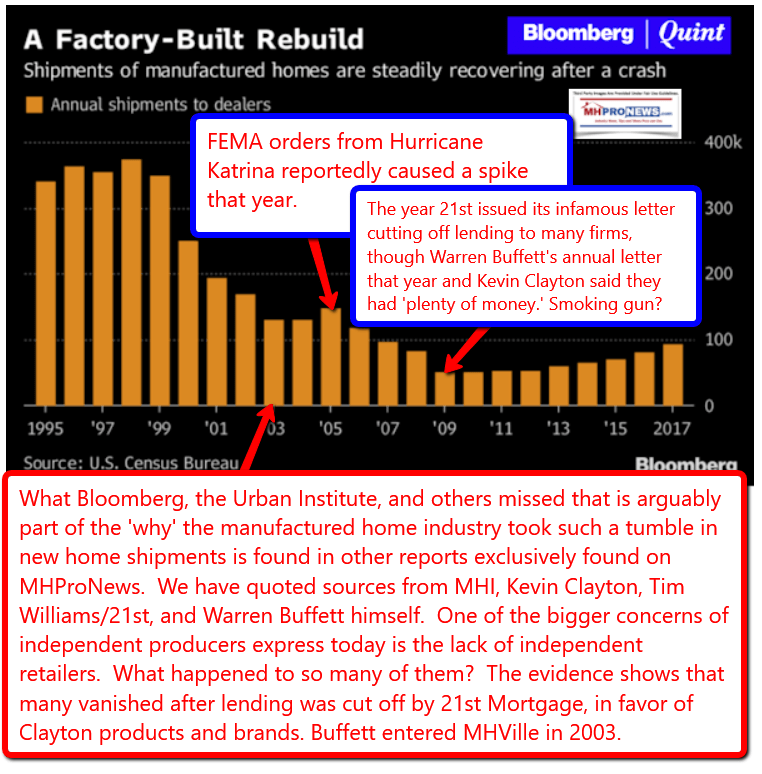 Good laws that are going largely or entirely unenforced.  Two examples are:
Duty to Serve manufactured housing by the Government Sponsored Enterprises, a decade after it was made law in the Housing and Economic Recovery Act of 2008 (HERA).
Enhanced preemption – part of the Manufactured Housing Improvement Act (MHIA) of 2000.
The bonus example is that good news from third parties about manufactured housing are being left to languish.  Third party good news reports are going largely unused, save here on MHProNews or on MHLivingNews.  One of the better examples, from 2018, by a respected sources such as the National Association of Realtors (NAR) is their report on manufactured homes by Scholastica Cororaton, CBE.  It touted the value of manufactured homes, and debunked numerous myths.  Yet that report is nowhere to be found on the MHI website, why?  Yet, MHI claims to represent 'all segments of factory-built housing.' If they do, aren't they doing a pitiful job of it?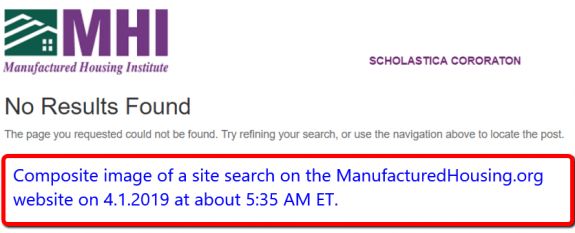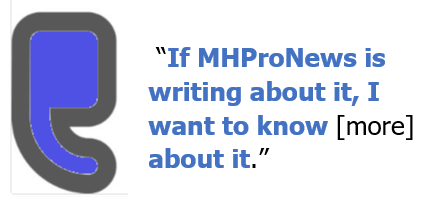 There will be more on Tunica and our meeting with industry professionals on the afternoon of March 282h in the days ahead. Stay tuned, and sign up for the hottest emailed headline news in the industry to make sure you don't miss a story that may be important to your interests.
Keep in mind too that besides publishing, we are doing various kinds of promotion, consulting, and business development services for clients.  We have a lot on our plate, but we strive to balance it all out. Our clients routinely praise our work product.

Finally, for those sending messages that haven't had a reply or acknowledgement, never hesitate to pick up the phone and call. A good subject line helps us sort through items in our inbox too.  Thanks for the input at Tunica. That's this morning's MH "Industry News, Tips, and Views Pros Can Use," where "We Provide, You Decide." © ## (News, analysis, and commentary.)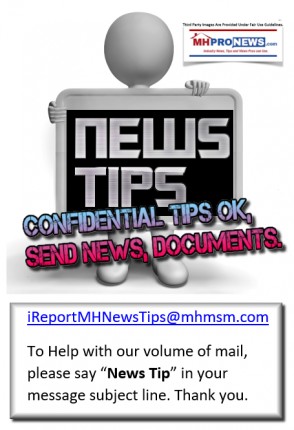 Your link to industry praise for our coverage, is found here.
For the examples of our kudos linked above…plus well over 1,000 positive, public comments, we say – "Thank You for your vote of confidence."
"We Provide, You Decide." © ## (News, analysis and commentary.)
(Image credits and information are as shown above, and when provided by third parties, are shared under fair use guidelines.)
Submitted by Soheyla Kovach to the Daily Business News for MHProNews.com.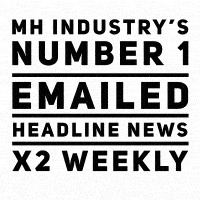 2) To pro-vide a News Tips and/or Commentary, click the link to the left. Please note if comments are on-or-off the record, thank you.
3) Marketing, Web, Video, Consulting, Recruiting and Training Re-sources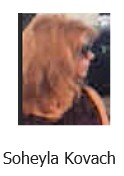 Submitted by Soheyla Kovach to the Daily Business News for MHProNews.com. Soheyla is a managing member of LifeStyle Factory Homes, LLC, the parent company to MHProNews, and MHLivingNews.com.
Related Reports

:
You can

click on the image/text boxes

to learn more about that topic.
Independent MH Communities, Retailers – NAMHCO's Susan Brenton Says What Fueled Break from Manufactured Housing Institute (MHI)
MH IDEAL, Understanding Manufactured Housing's Choke Points, Tunica Show Day 3
Warren Buffett Urges Government Care For People Who've Become 'Roadkill' – Video, Analysis
Trump Administration Move on Housing Financing Draws Sharp Manufactured Home Association Response
Clayton Homes Insiders Tips – After Birmingham 'Fiasco,' Clayton Pivots Back to Tunica Show – Day 2 Insights
Attraction Marketing, Appealing to More Cash, Good Credit Customers into Manufactured Homes
Affordable Housing Crisis Rages, Sages Sing Manufactured Home Praises, Fix the MH Industry Tricks – Easy as 1, 2, 3
Tunica Manufactured Housing Show, MH Industry Pro Feedback, Day 1
Motion – or, more accurately, activity – in and of itself, is not necessarily synonymous with, or equivalent to, realprogress, or, in fact, any progress at all.
Washington, D.C., January 8, 2019 – The National Association of Manufactured Housing Community Owners (NAMHCO), a new, independent association representing a key manufactured housing industry post-production constituency, has announced a major step in its initial organization and the start of national-level advocacy activities to better and more effectively represent the post-production sector in Washington, D.C.
Washington, D.C., February 4, 2019 – The Manufactured Housing Association for Regulatory Reform (MHARR) reports that according to official statistics compiled on behalf of the U.S. Department of Housing and Urban Development (HUD), HUD Code manufactured home production declined again in December 2018.