"The campaign has a noteworthy concept," said publisher and industry consultant, L.A. 'Tony' Kovach. "It targets the industry's stigma. The 60 second video then attempts to jiu-jitsu that stigma into interest. The question becomes, does it work?"
Taking the Bull by the Horns
 "Tony, On the Record is fine. The ad is very good. It's what the Industry has been debating for years," said Jay Hamilton, Executive Director of the Georgia Manufactured Housing Association, via email. "How do we increase our public image. The Industry had multiple ideas, but no money to do a True Campaign including prime [time] TV Spots,"
"Clayton finally took the bull by the horns, and quit waiting on the industry to decide how to do it," said Hamilton. "So, they are going to do it themselves.  Good for them!"
Builder Online Touts
 "Clayton, one of the largest home builders in the country, has kicked off its biggest marketing campaign to date focused on how its building process can help provide affordable housing for American families," said Builder in their initial review.
"The Have It Made initiative launched nationwide Sept. 2 with a 60-second commercial air during the the [sic] University of Alabama and Florida State University football game," Builder's article by senior editor Jennifer Goodman said. "The campaign represents the company's mission to provide quality homes at affordable prices, says Kevin Clayton, CEO of Clayton Homes."


"Have It Made challenges the stigma associated with homes built in home building facilities and delivered in sections to their final locations," Goodman stated.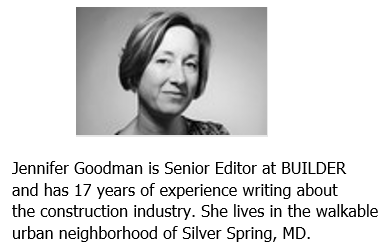 Common MH Industry Reactions
There have been numerous comments received by MHProNews regarding Clayton's initiative. The Clayton video has drawn mixed reviews, as the comments above and below reveal.
A common reaction has been the notion advanced by some readers that "MHI should be doing this."
There are concerns raised over Clayton's sheer size vis-à-vis the balance of HUD Code home production, and their vertically-integrated retail arms, all of which operate under several different brand names.
Berkshire Hathaway's dominance of the Manufactured Housing Institute (MHI – and by extension, much of the industry – leaves numerous independents concerned.
While some state and community association executives are enthusiastic supporters of MHI, others privately are less so.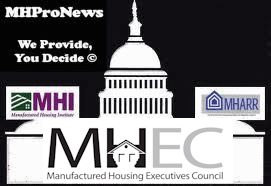 MH Industry Veteran Disses Video
There are those who just don't like the video.
The following IM exchange with MHProNews from an industry veteran is an example, and it took an interesting view.  Their comments = C, our reply = R.
C) "

I do not like the

[Clayton Homes video] spot."
R) Interesting. Why not?
C) Their "…commercial reinforces stereotypes more than I would like.

I know their goal was to change it

[perception, stigma], but they mention it way too much for my liking. I know of the firm they hired – they are out of Colorado."
Rick Robinson, "MHI Zen" and the Clayton Promotion
For those that have voiced concerns that "MHI should be doing this," hasn't their General Counsel/Sr. Vice President of State & Local Affairs, Rick Robinson, obliquely spoken for the Arlington, VA based association's take on Clayton's campaign?
"I know that Clayton [Homes] has been to many of your state [association] meetings showing their new ad campaign," wrote Robinson earlier this week. "To see the formal release and a video of the first ad,click here. I hear that you'll be seeing these ads a lot on SEC football games."
Aren't Robinson's comments pretty matter of fact?
MHI funded research and resources, per sources to MHProNews, have allegedly been used in part by Buffett's manufactured housing units.
If so, doesn't that concern and other allegations noted indicate the reality that the Berkshire Hathaway's Chairman holds two of four seats on the organization's all-powerful MHI Executive Committee?  Or that small to mid-sized members are helping pay for what the biggest members want?
Or consider this fact.  That the third MHI Executive Committee seat is held by what Forbes called a former Clayton Homes division president?
Or that the fourth seat is held by a firm that has Clayton product – or makes use of Berkshire-connected lending – in their land-lease communities?
Can You Spell Monopoly?
Aren't the facts hiding in plain sight?  Information such as the graphic by Cavco Industries – shown below – are among those "gifts that keep on giving," that — reveal from their MHI-connected sources, in their own words — the reality of the industry, to quote a caller yesterday.
MHI's own claim of having some 85 percent of the industry's production, doesn't that and several of their own statements play into the worries and allegations of monopolistic practices?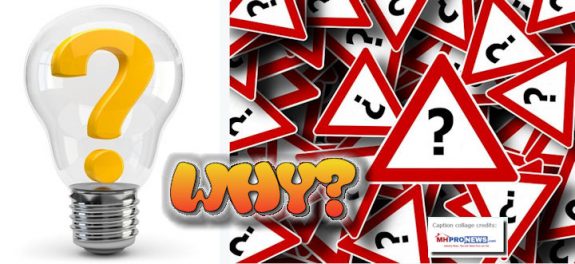 Don't alleged 'trust' practices – which often by definition – negatively impact consumers and independent operations?  See that report on monopolies/trusts and third-party videos, linked here.
State Association, non-MHI Member Reacts to Video and Image Campaign
 "i think we should control our own destiny because MHI will do nothing for us at all…" (Note: typos, punctuation errors in these messages are in the original.)
So, "instead of going at them i think we should ignore them – for lack of a better term take our business elsewhere," the messages read, adding, "i am not a member of MHI – i am a member of some state associations but not MHI."
While not commenting on this specific campaign, Marty Lavin has lashed out repeatedly at MHI's failures, while carefully weaving, so as not to step on Clayton or Berkshire Hathaway toes.
MHI award-winner Lavin has said for well over a decade that the industry must get to the root issues. Otherwise, he's said – "the other image campaign," negative media that takes place somewhere in the U.S. several times a week – will tend to dominate in the public mind.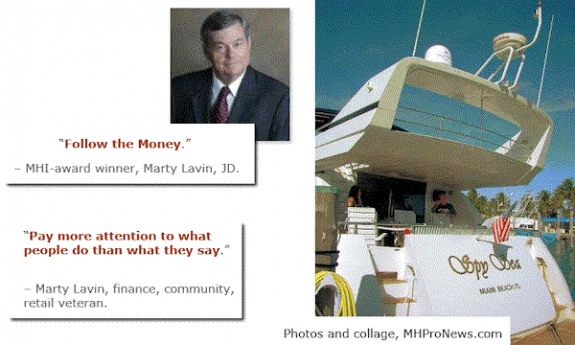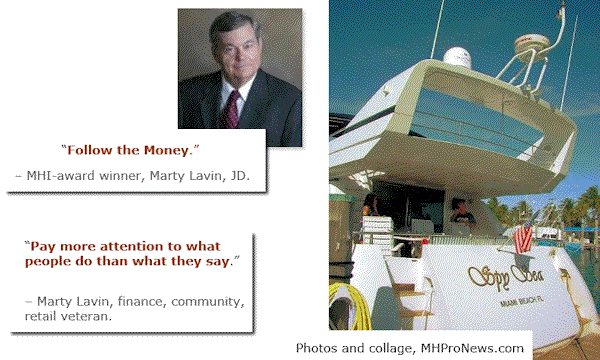 Facts Matter
The threat to Clayton, MHI – and potentially 'monopoly innocent' members of the industry – is that a video like theirs will raise questions in the public's mind.
As MHI/NCC Vice President Jenny Hodge said, people research online, they don't just buy.
When
Democratic lawmakers,
the Center for Accountability,
Ishbel Dickens/NMHOA and others are making charges and allegations of racism, steering, "near monopoly," and predatory lending,
won't those concerns be found by savvy buyers who do a Google, Yahoo or Bing search?
MHI and senior Clayton/VMF/21st staff members were given a 'softball opportunity' to decry racism and those allegations.  In their wisdom, they declined that option. See the report of what third parties are alleging about Clayton and BH lenders, linked here.
What MHI President and CEO, Richard A. "Dick" Jennison said in the roughly 20 second video above is revealing, in the light of other reports by MHProNews.
Note the easy question asked, and what Jennison answered. Why would a man that requires Berkshire Hathaway's support get his contract extended after making that shocking statement? Would the National Association of Home Builders (NAHB) or the National Association of Realtors (NAR) extend the contract of someone that said something similar in their industry?
Industry Potential, and Problems
RV's outsell manufactured homes by about 5 to 1.  When RVs – which are a luxury item, not a necessity such as a home is –  have been growing rapidly, why not manufactured housing?  When the data that Clayton and Cavco published reflects the fact that those two companies are growing at a somewhat slower pace than the industry at large, should they be leading the charge for image, education, and marketing?
Where Sam Zell and MHARR Agree?
Sam Zell publicly pointed to the need for the industry to establish a sound credit base.
Obtaining a stronger source for competitive, additional financing – didn't two of Warren Buffett's Berkshire Hathaway (BH) lending brands admit to NOT supplying the Government Sponsored Enterprises (GSEs) with data they wanted for chattel lending?  Didn't that failure by BH lenders to supply such data harm most of the industry's desire for the GSEs to do robustly do chattel loans?
Isn't that what "Zell's Math" implied?
Certainly, the Manufactured Housing Association for Regulatory Reform (MHARR), along with others industry professionals cited by MHProNews for years,  believe that's a factor in the GSEs failure to act.
If MHI and their Berkshire Hathaway manufactured housing forces won't defend their own name and reputation on an accusation as toxic as racism, how likely is it that either could successfully do an image and education campaign?


"We've said for years something that resonates with our clients. If pretty pictures and slick videos were enough, then the industry would already be doing 500,000 or more new home shipments annually," Kovach said. "Sure, the quality of a video is helpful.  But isn't what the public wants reality – not fake news, spin, hype or manipulation?"
Right Idea, Problematic Execution?
What's the real solution to the industry's huge opportunities, but poor image?
"We're the industry's leading trade media, as well as service providers," said MHLivingNews/MHProNews publisher Kovach. "We won't tell Mr. Buffett, Clayton et al, or MHI all that is right or wrong with this video and their other campaign plans."
"What we will say is what we've demonstrated. There is proven value to factual storytelling. There is also value to establishing for manufactured housing independents an umbrella that refutes or deflects each and every false claim made. That worked for the ADL and the NAACP for decades. Properly done, it works for manufactured housing too," Kovach said.
"Thanks to the support of others, we began the process years ago of creating a system that mimics what the ADL/NAACP does, and apply that to manufactured housing. We've tested this in local markets. Our clients say, this works, they've profited," Kovach said. "We plan to take the next steps in expanding that process, because others in the industry have failed to do so."
Mutual Victories 
Tye reminded Kovach, who reminds us of the following.
"It's all about what Steven Covey called the win-win, or 'mutual victories.' When consumers and business win, that's a victory," Kovach stated. "When consumers, business, and taxpayers all win, that's an even bigger victory."
Kovach explains that what the Rev. Donald Tye, Jr., Lindsey Bostick with Sunshine Homes, Paul Bradley with ROC USA, Marty Lavin, Tom Fath, Titus Dare, and others have repeatedly noted is that consumers must not be an afterthought, or just a target for a sale.
Rather, manufactured home owners and millions of potential manufactured home prospects must be the focus of the value proposition that the industry offers.
Properly serving the public – while respectfully addressing their interests and concerns – doesn't that have to be front and center?
"We Provide, You Decide." © ## (News, Analysis.)
(Image credits are as shown above, and when provided by third parties, are shared under fair use guidelines.)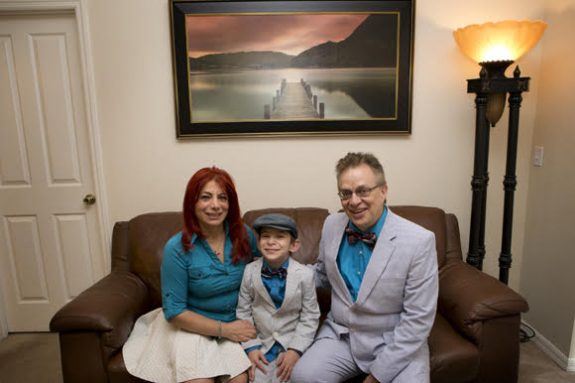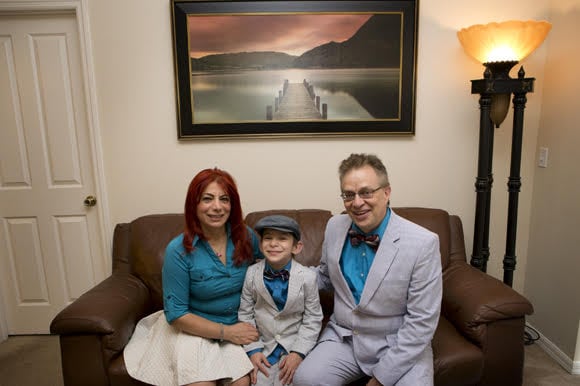 Submitted by Soheyla Kovach to the Daily Business News for MHProNews.com.
(Notes: Soheyla Kovach is a co-founder of LifeStyle Factory Homes, LLC – the parent to MHProNews.com and MHLivingNews.com – and is a managing member.
Photo credit, 83 Degrees Media. To see their report about MHLivingNews, click here.)