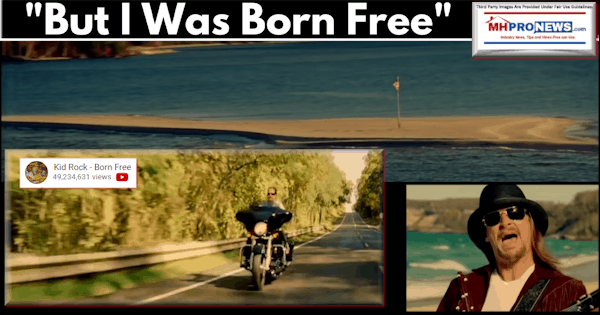 Music gets appropriated for commercials, campaigns, causes, and political events on a routine basis. So why not do that for the interests of manufactured home professionals, investors, and the tens of millions in the affordable home seeking public?
Facts, figures and slogans often get swatted around like a ping-pong ball in a professional-level table tennis match to advocate for some new law.
Why not cut-to-the-chase, save time, money, and implement the good laws that are already on the federal law books?
There are unique opportunities for honest gain being forged in the crucible of often troubling circumstances. There are purported 'black hat' operations that have manipulated the system and political forces in order to divert existing laws while lining their own pockets. They do so at the expense of our fellow Americans, ethical businesses, and honest investors.
Why not use some jujitsu to spotlight those bad behaviors, while 'white hat' businesses, investors, organizations, professionals, advocates, and lawmakers come together to enforce good laws?
Why not hold hearings in Congress to spotlight the various ways that existing laws have been blocked, often by posturing or feigning which masks entirely selfish interests – often within our own industry's ranks?
Let's explore that case briefly below.
Born Free
I was born free. We believe in free enterprise and respect all honest work. It's a holiday, yet the groundskeepers caught us by surprise – they are working outside – keeping the lawn, shrubs, and the property pristine. Wow, that's unexpected, yet it's amazingly American.
But some are born into vexing scenarios made worse by corrupted versions of capitalism rightly called conquest or crony capitalism. Is it any wonder that millions – seeing such misbehavior – question free enterprise?
However well intended HUD Secretary Ben Carson or his predecessor Julián Castro may be or have been, there is evidence that corporate interests have colluded with officials currently or previously at HUD to thwart existing laws. We'll explore who and name some names in the days ahead.
But even what we already know from Senate testimony or from the Washington Post should be enough to cause alarm for observant and thoughtful professionals and honorable public officials.
Senator Thom Tillis, in a dialogue with HUD Secretary Ben Carson said, "I don't think that most people recognize how the regulatory burdens hit the poorest among us the hardest." Tillis revealed that he grew up in what he called a 'trailer house,' but was more likely a mobile home or early HUD Code manufactured home. Tillis spoke about the morass of regulations that are "no doubt creating a higher price point."
Senator Tillis (NC-R) jokingly said that in his personal case, the increased regulatory costs might have been the difference between a single wide, and a "single wide with a bump out." There are likely thousands of professionals in our industry that don't even know what that means, because single sections with an extension are not so common any more. There was unquestionable more variety of manufactured homes built by more manufacturers 30 to 35 years ago than there are today. That's not to say that there aren't improvements, of course there are, as Secretary Carson said in the video above. But for those who were in the industry in the 1980s, they recall 'tip outs,' balcony bedrooms, sunken baths, raised kitchens, and other floorplans that many today have not seen on a factory line in many years.
Tillis used his personal experience as an example to call attention for the need for regulatory stream lining that could benefit millions. That sound suspiciously like the executive order that President Trump issued just days ago. It was very much in keeping with what a Washington, D.C. based trade group has been calling public officials to do for years. Persistence may pay in the foreseeable future.
Secretary Carson, even early in his administration, noted that 22 million were living in manufactured homes and their mobile home predecessors. He said when you look at the progress made in the industry "it's amazing."
Dr. Carson went on to say that a lot of the housing was hard to distinguish from site-built housing, noted that pricing on manufactured homes was lower, but "the regulations are ridiculous." He noted that he put a moratorium on those and were inspecting regulations from "top to bottom." More recently, Secretary Carson said that we can solve the affordable housing crisis, and he pointed to manufactured homes as part of that solution.
Some of those "ridiculous" regulations Carson spoke about in Senate testimony were no doubt about issues related to Danner that MHProNews and the Manufactured Housing Association for Regulatory Reform (MHARR), among others, had spotlighted for years.
Who was directly in charge of implementing HUD regulations?
Pam Danner, J.D., who per sources was inserted into her role at the Office of Manufactured Housing Programs (OMHP) by backers within the Manufactured Housing Institute (MHI). While that claim may or may not be easy to nail down, what follows is already known.
Juliet Eilperin writing in the Washington Post in May 2018 said that it was the efforts of Mark Weiss, J.D., President and CEO of MHARR and his colleagues that got Danner removed, for her purported excesses in regulatory overreach. By contrast, the Manufactured Housing Institute (MHI) Senior Vice President (SVP) Lesli Gooch specifically stated that they did not seek Danner's removal.
That WaPo report was not denied by MHI.
When thousands of industry professionals were howling from coast-to-coast about Danner and overreach, why wasn't the Arlington, VA based trade group likewise pushing for Danner's removal?
Once the 'wheat and chaff' are separated, what becomes clear is this. MHI postured action, but failed at the most basic and obvious step; i.e.: seeking and obtaining Danner's removal. That's not a conspiracy theory, that's per the clear implication of MHI's SVP Gooch's own words, as reported by the Washington Post. That's the truth hiding in plain sight.
The deep pockets at MHI – and those behind them in places like Omaha, or the Knoxville metro, and their allies – can buy more of everything than MHARR and/or our publications can. MHI is the one that claims they have clout at the federal level. If so, how have they used that clout?
That reality of their deeper pockets and broader access are precisely why it is logically stating the obvious where the roadblocks in our industry are. They are often internal, and the net impact is that the industry is consolidating instead of growing. Several of MHI's own past and present members have said as much.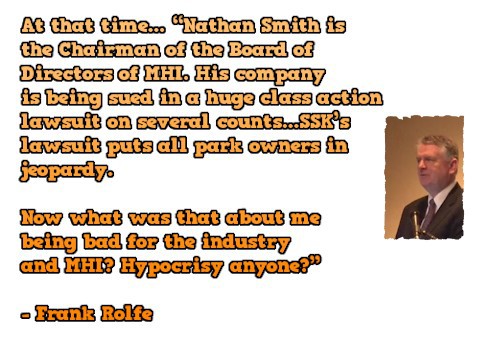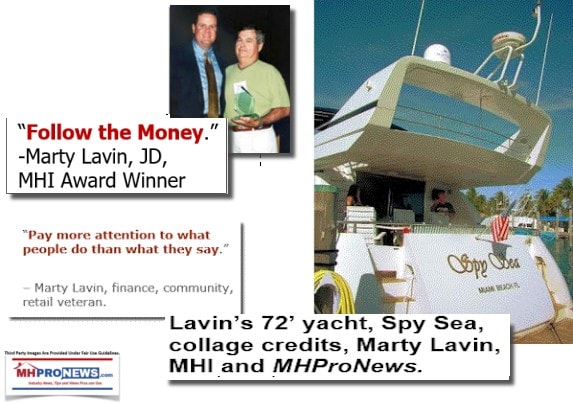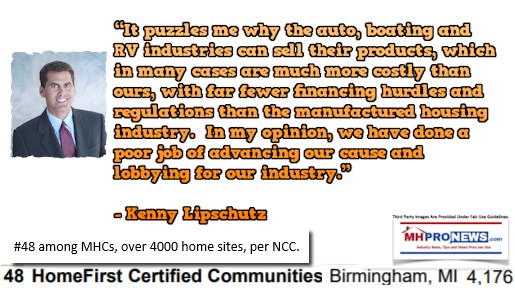 Who benefits from slow growth or negative growth? Isn't it the deeper pockets that can then buy more communities, retailers, producers, and suppliers at a discount? Doesn't that fit the Warren Buffett mantra?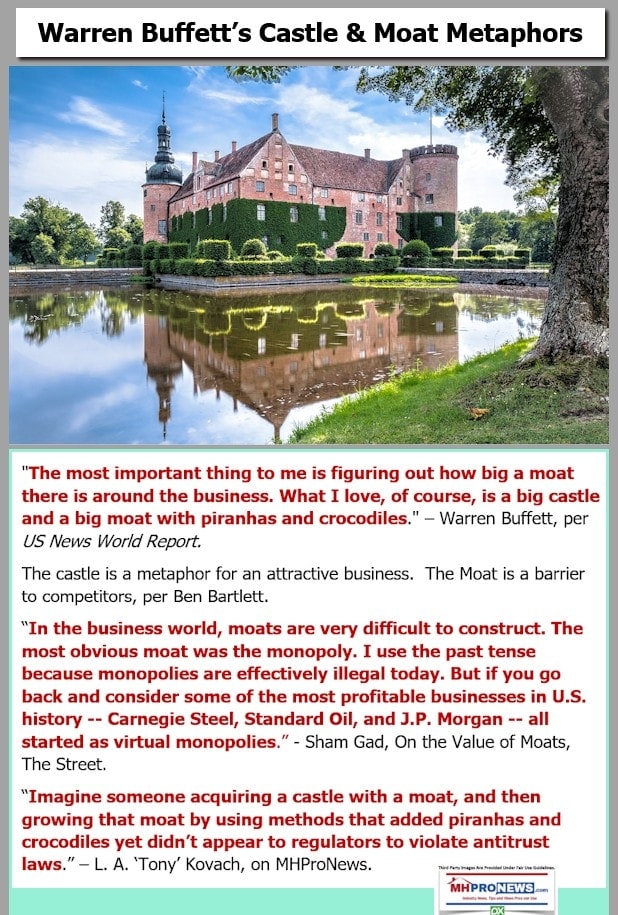 Therefore, it is an obvious time for a new paradigm.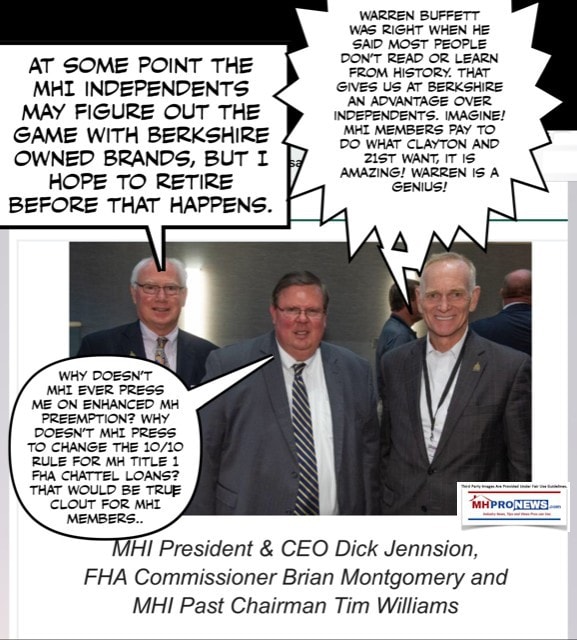 It is time for new alliances to be created that bridge the gaps that are causing a harmful status quo. It is outrageous that manufactured home shipments are into 9 months of year-over-year decline. It is a disgrace that MHI and their outside attorney threatened us for lawfully publishing the item below, when it was they who were making the false claims and promises.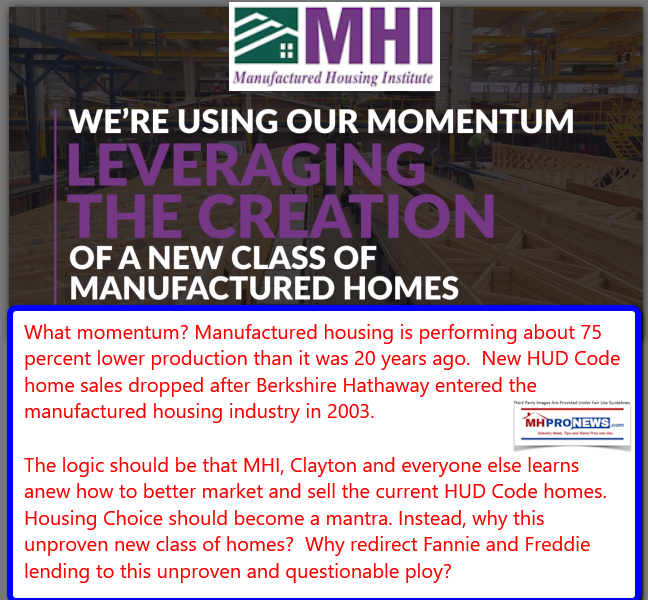 That this decline is avoidable is exemplified by exceptions to the rule, such as our report on Nobility Homes, linked here.
That Buffett's 'donations' have found their way into the hands of MHAction and other groups opposing MHI begs the question, have they been playing the industry's white hats with the rope-a-dope for years?
Prosperity Now, Nonprofits Sustain John Oliver's "Mobile Homes" Video in Their Reports
While MHI, Prosperity Now and others are pushing for a new bill in Congress that could make things worse. Paradoxically, the claimed goal of that bill could be rapidly achieved simply by implementing existing federal laws. Which begs the question, why not push for implementing good laws that are already on the books? Who benefits from more delays? Isn't it the consolidators that want to keep manufactured housing misunderstood and underperforming?


There are several reasons to believe that there is collusion and corruption that purportedly violates antitrust, IRS or other regulations, and possibly laws such as RICO.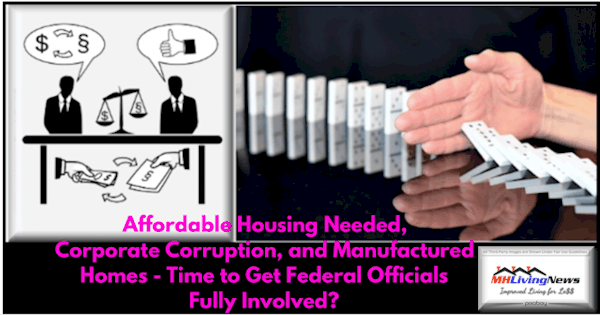 We have new and significant recent features on Manufactured Home Living News. They lay the foundation that makes the case for implementation of existing laws. They also suggest how white hat brands, organizations, honest public officials, and investors could be working with manufactured homeowners, renters, and others to reform the system by implementing existing laws.
It could – indeed should – start with public hearings by Congress and possibly states to investigate and explore what has gone wrong. No one could be as incompetent as the powers that be in Omaha-Knoxville-Arlington have been, could they? Which suggests that a relatively small group of people could be manipulating the system in ways that cause more homelessness, more poverty, and more grief for millions that would otherwise be avoided.
More in the days ahead on specifics within HUD that should cause alarm and spark action.
Those of us born in the U.S.A. were born free. Let's not lose that freedom to the machinations of a few that are trying to wrongfully enrich themselves to the detriment of the many.
Roll the stone away. Let the guilty pay. It's Independence Day.
Songs can often capture ideas and emotions in poetic and transformative ways. Ballads by definition are songs that tell a story. The ballad that Gretchen Peters wrote that was performed by Martina McBrideblends a range of symbols that brilliantly captures the story of an abused woman, as told through the eyes of her daughter.
Summing Up
The solution to the affordable housing crisis has been hiding in plain sight for years. There is a case to be made that it is often forces within the industry that have thwarted, allowed, and diverted resources and good current laws from spurring more sustainable growth. That growth would have meant more home ownership for people otherwise trapped in rent. That kind of corruption must be exposed and punished.
"Roll the stone away, let the guilty pay, it's Independence Day."
Now you may better understand our mantra, "News through the lens of manufactured homes, and factory built housing," © where "We Provide, You Decide." © Dig into the related and linked reports above and below to round out the picture. Let's restore the American Dream, starting with an understanding of Independence Day. ## (News, fact-checks, analysis, and commentary. All third-party images and content are provided under fair use guidelines for media.)

L. A. 'Tony' Kovach is a managing member of LifeStyle Factory Homes, LLC parent company of MHLivingNews and MHProNews. He is a highly acclaimed industry expert and consultant, a managing member of LifeStyle Factory Homes, LLC, and is a 25 plus year award-winning manufactured home industry professional. Kovach earned the Lottinville award in history at the University of Oklahoma.
Related Reports:
Click on the hot-linked text-image boxes below to learn more.
We've done several serious reports in the last year or so that look deeper behind the often dark curtain to understand why manufactured homes – along with the mobile homes and trailer houses that preceded them – are so misunderstood. Today will be a bit different.
Washington, D.C., June 18, 2019 – The Manufactured Housing Association for Regulatory Reform (MHARR), in a June 13, 2019 communication to Fannie Mae Vice President Jonathan Lawless (copy attached), has reiterated its call for a congressional investigation into the failure of both Fannie Mae and Freddie Mac to implement the statutory Duty to Serve Underserved …
Washington, D.C., May 15, 2019 – With manufactured housing producers, retailers and communities offering their best homes (and related consumer protection) ever, and in light of the failure of the ostensible representation of the industry's post-production sector to fully and effectively advance the marketing, consumer financing and, most importantly, the full acceptance of federally-regulated manufactured housing as the nation's premiere source of non-subsidized affordable housing and homeownership, the Manufactured Housing Association for Regulatory Reform (MHARR) has launched a new project and initiative to fight selected, especially egregious instances of discriminatory and exclusionary zoning targeting manufactured housing and manufactured housing consumers.
Washington, D.C., April 30, 2019 – The Manufactured Housing Association for Regulatory Reform (MHARR) in an April 24, 2019 communication to U.S. Department of Housing and Urban Development (HUD) Secretary, Ben Carson (copy attached), has called on the Department to federally preempt local zoning ordinances which discriminatorily exclude manufactured homes regulated by HUD pursuant to the National Manufactured Housing Construction and Safety Standards Act of 1974 and the Manufactured Housing Improvement Act of 2000.
https://www.manufacturedhomelivingnews.com/manufactured-home-resident-leader-asks-for-federal-investigations/
" Follow the Money." – a maxim used by journalists and investigators. " Sometimes the best place to hide is in plain sight." – axiomatic expression used by numerous authors. ' One should separate wheat from chaff.'
Manufactured Housing Production and Shipments, Official HUD Data, Report for May 2019