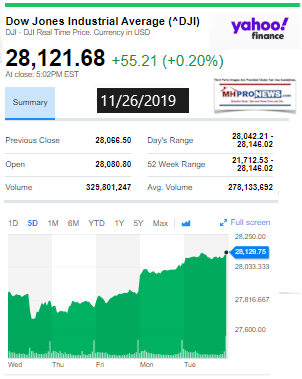 Programming Notice: Complimentary or bookend special reports will be published on manufactured home lending, one in our 'almost midnight report' today. The other is currently scheduled for the next 24 to 48 hours. The two will include on the record statements, exclusive quotes, and details no other trade media in manufactured housing are objectively covering.
With that teaser, let's move to our headline topic.
"Billionaire Michael Bloomberg is reportedly entering the 2020 presidential race because he says President Trump is winning. That's according to his campaign manager Kevin Sheekey, who said in a recent interview that Bloomberg views the president as a "existential crisis,"" said right-of-center One America Network, citing information reported by The Hill, CNN, and Real Clear Politics.
Regular readers please note there are a few tweaks to some of the standard portions of our evening market/investing report. Read carefully as some changes of the 'standard text' that follows before our left-right headlines and also in other features near the end of tonight's reports.
Every evening our headlines that follow provide snapshots from two major media outlets on each side of the left-right news spectrum that reflect topics that influence or move investor sentiment. In moments on this business evening report, you can get 'insights-at-a-glance.'
This report also sets the broader context for manufactured housing markets, in keeping with our mantra, "News through the lens of manufactured homes and factory-built housing" ©.
We begin with headlines left-of-center CNN followed by right-of-center Fox Business. We share closing tickers and other related data courtesy of Yahoo Finance, and more. 5 to 10 minutes reading this MHProNews market report every business night could save you 30 minutes to an hour of similar reading or fact-gathering elsewhere.
Perhaps more important, you will get insights about the industry from experts that care, but also dare to challenge the routine narrative that arguably keeps manufactured housing underperforming during an affordable housing crisis.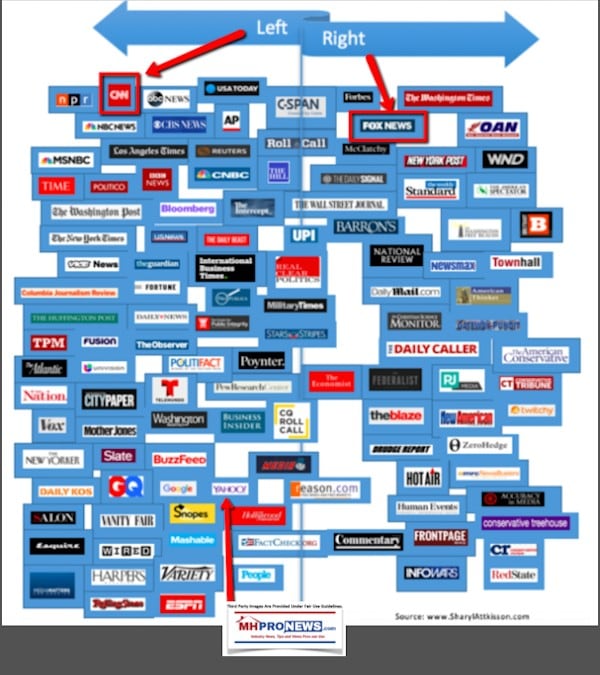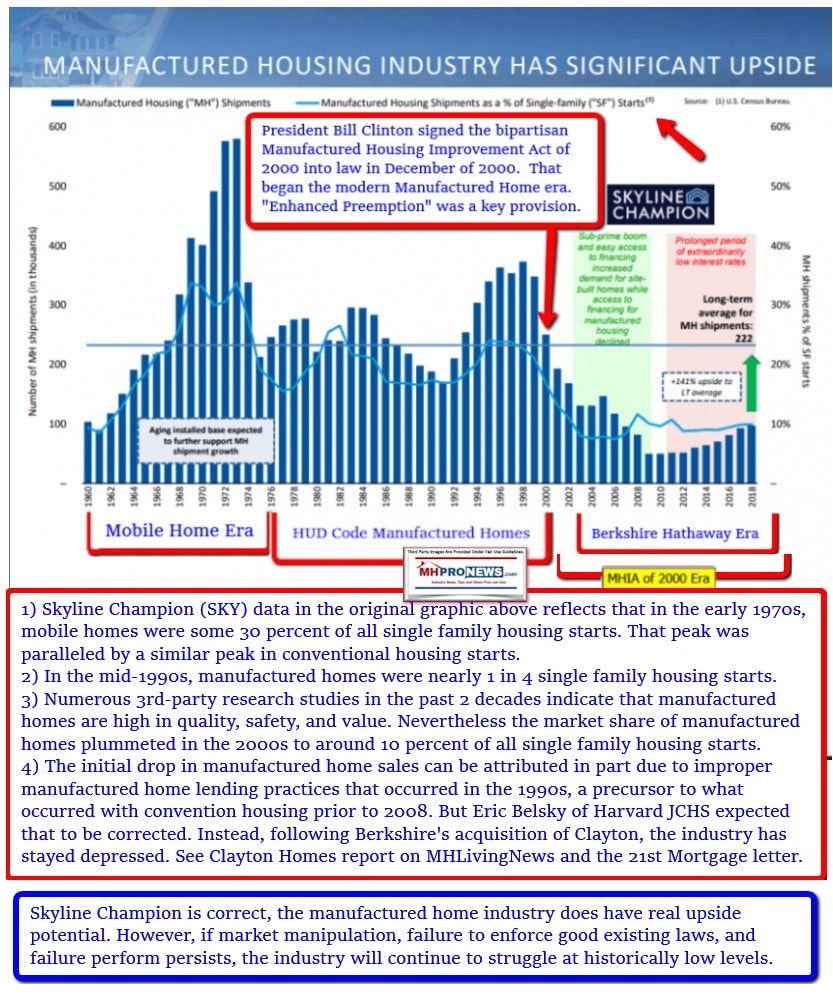 Newsy, Peeling Back Media Bias, Manufactured Housing Sales, Investing, Politics, and You
Headlines from left-of-center CNN Business.
Cybertruck vs. F-150 – Tesla's all-electric truck is having a throwdown with America's most popular pickup
Google's tensions with employees reach a breaking point
Solar, wind and hydro power could soon surpass coal
Global car sales are set for a terrible year. Here's what that means for manufacturing
New York warns FedEx to keep their delivery robots off the city's streets
Top bank CEO steps down over money laundering scandal
California cannabis industry is sending an SOS
Audi cuts 7,500 jobs to free up money for electric cars
GM president: Electric cars won't go mainstream until we fix these problems
Dick's shares soar 18% on strong sales
This man could top Jeff Bezos and Bill Gates as the world's richest person
C. Moore is closing all of its stores
Content by CompareCards
9 cards charging 0% interest until 2021
Bitcoin falls to six-month low
The Cheesecake Factory's biggest challenge is getting you to the mall
Best Buy is ready for Black Friday
FOOD SHOPPING – A yoga class on Whole Foods Market flagship
Groceries and glutes: Supermarkets add boutique gyms and yoga classes
Most grocery stores are struggling. These buck the trend
America's largest grocer is revamping its produce section
Why supermarkets are building 'dark stores'
Kroger debuts a new logo and slogan
SKIP THE CAR – A pedestrian walks past two Bird dockless scooters, one laying on its side, in the middle of a sidewalk in the Westwood section of Los Angeles, California, July 10, 2018.
Scooters are a huge problem for cities. No one knows how to solve it yet
Lyft is pulling its scooters from cities across the US
We tried Uber's new helicopter service
Here's what it's like to fly in an Uber helicopter
Uber will now show you where to rent bikes and scooters
Headlines from right-of-center Fox Business.
Brutal weather, airport protests, huge crowds to make holiday travel living hell
Thousands of subcontracted airline catering workers were expected to demonstrate in 17 cities across the country.
BUSINESS LEADERS – SoulCycle CEO pedals her way out of company
Dow scores 100TH RECORD CLOSE under Trump as stocks soar
Trump says he's closing in on one of biggest trade deals in history
WINTER IS COMING: Fat cats bracing for major overhaul of global tax system
MONEY – WINTER IS COMING: Fat cats bracing for major overhaul of global tax system
The secret to selling your house
'SIT BACK, RELAX…' – Company claims 'spiked' gravy will eliminate 'awkward family dinners'
TWEEN QUEENS – 'Next generation of Valley Girls' driving beauty industry's earthly makeover
'Embarrassment' gov. drowns in flood of hate mail over Amazon deal flop
Hollywood exec slams 'RUTHLESS' Alex Rodriguez, threatens to take to court
Hong Kong leader could spark another round of unrest as campus siege ends
CALM BEFORE MORE STORM – Hong Kong leader could spark another round of unrest as campus siege ends
'Game of Thrones' fans dropping thousands to vacation in Westeros
Thousands forced to FLEE their homes ahead of Thanksgiving
MONSTER WILDFIRE – Thousands forced to FLEE their homes ahead of Thanksgiving
Let's hope Popeyes' Thanksgiving meal is easier to find than chicken sandwich
EXCLUSIVE: Greenspan explains why markets are booming despite trade war
'ECONOMIES WILL RISE'
MARKETS EXCLUSIVE: Greenspan explains why markets are booming despite trade war
World's BIGGEST White Castle location set to open
Chinese-made drones can collect, send data over the cloud, CEO warns
How much cash each Nationals player raked in after World Series victory
Nancy Grace joins Fox Nation streaming service
DMV reportedly rakes in up to $52 million a year by selling drivers' data
Feds launch CRIMINAL probe into drug companies over opioid crisis: report
Google cracks down, fires dissenting employees
Lettuce farmers in PANIC as national recall strikes just before Thanksgiving
New York, high-tax states file appeal over SALT ruling
INSULT TO INJURY: NFL star sues insurance company
In-N-Out settles million-dollar lawsuit over 2017 wildfire
Ex-Marlins president slams Bernie Sanders over Minor League Baseball position
Harassment and discrimination plague Tesla plant, ex-workers say
Goldman Sachs hit with $1 million fine
Cowboys owner Jerry Jones reveals future of struggling coach
Goodwill CEO: More consumers asking for resale holiday gifts
Bloomberg union slams billionaire boss for controversial 2020 coverage
Amazon programs Alexa to manage medical prescriptions
TRIGGERED BY TRADITION: The coworkers trying to kill office festivities
US drafts rules to protect American tech from foreign sabotage
Mark Cuban buys Democracy.com – what does it mean for 2020?
Varney: Democrats' impeachment push is hitting a wall
Warren rips Bloomberg after the billionaire flexes money muscle
Amazon's ad business is big money, but shoppers are hating it
Most dangerous day to drive right around the corner
Dick's Sporting Goods soars after raising earnings outlook
Stock market sweep: 2020 election aftermath could surprise
US home prices rose 2.1% from a year ago, affordable housing stock shrinks
10 Market Indicator Closing Summaries – Yahoo Finance Closing Tickers on MHProNews…

Featured Focus – Where Business, Politics, and Investing Meet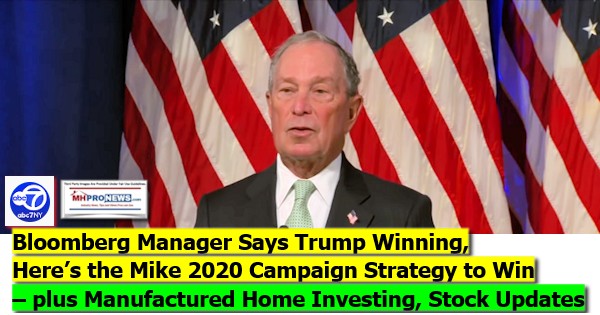 To frame his message, here's the Mike Bloomberg 2020 campaign ad launch video.
"The 77-year-old former Republican kicked off the campaign with a stop in Norfolk, Virginia on Monday. Bloomberg made a pricey entrance into the race with an eight-figure television ad campaign and advertisements promoting his bio and taking direct aim at President Donald Trump," says ABC 7.
CNN scored this video interview with the Bloomberg campaign manager Kevin Sheekey that has the rest of the media talking.
Per Roll Call are the following quotes from the above.

BOLDUAN: This initial rollout, part of a massive nationwide ad buy that's over the next two weeks, at least $37 million on TV ads.
He has a lot of work to do. In the latest polling of voters in early primary states through Super Tuesday, only 20 percent say Bloomberg is a candidate they would consider. And 49 percent say they are not considering him.
So what is the Bloomberg game plan?
Joining me right now is Kevin Sheekey, the campaign manager for Michael Bloomberg's campaign.
Good to see you, Kevin. Thank you being here.
KEVIN SHEEKEY, CAMPAIGN MANAGER, MICHAEL BLOOMBERG PRESIDENTIAL CAMPAIGN: Thank you for having me.
BOLDUAN: So you guys are hitting the trail right away. He's heading for Virginia today. We're told in a larger speech he will be making, you'll be very near the largest naval station in the world in Norfolk and he's getting right to the news and talking about the resignation or firing of Navy Secretary Richard Spencer.
Can you clue us in on what his take is?
SHEEKEY: Yes. It's obviously in the news today.
BOLDUAN: Yes.
SHEEKEY: Your guest before this talked about president chaos. Obviously, Mike is going to comment on it.
Listen, Mike is getting in this race because he thinks that Donald Trump is an existential crisis and he thinks he's on a path to victory. He's getting in to alter that dynamic.
We'll run a campaign against the president. We'll run a campaign to try to make Mike the Democratic nominee. We'll try and bring those together.
Both of those things are happening right now. Obviously, he will talk about in Virginia the elections that occurred there recently.
Mike, listen, really led a campaign to elect Democrats to the House of delegates down there. It's a very long time that Democrats hold both Houses and the governorship.
It's been a fight for us for a very long time because of all the illegal guns that come out of the state of Virginia and flow to the rest of the country, an issue for the environment.
KATE BOLDUAN, CNN ANCHOR: But Bloomberg has talked about the impact from a private sector, from the outside in on political process. Just in September, eight weeks ago, when I asked him, he said truth of the matter is when you look at the layout of who is going to vote and where the country is, I would be very unlikely to get elected.
That was eight weeks ago. What's changed?
SHEEKEY: We're focused on defeating Trump. If you look at the polls — and people can't focus on this — the general election is in six states, Wisconsin, Michigan, Pennsylvania, North Carolina and Florida and Arizona, and that's the whole general election.
Right now, Donald Trump is winning. He is winning that election. It's very tough for people who don't live in New York or California to understand that, but that's what's happening.
Mike was doing everything he could from the sidelines and finally decided it wasn't enough to sit on the sidelines and he needed to do what he could to alter that dynamic. So that's what we're going to try to do.
##
There is a lot to unpack from that snapshot. But as MHProNews has previously observed, and the Bloomberg campaign is confirming, there is no confidence that former Vice President Joe Biden can pull this off.
But note too that the phrasing by Bloomberg's campaign manager leaves open an interesting interpretation. Bloomberg may say he is in it to win it. But defeating President Donald J. Trump's re-election seems to be the focus. Much of their campaign's energy is focused on that, with gun control, climate change, a more moderate position on healthcare then Senators Elizabeth Warren (MA-D) and Bernie Sanders (VT-I-Democratic Socialist) are offering, plus economic opportunities rounding out his agenda.
MHProNews pulls from a variety of sources, including our own – which of course can't be compared to that of a major mainstream news network – but nevertheless are still insightful.
With less than a year to go, there are clear indicators that the 2020 contest is winnable for President Trump. For instance, his appeal to minority voters is rising. That alone could make the difference in a reelection battle.
But what Bloomberg's candidacy – which some sources have said that the former New York City Mayor could spend up to $2 billion on the campaign, could mean is this. Bloomberg could play spoiler. Depressing those who might vote to re-elect the president combined with registering and energizing new voters could be a key, from Bloomberg's vantagepoint.
It should go without saying that the left-leaning 2020 Democratic candidates are lashing out at Bloomberg. They are fund-raising on it too.
Last point for tonight. Ponder what the paragraph above means. Billionaire Bloomberg feels that Trump is as much a threat to what he stands for as Senators Sanders and Warren's far left positions do.
That speaks volumes. Note that the president is holding a 2020 campaign rally in Florida tonight. Typically CSPAN carries it live, as do some other news outlets via streaming on YouTube.
Certainty is what investors crave. Uncertainty is what an objective view of the 2020 race fosters.
As a closing point, affordable housing is a big issue, and growing. Thus, the manufactured home residents, industry and renters could be a pivotal part of the 2020 race for whomever becomes the Democratic nominee and also for President Trump or whomever becomes the next president. The 2020 contest absolutely matters to our industry, its 22 million living in a pre-HUD Code mobile home or manufactured home, professionals, advocates, and investors.
Some recent and relevant prior reports on the 2020 campaign follow.

Related Reports:
Democratic Dream, Dilemma & Debates; POTUS Trump and Michael Bloomberg Realities, Affordable Manufactured Housing Solutions – Transcripts, Analysis
Blackstone Exiting Single-Family Rental Biz Slammed by Senator Elizabeth Warren, plus Manufactured Home Investing, Stock Updates
White House Council Requesting Input From Manufactured Home Industry on Affordable Housing Barriers
Affordable Manufactured Housing's Puzzling Contemporary Condition Revealed by Quotable Quotes from Residents, Professionals, Expert Researchers, Advocates, Public Officials, Graphics, and Reports
Mike Huckabee – 'When Law Enforcers Become Lawbreakers' – plus Sunday Manufactured Home Headline News in Review 11.17 to 11.24.2019
Manufactured Housing Industry Investments Connected Closing Equities Tickers
Some of these firms invest in manufactured housing, or are otherwise connected, but may do other forms of investing or business activities too.
NOTE: The chart below includes the Canadian stock, ECN, which purchased Triad Financial Services, a manufactured home industry lender
NOTE: Drew changed its name and trading symbol at the end of 2016 to Lippert (LCII).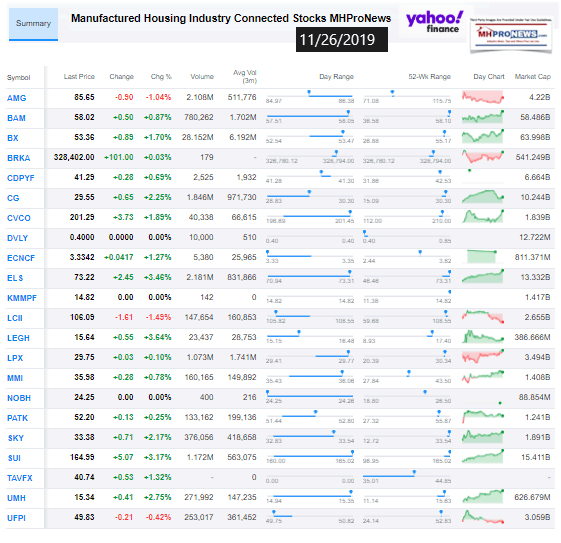 Updated for Fall 2019…
Berkshire Hathaway is the parent company to Clayton Homes, 21st Mortgage, Vanderbilt Mortgage and other factory built housing industry suppliers.
· LCI Industries, Patrick, UFPI, and LP each are suppliers to the manufactured housing industry, among others.
· AMG, CG, and TAVFX have investments in manufactured housing related businesses.
For insights from third-parties and clients about our publisher, click here.
Enjoy these 'blast from the past' comments.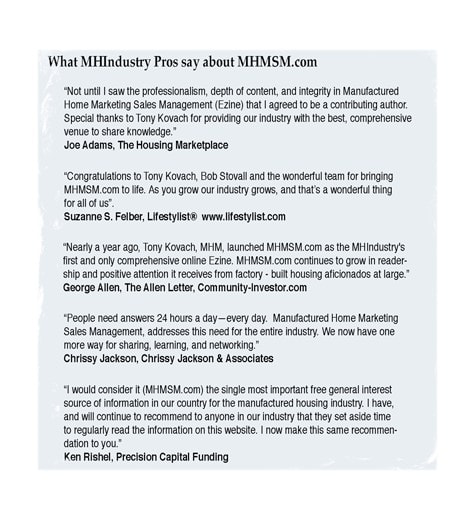 MHProNews. MHProNews – previously a.k.a. MHMSM.com – has now celebrated our tenth anniversary. Learn more about our evolutionary journey as the industry's leading trade media, at the report linked below.
Celebrating 10 Years of Goal- and Solution-Oriented Manufactured Home Industry Innovation Information, and Inspiration for Industry Professionals

· For expert manufactured housing business development or other professional services, click here.
· To sign up in seconds for our industry leading emailed headline news updates, click here.
Disclosure. MHProNews holds no positions in the stocks in this report.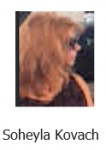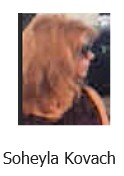 "We Provide, You Decide." © ## (News, analysis and commentary.)
(Image credits and information are as shown above, and when provided by third parties, are shared under fair use guidelines.)
Submitted by Soheyla Kovach, co-managing member of LifeStyle Factory Homes, LLC and co-founder for MHProNews.com, and MHLivingNews.com.

Connect with us on LinkedIn here and here.