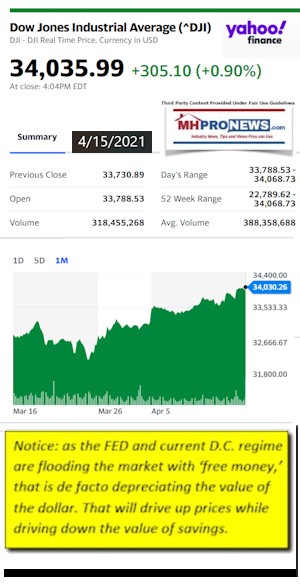 It would be great if America's most proven solution to the affordable housing crisis was brimming with white hats and only white hats. Regrettably, that is not the case. Warren Buffett declared class warfare more than once. Chairman Buffett-led Berkshire Hathaway is a reality that professional white hats and ethical investors must deal with. Buffett's folksy charm campaign and so-called philanthropy are smokescreens, the later per his son Peter Buffett. Kevin Clayton CEO at Clayton Homes has arguably made several useful admissions. Tim Williams at 21st Mortgage Corporation has too. Ironically, Warren Buffett himself has been quoted by mainstream media in ways that should seal the deal on racial and other scandals. Those outrages and purported market rigging has been called by Samuel Strommen at Knudson Law as "felony" antitrust violations with possible "RICO" and other market rigging violations. In that worldview, the Manufactured Housing is just one of several nonprofit appendages of Berkshire brands and their insider allies. Once someone objectively looks at the evidence, it is in the open. You can't make this stuff up. It is as stunningly brazen as it is believable, based on evidence.
While several have occasionally reported on aspects of these issues, most simply do not have the chutzpah to do so in a fashion that could actually have an impact. In something mildly akin to Harry Markopolos "Chasing Madoff" fashion, "Partners in Crime" Chasing Berkshire's Warren Buffett and Charlie Munger is perhaps half way into the Madoff slayers' Davidic or Herculean effort.
Rephrased, the case is being made that a template for counter-terror tactics that aims to defeat Warren Buffett's self-declared class war is forming, at least in the manufactured home profession.  for how that can be done, successfully, honestly, effectively, and profitably.
In fact, at the heart of the effort is a routine and ongoing look at the evidence – the facts.
Look! Over there! Look! Over here! Look! We are strutting and bragging! That's part of the stratagem that the Berkshire dominated Manufactured Housing Institute (MHI), along with their big-boy brands, have been using for several years.
But part of the benefit of MHProNews looking at facts, trends, claims, and unpacking them is precisely that it debunks that lookie lookie head-fake effort.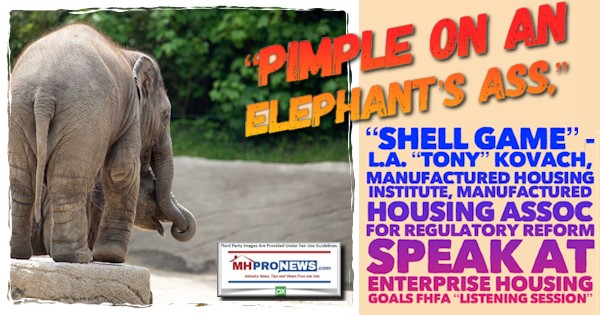 There are several useful third-party reports about the scandal-plagued and arguably predatory Buffett-Clayton-21st-VMF-Berkshire empire. The report linked below includes several of them, along with much more that lays out opportunities and obstacles.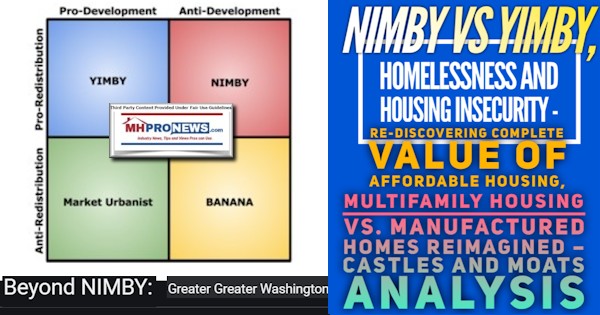 In manufactured home trade associations, the Manufactured Housing Association for Regulatory Reform (MHARR) has been quietly fighting the war since early on when the apparent machinations of Berkshire, Clayton, and their surrogates such as the Manufactured Housing Institute have been become apparent.
That said, without excess pride, the evidence-based case that is no one resource online that has done more to cover and expose the web of deception, misdirection, corruption, and scandals than MHProNews and our MHLivingNews sister site. The screen captures below shed light on that claim.
There is $688,000,000,000 in affordable housing business that could become the manufactured home industry's potential. Who says? It is math. AEI's Housing Center testified this week that 8 million housing units are needed. At $86,000 per the average manufactured home, that is an astonishing $688 billion dollars. Of course, there are competitors. The point is not that these are hard numbers. Rather, it is to illustrate just how lame the current 'leadership' is, why? Because underperformance is part of the moat that keeps competitors from entering or staying in the market. So that potential would have to be chased and earned.
Cut that sum in half and then cut that number in half again. You would still have a market $172 billion dollar potential. For an industry that has been limping along at under $9 billion annually that would be 19.11 times the business the industry has been doing. Realistically, there are ramp ups etc. that are needed. But if it took 4 years to get to $36 billion a year at current valuations, it would take another 4.77 years to fill the need. Meanwhile more births, more immigrants are occurring.
As this evening's featured focus will reflect, the path to making the Counter-Terror War profitable and successful has already had its foundation laid.
Another meaningful point?
Per the latest third-party metrics, Washington D.C. is back to #3 in the metro areas that are engaging with our content.
Facts, evidence, analysis that fits the facts and logic – these are among the tools that can help put manufactured housing back on the road to true health so that it could serve millions, not just sub 100k a year.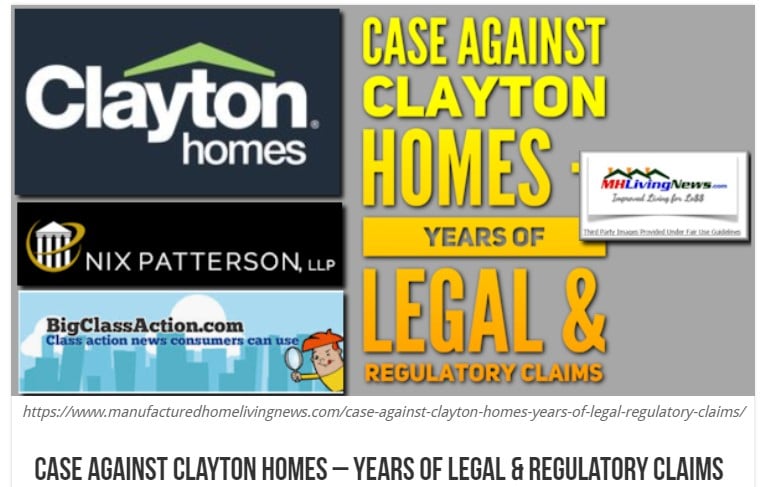 Before pivoting toward tonight's featured focus segment – and for the benefit our growing numbers of new readers – a few quick evening/nightly market report insights.
Every business evening/night, MHProNews provides a bullet list of left-right news headlines from CNN Business and Newsmax. In a matter of moments, savvy professionals can see at a glance news headlines and views across the political spectrum.
This is a time saving and insightful way to quickly grab insights from across the left-right divide.  It is a useful at-a-glance opportunity for those who are hooked on this market-nightly feature.
Our featured focus follows the quotable quotes, periodic political cartoons, those left-right headlines, and two of our three market summary graphics as reported at the closing bell.
After the featured focus, are some recent/related report links and the third manufactured housing focused stock equities graphic. There are some additional items that include the free signup for the manufactured housing industry's x2 weekly emailed news to the most-read trade publication in our profession:
On a mostly up day for manufactured home connected equities, let's advance toward our featured focus on the elements for the counter-terror operations vs. the Buffett-Berkshire moat methods, minions, and their allies.
Quotes That Shed Light – Industry, American, Social, National Issues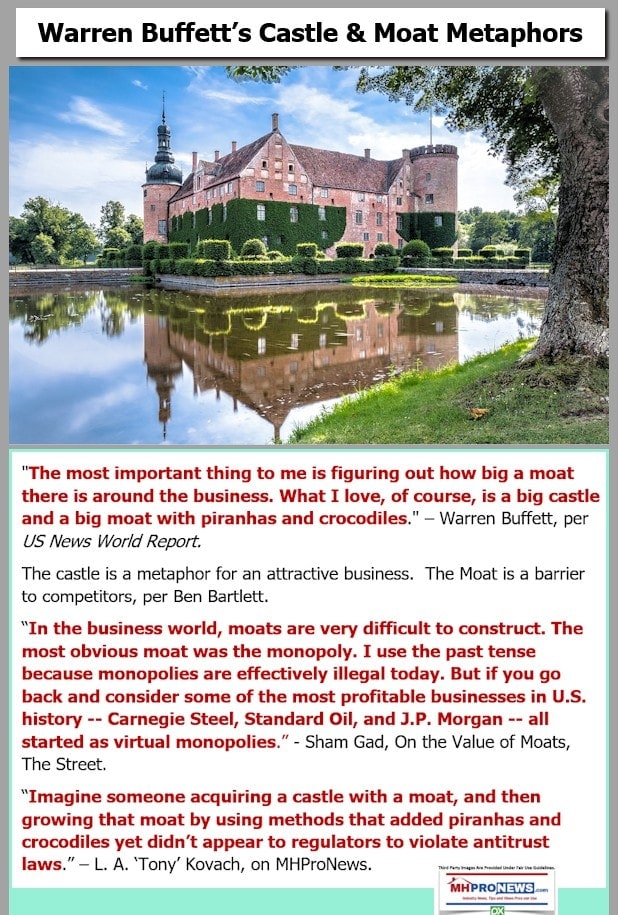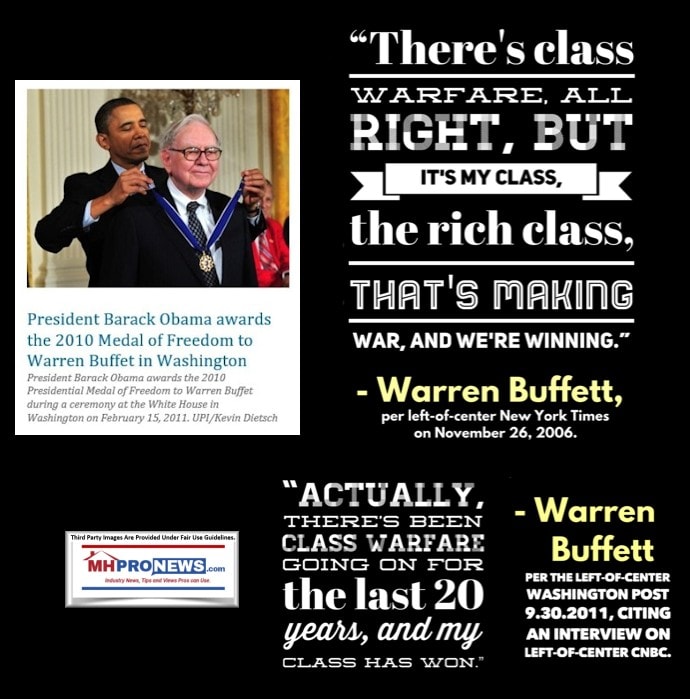 Headlines from left-of-center CNN
Hitting back at Moscow
US President Joe Biden(L) during remarks on the implementation of the American Rescue Plan in the State Dining room of the White House in Washington, DC on March 15, 2021, and Russian President Vladimir Putin as he and his Turkish counterpart hold a joint press statement following their talks at the Kremlin in Moscow on March 5, 2020. – US President Joe Biden said he agrees with the assessment that his Russian counterpart Vladimir Putin is a "killer." In an interview with ABC News broadcast on March 17, 2021, Biden said Putin would "pay a price" for trying to undermine his candidacy in the US 2020 election as alleged in a new US intelligence report. Asked if he thought Putin, who is accused of being ruthless with his opponents, is "a killer" Biden said, "I do"
Joe Biden bans US banks from buying or underwriting Russian debt sales
Jamie Dimon says 'American dream is fraying'
JPMorgan is deploying $2.5 trillion to fight the climate crisis and inequality
Massachusetts wants to pull the plug on Robinhood
Jeff Bezos finally shares his feelings about Amazon workers' union vote
Coinbase's stunning Wall Street debut is a huge validation for crypto fans
Mobile gaming company AppLovin raises $2 billion in IPO
Why we are going to Mars
LIVE UPDATES Dow and S&P 500 notch record highs
Delta stopped burning through cash in March
Sotheby's CEO explains why NFTs are the future
Mercedes new electric car has a nap mode and doors that open for you
Mortgage, car loans, or credit cards: Here's what bills people paid first during the pandemic
Reese's wants to give you a peanut butter glow up
Disney park employees have a new dress code
CBS names two executives to run a newly-combined news division and local TV stations
Google Earth's new Timelapse feature shows chilling effect of climate change
Hyundai reveals a new pickup truck, but please don't call it that
A tribute to Britain's Prince Philip is projected onto a large screen at Piccadilly Circus in London, Friday, April 9, 2021. Buckingham Palace officials say Prince Philip, the husband of Queen Elizabeth II, has died. He was 99. Philip spent a month in hospital earlier this year before being released on March 16 to return to Windsor Castle.
BBC received more than 100,000 complaints over coverage of Prince Philip's death
TAX SEASON
'The worst': Tax professionals sound off on the 2020 tax filing season
No, your taxes aren't due today. Here's why
Head's up: The IRS can tax cryptocurrencies
Homeowners saw property taxes take a big leap last year
Tax penalties: Here's what to do if you can't pay your taxes this year
FIGHT OVER VOTING RIGHTS
Opponents of HB 531, a Republican backed bill accused of purporting voter suppression, hold a protest outside the Georgia state capitol building on March 3, 2021 in Atlanta, Georgia.
ANALYSIS We're about to see how far CEOs will go to protect voting rights
'Woke' Corporate America is here to stay
Companies unite to oppose voting restrictions
CEOs vow to fight voting restrictions
One of America's first Black CEOs slams 'bone-headed' Georgia law as blatant attempt to suppress Black vote
Headlines from right-of-center Newsmax 
Cotton: Supreme Court Will 'Lose All Legitimacy' If Dems Succeed in Expansion
The Biden Presidency
Waltz: Pulling Troops From Afghanistan on 9-11 Is 'Insult'
Chris Christie: GOP Must Call Out Biden as a 'Liar'
House Speaker Pelosi Opposes Supreme Court Expansion
McCarthy: Dems' Call to Add Justices Should 'Scare' All Americans
Mercedes Schlapp: 'Far Left in Charge' of 'Weak' Biden
US Expels Russian Diplomats, Imposes New Round of Sanctions
Rubio: Biden Order on Russia 'Legality' to Allow Action on SolarWinds
Quinnipiac Poll: 48% Approve of Biden's Job Performance
C. Gov. McMaster Vows Fight Against Accepting Migrant Children
Newsfront
Pence Receives Pacemaker
Former Vice President Mike Pence received a heart pacemaker device during routine surgery on Wednesday and is expected to fully recover, his spokesman said on Thursday. Pence, 61, who previously disclosed an "asymptomatic" heart condition, underwent the procedure at the…
Poll: 72 Percent of Voters Support Second Amendment
Seventy-two percent of registered voters support the Second
US Braces for One-Year COVID-19 Booster Shots; Pfizer Chief Sees Need
The United States is preparing for the possibility that a booster [Full Story]
Related
Merck Plans Outpatient Trial of COVID-19 Pill
Denmark Is First in EU to Drop AstraZeneca Vaccine
Moderna Says Its Booster Shot Could Be Available by Fall
US Advisory Panel Wants More Data Before Ending Pause on J&J Vaccine
Chip Roy is Seeking to Designate Cartels as Terrorist Organizations
Charles "Chip" Roy, R-Texas is pushing legislation to designate
McConnell: 'Responsible People' Must Denounce Court-Packing Plans
Senate Minority Leader Mitch McConnell, R-Ky., slammed planned
Related
Kevin McCarthy: Dems' Call to Add Justices Should 'Scare' All Americans
House Speaker Pelosi Opposes Supreme Court Expansion
Democrats Unveil Plan to Expand Supreme Court From 9 to 13
Biden's Border Crisis Solution: Be Like Trump
President Joe Biden's current approach to the illegal immigration
After Union Vote, Bezos Vows to Do Better for Amazon Workers
After a union battle at an Alabama warehouse, Amazon founder Jeff
Treasury: Spy Shared 'Sensitive' Trump Polling Data With Russian Intel
The Biden administration's announcement of additional sanctions
House GOP Leader Kevin McCarthy: Gaetz Says He's Innocent
Matt Gaetz, under federal investigation for sex trafficking
Police in Hong Kong Debut a New Goose Step March
A Hong Kong police drill team showed off its new goose step march
Ex-Minnesota Cop Appears in Court in Shooting of Black Motorist
The former Minnesota police officer charged with manslaughter in the
Court Upholds Ohio Law Banning Abortion Based on Down Syndrome
A U.S. appellate court on Tuesday upheld an Ohio law that prohibits
Pennsylvania's GOP Senate Race Shaping Up as 'Super MAGA Trump Primary'
Pennsylvania Republicans eyeing a shot at the Senate in 2022 will
Drill Sgt. Charged in Confrontation With Black Man Caught on Video
A white Army non-commissioned officer depicted in a viral video
Gizzi: Will Trump 'Broker' Candidates to Unite Against Cheney?
Weeks after makingclear he would try to defeat the 10Republican U.S.
US Jobless Claims Plunge to 576K, Lowest Since Pandemic
The number of Americans applying for unemployment benefits tumbled
Marco Rubio to Newsmax TV: No One in GOP Beats Trump in '24
Despite a "competitive," if not contentious, 2016 GOP primary
US Capitol Police Watchdog to Testify on Jan. 6 Failures
The top watchdog for the U.S. Capitol Police will testify for the
Facebook Oversight Board Weighs Trump's Social Media Fate
Facebook Inc.'s de facto Supreme Court of content is on the verge of
Nunes Blasts Intel Leaders for Politicizing, Weaponizing Intelligence
Striking back at years of politicized intelligence attacks on
Derek Chauvin Waives Right to Testify in George Floyd Murder Trial
Former Minneapolis police officer Derek Chauvin waived his right to
'Hillbilly Elegy' Author J.D. Vance Quits Firm Over Voting Law Tweets
"Hillbilly Elegy" author J.D. Vance has resigned from the board of a
Apple, Will Smith Film Project Exits Georgia Over Voting Law
Will Smith and director Antoine Fuqua will no longer shoot the movie
House Panel Studies Slavery Reparations Ahead of Key Vote
A US congressional panel Wednesday began a much-anticipated debate on
House Panel Studies Slavery Reparations Ahead of Key Vote
A US congressional panel Wednesday began a much-anticipated debate on
Finance
Ponzi Schemer Bernie Madoff Dies in Prison
Bernie Madoff, who was convicted of running the largest known Ponzi scheme in history, died on Wednesday in federal prison where he was serving a 150-year sentence, the Bureau of Prisons said. He was 82.
Coinbase's Future Is as Questionable as Bitcoin
$1,400 Stimulus Checks Helped March Retail Sales Soar 9.8 Percent
Branson Offloads $150M in Virgin Galactic Shares
Chip Shortage Forces More US Auto Plant Cuts
Health
Study: Vaccines Carry Lower Risk of Blood Clots Than COVID-19
A study by British researchers found that people who contract COVID-19 are 95 times more likely to experience blood clots to the brain than the general population.
Dehydration Can Be Deadly for Seniors
The Surprising Health Benefits of Oatmeal
Nurses Are Dying From Suicide at Higher Rates
4 in 10 Adults Over 50 Consult Online Reviews When Picking a Doctor
Market Indicator Closing Summaries – Yahoo Finance Closing Tickers on MHProNews…
Featured Focus –
Where Business, Politics and Investing Can Meet
Willingness to routinely engage on topics that others may occasionally venture into but then withdraw from provides MHProNews and our MHLivingNews sister site with several valuable realities.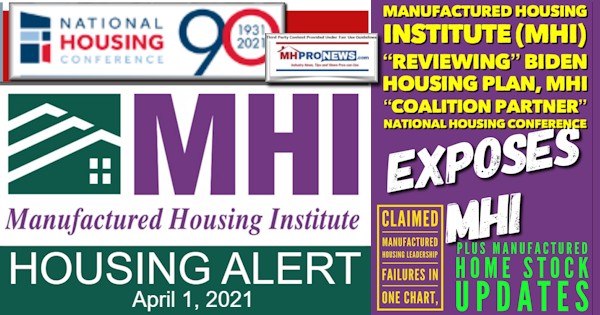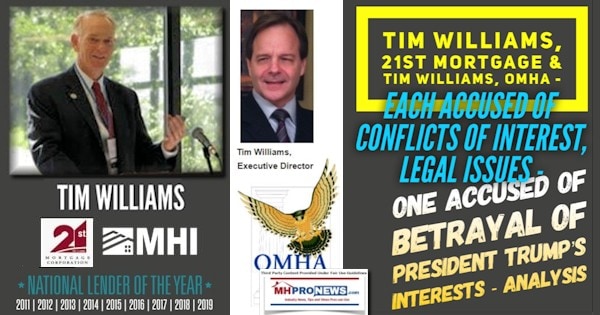 Not caving into various tactics that have been deployed should also give a sense of hope for those who have been timid, for whatever reason.
MN Attorney General Keith Ellison and Manufactured Housing Accountability Project, plus Manufactured Housing Stock Updates
In the MHProNews view, failure to engage and to fight to win is tantamount to surrendering.
Years of State, National Level Manufactured Housing Factual Data – Find Your State(s) Production, Shipment Info Here – Troubling Manufactured Home Affordable Housing Trends, Issues, and Fact Checks
The linked reports are just some of many that paint the most complete picture of the Buffett and his billionaires allies moat methodologies as it relates to manufactured housing. It is also a useful collection for those outside of our industry to understand how the moat might be working in other professions too.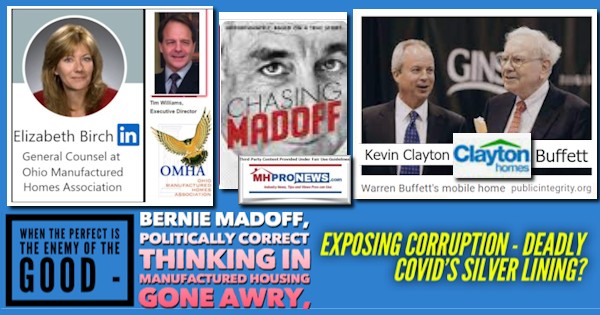 Related, Recent, and 'Read-Hot' Reports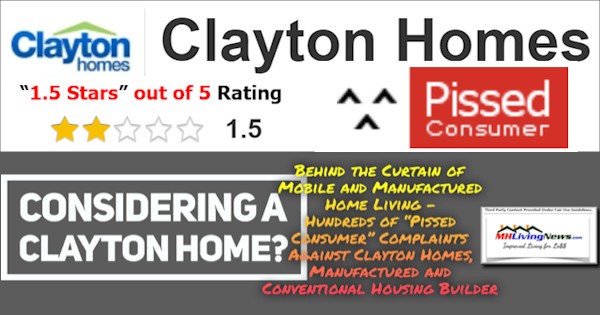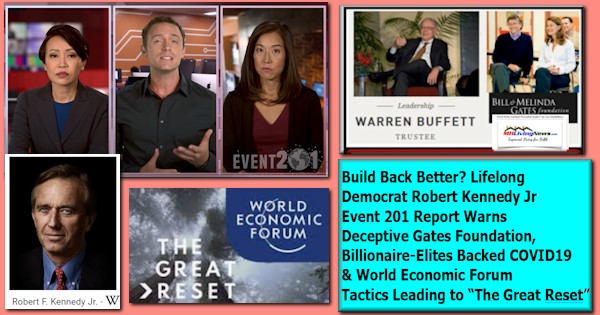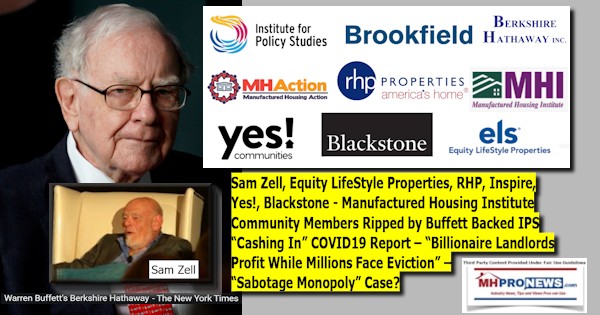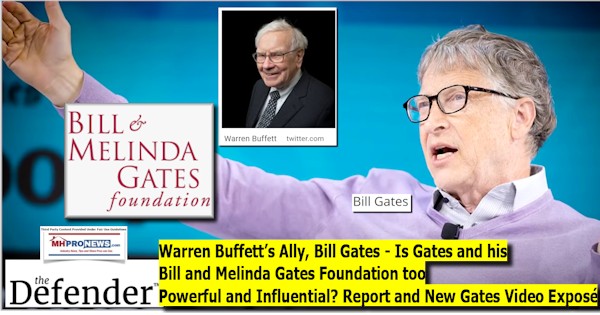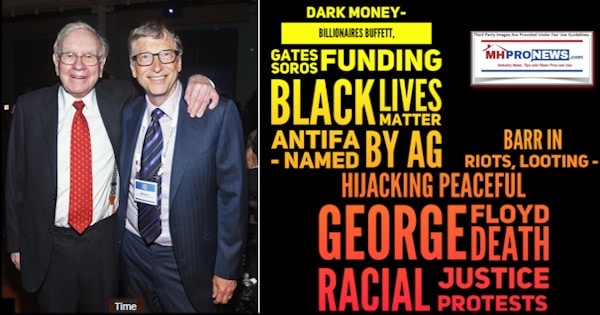 Manufactured Housing Industry Investments Connected Closing Equities Tickers
Some of these firms invest in manufactured housing, or are otherwise connected, but may do other forms of investing or business activities too.
NOTE: The chart below includes the Canadian stock, ECN, which purchased Triad Financial Services, a manufactured home industry lender
NOTE: Drew changed its name and trading symbol at the end of 2016 to Lippert (LCII).
NOTE: Deer Valley was largely taken private, say company insiders in a message to MHProNews on 12.15.2020, but there are still some outstanding shares of  the stock from the days when it was a publicly traded firm.  Thus, there is still periodic activity on DVLY.
Spring 2021…
Berkshire Hathaway is the parent company to Clayton Homes, 21st Mortgage, Vanderbilt Mortgage and other factory built housing industry suppliers.
· LCI Industries, Patrick, UFPI, and LP each are suppliers to the manufactured housing industry, among others.
· AMG, CG, and TAVFX have investments in manufactured housing related businesses. For insights from third-parties and clients about our publisher, click here.
Enjoy these 'blast from the past' comments.
MHProNews. MHProNews – previously a.k.a. MHMSM.com – has celebrated our 11th year of publishing, and is starting our 12the year of serving the industry as the runaway most-read trade media.

Sample Kudos over the years…
It is now 11+ years and counting…
Learn more about our evolutionary journey as the industry's leading trade media, at the report linked below.
· For expert manufactured housing business development or other professional services, click here.
· To sign up in seconds for our industry leading emailed headline news updates, click here.

Disclosure. MHProNews holds no positions in the stocks in this report.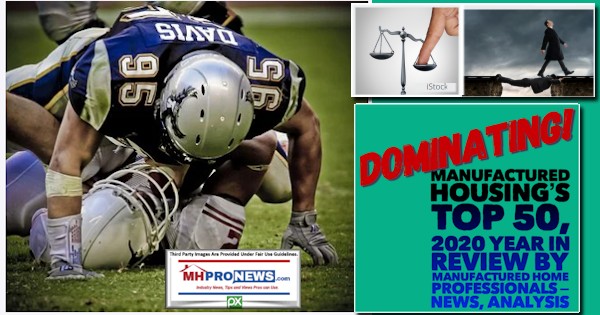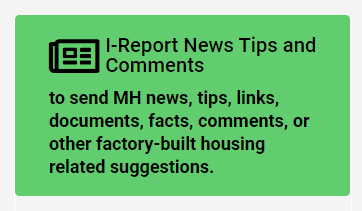 That's a wrap on this installment of "News Through the Lens of Manufactured Homes and Factory-Built Housing" © where "We Provide, You Decide." © (Affordable housing, manufactured homes, stock, investing, data, metrics, reports, fact-checks, analysis, and commentary. Third-party images or content are provided under fair use guidelines for media.) (See Related Reports, further below. Text/image boxes often are hot-linked to other reports that can be access by clicking on them.)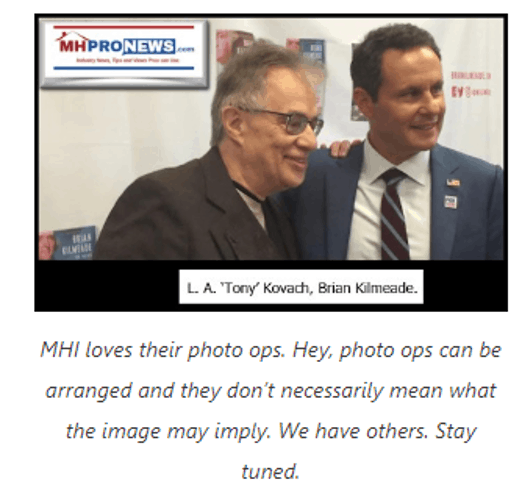 By L.A. "Tony" Kovach – for MHLivingNews.com.
Tony earned a journalism scholarship and earned numerous awards in history and in manufactured housing. For example, he earned the prestigious Lottinville Award in history from the University of Oklahoma, where he studied history and business management. He's a managing member and co-founder of LifeStyle Factory Homes, LLC, the parent company to MHProNews, and MHLivingNews.com. This article reflects the LLC's and/or the writer's position, and may or may not reflect the views of sponsors or supporters.