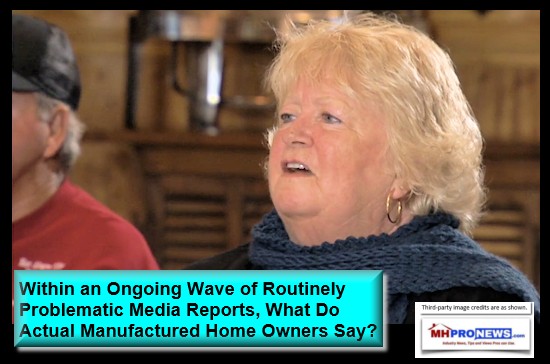 There's an ongoing drum beat of news media coverage that reflects on manufactured homes and their owners.
In part because of the principle of significant numbers of editors – "If it Bleeds, if Leads" – many hard news media, stations, and news channels tend to focus on problems, as opposed to 'good news.'  Simple Google searches demonstrate that reality when it comes to manufactured homes, as the report linked below reveals. To be fair, its not universally true.  There are arguably some mitigating circumstances, for example, when a writer is rushed and relies on stereotypes instead of in depth research.  But the fact remains that a survey of most news coverage about manufactured homes tend to be negative, rather than positive.
Media Bias, Ignorance, Manufactured Homes, Agenda Journalism, the Truth About "Fake News"
Given the affordable housing crisis, the general pattern of media coverage is a problem for millions of home seekers, who are kept in the dark due to in part to a general lack of understanding of what the realities are today.
There are exceptions to that pattern of media bias or ignorance, as the report linked below reflects.  As other Daily Business News reports have indicated, public officials also play a role in this challenge of misinformation.  The same could be said about some significant forces within the ranks of the industry, who fail to routinely defend the industry which they are supposed to promote.
While housing becomes more and more expensive across the United States, there's a simple solution. For those who either want to be frugal and still get great quality or those who have limited funds, but desire to be a homeowner – the answer, suggests and HousingWire – could be modern manufactured homes.
Third Party and University Level Research Often Favorable Towards Manufactured Housing
While you may not learn it from the bulk of media reports, for at least two decades, federal and third-party researched published reports often debunked prejudiced or ignorant view of modern manufactured homes, and their owners.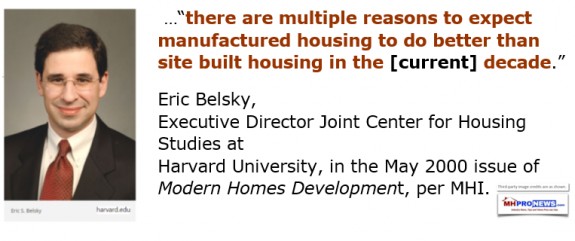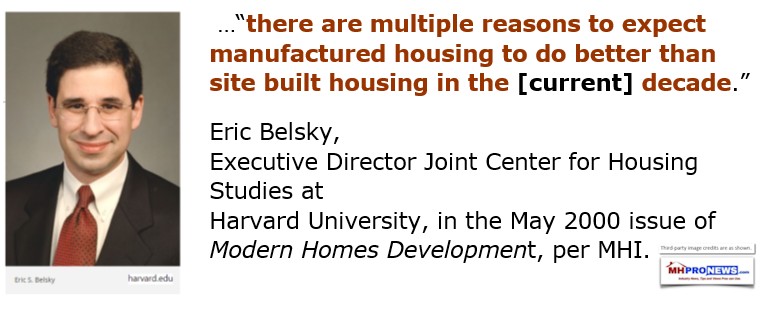 https://www.manufacturedhomelivingnews.com/pride-and-prejudice-the-truth-about-manufactured-home-communities-and-crime/
https://www.manufacturedhomelivingnews.com/weather-experts-surprising-bombshell-statement-on-tornado-deaths-and-affordable-manufactured-homes/
https://www.manufacturedhomelivingnews.com/federal-data-spotlights-manufactured-home-industry-quality-regulatory-questions/
But for a variety of reasons previously outlined, the voices of manufactured home professionals and owners are often depicted as negative.
Meanwhile – in an ironic twist, federal data, plus third party surveys and research – routinely reveal widespread manufactured home owner satisfaction.
https://www.manufacturedhomelivingnews.com/foremost-report-manufactured-home-customer-survey-and-market-facts/
https://www.manufacturedhomelivingnews.com/manufactured-home-owners-satisfaction-survey-redux/
What the brief review above reveals is that the authentic voices of manufactured homes owners are often lost in the bulk of affordable housing discussions in America.
Affordable Housing Focus Group Video, Episode 2
Thus this affordable housing focus group video below is a break from the norm.  In this periodic series of videos with manufactured home owners, they will help correct some of these oversights and challenges found in the context of America's affordable housing discussion.
Episode 2 – above – of our affordable housing focus group builds on what Daily Business News readers learned in our first report, linked below.
Affordable Housing Focus Group, Comparing Housing Options, Rent, Conventional, Condos, Manufactured Homes
This post will be updated to the MHLivingNews.com public version of this post once that's published and available.  ## (News, analysis, and commentary.)
Related Reports

:
Evergreen, Manufactured Homes and NIMBY, "Why the Feds Must Step In"
To sign up in seconds for our industry leading emailed news updates, click here.
2) To provide a News Tips and/or Commentary, click the link to the left. Please note if comments are on-or-off the record, thank you.
3) Marketing, Web, Video, Consulting, Recruiting and Training Resources

Submitted by Soheyla Kovach to the Daily Business News for MHProNews.com.
Soheyla is a managing member of LifeStyle Factory Homes, LLC, the parent company to MHProNews, and MHLivingNews.com.