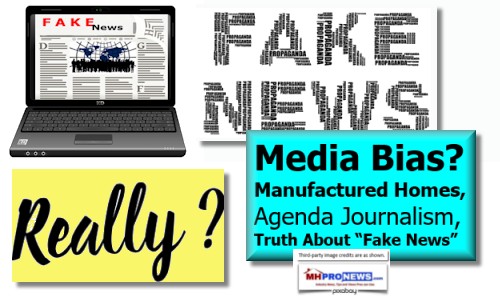 Both the left and the right have developed their news and other media platforms.
Both the American left and the right have watchdog sites that track the reports of the 'other side.'  Sometimes those opposition researchers "Fisk" – or fact-check – how a story is presented, in the light of the known facts.
For decades, news has been a mix of accurate and unbiased reports, while others are tainted by an agenda or prejudice. While the modern era may be more extreme in the "fake news" category than it was 40 years ago in American history, it is not per se a new phenomena.
Journalists, j-schools, and the Society of Professional Journalists code of ethics all state their goal to report facts accurately – without bias – and when needed, to "speak truth to power."
That said, often, money, ratings, those unstated agendas, ignorance, or bias prevail over an accurate reporting of the truth.
Partially with that in mind, the Daily Business News for some time has provided periodic reports on third party guidance about the facts regarding media tilt.
The best chart we've seen on that topic is by the awarding-winning independent journalist, Sharyl Attkisson. Her left-right media graphic is below.  Keep in mind that just because something comes from a different source than what you or your friends may normally read or view, that doesn't mean its automatically 'bad.'   Once facts and bias are understood, then discerning the truth becomes easier.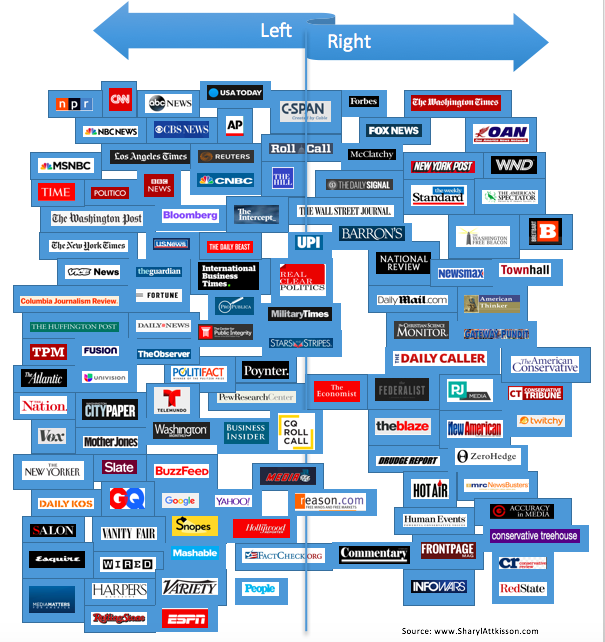 Journalism Ignorance, Agenda and Bias Impacts Manufactured Housing Daily
Do a search on Google, Yahoo, or Bing using the two words – "manufactured home" – select the "news" tab, then hit enter. Search results vary by platform, device and location, but today's result in our office looks like the following.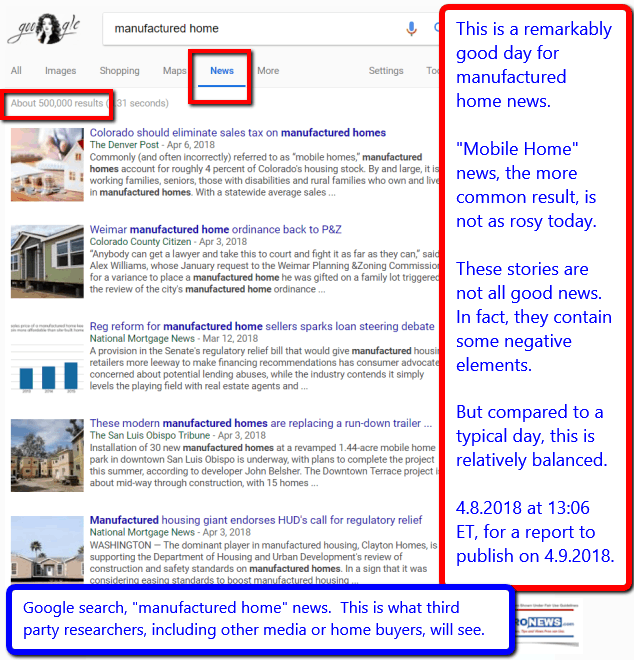 Do the same test for "mobile home" – the result from a laptop search in central Florida as of the date and time shown is as follows.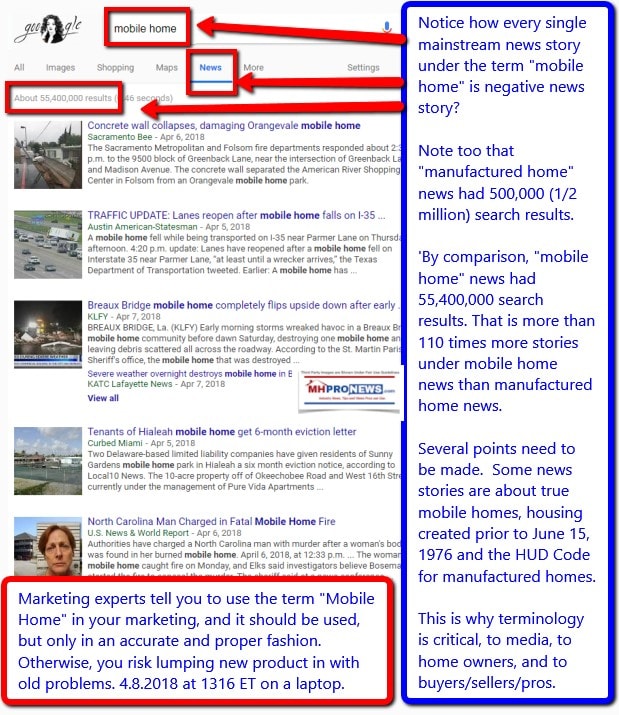 Then do a search using a phrase like, "trailer house," "trailer park," or "mobile home park."  We've just done one of those three to illustrate, as shown below.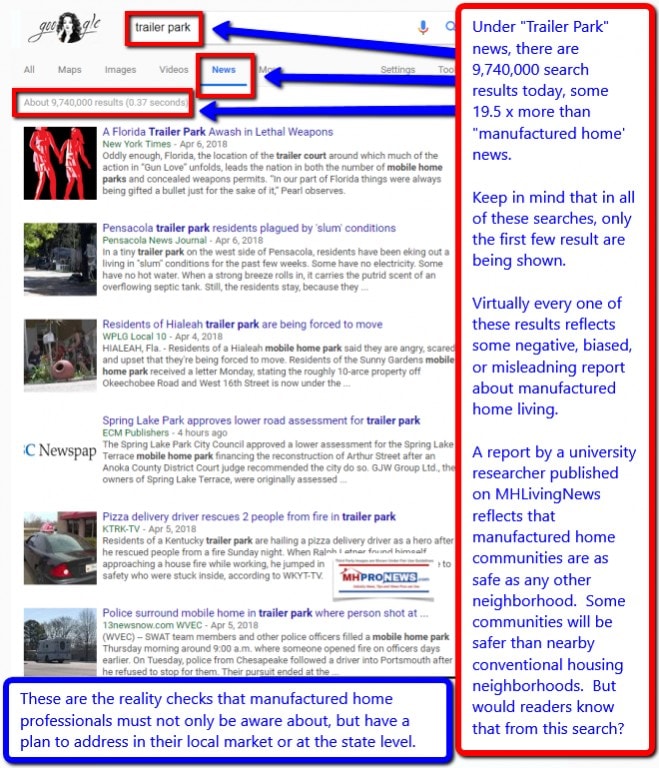 These examples are the media-based impressions the general public sees, reads, and hears about manufactured housing.  It is what award-winning industry expert, Marty Lavin called, the "industry other image campaign."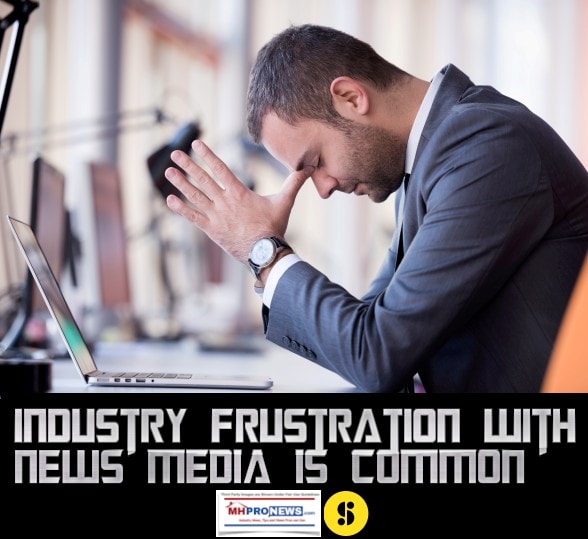 As the president of a HUD Code builder told MHProNews last week, "…two amazing things: the first is all the inaccurate garbage that gets put out [by media] about our industry. The second is you are the only person in the whole world that is willing to call people out on it! Amazing." We thanked the sender for his comments, and noted others who support our or other efforts to correct the record.
But that quote and Lavin's exemplifies several things.  Frustration is experienced by thousands of industry professionals about mainstream media reports.  That said, there has also been some progress too.  For example, note the 4 mainstream news sources.
While housing becomes more and more expensive across the United States, there's a simple solution. For those who either want to be frugal and still get great quality or those who have limited funds, but desire to be a homeowner – the answer, suggests and HousingWire – could be modern manufactured homes.
One more example can make the point.  Several community owners have told us in recent months about an incident that took place in their community.  These incidents were at times from 4 or 5 star type properties. Yet, in each case, the media called their attractive community "a trailer park" [sic].

Until writers, anchors, editors, and producers realize that terminology is offensive, ignorant, or bigoted, it will continue to be a black eye in mainstream media reports.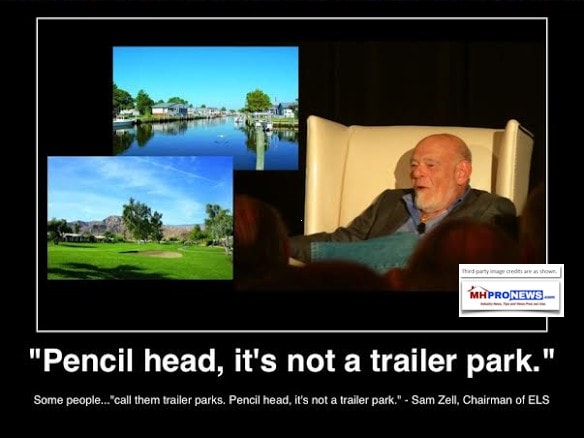 Is Journalism Dead?
Journalism isn't dead, as some opinion writers or talk show hosts on the left or right may say.  There are a mix of accurate, inaccurate, or a blend of both in every report.  Bias routinely is reflected, especially when it comes to politics.
But with respect to manufactured housing?
Journalists don't know what they don't know.
That said, news media reports are often manipulated, and the narrative can be framed in a manipulative manner. The OZY Media, or PBS reports on manufactured housing are but two examples of how the narrative can be couched, including the choice of music on the video designed to make you feel sympathetic toward some alleged "victim" of a business.
Fighting Fake Manufactured Home News: Fisking OZY Media's 'Trailer Park Nation'
As a state association executive told MHProNews, they are not in the business of defending an apparent "bad actor," and neither are we.
Given the constitutionally protected freedom and of the press, there is not much that can be done – at least obviously – by government to "regulate" the truth.
However, an effort launched years ago – CSPAN – routinely provides a window on federal oversight meetings.   Local and state meetings may also be carried by video. Viewership levels are often low. What that means is that anyone who wants to take the time to sift through hours of testimony to find the few minutes – or moments – can do so.  At times, they provide powerful insights. 
Time, talent, and the treasure are needed to support such efforts.
That said, such free access government video services can be useful, as three Daily Business News and another on MHLivingNews reported last week all originated from precisely such national or local hearing video feeds.
HUD Secretary Ben Carson, MD, Senator Thom Tillis, Affordable Housing, Senate Oversight Hearing, Manufactured Homes, Mobile Homes, Trailer Houses, Manufactured Home Living, Factory Built Housing 101, Evolution Trailer Houses Mobile Homes Manufactured Homes, Compare Site Built with Manufactured Homes, video, home tours,
What Actual Home Owners Say…
Manufactured Housing, Media and You
Daily, news stories about our industry and customers are created.  Once published, because of search engines like Google, Yahoo, and Bing, those stories can multiply, and live on for years online.
Good, bad or indifferent, those news stories influence how a particular business, location or the industry appears to the public when certain searches like those shown further above are conducted.
Often, how a story is initially framed – the narrative – may shape other reports in its wake.
The solution?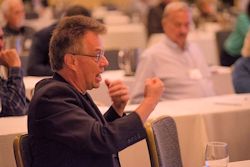 "I've spoken and communicated electronically with reporters, producers and editors for years about manufactured housing issues that they'd covered," says MHProNews and MHLivingNews publisher L. A. 'Tony' Kovach. "They are people like you and me. Which means they too are impacted by human nature."
"Journalists," says Kovach – who himself was engaged in journalism since high school and earned a journalism scholarship, before later turning to a business career in manufactured housing – "don't know what they don't know."
"Journalists and writers have deadlines and pressures to produce a story. They pick and chose what facts are presented. That's why Brad Lovin's insight last year is so spot on."

"We noted last week that Berkshire Hathaway owned Clayton Homes has the ability to respond to any news story they want, via their own media relations people, Berkshire Hathaway's media resources, or the Manufactured Housing Institute (MHI), and their media resources," said Tony Kovach.
So when a negative news story doesn't get a response, it's because MHI, Clayton or both decided not to respond.
"Part of the purpose behind MHLivingNews and MHProNews is precisely to create opportunities to engage with media, researchers, nonprofits, or public officials," Kovach explained. "It's necessary. It doesn't work every time, but it does work often enough when persistence and professionalism are involved."
What industry readers ought to understand is that MHI knows all of this.  Their prior chairman addressed this in writing to MHProNews.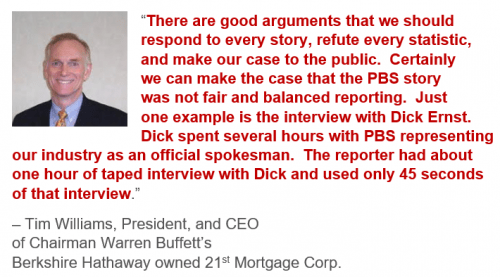 MHProNews presented on this subject at an MHI event, a few years back.  The response was positive.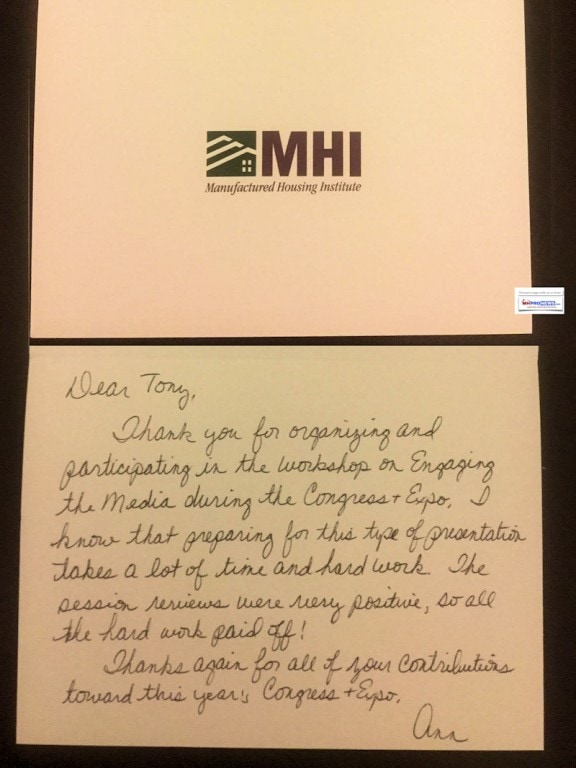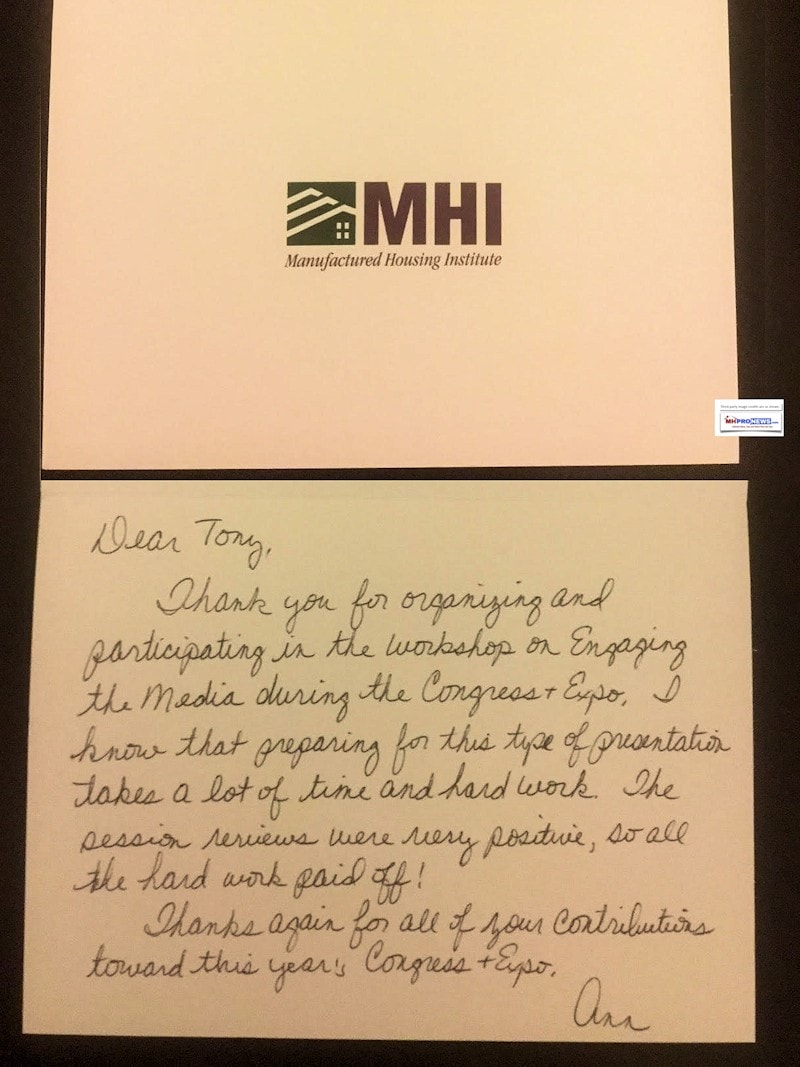 So any time MHI, a surrogate of theirs, or others attempt to minimize ongoing pro-industry growth efforts done by MHProNews, or MHLivingNews, aren't they arguably consciously deciding to limit the industry's growth?  Before jumping to a conclusion on that question, note what MHI president Richard "Dick" Jennison said.
MHI, Industry Leaders, and their Surrogates
It is undeniable that for years, MHI and their members deliberately engaged with MHProNews. That meant their was trust for the consistent accuracy of our reports.  There are words of praise from MHI leaders and others across the industry spectrum, as comments above and below reflect.
The same is true for No one has to 'like' every report, but there ought to be a basic understanding of the premise at MHProNews, which is to educate and promote a better understanding of the industry.  If the problems are external, we spotlight them.  But when they are internal, there is a need to spotlight those too. Without calling out questionable behavior when it occurs, where is the motivation of a disengaged or poor actor to stop it?


the It should be noted that we've engaged for years with both national associations, Manufactured Housing Association for Regulatory Reform (MHARR), and MHI.  But MHI, over a year before we did a significant fact check on them, stopped providing their news. Why?
The point, beyond the facts being laid out, is that MHI must look in their own mirror, instead of pointing fingers behind the scenes.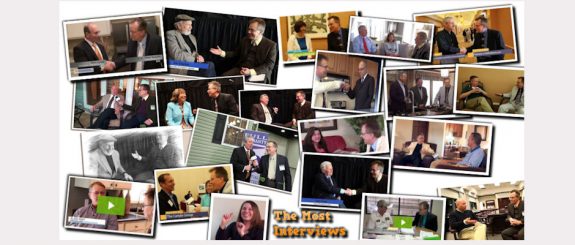 What changed at MHI?
In a phrase, they made a decision some years ago to replace our reports with their own.
That decision was made while MHProNews were still MHI members.  Independent companies at MHI take note, because ours is not the only operation where MHI attempted to tip the scales against a dues paying member.
Note too that the MHI decision was made while MHLivingNews and MHProNews alike were actively supporting some of their lobbying efforts, like the Preserving Access to Manufactured Housing Act.  That's indisputable.  The report below is one of several examples on MHLivingNews, far more are found on MHProNews.
New Federal regulations, enacted in the wake of the subprime mortgage crisis, are playing a key role in establishing a class of lifetime renters – all in the name of consumer protection. By Jan Hollingsworth for MHLivingNews.com The old man walked into the dealership in rural Kentucky with solid credit and the air of someone who knew exactly what he wanted.
While you or we can call the examples in this report allegations, don't years of published stories and produced videos prove the points?
"Street Cred"
Not only did MHProNews pioneer "The Daily Business News," but it is still the only such resource of its kind in MHVille.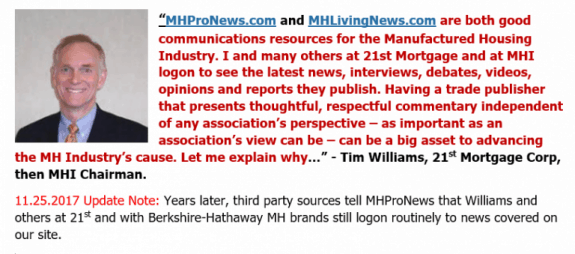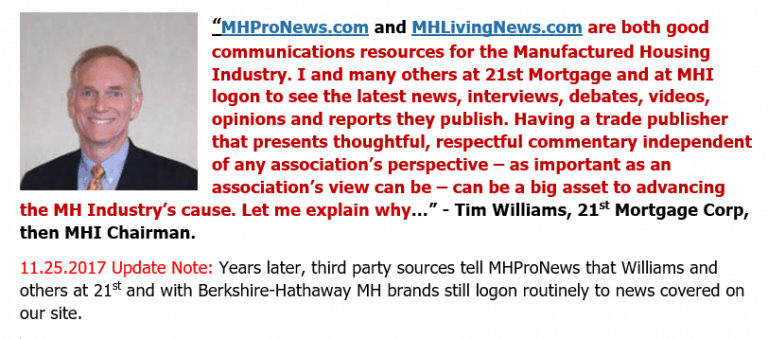 While it is true that anyone can post anything on a blog or on social media, it's different writing a few words vs. researching and crafting several news reports every business day, and then doing cogent related analysis.
The consistent reliability of our reports are what makes us number one in all manufactured housing industry trade publishing. We provide facts and analysis that has "street cred," per our readers.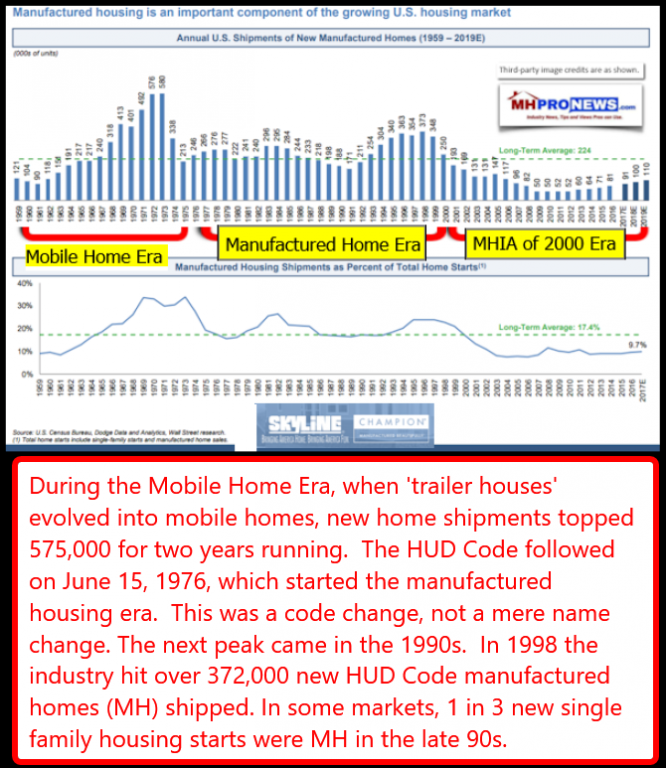 The proof we are still the runaway #1 is dramatically demonstrated in the photo, below. Notice that rack after rack had free magazines that were unclaimed.  First that happened at Louisville, so the provider bought those nice racks and placed them in several key places in Tunica.  The result in both cases was the same.  Very few were picked up, as the photos reflect.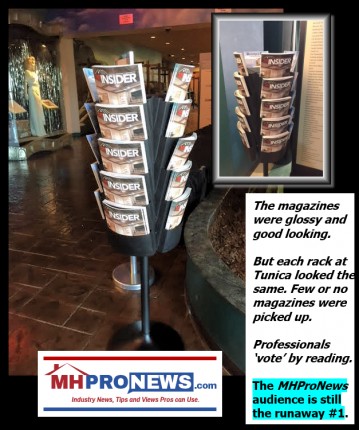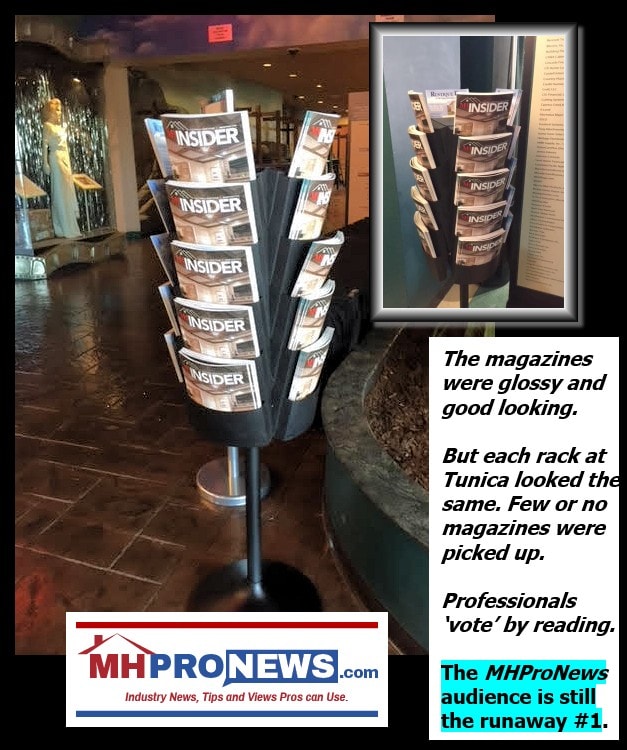 There's a difference between being a mouthpiece for MHI or others that carry paid ads by MHI or prominent companies, vs. doing real reports and analysis.
That difference is "Industry News, Tips and Views Pros Can Use" vs. reading MHI talking points.
Never forget that reports by MHI have been documented at times to be spin. Some have been half truths, or distortions of reality. They're arguably "Weaponized," posturing a position, usually to make themselves look better than their actual performance merits.
One need only look at the latest shipment report – or see the chart above – to realize just how ineffective MHI's advocacy and promotion are.
Keep in mind, they say they're the post-production 'umbrella' group representing "all segments of the factory-built housing."   
If so, why isn't MHI defending the industry against the daily onslaught of problematic news?

Is that why they duck questions now, which previously as recently as about a year ago they were still responding to our inquiries.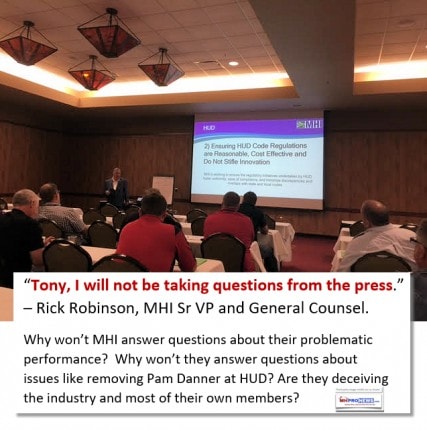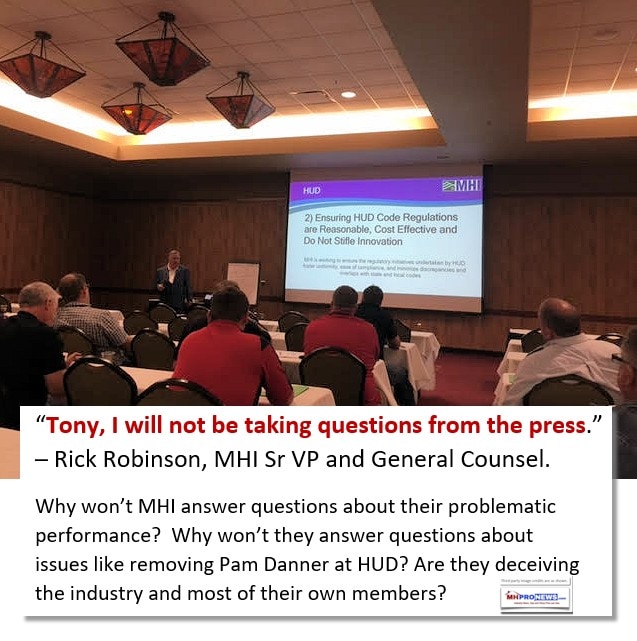 There has been only one report MHProNews has done which turned out different than what our source(s) said. That one was the announced plot discussed by MHAction to protest at last year's MHI's annual meeting. But what happened instead is that MHAction protested at a Frank Rolfe event. Apparently, once the element of surprise was lost, they changed their plan.  There was also a hurricane that struck, which may have disrupted the plans of the disruptive MHAction activists.
Frank Rolfe, MHU/RV Horizons Protest by MHAction; Nathan Smith/SSK/MHI Flashbacks?
MHI should send a thank you note to us for that report. Frank Rolfe and his associates should know that the Daily Business News had no similar warning or tip prior to his meeting.
Summing Up
The bottom line is that mainstream media must be engaged.  Engaged industry trade media is part of the solution, but can't do it alone.  The same holds true for problems within the industry.
Weeds don't uproot themselves. A cancer that's not addressed spreads. Those analogies are reminders that to fix the challenge of problematic reports, be they inside or outside of the industry, takes time, talent, and treasure.
But the payoff could be enormous.  The reverse is true too.  Failure to address these issues means they can be expected to continue.
"We Provide, You Decide." ©  ## (News, analysis, and commentary.)
Related Reports:
Clayton Homes made the news several times in recent days. As a heads up to readers, this mentions legislation, but that isn't the headline topic. The example that follows exemplifies a reality check that will tee up an " Aha! Moment " for many.
(Third party images are shown under fair use guidelines.)
Marketing, Web, Video, Consulting, Recruiting and Training Resources

Submitted by Soheyla Kovach to the Daily Business News for MHProNews.com.
Soheyla is a managing member of LifeStyle Factory Homes, LLC, the parent company to MHProNews, and MHLivingNews.com.