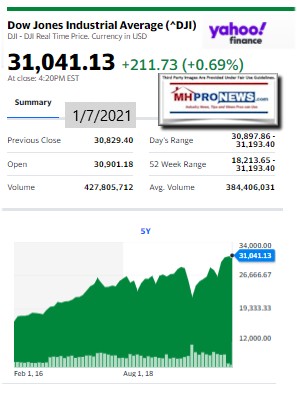 For those who haven't connected the dots that made K Street types wealthy years ago, politics and lobbying are in several ways a superior investment when it comes to possible ROI for big businesses.  What was for the past 4 years, and what lies ahead must be examined, understood and appropriately dealt with.
On the one hand, President-Select Joe Biden has said that there should be healing in the land. "Now it is time to turn the page, to unite, to heal." – said Joe Biden on December 14, 2020 per CNBC.
"You can't let this behavior slide, you can't ignore it and hope that it's not going to happen again because you see what's shaping up for the future with guys like Josh Hawley and Ted Cruz and others who are looking to turn the Trump Republican Party into the Trump Republican party on steroids," Democratic lawmaker Hank Johnson said per the transcript linked here.
"We have got to make sure that those who come after Donald Trump know that they will not be allowed to get away with what Donald Trump did, that they will be held accountable. They will be treated, yes, like 'negroes' – they will be perp-walked to the jail, hands handcuffed not in front of them but behind them. They will be booked, fingerprinted, have to make bond, and have to hire a lawyer just like everyone else who go through the system," Johnson said.
More healing comes from Mark Zuckerberg, a big-time backer of the Democrats and the Biden-Harris ticket, who the Amistad Project alleges helped rig the election by making financial deals with state and local officials and potentially breaking election laws in numerous states. Zuckerberg personally announced today that President Trump's Facebook and Instagram accounts would be locked until he leaves office, or perhaps indefinitely.
Some will read these words and may either be confirmed in their fears or perhaps become concerned. But arguably the safest place to be is to intelligently and clearly call the powers that be out and continue to shed light that could hold them to account.  Justice may be delayed. But that doesn't mean that justice will be denied. Indeed, the Almighty is always the backstop for the eternal Justice question.
Rush Limbaugh, back from 2 weeks of treatments and rest said today "One Wrong Word…" would be the watchword.  "Not enough people on our side understand the worldwide left, elected officials included" said Limbaugh on 1.7.2021. He spoke about the left's lack of traditional morality.
Limbaugh, citing CNBC's Jim Cramer, noted that the Democratic plan being advanced by "President-Select" Joe Biden* actually benefits the wealthy, while harming the middle class and smaller businesses. He specifically cited the SALT tax change, which targets homes owned by the well-to-do. By contrast, repealing the Trump tax cuts will hit smaller business and the middle class. Limbaugh said that the bottom line is that Democrats posture being for the little guy, but they have been the party of the wealthy, powerful and connected for many years.
The old canard that elections have consequences may be true. But what are the consequences of a stolen election? In the 1960 election – which is seen by several historians as a prior example of a stolen election, only not so widespread or bold as this one – Richard Nixon decided not to make an issue of the purported ballot box stuffing and dead voting in key Democratic areas that delivered the close contest to President John F. "Jack" Kennedy. Fast forward 60 years to 2020. There were warnings starting about a year in advance of the election, from Democrats as well as Republicans, as the report linked below made clear.  But once the election result favored the Democrats, apparently for many anti-Trumpers, the ends justified the means.
How that plays out in the days ahead with brooding supporters of the 45th president remains to be seen. Biden supporters framed the January 6, 2021 effort by Trump-loyalists in the Congress as efforts to "overturn the election." But Trump voters saw it as making sure that an election was being carried out in a free and fair way. The argument advanced by former New York City Mayor Rudy Giuliani
Those points noted, more on what's coming and what's known will be our featured focus for this evening. That follows the quotable quotes, left-right headlines for tonight, and 2 of the 3 market graphics at the close. It is worth mentioning that the markets largely moved up today during these troubling events.
Quotes That Shed Light – Industry, American, Social, National Issues…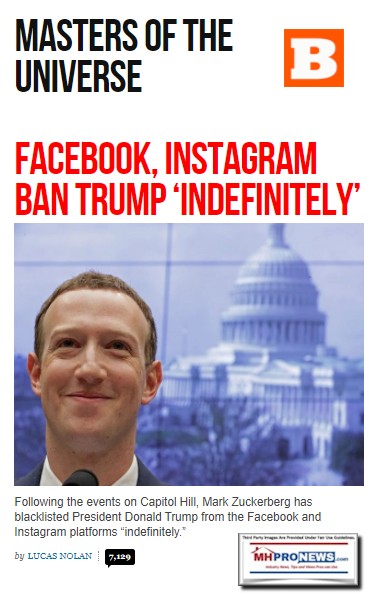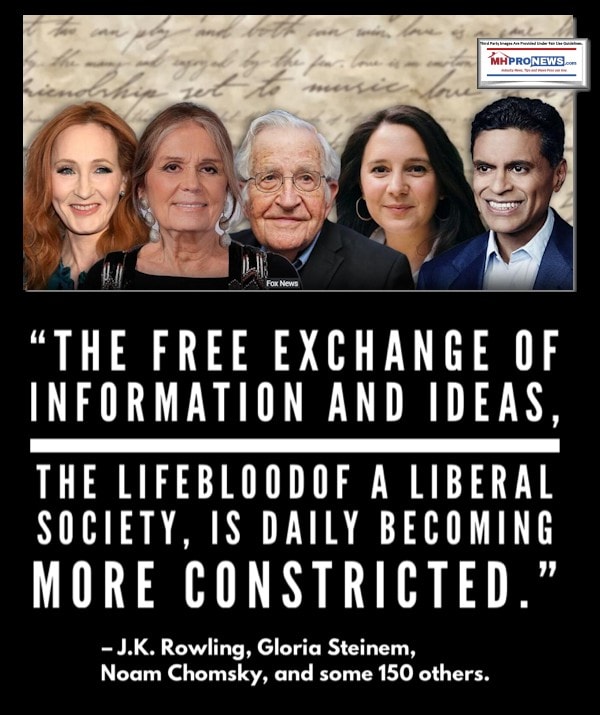 Headlines from left-of-center CNN Business
Optimism grows
President-elect Joe Biden campaigns in Atlanta, Monday, Jan. 4, 2021, for Senate candidates Raphael Warnock, right, and Jon Ossoff, left.
Goldman Sachs predicts faster economic recovery after Democrats sweep Georgia
Social media: Facebook bans Trump for the rest of his term
MISINFO WATCH Twitter confirms Trump has deleted the required tweets to unlock his account
MISINFO WATCH Twitch disables Trump's channel
Front pages: How newspapers around the world reacted to US Capitol riots
Mass delusion: Reporters reckon with radicalization in America: 'You are being lied to'
25th amendment: Trump should be removed from office to preserve democracy, business leaders say
Digital security: Capitol riots raise urgent concerns about Congress's intelligence risks
Jimmy Kimmel: Wednesday was 'treason finale of the Donald Trump era'
Watch: Late-night hosts weigh in on Capitol breach
OTHER TOP STORIES
Townhouses in the Fort Lincoln neighborhood in Washington, District of Columbia, on November 19, 2020. The neighborhood includes housing developments with apartments, condos and townhouses as well as a shopping hub that includes big box stores.
Mortgage rates kick off 2021 with a new record low
Stocks soar as Wall Street looks past Washington violence
Next stop, $50,000? Bitcoin's surge rolls on
Why Wall Street can disregard protests, assassinations and riots
Elon Musk overtakes Jeff Bezos to become world's richest person
Watch a young Elon Musk get his first supercar in 1999
Gun stocks soared as a pro-Trump mob invaded the US Capitol Hill
Here's what Burger King's new logo looks like
Verizon delaying shutdown of its 3G wireless network
GE won't claw back former CEO's pay after scandal
MARKETS
INVESTING
Signage at an Alibaba Group Holding Ltd. office building in Shanghai, China, on Thursday, Dec. 24, 2020. China kicked off an investigation into alleged monopolistic practices at Alibaba and summoned affiliate Ant Group Co. to a high-level meeting over financial regulations, escalating scrutiny over the twin pillars of billionaire Jack Mas internet empire.
Alibaba and Tencent stocks hit by reports that Trump could go after them
Why Wall Street mostly ignored the chaos in DC
Cannabis soars, Big Tech sinks after Georgia elections
Just six companies really matter for many investors
Tesla short sellers lost $40 billion in 2020
NEWS OUT OF CHINA
FILE – In this May 15, 2019, file photo, founder of Alibaba group Jack Ma arrives for the Tech for Good summit in Paris. Ma hasn't been seen in public since he angered regulators with an October 2020 speech. That is prompting speculation about what might happen to the billionaire founder of the world's biggest e-commerce company.
Jack Ma was almost bigger than China. That's what got him into trouble
Jack Ma hasn't been heard from in months
NYSE bans Chinese telecom stocks, again
China sentences former top exec to death for bribery
Alibaba is shutting down its music streaming app
Headlines from right-of-center Newsmax
Analysis: Media Have Hypocritical Double Standard on Trump vs BLM Protests
Wednesday's events in Washington, D.C., offered proof that how corporate media and Democrat politicians report and comment on acts of civil unrest depends upon who is engaged in the rioting.
Election 2021
Kat Cammack to Newsmax TV: 'All of Us Are Still in Shock'
Gaetz, Other Republicans Suggest Antifa Behind Capitol Violence
Congress Affirms Biden Electoral Win After Tumultuous Day at Capitol
Trump Vows 'Orderly Transition' on Jan. 20
Woman Fatally Shot by Capitol Police Was Unarmed USAF Vet
Trump Supporters Take Protests to Statehouses Across US
Senate Rejects Challenge to Pa. Electoral Result for Biden
4 Deaths Reported Around Capitol Grounds; 52 Arrests
Ilhan Omar Says She's Drafting Articles of Impeachment Against Trump
The Trump Presidency
Transportation Secretary Elaine Chao to Resign
Trump Has Discussed Pardoning Himself: NY Times
Trump Withdraws Chad Wolf DHS Nomination
Trump Bans Pence's Chief of Staff From White House
Mick Mulvaney Quits Trump Administration: 'I Can't Stay' |
Trump's Deputy National Security Adviser Pottinger Resigns
Top White House Officials Led by O'Brien Consider Resigning
DOJ Says Its Emails Were Breached by SolarWinds Hackers
Newsfront
First Criminal Charges Filed Over Capitol Riot
The Justice Department accused a man of unlawful entry and assaulting a police officer in the first criminal charges to emerge from the siege of the U.S. Capitol by a mob egged on by President Donald Trump. Mark Leffingwell was charged Thursday in federal court in…
Pelosi Wants Capitol Police Chief to Resign
House Committee to Review Capitol Police Response to Riot
FBI Seeks Public's Help in Identifying Capitol Rioters
School Choice Threatened Under Biden
Bill Barr: Trump's Conduct a 'Betrayal of His Office'
Pipe Bombs Found Near RNC, DNC Offices 'Real Deal': Official
Devices that looked like pipe bombs found near the headquarters [Full Story]
Shopify Removes Trump Stores
Kinzinger: It's Time to Invoke 25th Amendment
Giuliani in Taped Message: McConnell Gave Us 'a Kick in the Head'
Elon Musk Close to Surpassing Jeff Bezos as World's Richest Person
GOP Megadonor Adelson Takes Leave for Cancer Treatment
Weekly Jobless Claims Dip to 787,000
State Rep. Vernon Jones to Newsmax TV: Black Men Will Be Face of GOP
Old Sears Stores Repurposed as Vaccine Centers
Starbucks Insider Ruggeri to Take over as CFO, Grismer to Retire
Goldman Raises US Forecast on Democrats' Senate Win
Global Food Prices at 6-Year High, Set to Keep Climbing
Market Indicator Closing Summaries – Yahoo Finance Closing Tickers on MHProNews…
Featured Focus –
Where Business, Politics and Investing Can Meet
Cui Bono? Who benefits from this? Hershel Walker said via Twitter yesterday that the events on the Capitol shifted the focus from a stolen election to the "riot" by "insurrectionists" trying a "coup" to take over the country. It is a keen point, because the allegation of a "coup" is laughable if it weren't so lame, obvious, routine, and sad.
I believe the Republican members of Congress who have incited this domestic terror attack through their attempts to overturn the election must face consequences. They have broken their sacred Oath of Office.

I will be introducing a resolution calling for their expulsion. pic.twitter.com/JMTlQ4IfnR

— Congresswoman Cori Bush (@RepCori) January 6, 2021
Sean Davis via Twitter on 1.6.2021 replied to the above by saying "Your silly resolution there is dated January 5, which was yesterday. How'd you manage to draft legislation in response to an event that hadn't even happened yet?"
Saying that President Trump "committed an unspeakable assault on our nation," Speaker Nancy Pelosi called on Vice President Pence to remove Trump from office by immediately invoking the 25th amendment. If he doesn't, she said Congress may move to impeach. https://t.co/vOphy3SIRS pic.twitter.com/tsDH80USBw

— The New York Times (@nytimes) January 7, 2021
Are the above and below examples of what "healing" looks like in President-Select Biden's world?
Michelle Obama is now demanding President Trump be banned from all social media platforms. The Marxist takeover escalates. https://t.co/xvW4uXdBS1

— Mark Dice (@MarkDice) January 7, 2021
Saying that President Trump "committed an unspeakable assault on our nation," Speaker Nancy Pelosi called on Vice President Pence to remove Trump from office by immediately invoking the 25th amendment. If he doesn't, she said Congress may move to impeach. https://t.co/vOphy3SIRS pic.twitter.com/tsDH80USBw

— The New York Times (@nytimes) January 7, 2021
A Trump supporter was fatally shot by police. https://t.co/DKyU4YpNkE

— Chuck Ross (@ChuckRossDC) January 7, 2021
He's right. If yesterday's violence was caused by left-wingers, D.C.'s mayor would've ordered police to take a knee, corporations would've announced their support, and Biden's VP would've raised money to bail out anyone who accidentally got arrested. https://t.co/mP4afexeWI

— Sean Davis (@seanmdav) January 7, 2021
Overnight on 6 Jan., #antifa rioted again in Portland. They first tried to break into the Multnomah County Courthouse. After that, they marched around downtown, smashing businesses one-by-one.
Police made no arrests. This is the 3rd antifa riot since NYE. https://t.co/4z0zmWtyV7 pic.twitter.com/ZTW4kV4Dj1

— Andy Ngô (@MrAndyNgo) January 7, 2021
When these people show you who they are and tell you what they want to do to you, believe them. https://t.co/NzQegY52oh

— Sean Davis (@seanmdav) January 7, 2021
Weird. Just a few weeks ago, when his own supporters were burning down cities and looting businesses and murdering Trump supporters, Biden claimed organized political violence was just "an idea." https://t.co/7zTc1TJ1t3

— Sean Davis (@seanmdav) January 7, 2021
Same

The danger was much more substantial in May

Nearly every store on my block was looted

And the left cheered it on https://t.co/wCpw8H7NQk

— Will Chamberlain (@willchamberlain) January 7, 2021
Communist China doesn't need a protest to get inside the Capitol. They got a spy inside Eric Swalwell's pants and another one in Dianne Feinstein's car without even really trying. https://t.co/HtbUeGMkcT

— Sean Davis (@seanmdav) January 7, 2021
Be consistent folks.
Don't be like @voxdotcom pic.twitter.com/H7RemlzcOy

— Justin Hart (@justin_hart) January 7, 2021
When Romney ran for president against Obama he was a homophobic misogynist plutocrat bully religious fanatic right-wing extremist. But now he's a guardian of "democracy and truth." The only thing that's changed is he no longer threatens Dem political power. https://t.co/ruUaQawByO

— Noah Pollak (@NoahPollak) January 7, 2021
Ayatollah Khamenei is still allowed on Twitter & Instagram but Donald Trump is not. Think about that.

— Charlie Kirk (@charliekirk11) January 7, 2021
Apparently walls do work. https://t.co/EoAa0UdqhF

— Sean Davis (@seanmdav) January 7, 2021
If your first response to political news is to publicly declare your desire to "cleanse" the populace of the deplorable untermensch, there's a super good chance that you're one of the bad guys. https://t.co/HjaCH9O8wZ

— Sean Davis (@seanmdav) January 7, 2021

Orwell
The first thing I did when I went to Beijing as a congressional staffer in 2005 was log onto a computer at my hotel to search for photos/videos of the Tiananmen Square massacre. No results.

There's no difference between that and what Big Tech is doing. https://t.co/tqxuSaNuBX

— Sean Davis (@seanmdav) January 7, 2021
Correct. And video of them walking in, crowds of people, through the north entrance. No police officers stopped them. A huge and confusing situation and large numbers of very bad actors, no doubt, creating a deadly situation. All mixed together. https://t.co/pA5RwpswYL

— Susan Ferrechio (@susanferrechio) January 7, 2021
The Pentagon, DHS, and DOJ all offered to send assistance, and your party's incompetent and corrupt mayor told them to stand down, butt out, and mind their own business because she had the whole thing under control. https://t.co/rKdlGDdl17 https://t.co/uEdiOLgnS0

— Sean Davis (@seanmdav) January 7, 2021
If the people yesterday had been BLM protesters, they would have declared the Capitol an autonomous zone, members of Congress would have come out to kneel with them, and the police would have let them stay there for at least two weeks https://t.co/AfMMCjjc9m

— Greg Price (@greg_price11) January 7, 2021
Facebook And Instagram Just Permabanned The US President https://t.co/Oi88c7YKwc

— The Federalist (@FDRLST) January 7, 2021
"It's a super big deal that a guy who voted to throw Trump out of office over a phone call still hates him." https://t.co/gpUfD2DCUT

— Sean Davis (@seanmdav) January 7, 2021
Democrats don't oppose political violence. They love it, and will even fund it, as long as it's directed at their enemies.

The incoming vice president personally raised money to bail out rapists, murderers, and attempted cop killers. https://t.co/R4r4TsQpqa

— Sean Davis (@seanmdav) January 7, 2021
What lies ahead? If what Democratic leaders say vs. what they then contradict themselves is an example, then it will be an Orwellian future. You will be taught to love Big Brother.
Most voters already knew they had a good thing with President Trump. But perhaps among the 'dark graces' that lie ahead will the the realization of the lies, coverups, and deceptions that have been perpetuated against voters, all in a fashion that benefited a favored few, not the many.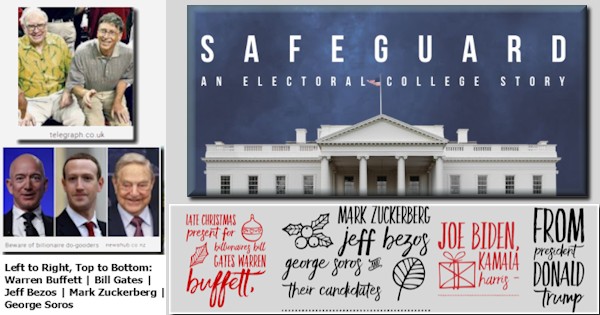 See the related reports to learn more.
Related, Recent, and Read Hot Reports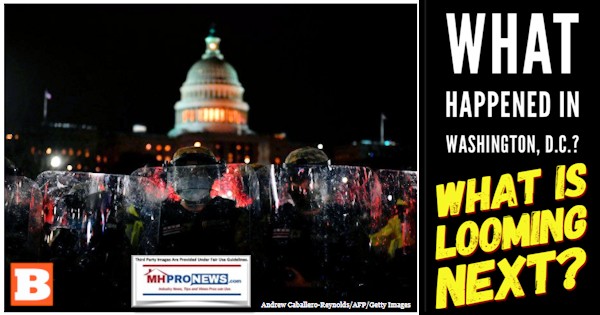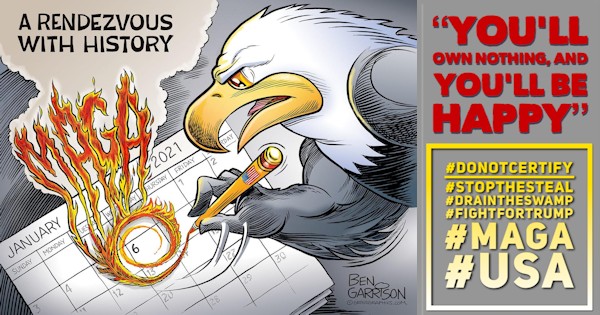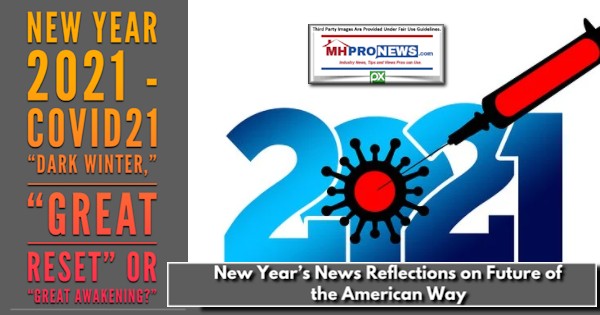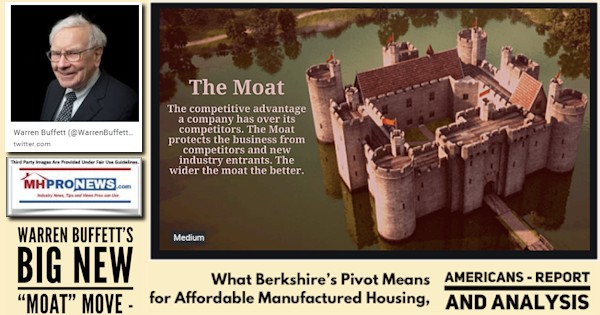 Manufactured Housing Industry Investments Connected Closing Equities Tickers
Some of these firms invest in manufactured housing, or are otherwise connected, but may do other forms of investing or business activities too.
NOTE: The chart below includes the Canadian stock, ECN, which purchased Triad Financial Services, a manufactured home industry lender
NOTE: Drew changed its name and trading symbol at the end of 2016 to Lippert (LCII).
NOTE: Deer Valley was largely taken private, say company insiders in a message to MHProNews on 12.15.2020, but there are still some outstanding shares of  the stock from the days when it was a publicly traded firm.  Thus, there is still periodic activity on DVLY.
Winter 2021…
Berkshire Hathaway is the parent company to Clayton Homes, 21st Mortgage, Vanderbilt Mortgage and other factory built housing industry suppliers.
· LCI Industries, Patrick, UFPI, and LP each are suppliers to the manufactured housing industry, among others.
· AMG, CG, and TAVFX have investments in manufactured housing related businesses. For insights from third-parties and clients about our publisher, click here.
Enjoy these 'blast from the past' comments.
MHProNews. MHProNews – previously a.k.a. MHMSM.com – has celebrated our 11th year of publishing, and is starting our 12the year of serving the industry as the runaway most-read trade media.
Sample Kudos over the years…
Learn more about our evolutionary journey as the industry's leading trade media, at the report linked below.
· For expert manufactured housing business development or other professional services, click here.
· To sign up in seconds for our industry leading emailed headline news updates, click here.

Disclosure. MHProNews holds no positions in the stocks in this report.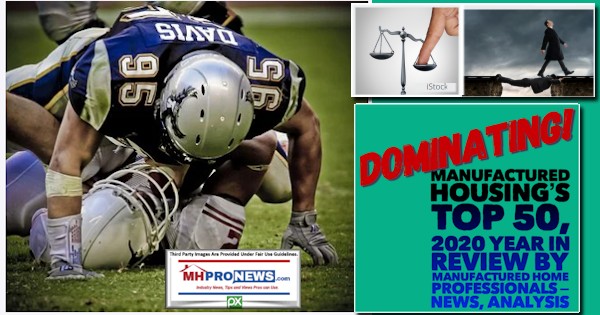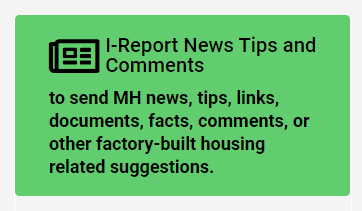 That's a wrap on this installment of "News Through the Lens of Manufactured Homes and Factory-Built Housing" © where "We Provide, You Decide." © (Affordable housing, manufactured homes, stock, investing, data, metrics, reports, fact-checks, analysis, and commentary. Third-party images or content are provided under fair use guidelines for media.) (See Related Reports, further below. Text/image boxes often are hot-linked to other reports that can be access by clicking on them.)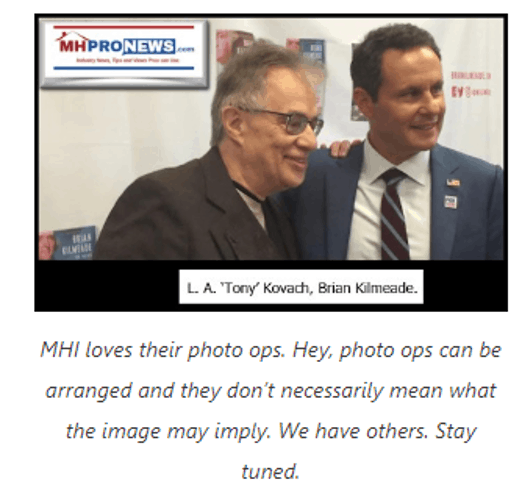 By L.A. "Tony" Kovach – for MHLivingNews.com.
Tony earned a journalism scholarship and earned numerous awards in history and in manufactured housing. For example, he earned the prestigious Lottinville Award in history from the University of Oklahoma, where he studied history and business management. He's a managing member and co-founder of LifeStyle Factory Homes, LLC, the parent company to MHProNews, and MHLivingNews.com. This article reflects the LLC's and/or the writer's position, and may or may not reflect the views of sponsors or supporters.