Not often is having almost $100 billion in cash on hand considered a problem, or a bad thing at all.
But Warren Buffett, CEO of Berkshire Hathaway – parent to Clayton Homes and several other industry connected operations,  a well-known name to industry professionals and Daily Business News regulars – certainly sees it as a challenge.
Berkshire Hathaway Inc., the conglomerate run by Buffett for more than fifty years, recently reported having $99.7 billion in cash on hand.
"The question is, 'Are we going to be able to deploy it?'" Buffett said at Berkshire's annual meeting in May. "I would say that history is on our side, but it'd be more fun if the phone would ring."
Why is so much cash a problem?
According to Bloomberg, the large amount of money not being invested is a problem for the conglomerate because they pay no dividends.

They also don't often buy back their own stock (see screen capture, above).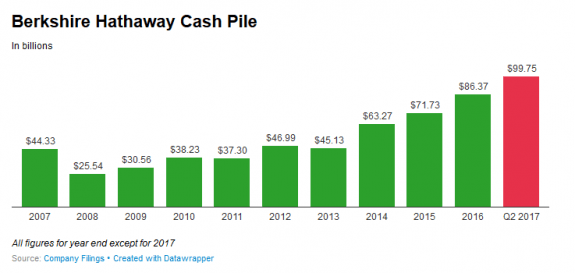 However, Berkshire Hathaway Inc. has invested some – albeit not much compared to what they have available – recently.
Buffett now has a stake in Apple Inc., in a move earlier this year.
More important to industry professionals, Daily Business News readers may also recall from a recent report that Berkshire's division – Clayton Homes – recently acquired yet another industry home operation.  There are indicators that more housing operation deals could be in the pipeline.
Berkshire Hathaway has also made
two smaller retail investments,
including a real estate investment trust,
a Canadian mortgage lender by the name of Home Capital Group Inc.,
the utilities arm of Berkshire Hathaway is also in the process of closing a deal for $9 billion to acquire Texas's largest electric utility provider.
"Buffett has made his fortune and solid reputation on sound, smart investments rather than simply spending frivolously, and it's possible he's waiting to ride out the "Trump bump" the stock market has experienced since November—a rise that President Donald Trump has often taken credit for," per Newsweek.
"It's not a cause for alarm," Jim Shanahan, an analyst at Edward Jones said, per Fortune. Over the next few years, "they'll make some really interesting investments."
It is unclear whether Buffett is waiting intentionally for something he believes is coming, or if he just hasn't found the right investment to make.
"I mean, we have not put our foot to the floor on anything for really a very long time," Buffett said.
"To put that money to work would be great," said David Rolfe, chief investment officer at Wedgewood Partners, a money manager overseeing about $6 billion including Berkshire stock. But the "list of companies that he would like to own is very, very small."
With almost $100 billion in funds laying around, and affordable housing – and housing in general hot – it stands to reason that Buffett will allow Clayton Homes more operations, while they likewise seek to navigate the invisible line where regulators could become concerned.  ## (News, analysis.)
Editor's Note: For the latest on Berkshire Hathaway, you can click on the Daily Business News market report every evening.  For the latest on Buffett's fingers on the scale of hot political topics, click this link here.
(Image credits are as shown above, and when provided by third parties, are shared under fair use guidelines.)
Submitted by Julia Granowicz to Daily Business News at MHProNews.